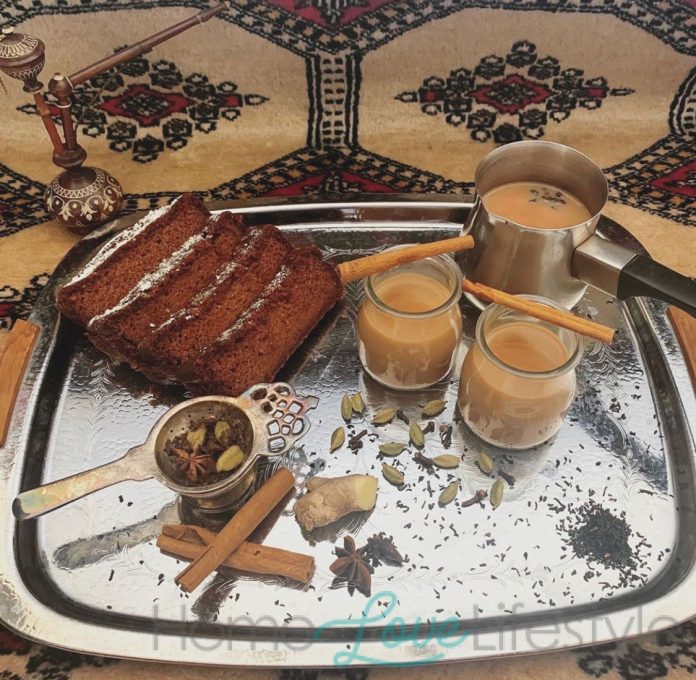 This honey cake recipe is a must try, not only for its simple steps but also for the delectable flavour and incredible texture. The combination of honey and spices results in a cake loaf with a moist interior, encompassed with a slightly crispy exterior.
Substitute options:
An alternative to almond flour: replace with 1 cup of all-purpose flour
For more intense sweetness,  substitute 1 cup honey with 1/2 cup honey and 1/2 cup sugar
Ingredients
1 cup plain flour
1 cup almond flour
2 teaspoon baking soda
1 teaspoon baking powder
1/4 teaspoon salt
1 cup almond milk or regular milk
1 cup canola or vegetable oil
2eggs
1 cup honey boiled in 1/2 cup of water
1/4 teaspoon ground cloves
1/2 teaspoon ground cardamom
1/3 vanilla bean or 1/2 teaspoon vanilla extract
Dusting of icing sugar, optional
Method
Preheat oven to 350°F. Grease and lightly dust the loaf tin with flour.
In a large bowl, sift together the almond flour, plain flour, salt, baking soda and baking powder. Set aside.
In a mixer bowl fitted with the whisk attachment, whisk together eggs, oil and almond or regular milk on medium speed for about 3 minutes or until light and airy.
 Meanwhile, boil the honey in water and stir in the clove powder, ground cardamoms and vanilla bean or extract.
Switch the whisk attachment with a paddle and on low speed, incrementally add spoonfuls of the dry mixture, until fully incorporated.
Pour in the hot honey mixture and mix for a couple of seconds. Do not over mix.
Pour the batter in the prepared loaf tin and bake for 1 hour or until a butter knife comes out clean from the cake.
Once cooled, turn out the honey cake on a wired rack & dust with icing sugar (optional).
Enjoy a slice of cake with a freshly brewed cup of tea or coffee. Or as I do, with a cup of masala chai to complement the spices in the cake.
Do give this amazing honey cake recipe a try!