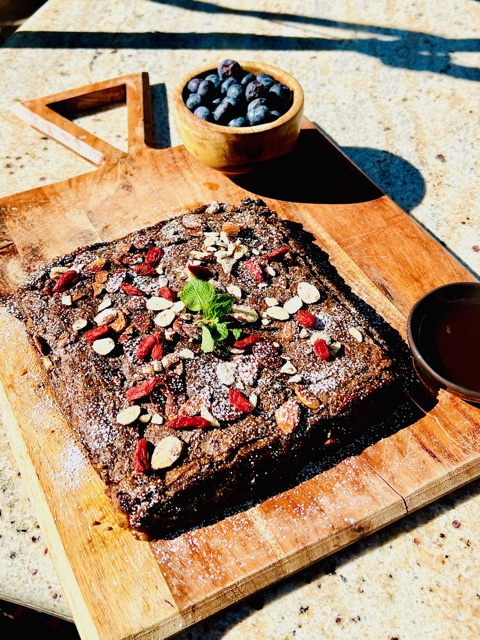 My favourite ingredients for breakfast these days are oatmeal, goji berries and chia seeds. So I thought, why not combine these three ingredients and create a gluten-free power breakfast cake 🙂
Breakfast has now become my fave meal of the day and of course, with busy schedules I'm always looking to make quick & healthy eats. This recipe takes about 15mins to prepare and 45mins to bake. You can always prep all the ingredients the night before and leave them in the fridge. Next morning all you need to do is bake the cake!
I opted to make a gluten-free cake and used coconut sugar to sweeten the cake. Of course, you can substitute some of the ingredients with ingredients you have on hand. For example, plain instead of gluten-free flour, white or brown sugar as a replacement for coconut sugar and regular milk instead of almond milk.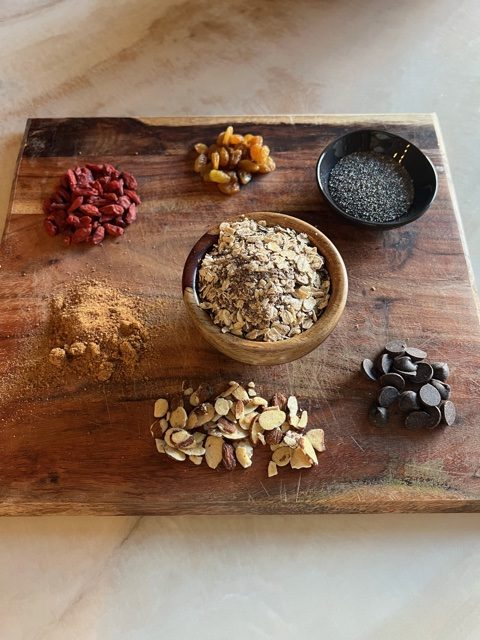 Ingredients
2 cups oatmeal
Boiling water for softening oats
1/4 cup raisins
1/4 cup goji berries
1/4 cup chia seeds
1/2 cup brown coconut sugar
1/4 cup melted butter
1 1/2 cups gluten-free flour
1/4 cup almond milk
1 tsp baking soda
1/4 tsp nutmeg
1/2 tsp cinnamon
1/4 tsp salt
1/4 cup chocolate chips (optional)
Sliced almonds to decorate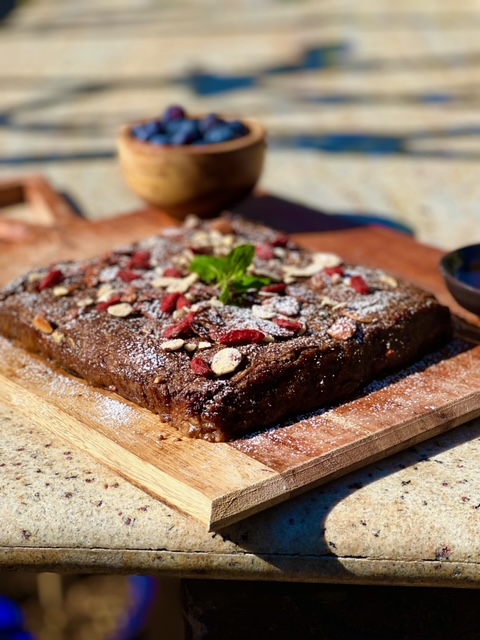 Method
Preheat the oven to 375F
Place oatmeal, goji berries, chia seeds and brown sugar in a bowl. Power boiling water to just cover all the ingredients. Mix well and set aside to soften.
In the meanwhile, prepare the cake tin by lining with parchment/grease-proof paper.
Once the oatmeal mixture has slightly cooled, add all the remaining ingredients except the almond slices. Mix well.
*If you are planning to make this mixture the night before, this is the point to cover the bowl and place it in the fridge overnight.*
Pour mixture into the prepared tin, sprinkle the almond slices all over and bake for 45mins or until a butter knife comes out 'clean'.
Serve with a dusting of icing sugar and perhaps a side of your favourite fruit. if you fancy more sweetness to the cake, a drizzle of maple syrup will satisfy your sweet tooth!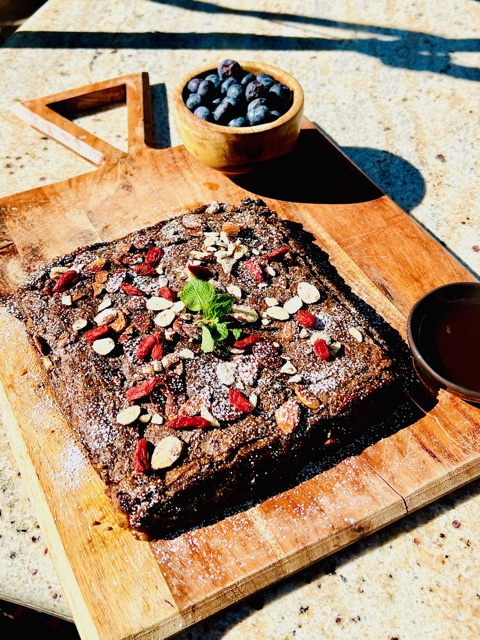 Soft on the inside and crisp on the outside, this breakfast cake is the perfect way to start your day….especially with a cup of tea or coffee.