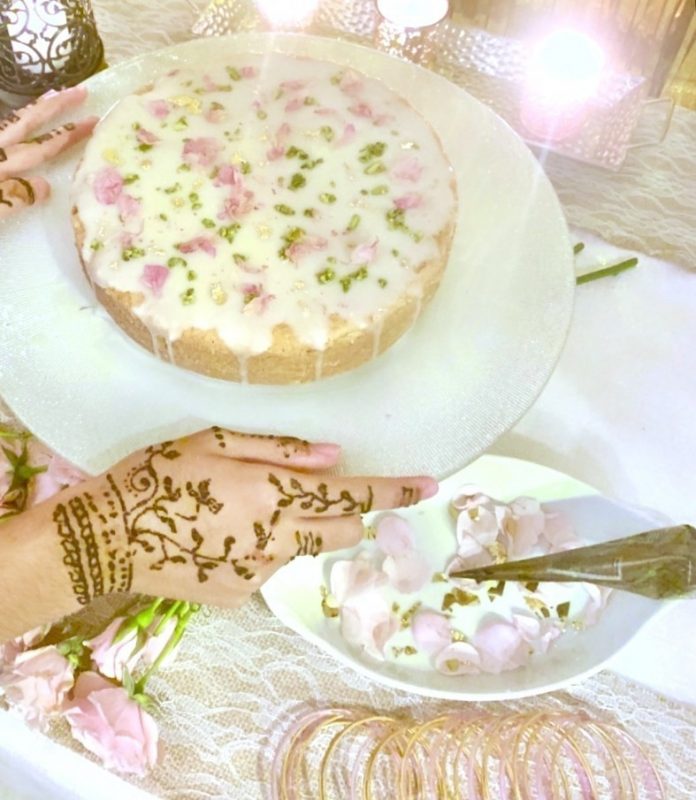 With more people staying and eating at home these days, recipes of all kinds are being tried in answer to the universally daunting question: what to make for dinner? Replace dinner with dessert for those of us with a killer sweet tooth. Enter the baking and ethnic food aisle of your grocery store with me for a luxurious cake; try this Persian Love Cake recipe.
This fragrant cake originated in Iran and is made for their twice a year Valentine's Day celebrations and of course, for special holidays like Eid! Last Eid when I made this cake, the heavenly scent of rose water and cardamom filled the entire house. Besides these two key ingredients, I've been thinking about using saffron in this cake, which is a popular ingredient in Eid desserts around the world. Follow me on Instagram @a.spotofcake.dashoftravel to see how saffron pairs with this cake.
Did you know? Saffron is the most expensive spice in the world by weight. One pound of pure saffron can run for about $1,500 and it's all due to the labor intensive harvesting process.
Only a small part of the flower, the stigmata, is used and each flower only has three of these stigmata. To put it all into perspective, approximately 75,000 flowers would be needed to generate a pound of saffron! Rose water on the other hand is fairly inexpensive and can be bought at most South Asian and Middle Eastern grocery stores. Rose products seem to be popping up everywhere too in body lotions, oils, perfumes and teas. Trying out this traditional rose dessert only seems fitting. What's not to love about a slice of rose infused cake?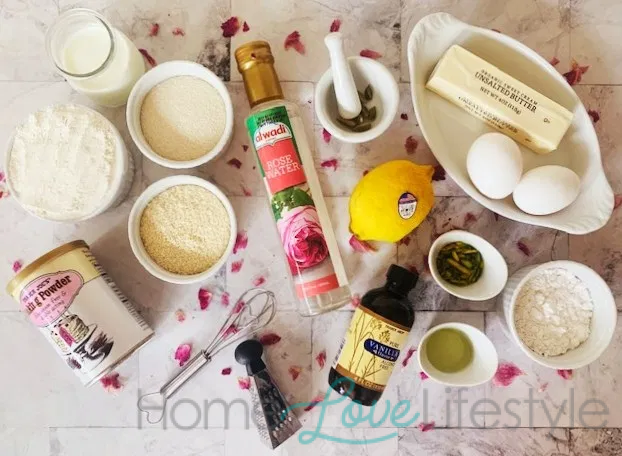 Ingredients for the cake:
1/2 cup unsalted butter, room temperature
3 tablespoons vegetable (or canola) oil
2 large eggs, room temperature
3/4 cup + 1 tablespoon sugar
2 tablespoons rose water
1 teaspoon vanilla essence
1 cup all-purpose flour
1/2 cup almond Flour
1/2 cup roasted semolina
1 teaspoon baking powder
2 teaspoons lemon juice
1 teaspoon lemon zest
2 teaspoons ground cardamom
1/4 cup milk
3/4 teaspoon salt
For the glaze:
2 1/2 cups powdered sugar
2 tablespoons rose water
2 tablespoons whole milk
Pistachios to garnish
Edible rose petals to garnish
Method
Preheat oven to 350°F. Line an 8″ cake pan with parchment paper and set aside. Alternatively, lightly butter the cake pan, dust flour evenly to ensure the flour is lightly coated throughout the pan.
2. Cream butter, oil, eggs, and sugar until light and fluffy, using either a standing mixer or an electric whisk. Add in the rose water, lemon juice, lemon zest and vanilla essence.
3. Add in the flours, roasted semolina, cardamom, baking powder and salt until just mixed (low speed). Then add milk and mix for an additional minute.
4. Pour the batter into the prepared cake pan. Bake for 40 minutes, or until cake is lightly brown on top and a knife inserted into the center comes out clean. Set aside to cool and then turn out the cake from the pan.
5. To make the glaze, combine powdered sugar, rose water, and whole milk in a microwave-safe bowl and hand whisk to combine. Glaze will be thick so microwave for 10-15 seconds to thin out mixture and then immediately pour over cooled cake.
6. Sprinkle the crushed pistachios and rose petals.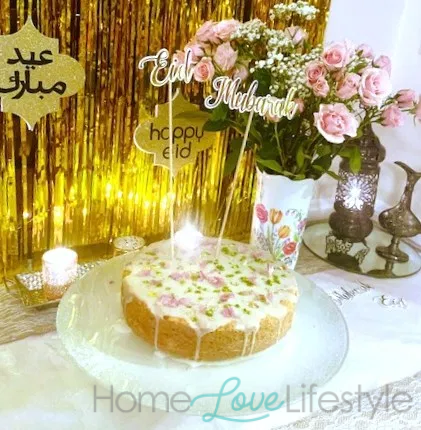 Let us know how you like this recipe for Persian Love Cake and happy baking!