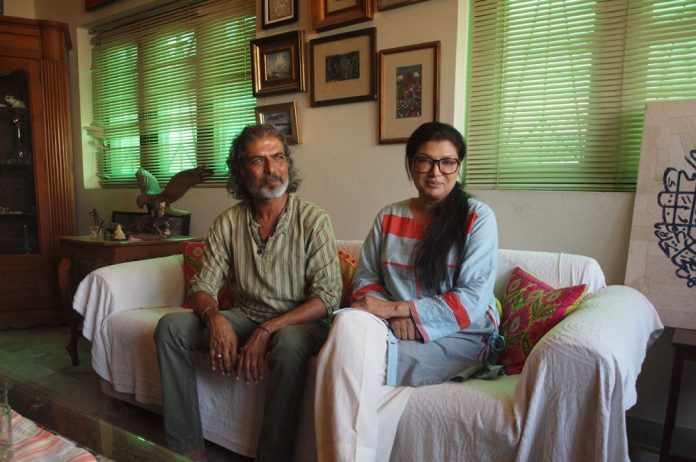 This Bohemian Artist and Actor's Home has a colourful, creative sensibility and a distinct vibe. Artist Farrukh Shahab and his wife, television actor Shaheen Khan, are warm and welcoming and as full of interesting stories and anecdotes as their home is full of quirky artefacts.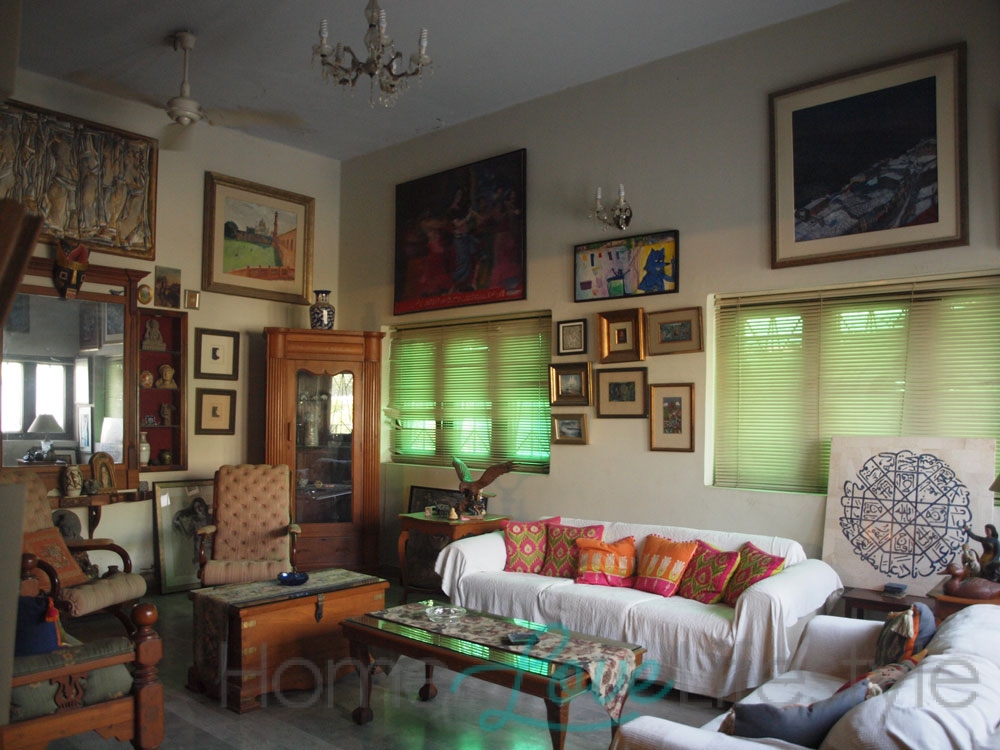 Shaheen is a familiar face for Pakistani drama serial watchers and she can currently be seen in the popular Deewar-e-Shab. She and her husband Farrukh showed us around their lovely home which they share with their two teenage children and their adorable dogs.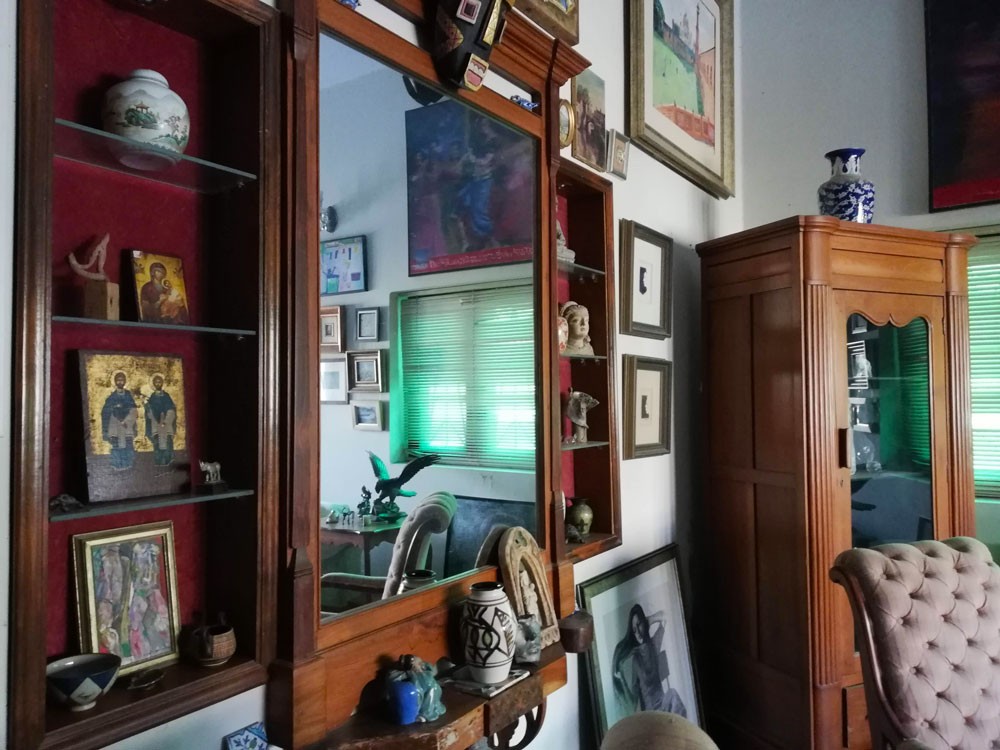 There is so  much art work in the house. So are you constantly buying paintings?
Farrukh: Yes. I do regularly go to shows. I try to buy the work of young artists.  Emerging painters are more interesting. Sometimes I will exchange work rather than buy it.
So how did you become an artist?
I am a Karachi University dropout! (laughs). I was studying economics there. Actually we used to live in Nazimabad and the famous artist Eqbal Mehdi was known to us. So in the summer vacations I went to his studio to learn from him since I was interested in art. From there, one thing led to another and I decided to pursue art. However, my father made me enrol in Commerce College to finish studying but I continued as an apprentice with Eqbal Mehdi.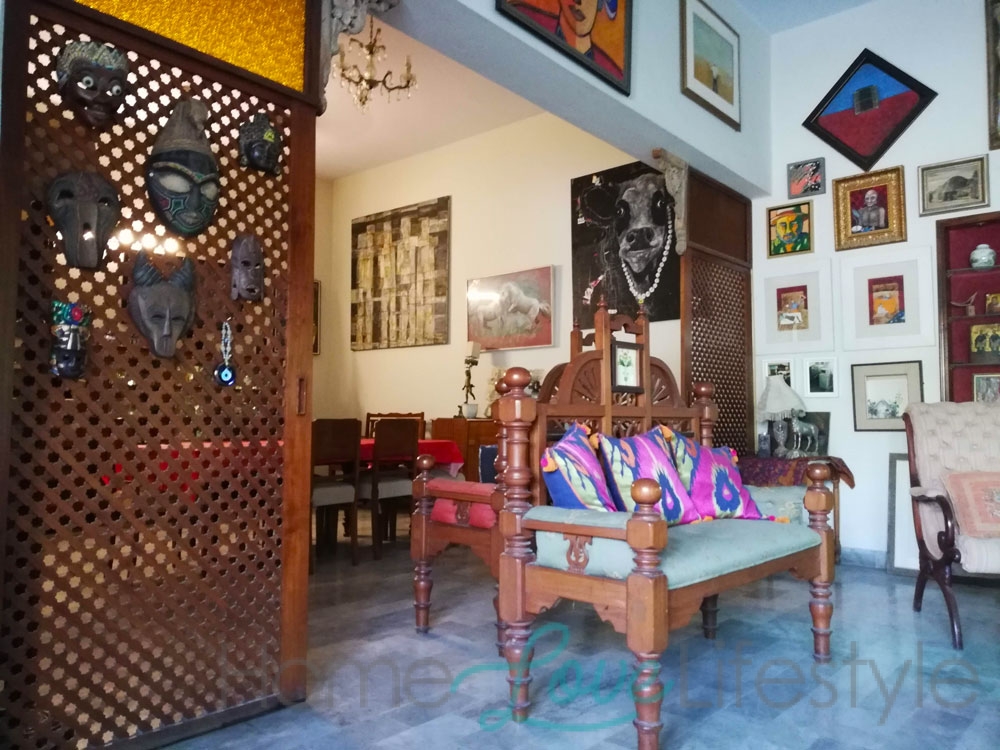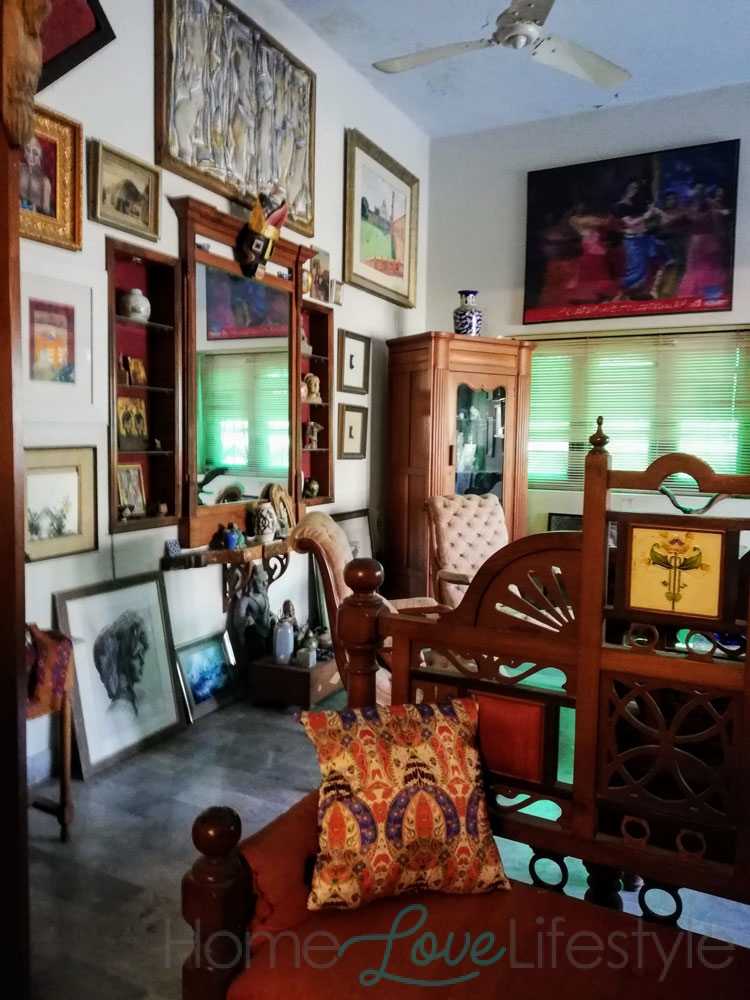 He was handling large commissioned projects which we worked on with him, so we got paid as well. We even went to the US with him to work on a project for the Pakistani UN office.Then I started exhibiting regularly in art shows. And my work began getting noticed. I remember the first time my painting was written about in Dawn.  It was a big thing in those days.
So you have not had formal training in an art school?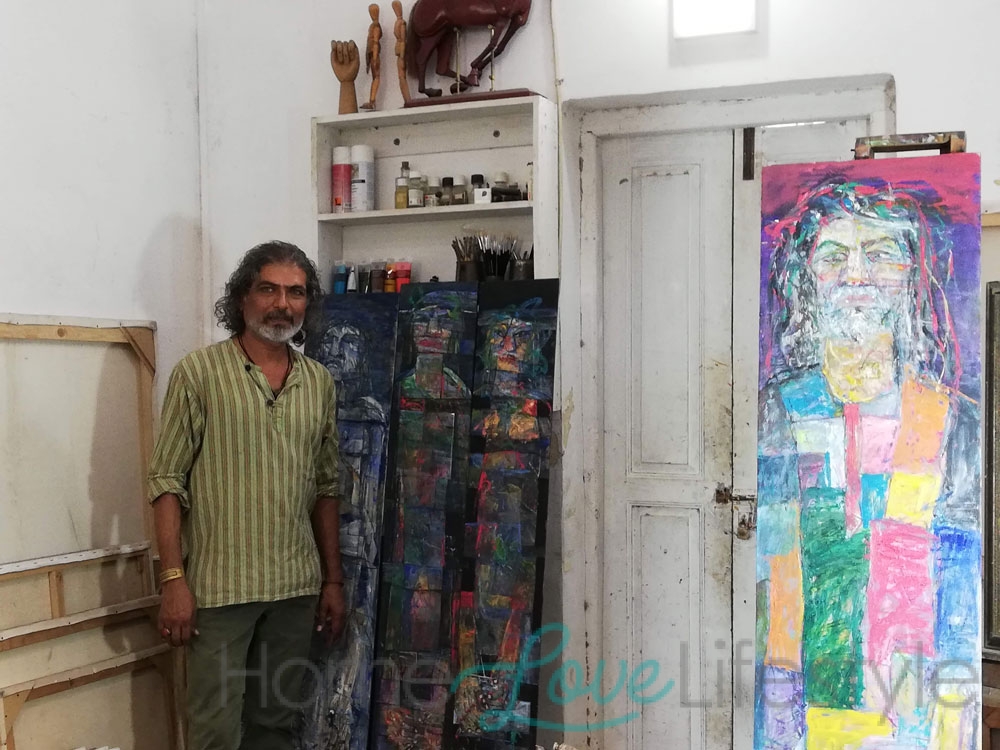 No, rather I have been trained in the traditional ustad-shagird system. In fact, I am part of a silsila. Eqbal Mehdi was at the shagird of the famous Mirza Sajjad Hussain, a very renowned portrait painter of India. I am Iqbal sahib's shagird and now I am training two boys, one of whom is now established in his own right. So we have carried on a tradition.
But your style today is very different from the Eqbal Mehdi genre.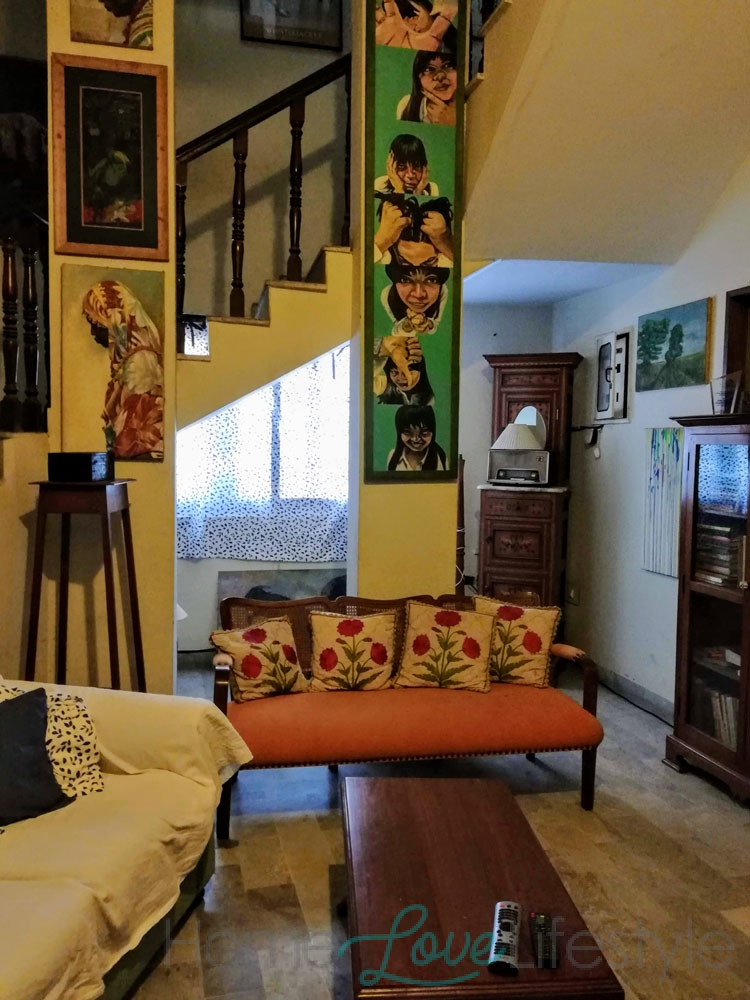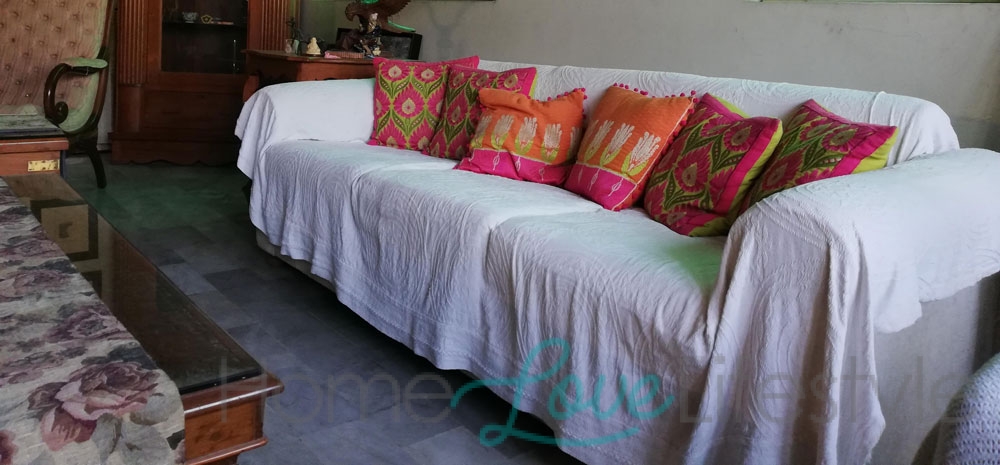 Yes. I used to initially only do realistic paintings but one has to move away from the ustad's shadow, from comparisons to his work. Not doing so would not be beneficial for  the apprentice or the master. One has to cut the chord.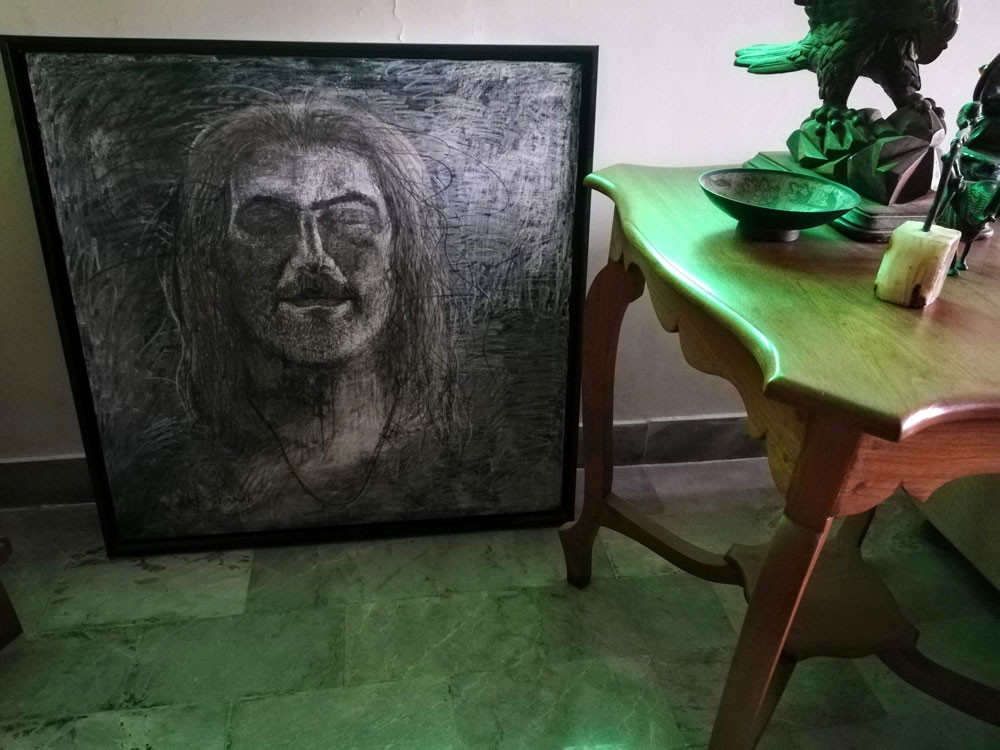 And God has been very kind to me. Since my first solo show which practically sold out, I have buyers for my work. Whatever I paint, it doesn't stay with me.
When you met your wife Shaheen, she was doing well in her career while you were still a struggling artist.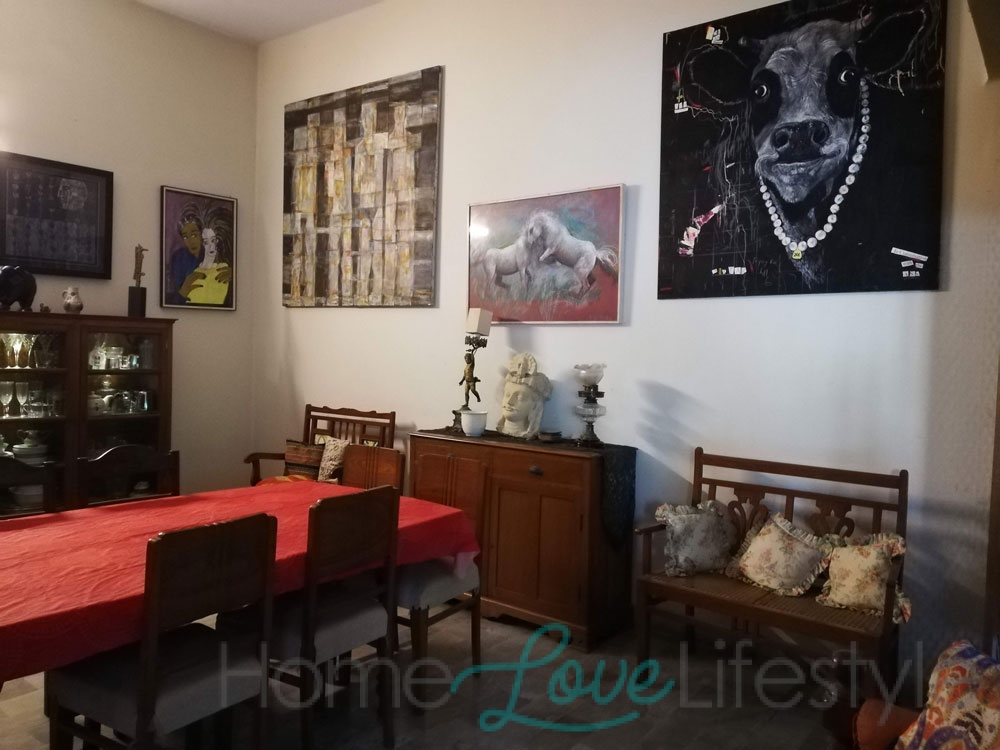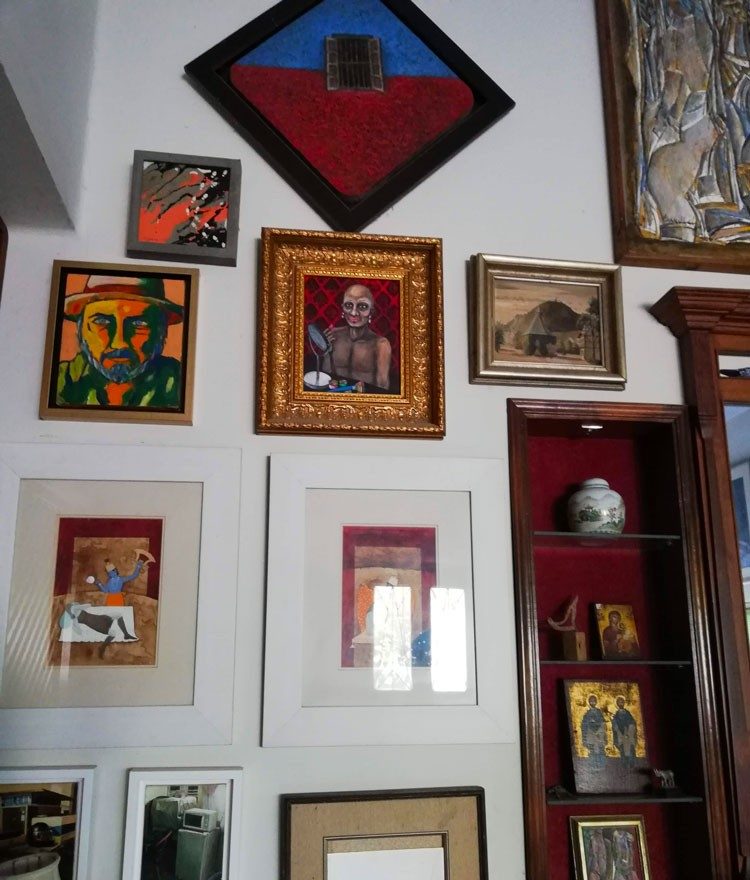 Oh yes. She had a very good job. We were introduced through friends and she was the model for some of my paintings. After we got married, we moved to England for a while. Shaheen was away for some time and we were living there in a small isolated town. Alone in the cold, dreary British weather is when my style evolved. I would paint all day and did a whole series of some fairly intense work. A visiting friend bought the entire series and things developed from there.
Shaheen, when did you start acting?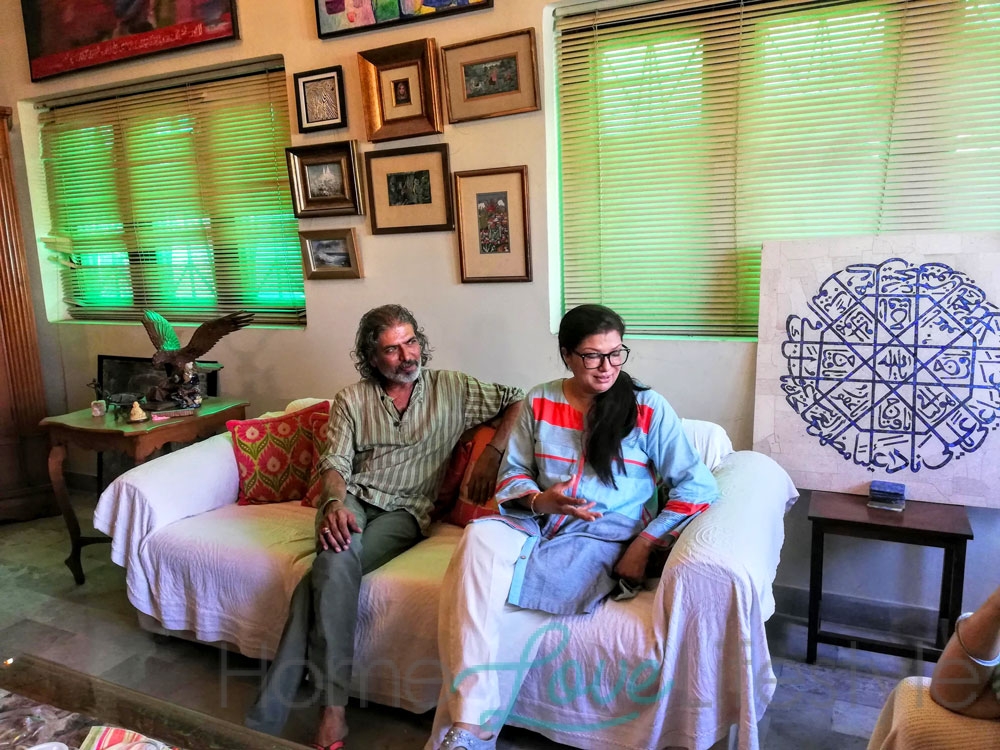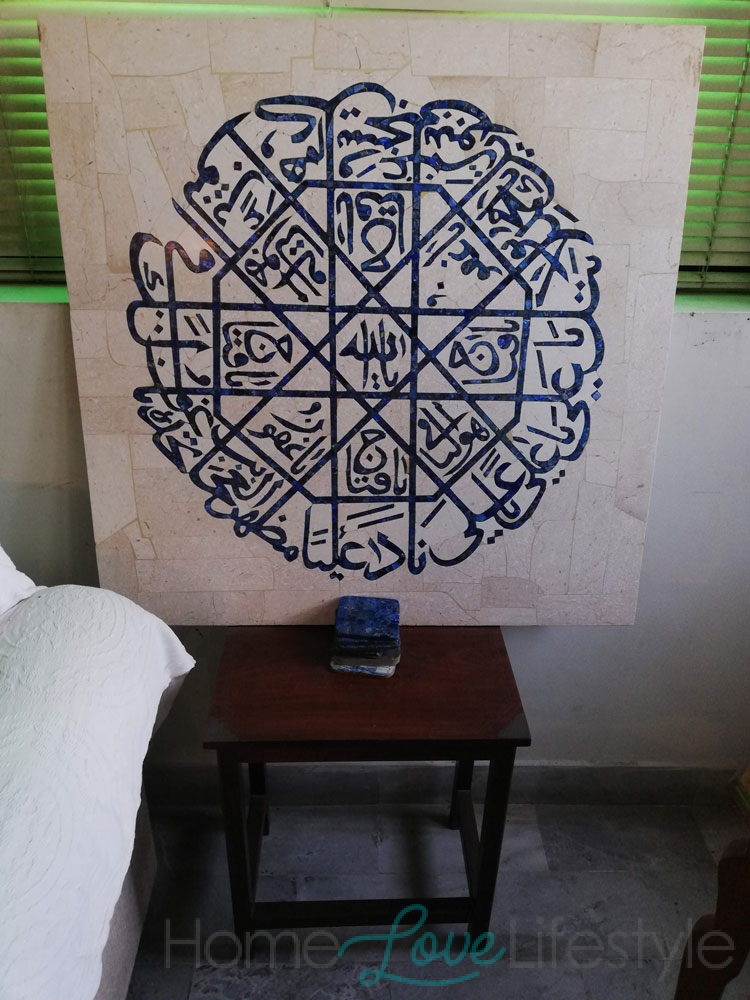 Shaheen: I actually started acting after my second child, my son, was born. I was always very good at mimicry and keeping people entertained. So a friend called me and said she had written a part in a play and would I do it? Those were the PTV days and Kazim pasha was the director. That play became a hit .
So you started getting more offers?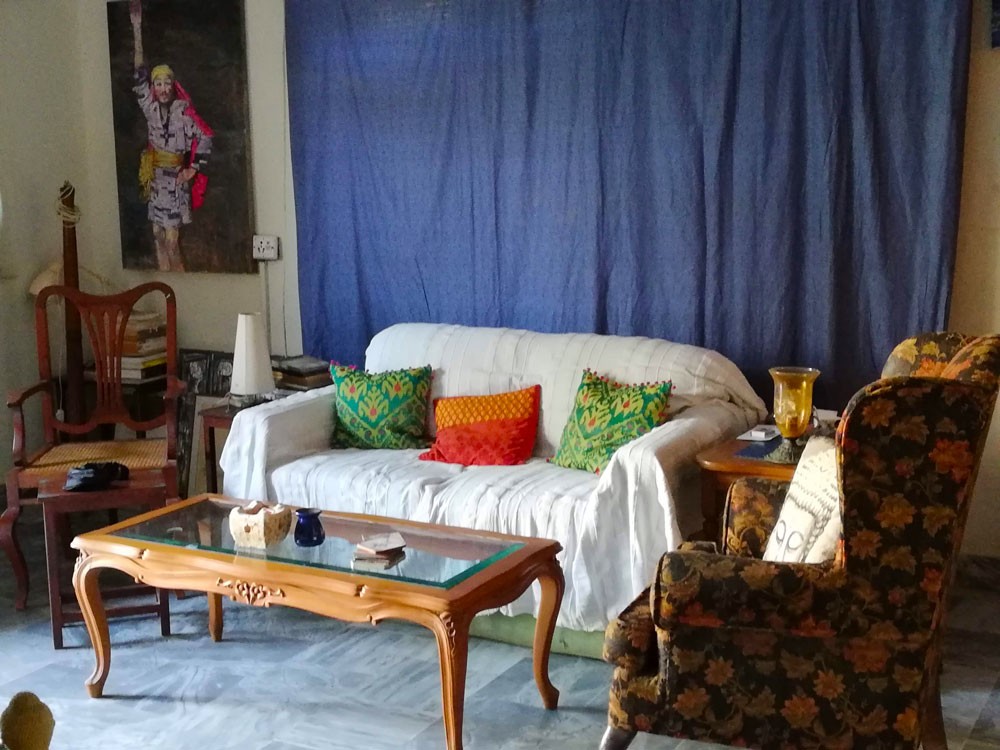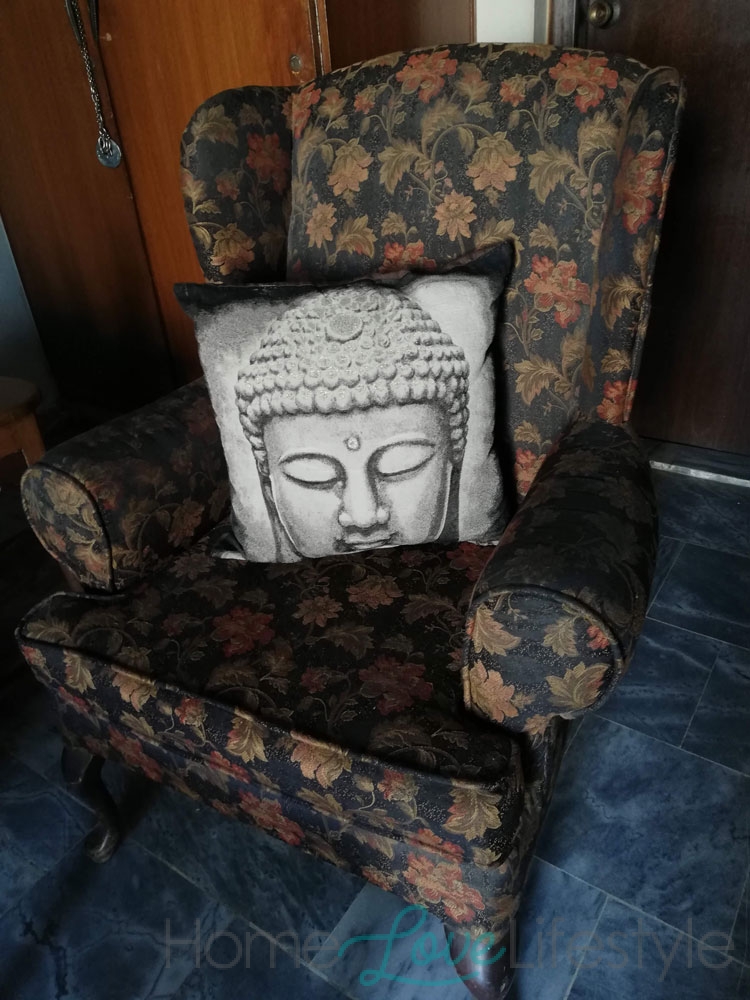 Yes. The next role they wanted to cast me in was of a very glamorous woman. But I asked for something more challenging.  So they said there was the role of a beggar woman and I would have to speak in a Multani accent. But they were not sure I could handle it. In fact, I am from Multan and not only did I mange the accent, I would translate the script for my very experienced co star.
Since then, I have done many plays and a film as well with Sabiha Sumar, Good Morning Karachi.
Your home truly reflects the creative spirit of its inhabitants. Who picks up all the old furniture and the collectibles.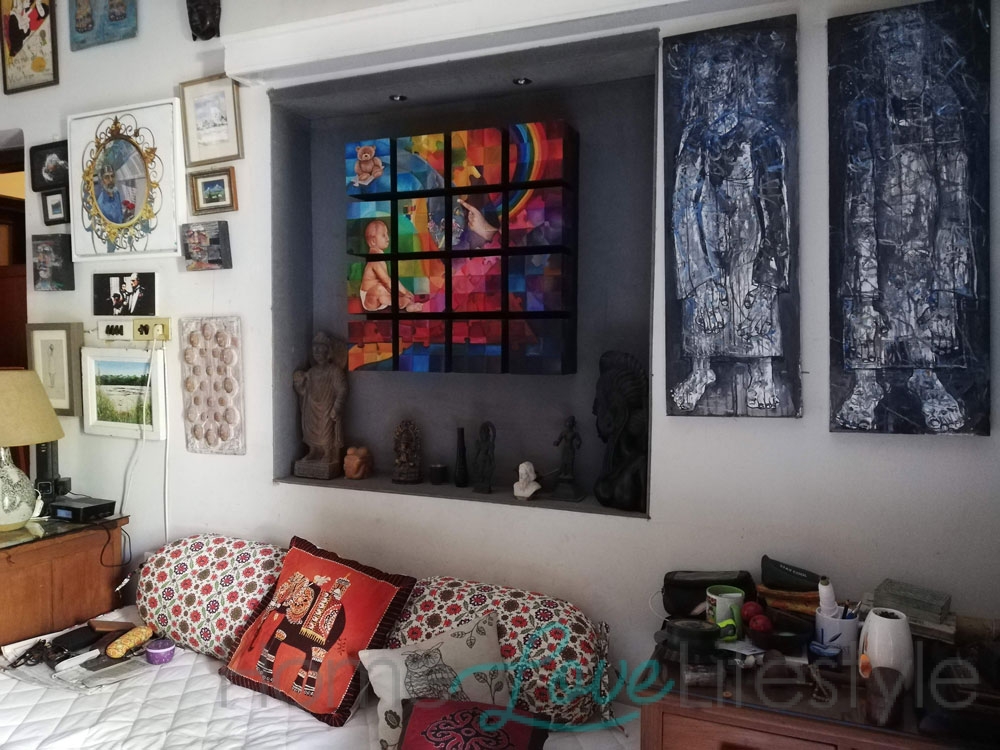 Farrukh: We both do. But mostly me. All the antique furniture shop owners are my friends now. (laughs) Then I randomly pick up a lot of things just walking around the city. Like this plank of wood is from a disused railway track from Cantt. Or this small statuette was thrown away on Sunset Boulevard.
Then I have picked up things from the antique markets at home and abroad. I found a plaque on Portebello Road London inscribed for the "Mohemmaden Girls of Curachee."
Shaheen also picks up things on her travels or shoots.
Where are these Gandhara reproductions from?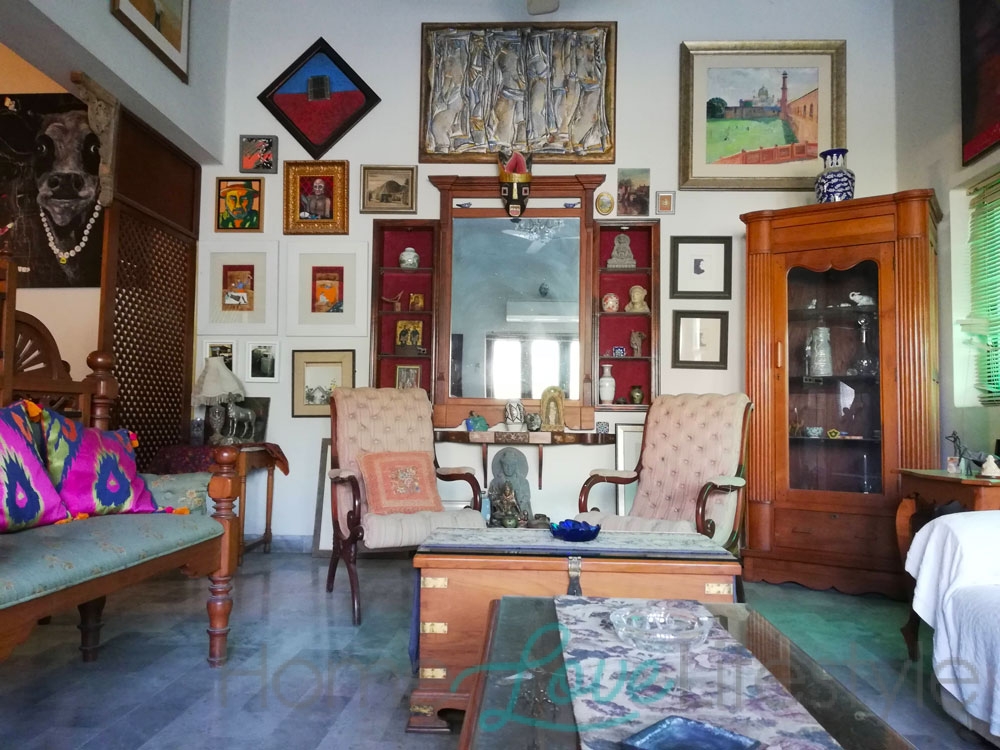 Most were made by an old man who used to make these for the Taxilla Museum souvenir shops. He was called 'but wala Baba'. He died some years ago but his apprentice who still makes these busts and statues in Taxila is my friend.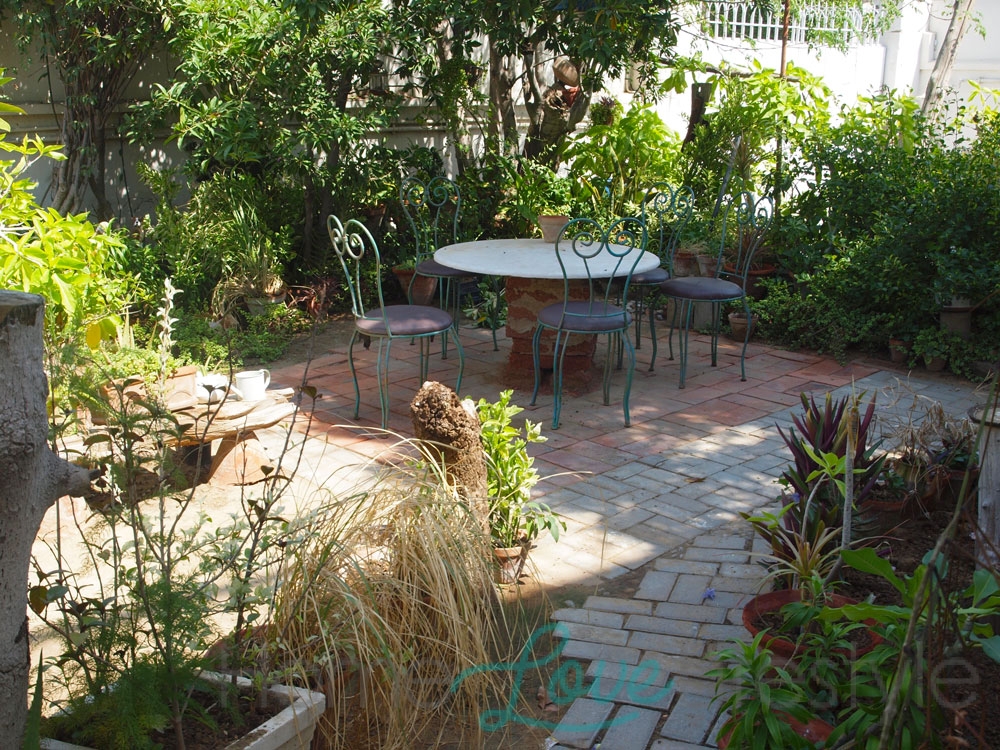 Farrukh, you are also an active cyclist.
Yes. I cycle regularly with Critical Mass. In fact, there is a small group of us within the larger group which explores out of the way places. For instance we cycled to Happy Street in Lyari, the Jewish graveyard in Karachi and any more places. We have taken longer rides into Sindh where we were welcomed by the entire town and given breakfast in an ashram.
Unpretentious and  unique, this bohemian artist and actor's home was truly a pleasure to visit.
Photography by Naeema Kapadia