When you first meet Rameesha Shahid, Pakistan's first certified woman Kick Boxing Trainer, you are struck by her humility. Unlike certain other trainers she is not overly aggressive or bossy. But get her in the ring and she is unbeatable.

What inspired you to take up a sports career?
I was always into sports. I grew up in a joint family, there were 10-12 cousins and we were always playing games. We played cricket, cycled, boys and girls both took part.
Then in school I started Taekwondo, throw ball and badminton. We moved to the US and whilst at high school there I actually took a break from sports. But after my return, I joined Szabist and became Female Wing Head of the Sports Society.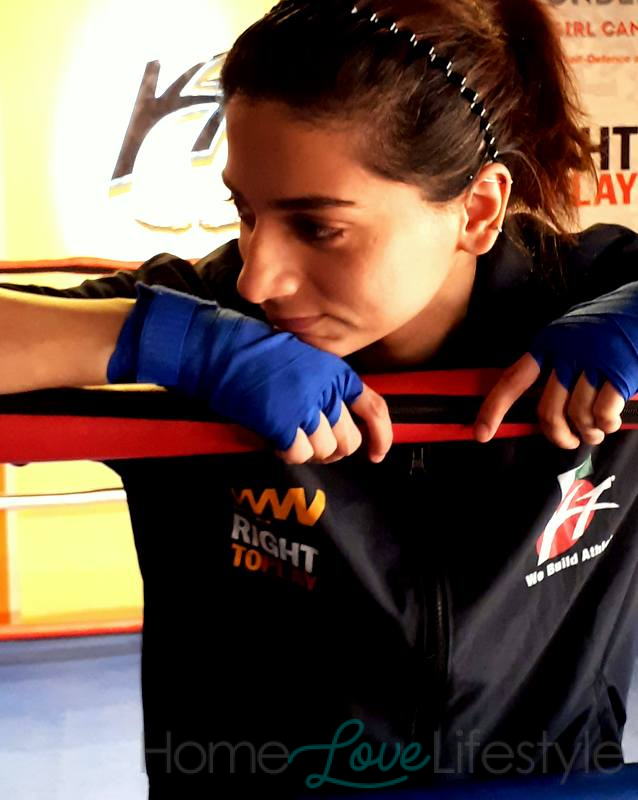 How did you decide on becoming a certified kick boxer & trainer?
It was my final year in the Media Science program and I started looking at different gyms. When I came to K7, I tried kick boxing and loved it. After only 1-2 sessions I knew this was what I wanted to do and become a trainer too.
It took 2 years of training first here and then in 2016 I went to Malaysia for an intensive course. It was part of the FitAsia program called FitMalaysia. My taekwondo experience really helped me I think.

So what was your family's reaction to this career choice?
They were actually relieved (she laughs). Previously I was working in media, at a TV channel and the hours were so crazy. At the gym I keep regular hours and enjoy being the first and only female kick boxing trainer.
Do you feel women are more interested in the sport now?
Yes, I feel the emphasis has changed! In 2016, women would come in to get fitter or lose weight! Now they want to become stronger and more confident. I think the recent headlines about harassment and the #metoo movement has made a big difference.
People used to think kick boxing was manly. Now they realize it helps make you both physically and mentally stronger. It's challenging but it is also fun!
Anything you would like to tell women embarking on a sports career?
Yes that they should not be intimidated or forced into careers by their families. My mom is a doctor and my dad a professor, but I decided on a different career. My parents supported me when I made that choice. So choose your own career path and if it's sports, then go for it!
Tell me a bit about your best student and the worst?
The best one is a current one who is preparing for her first fight. She comes from a conservative family and wears a hijab. But that has not stopped her following her dream. She has lost a lot of weight and become fitter, but the transformation mentally is even greater.
Worst student… (she laughs). People don't realize that kick boxing is not as easy as it seems. They give up too easily. They want a change but don't want to change their lifestyle.
What do you suggest for people looking for a trainer?
Try out a few gyms and trainers before you commit. There are so many different workout styles and trainers. Keep going till you find one that suits you.
How do you motivate yourself?
Once you become an athlete you become competitive. Not just with others, but with yourself. There is no limit. Besides kick boxing I enjoy cycling. I am a part of Critical Mass Karachi and Bikestan. I'm also part of a cricket team called Khelo Kricket. Fitness is a lifestyle. To stay healthy I cook myself too.

How do you motivate other people?
I try to push them to achieve greater fitness. I always work to ensure that they get the best work out. I adapt the session if there are any injuries or issues. My aim is to help people become a better version of themselves.
Who is your favorite athlete?
Serena Williams for sure! She is not just a champion, but she doing so much for women in sports. Speaking up about issues on live TV and really making a difference!
Rameesha Shahid is leading the way in kick boxing in Pakistan and inspiring a whole generation of women to follow.