This roast leg of mutton makes a timely appearance. It's Eidul Azha and meat is definitely on the menu! Pakistani cuisine surely ranks as one of the finest in the world and no one does a leg of roast mutton better than us. Here's a tried and tested family recipe that never fails to impress at dinner parties – on Eid and any other occasion.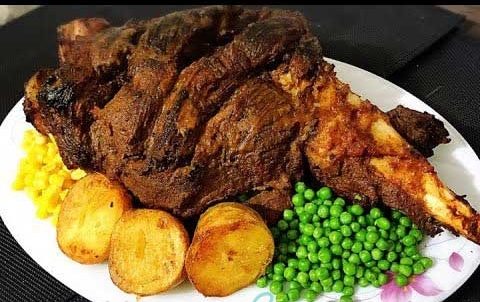 Ingredients
One leg of mutton about 3 kg
Yoghurt one kg
Garam masala (powdered) one teaspoonful
Tumeric or haldi half a teaspoon
Red chilli powder 3/4 teaspoon or to your taste
Salt to taste
Ginger paste  one teaspoonful
Garlic paste one teaspoonful
Cooking oil 1/4 cup
Method
Prick the leg of mutton all over with a fork.
Make a marinade with the yoghurt, garam masala, haldi, salt and chilli powder. Marinade the mutton and leave for at least one hour. The longer it marinates the better.
Then pour the oil into a cooking pot and saute the ginger and garlic. Lift the mutton leg out of its marinade and fry it for a few minutes in the ginger garlic paste.
When the meat appears slightly browned and there is no water left then add the rest of the yoghurt marinade to the meat with about half to one cup of water.
Let the mutton cook till tender. Then dry any water in the dish and fry the masala till the oil rises to the top.
You will have a wonderfully aromatic and tender delicious mutton leg bathed in a mouthwatering masala.
You can also boil potatoes and add them to the roast mutton in the last stages of the cooking. They taste delicious wrapped in the finger-licking masala.