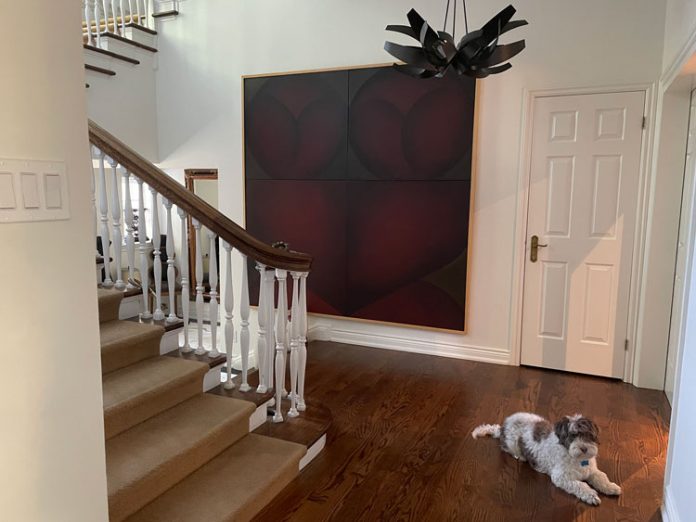 This beautiful and historic Toronto home overlooks a thickly forested ravine right in the heart of the city. Located in a downtown neighbourhood dotted with heritage homes, this gorgeous space is home to Askari and Asma Naqvi who moved in recently, re-locating from another heritage home featured earlier by us. "We weren't planning to move," the homeowner tells us. "But we saw this property and just fell in love with it." Asma has always been drawn to older homes, which she feels have a lot more character, and their new residence certainly has that in abundance – with an impressive history to go along with it.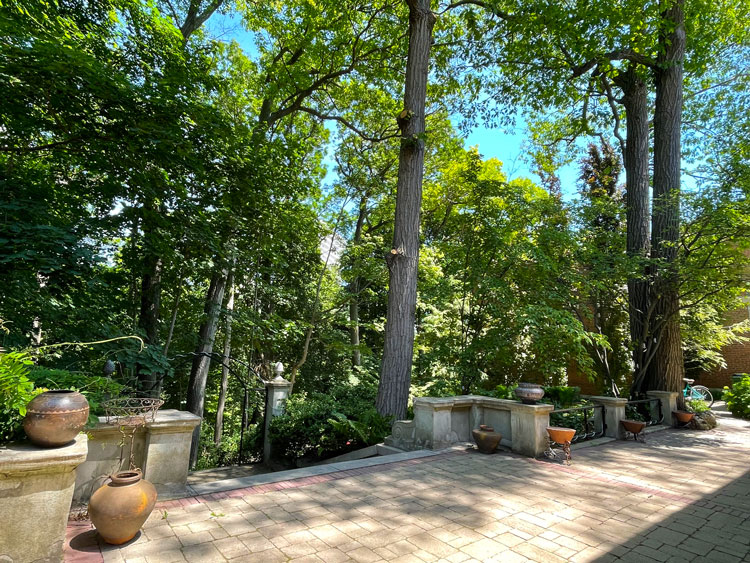 Asma told us all about it.
So the home has quite a history. In fact, it is pointed out on walking tours of this heritage neighbourhood.
Yes, that's right. It was built in 1919 by the Canadian Manager of the Woolworth company Ralph Connable who was a prominent, if slightly eccentric, member of society. He had moved to Toronto from the US and built this house, hiring European designers to decorate it.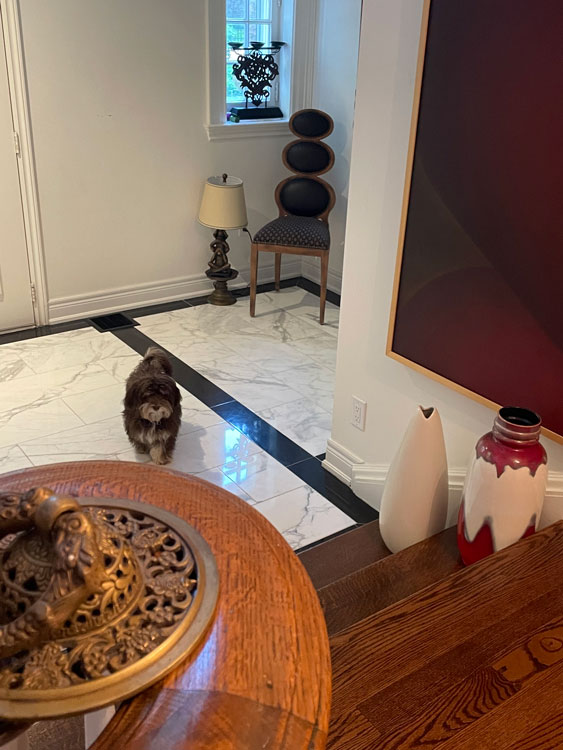 The most famous occupant of the home was Ernest Hemingway! He lived with the Connable family who asked the young man to stay with them as a friend and mentor for their disabled son. Hemingway later went on to work as a journalist for the Toronto Star. After World War 2, the residence was converted into a hospital for paraplegics, called Lyndhurst Lodge, and had a very good reputation for its services.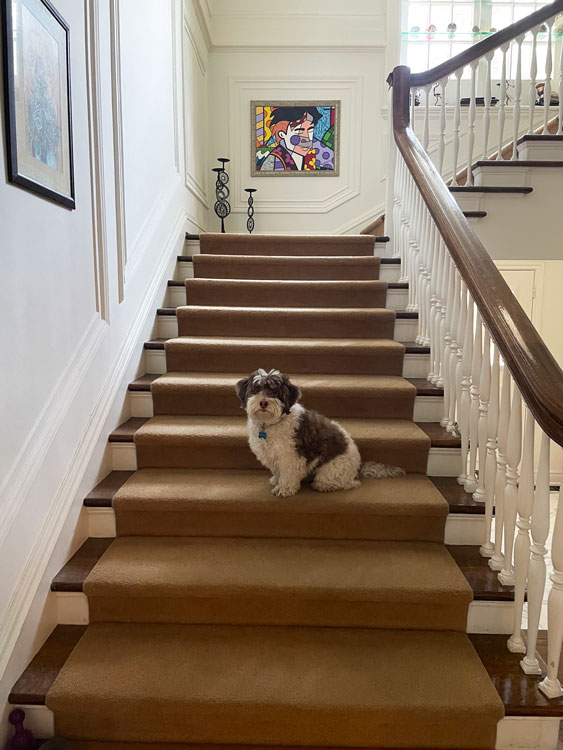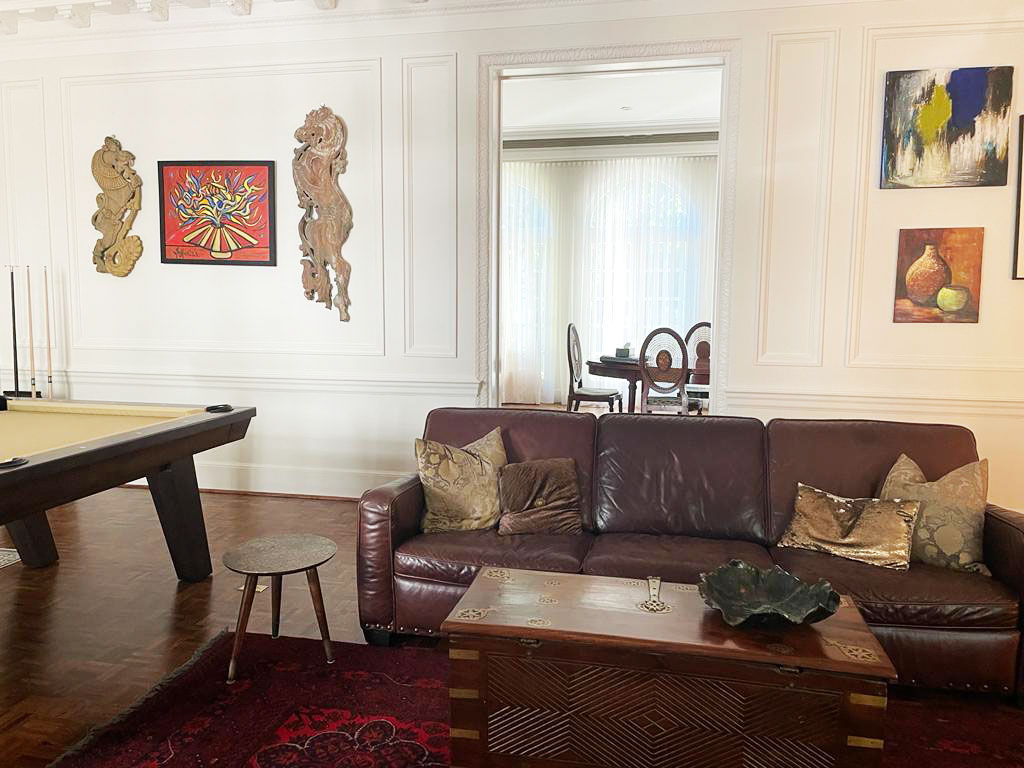 The original home occupied a much larger area. It is currently divided into several semi-detached houses, with ours being the largest portion and bearing the original address.
One can see the period influence in all the elaborate detailing.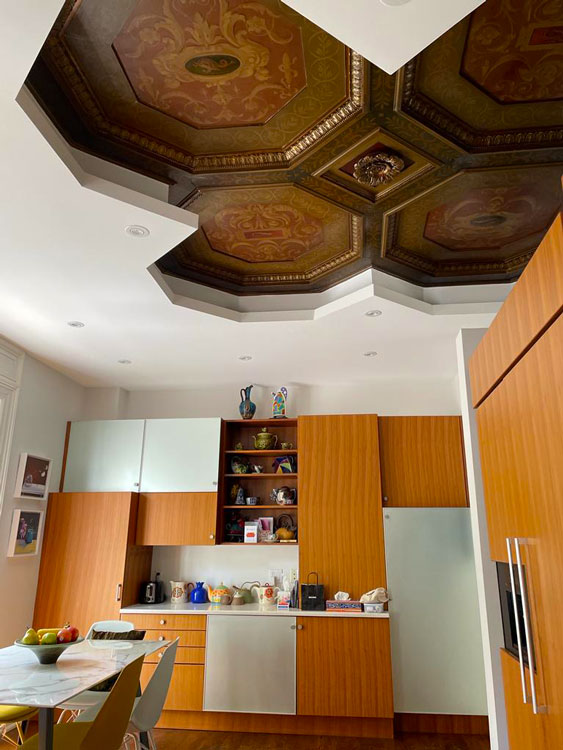 Yes. Of course, it has been completely renovated and modernized but you can see the original touches in all the mouldings and embellishments on the ceilings and walls. Most notable is the kitchen ceiling; it was once part of a ballroom, hence the elaborate decoration.
The front of the home is deceptively simple and doesn't hint at the gorgeous features inside.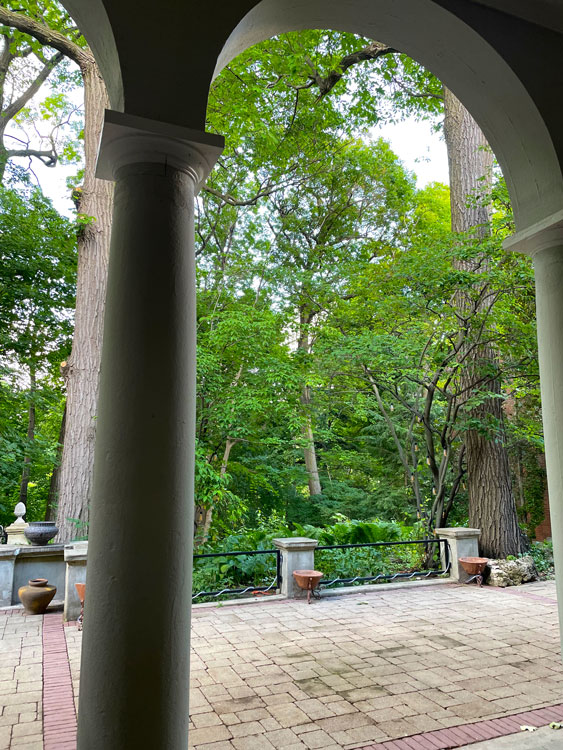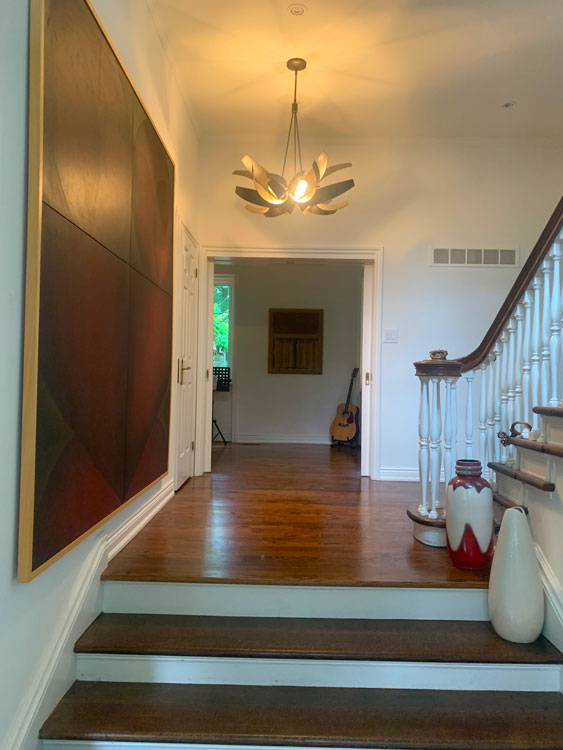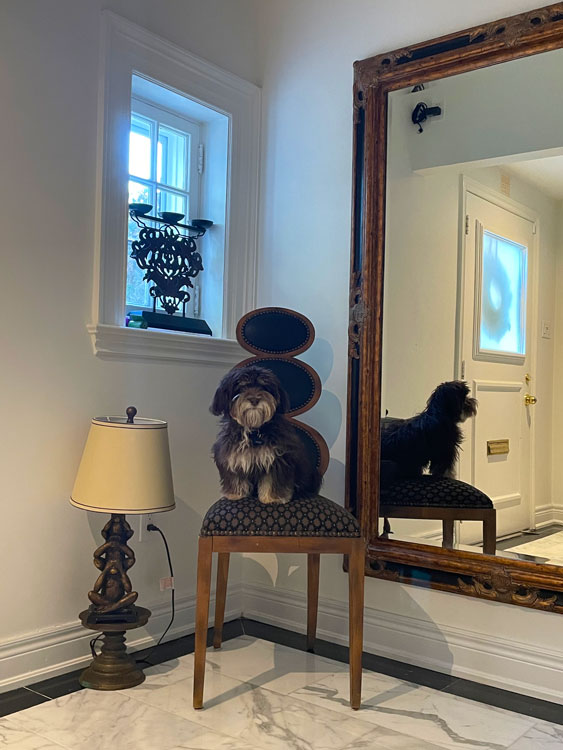 Thats true. People are quite surprised when they step inside and see the space and particularly the patio area.
The patio is perhaps the most stunning feature of your home, particularly because it overlooks the ravine.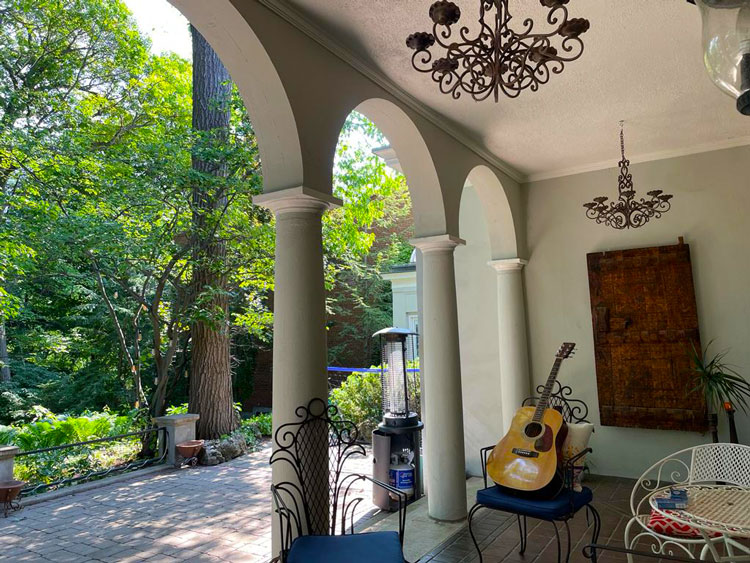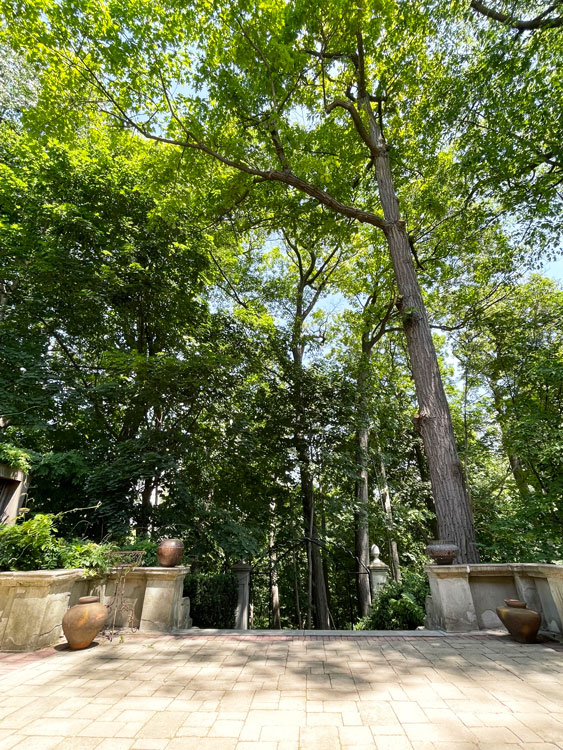 Definitely. It is a favourite area and it is always in use. We have a lot of visitors and house guests just gravitate to this space. All of us not only sit and have our tea here but it is also a popular yoga spot, the children use the terrace area for playing basketball or badminton or kick around a soccer ball.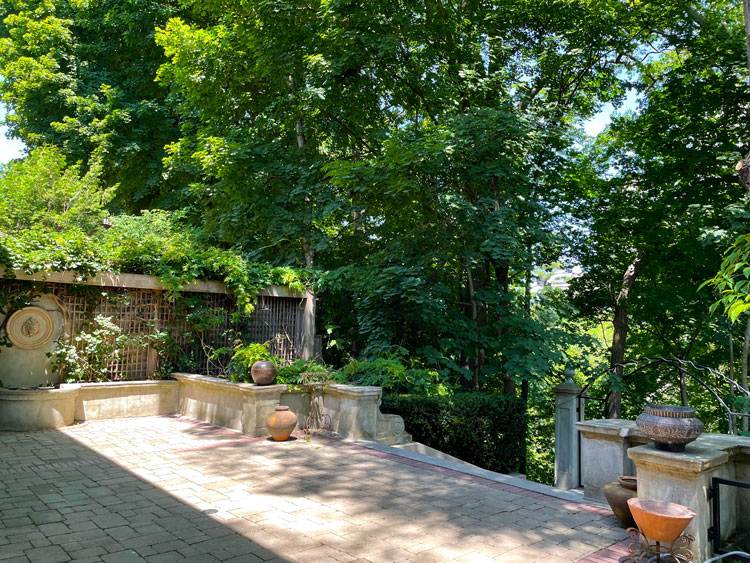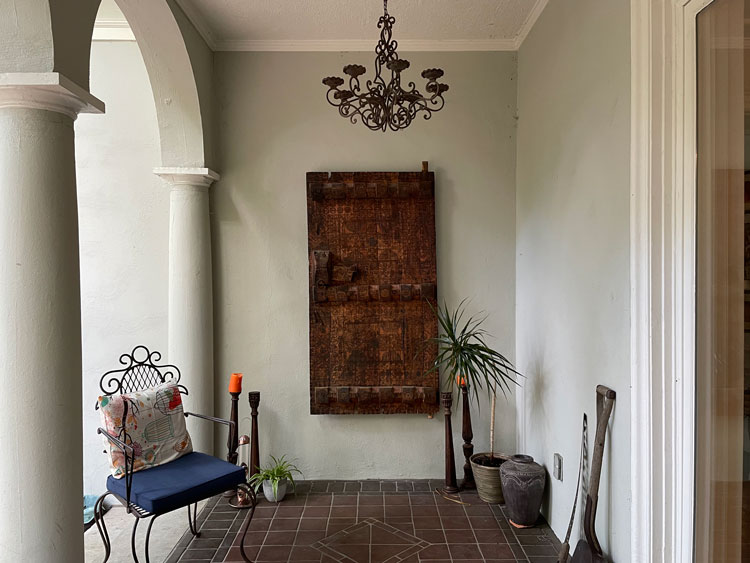 The more adventurous of us also love going into the ravine down the rather precarious wooden steps that lead into it. Otherwise, just sitting here and looking at the trees and hearing the leaves rustling in the wind is incredibly peaceful. One really gets a sense of stepping into nature while still in the middle of the city.
This home seems built for entertaining.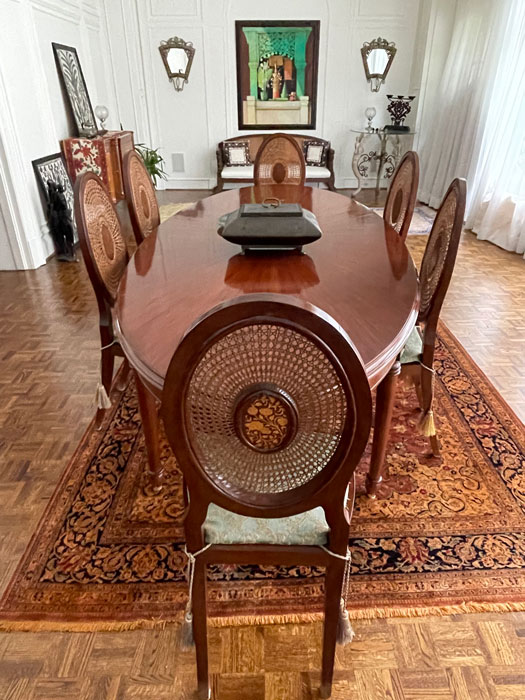 It really is, not that we entertain very often. But I like to host Eid get togethers and we had our first one in this house last Eid. There was no dining room in my previous home and my furniture was in storage. We have a large dining room here and ample space for larger groups  and, of course, the terrace adds to the entertaining area. Even on its own, the terrace is perfect for a summer soiree.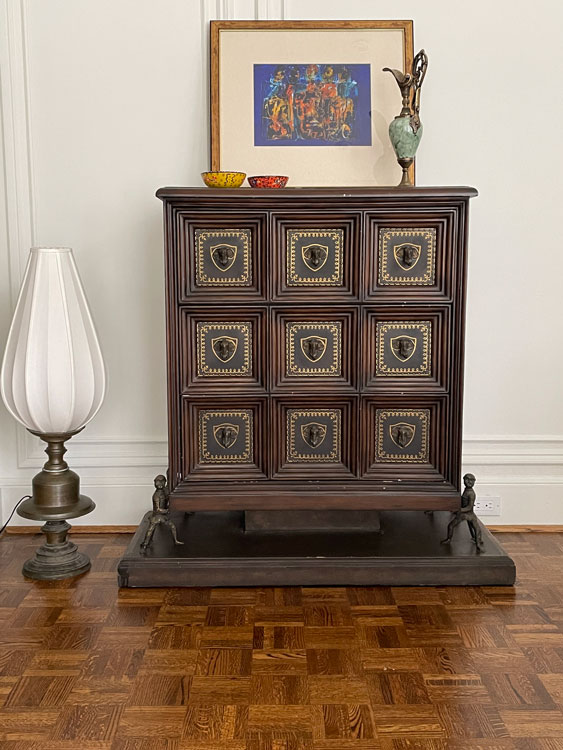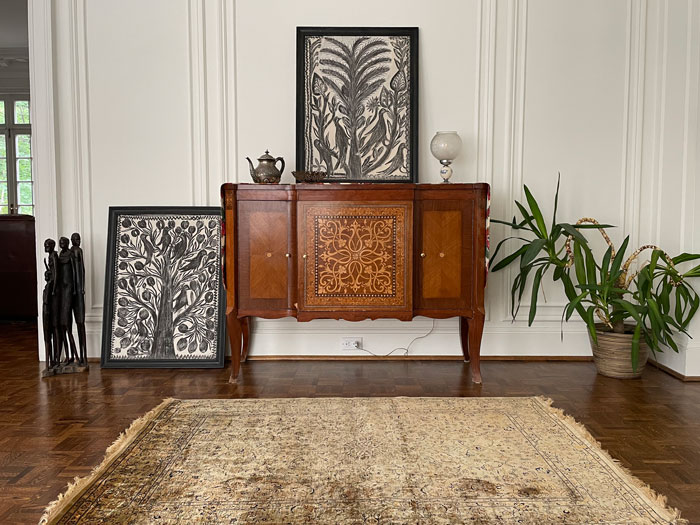 Which room is used the most?
When we have house guests, which is often, all the rooms are used. The living room is a popular spot for watching TV or playing pool. The pool table is something my husband always wanted.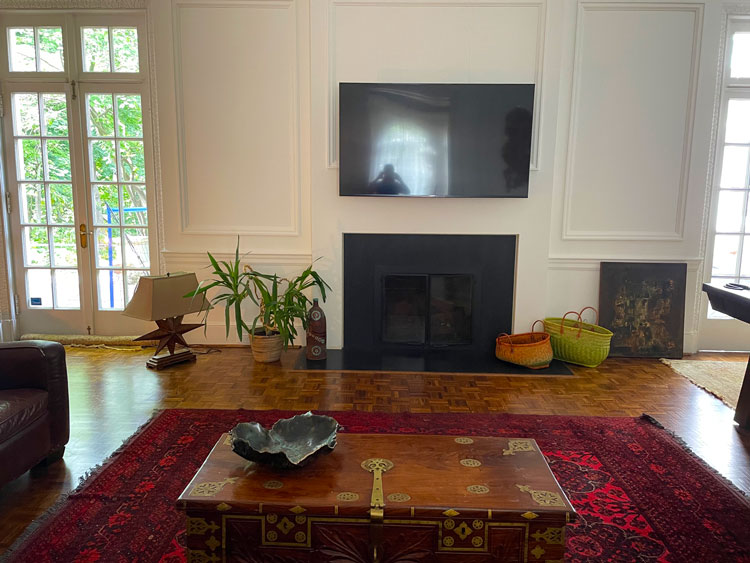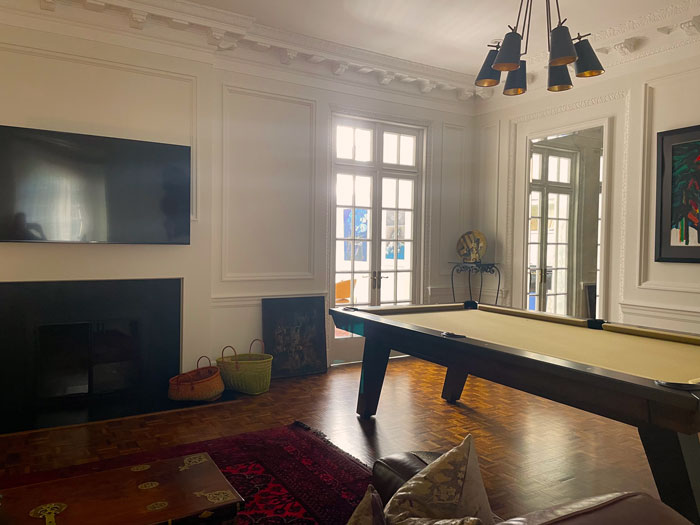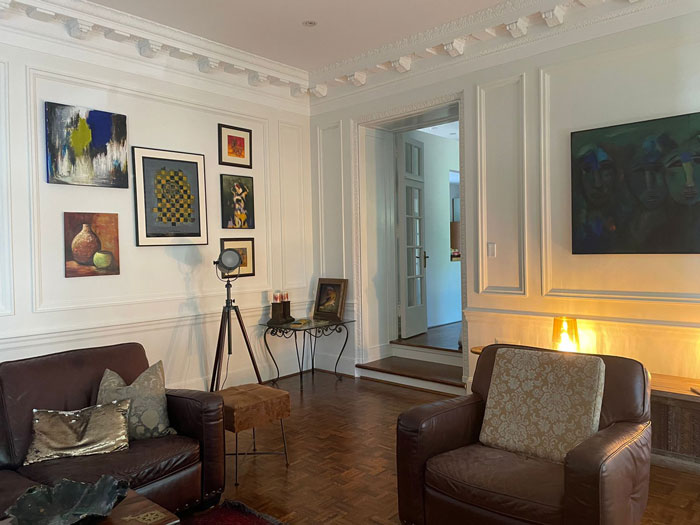 But the kitchen is perhaps the heart of the home where everyone gathers to cook or eat a meal. It's a lovely bright room too. The kitchen is very functional with loads of storage and lots of space for family members to cook together.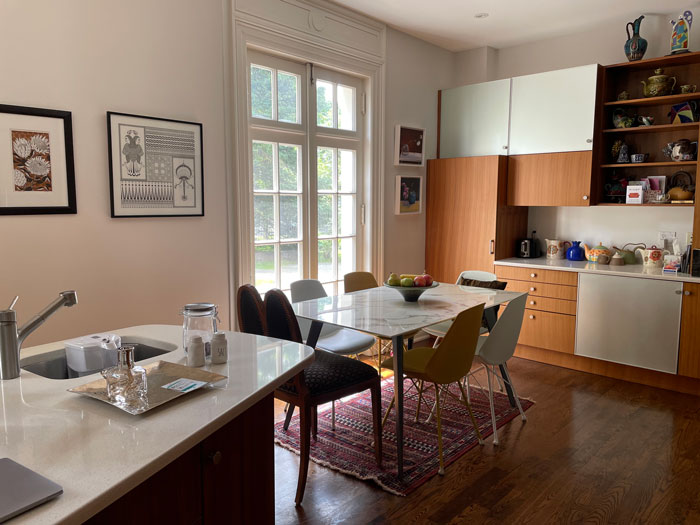 Personally, I spend a lot of time in the study because I work from home so I'm found there very often. My husband also keeps his guitars here and practices in this room whenever he has time.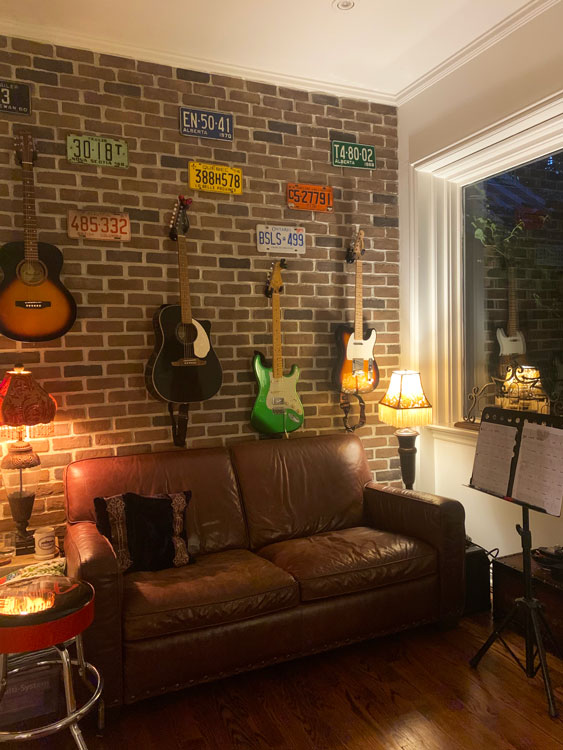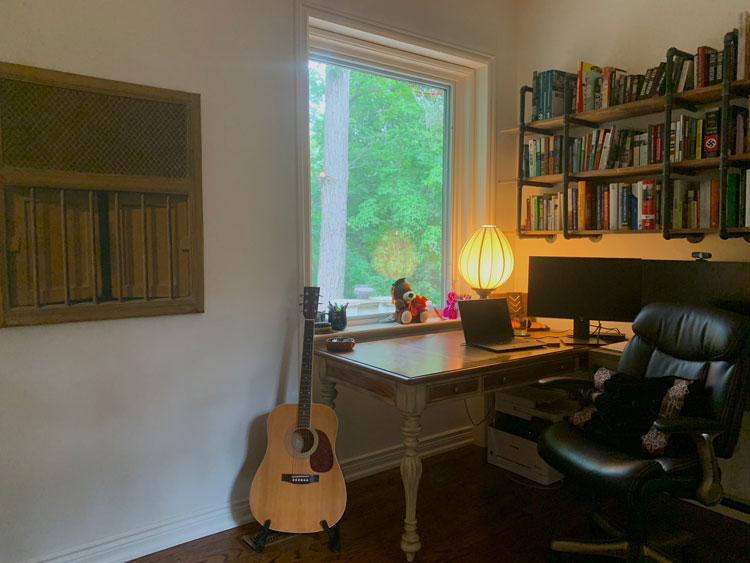 And the sunroom?
This is an original feature of the home and it's a lovely room. It is not used as much as I would like but it serves as a studio sometimes; both my mother and mother-in-law like to paint when they are visiting and occasionally the grandchildren join in.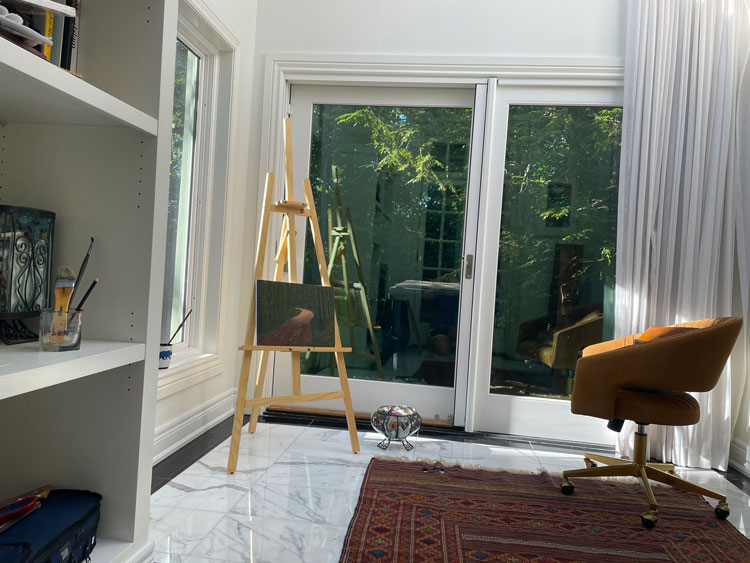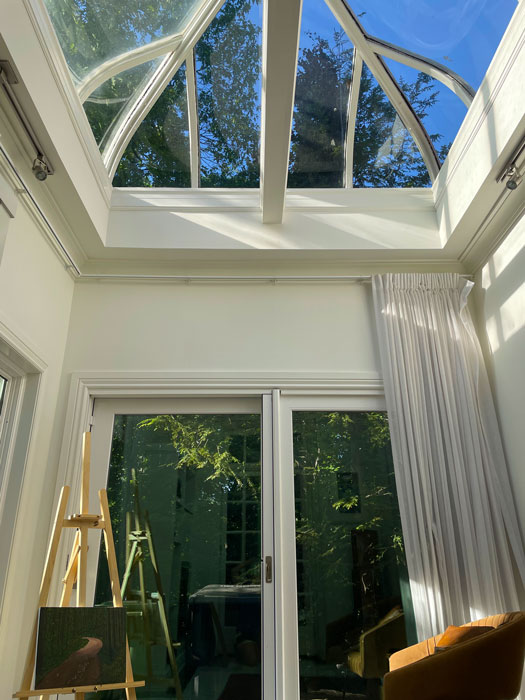 You also have more room in this home to display your impressive art collection and stunning Persian rugs.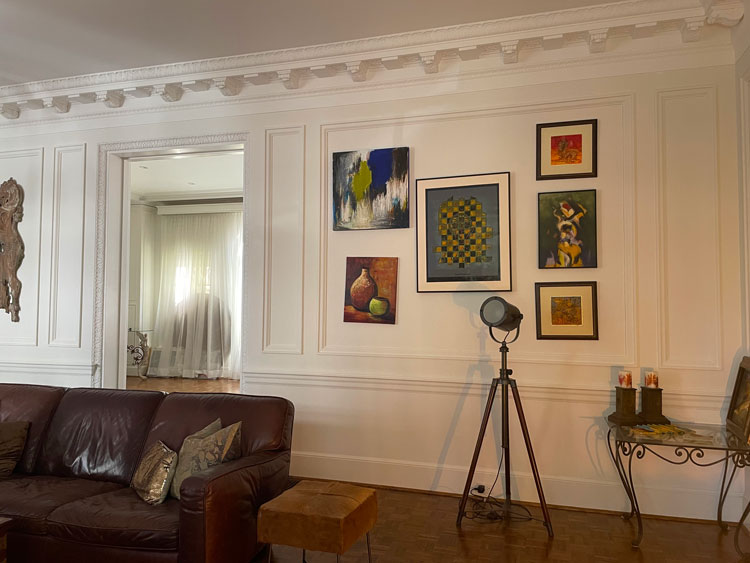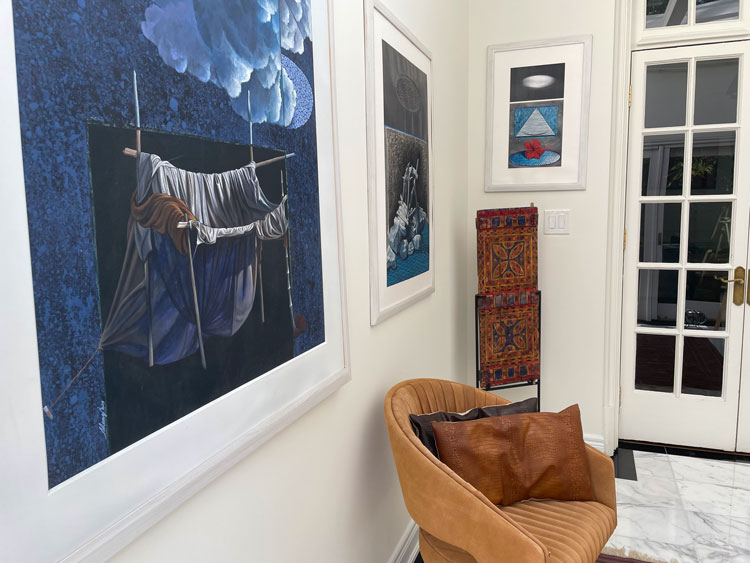 We have collected mostly Pakistani art and there are lots walls in this house to display them. But a lot of the paintings have still not been put up. In fact, the house is still a bit of a work in progress, I'm taking my time. Right now I'm okay with some bare spaces, I don't want to fill up the house too much.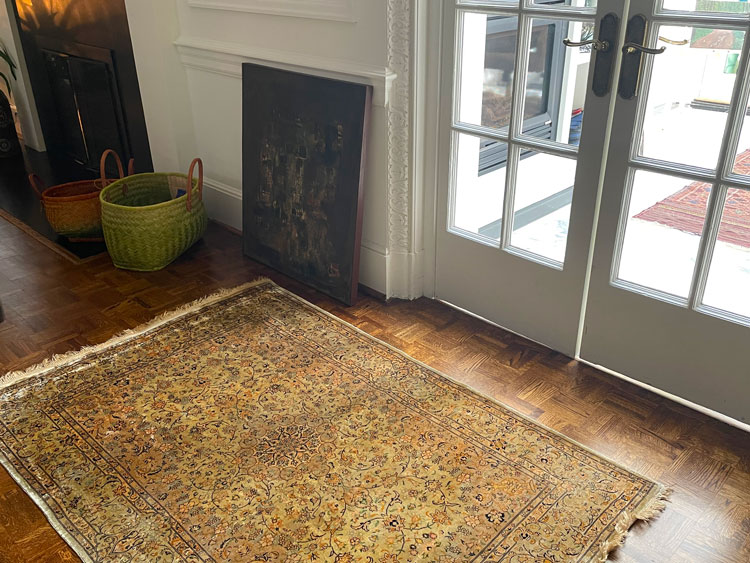 The carpets were also mostly bought in Karachi and I really cherish them; they add a lot of warmth and beauty.
You also share the home with your adorable dogs. Do they have the run of the house?
They pretty much do. They are part of the family after all.