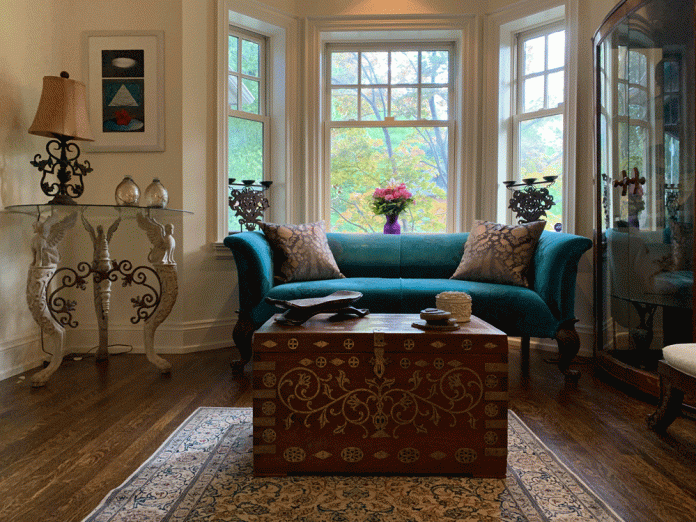 This beautiful heritage home in a leafy Toronto suburb sits on a street dotted with old school, Edwardian-style houses. Most of the homes in this picturesque tree-lined neigbourhood boast gabled roofs and red brick facings, giving it an idyllic charm.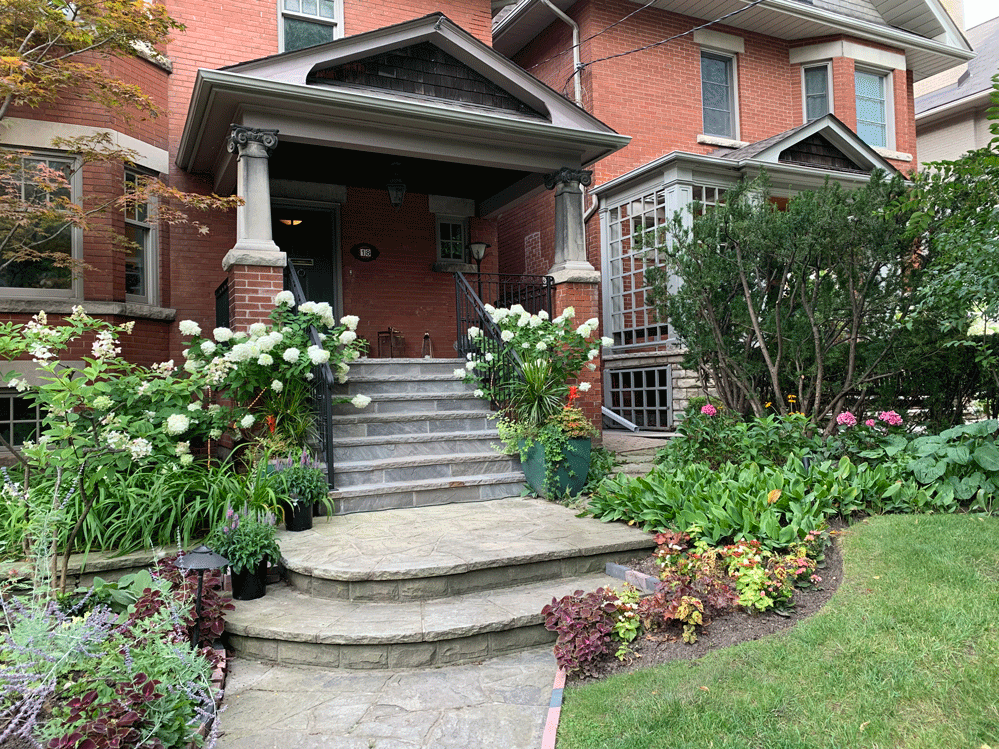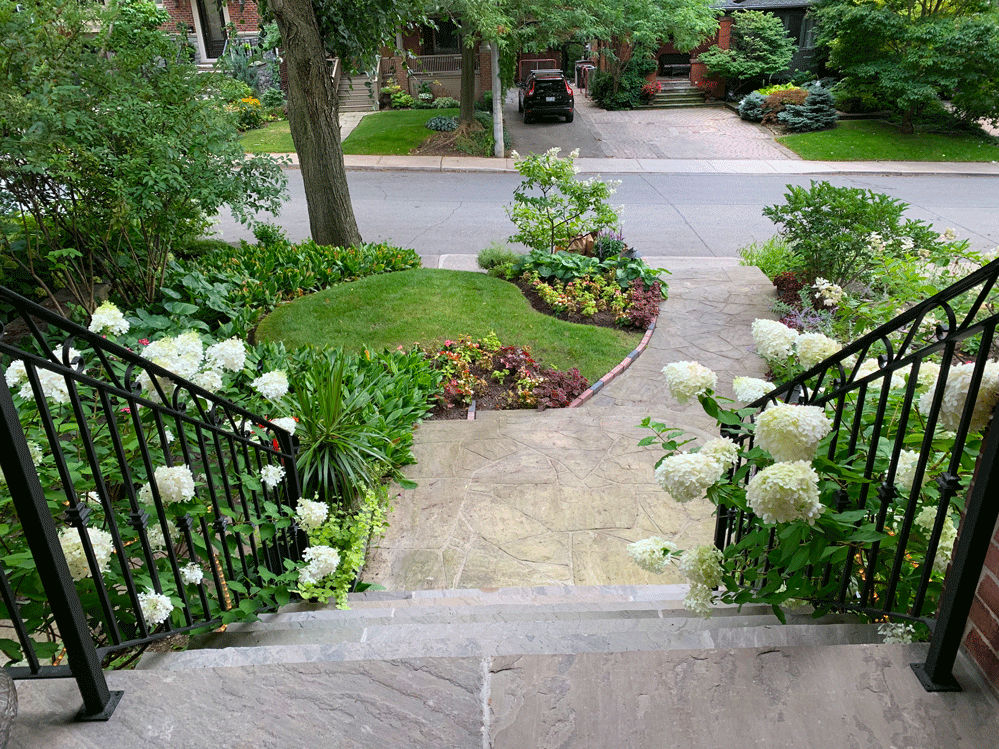 The house we visited is a three-story construction built over a hundred years ago and renovated over time.  It is now home to a Pakistani-Canadian couple with college going children, an active pre-teen and a very friendly Havanese dog. Asma and Askari Naqvi welcomed us warmly and Asma answered our questions. 
What made you choose this beautiful heritage home in Toronto?
We moved to Toronto some years ago and I saw many houses before choosing this one. I guess I like homes with some character. I also loved this street with its towering trees and beautiful houses.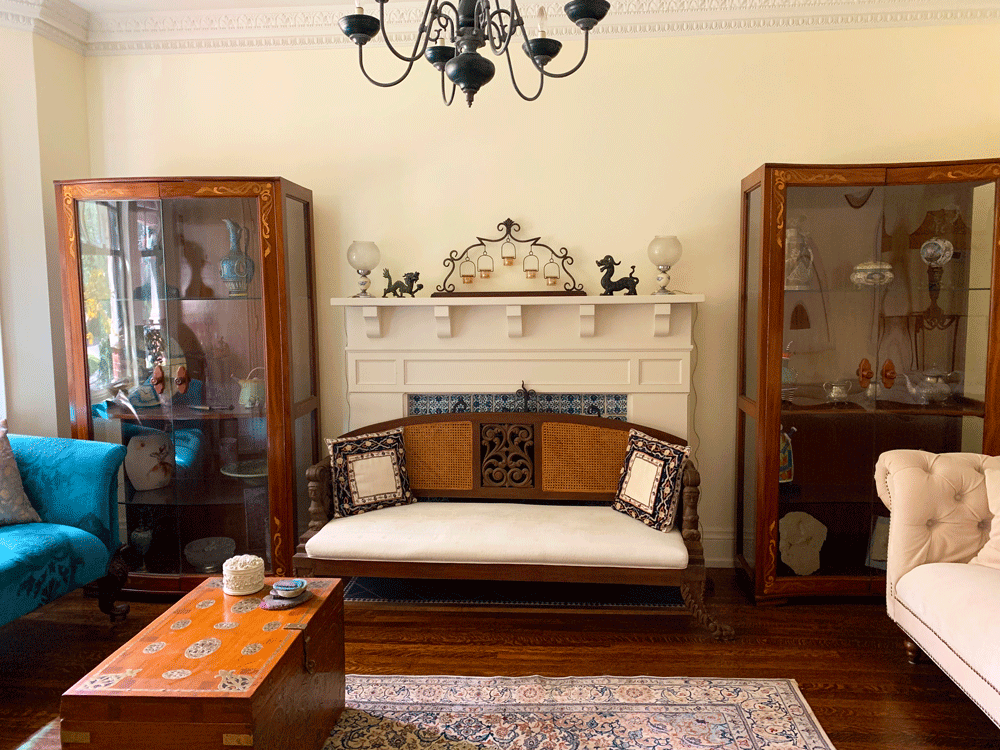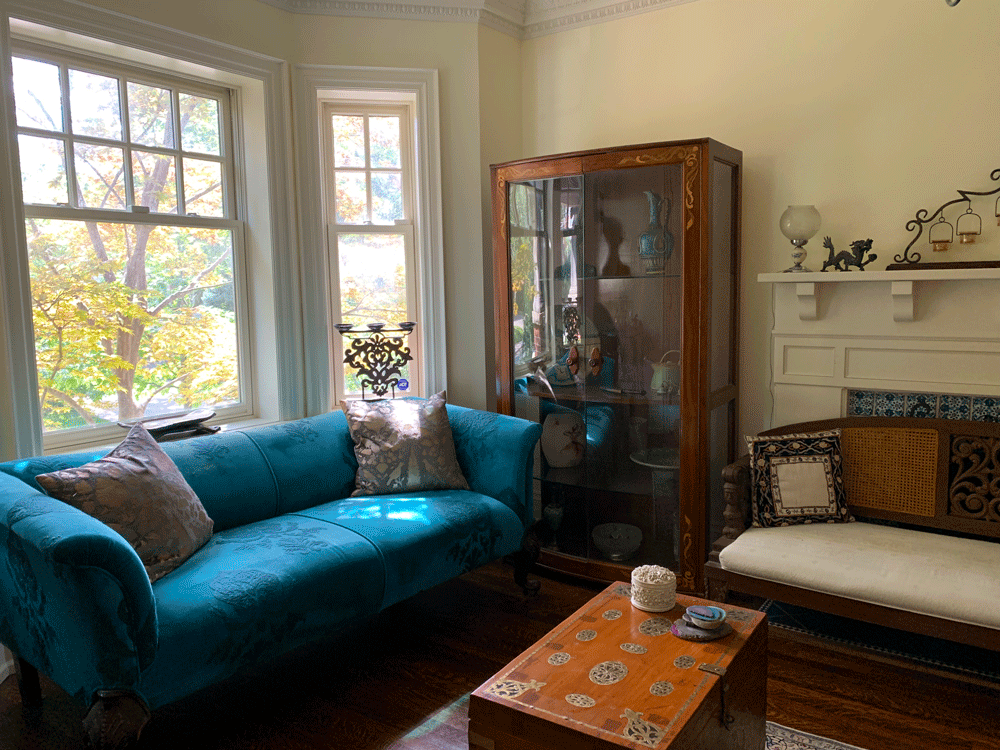 The house is three-storeyed and, while it is quite large, it doesn't have a wide open feel. But I loved the cosy spaces within the home and then there was the backyard… It's very big and has lots of gorgeous foliage.
So when was this house built? Did you have to make a lot of changes to it?
It was built in 1913. In fact, we have the original construction plans which mentions how many carriages can be parked outside.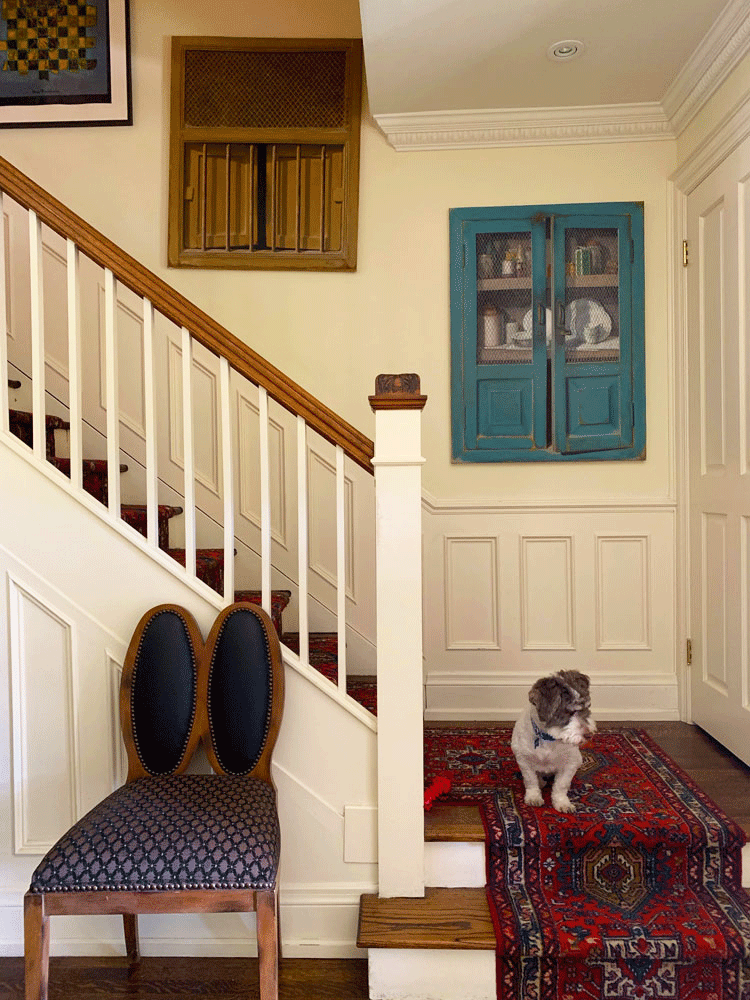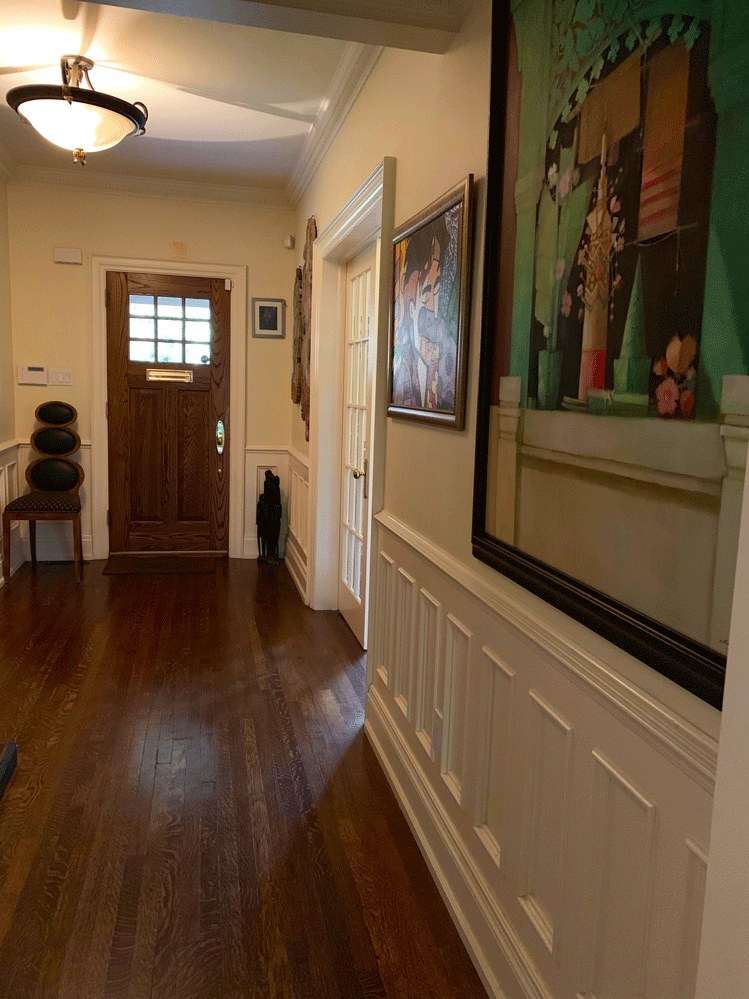 But we did not have to make any changes. The family who lived here before us had already made some expansions.  One thing I would like to add is a proper dining room. My dining furniture is lying in the garage right now. Maybe in the future…
You have  beautiful lush backyard and a gorgeous patio outside. Do you use that often?
We use the patio a lot in summer. I love to sit ouside at night to relax after a long day. I love the sound of the trees rustling in the wind, it sounds  very much like the sea. And family and friends who come to stay with us all gravitate outside to have tea or just hang out.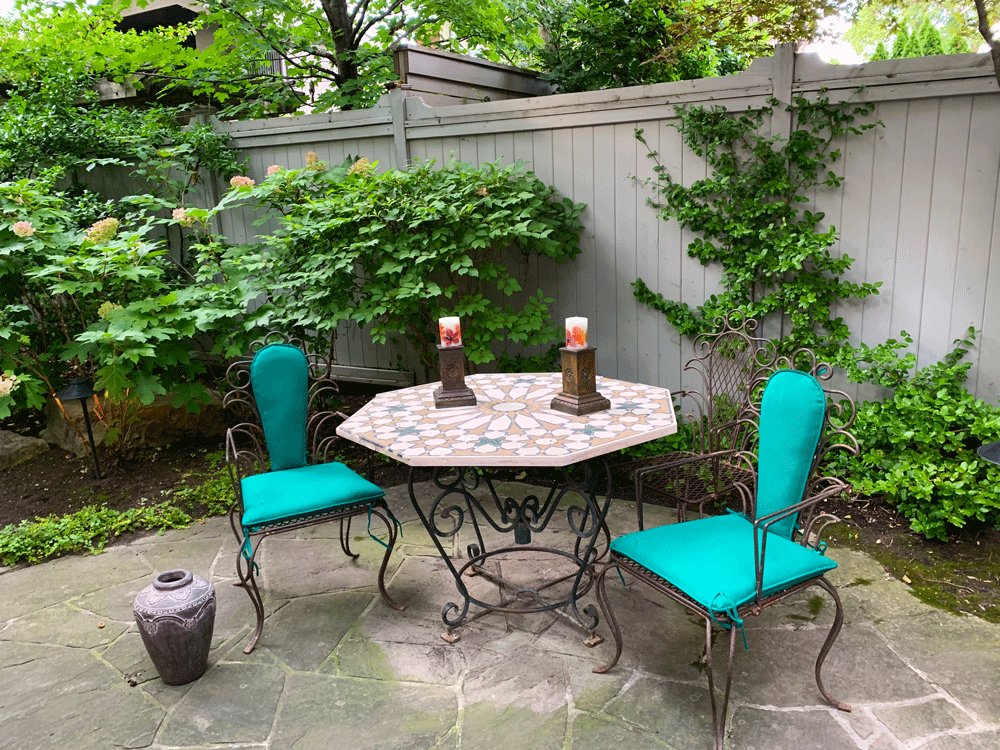 This summer when family was visiting, we had a wonderful picnic lunch on the grass out in the backyard.  It was an idyllic day and with the tall trees overhead it was just perfect.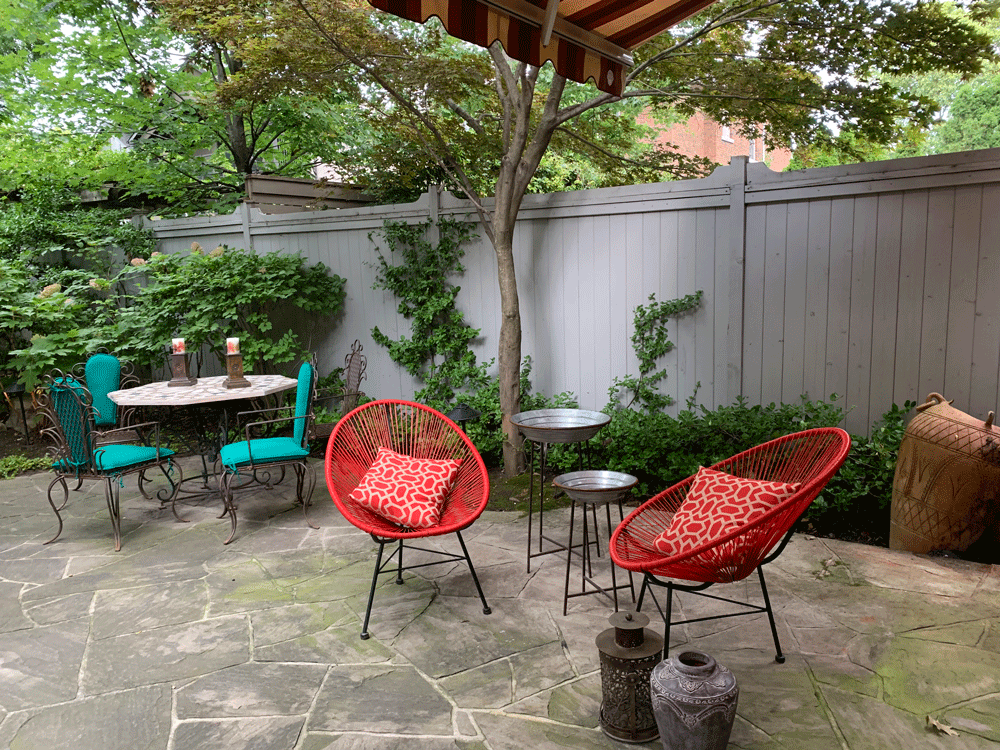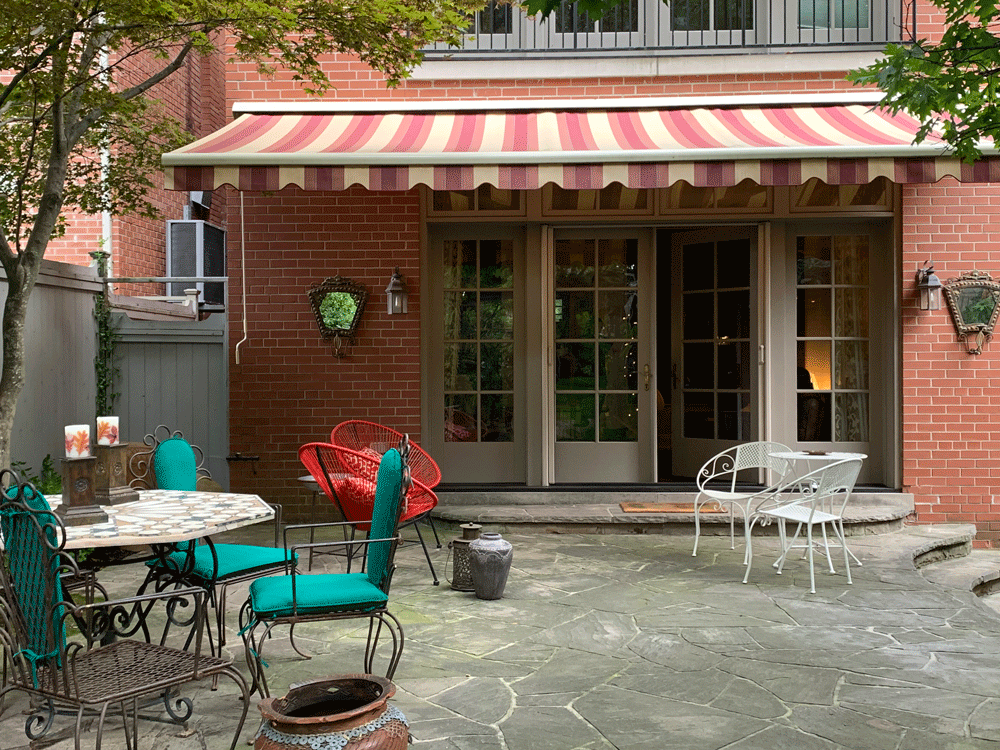 Also my son is very keen on sports and he uses the backyard for practicing whichever sport he is currently into, whether net practice for cricket, or exercises for tennis. Currently it's pitching practice for baseball.
Do you entertain often? How do you use the space then?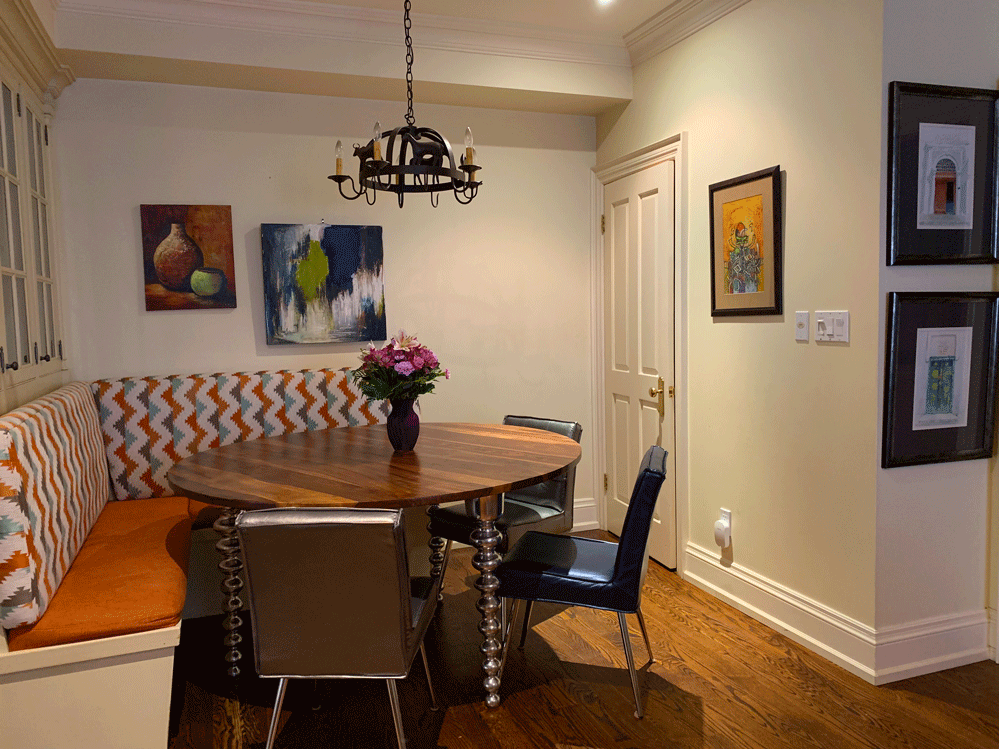 We don't entertain a lot but I do have my Eid get-togethers and some small dinner parties. Since I don't have a dining room, the food is laid out on the kitchen counter and we serve ourselves from there.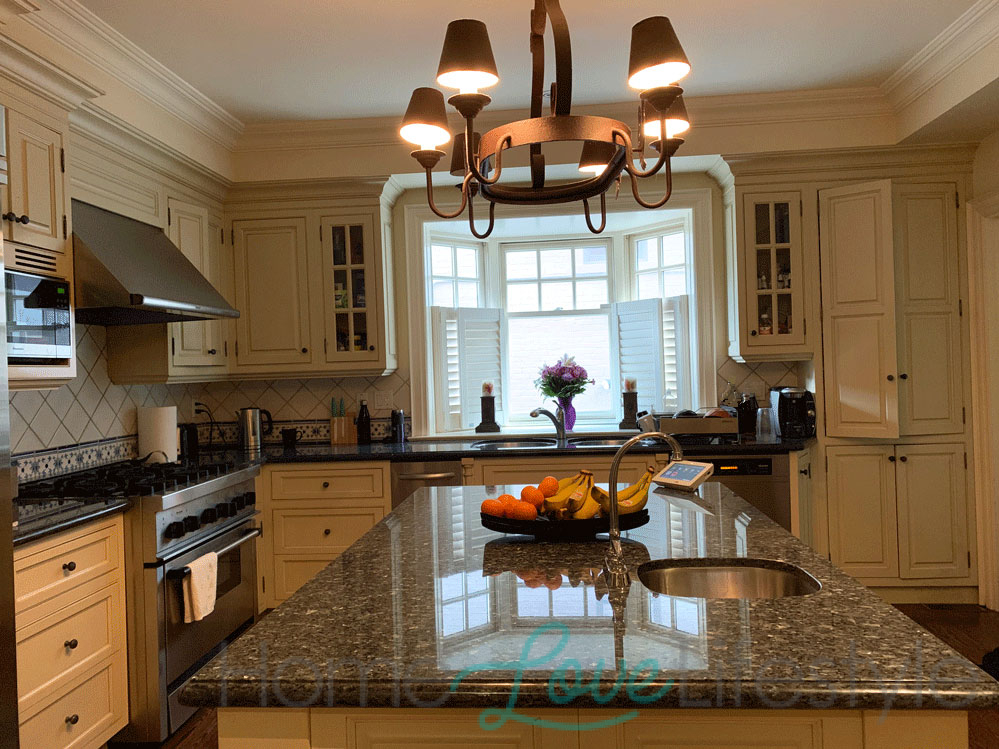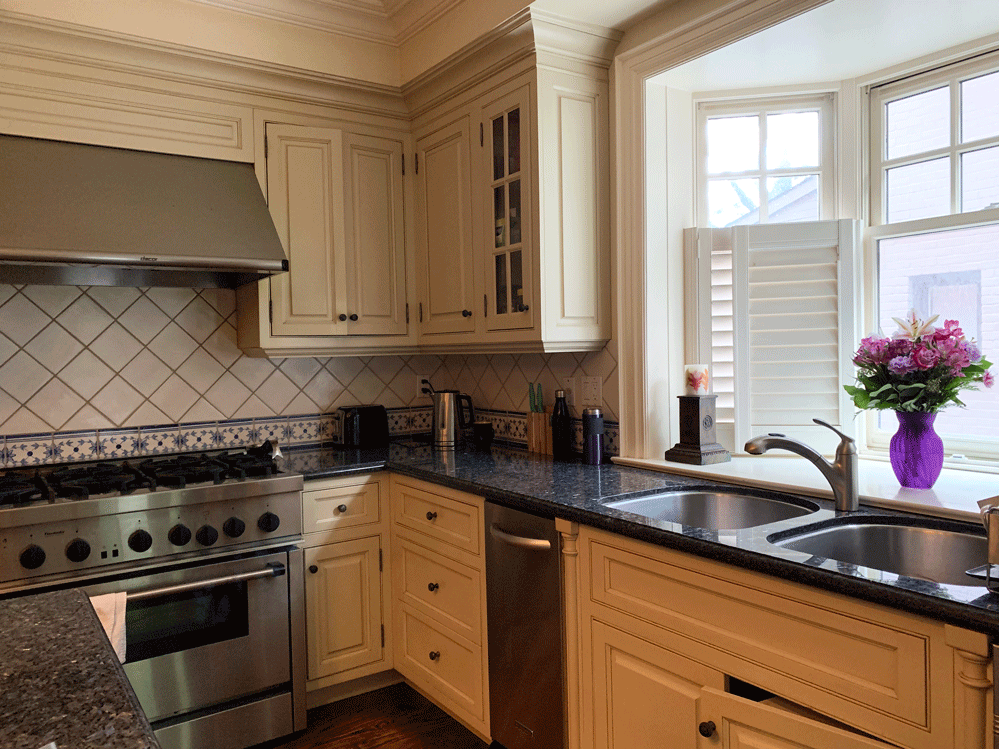 The kitchen is attached to the sitting area which opens into the patio. So we have a good flow of space.
There is lot of art in the house? Mainly from Pakistan. Was that collected over the years?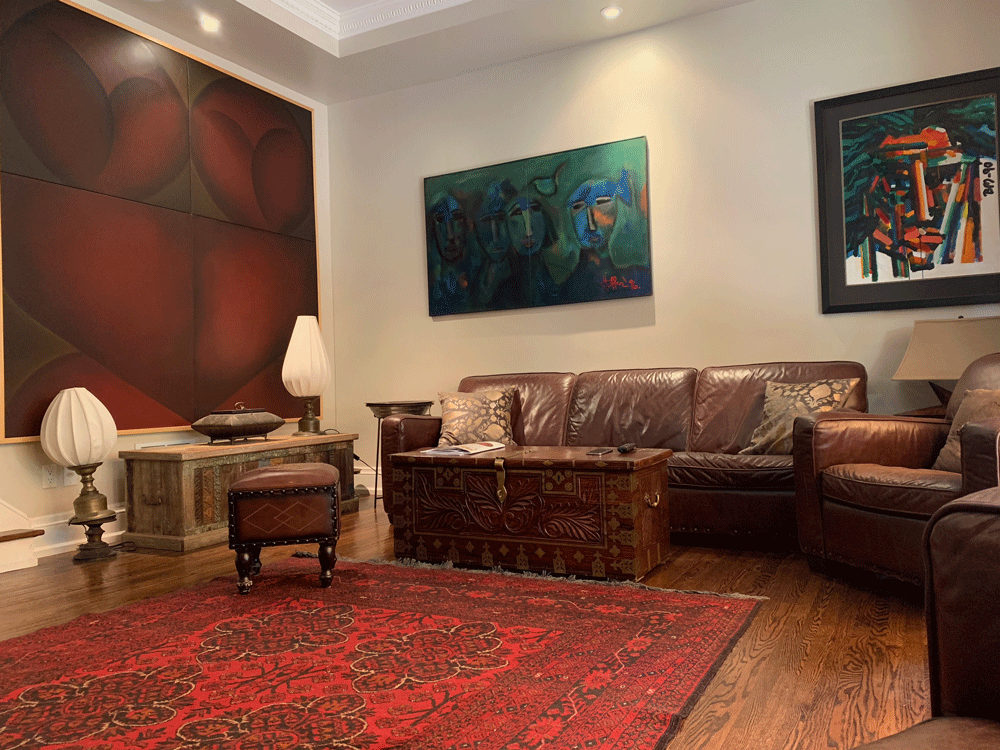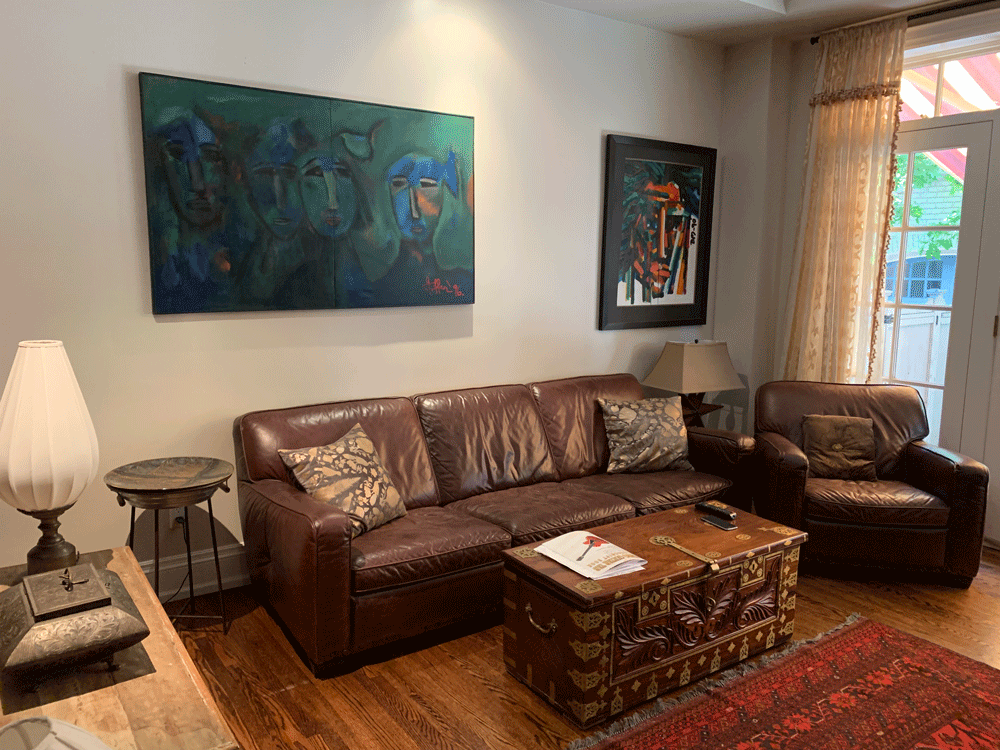 We have lived in many cities over the years and both myself and my husband like to buy art. We always visited Pakistan regularly and bought art whenever we could. In fact, moving the whole collection here was quite a task. Many pieces were shipped in later.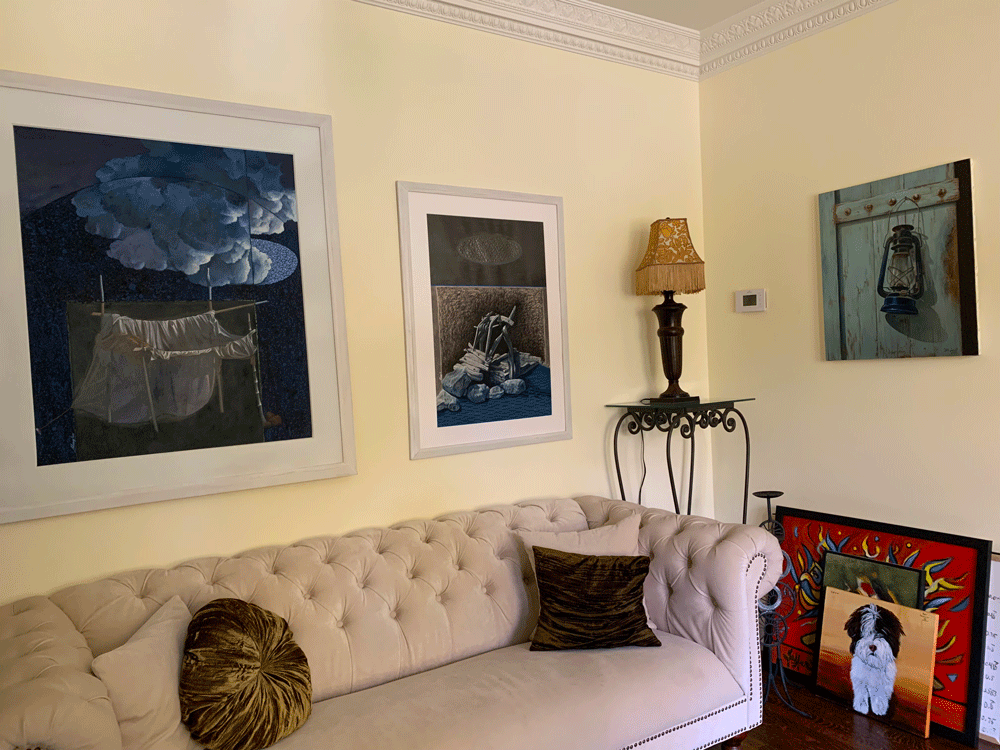 Your furniture is also picked up from different countries.
Yes. A lot of it was made in Pakistan actually. I had my dining table and chairs made myself by a carpenter there.  The display cabinets in the formal sitting room were made there. The front of one curves inwards and that of the other curves outwards.  Then the trunk is from an antique furniture shop in Karachi.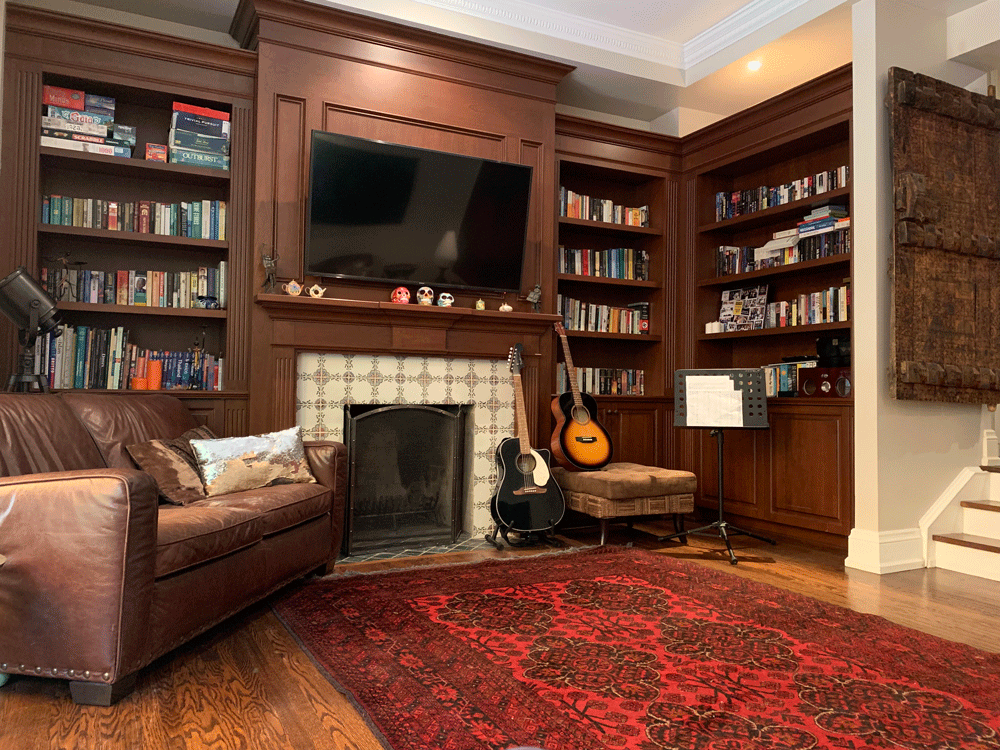 The home is also full of interesting pieces from your travels.
Yes. We love to travel and discover new places. And I can't resist picking up things like these porcelain skulls from Mexico or the wooden door from Saudi Arabia.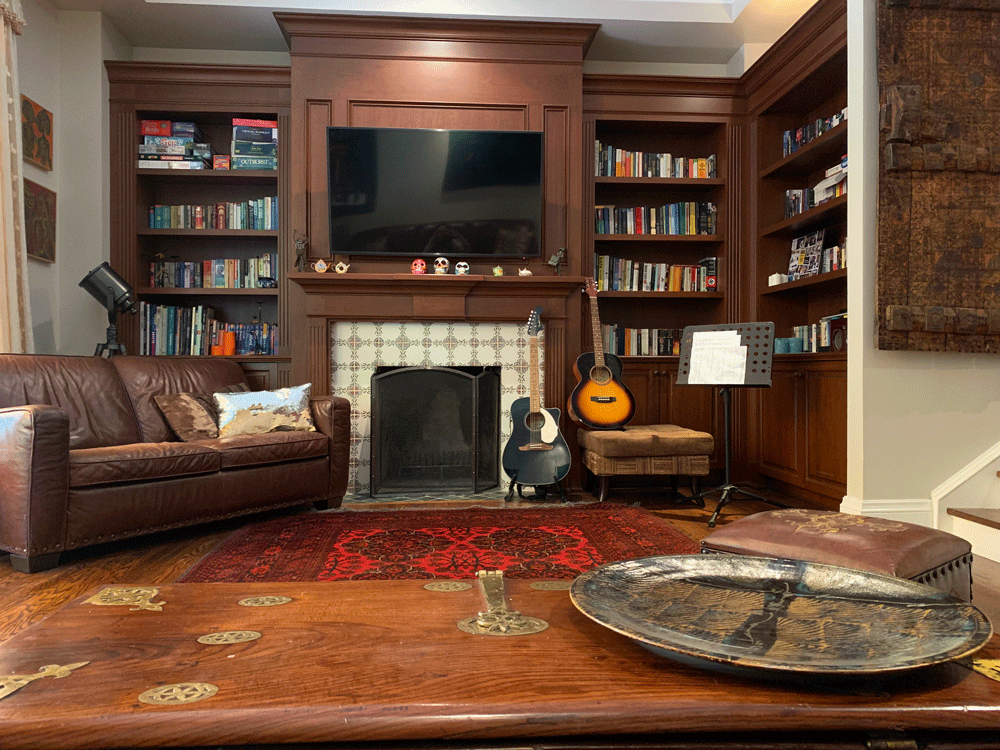 What is your favourite space in the home?
Our lounge. I love to curl up on the couch with a snug blanket to watch TV or read.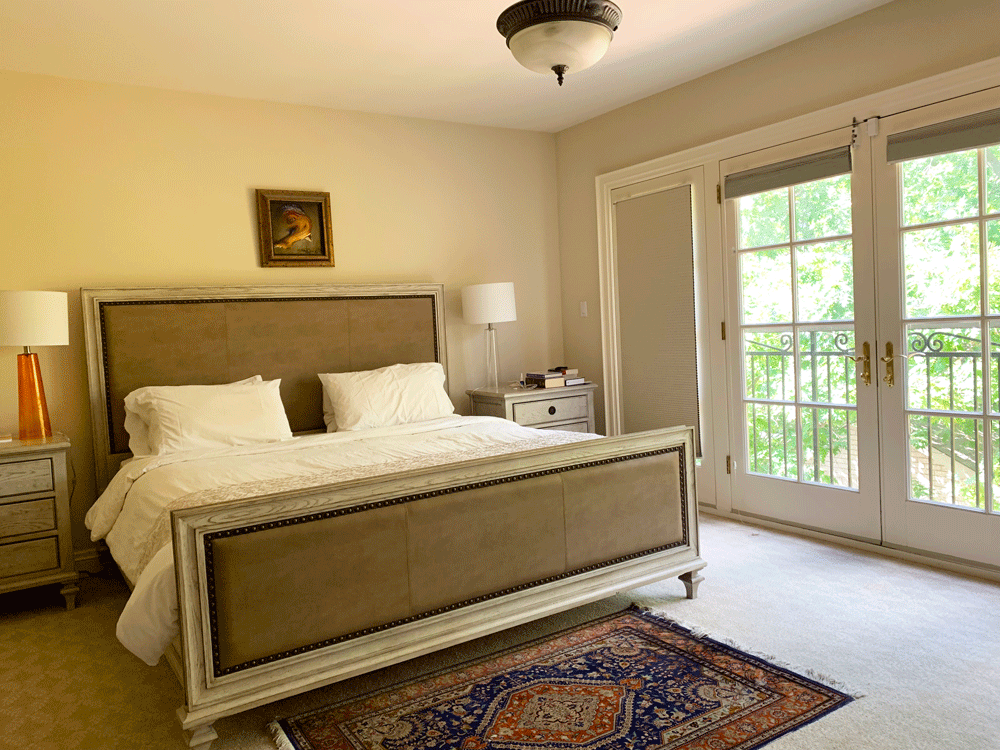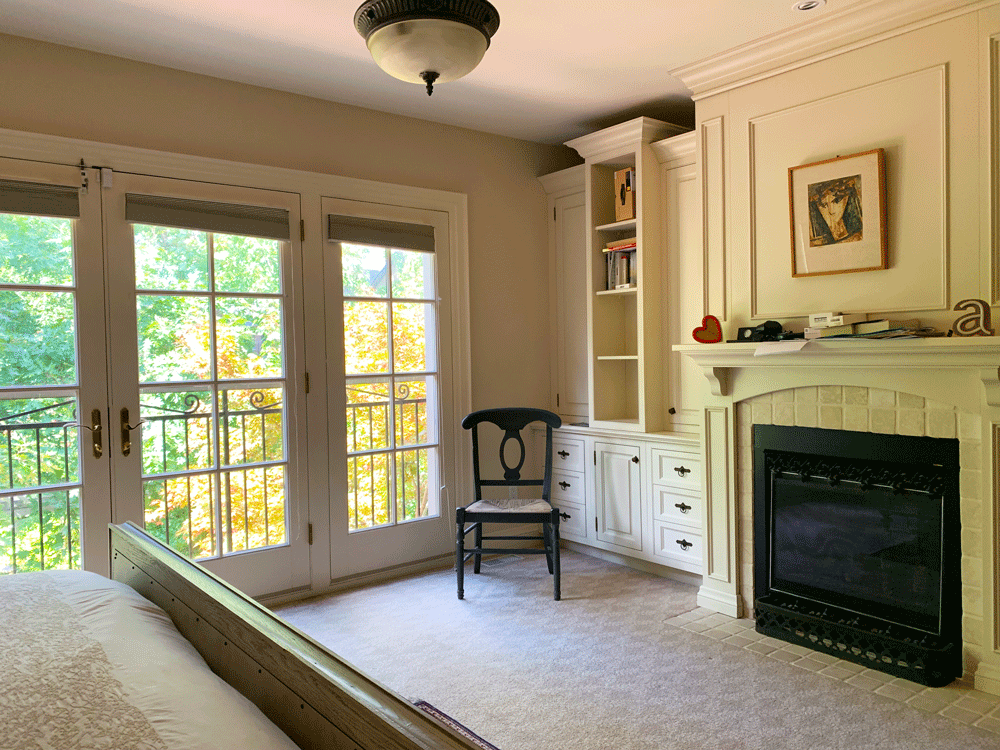 We live mainly between the kitchen and the sitting room so whenever everyone is at home, this is the room everyone will collect in.
I also love my bedroom with its big windows and balcony.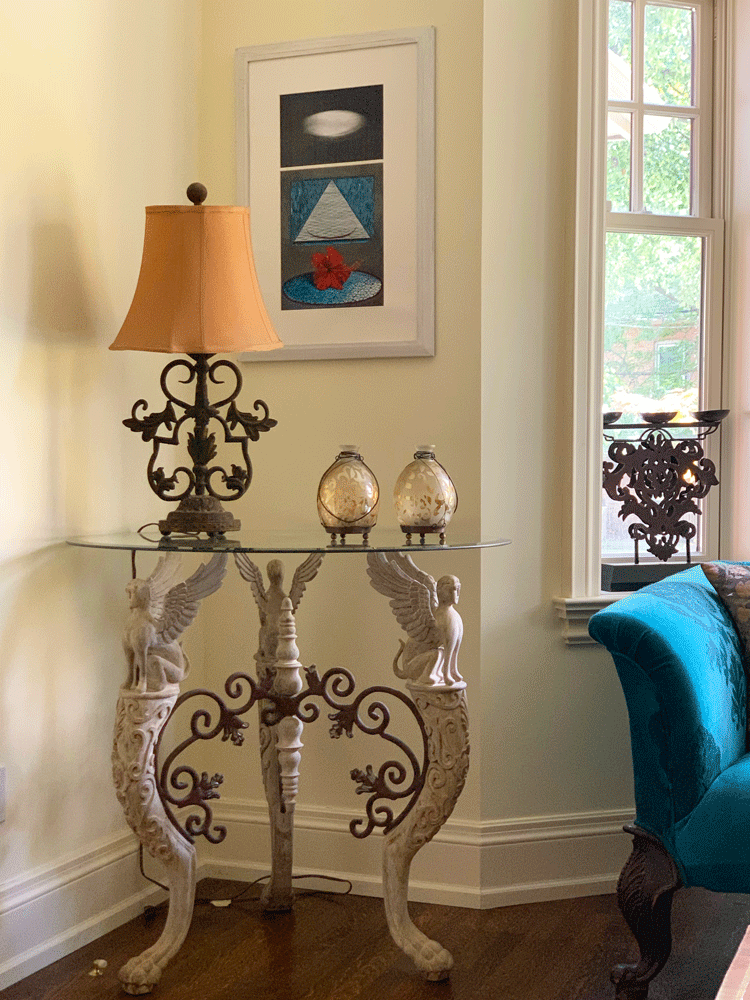 Do you have a favourite object in the home? What is it, any story behind it?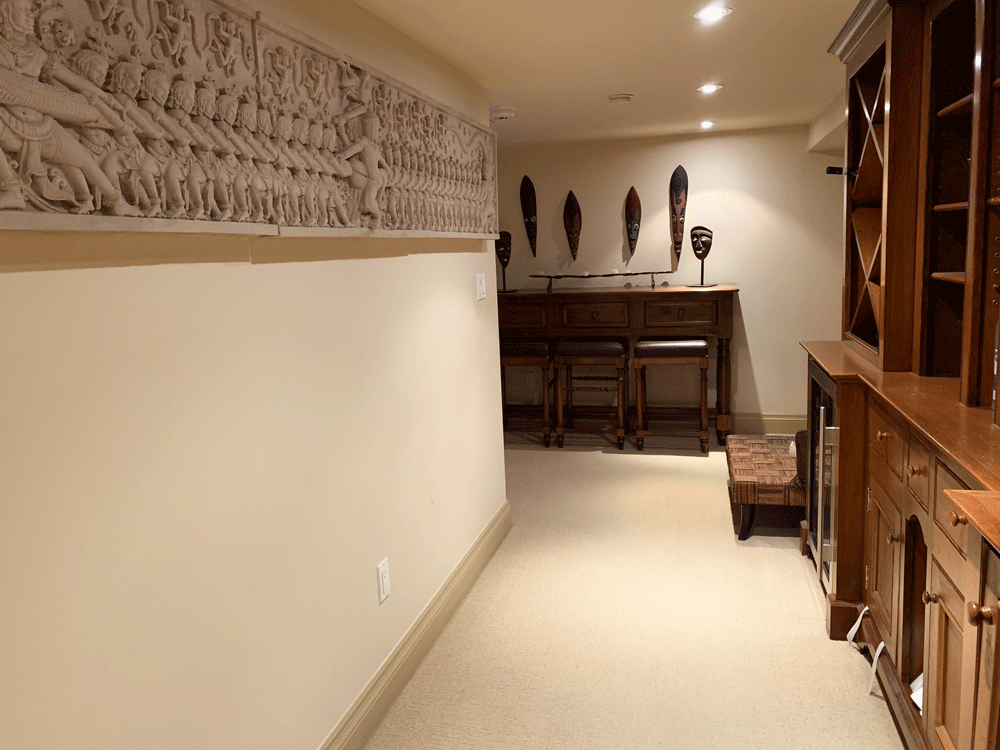 My favourite object is a long stone carving that is actually hidden away on a wall in the basement. I picked it up in Thailand about a decade ago and it's been traveling the world with me since. What draws me to it? The elaborate detailing and its oriental mystique.
It was a true pleasure visiting this beautiful heritage home in Toronto. 
Photography by Zahra Chughtai