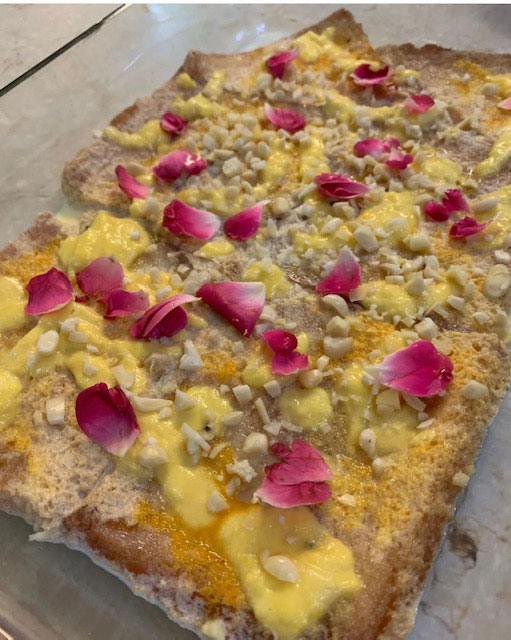 Here is an amazing Shahi Tukra recipe! Shahi Tukra is a rich dessert that does not skimp on the calories! I make it over Eid, which is the time of indulgence, but you can enjoy it any time the year. Shahi Tukra also goes by the name of "Double ka meetha" in Hyderbadi cuisine referring to the double roti or loaf bread used in it.
It's origins are traced to the Mughlai kitchens; some say it is a take on bread pudding popular in Central Asia where the Mughals originally came from. Whatever the origins, it is a truly shahi or royal dish.
Here is a very easy recipe tried and tested many times over. It was taught to me by a dear friend who is always wonderfully generous with her recipes! The authentic version calls for thickened sugar syrup and khoya or thickened milk. But this cheat Shahi Tukra recipe really packs a punch!
Ingredients
Six slices of  white bread with the crusts cut off
Condensed milk one cup
Plain milk 2  cups
Cream half cup
Six to eight cloves of cardamom
Saffron or yellow food colour
Pistachios and almonds for garnishing
Vegetable oil for frying
Method
Remove the crusts from the bread. Cut each slice diagonally into half so that you have two triangles.
Pour oil generously into a frying pan and when it's hot, add the bread slices a few at a time. Fry till they become golden. It is very important to get the right golden colour and for this you need to be generous with the oil. Add more to subsequent batches of bread as needed.
Place the fried bread slices in a wide dish in a single layer
Pour plain milk into a pan and place on medium heat.
Crush the cardamom and add to the milk. Turn off the stove just before the milk comes to a boil. We need to scald the milk, not boil it.
Pour the hot milk on top of the bread slices.
Then pour the condensed milk over the bread as well
Heat the half cup cream with some more crushed cardamom. Add a few drops of yellow food colour to it or saffron if you have it. If you are using saffron, you will need to soak it in a little bit of warm milk and crush it first. Drizzle the yellow tinted cream over the bread. I sometimes pour it through a strainer to remove the cardamom seeds and skin but you don't have to.
Lastly garnish the shahi tukra with chopped pistachios and almonds and put the dish in the fridge to chill. (I didn't have pistachios so I added a few rose petals to the garnish for colour. You can also use decorative edible silver leaf if you can get it.)
I know it sounds almost too easy, but believe me it delivers all the rich, sweet, decadent  goodness of an authentic Shahi Tukra! Try it !