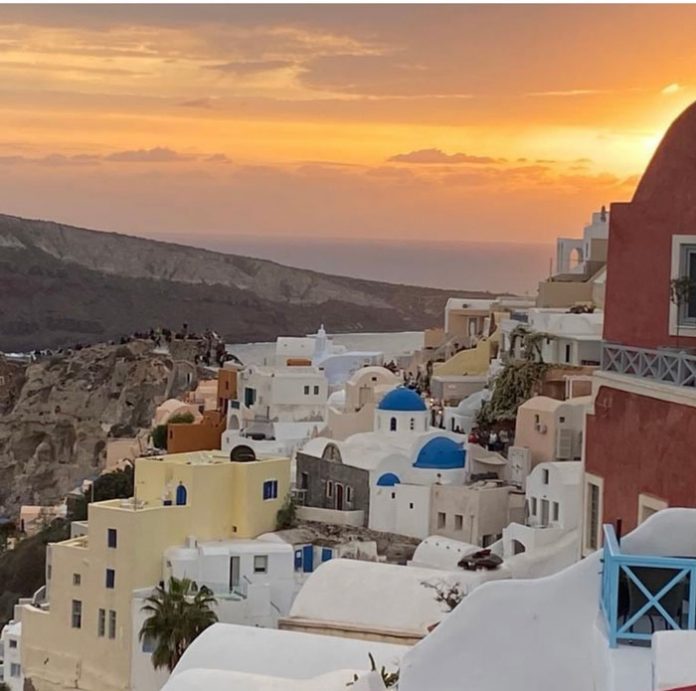 Fortunate are those who have friends in the Arts and whose friends are generous enough to share their passion!  A friend who visits Greece often, and is also an Antiquities Arts curator, suggested we go to Santorini as my first foray to the Aegean. We booked a week-long British Airways holiday package, which was very affordable as we shared the accommodation.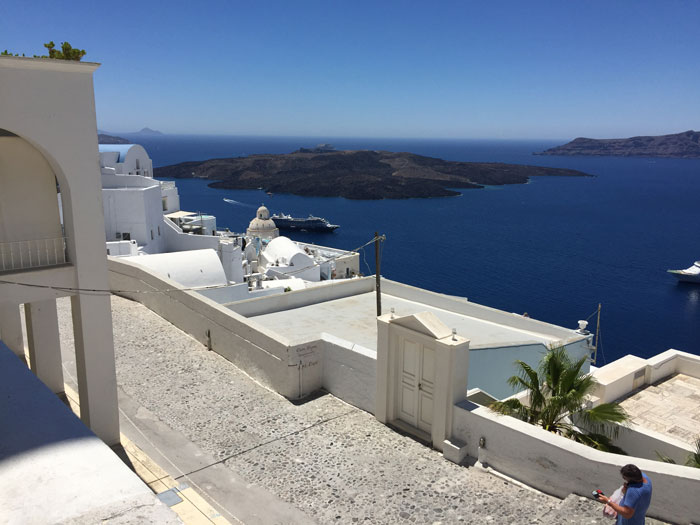 Where to Stay
We booked our stay at the Epavlis Hotel, which was actually more like staying in an upmarket pensione. For a more hotel-like experience I'd probably recommend checking out Majestic Suites, Crown Suites, Fomathia, Aegean hotel, Grecco resort and Kalisti hotel all located in Fira.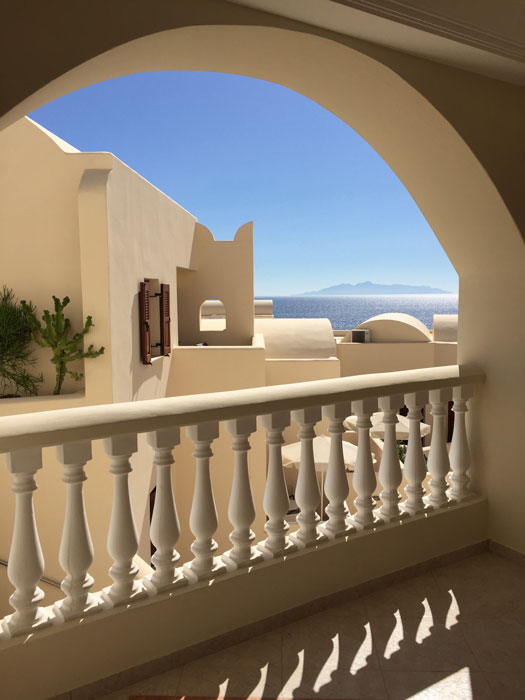 Any disappointment over our accommodation was soon overcome by the scenic beauty of the Aegean and Thira (nickname for Santorini).  The 'Hotel' is located in Kamari which is famous for it's volcanic sandy beach and it's very buzzy promenade, resorts, shops and restaurants.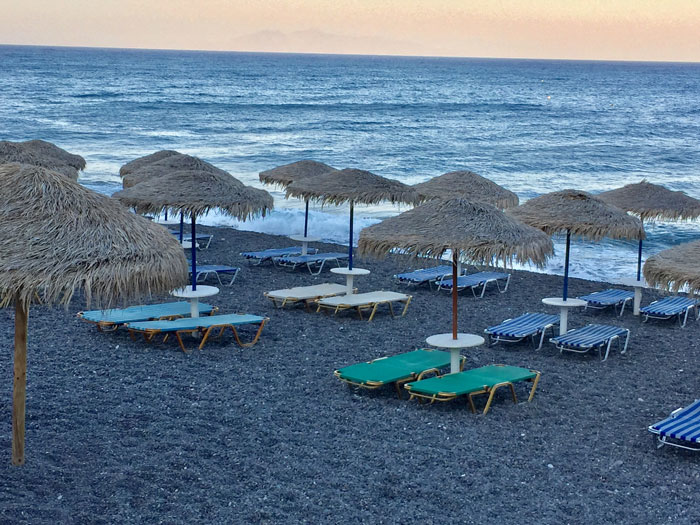 Fira
A quick bus, which costs 2 Euro, takes you to Fira, the capital of Santorini. It is exactly as portrayed in the picture postcards and even more beautiful in the setting sun viewed from the southernmost tip of the island. It took my breath away!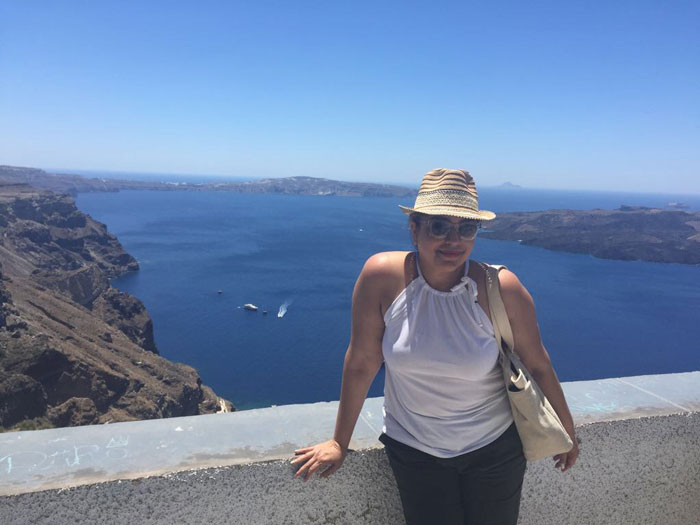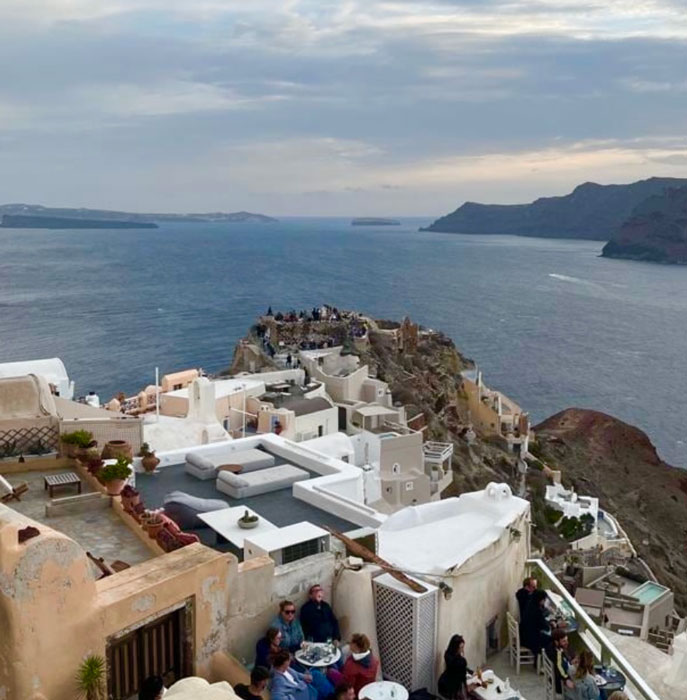 The town of Santorini is an expensive island to live and visit, as far as hotels, excursions and shopping are concerned. The restaurants, however, are quite affordable. It is Greece's main tourist spot alongside Mykonos. Please see the image of the freshly caught calamari fritti (fried) which I ate 3 out of the 7 days we were there!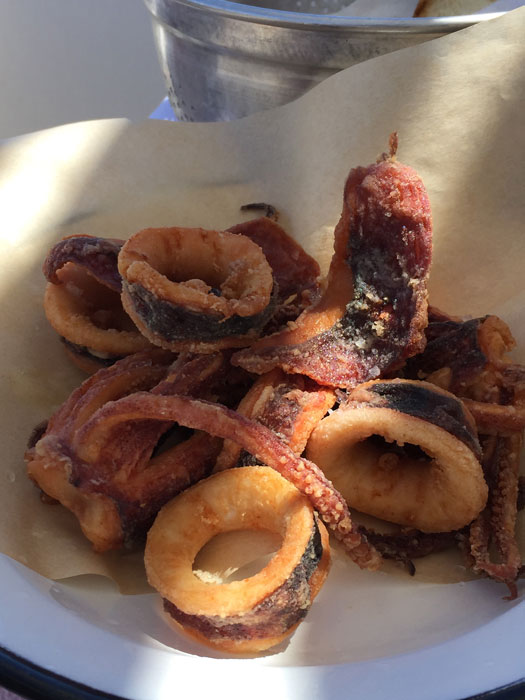 Local life is laid back and slow. The weather is hot, so like flies, people move slowly. Long, leisurely lunches in the sun and parking oneself on a deck chair at the beach or poolside with a cool drink is the order of most days. Fishermen bring in their catch to the local restaurants which boast the best seafood.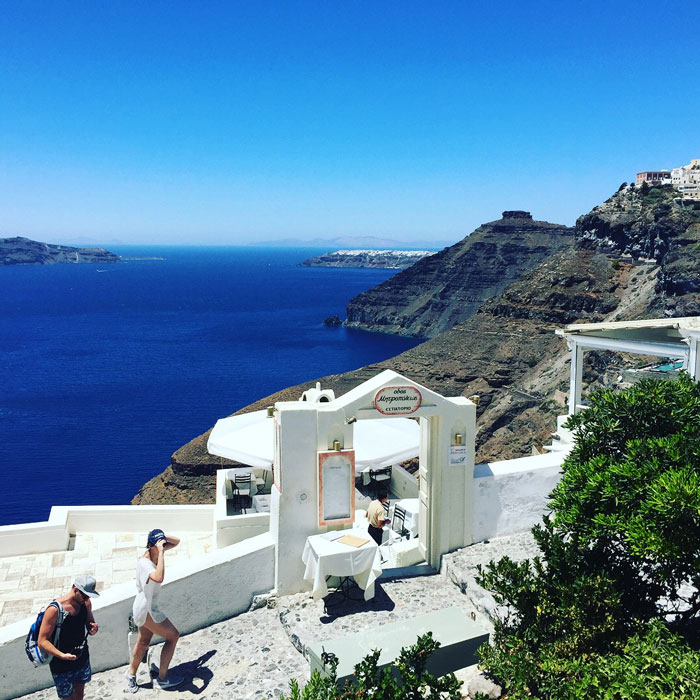 Fira is a maze of hillside cobblestone steps and windy walkways. Please forget heels! Open-toe comfy sandals with cushioning is the only way forward to exploring the adobe-like buildings. The sun reflects dazzlingly off the bright white painted houses with splashes of bright blue and dotted with foliage.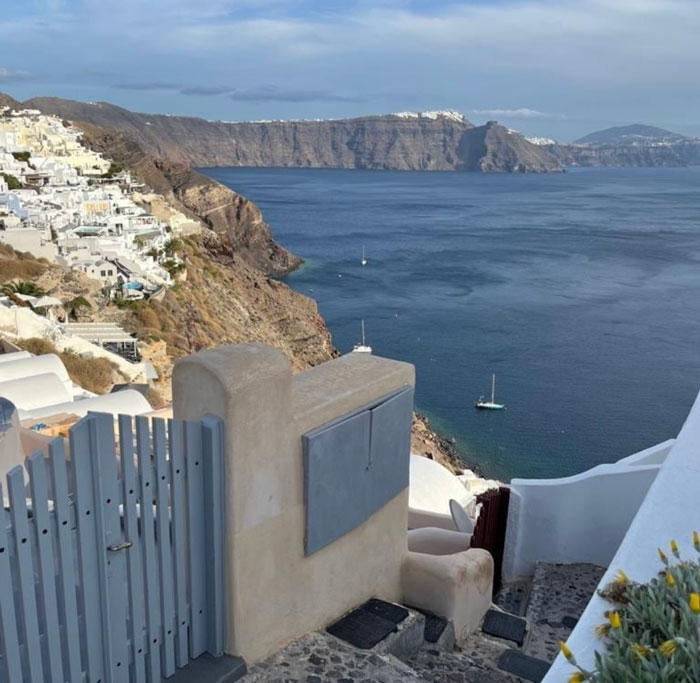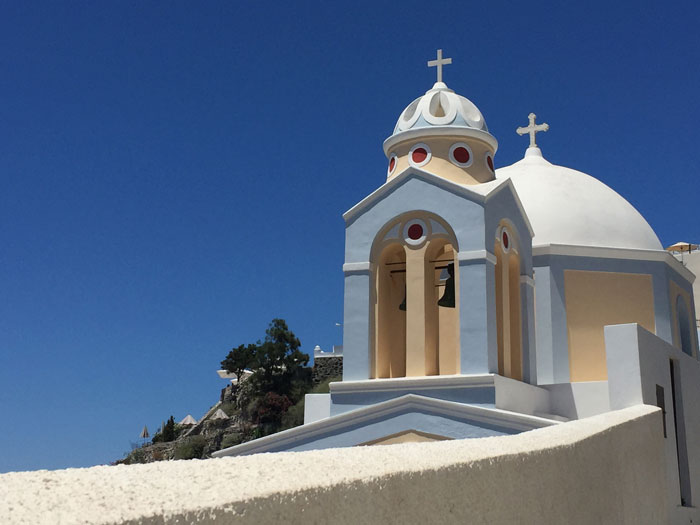 Oia
Oia (pronounced Ee'yah) is located on the north-west edge of the Santorini islands. It is the most luxurious village with romantic restaurants and high-end shopping. Both Oia and Fira have some great places to eat (and some average ones). Oia has more fine dining restaurants while Fira has more casual restaurants, which I preferred.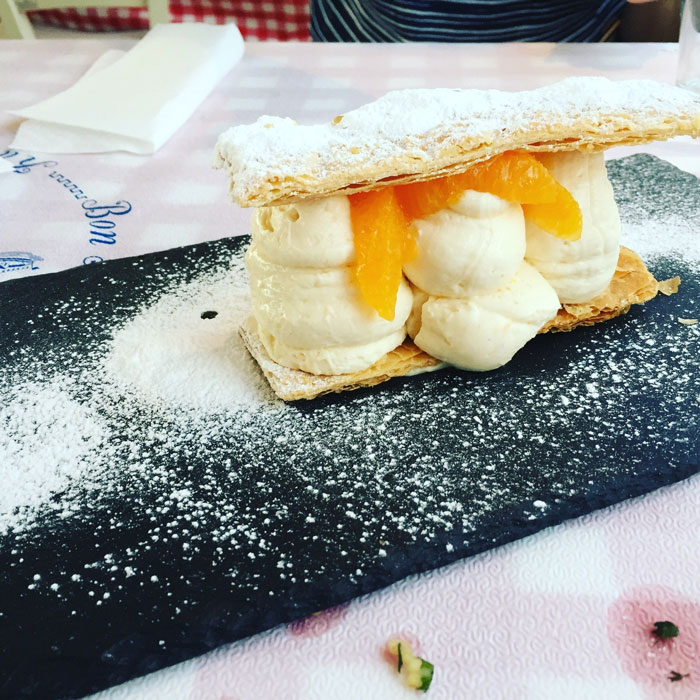 Prehistoric Thira
We visited The Museum of Prehistoric Thira, which displays items from the Bronze Age settlement of Akrotiri, including wall paintings and ceramics. Akotiri is an amazing excavation site which is enclosed and open to the public. It is a must see!  The settlement datied back to 4000 BC and was buried under ash (around 1627 BC) due to a volcanic eruption. Preserved for centuries under the volcanic ash, the paved roads, walls and high quality pottery are  in exceptional condition.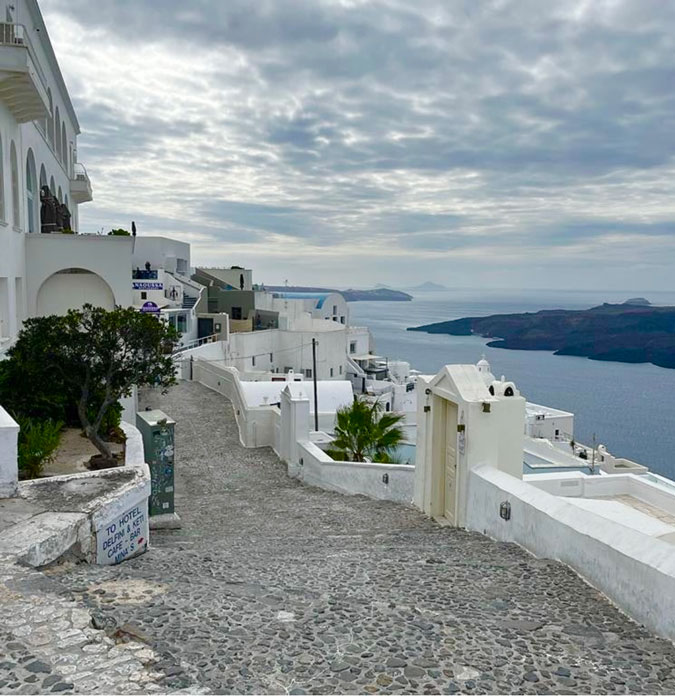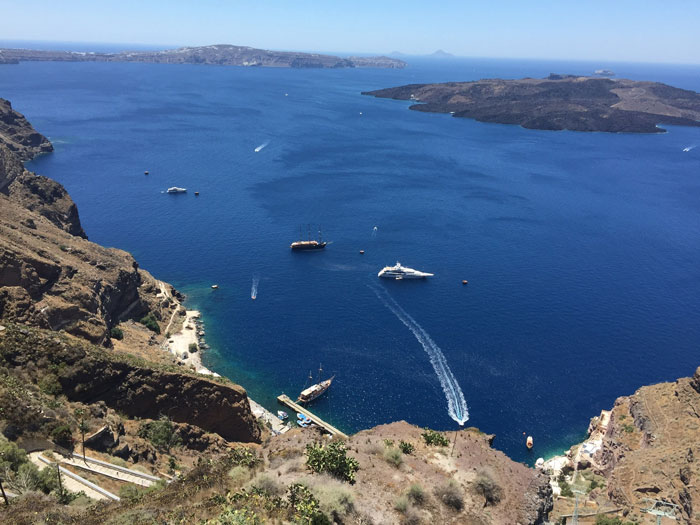 Santorini is every bit as stunning as one imagines and lives up to the most extravagant descriptions. The azure blue Aegean Sea, the quaint cobbled streets, the dazzling sun…one can go on. Yes, the sunsets are breathtaking and yes please add this to your bucket list!