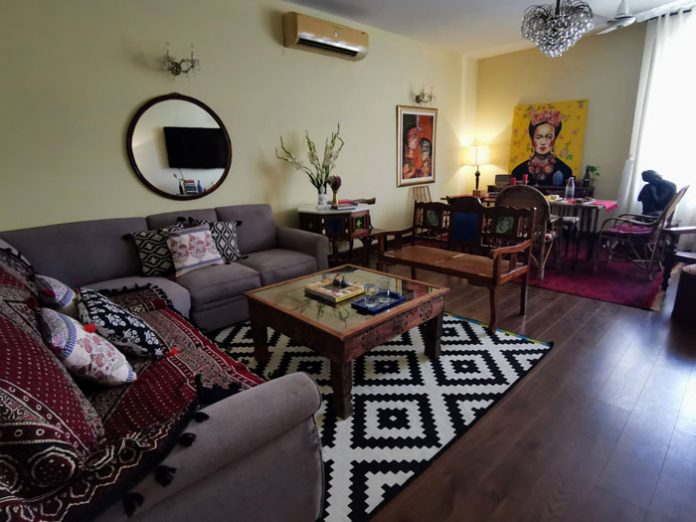 Organic materials, soft lighting and pleasingly scented interiors lend a holistic design element to this space. Stepping in from the harsh sunlight outside, we were instantly enveloped in a relaxing and inviting ambience. The homeowner, Zoya is a loyal follower of HomeLoveLifefstyle and she recently invited us into her home. Zoya works for the German Cultural Centre in Karachi and shares the house with her husband and three cats. We were joined by her husband Bilal who candidly admitted that Zoya is responsible for all the decor. "I'm just the guy who does the heavy labour when needed," he quips. We thoroughly enjoyed the time spent with this charming young couple in their creative and thoughtfully designed home.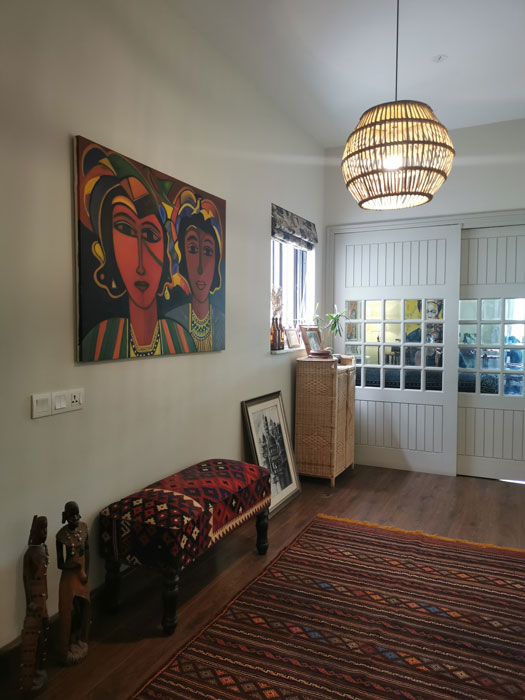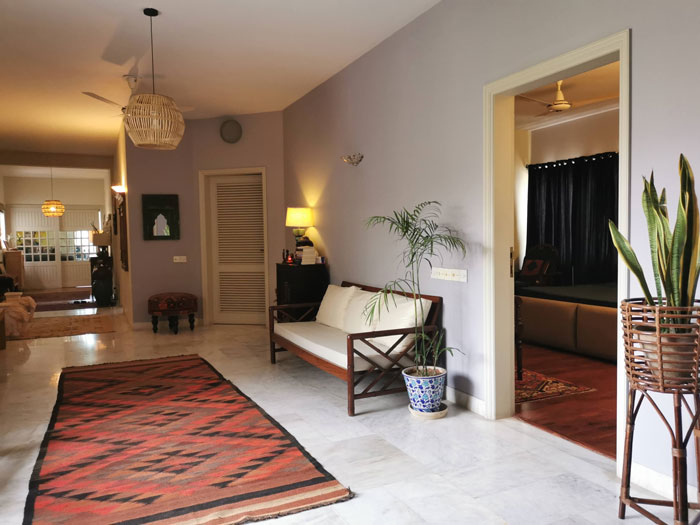 You obviously have a creative eye and a passion for design.
Zoya: Well I love good home interiors and I just feel that an aesthetically pleasing space really improves one's quality of life. Although I have an MBA degree, I have done courses in interior design and at times help out friends with their homes.
How long have you lived here?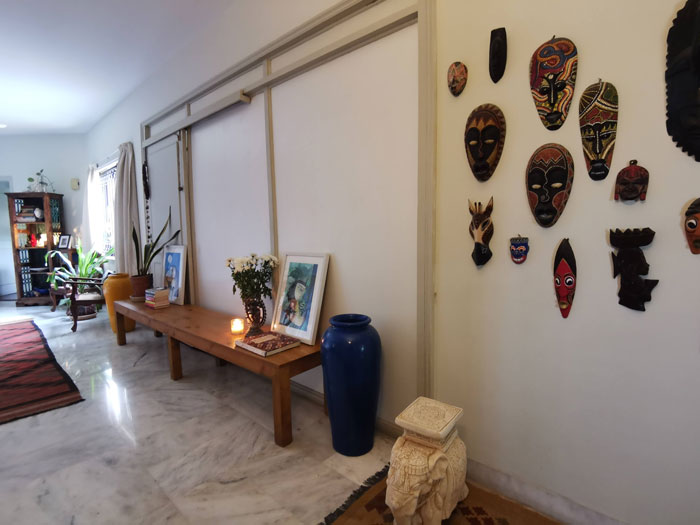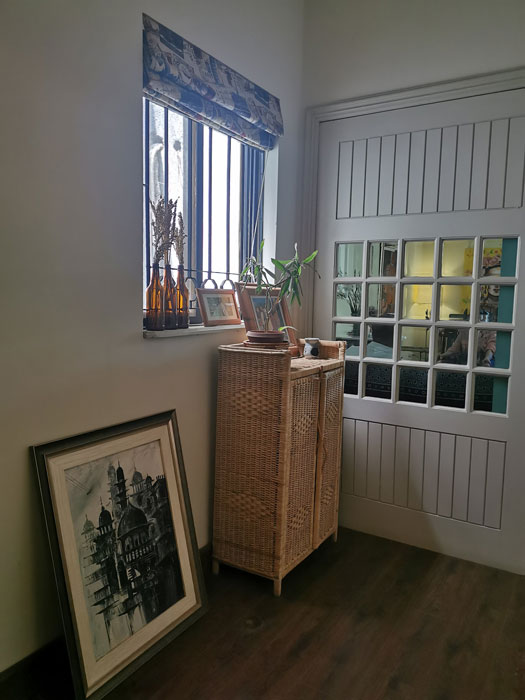 Zoya: This is a rented space and we moved in about 6 to 8 months ago. Because it's rented there are restrictions on what I can do with the place.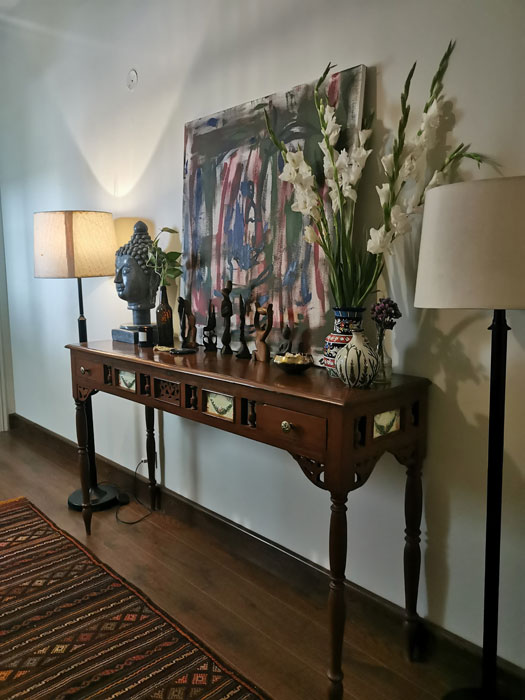 For example, you will notice that many of the paintings are stacked against walls instead of being hung up; that's because I can't make too many holes in the walls.
Do you use the terrace outside often?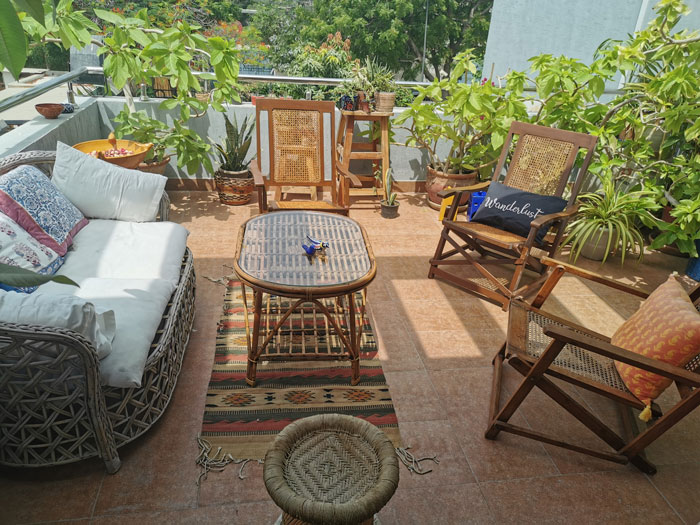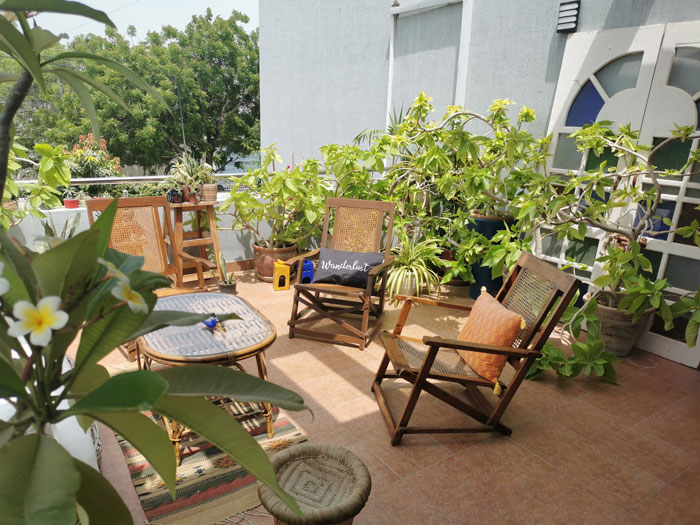 Zoya: Yes, it's lovely in the evenings. And when my parents visit and stay over, this is where you will find them. It's their favourite spot. We also love hosting and often have friends and family over. The terrace is also used then by some guests who like to step out and smoke.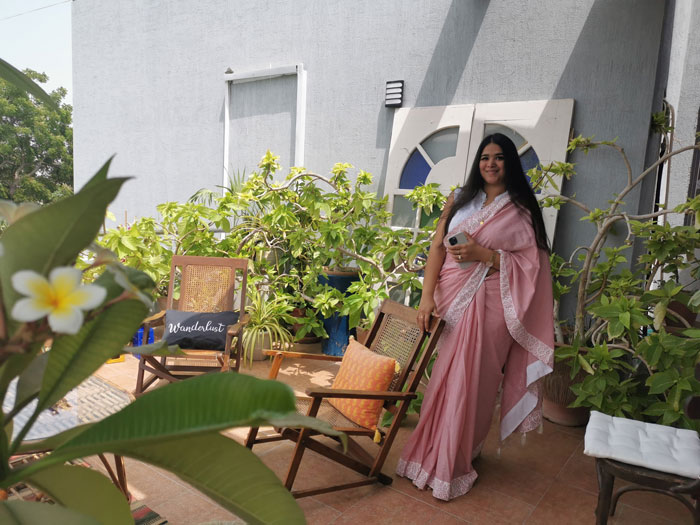 Your cats have the run of the house? How do you manage to keep it so clean?
Zoya: Oh yes! It's their space, they own it. I keep the home free of cat hair with a really good Dyson vacuum cleaner and I am a little OCD, so I am always cleaning.
How would you describe your design sense?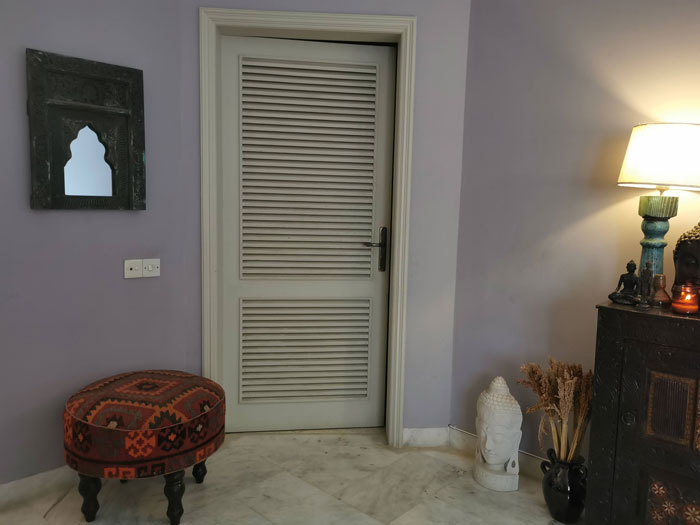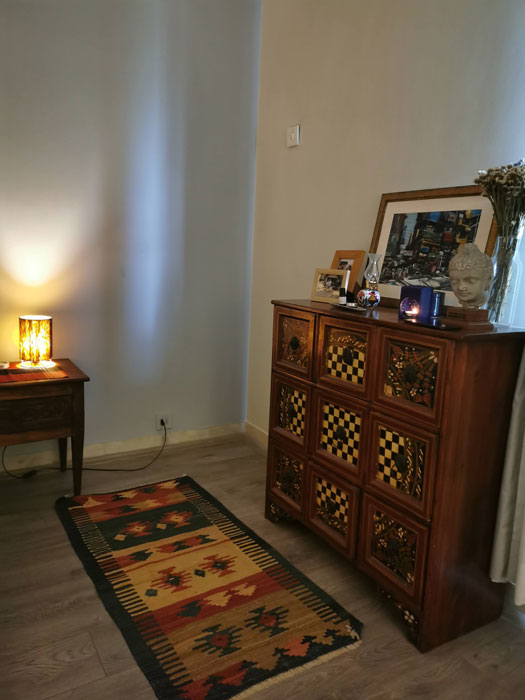 Zoya: We travel a lot and I tend to pick up stuff wherever I go. You will find lots of buddha heads and statues throughout. I love creating zen spaces, there are little corners of zen which run through right to the bedroom at the end of this floor.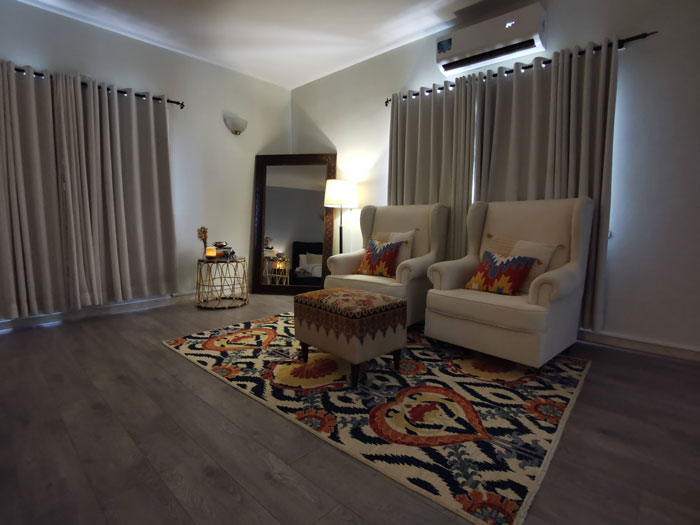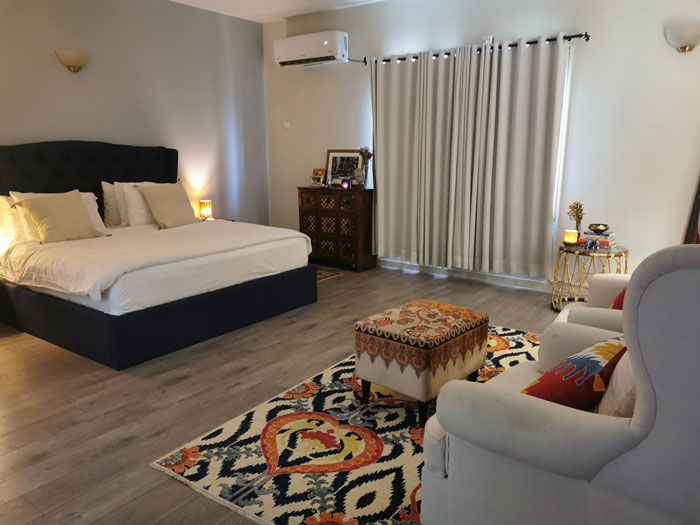 I also believe in the importance of aroma so I use scented candles and oils which also create that soothing ambience. For me, it is very important to have that peaceful feeling when you walk into your home.
Your bathroom also has that vibe. And there is even chair there!
Yes. I like to sit in the chair, cool off and relax after I shower.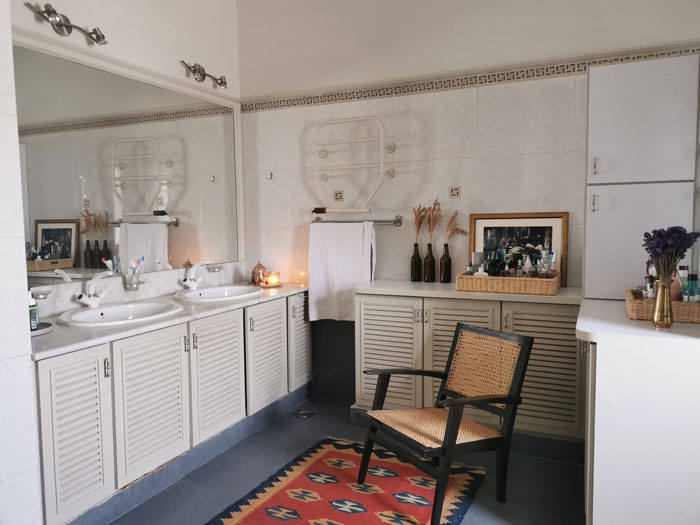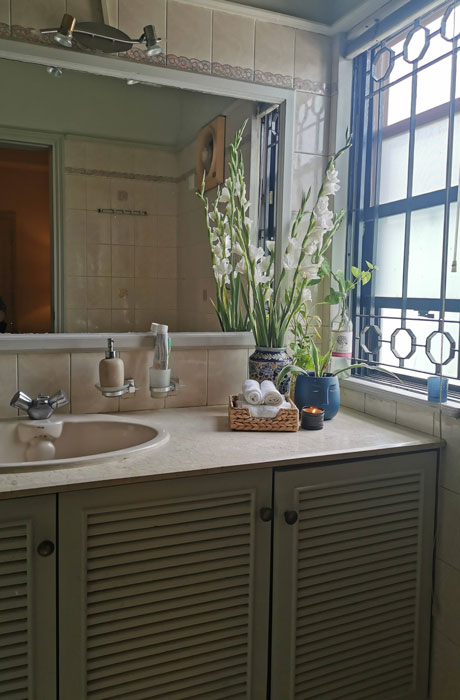 What is your inspiration?
Zoya: Travel is an inspiration. Local crafts fascinate me, I  love textiles, ceramics so I pick up accessories wherever I go. I also love timeless pieces, antique furniture made of beautiful Burma teak. Each piece has a story attached to it and it's for ever; it doesn't date.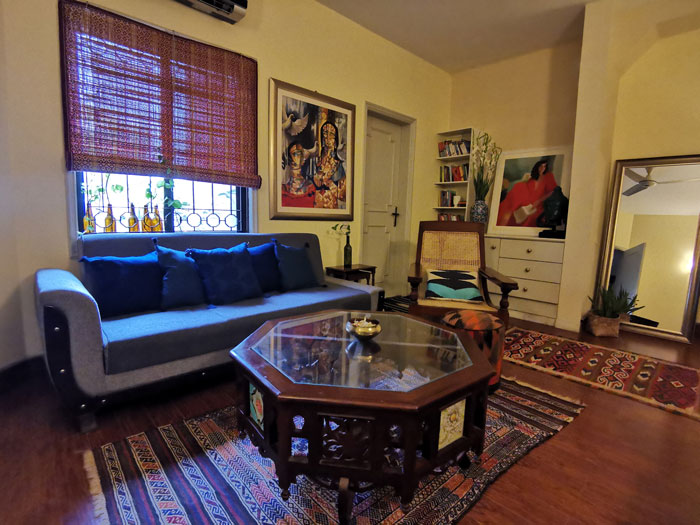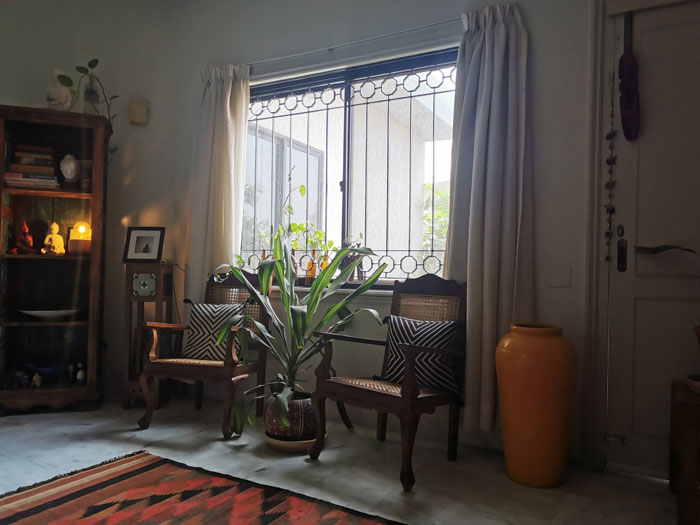 If I'm doing nothing on a weekend, I just go to the old furniture stores and  flea markets  and browse. I am always on the look out for interesting pieces. Many of my friends are from Sindh, so the antique bed in the guest room is from an old haveli in Shikarpur and I had it restored.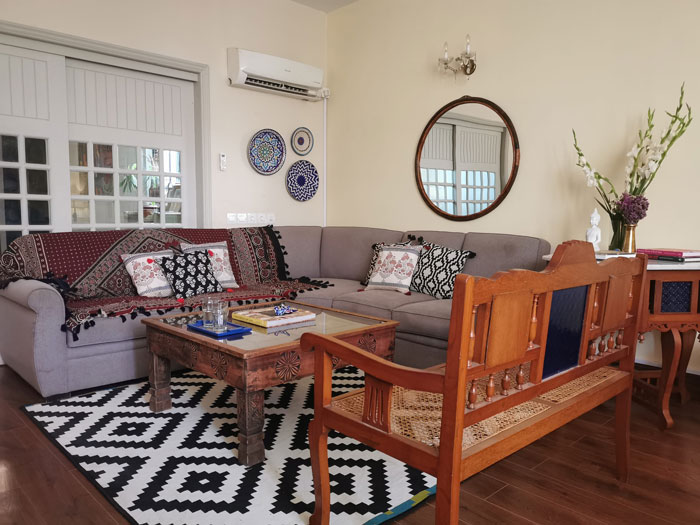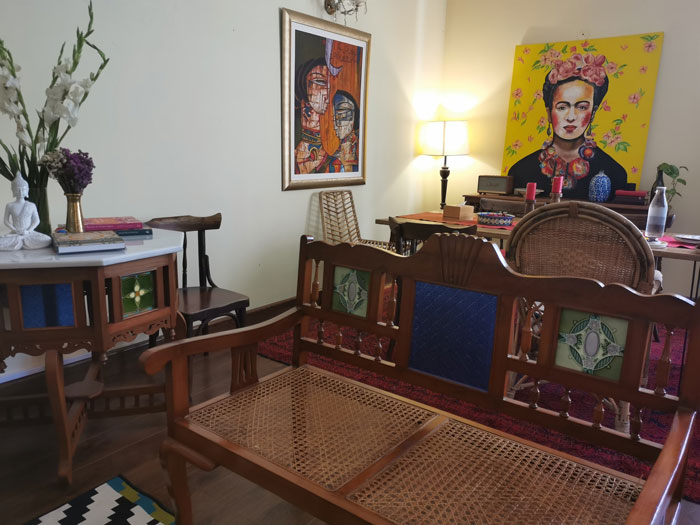 I don't believe in picking up expensive stuff; what's the fun in that? I do a lot of upcycling and DIY. When I look at a piece junk, I can imagine what I'll do with it.
What is your favourite space in the home?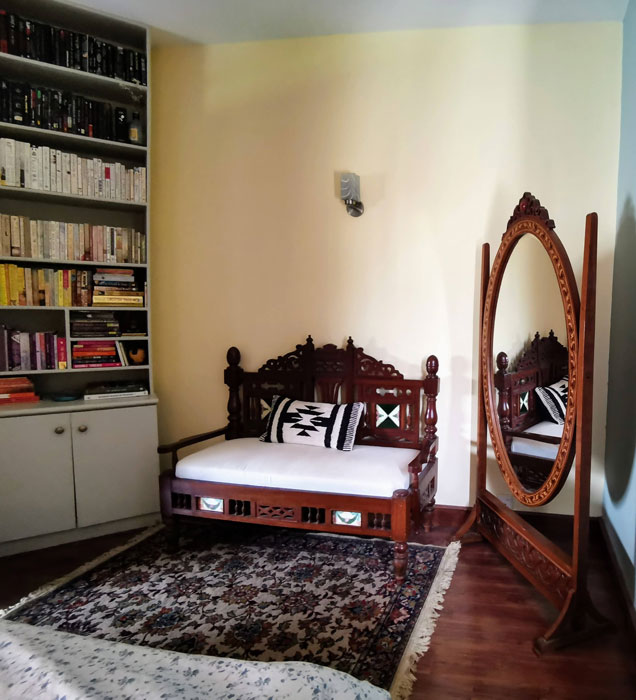 Zoya: I think it's the guest room with the bookshelf. It is a small room, cools quickly and I find it very cosy, I prefer smaller spaces. I also love books.
Bilal: You can ask Zoya for anything but don't ask her to share her books. (laughs)
How did you choose the artwork?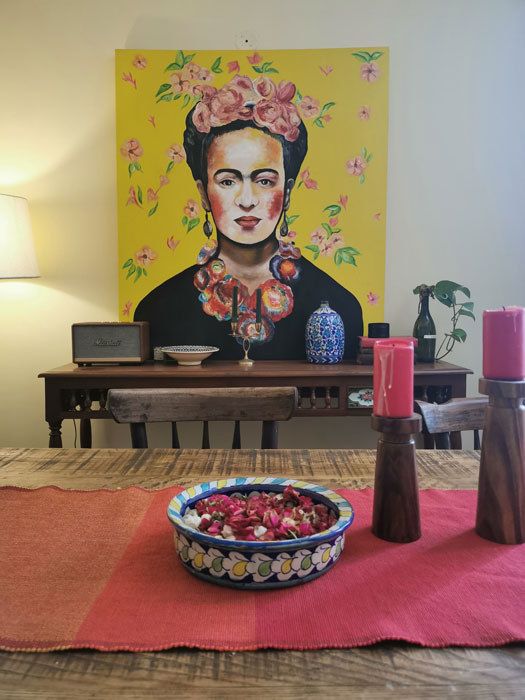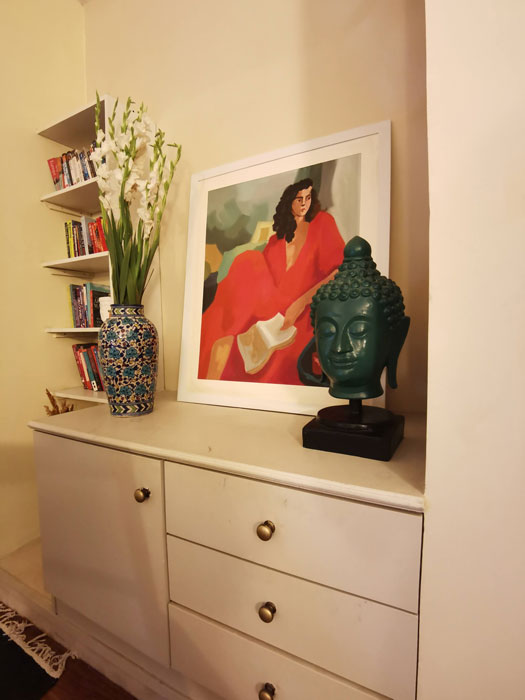 The big Frida Kahlo painting ws the first big work we got. I love the colour and its very striking, it becomes the focal point of any room. Then I have also bought some paintings online,  like this one of the woman in red which is by an Indian artist. I also paint myself and have some my own work up.
Do you have a favourite object in the home?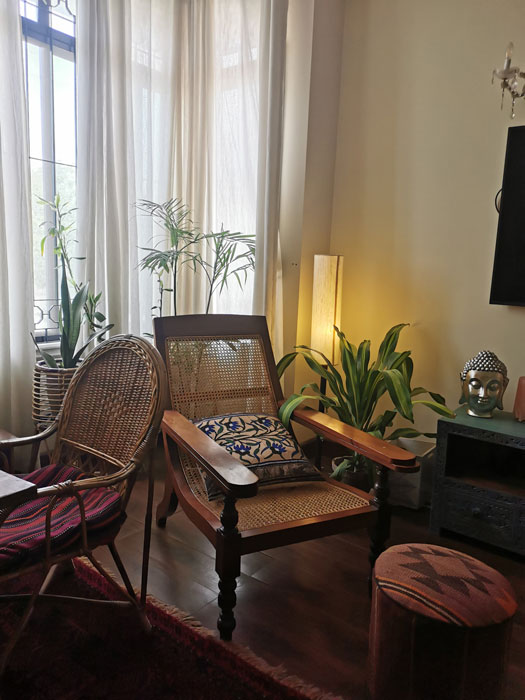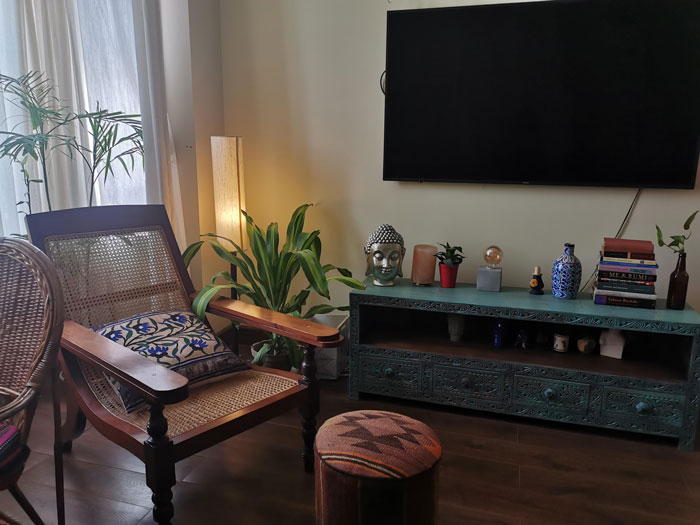 There are many but I particularly love the railway chairs which have a very interesting history. They are called railway chairs because they were placed in the waiting rooms of railway stations in colonial India. They are made of wood and wicker and have two slats which fold out and you can put your feet up on them. However, this was a little awkward for the British ladies who wore dresses and so the waiting rooms were segregated. The arms are also very broad and can hold a mug of coffee or such.
Photography by Naeema Kapadia