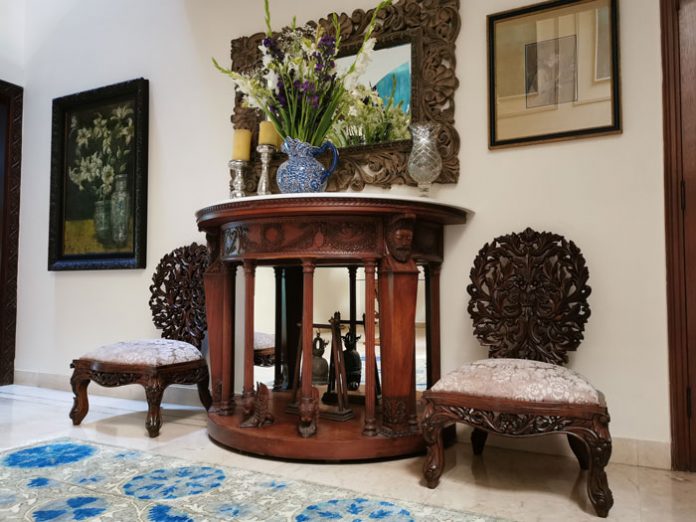 This elegantly styled home with contemporary touches sits on a quiet Karachi street. A paved front yard, filled with greenery and brightly hued petunias, leads into  spaces with neo-classical, antique and modern elements.
The homeowner, Shazma Jatoi, has worked as an interior designer and brings her strong sense of style and professional edge to decorating her home. Renovating the house has been a labour of love and is an ongoing process. Shazma also runs a small business, The Holistic House of Ru, supplying a range of holistic products which are painstakingly sourced and created for customers. Shazma welcomed us warmly into her home and showed us around.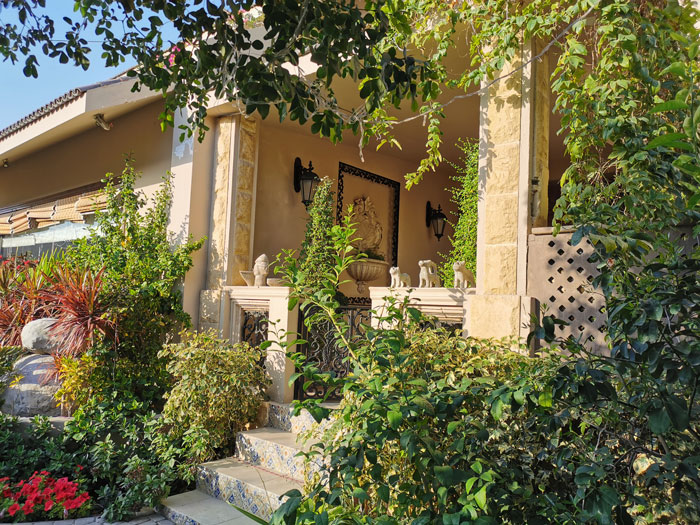 How long have you lived here?
I have lived in this house for many years now. But it had deteriorated over the years because I have also lived away for a time and the home needed some renovations. I started that process a few years ago and have taken my time over it.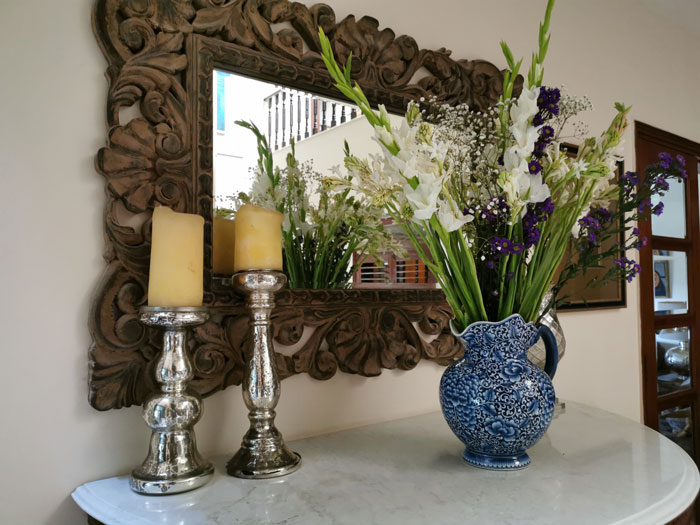 You are a trained interior designer. Do you have the last word in the home design?
Not at all. My two daughters and my husband all have very strong opinions. (laughs)It takes us forever to decide on things because everyone has to agree.
The patterned tiles are a recent addition?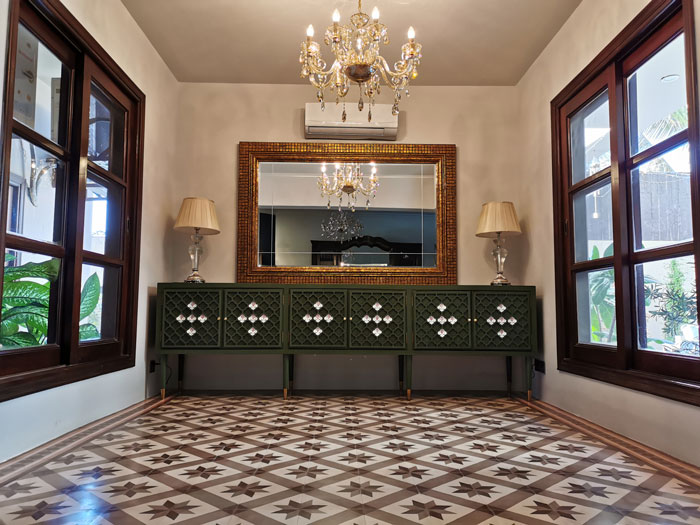 Yes. This whole space was added on after we built over the swimming pool. I put in the long, custom-made in-laid cabinet to fit the area. The patio was also added after the pool was filled in.
Do you use the patio often?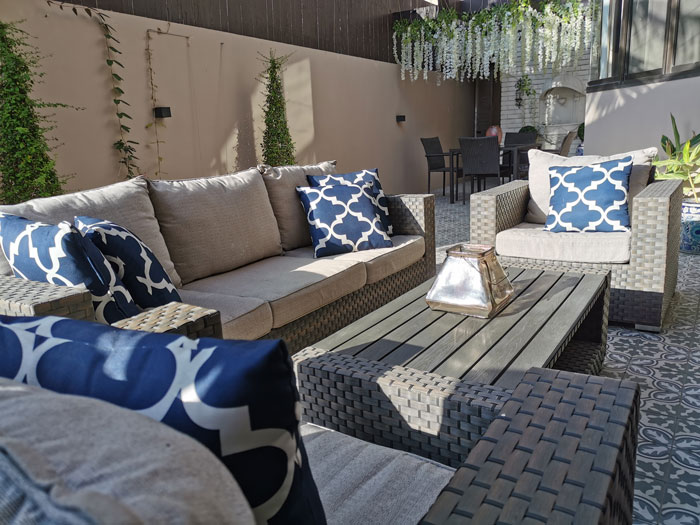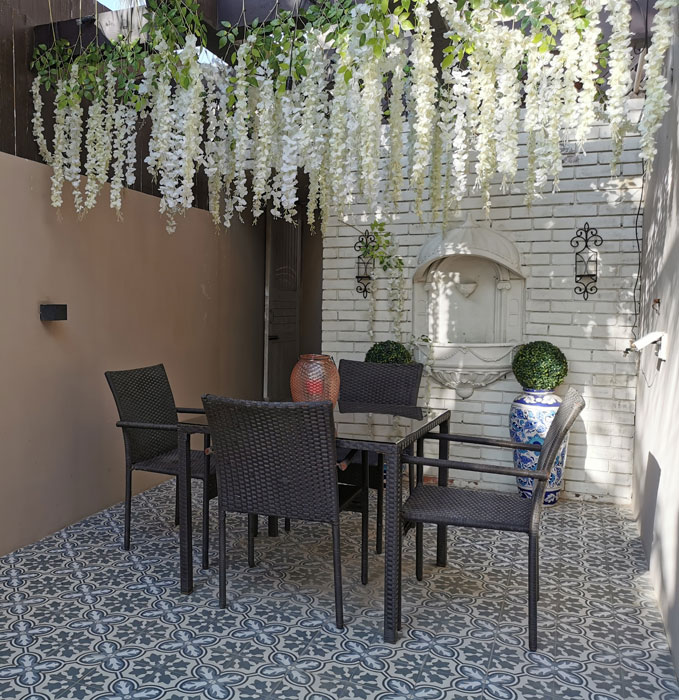 Yes we do use it often when the weather is good. My husband is very fond of barbecuing and it's a great entertainment area. It is lit up with fairy lights and lanterns at night and looks very pretty.
How would you describe your design style?
It is very mixed because everyone gives their two bits. It's actually a non-style with eclectic elements. Pieces have been picked up from various places here and abroad…there is no single theme which is being carried through.  I like the fact that it is not perfect, I hate perfection and I like things to be little gothic.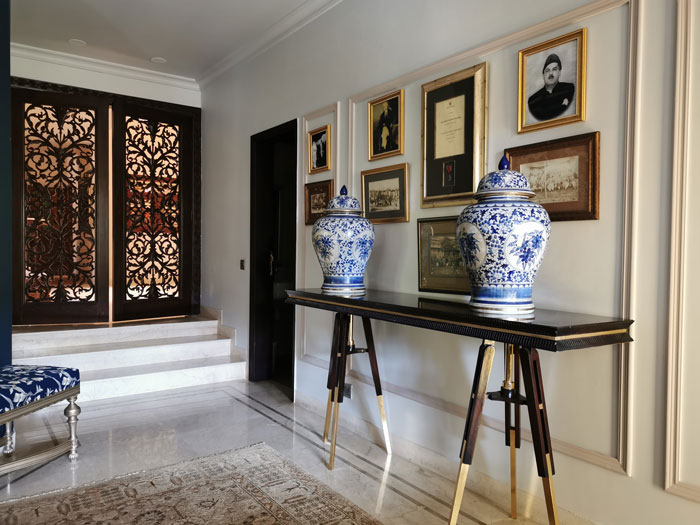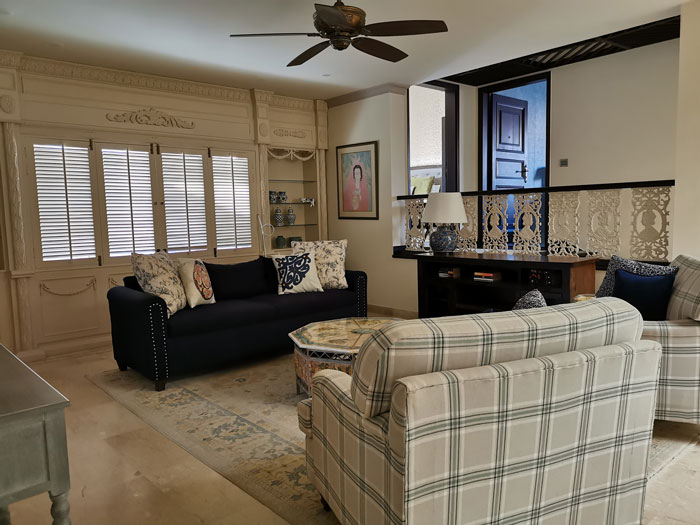 There is a great flow of space between the rooms.
Yes. All the rooms lead into each other and the casual sitting room opens into the patio. So if I have a large number of people over, the entire downstairs portion and outdoors can be used.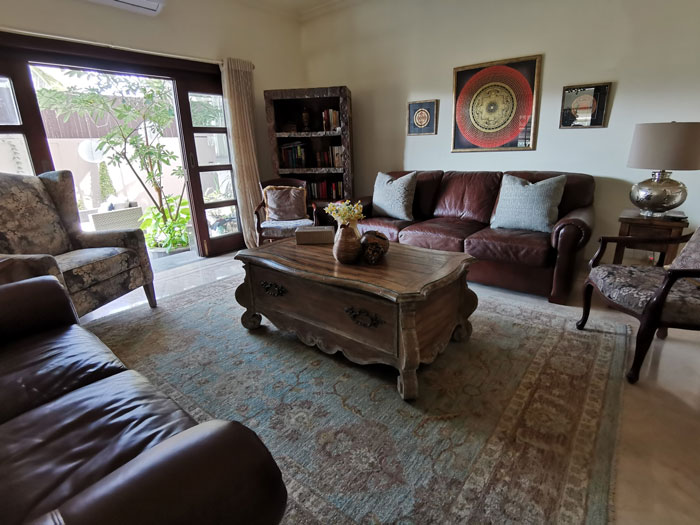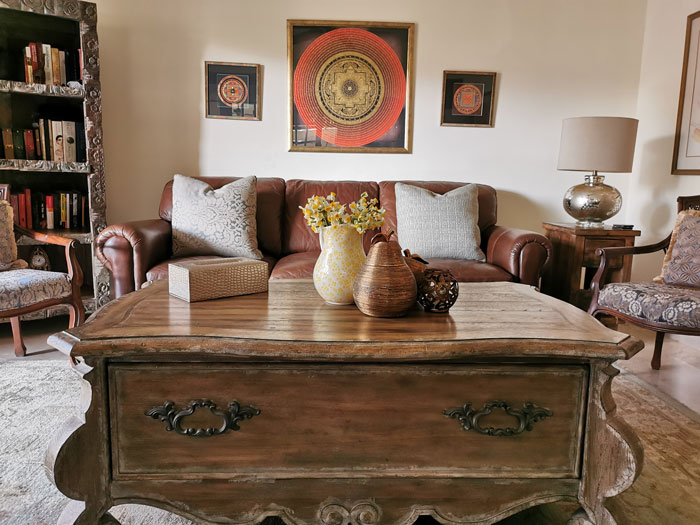 There is also a cool, clutter- free vibe going.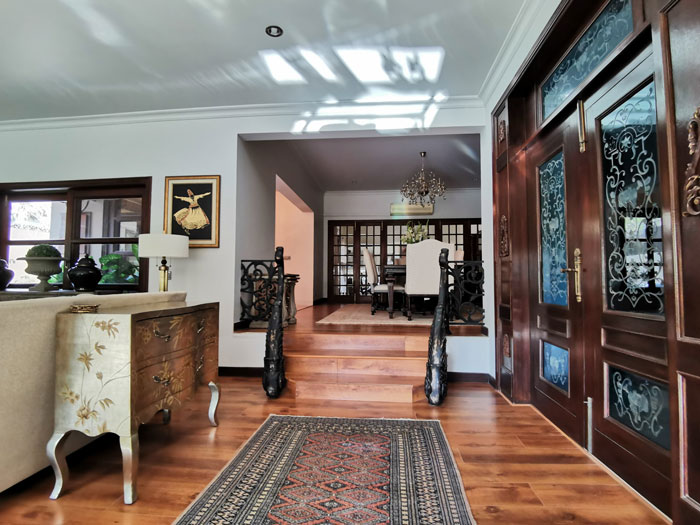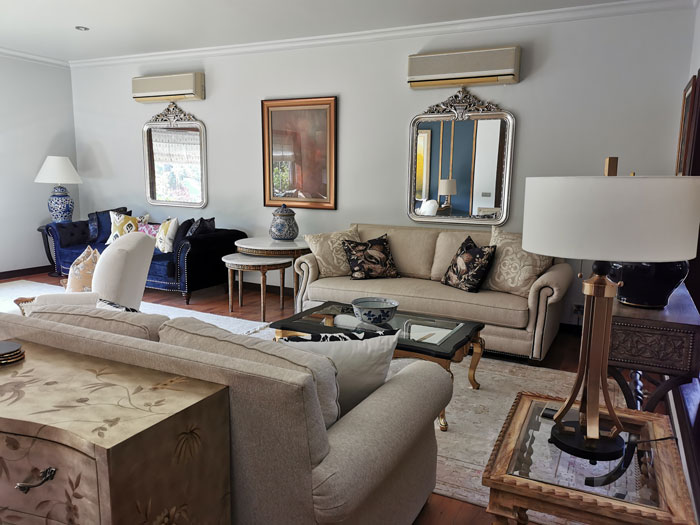 I like warm tones but my daughters prefer cooler tones and they have picked the colours. They also don't like too many ornaments, which I love. They packed up most of my collectibles and bric a brac and have left just a few statement pieces.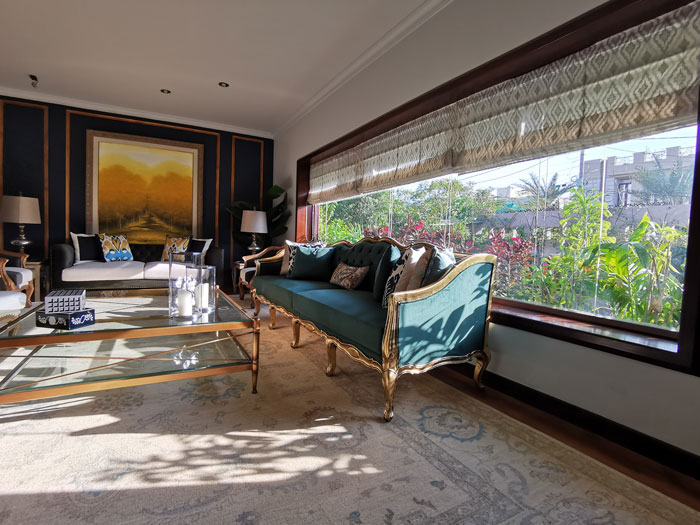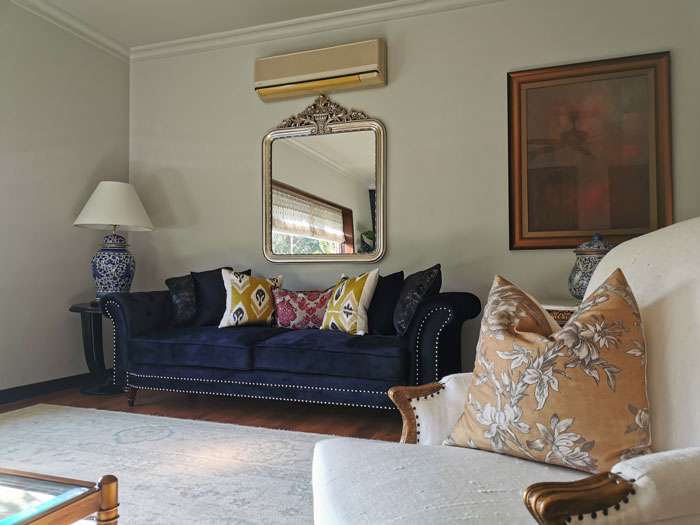 I did keep some antique Chinese ceramics which belonged to my grandmother but in the hallway, not in the formal sitting room.
Is there any piece in the home which is special to you?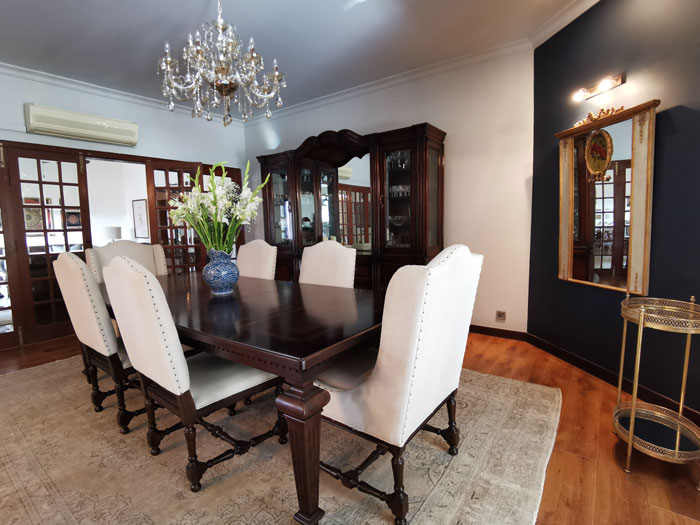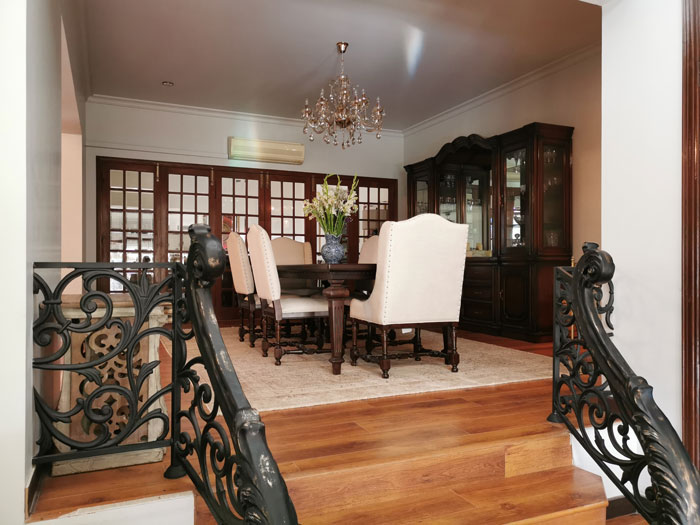 Probably the mirrored cabinet in the dining room which belonged to my grandmother and was made in the sixties. It is made of solid wood, of course, which you can't find now. All the contemporary furniture is made in China and laminates are used.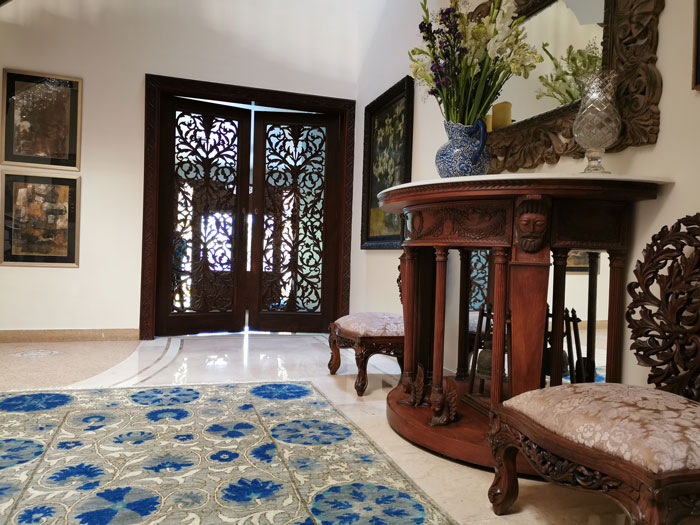 The carved door in the hallway is also special since I had it made myself by my carpenter. I saw something similar in a movie and had it re-created.
Tell us about the large yellow painting in the formal sitting room.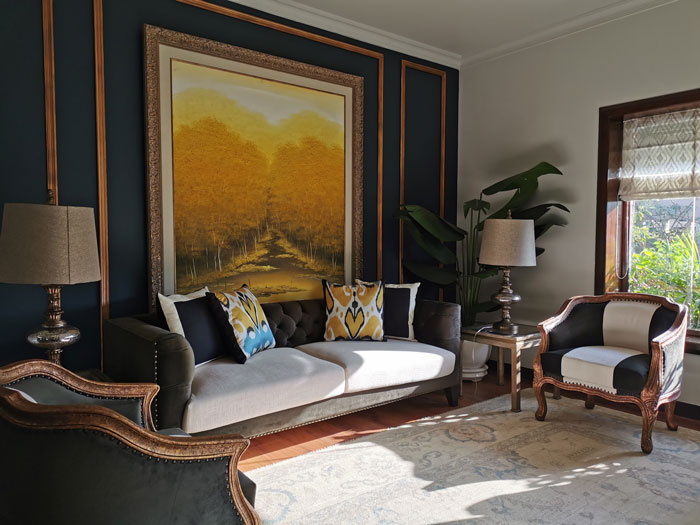 The painting is by a Vietnamese artist and I bought it from a curator but I didn't realize how massive it was till I brought it home and had it framed. It was too big for the room and I didn't know how to place it. So I had a feature wall made and used it as a backdrop.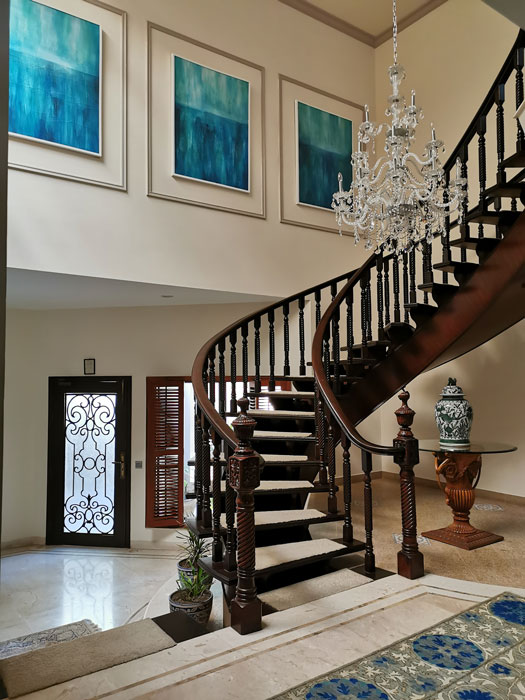 The three blue paintings in the stairwell are also by a Vietnamese artist. I had a very old tapestry in that space which I moved and had these placed there instead. I still need to add more art to my walls but I will wait till I find the right pieces.
What is your favourite room in the home?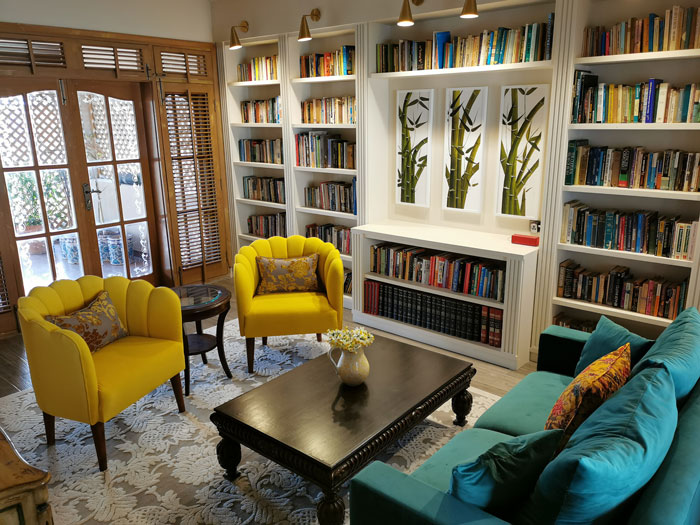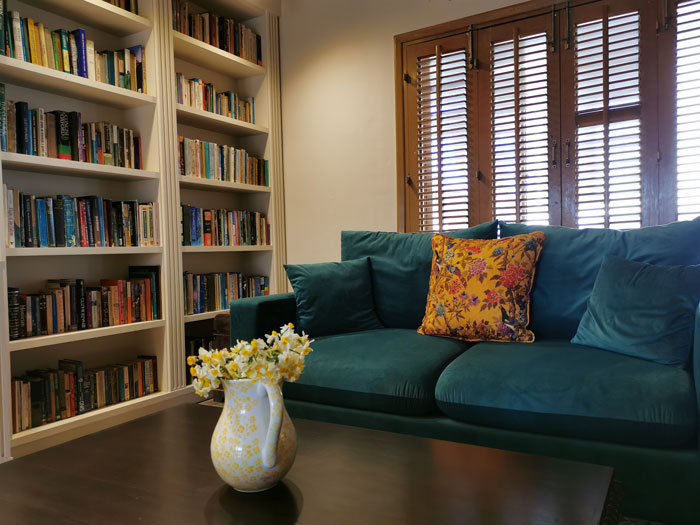 I think my favourite room is the library upstairs. The vibrant hues were chosen by my daughters and I brought over my father's collection of books to this room. It is a bright and comfortable space.
Photos by Naeema Kapadia