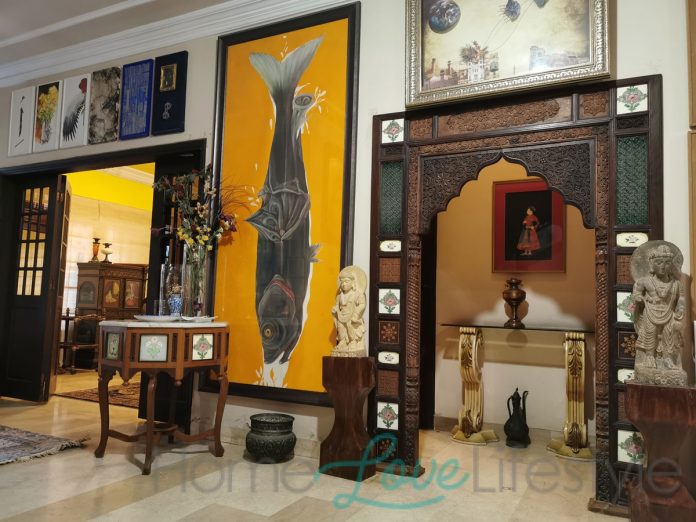 The burnt brick façade of this art collector's home, tucked away in a leafy suburban street, gives little hint of the visual treat housed within. On stepping in, one is instantly struck by the plethora of artworks displayed on every available surface.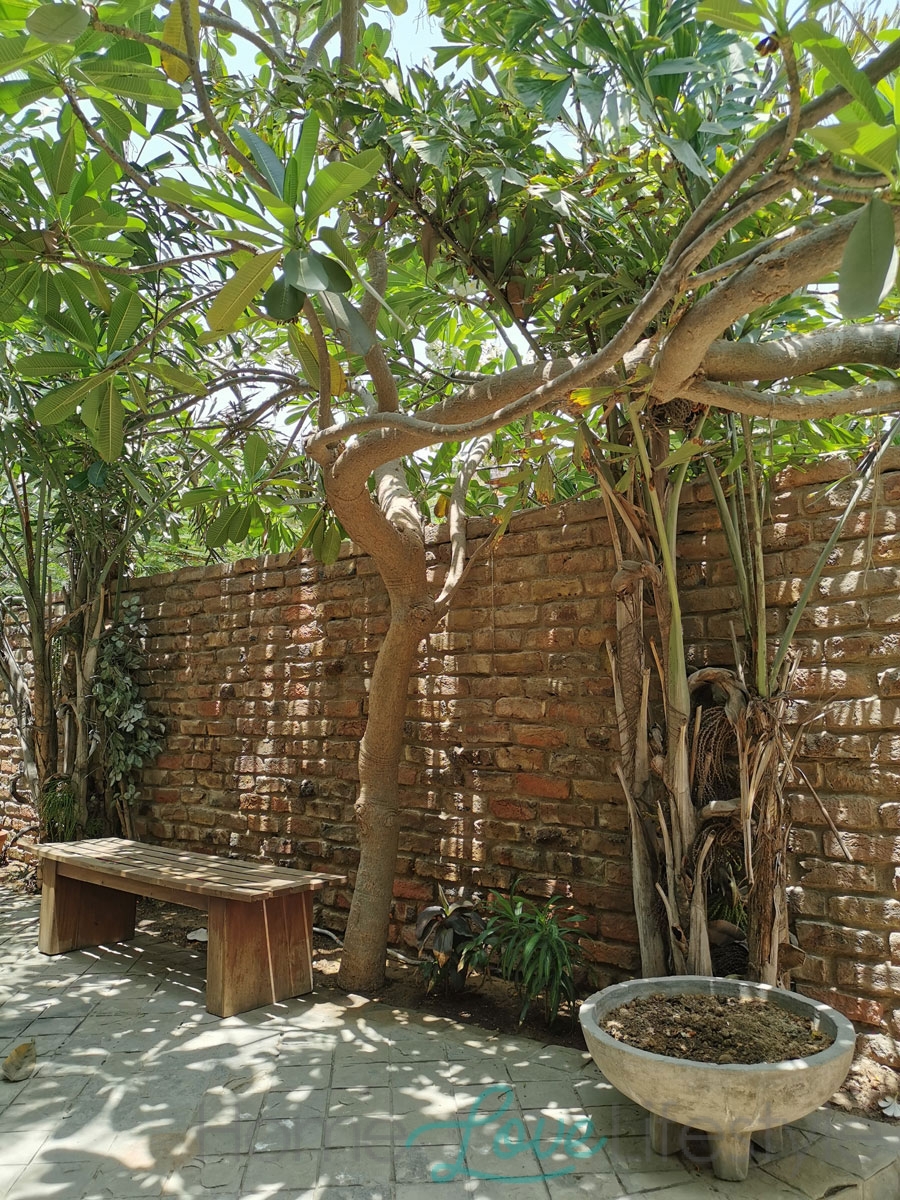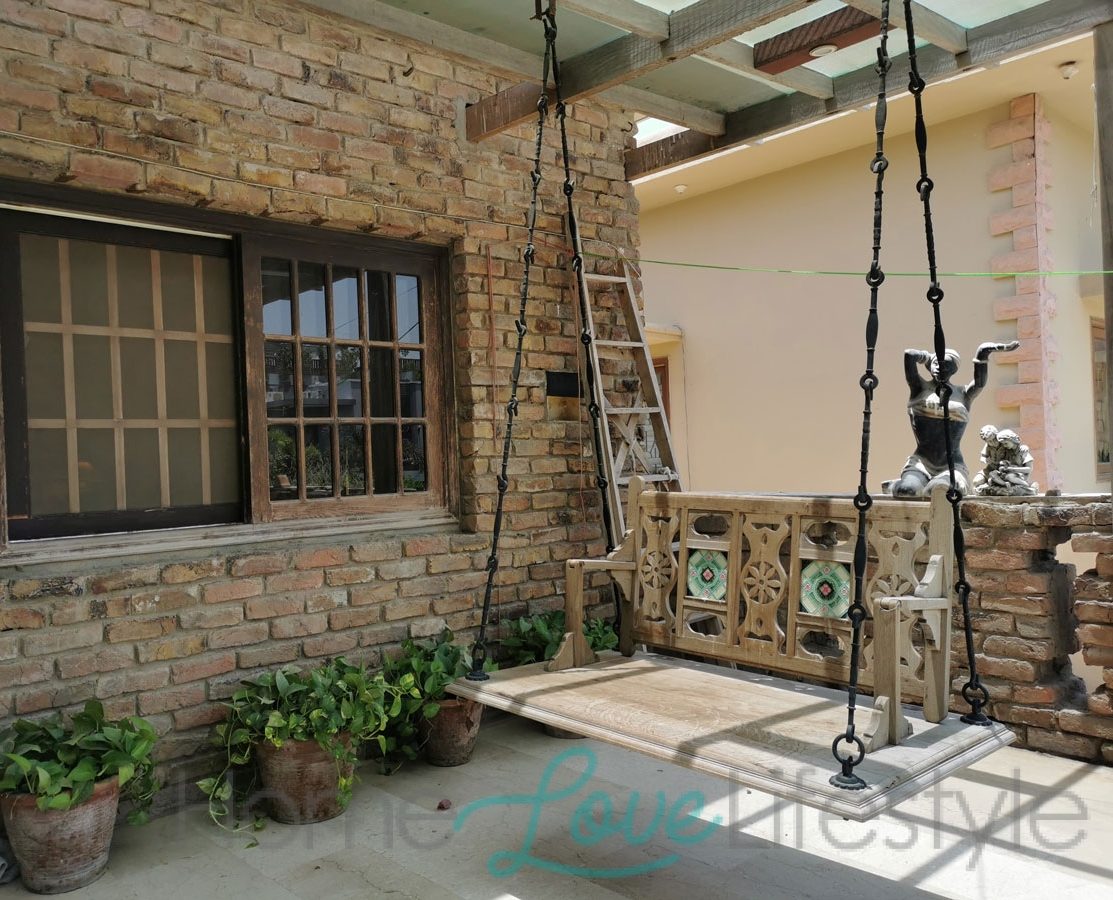 Amir Butt and his lovely wife Sonia gave us a warm welcome and Amir spoke about his passion for buying art.
So when did you start buying art ?
I have been collecting art for over two decades now. It's embarrassing to talk about my first purchases (laughs) because it wasn't good stuff. But I made some artist friends and started learning. It's a continual process of discovery.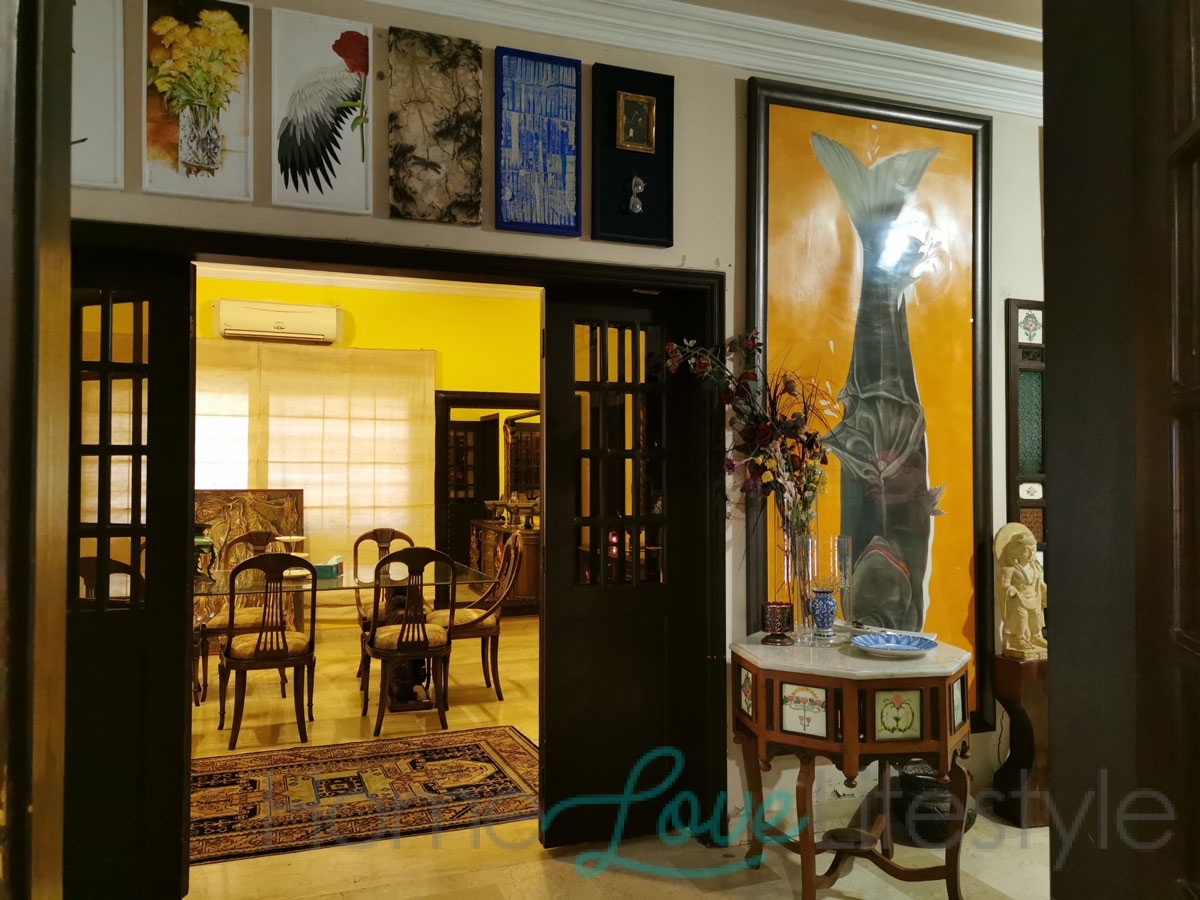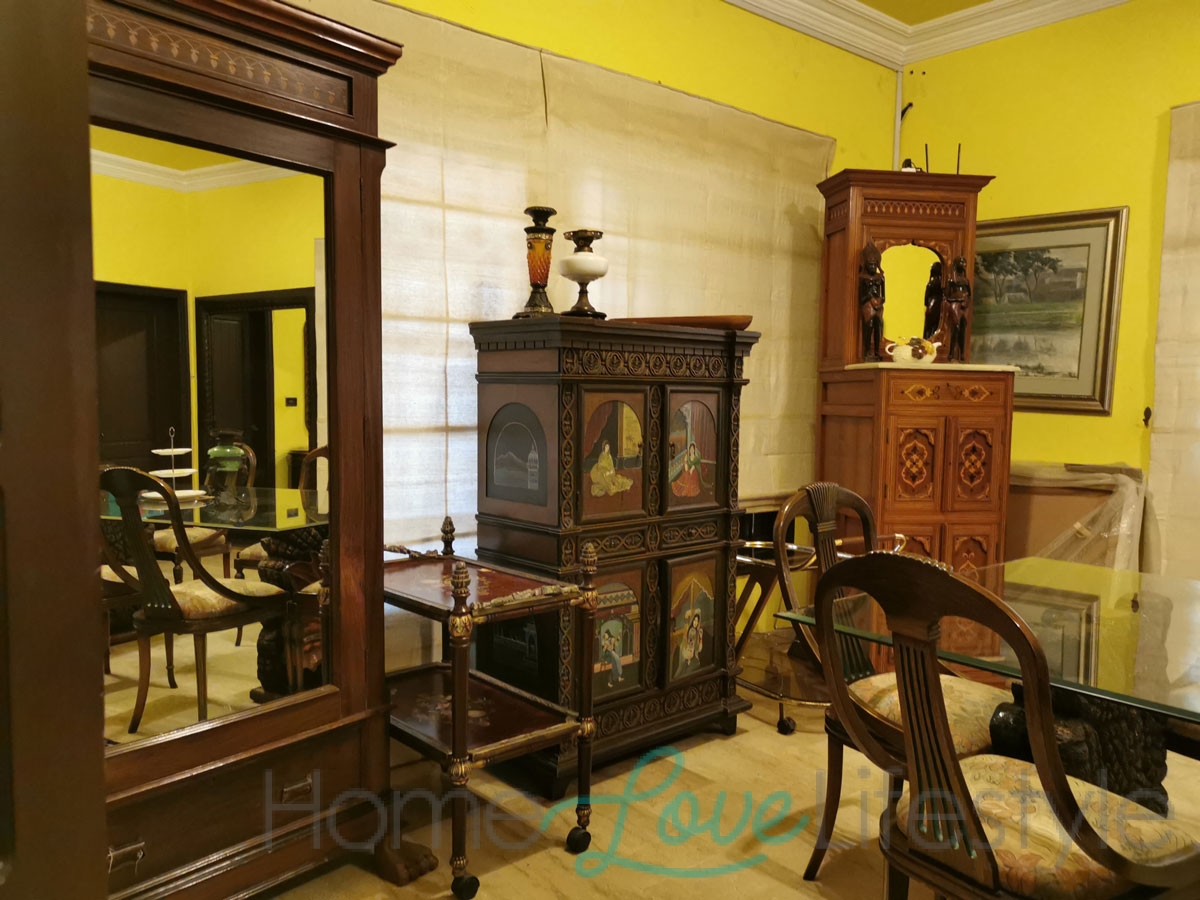 Would you agree that Pakistan has a vibrant contemporary art scene?
We have excellent artists but we don't have the milieu for art. Our artists who are successful first break into the Indian market and then branch off. We have a very small market. People here mainly buy decorative art. Very few want to grapple with the complexities of narrative art.
Talk us through some of the paintings in your collection.
I bought this painting titled Vortex 5 by Faiza Butt which has travelled around the world. It was displayed at the Art Basel in Hong Kong and Miami and then later in a retrospective of the artist's work in England. Quoting the artist "the work dwells on the human condition as they feature, bones, surgical instruments, weapons and adult toys…"  The painting also draws inspiration from the ornate borders of Indo-Persian manuscripts. With a contemporary edge off course.
I have recently been buying several paintings by Khadim Hussain who now lives in Australia and he's doing very well there.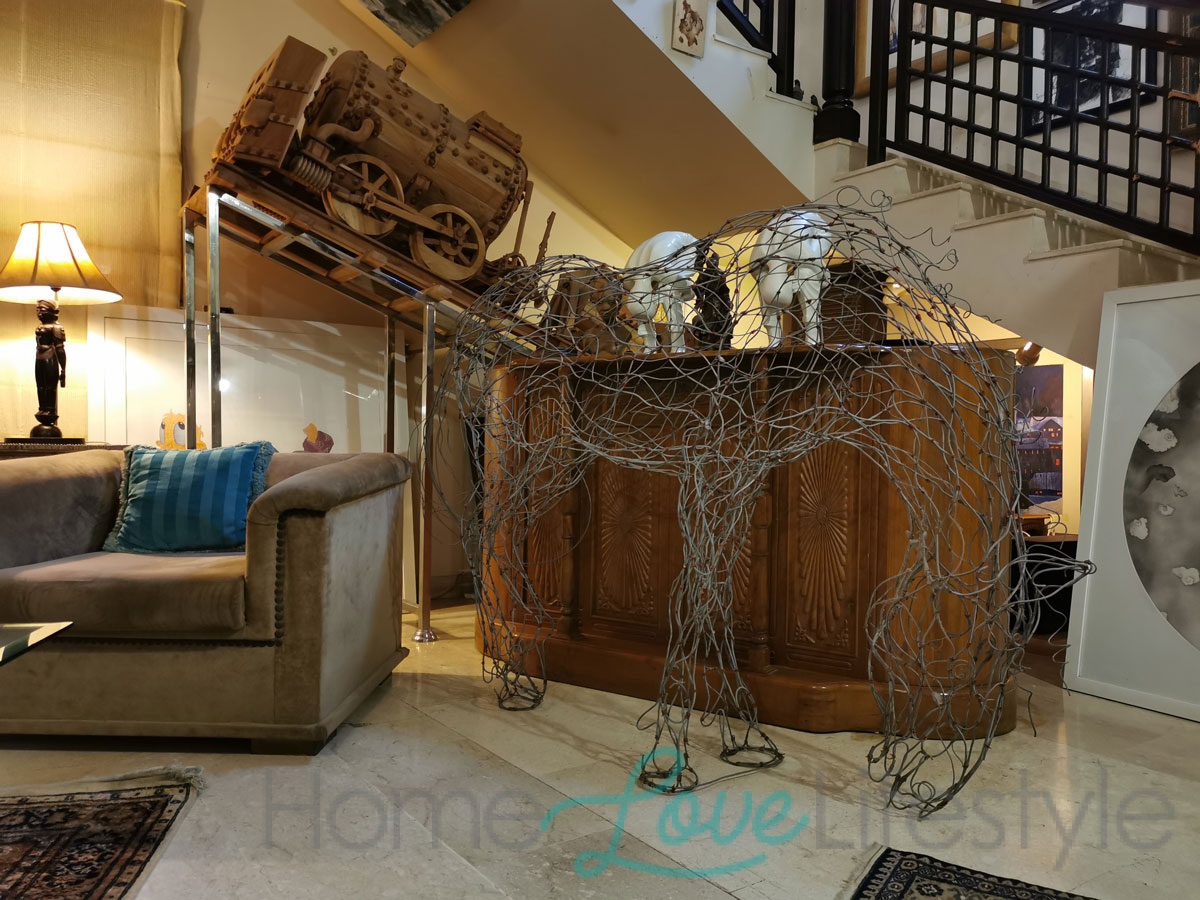 This train is by a young artist Idrees Hanif. I didn't know how to display it, my artist friends wanted me to break a wall for it (laughs). But in the end we settled on getting this stand made for it.  The horse by Imran Hunzai was displayed at the Karachi Zoo during the last Biennale. It won the Popular Choice Award.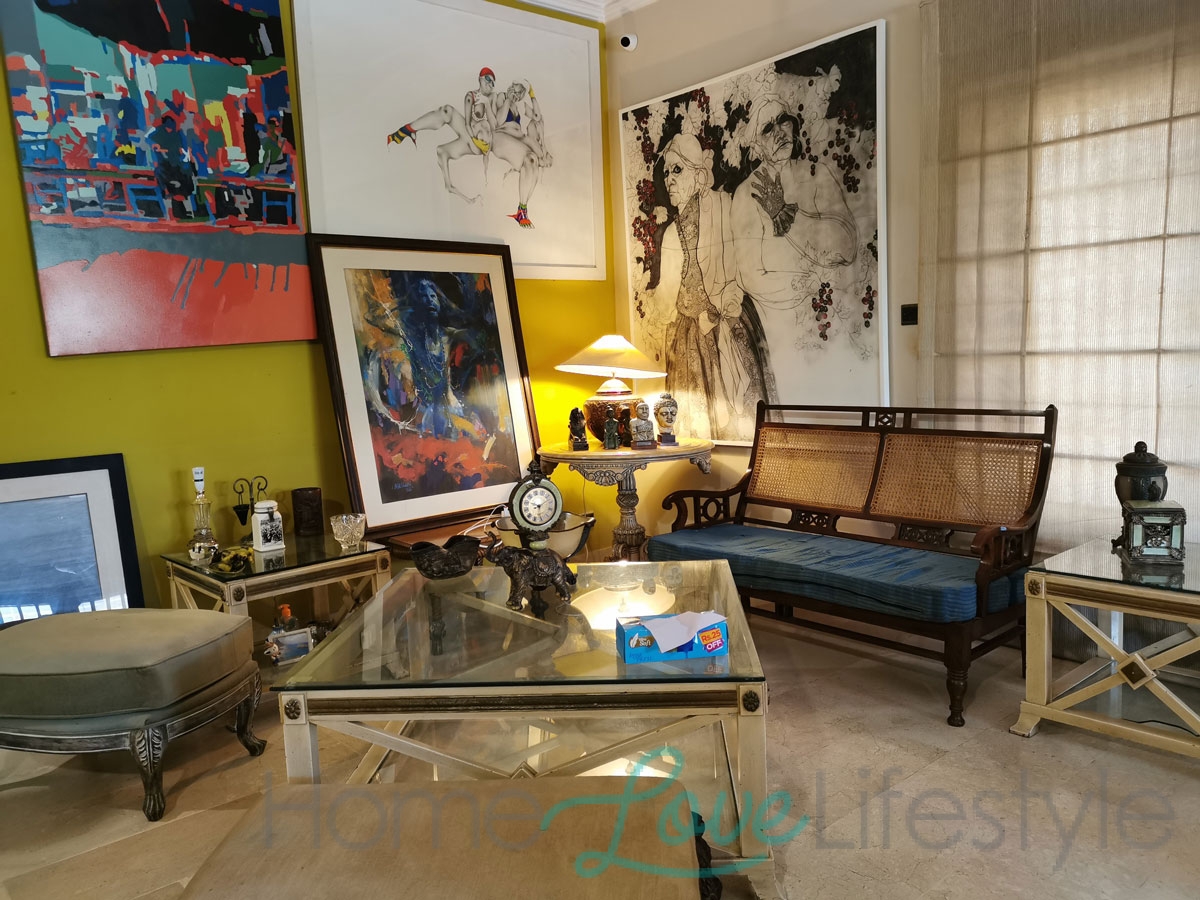 This figure of a man in a 'murgha' pose is by artist Artist Faheem Rao. He has been recently nominated for a prestigious Asian award.
The miniature style  painting was one of the five works commissioned by Vogue India to American artist Saira Waseem for their fifth anniversary cover.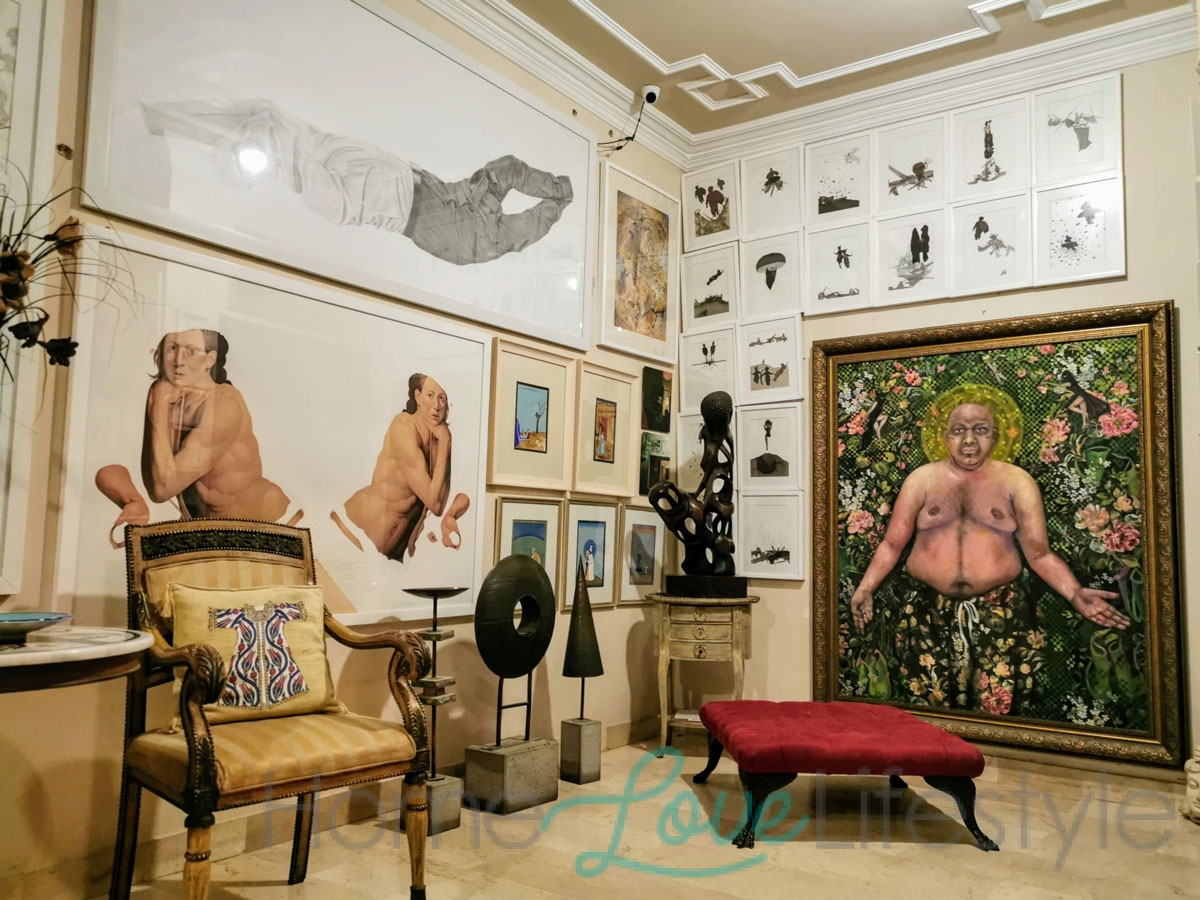 Tell us about the bold figurative work which greets us at the end of the hall.
That is by an artist called Amra Khan. It explores inner conflicts and themes, grappling with spirituality and identity.
Do you search out the work of the masters or do you prefer to collect contemporary pieces?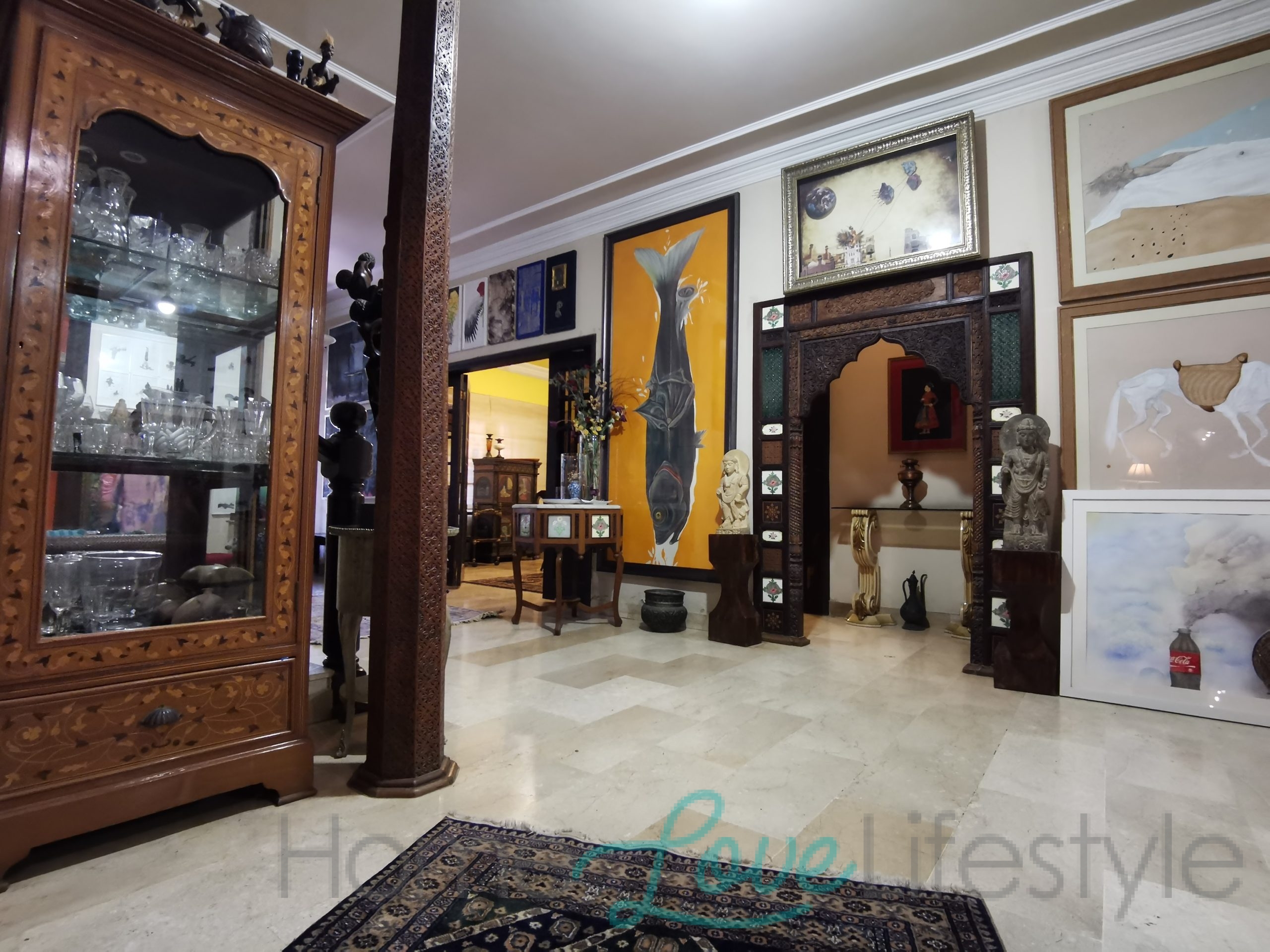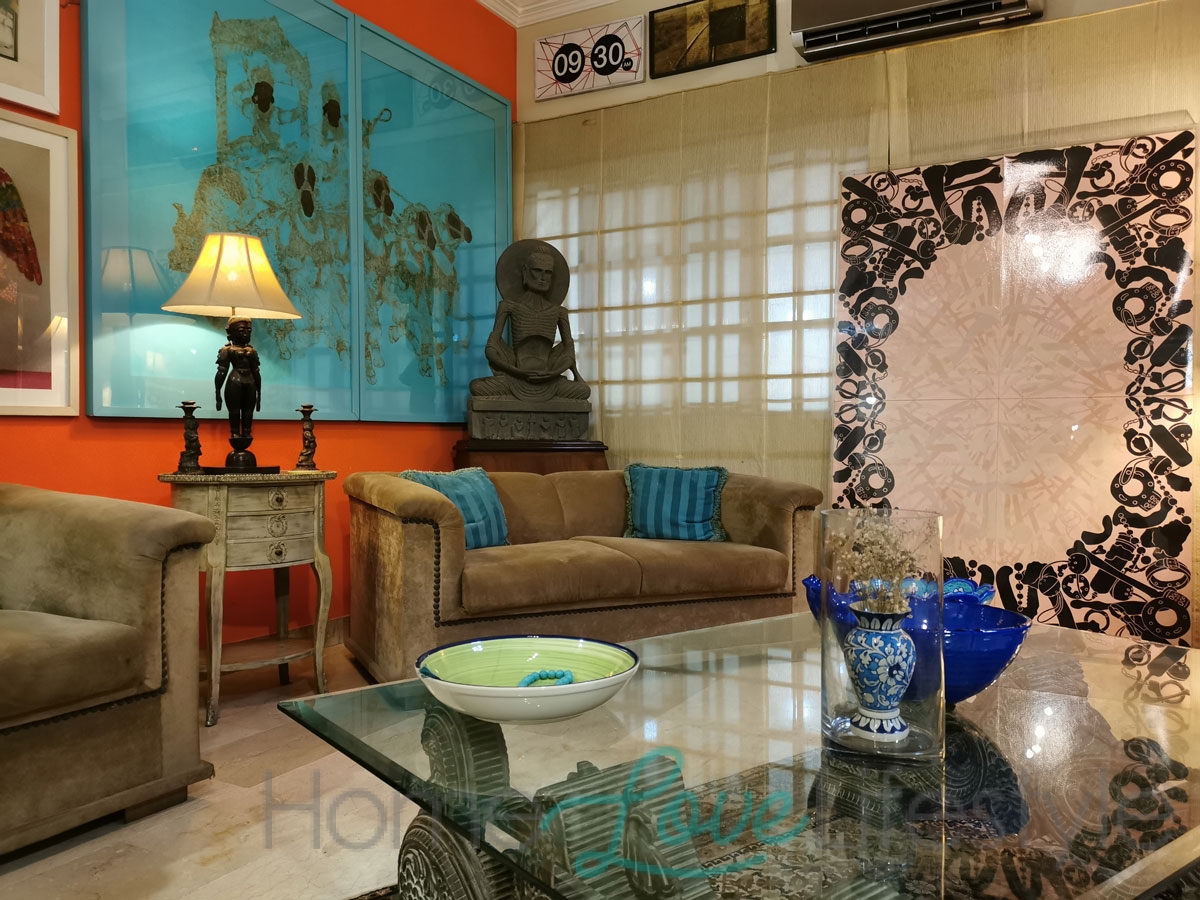 I have paintings by the masters, but one has to be very careful in that realm. Ninety percent of what is passed off as original work is fake. I always take guidance from my senior artist friends in that regard. Artist and collector Wahab Jaffer has helped me a lot. But I also buy the work of struggling artists, just budding artists… I buy from every layer. There have been instances when I have bought entire exhibitions to promote an artist. It was artist Numair Abbasi's first solo show. I saw the potential in him and purchased all 34 works on show.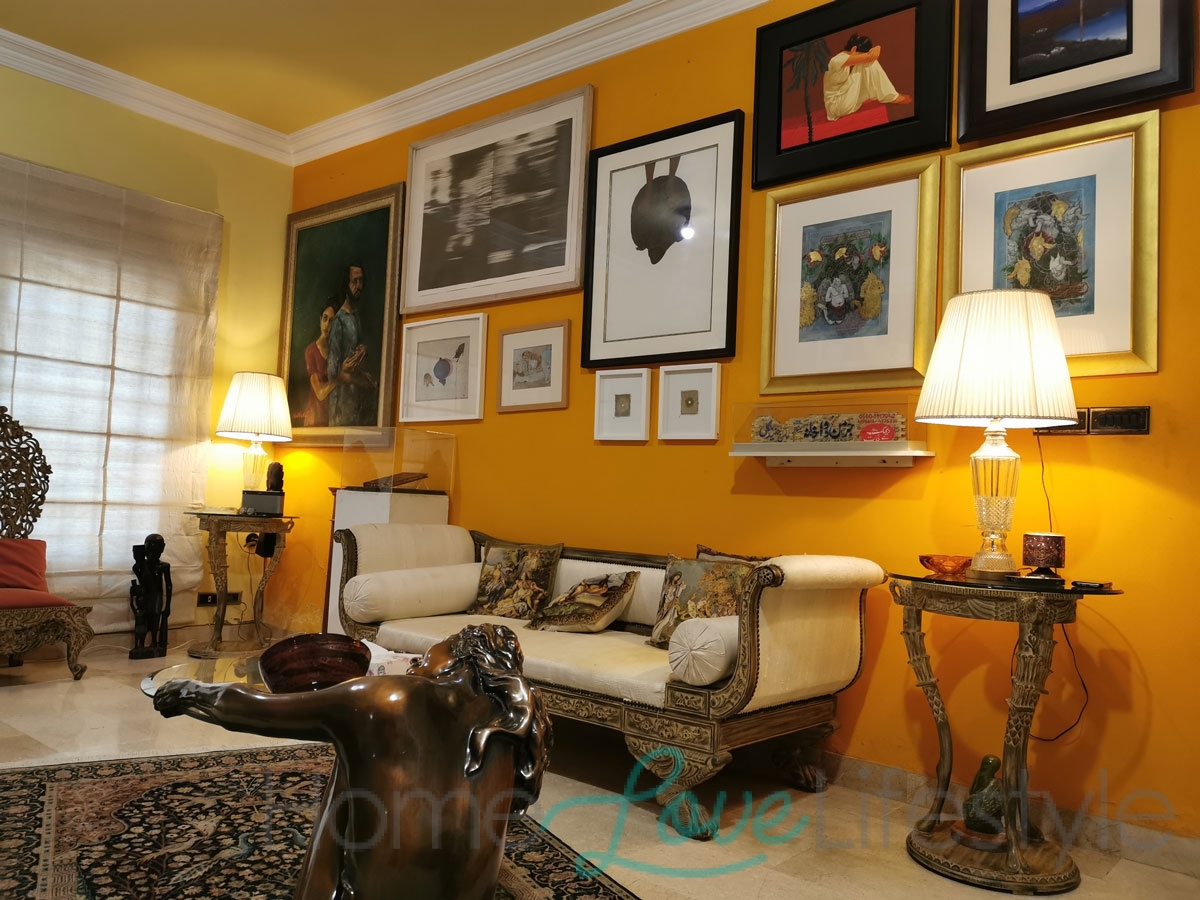 I have bought the work of artists like Salman Toor and Waqas Khan when they were struggling artists. Today they sell in hundreds of thousands dollars. Salman Toor recently sold for a million.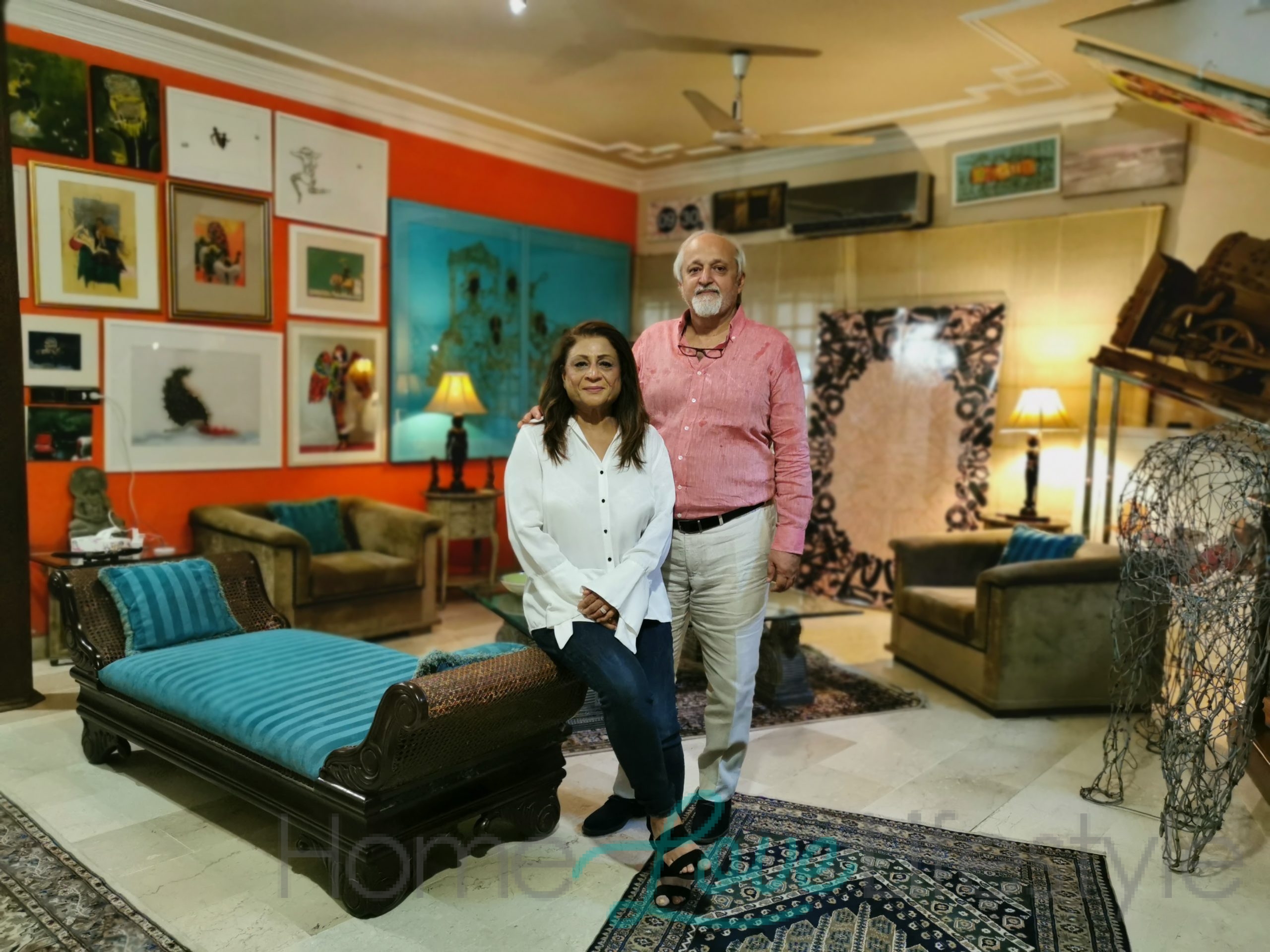 Is this an investment for you as well?
It's basically my passion. I don't really see it as an investment because it isn't easy to find buyers for art.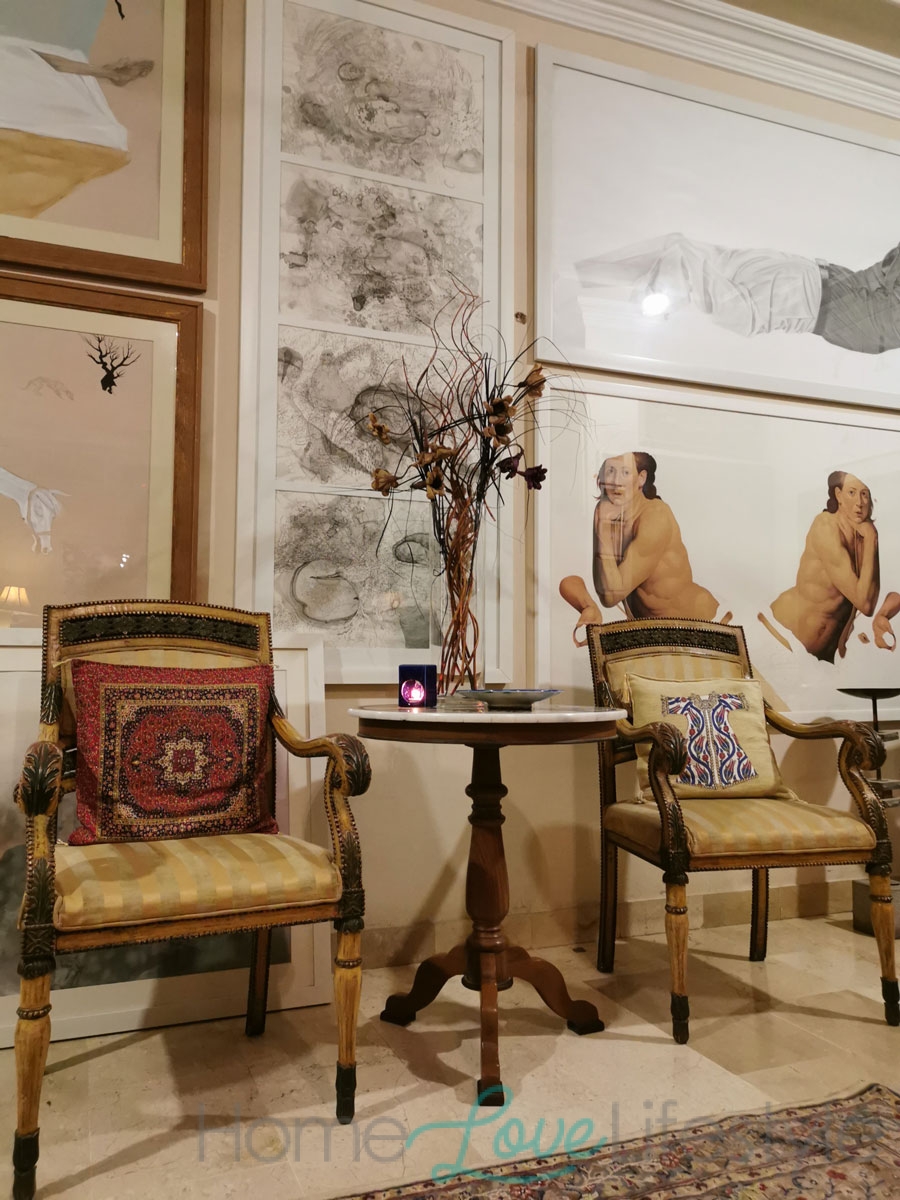 Is all your artwork bought locally?
Yes, I buy from the good galleries here. I have also been very involved in the setting up and running of the Sanat Initiative gallery. In fact, I was their patron in chief and main buyer.
I know it's hard to choose but do you have a favourite artwork? Or something close to your heart?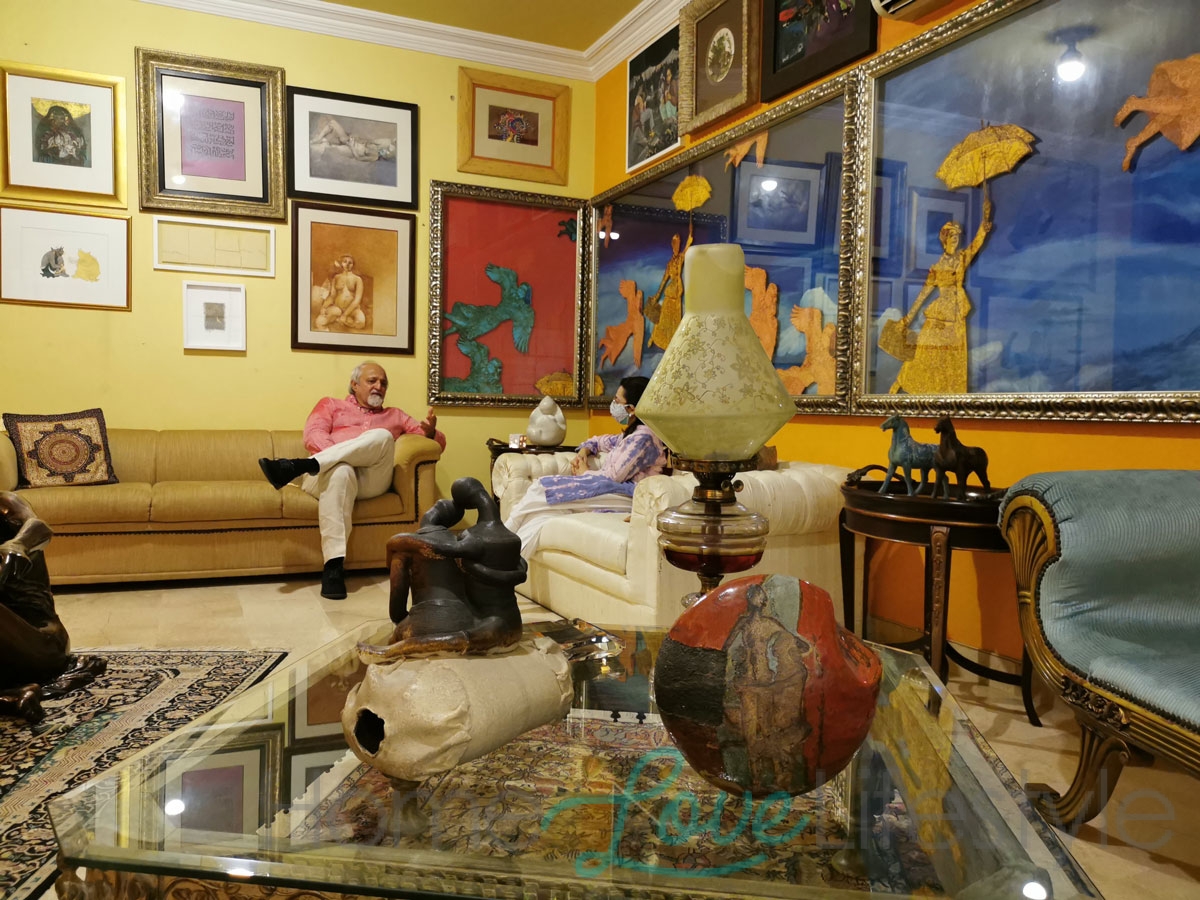 It's a learning curve. And being immersed in art involves the emotions so it changes with time and how I'm feeling. Nowadays, I have a preference for the work of Khadim Hussain, Imran Hunzai. Mohammad Zeeshan is another favourite, I like the work of Farrukh Shahab who is also a friend.
This very large artwork dominates your sitting room. Then there is a very minute detailed work as well.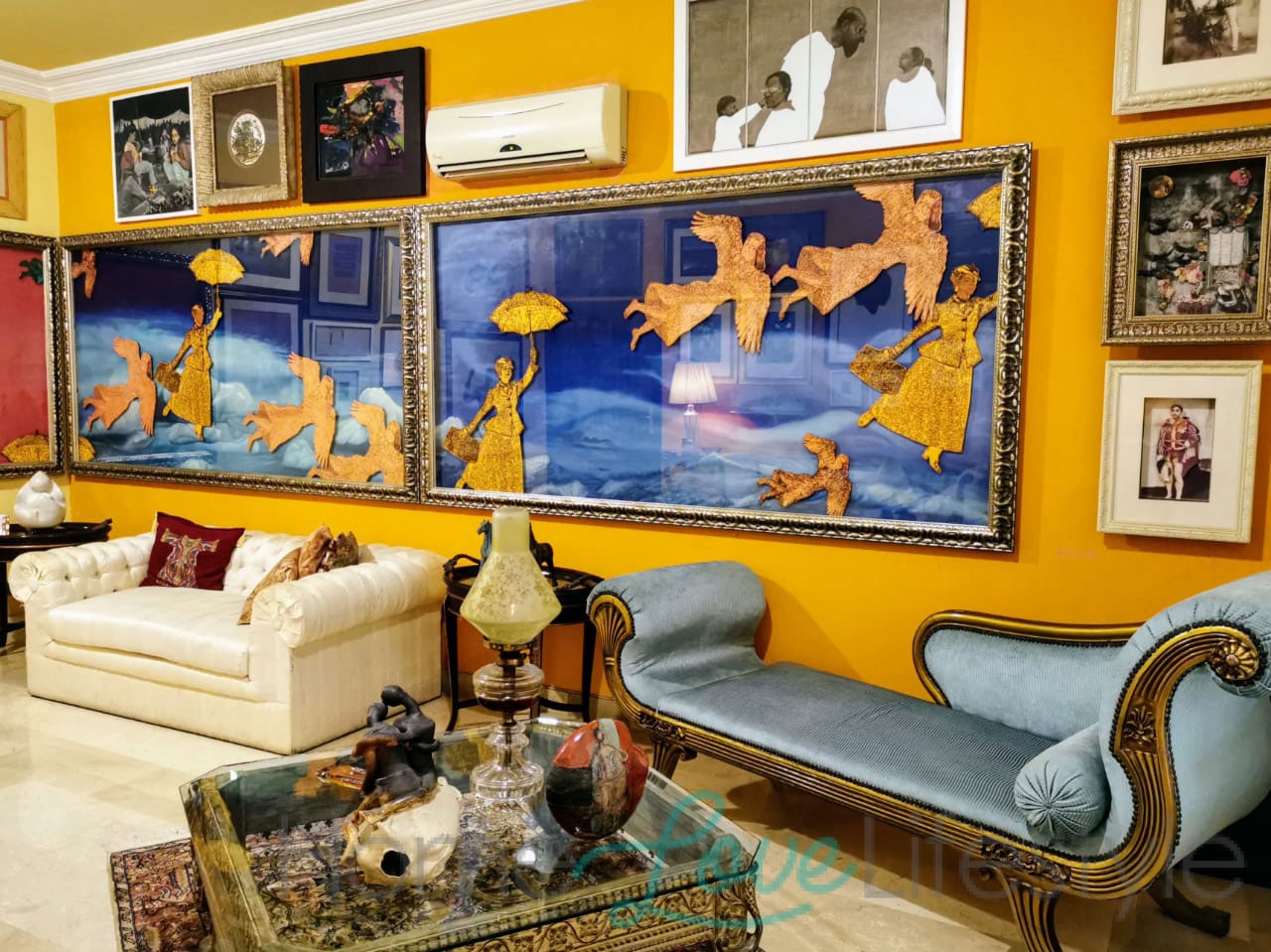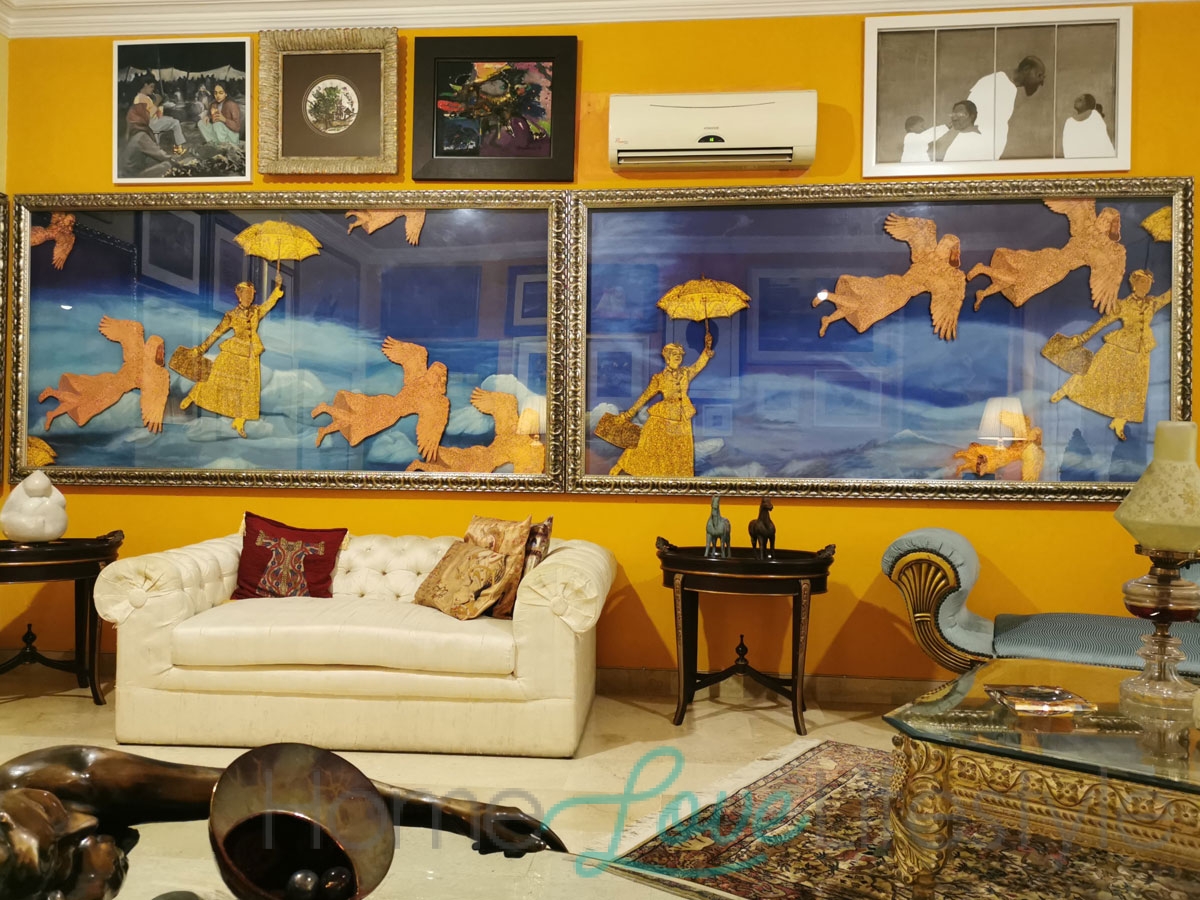 This triptych is by Mohammad Zeeshan and it features two icons of the East and West; Mary Poppins and Laal Shahbaz Qalandar. It is titled Laal Mary. It's his biggest piece ever, 21 X 5 feet. I'll share an anecdote here. Mohammad Zeeshan wanted to exchange one of his artworks for his dream car. In 2017, I presented him with a brand new Honda Civic fully loaded top of the line model to acquire this work.
The minute calligraphic work is by Ghulam Mohammad who has been nominated for the Jameel Prize, curated by the Victoria and Albert Museum.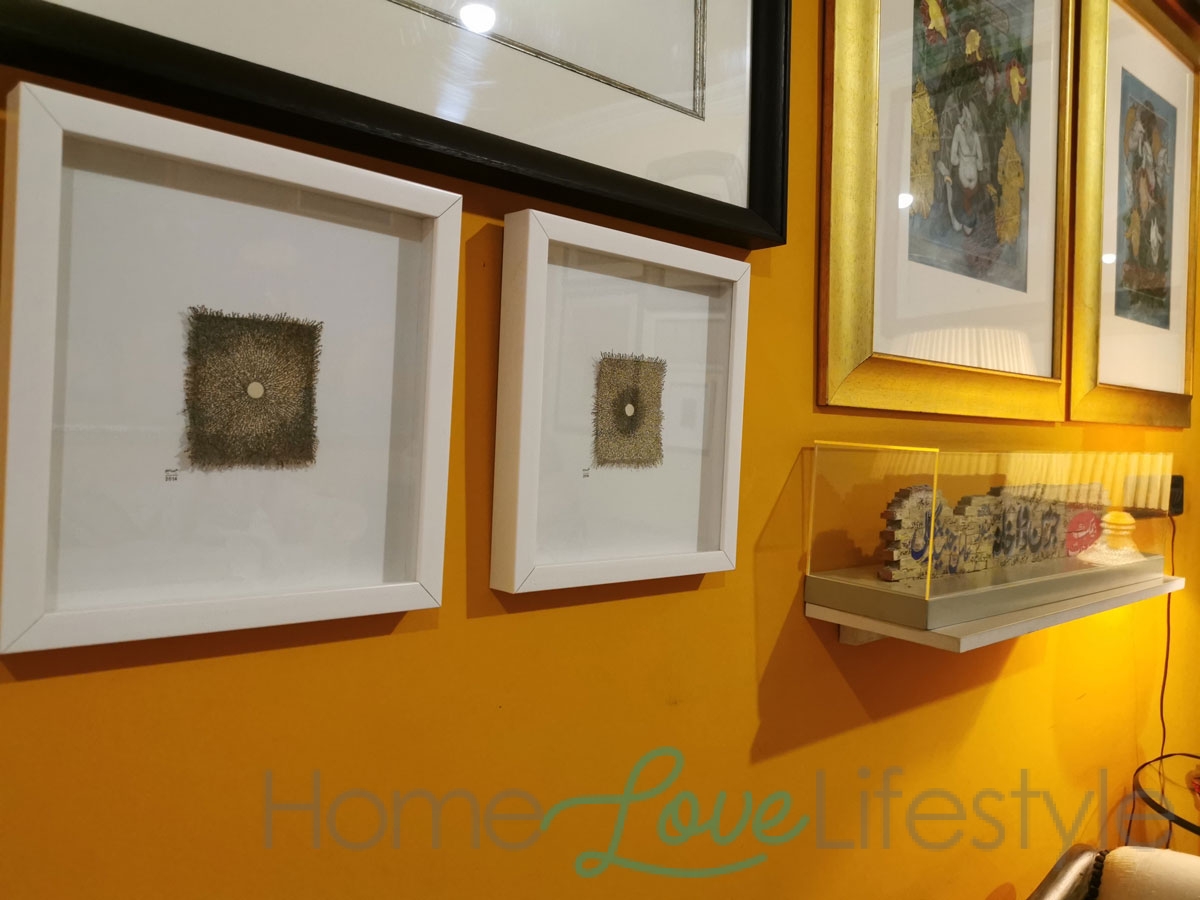 Ali Kazmi and Irfan Hussain are among other  important artists whose works I have. There are so many wonderful artists. I also have a Rashid Rana from the time when he used to do paint and brush work.
Displaying your collection is a feat in itself. Many collectors rotate their displays because they run out of space to display it all.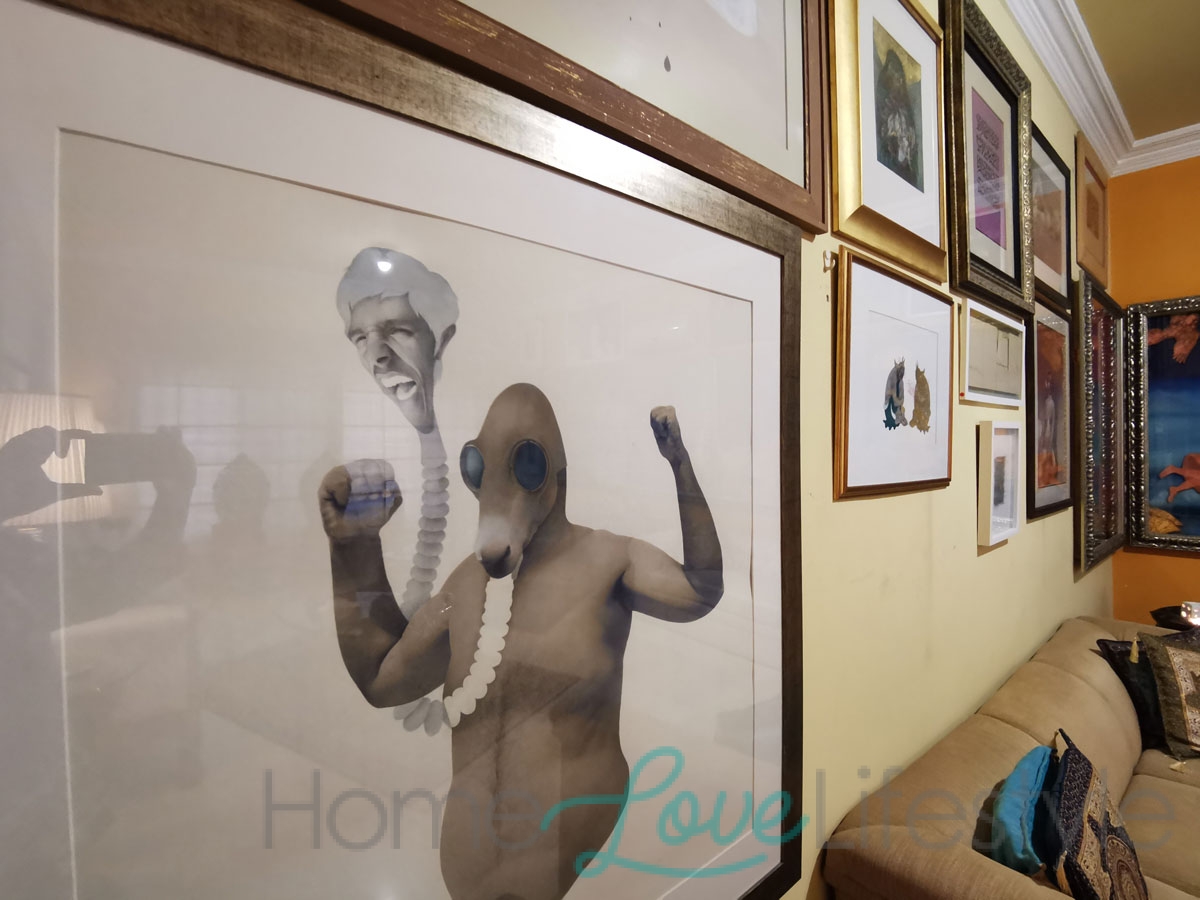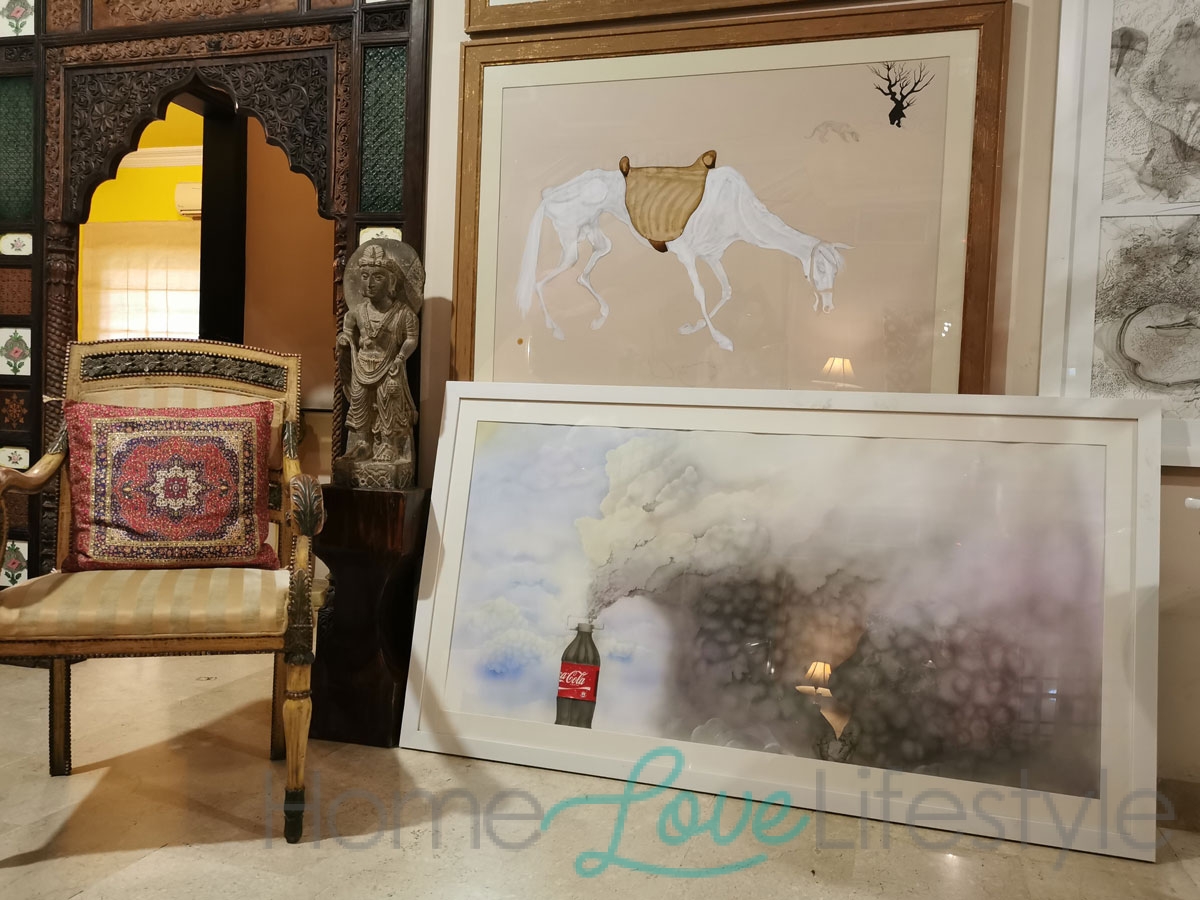 Yes. I need to change things around now and put up new works I have purchased, but it's a big job. I have some artist friends who help me with the displays. My ambition is also to build a bigger house where I can lay out my collection better. But it hasn't happened yet.
That's why some paintings are just stacked against the wall. Like this painting by Imran Hunzai of the Coca Cola bottle. He did a series of such paintings commenting on consumerism and the adverse effects of rapid modernisation in our societies.
Where did you pick up the beautiful carved wooden door outside and the wooden pillars inside the house?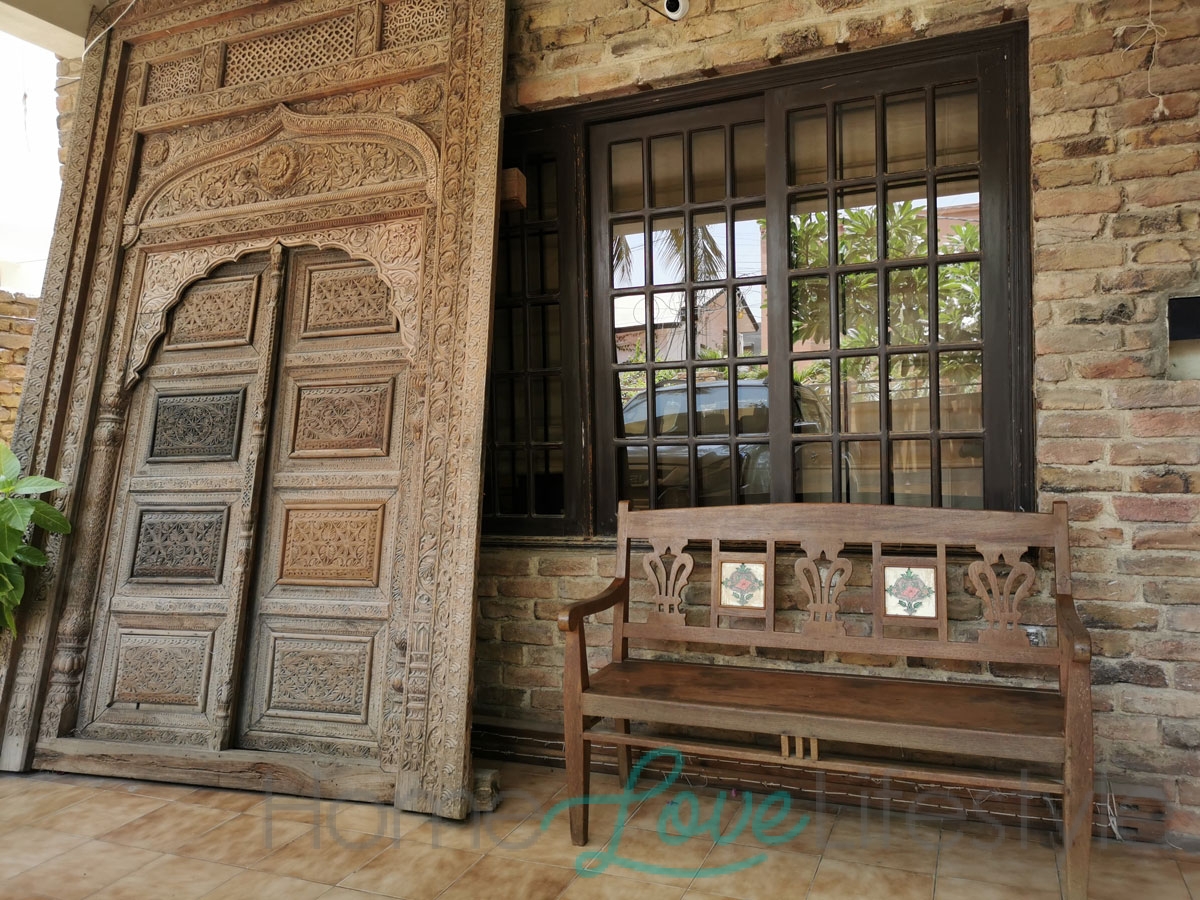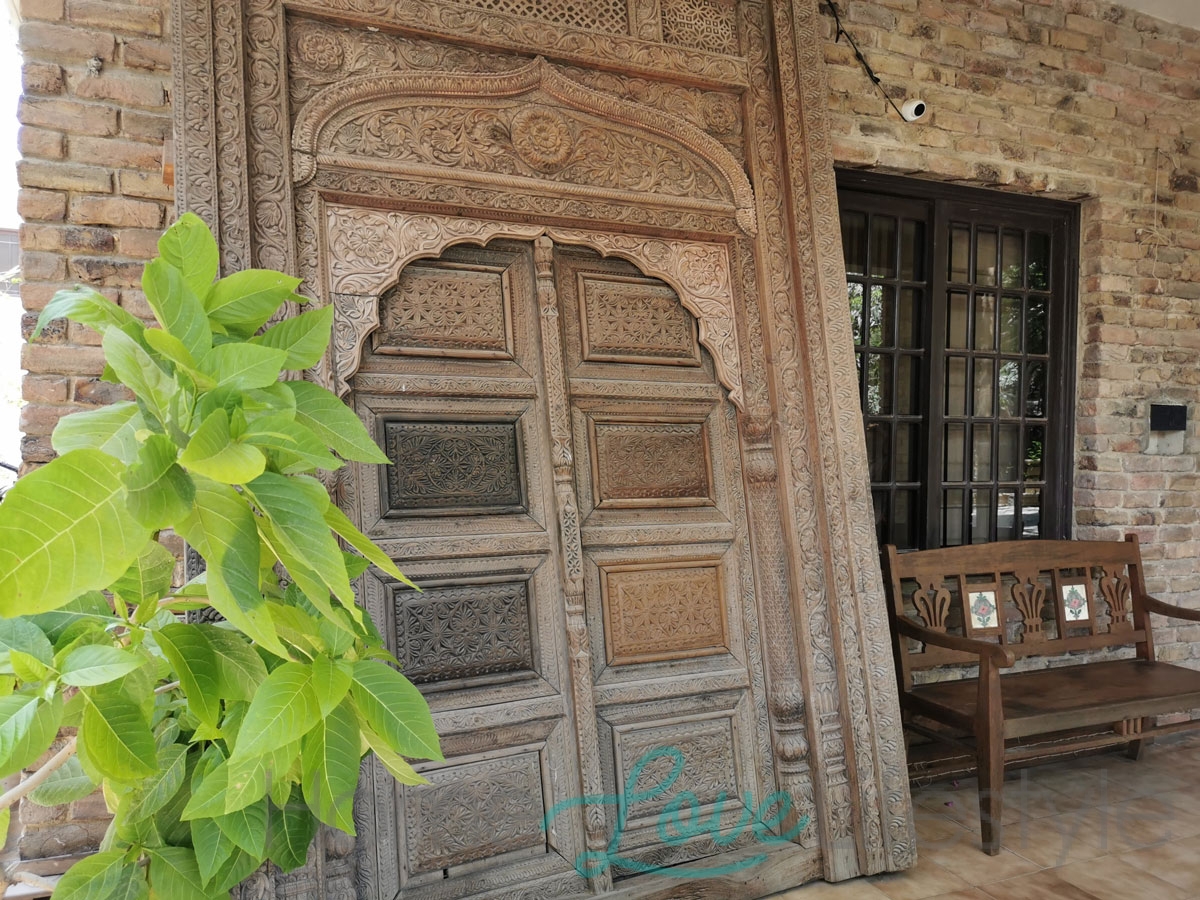 I bought these from the old furniture stores. I'm friendly with all the junk shop owners, although many shops have closed now. The pillars are from an old haveli in Shikarpur which was being torn down.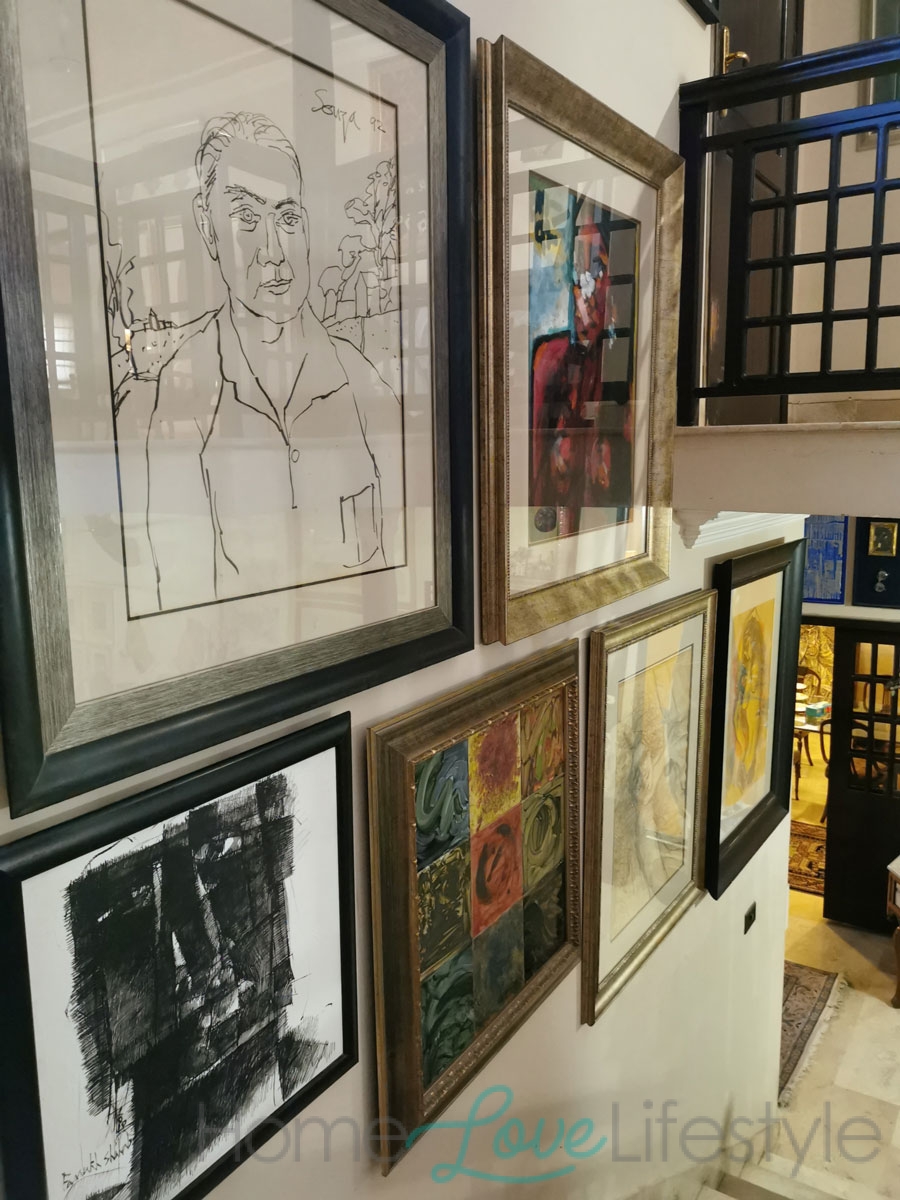 Lastly. What does your wife think of your collection? She has to be very supportive considering the entire house is devoted to it.
My wife is not one of those people who pretend to be interested in art just because she should. She has begged me to stop buying more artwork and even threatened me (laughs).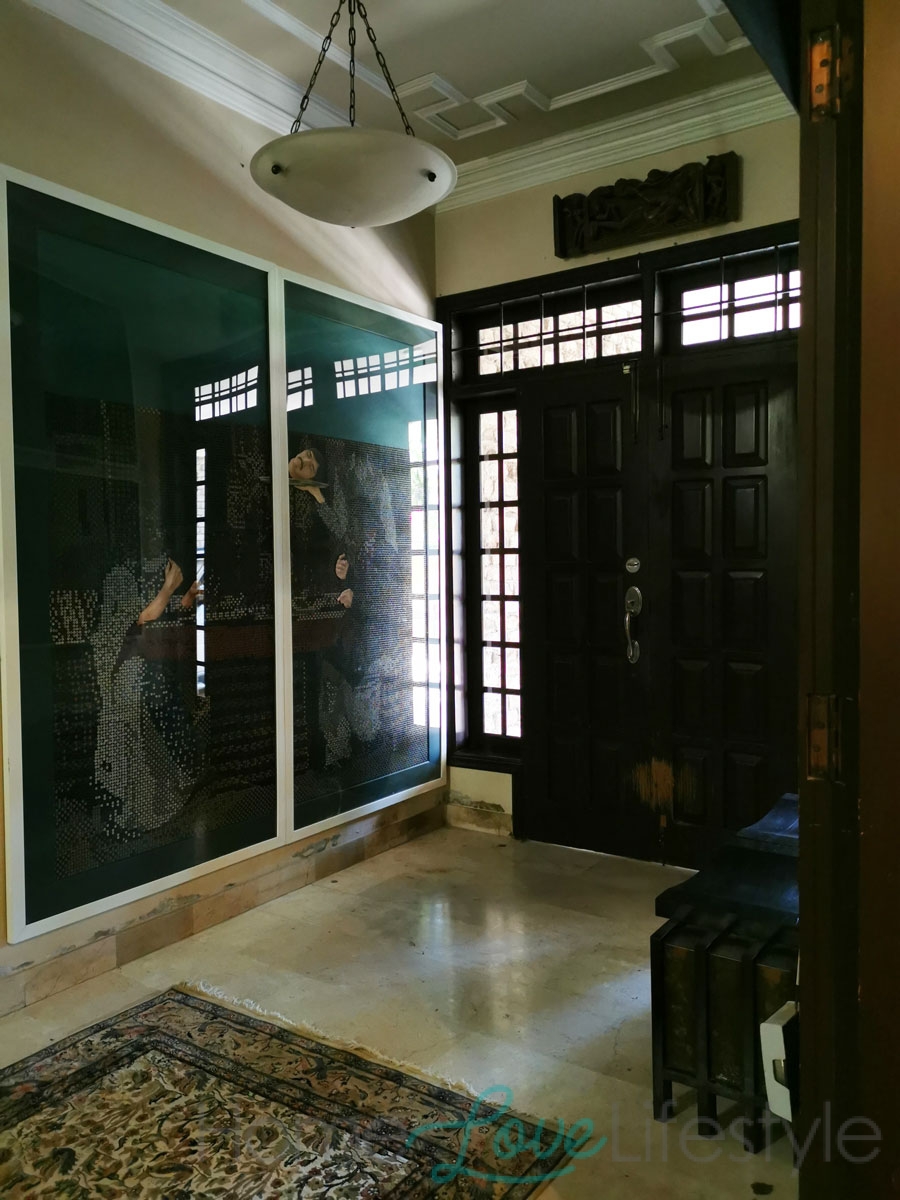 Sonia Butt: It's true! I have threatened to break or throw away pieces (laughs). I'm a big fan of mirrors but all of them have been taken down and are lying stacked up.
Amused by the couple's good humoured banter and the senses still singing from the visual feast, we thoroughly enjoyed our visit to this art collector's home.
Photography by Naeema Kapadia