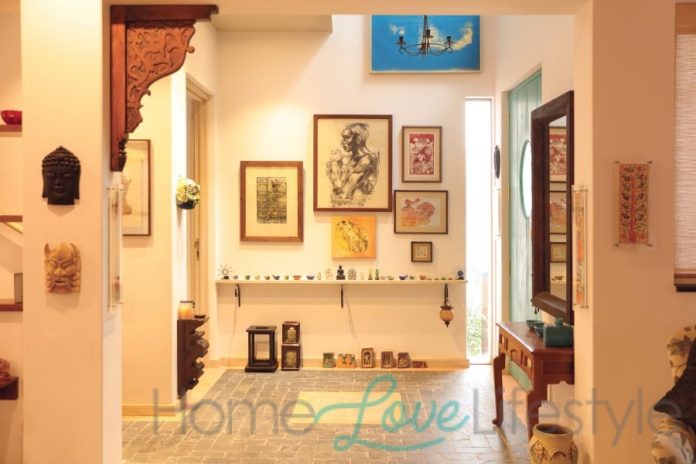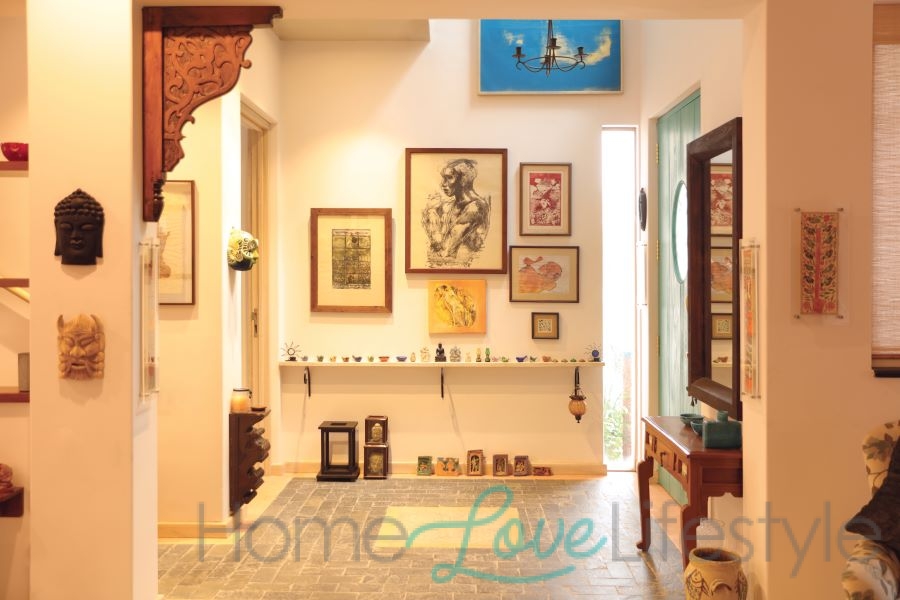 The home of educationist Saira Minto and her family is a bright, airy and art-filled space in Lahore. The recently completed house was a real labor of love for Saira and she had very clear ideas about what she wanted.
Team Homelovelifestyle caught up with Saira and asked her what inspired her to create her warm and welcoming home.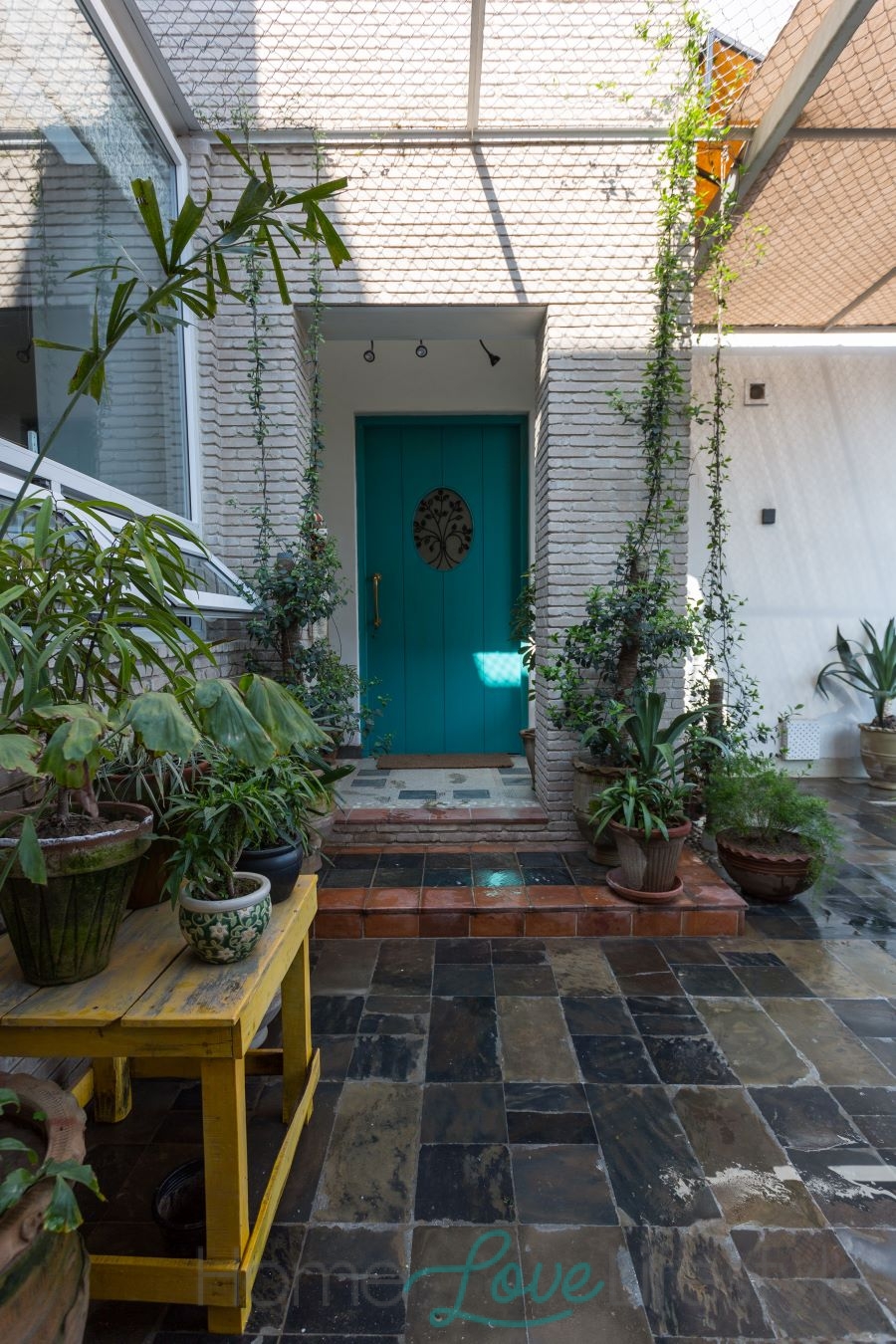 Tell us a little about yourself?
Well I have always had corporate jobs but have been wanting to express my creativity over the years. So, when we decided to build this home, I got my chance! I've always been a bohemian at heart and I wanted to create a unique space for my teenage twins and my family.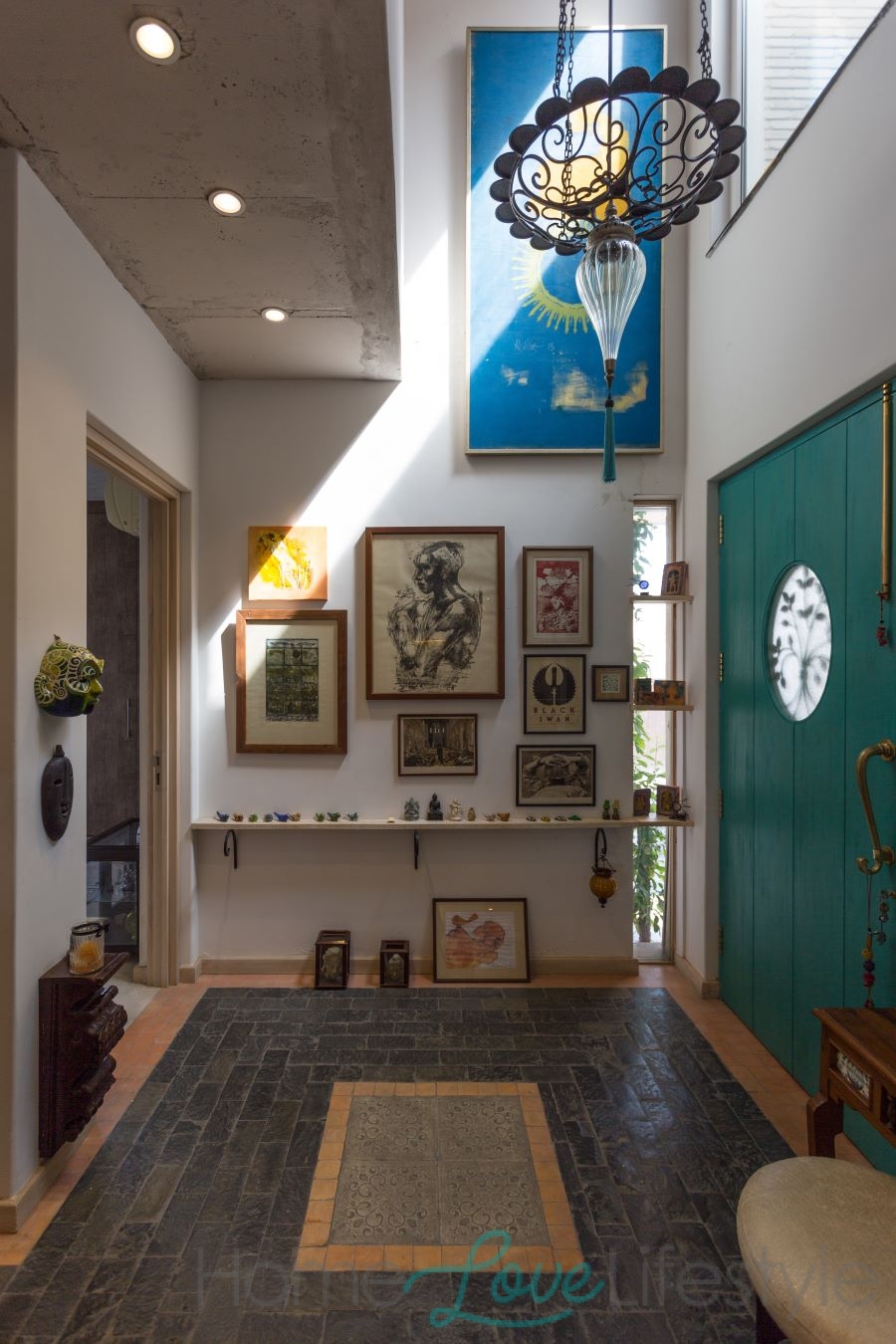 When did you build this house and what was the process like?
Many years ago, we built our first house and that was a khaprail, Spanish style house, but we sold it and moved to Karachi. Then 6 years back we moved back to Lahore and first we rented for a while. Even with rentals I wanted a nice space. Then in 2017 we decided to build this home and I had a very different idea in my mind.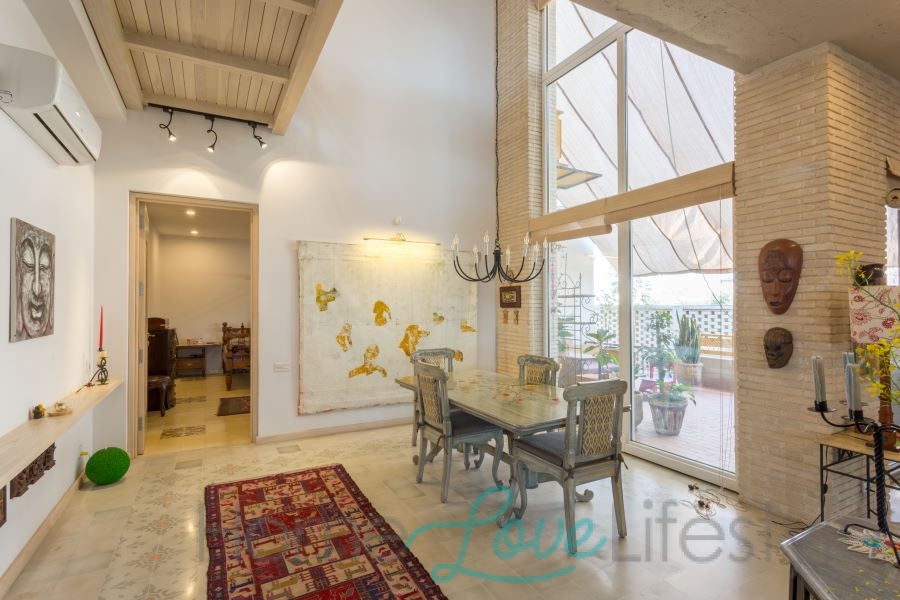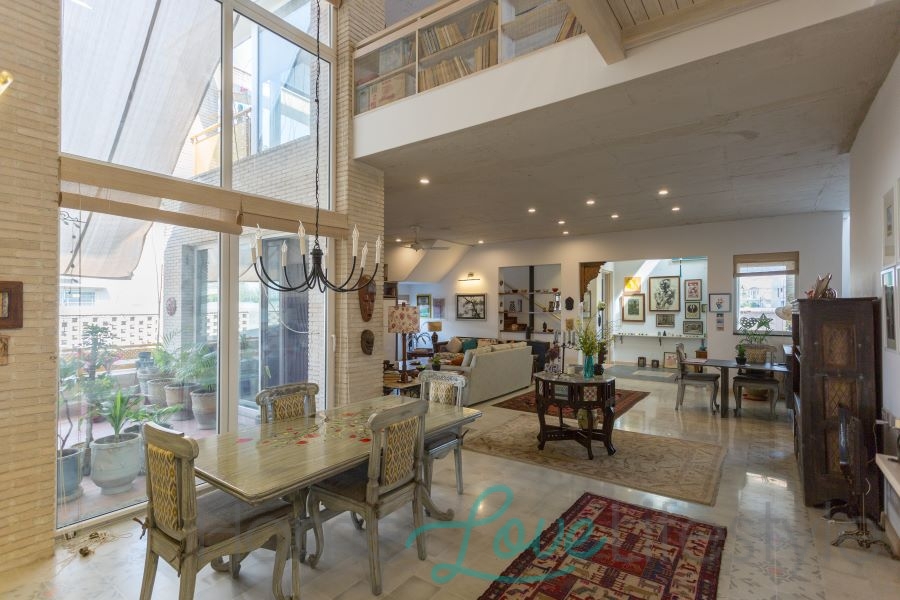 This time around we wanted very straight lines, an open plan and had a clear vision in mind. We found architect Ghayoor Syed who understood our vision perfectly and delivered it too.
How would you describe your design philosophy or style?
I think I am fairly adventurous and like an industrial/bohemian style. Since I came to creativity later in life, I wanted to try out different things at this house. For example, I wanted every door to be a different color(laughs), but the architect dissuaded me. He felt a neutral background would give me more of a chance to experiment with décor. I did keep the front door a lovely shade of blue though!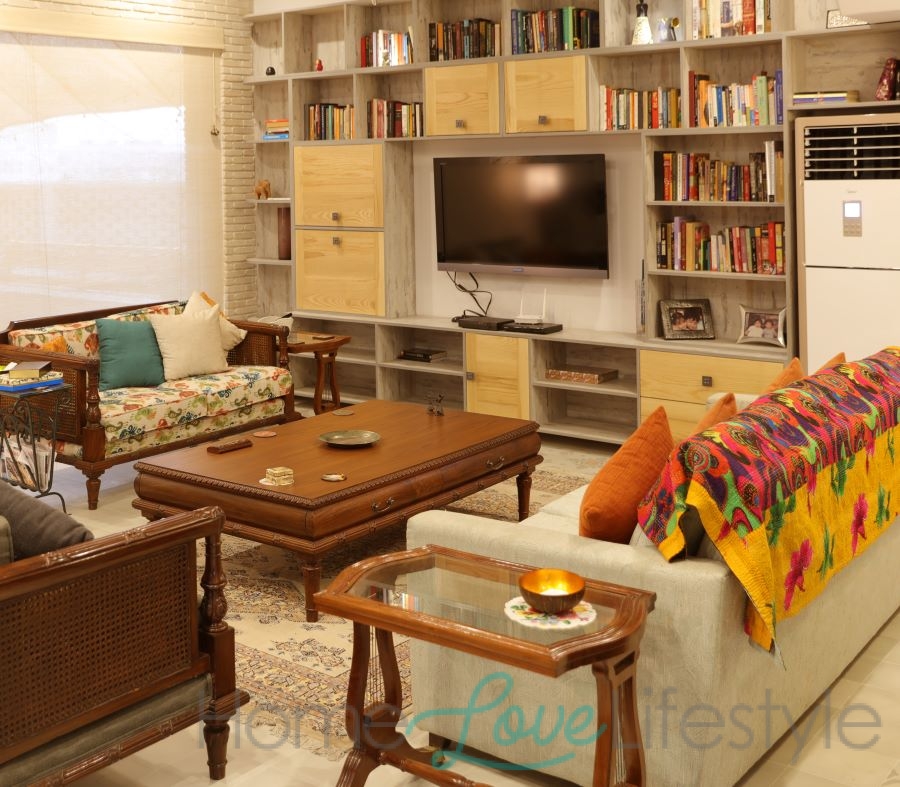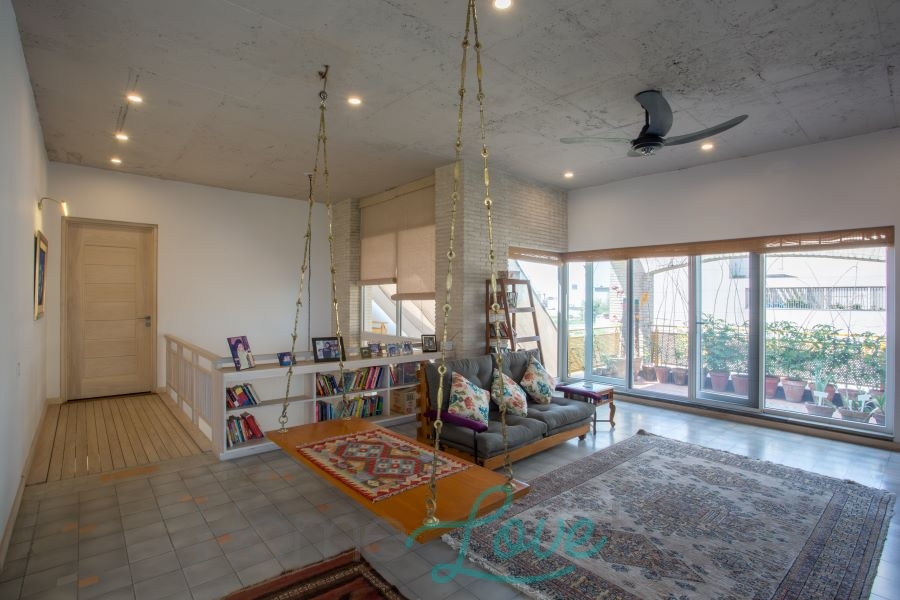 Do you prefer style or comfort?
Since the home has an open plan, comfort is very important to me. I wanted everything to be accessible and on one floor. So, the kitchen is open plan too and has a washing machine that I can use. People were horrified that I wanted it front and center but that's my philosophy. Things should be for everyday use, not hidden away.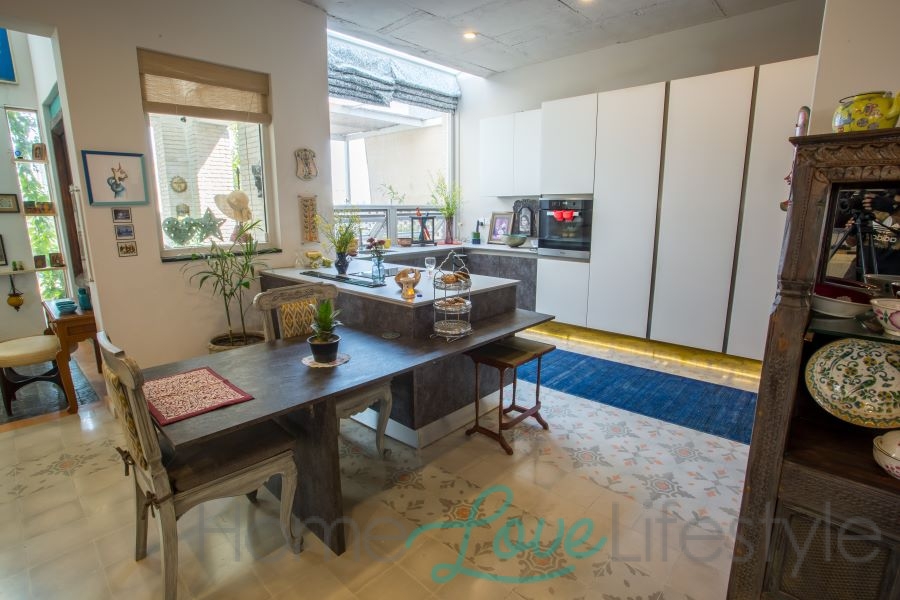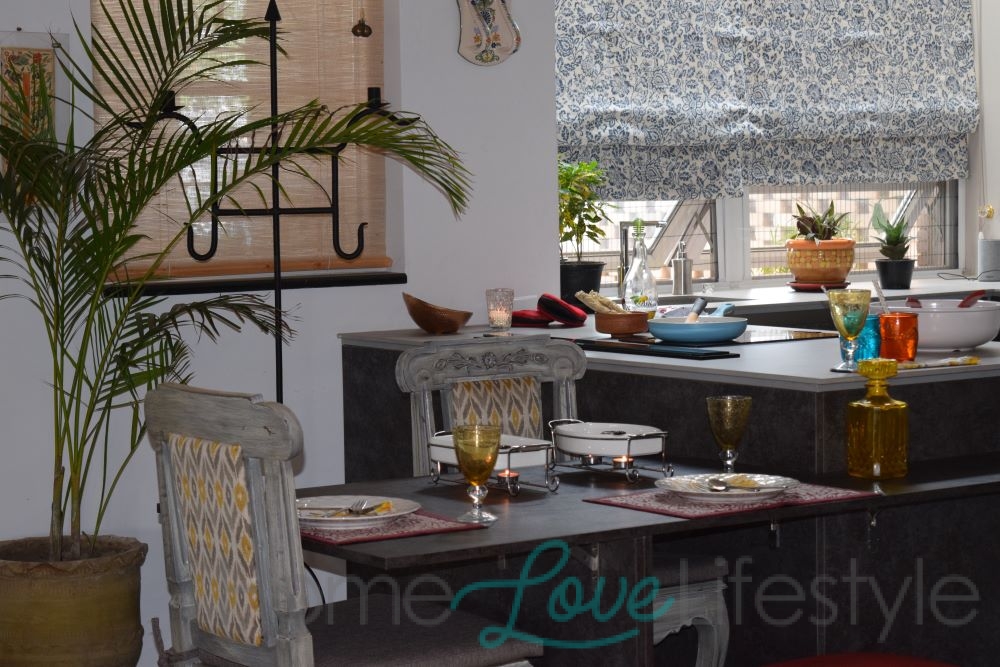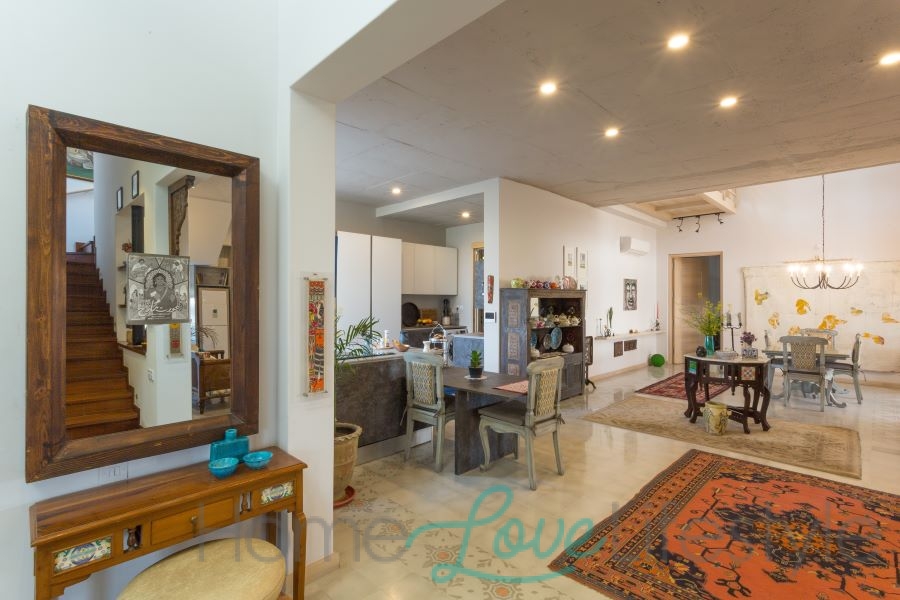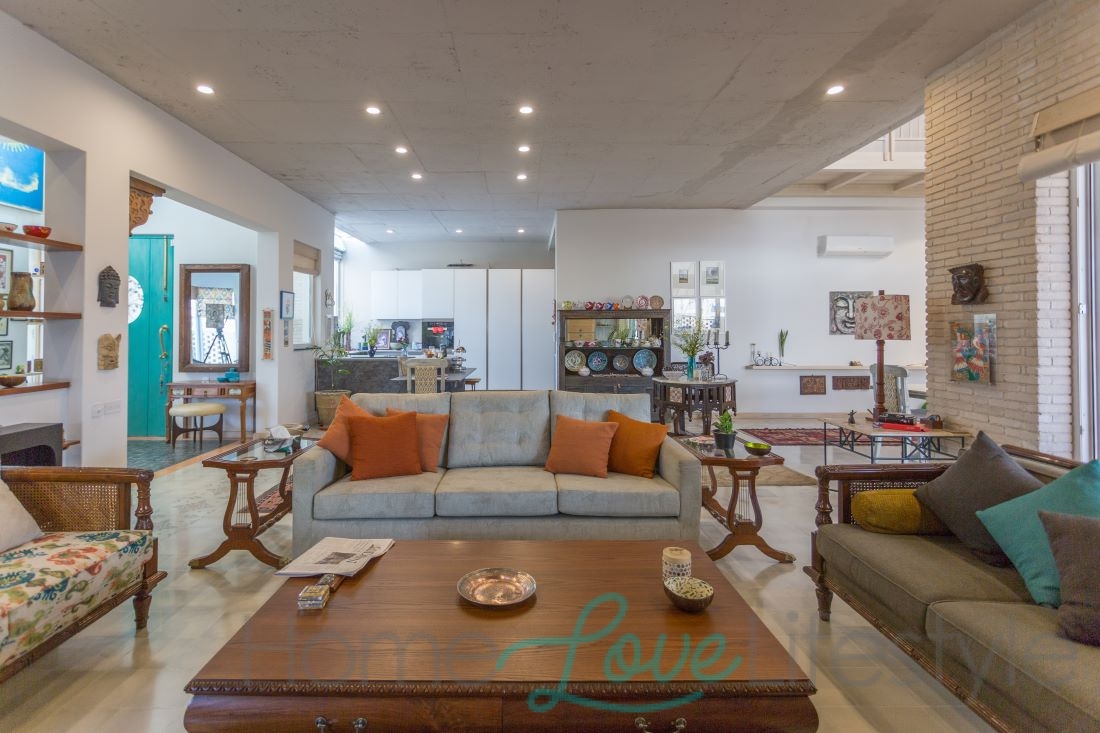 Do you have a favorite space?
Yes, the patio, I insisted we have one even though it is only a small plot. My living room overlooks this too.  I also love my bedroom and bathroom.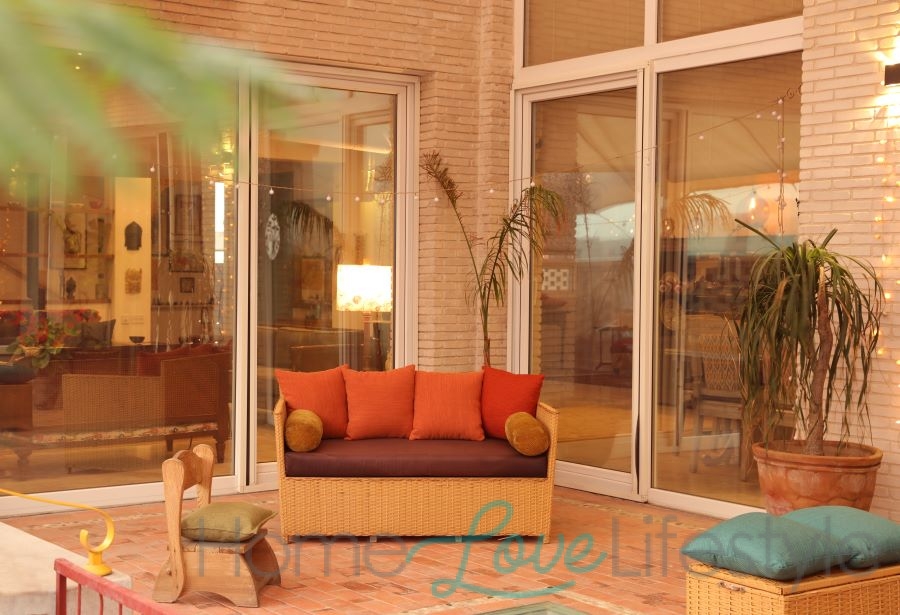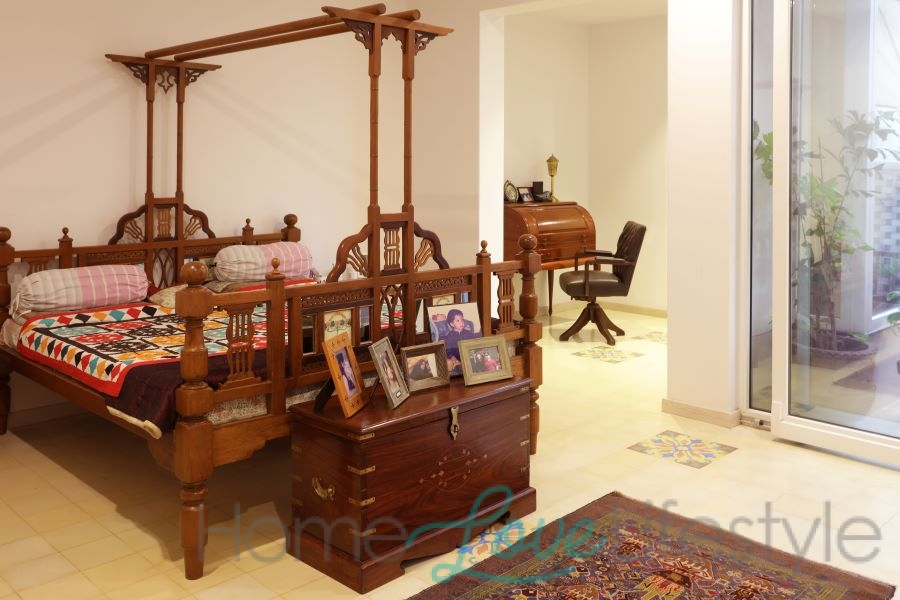 My bathroom has a big window which I love and which is unusual too for a Pakistani home.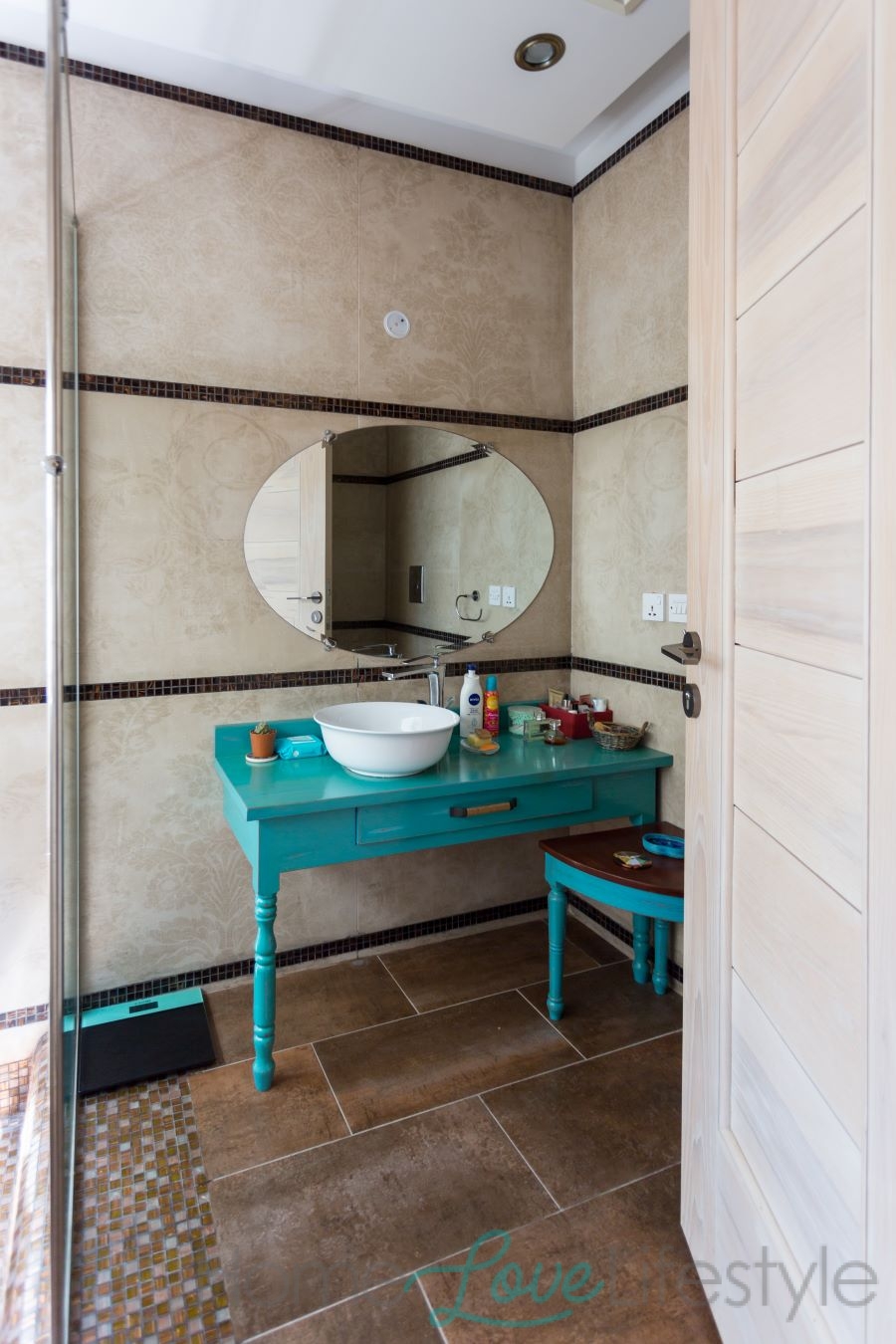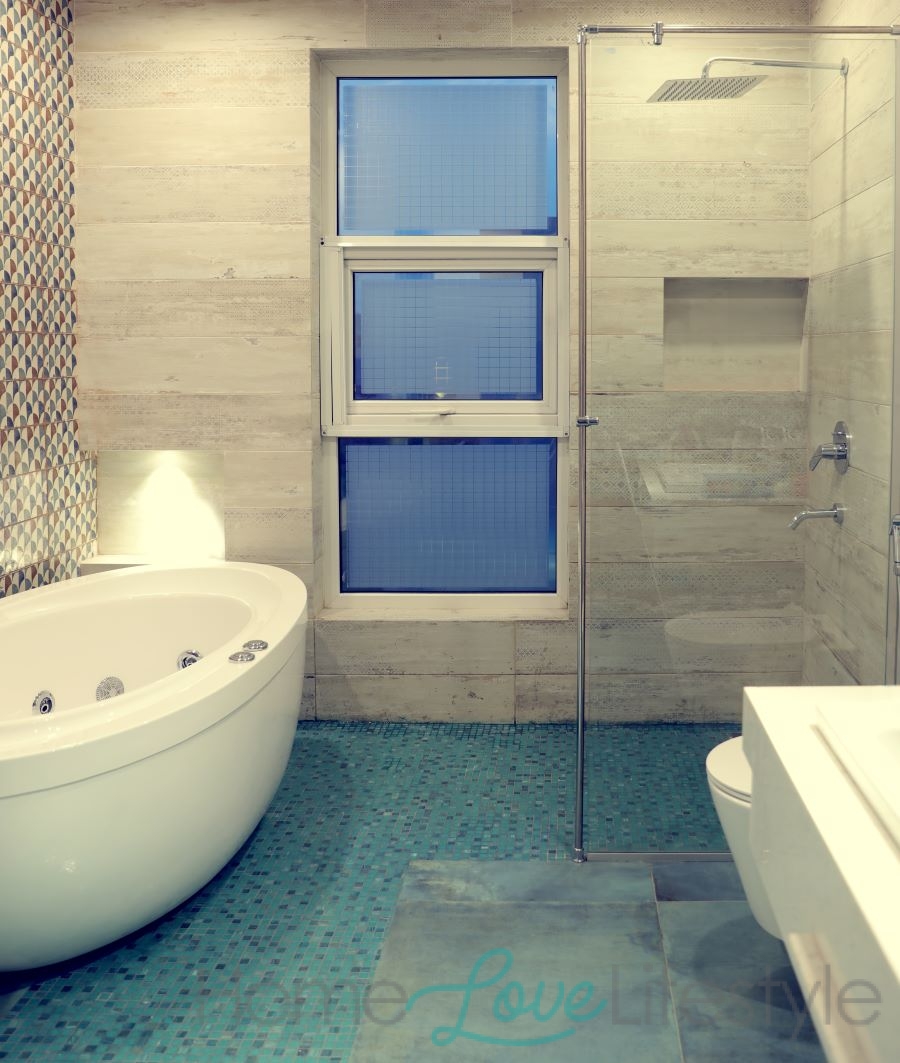 I also enjoy my music lobby which has a floor partially made of glass tiles.
Any favorite art work or furniture piece?
My dining table which was a regular sheesham table given to me at my wedding. We decided to give it a distress finish and my sister, Saleha Minto who is an artist, painted it for me. Now it has lovely motifs decorating it.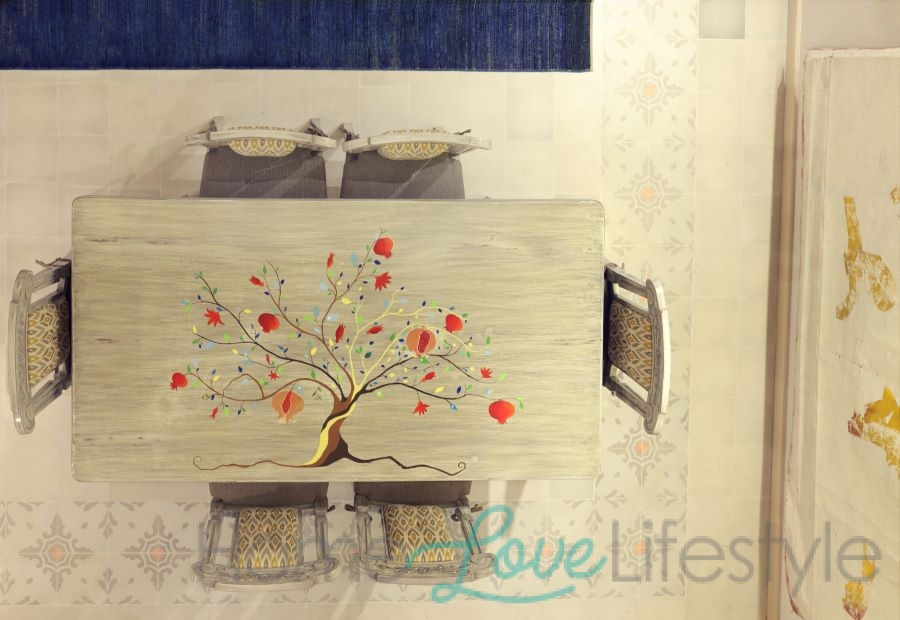 You obviously are an art lover and collector as well.
Yes, I love art and wish I could buy more, but it is not affordable most of the time. I do have paintings bought from my cousin Ali Nizami, such as the big canvas that hangs in the dining room and also have works by my sister and my mother in law who is a fine art graduate too.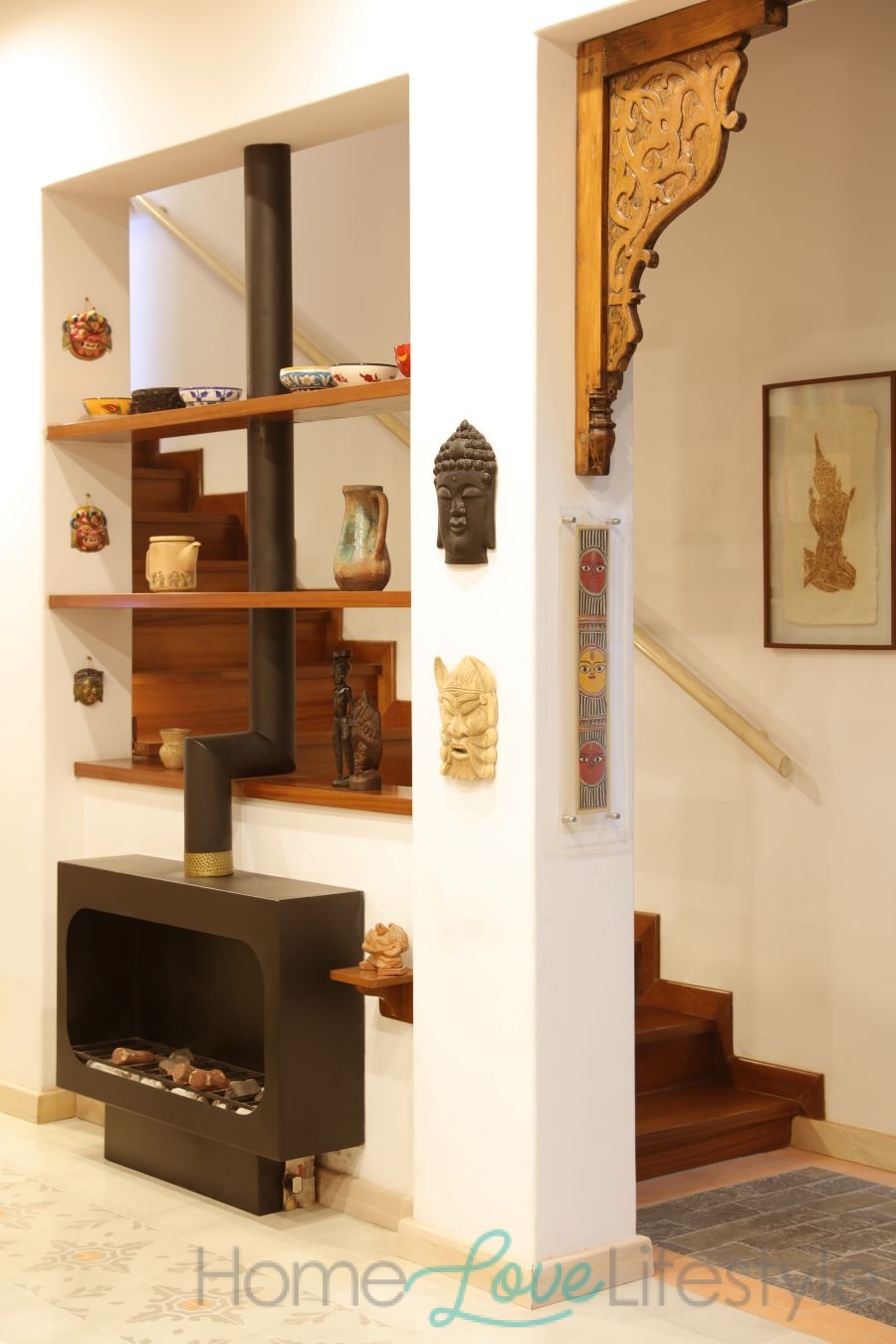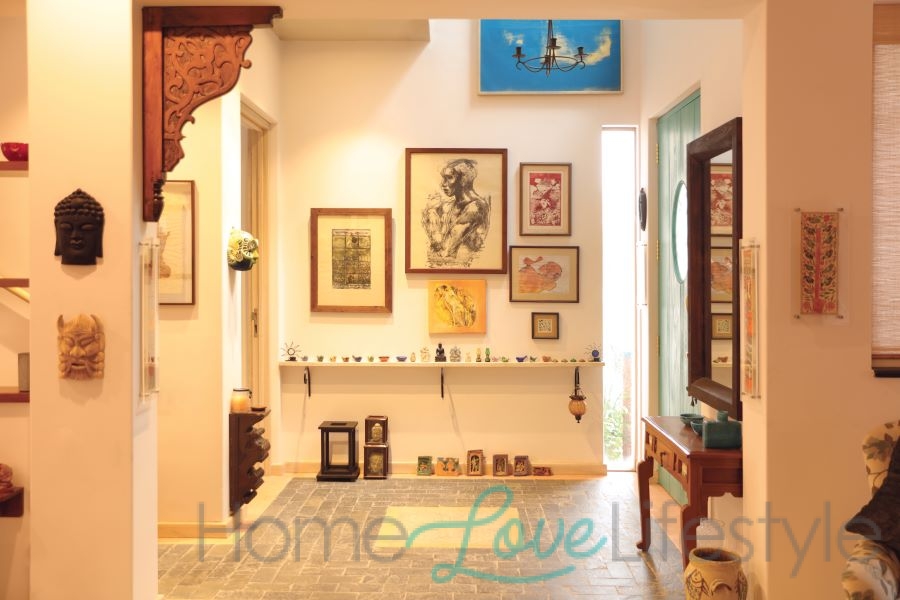 I have also collected a lot of miniature objets from my travels in Eastern Europe and other places and have had them displayed on shelves throughout my home. Also Buddhas that we got in Vietnam.
I like the feel that one's life story is displayed in one's space!
It was so great to chat with the intelligent and articulate Saira and to share her airy and art-filled home with our readers!
Photos shared by the homeowner