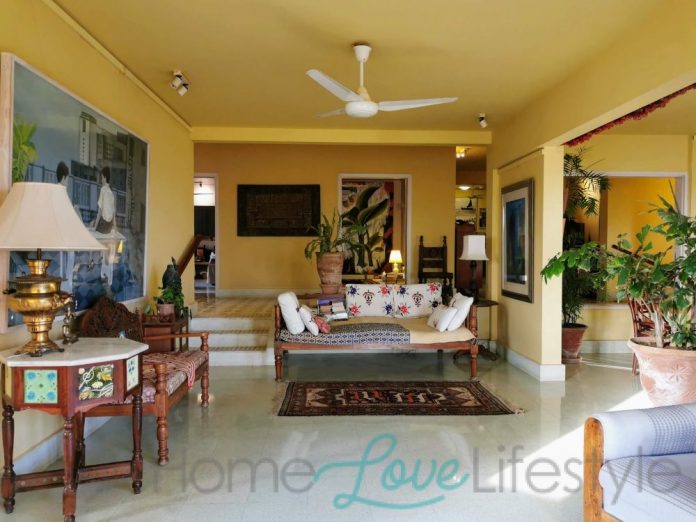 The bright & airy seaside home of photographer Qamar Bana and her husband Almas welcomes you with its air of serenity. The couple are art lovers & collectors so it was a pleasure to chat with them about the eclectic aesthetic in their apartment by the sea.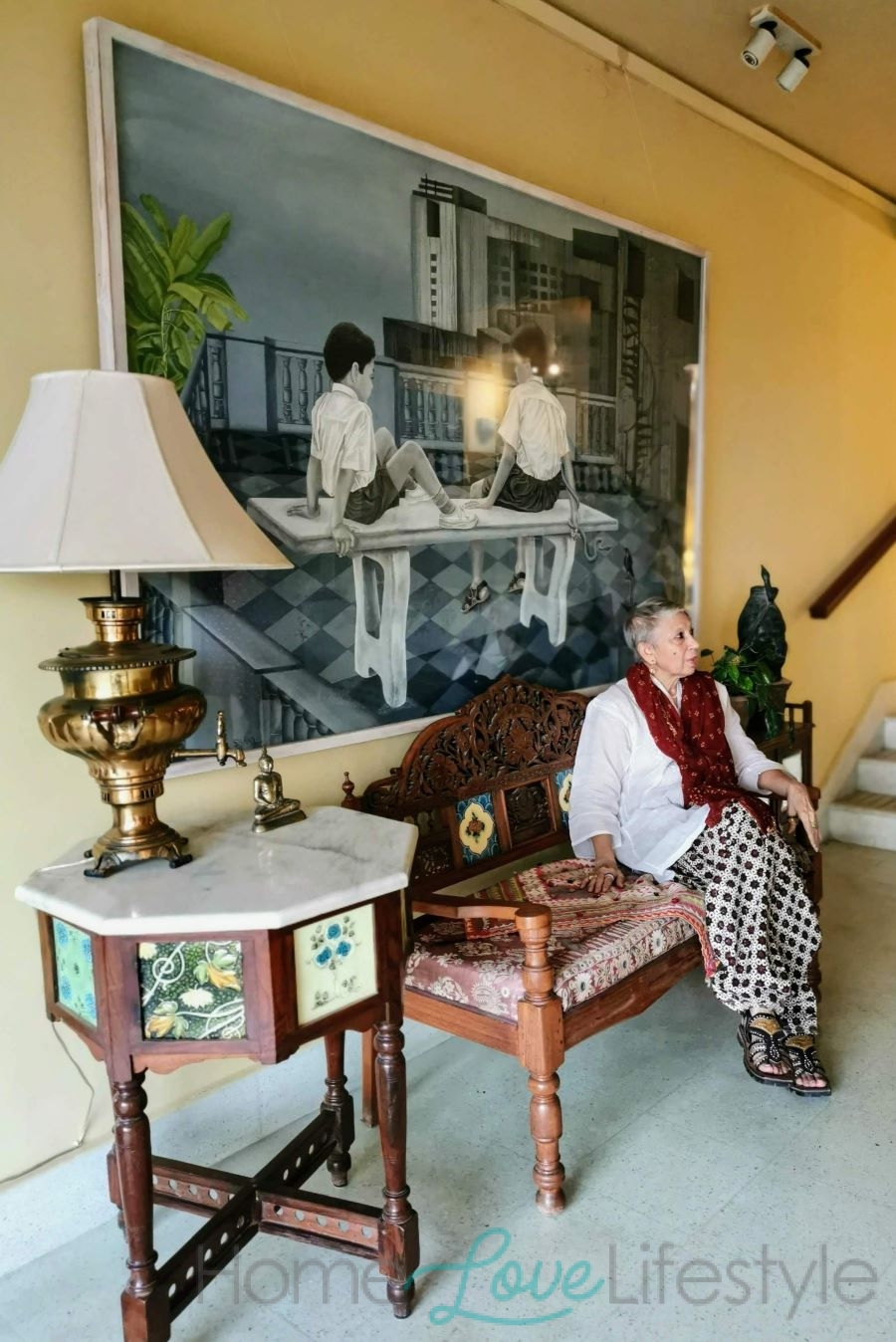 When did you move into this lovely apartment?
Qamar: Its been 5 years, we were moving from a townhouse and we had been looking for a place for a while. I think we saw about 40 places and one day we were supposed to see an apartment close by. That fell through so the agent showed us this one. I didn't even step in, just from the doorway I knew it was the one!
How would you describe your aesthetic?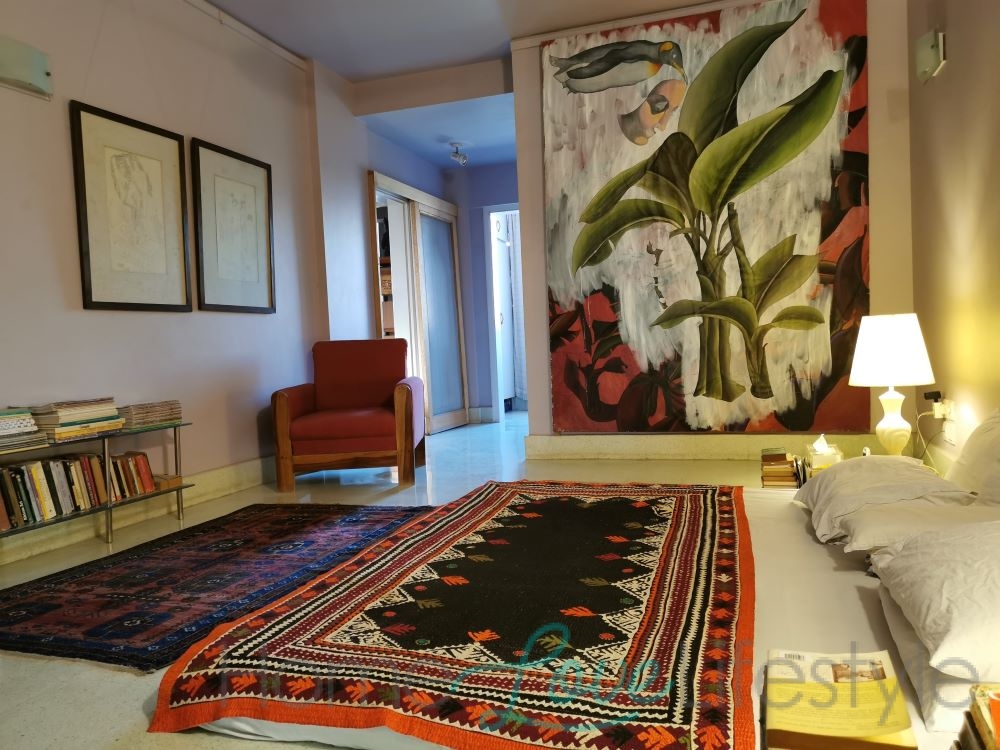 Qamar: Eclectic! We picked the pieces we liked and added them. This was a poker table, we turned it into a dining table…look at its legs, so beautiful. We just removed the felt top. APWA also had such great stuff, we used to pick up so many things.
Kuch match nahi karta…but that's the beauty! I can't bear matching stuff! People said you have matched a painting with your upholstery so I changed it around immediately. Everything in this house is cotton, the blinds and upholstery, but you can't find cotton anymore. Just looking at synthetic things makes one feel warm…
Almas: Bombiya Karachi, that's how I would describe our home.
We love the truck art door that opens into your home!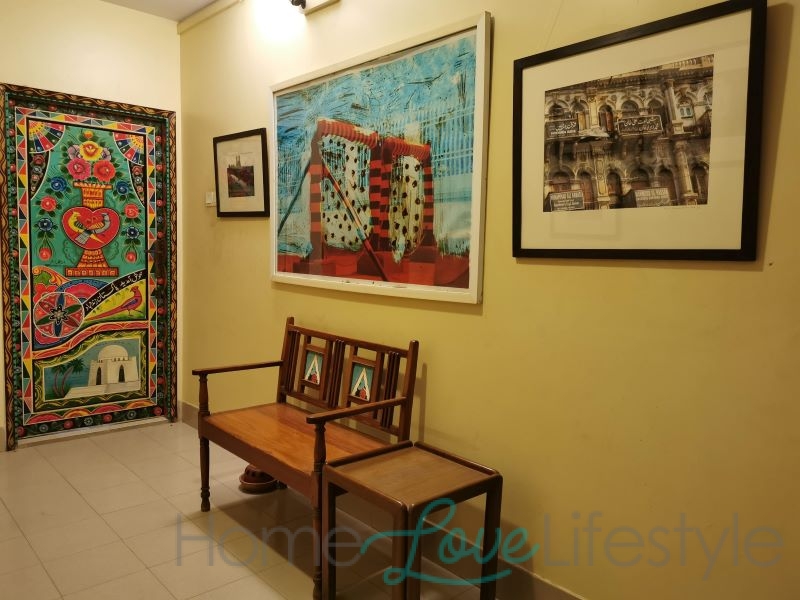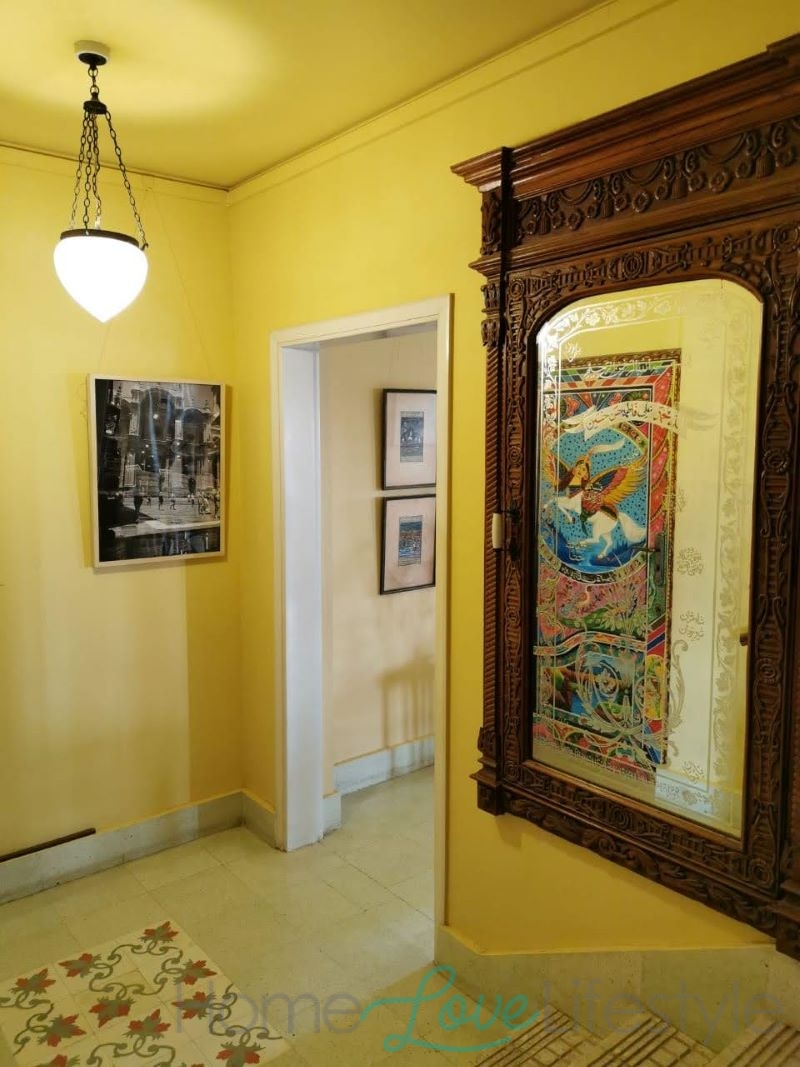 Almas: Most of the imaginative ideas are Qamar's. We work as a team but this is her imaginative house. We asked around & found a specialist truck artist; his name and phone number is on the door, Islam Gul Artist. One side we wanted a Buraq and the other a tree of life; most of this is what he wanted to paint, some segments we suggested too like the Quaid's Mazar and writing 'Khushamdeed' and 'Pakistan Zindabad' too.
The painter requested that we spend time with him, as he painted. So, I obliged and he said we will have tea and chat only then can I work. I said wonderful and he was here 5 days. He said he really enjoyed creating this very special painting for us.
Did you renovate the apartment extensively?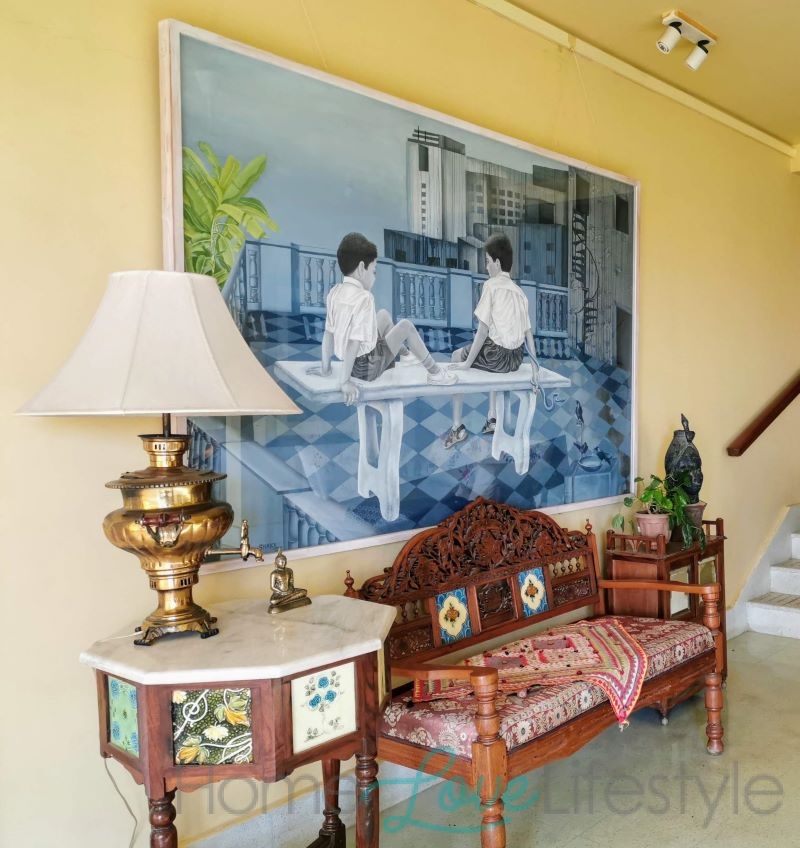 Qamar: This is like our dream home. I have always wanted to live by the sea but gave up the idea. Always wanted a split-level home & an open plan kitchen, I hate to be cooped up in any way.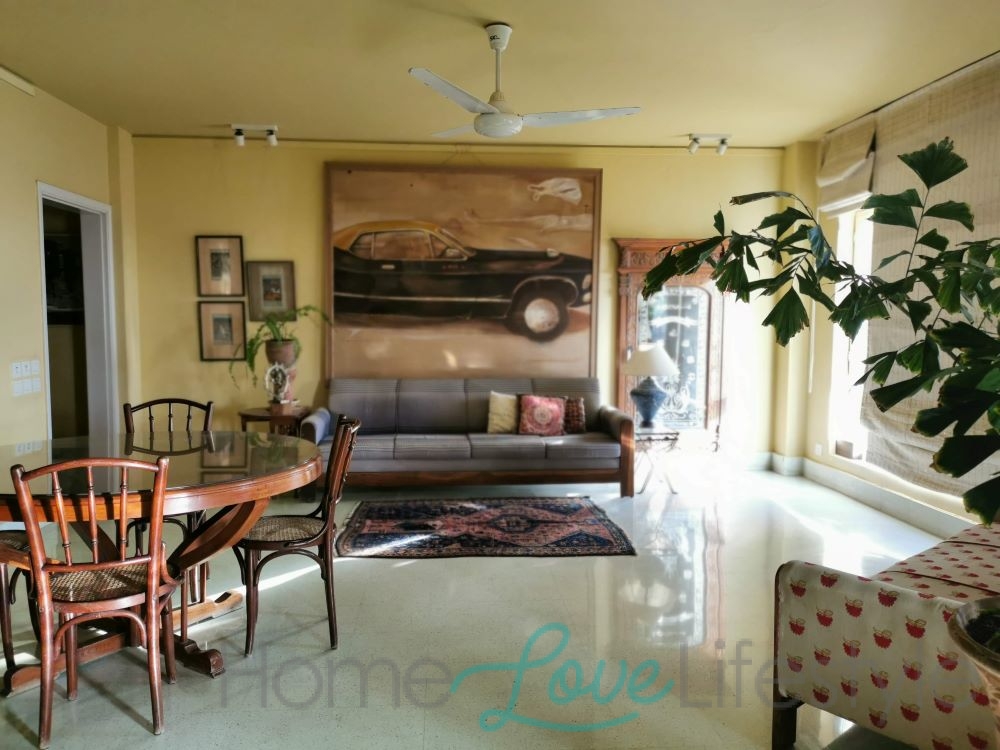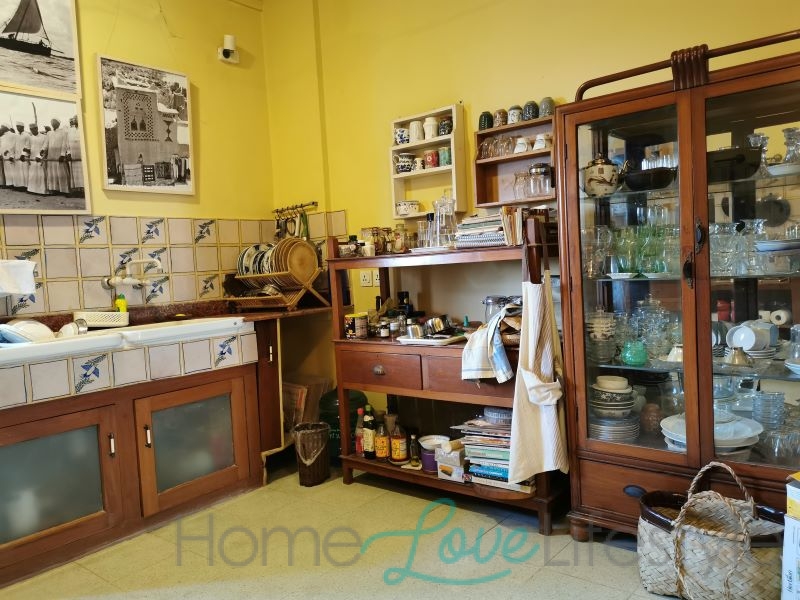 This kitchen has an open plan and we renovated it with Hala tiles that we specially commissioned. We visited Hala and then the tiles arrived 2 months later.
My photos from West Africa that are very precious to me also hang in the kitchen and other ceramics that we have collected over the years.
What is your favorite piece in the home?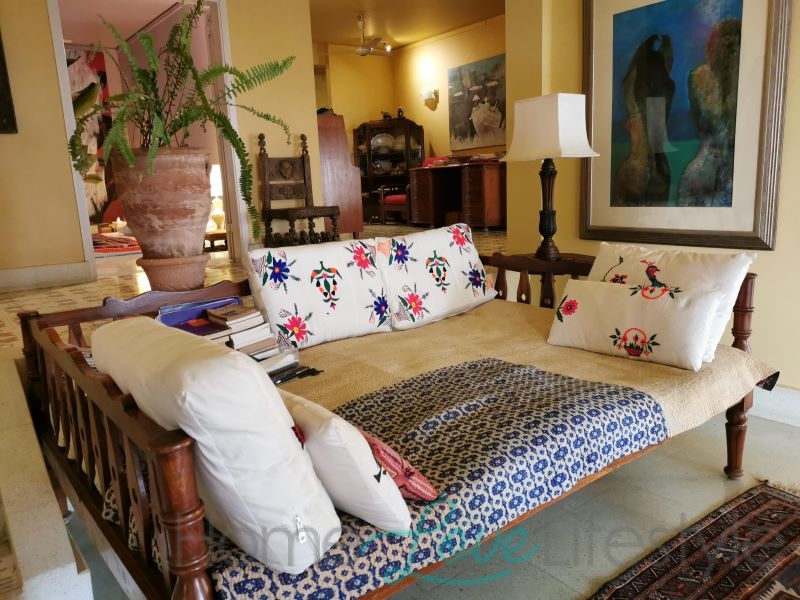 Qamar: This takht has a story attached to it. When we were little, I always saw divans in homes of people from UP.  I like everything that's very low, not keen on furniture. I also went overland to China, and the first area is the Muslim one and I saw takhts twice the size of ours.
So, when I came back I found a carpenter on Tariq Road. We had it made and we are so happy we did. We spend a lot of time on that, even eat here. Only use the dining table when we have friends over.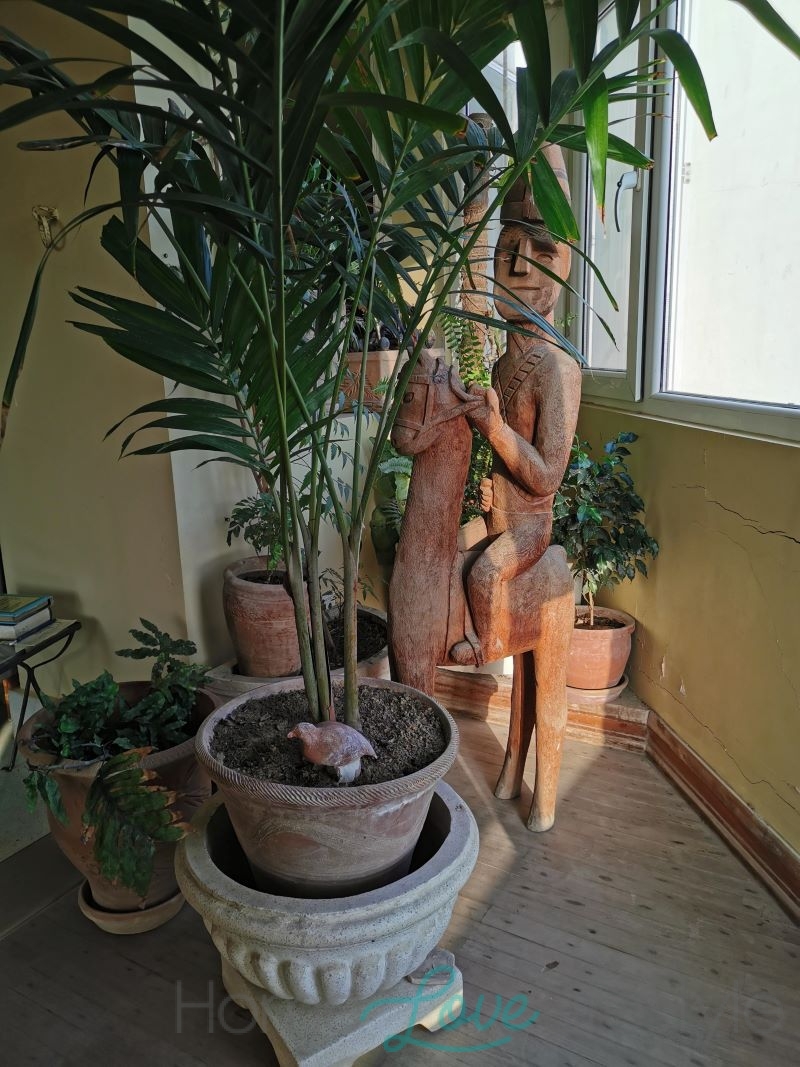 Another favorite is this piece from Chitral, which Almas had bought and couldn't bring back. So when I visited I thought I'd collect it! When I saw this beautiful piece, I loved it. It's such unique folk art and I love horses. In the old house we didn't have a place for it, but here we found just the right place.
We see a lot of monumental paintings on your walls?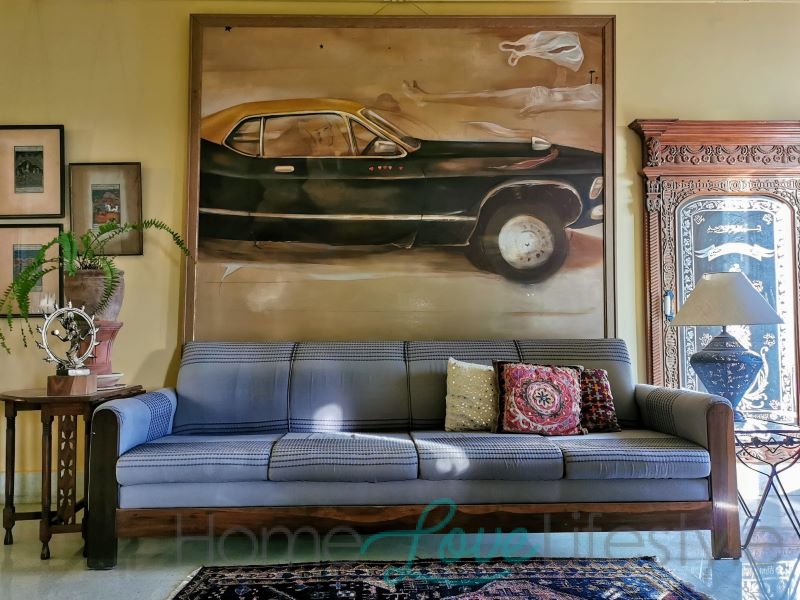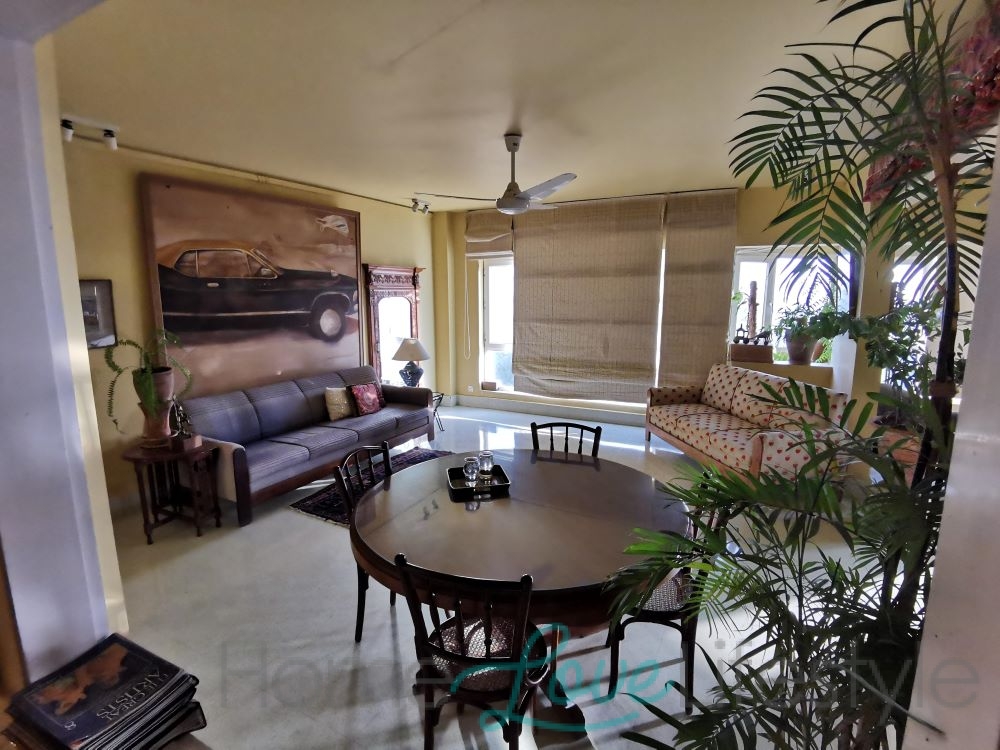 Almas: Yes, we bought the one in the living room from an artist called Khilji. It recounts a tale from Emperor Alamgir's time, when he summoned a courtier who was very unwell. Since the royal command couldn't be disregarded, the courtier set off but passed away on the way.
Qamar: I think this painting is taking you to eternity, because it seems to show us the next stage, after this life. It faces the sea so that also seems appropriate.
Tell us about this beautiful pair of mirrors with calligraphy?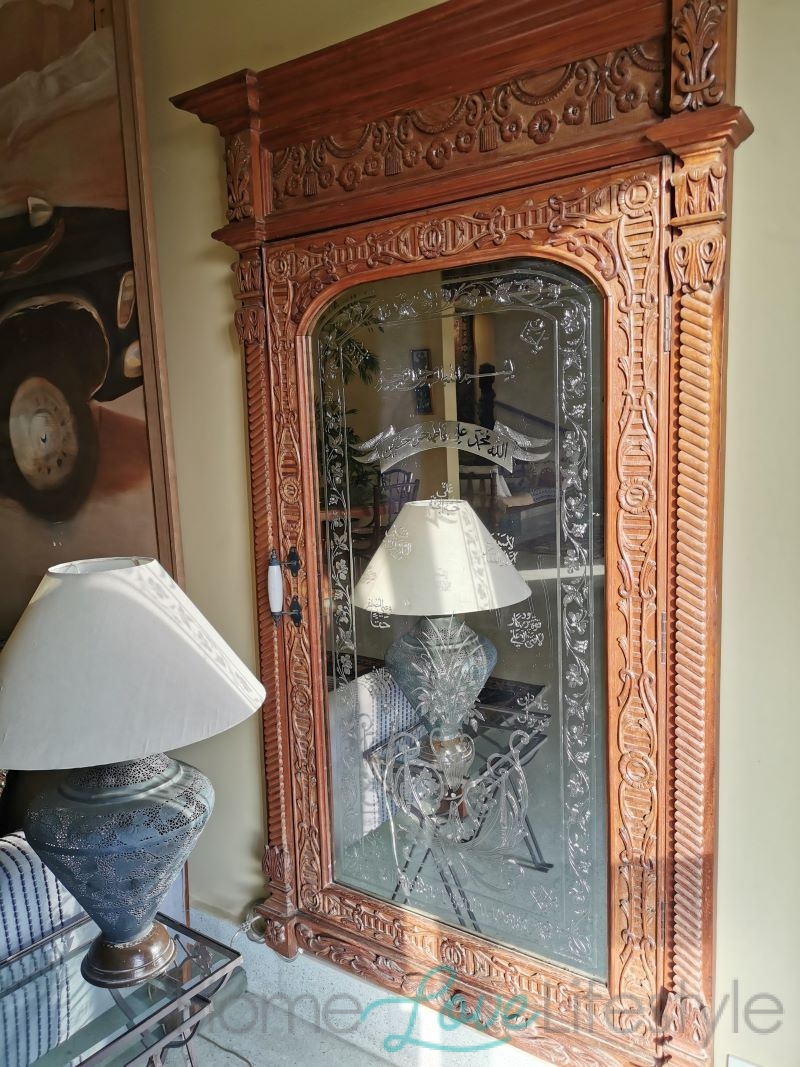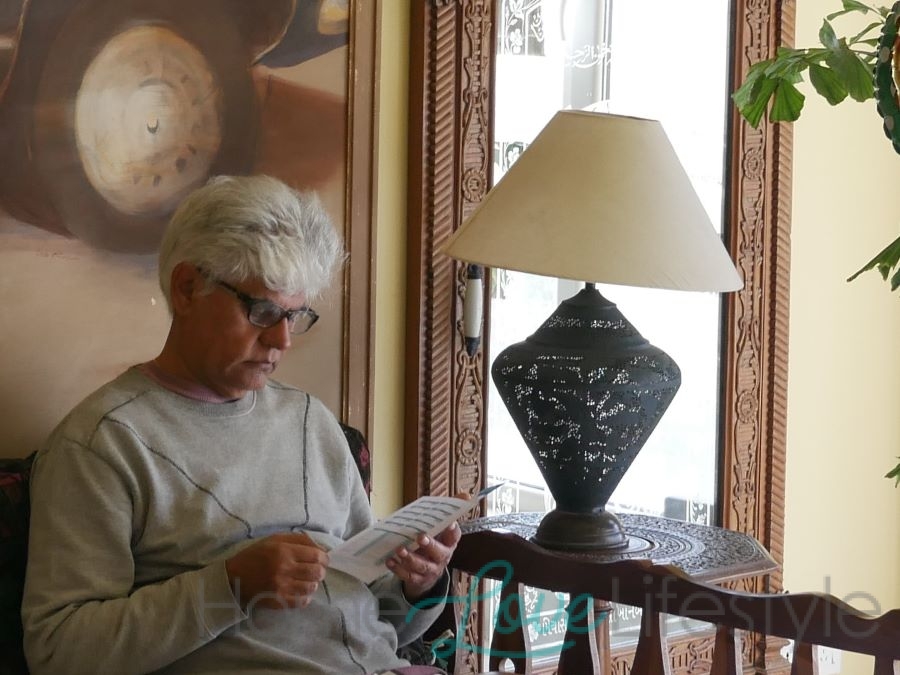 Almas: We picked these up from Nursery, they were originally doors to a cabinet from the 1940s. They have duas written in both Arabic and in Gujrati which is unique. Both our families are originally from Gujrat so it felt appropriate.
You also have a lot of African art?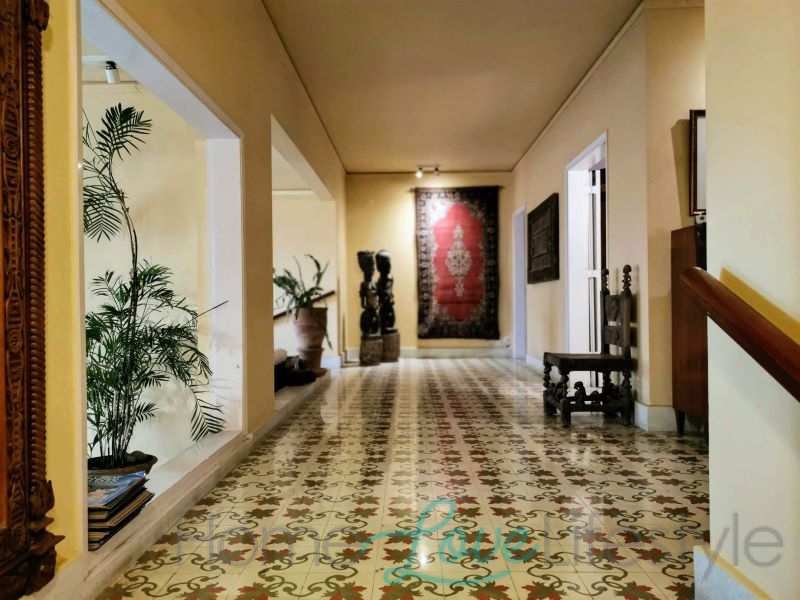 Qamar: Yes, we lived in Nairobi for almost 5 years and we decided we would only travel within Africa and that's how we collected a lot of African pieces. A lot of the stuff is from West Africa and what took us there was the music.
Tell us a bit about your love of photography and when it began?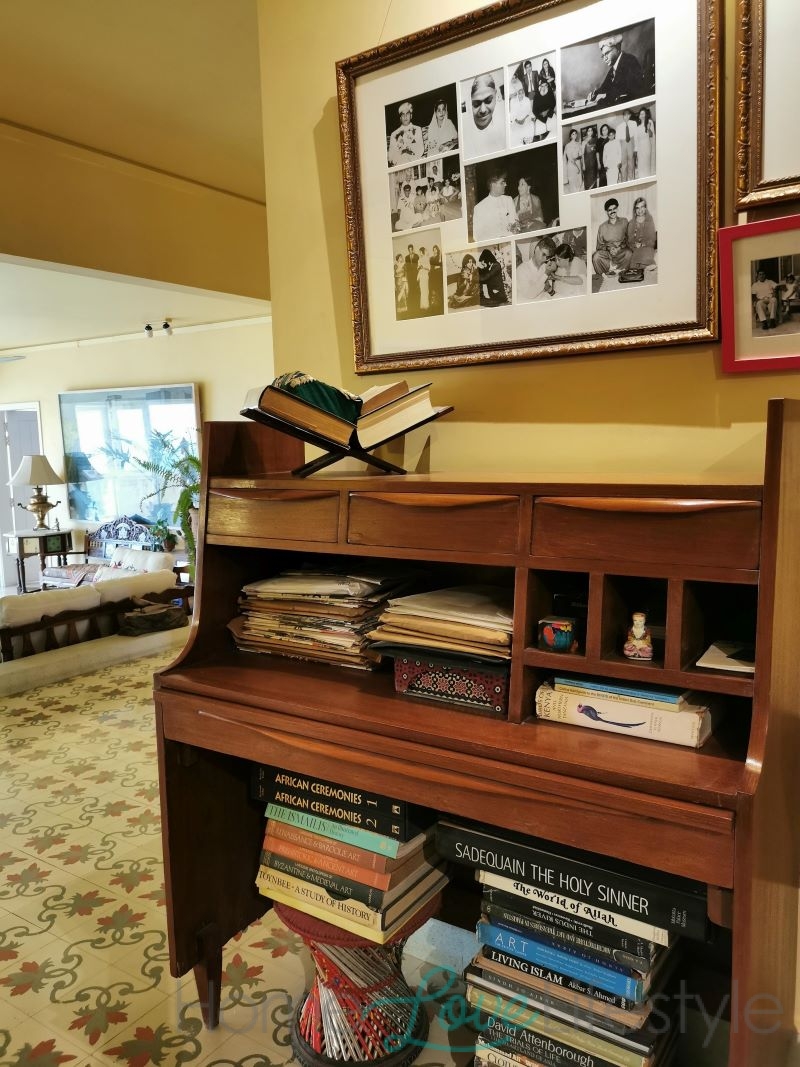 Qamar: My parents gave me my first camera when I was about 11 years old, one of those box cameras. Ever since then I have been fascinated and my first model was my brother.
It wasn't until 2000 and we went to West Africa that I took it up seriously. Almas bought me a marvelous lens. I used to work in black & white initially. I didn't study photography, but have attended seminars. I'm very glad I never went to photography school because then you get a particular kind of training.
I had to go digital because lack of paper printing but I feel my best work was on the manual camera. I'm not very good with the technical aspects but I have an eye. That's what is most important, to have an eye!
Tell us about these photographs in the kitchen.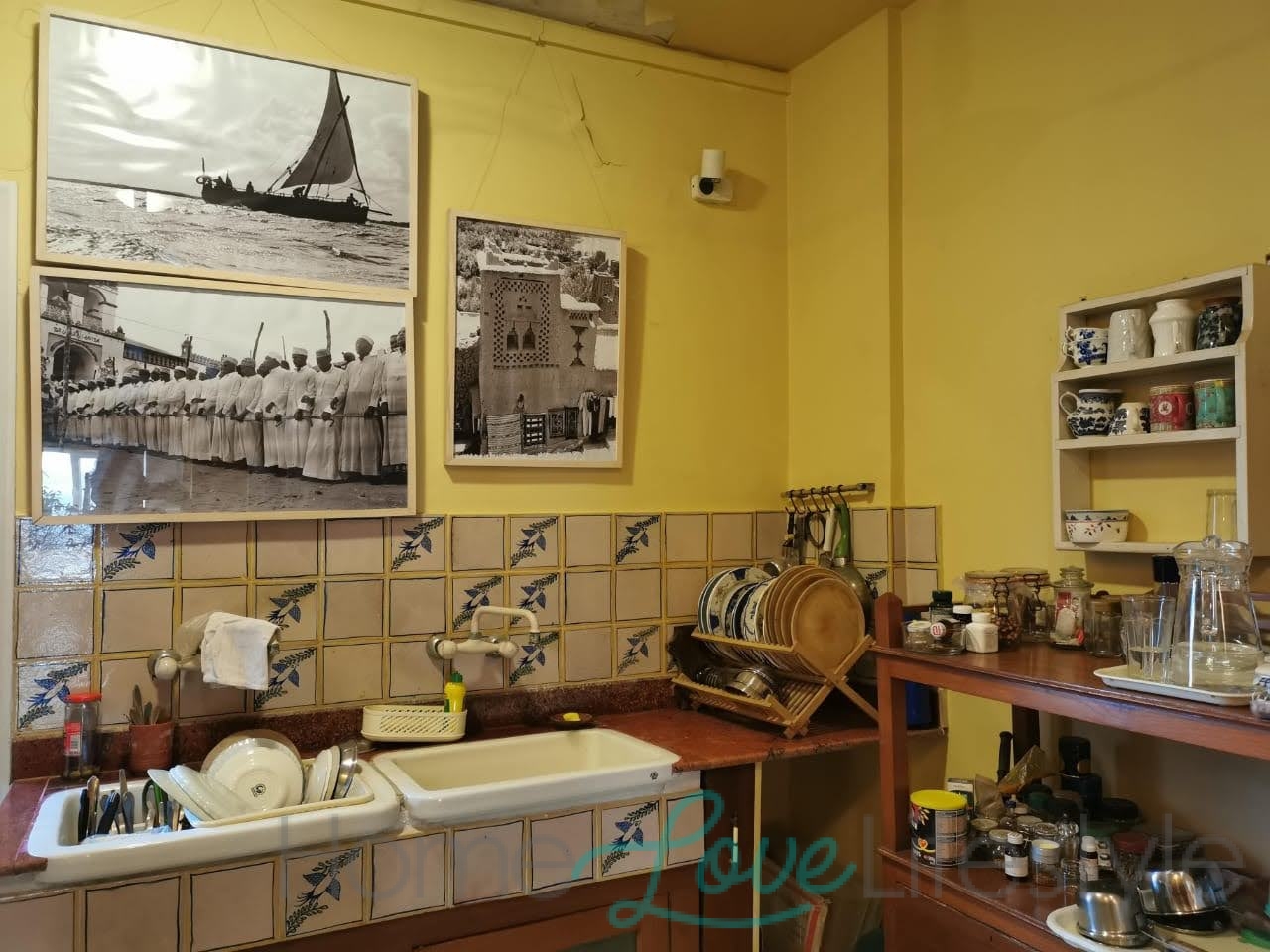 Qamar: This is a delightful island called Lamu and I went there with a group from the Nairobi Museum. It was the occasion of 12th Rabi-ul-Awal and the way they celebrate it in Lamu is extraordinary. Never seen anything like it, the utter devotion! I wasn't allowed to photograph inside the majlis but I captured this historic dance held outside which is performed with sticks, which represent swords.
The other photo is taken outside of Marrakesh and in Morocco I found a lot of mud structures only found in West Africa. I just love the texture.
Have you exhibited your works?
Qamar: Yes I have had a few shows one in 2014 and it was a multi-media presentation and there were photographs, videos, and slides. I had one with my West African photos, textiles & sculptures and people said they felt they had visited the place after seeing my show…I think it is the greatest compliment.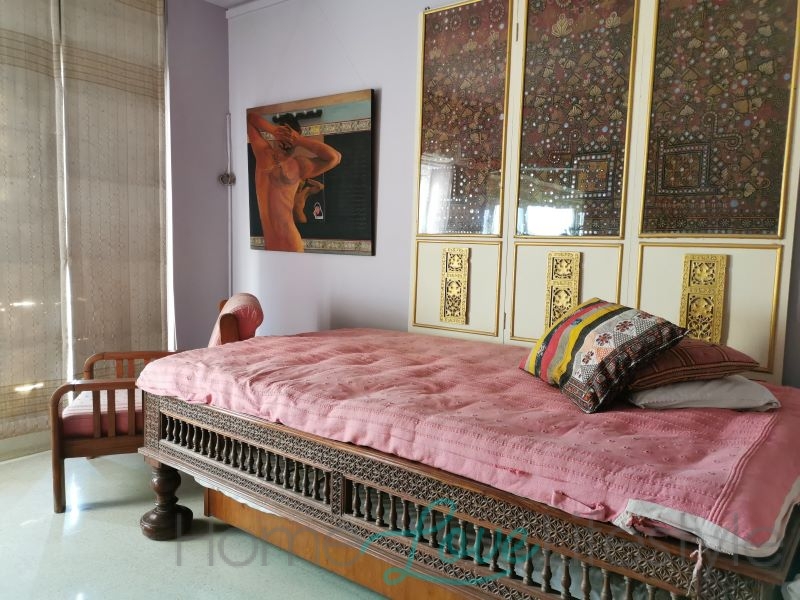 It was truly lovely to chat with artist Qamar & Almas about their home and eclectic aesthetic in their apartment by the sea.
Photography by Naeema Kapadia