The home of Art Photographer Shelley Pirzada & her family is an elegant abode in a quiet Karachi suburb. Here Shelley is surrounded by her framed photographs, gorgeous orchid blooms and lots of art. We sat down with the talented artist and chatted about her art, home and aesthetic.
Well I started out in commercial art and then studied photo journalism in London before getting married. We moved to Karachi and I decided to do fashion photography for a while. I worked with Herald and Newsline magazines and did some amazing fashion shoots.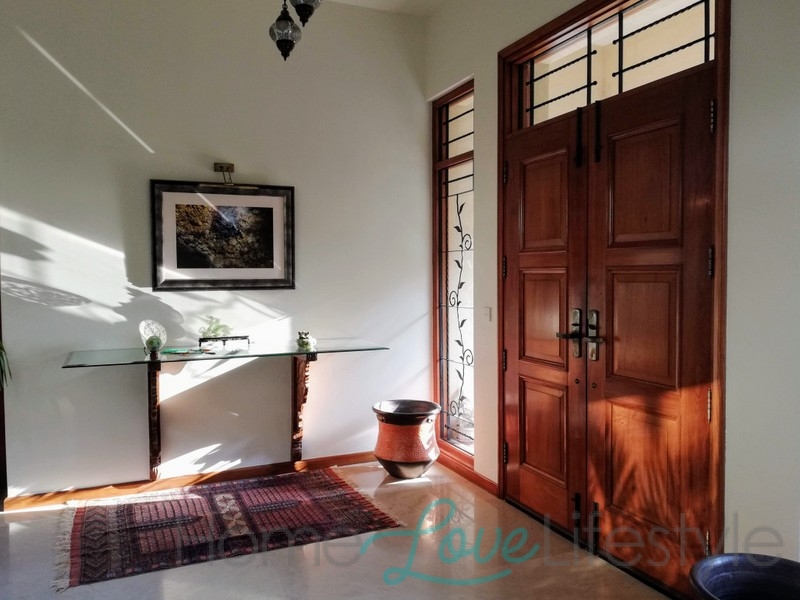 Later I decided to shift to art photography because I love nature. Everywhere I travel I see beauty. I have photographed a volcano in Iceland and landscapes here and abroad.
I love to create an abstract image so you can't guess what it is at first glance. Only if you look very closely you can see a landscape of natural form.
Have you exhibited your work?
Yes I have done a number of shows in Karachi at Chawkandi Gallery and others. All my photographs are printed on canvas, so they are works of art. They last forever…and are a great addition to interiors in homes and offices. Cafes too, one of my works is displayed in Okra Café in Karachi.
I want to work with interior designers to create customised pieces too.
Design is obviously important to you, so how did you incorporate it in your home?
We built this house about 14 years ago. The architect is Farrukh Mazhar and I worked with him on the practical aspects to design the space. We wanted very straight lines and open spaces.
I love big windows and big rooms, because in Karachi we spend most of our time in our homes. I didn't want any fussy spaces.
Tell us about your décor aesthetic?
I am always inspired by nature. I designed a lot of the furniture in the house myself because I wanted a particular look. The colors of the décor are based around the carpets in each of the rooms.
I also collect pieces on my travels like the Buddha in the living room and paintings. This is the room where we spend a lot of our time, watch TV. Here you can see my husband's prized guitar which he loves to play and my daughter plays as well.
The dining room has an old world charm.
The dining room has antique furniture and a silver corner with a cabinet. I got a lot of silver from my travels and bought antique pieces in Karachi as well. The cabinet is so air tight that the silver stays polished for months.
The dining table has a glass top so we can see the carpet and the glass rests on an antique Sindhi matka stand.
The formal area has a lovely serene color scheme
Yes I chose modern styles with classic elements for the décor. We inherited some  beautiful and elegant carpets. The ones in this room have lovely shades of blue and I chose an Unver Shafi painting in those colours too for the room. One of my favorite paintings here is one I picked up in Bruges and there is also an early work by Sara Riaz Khan.
You love your garden and growing orchids too?
I love nature, that's why I never buy or wear anything synthetic. One day I accompanied my husband to a flower show and bought some orchids. I googled how to grow them (laughs)!
Since they grow on trees in nature, I decided to grow them on old tree trunks that I bought or picked up around the city.
The flowers really flourished and now I have more than 140 orchids here. They do require care; we have to water them carefully and at the same time every morning.
The courtyard is a favorite space?
We love to entertain here and also it's great to see it from most of the main rooms. We can open up the window shutters and see the orchids in bloom. The fountain is also so beautiful and peaceful.
Karachi homes continue to amaze us with their beauty and style. We loved visiting the elegant abode of art photographer Shelley Pirzada and her family.
To see more of Shelley's Photographs Click Here.
Photography by Naeema Kapadia