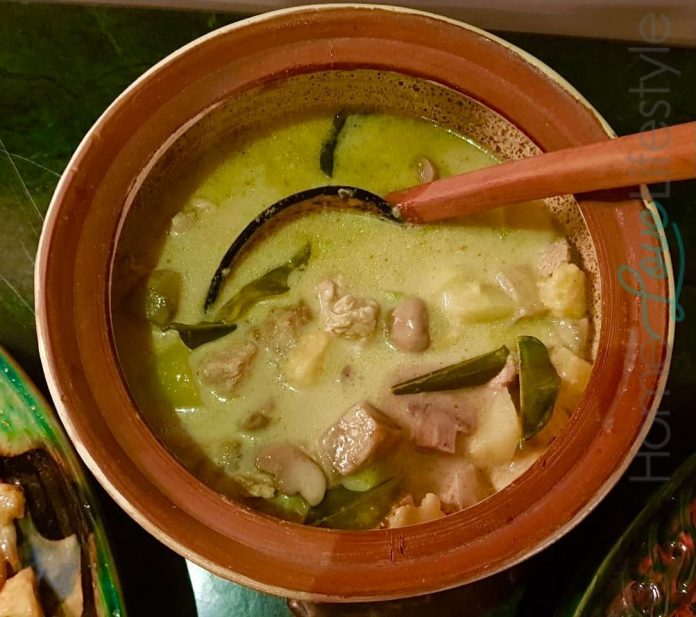 This dish is a winner every time. Its really easy and quick to whip up and is a hit at dinner parties or a family main course. Thai cuisine hits all the right notes to tantalize our Pakistani taste buds.
You will need:
Chicken 1/2 kg cut into small pieces
4 tablespoons store bought green curry paste (any good brand will work)
2 cups coconut milk
juice of one lemon
1/2 teaspoon raw cane sugar or brown sugar
2 tablespoons fish sauce
kafir lime leaves
one medium sized zucchini diced into small squares
one medium sized eggplant diced into small squares (or get the authentic thai baby eggplant)
1/2 cup baby corn cut into medium pieces
1/2 cup mushrooms halved
Method
Pour about 4 tbsps of oil into a deep pan. Let it heat then add the green curry paste and a little bit of water. Fry the paste in the oil for about a minute.
Then add the diced chicken and cook on high heat for about two minutes.
Add the diced eggplant and zucchini. Also add 4 or 5 kafir lime leaves at this point. Fry together for another minute.
Now pour in the coconut milk. Add half a cup of water as well and let it come a boil. Then simmer for a few minutes till zucchini and eggplant is cooked but not soft. The vegetables should have a little bite.
Now add the mushrooms and baby corn.
Add the fish sauce, lemon juice and brown sugar. Check the seasonings and adjust to your taste.
The secret of a good thai curry is the balance of salty, sour and sweet flavours.
Turn off the heat and garnish with fresh basil leaves.
Enjoy with boiled white rice. Get sticky rice if you can otherwise our local basmati will do as well.