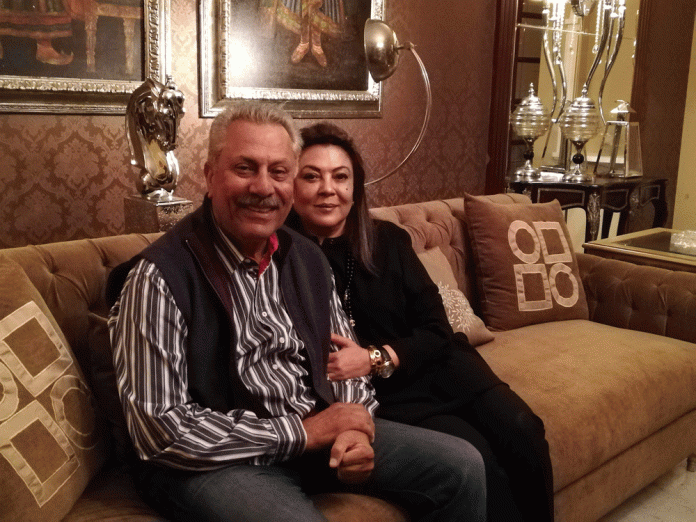 A pair of tall doors welcome visitors into the Moorish inspired home of  legendary Pakistani cricketer Zaheer Abbas and his wife, interior designer Sameena Abbas. The Karachi home of two such larger than life personalities is befittingly grand and dramatic, with a multitude of arches and columns  and filled with an impressive array of art and fabulous furniture.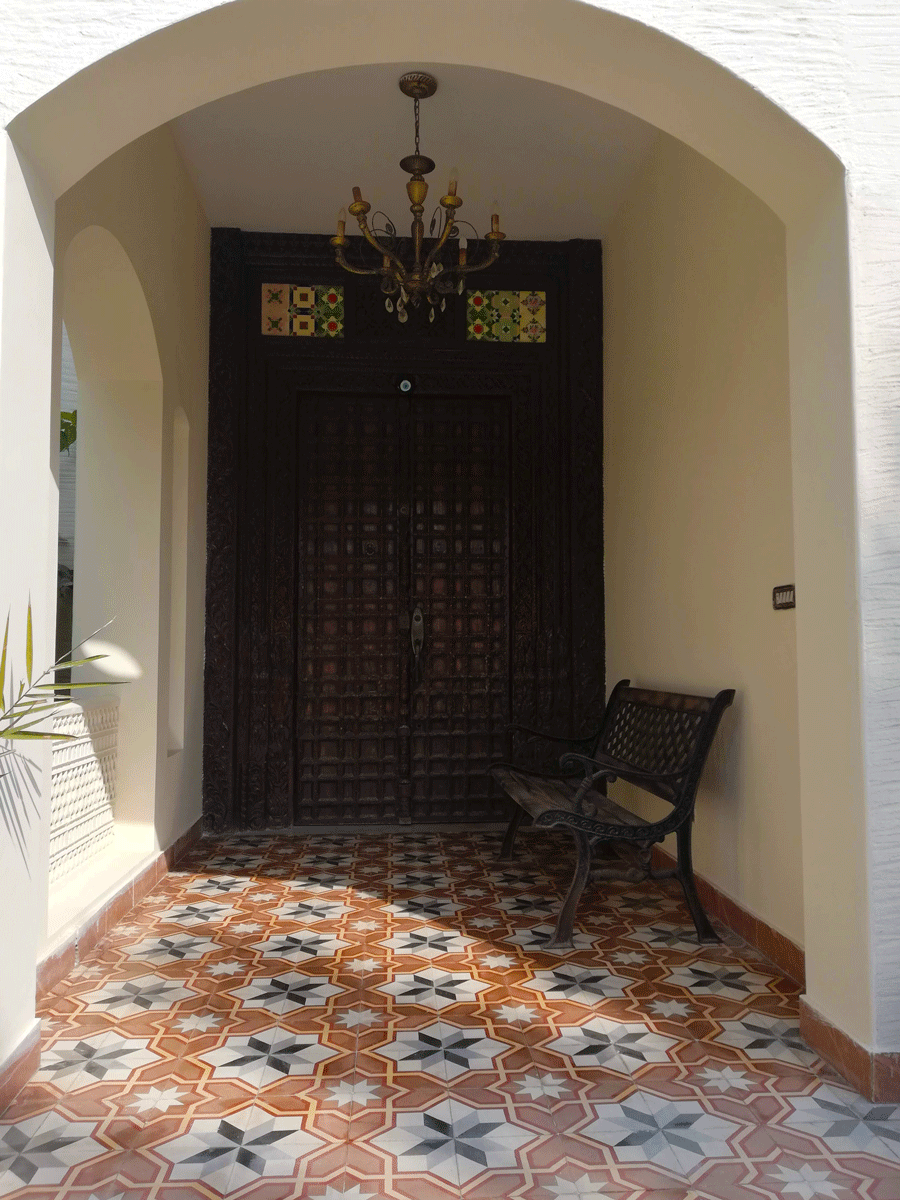 The power couple welcomed us into their home on a chilly Karachi evening, the grand proportions of the home softened by candlelight, flowers and a blazing fire in the poolside courtyard. Sameena Abbas, popularly known as Sam, showed us around.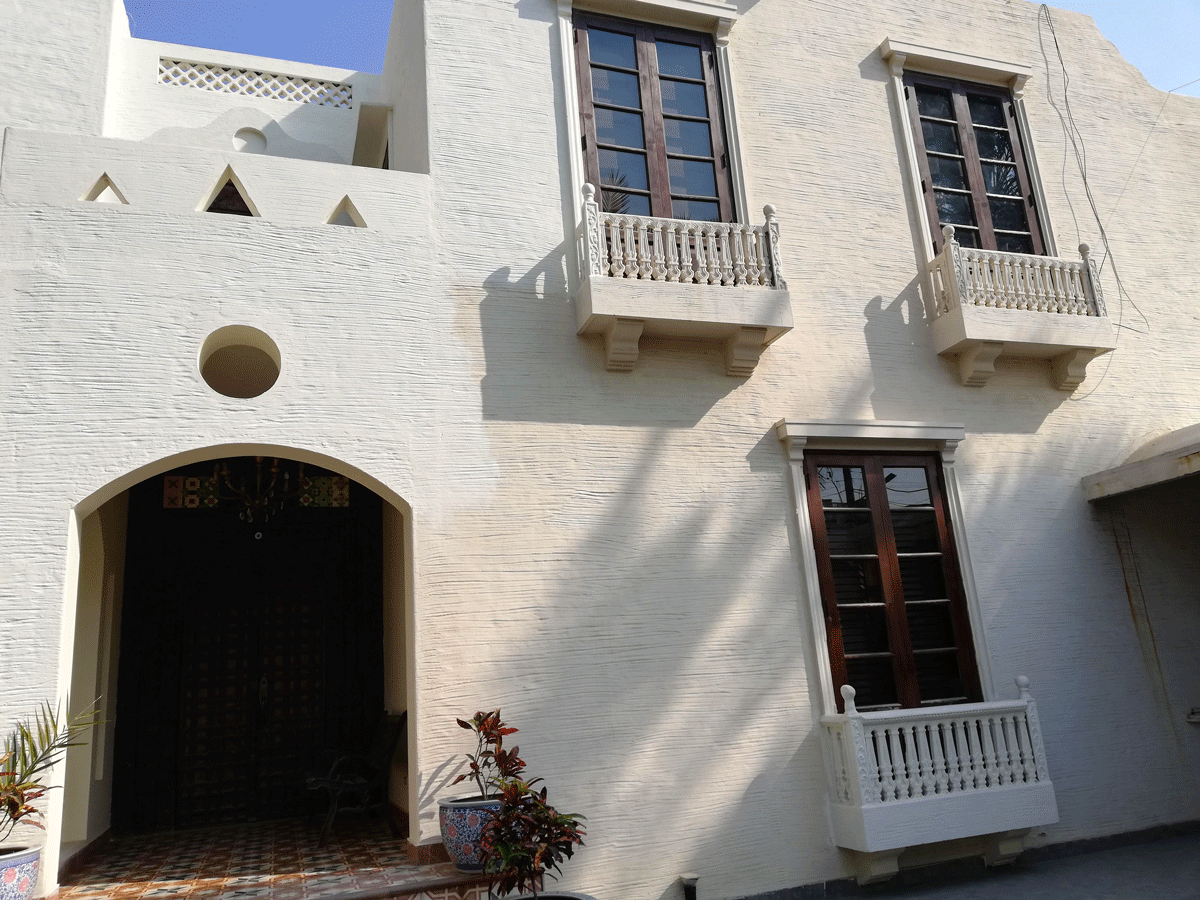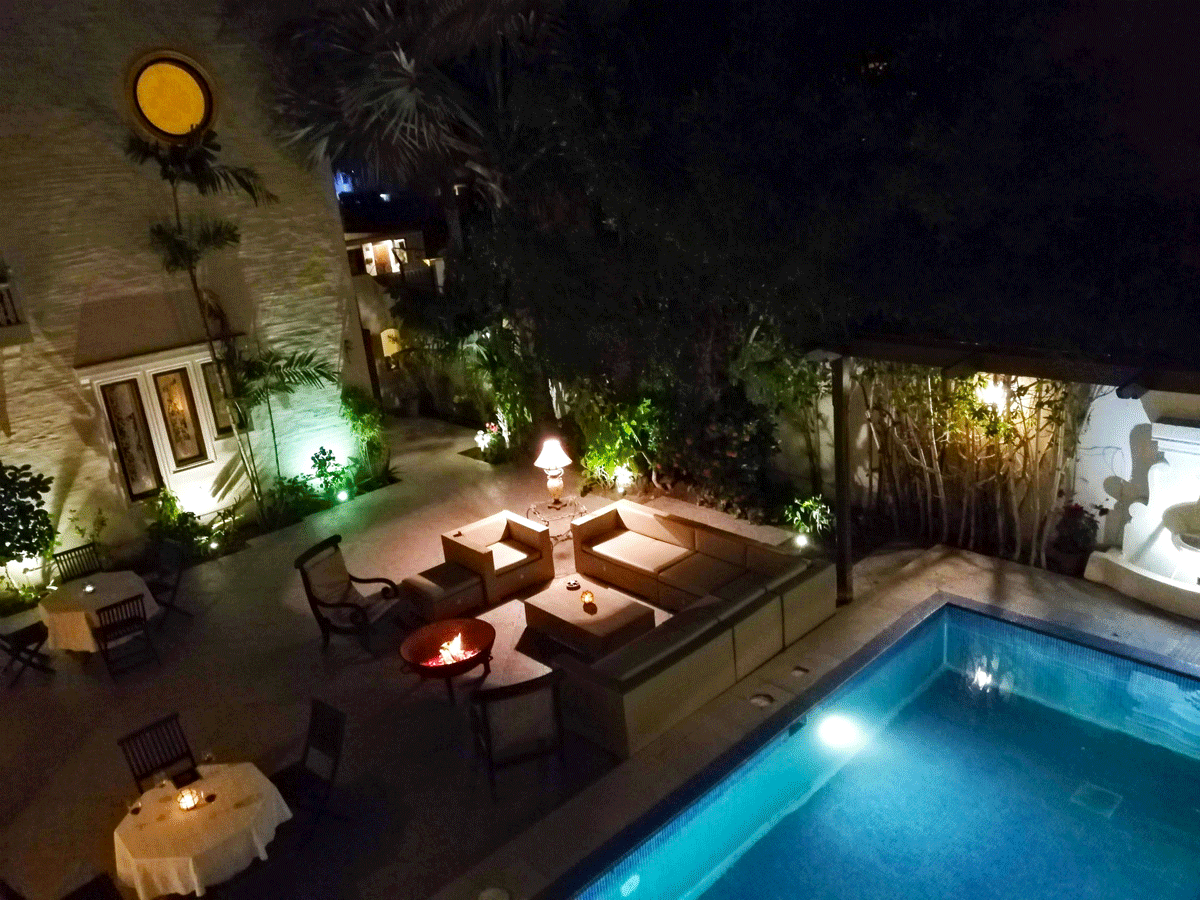 Who designed this house ?
Sam Abbas: We did have an architect but I dismissed him. I had too many differences with him and as an interior architect myself, I knew what I wanted. We did have a structural engineer on board of course.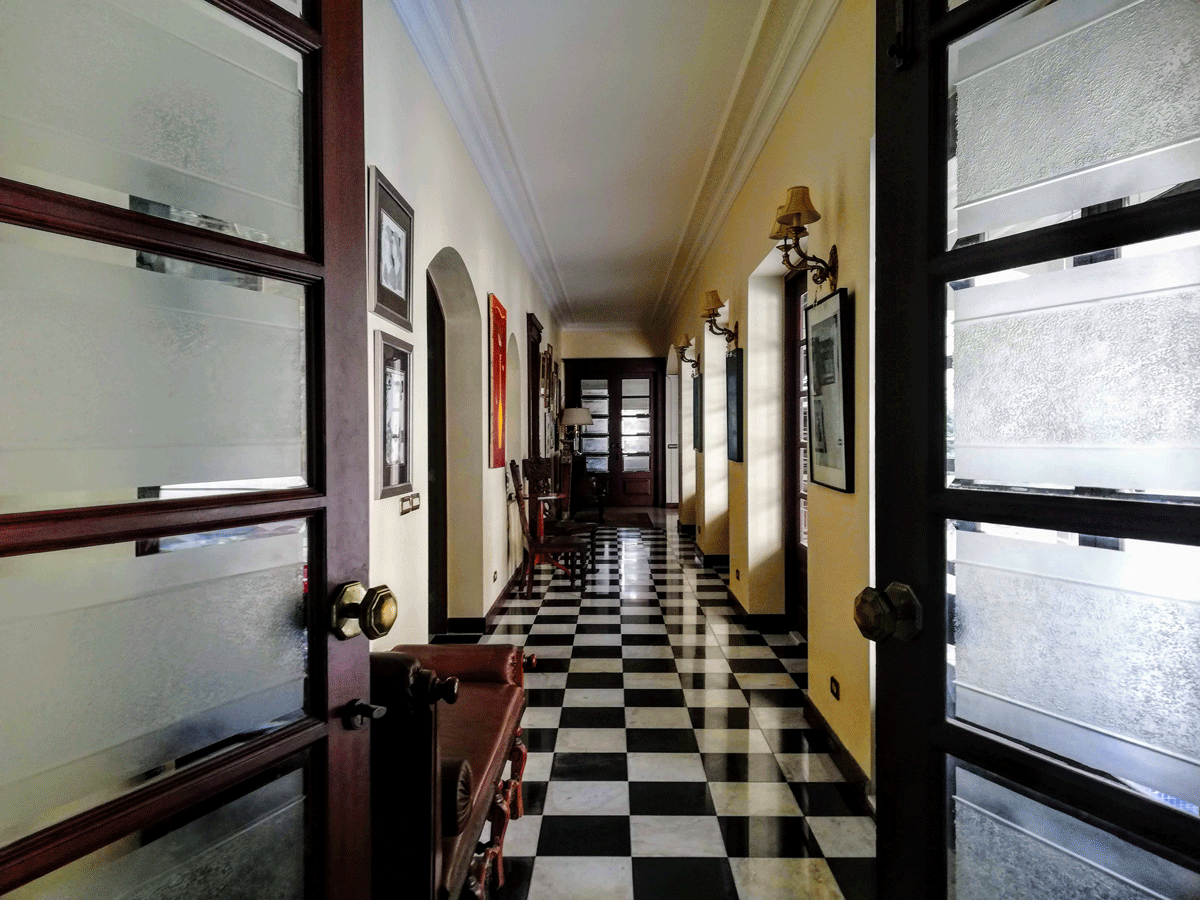 There is a very Moorish influence evident.
Sam Abbas: Yes. I actually did my thesis on Moorish architecture. So that is a look I like a lot and it was the theme I was going for.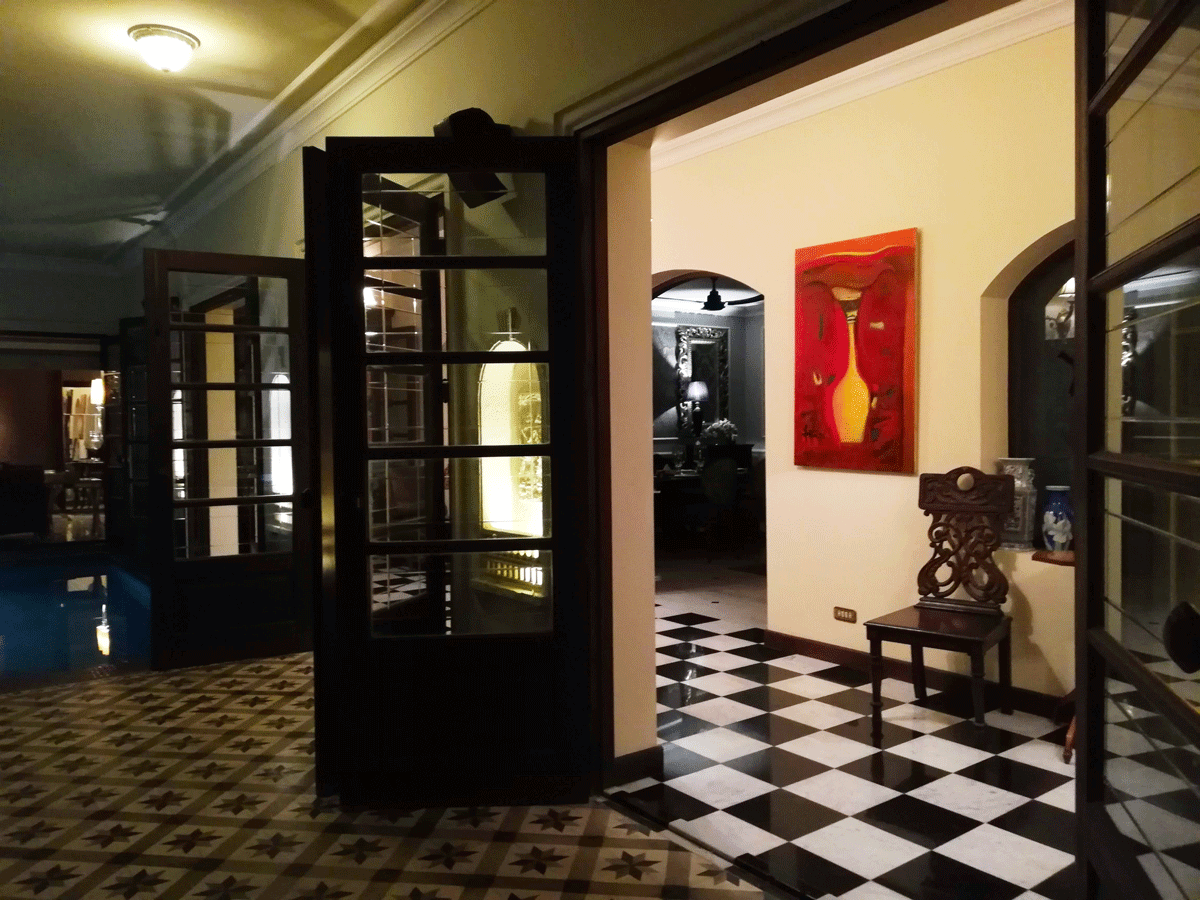 There is some beautiful old detailing like the floor tiles. Did you have them made?
Sam Abbas: The patterned floor tiles are actually old tiles from a Parsi home which was being demolished. I was  on the lookout for any old pieces. It wasn't easy getting the tiles, many broke but I managed to salvage these.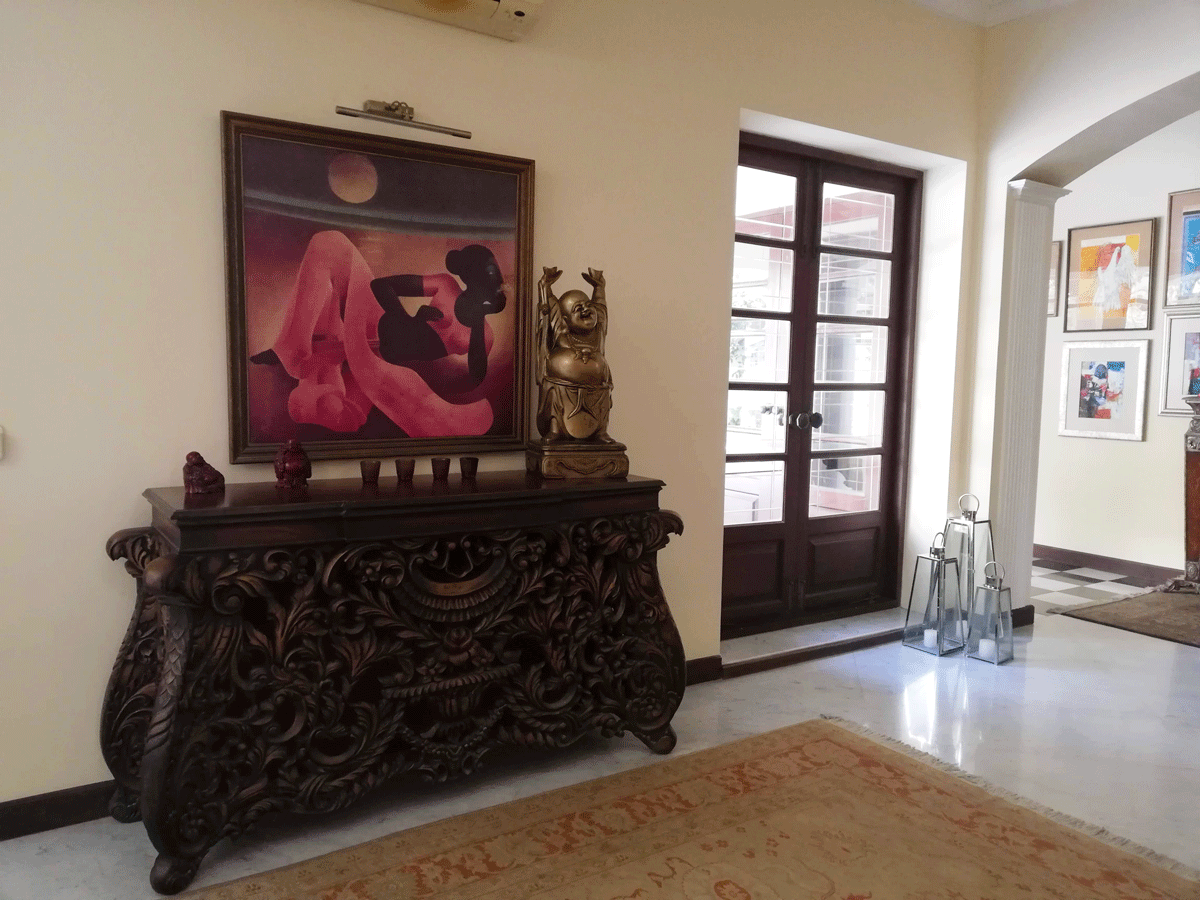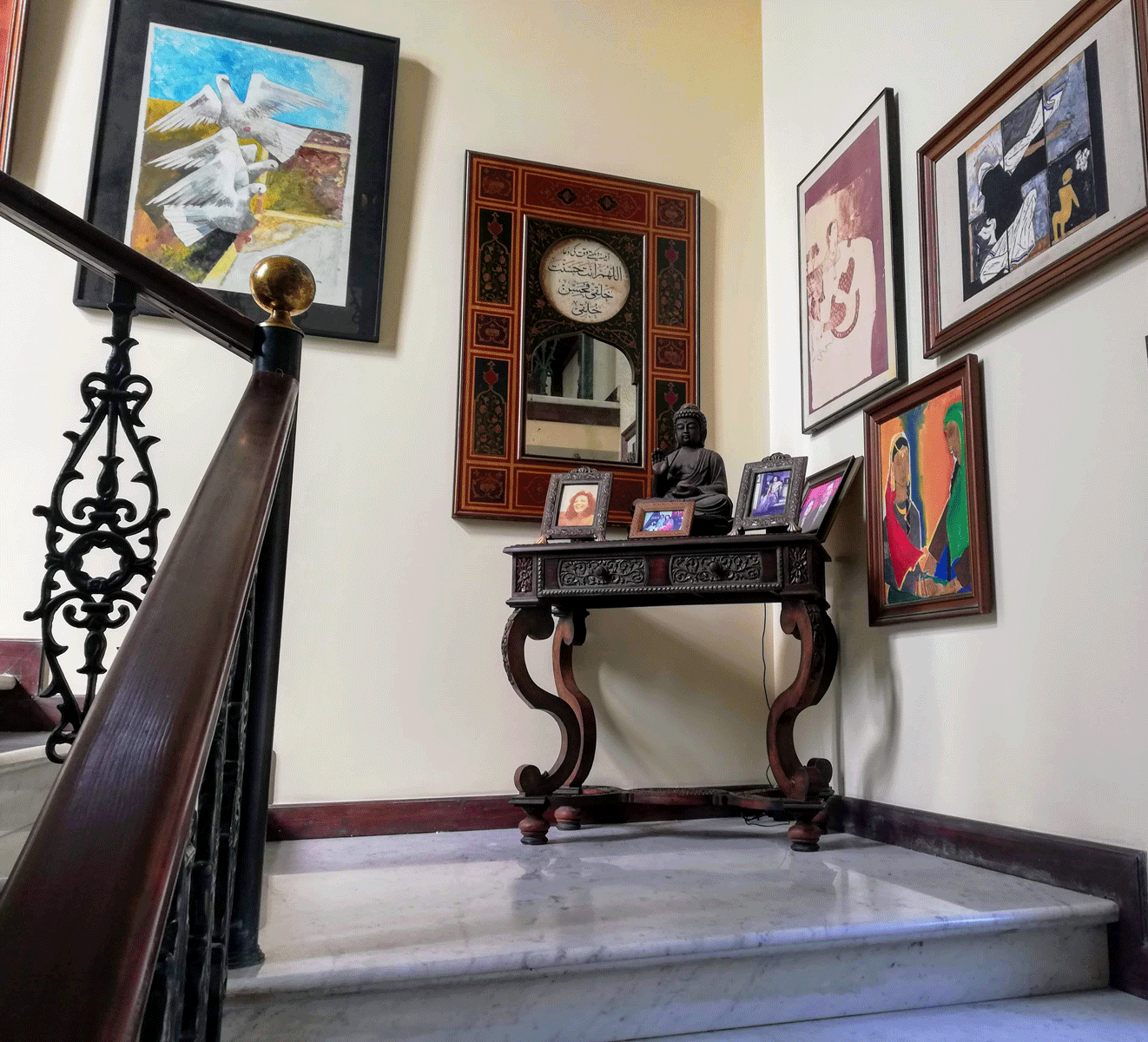 You have a very impressive art collection. I can spot Bashir Mirza, M.F. Hussain and Tassaduq Sohail to name a few.
Sam Abbas: We have built up this collection over the years. We have quite a few masters but I like to promote upcoming artists. I still visit galleries regularly and I now like to buy work by newer artists. Art is something you have to live with, you can't keep changing it, so it's very personal. I'm very fond of the Bengal school of painting so you will see quite a bit of that.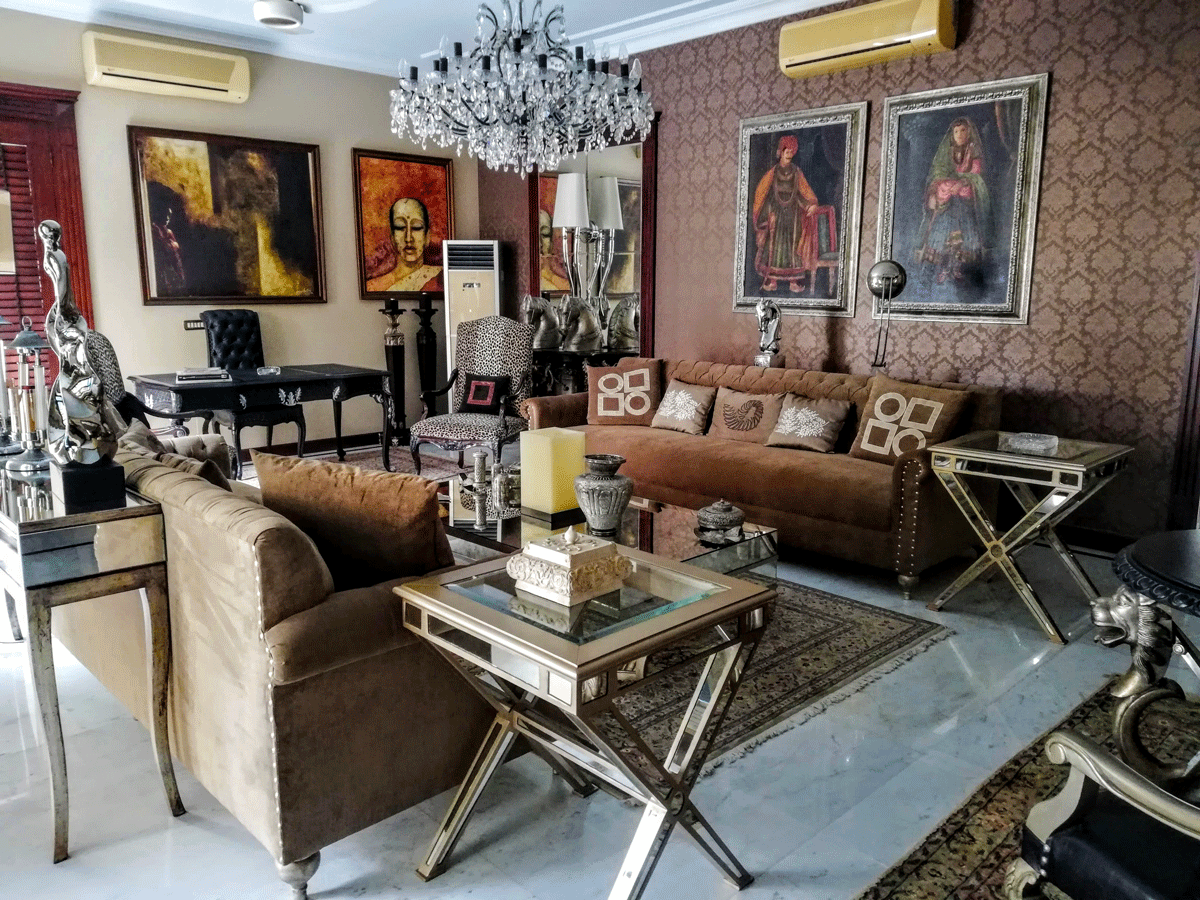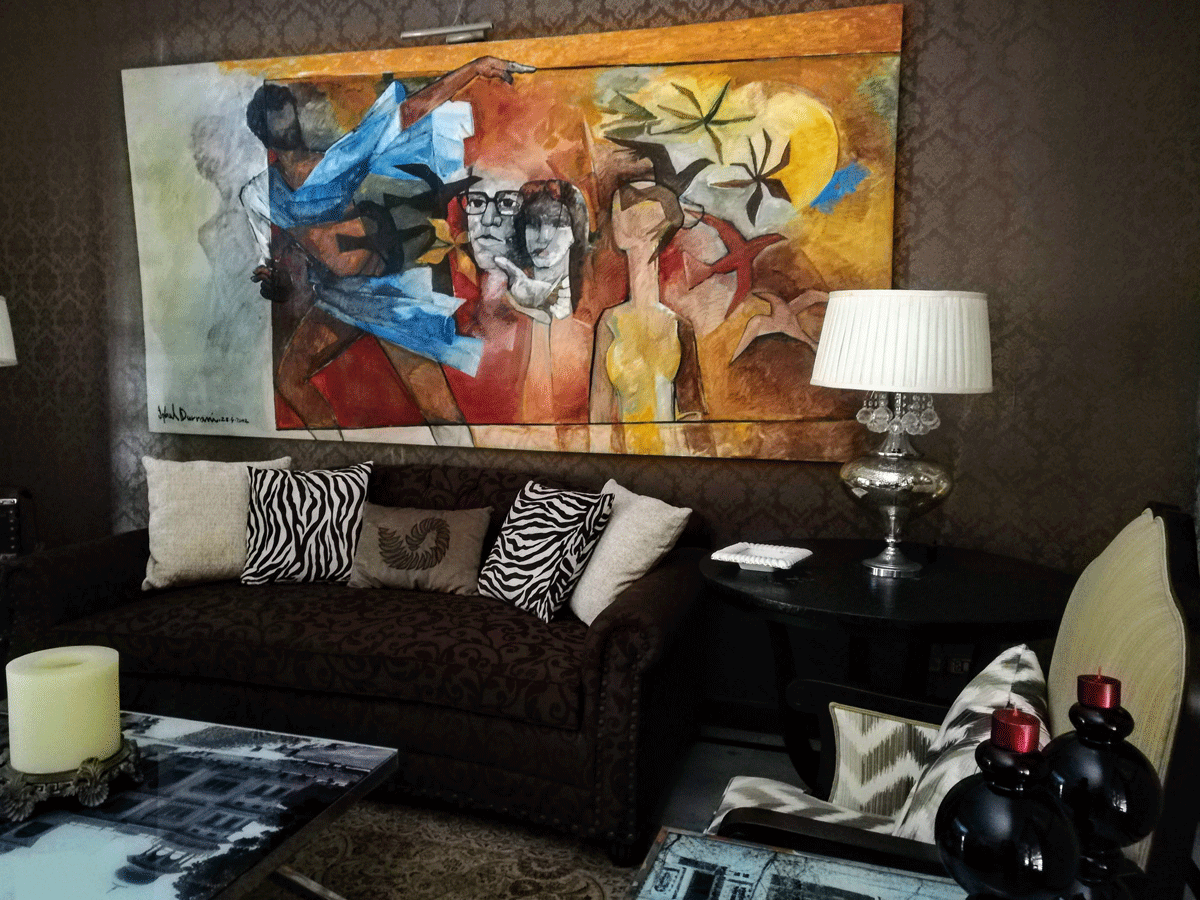 Is all the furniture in your home by Sam Abbas?
Yes. Every single piece. (laughs)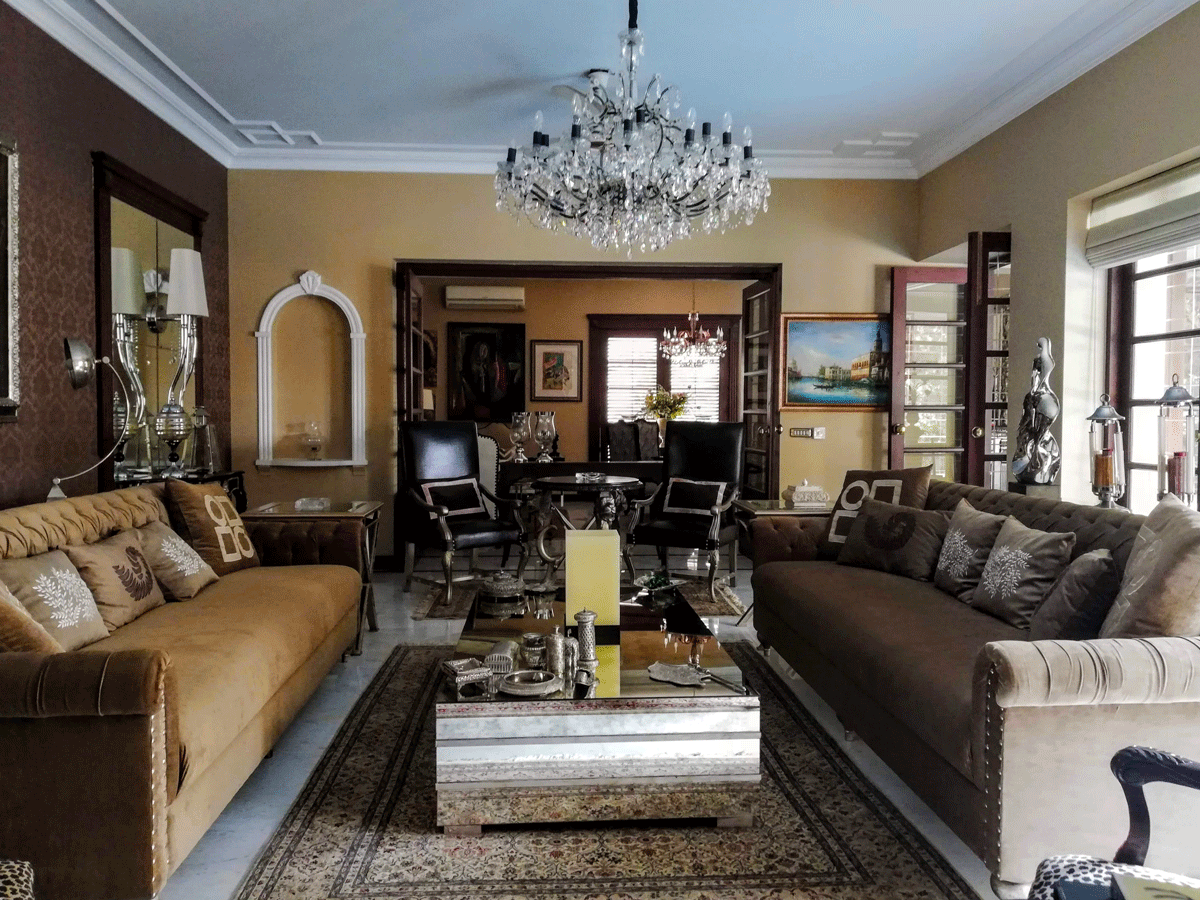 So did you fulfill all your creative aspirations in your home?
Sam Abbas: Actually, my home is full of all the left over pieces, everything that was not used or hadn't found a home.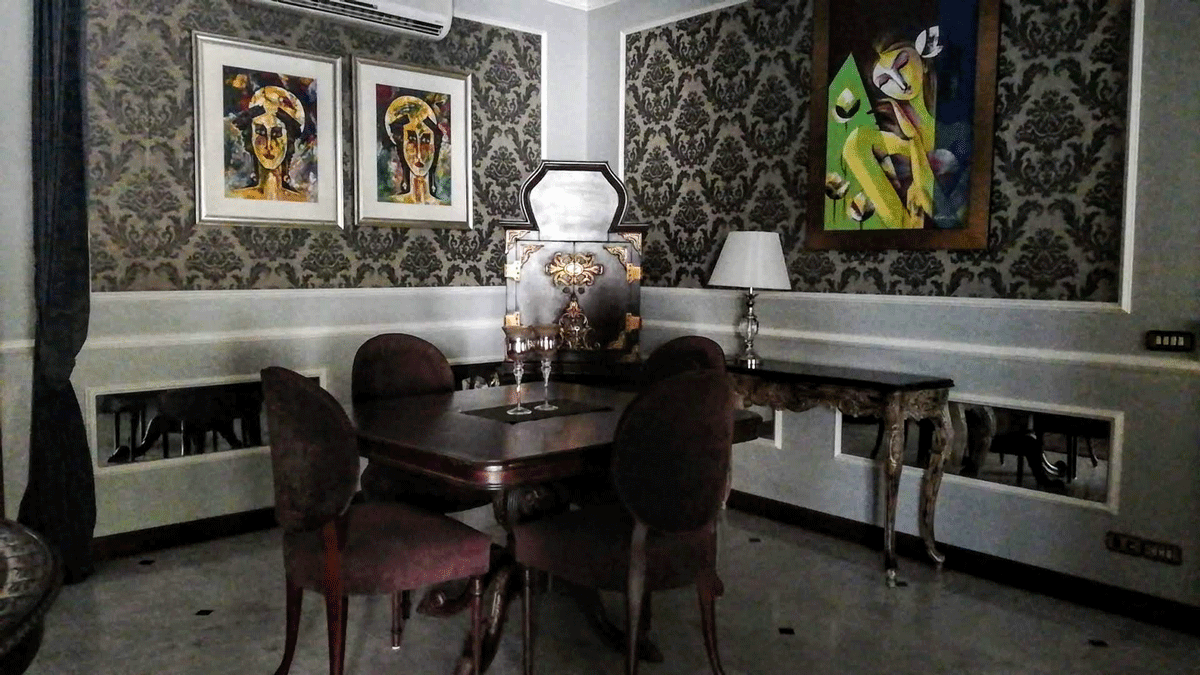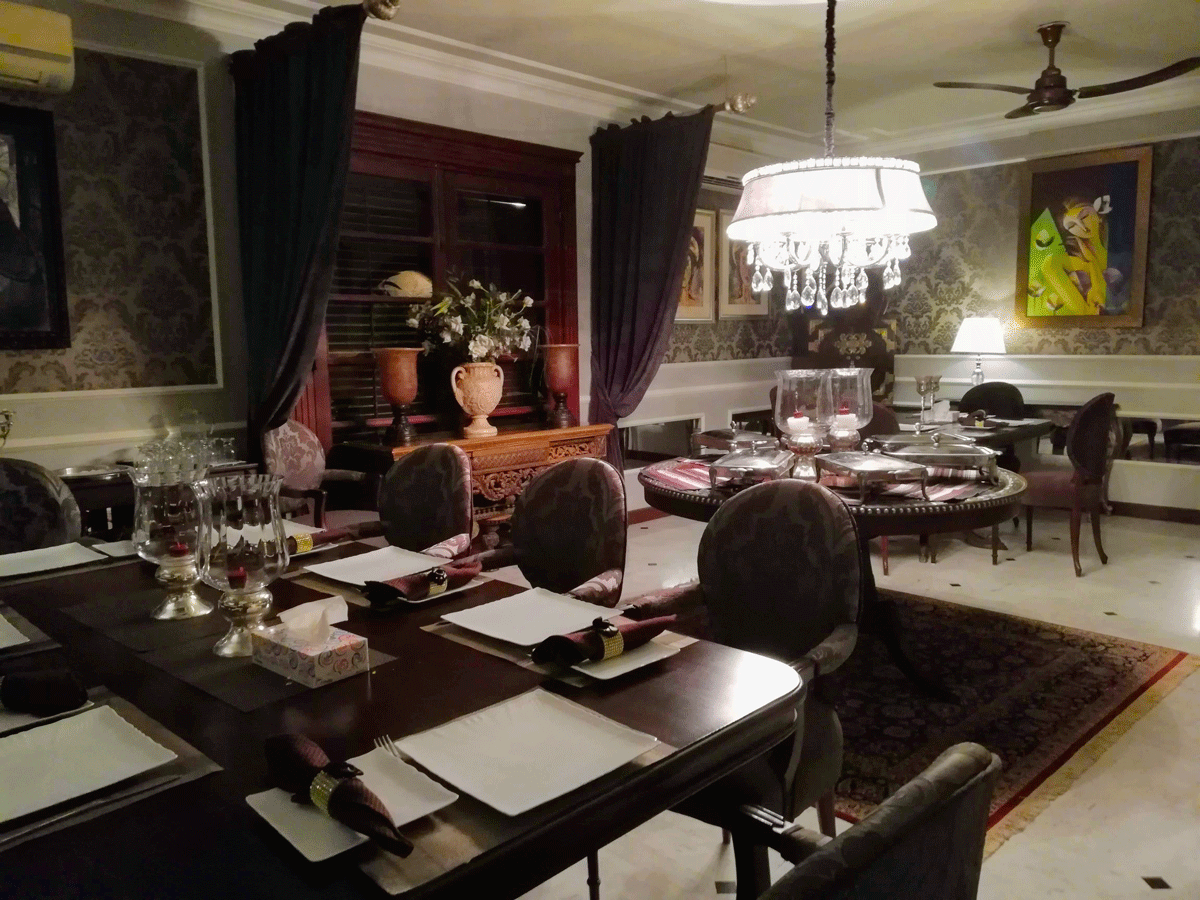 The wall paper, panelling and statement chandeliers… are all very signature Sam Abbas. How do you source the light fittings, artefacts etc?
Sam Abbas: I pick up a lot of things abroad but many of our pieces are also fabricated by us.  I have an idea in my mind and create something.
This den is the domain of your husband Zaheer Abbas at home?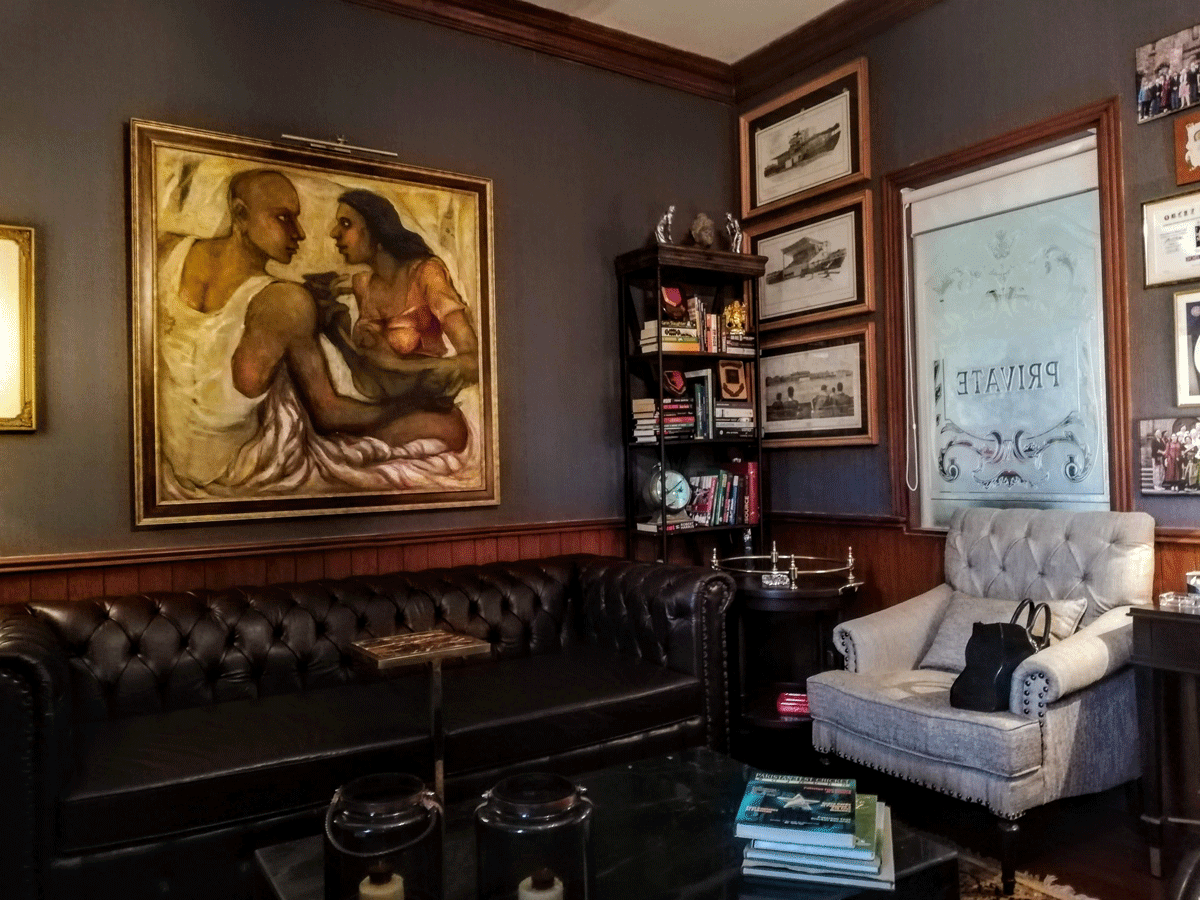 Sam Abbas: Yes. That's why there is the word 'Private' sandblasted on the glass. I call it the Glory Room. All his trophies and other cricket memorabilia is displayed here.
Does he have any say in the interior decor?
None at all. (Laughs) Have I ever told him how to play a shot?
Who made his portrait in the den?
Zaheer Abbas: That was actually made by a fan who presented it to me after a match. It was made from photo or poster.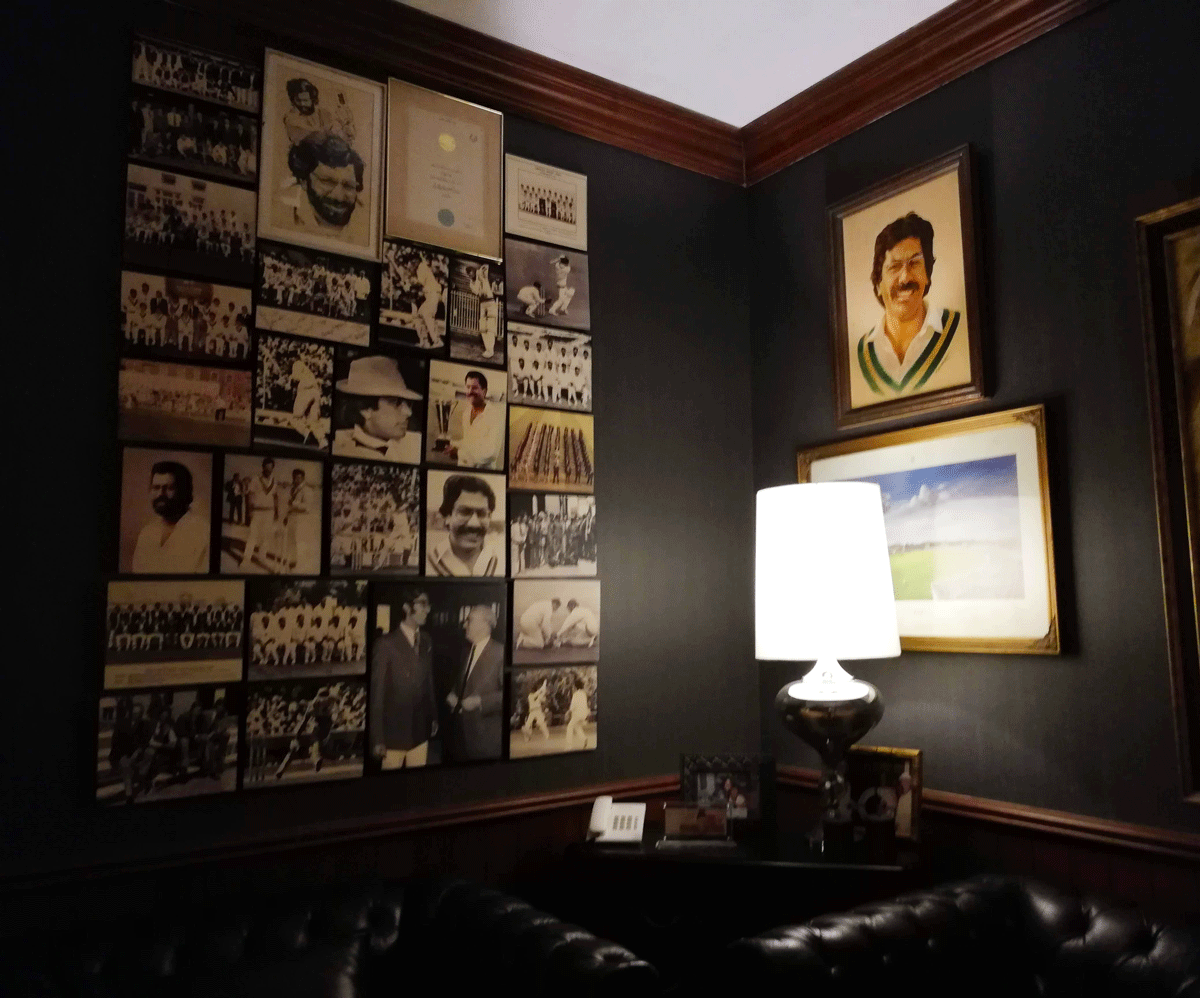 Take us through the other special items in this room?
Zaheer Abbas: There is this picture of me with the legendary Sir Donald Bradman. Then there is this photo of my days as ICC President. The many awards and shields I have won are displayed here.
Also, the crests of all the British counties are displayed above the door. I used to play for Gloucsteshire.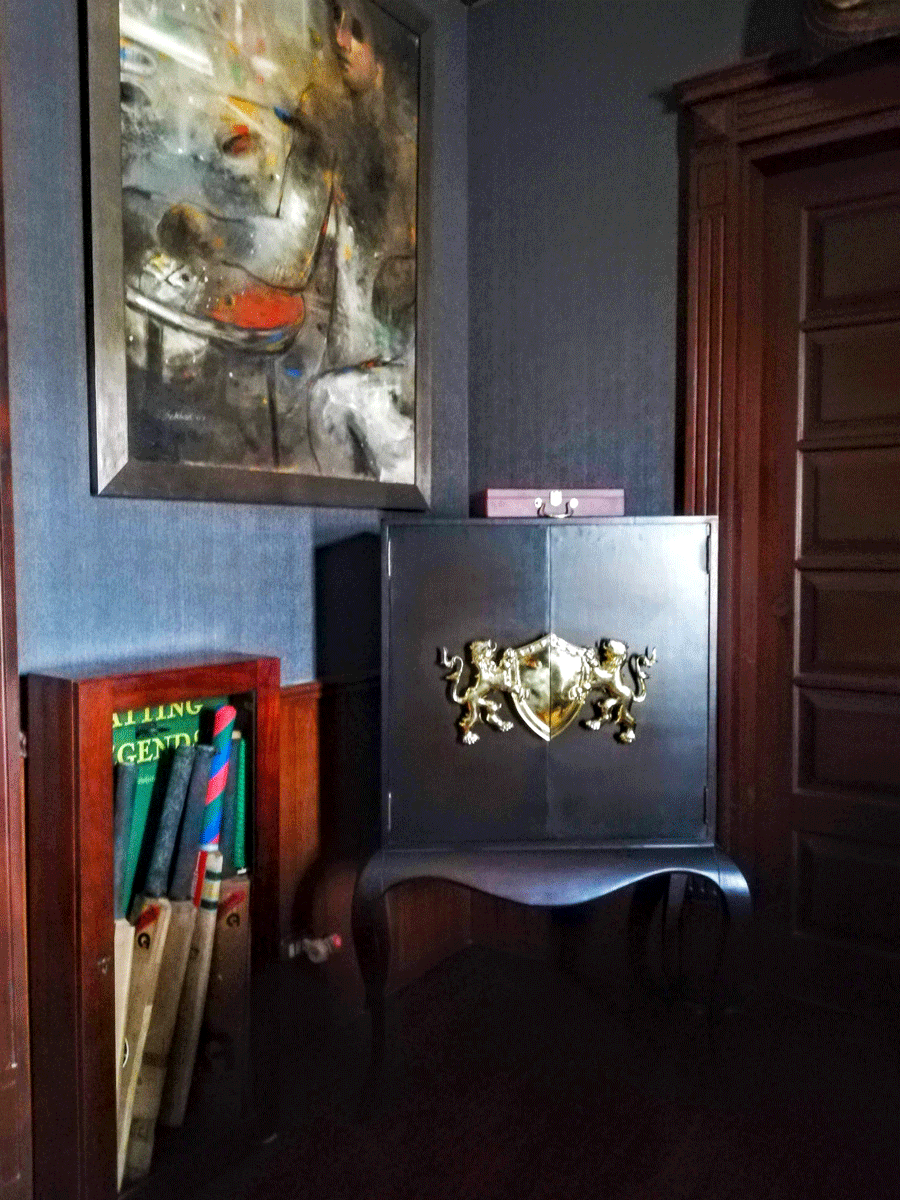 This cabinet holds many of my cricket bats. Each holds a special memory like the bat I made 200 runs on etc.
The pool and courtyard are beautiful features of the home. Do you use the pool often?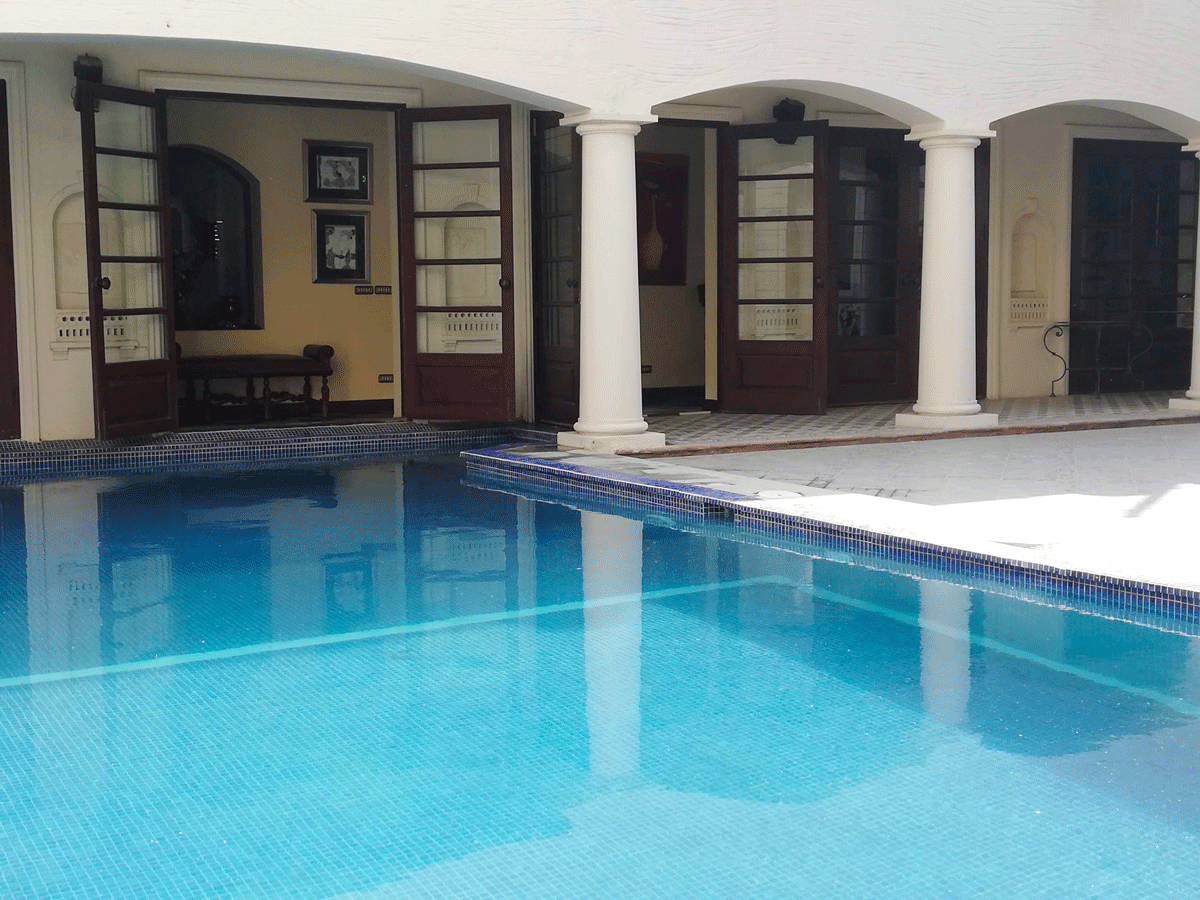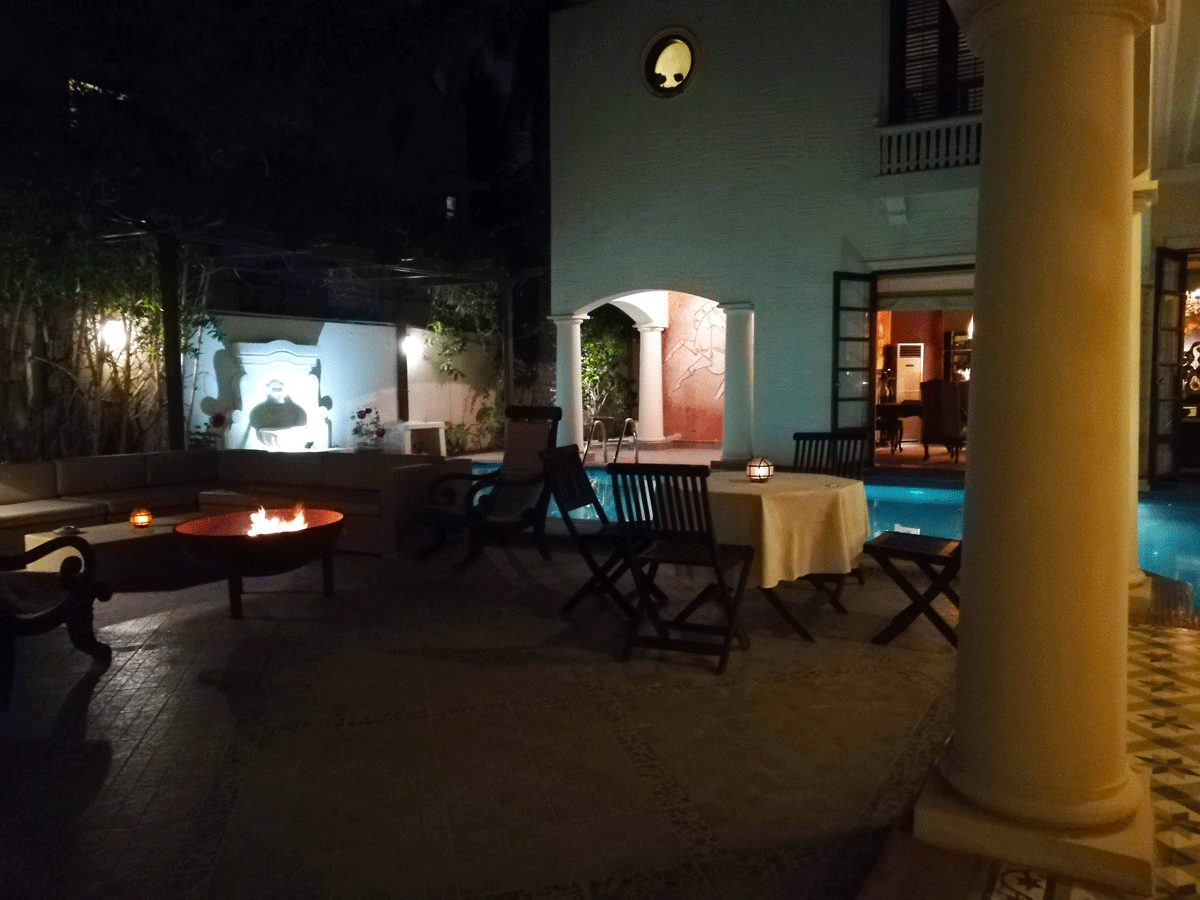 Sam Abbas: Oh yes! We use the pool all the time. And the courtyard as well when we entertain. I don't like lawns in the front of the home, there is no privacy. I much prefer this kind of courtyard space.
Yes. You have this indoor-outdoor thing going on here.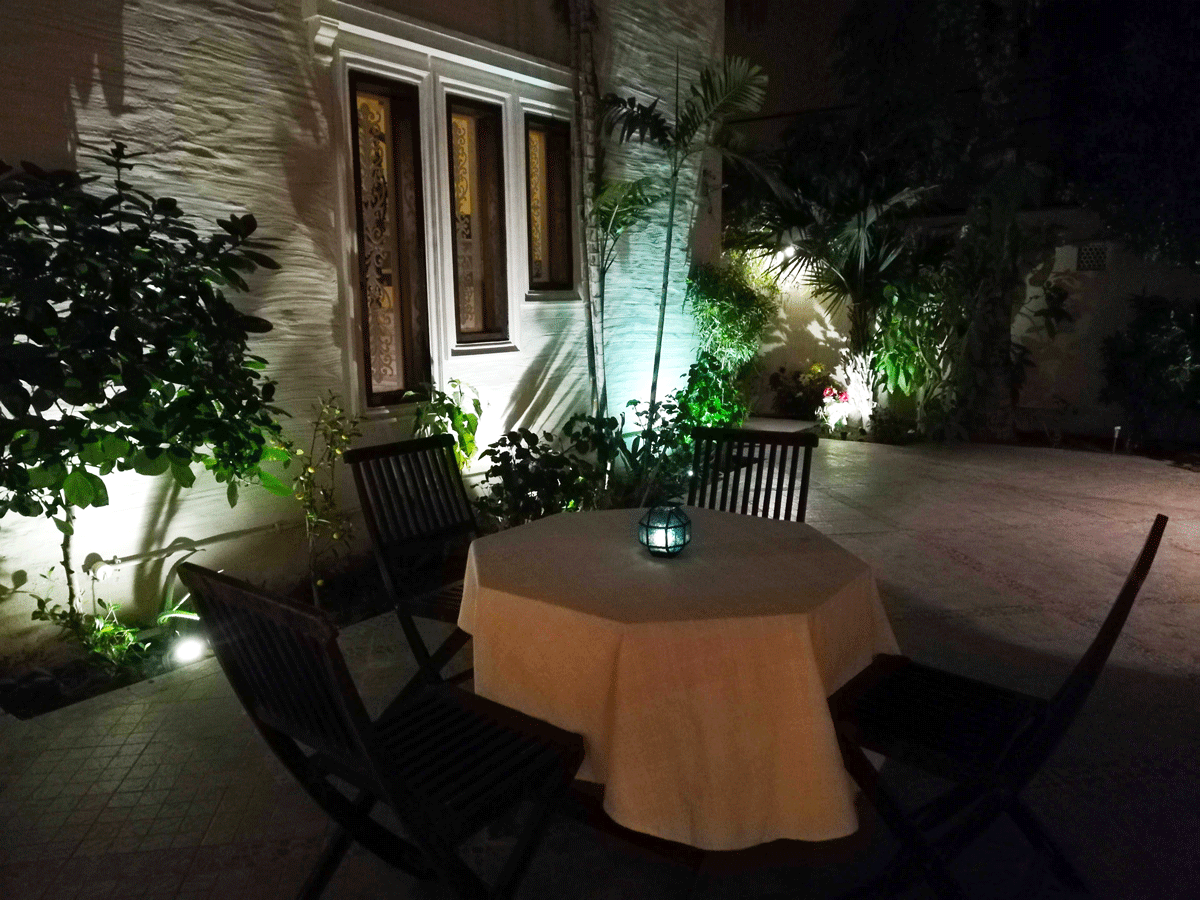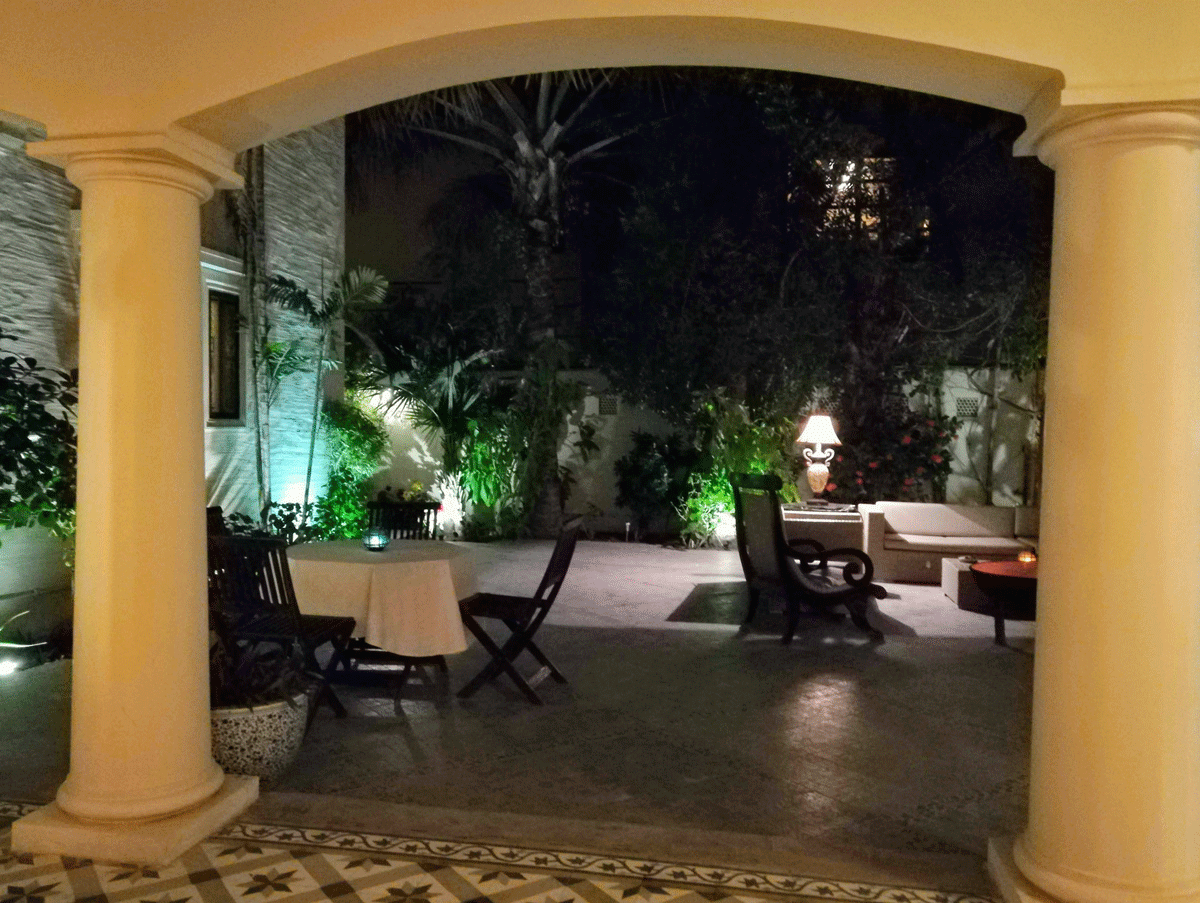 Sam Abbas: I love the concept of letting the outdoors inside or opening the inside to the outdoors. So the doors all along the length of the corridor open into the courtyard. Actually, this home is built for entertaining. I can easily accommodate large numbers of people.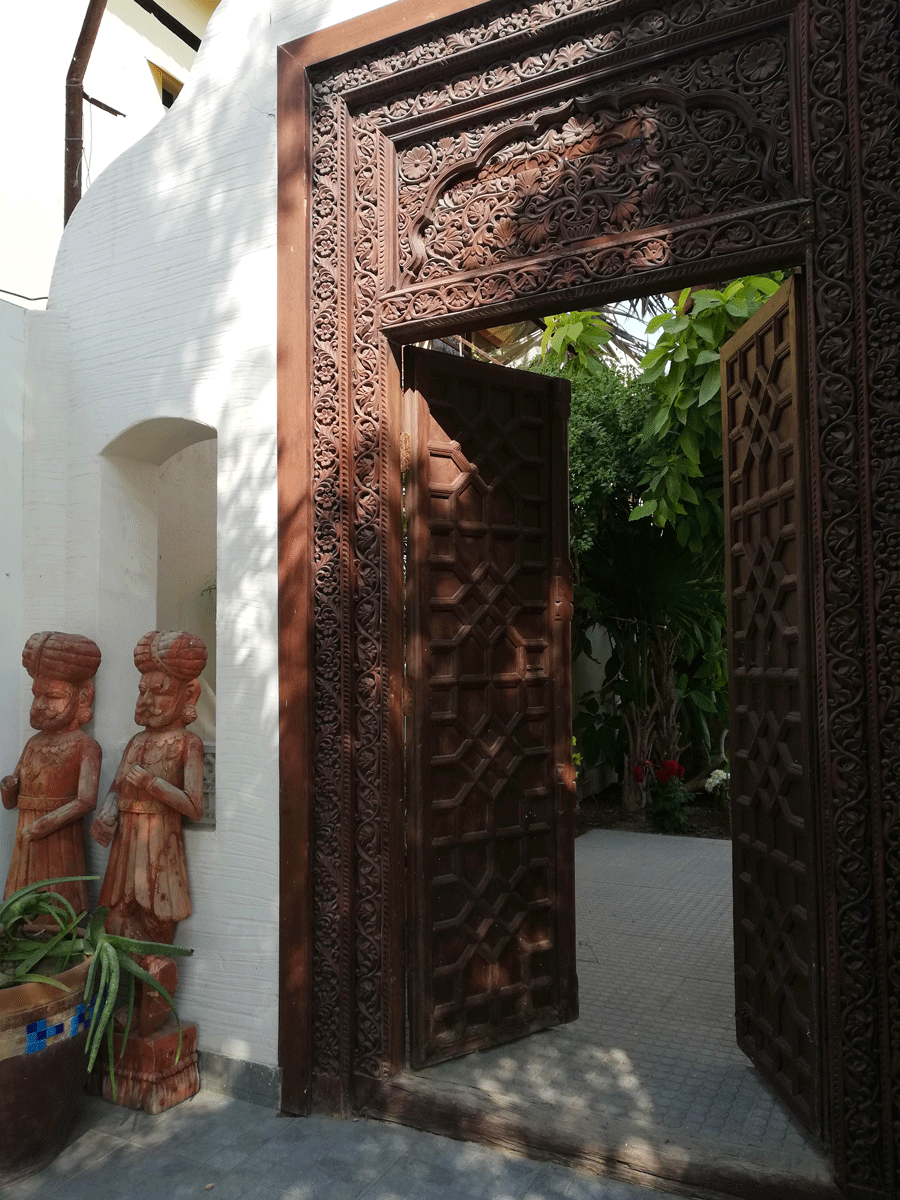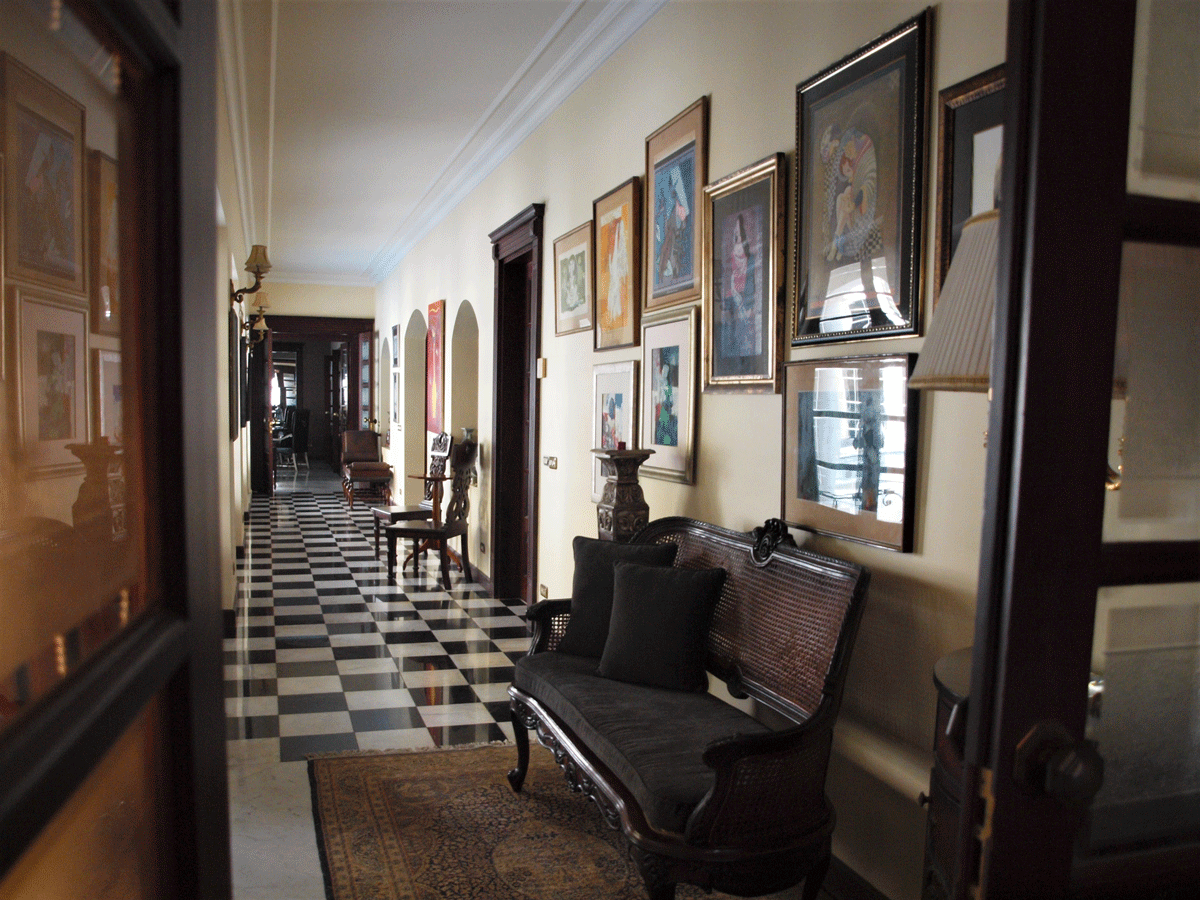 It works in the winter but what about in the summers?
Sam Abbas: The home is very cool in the summers. We open the doors and the corridor becomes a wind tunnel.
Tell us about some special object in the home?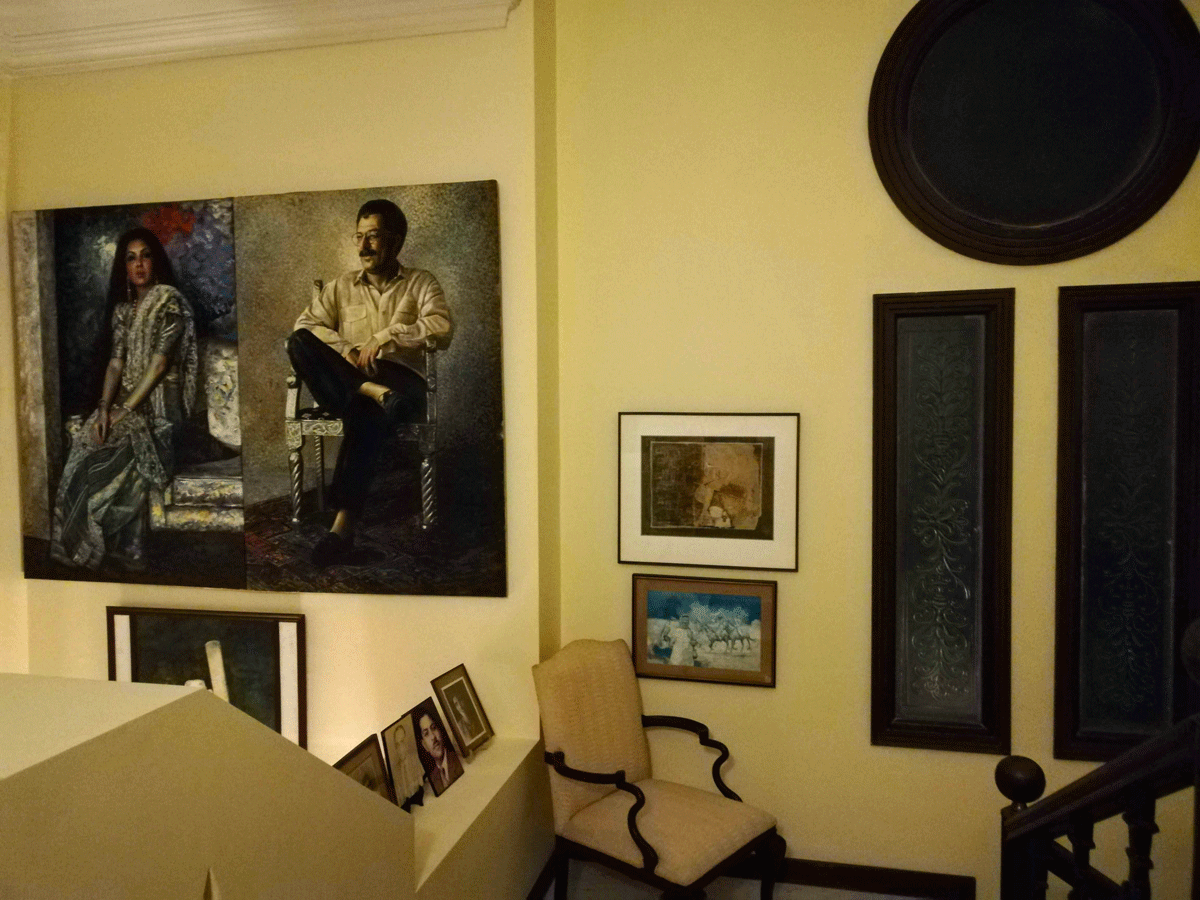 Sam Abbas: Well the famous painter Iqbal Mehdi has made portraits of us. Actually he first made a portrait of my husband and then Zaheer commissioned my portrait for my birthday, It was a surprise and it arrived in a big van. I t was quite an occasion.
It was a treat visiting the Moorish inspired home of Zaheer Abbas and Samina Abbas. 
Photography by Naeema Kapadia