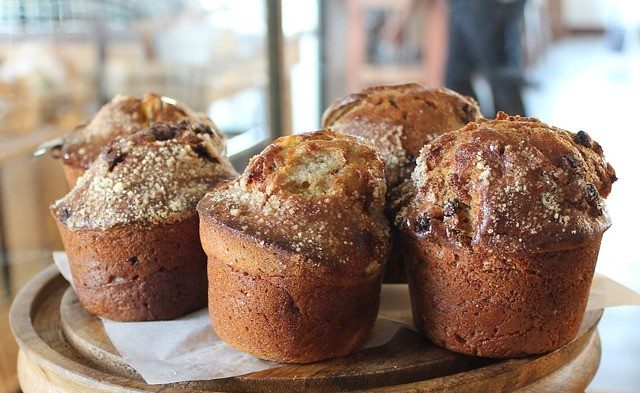 GUEST BLOGGER: Teenage blogger @nehathefoodie shared this simple and delicious Banana Nut Muffin Recipe with Team Homelovelifestyle.
Neha tells us…
"After trying out many recipes for banana breads, this is the one I've stuck to! Seriously, you will not go back to any other recipe ones you try these. They are fluffy, moist, super flavourful and the chopped nuts and oats add a nice little crunch factor. And the best part: they're free of refined flour and sugar, so I wouldn't judge you for having more than one at a time!
One of my top tips for getting the best banana bread is using super ripe bananas. They should preferably be super spotty, a little brown and slightly mushy. This will ensure that the banana flavour shines through. You will barely achieve any banana flavour if you use yellow ones. Roasting them is optional but it really amps up that banana flavour and increases the moistness.
I would also like to talk about the brown butter. This is the real game changer. It adds this beautiful, nutty undertone which compliments both the banana and walnut. Of course, the walnuts are optional (but then they would just be banana muffins). Feel free to add in any nuts or mix ins that you prefer (dark chocolate chips are heavenly!!).
These muffins are best enjoyed fresh out of the oven but can be heated in the microwave as well and are perfect alongside a cup of coffee or tea. Try smearing them with some peanut butter (my favourite), a drizzle of honey for extra sweetness or a dollop of Nutella if you're truly feeling indulgent! Leave me a comment letting me know what your favourite banana bread pairing is and whether you gave this recipe a go.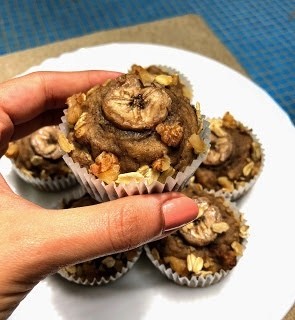 BANANA NUT MUFFIN RECIPE:
Yield: 10 muffins
Prep time: 30 mins
Cook time: 15 mins
INGREDIENTS:
2 large super ripe bananas (or 3 small ones)
1/4 cup (57 grams) unsalted butter
4 tablespoons maple syrup (can use honey or agave)
1 egg
1 teaspoon vanilla
1/4 cup (60 ml) milk
1 cup (130 grams) whole wheat flour
1/2 tsp baking soda
1/4 tsp salt
1/4 cup chopped walnuts
2 tbsp rolled oats
METHOD:
1) Preheat the oven 180 degrees and line a 12 hole muffin tin with paper cases.
2) Place the bananas in their peels on a baking sheet lined with foil and place in the oven to roast for about 15 minutes. They will become mushy and the skins will turn black.
3) Meanwhile, put the butter in a small, light coloured saucepan and melt over medium high heat. Bring it to a boil (lower the heat slightly if it begins to splatter), stirring occasionally for 2-4 minutes. When the butter turns an amber colour and gives off a nutty aroma immediately take it off the heat, as it can burn quickly. Pour into a jug and set aside to cool slightly.
4) In a large mixing bowl sift together all the dry ingredients. Add the milk, egg, honey and vanilla to to the jug with the butter and whisk to combine. Carefully peel the bananas and mash with a fork. Combine the dry ingredients with the wet ingredients and bananas and mix until just incorporated (the batter will be lumpy but DO NOT overmix!). Fold in the walnuts and rolled oats.
5) Fill the prepared cases with the batter until 3/4 full. Give the muffin pan a few taps on the counter to make sure the batter is even. Add toppings of your choice. I did banana slices, chopped walnuts and oats.
6) Bake for 15-20 minutes or until a toothpick inserted into the centre of a muffin comes out clean. Allow to cool completely before storing in airtight containers. These will stay fresh at room temperature for 1-2 days or in the fridge for 1 week.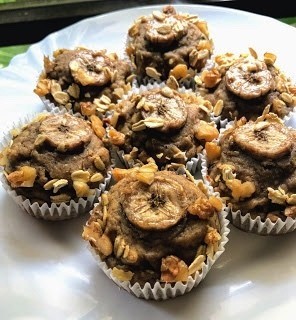 They also freeze beautifully for up to 2 months. Just take one (or more) out, 
let thaw slightly then microwave for 30-45 seconds and enjoy!