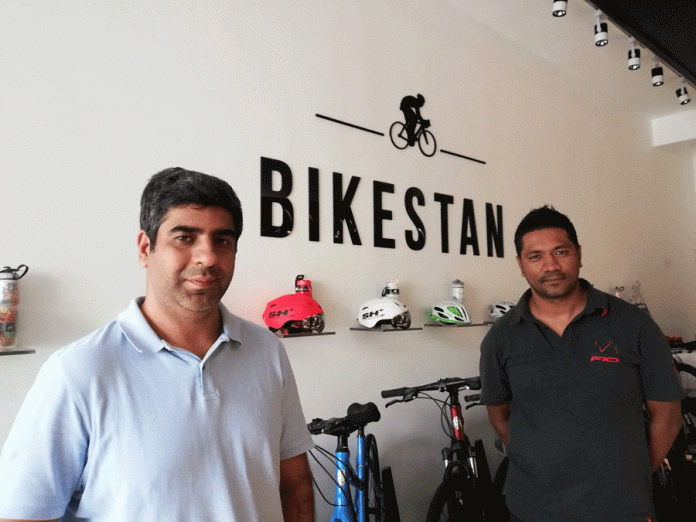 Bikestan! Cycling in Pakistan is moving on to the next level. The name speaks for itself; blending cycling with national spirit, friends and avid cyclists, Shoaib Nizami and Faisal Khalid, put their heads together and came up with a way to convert their passion for cycling into a socially conscious business proposition. The dynamic duo spoke to HomeLoveLifestyle.
What is Bikestan?
Shoaib: Bikestan is our vision for cycling. It's a way of life. Our bike shop is part of it, but the aim is to develop a community of cyclists. The process of organizing a cycling community was actually started by Critical Mass Karachi a few years ago and we want to build further on that.
So Bikestan is a one-stop place for all your cycling needs, whether it's a bike, equipment or cycling opportunities.
Faisal: We organize all kinds of rides. We started a monthly race, then some people asked us to organize community night rides, rides for awareness building and fund raising, for which we sometimes partner with Critical Mass.

So how are you different from Critical Mass Karachi?
Faisal: CMK was a starting point, Biksestan focuses on competitive cycling. We started monthly races. All our members are amateurs, there are no professionals, but they organized themselves into 4 or 5 different teams. Then in December 2016 we introduced the Bikestan Super League. We conducted different races over five weeks and the difference was that the prize money we gave the winners was much higher than any government race.
Shoaib: The race was so well received that as an outcome, the Tour de Sindh was organized. This was a race for cyclists from all over Sindh and was organized by the government. Naeem, who works here at Bikestan, was the winner of that race and the cyclist who won the Bikestan Super League came second.
Faisal: We are now sponsoring our own team called the Bikestan Crank Addicts which has developed as a result of all these races. The athletes are all amateurs, we have no professional cyclists.

What is the state of competitive cycling in Pakistan ?
Shoaib: Races are held at the national level. There is a Sindh Cycling Association and there is an army team, a WAPDA team etc. These are the teams we will be competing against. But no one else has the level of sponsorship we will be giving our team. We will equip them with top of the line bikes, the Bianchi XR4, which is the same bike used in the Tour de France. Even the gear they wear will be of the same quality as world champions.
We are now associated with the Sindh Cycling Association and we hold a race every month. Usually only teams from Karachi take part but recently we organized the Sindh Road Cycling Championship which was open to anyone living in Sindh.
We are also planning to organize a National Cycling Games later this year in Karachi which will be open to participants from all over Pakistan.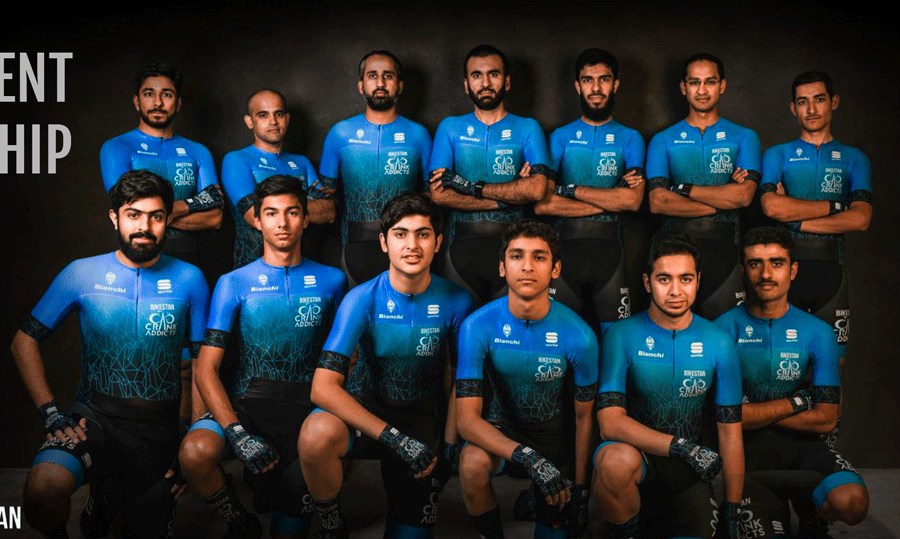 Currently, do our teams go abroad?
Faisal: Our cyclists do compete in India, Malaysia, Sri Lanka, at the Asian Games, even the Olympics early rounds.  The World Cycling Federation holds a tournament every year. We enter the individual timed rounds, although our ranking is very low at present.
Shoaib: When our boys, get the requisite raining, equipment, diets they will be able to compete a the international level. Our vision for the future includes the Bikestan Academy with proper coaching and other facilities. At present there is not a single international standard velodrome in Pakistan.
Our aim is to train our team to compete at the international level, to take Pakistan's name to the winning podium of world events.

Are national cycling events held regularly?
Faisal: The National Championship is held every year. The winner of this goes on to represent Pakistan at the world championship. Our youngest team member, Ibrahim, is only 17. We are training him and hope he will win the next national junior championship.
But we must start having more regular events like the Tour de Sindh. It took place one year, why not the next? We must be consistent, we must have a vision for this.

Is cycling a sport for young people?
Faisal: This is the only sport which has no age limit, except of course at the competitive level. But for amateurs there is no limit and races are also organized for amateurs in different age divisions.
Are you seeing interest in cycling grow?
Shoaib: The word is spreading, the community is growing and we are changing the game totally with the bikes and equipment we are making available. For example, we organized a female specific bike for an enthusiast. Earlier she didn't know such thing existed and it has transformed cycling for her.
When we started people told us we were wasting our time, who would buy such expensive bikes? Earlier one could only get Chinese bikes here which are of very low quality. Our bikes are tested on a 20 year life span. Although, we do also cater to a lower budget, people are willing to spend on quality.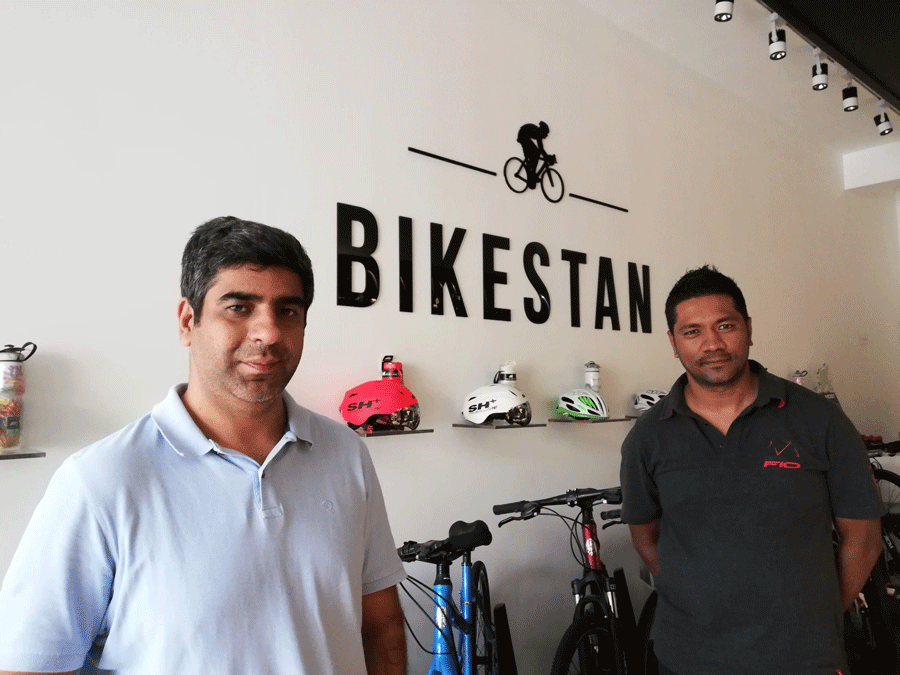 Tell us more about your social awareness collaborations.
Shoaib: We are working with  the Special Olympics. In the recent  National Games we helped organize cycling events for them in Karachi.
Then we also collaborate with Shaukat Khanum Cancer Hospital. We organize a breast cancer awareness ride every October. As a result of these rides, people open up and share their stories. After the ride, many have been motivated to start getting regular screenings. Many cancer survivors also ride with us.

And eco-friendly?
Shoaib: Of course! If everyone turned to cycling think of the fuel costs we could save. There is a little more awareness now, there are some bike lanes in Islamabad, and the Orange Line that is being built in Peshawar incorporates a cycle sharing option.
To connect with the Bikestan call 0302 8277262