Nathiagali remains one of the most popular holiday destinations in Pakistan. Situated in the Khyber Pakhtunkhwa province, and a mere three-hour drive from Islamabad, Nathiagali is easily accessible and soul-stirringly beautiful.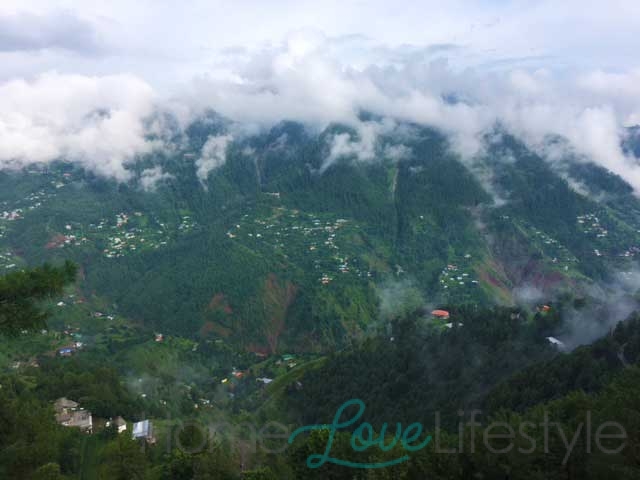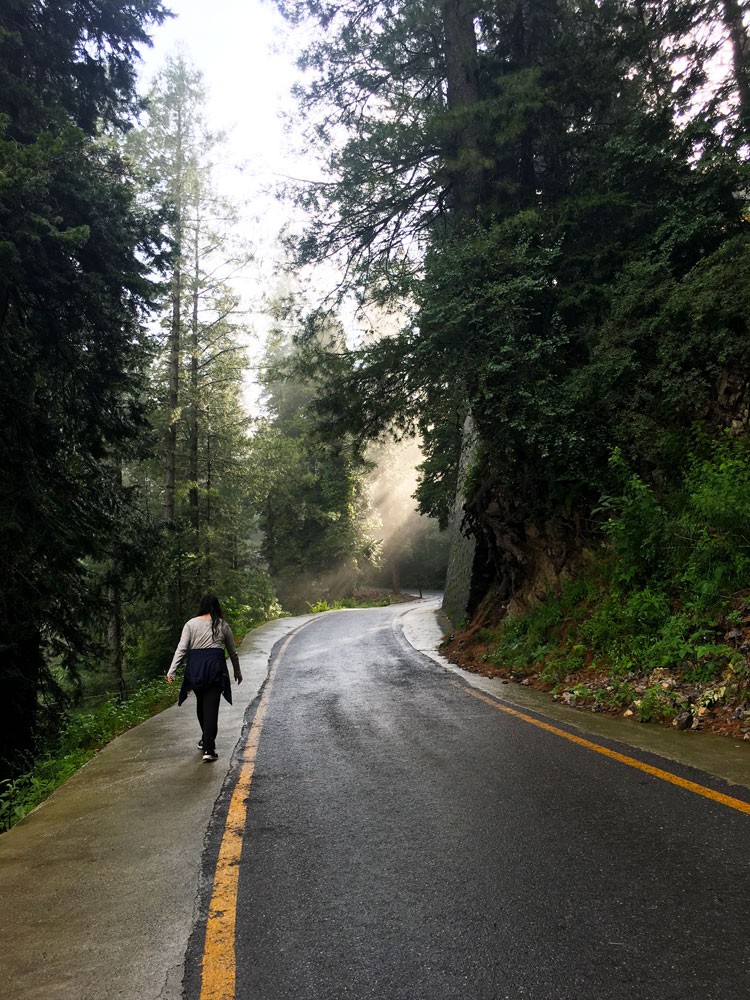 The drive up through the winding mountain roads is a thrill in itself. As one climbs higher, the views become increasingly scenic. Roadside vendors selling colourful umbrellas, embroidered dupattas, fresh fruit and roasted corn crop up at intervals. And once you cross Murree, the monkeys begin to put in an appearance.
Having taken a flight from Karachi to Islamabad and driven up to Nathiagali on the same day, we were pretty exhausted. Negotiating increasingly steep hairpin bends, we climbed higher and higher to find our hotel. Luckily, comfortable rooms awaited us and we succumbed to the creature comforts of  hot showers and room service that day.
Nathiagali Pipeline Walk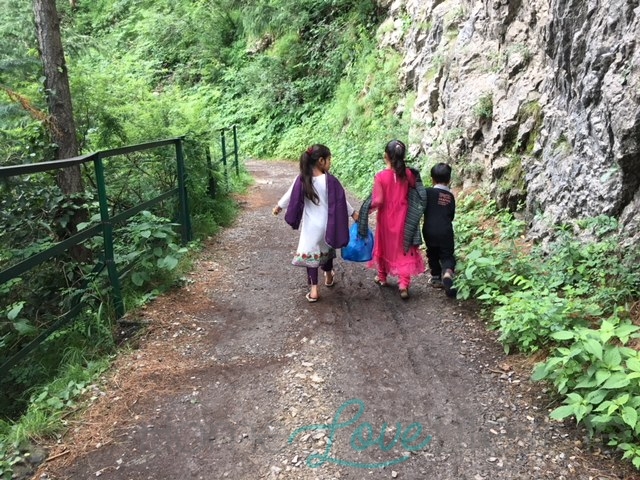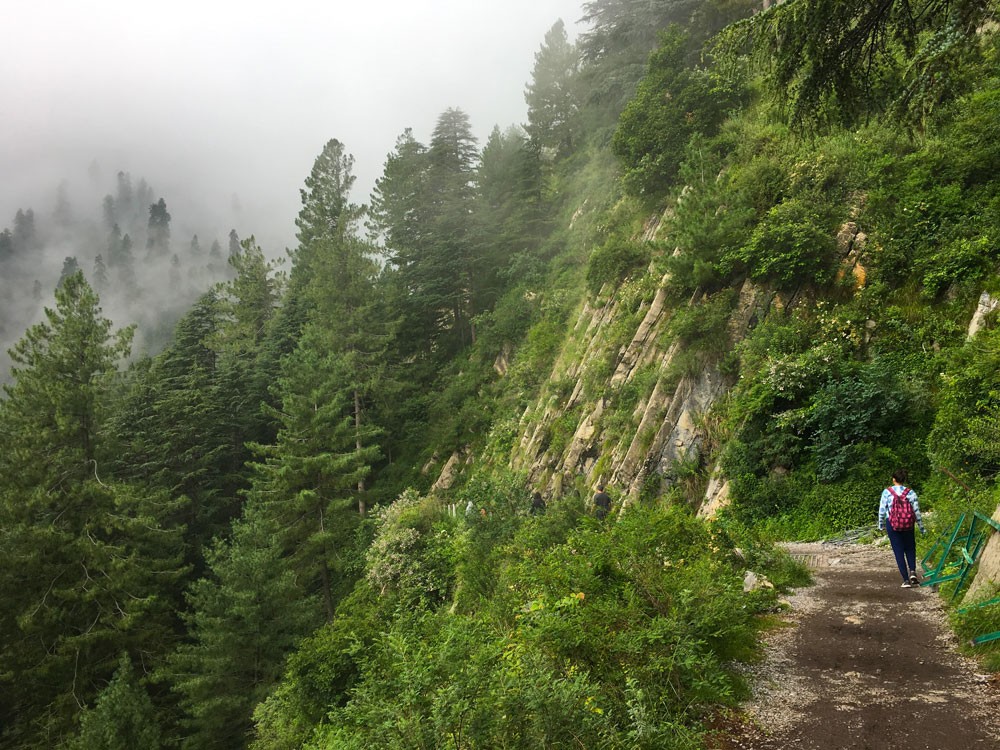 The next morning , however, we were all prepped to explore the mountains. For our first trek we picked, the easy but extremely scenic pipeline walk. The walk cuts through the hills leading all the way to Ayubia. It's an easy 5 kilometre trek, since there is no uphill climb, and even my six year old managed it with ease. There are several resting points along the way and even a small tea shop where one can take a break if needed.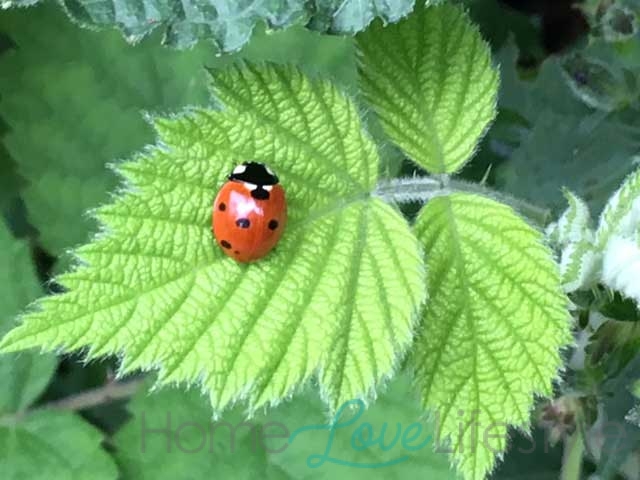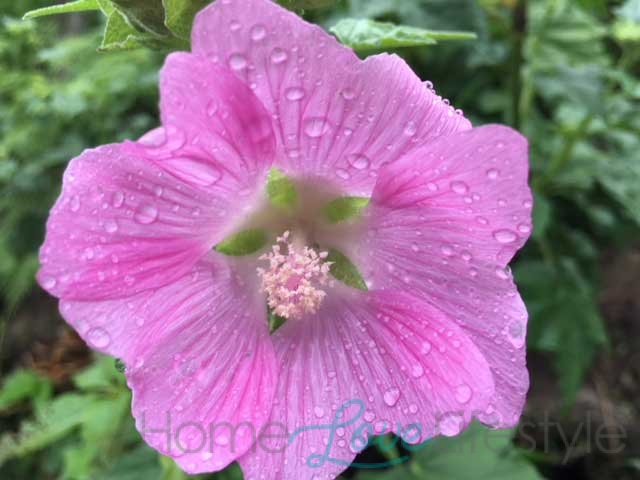 With the mountain face and towering trees on one side and a steep drop on the other, the walk offers excellent views. Clouds of butterflies, brightly coloured insects, exotic ferns and fungi and pretty wildflowers make this walk a treat for nature lovers. The area is actually designated as the Ayubia National Park. Signboards offer information about the local wildlife and vegetation.
The Meadows of Miranjani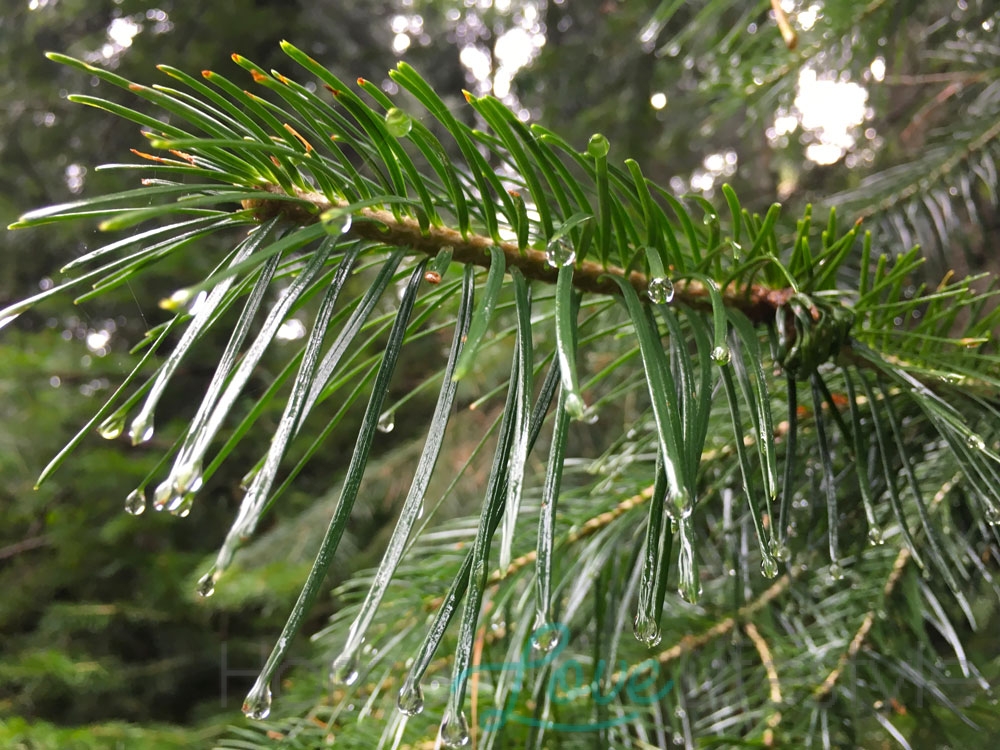 Emboldened by the success of our first trek, we decided to tackle the more challenging Miranjani peak the next day. We could see Miranjani wreathed in clouds rising in the distance from our hotel, beckoning us. This climb is generally ranked as difficult but as a family of reasonably fit adults and teenagers, we felt ready for it. And, in fact, even my youngest made it with some encouragement.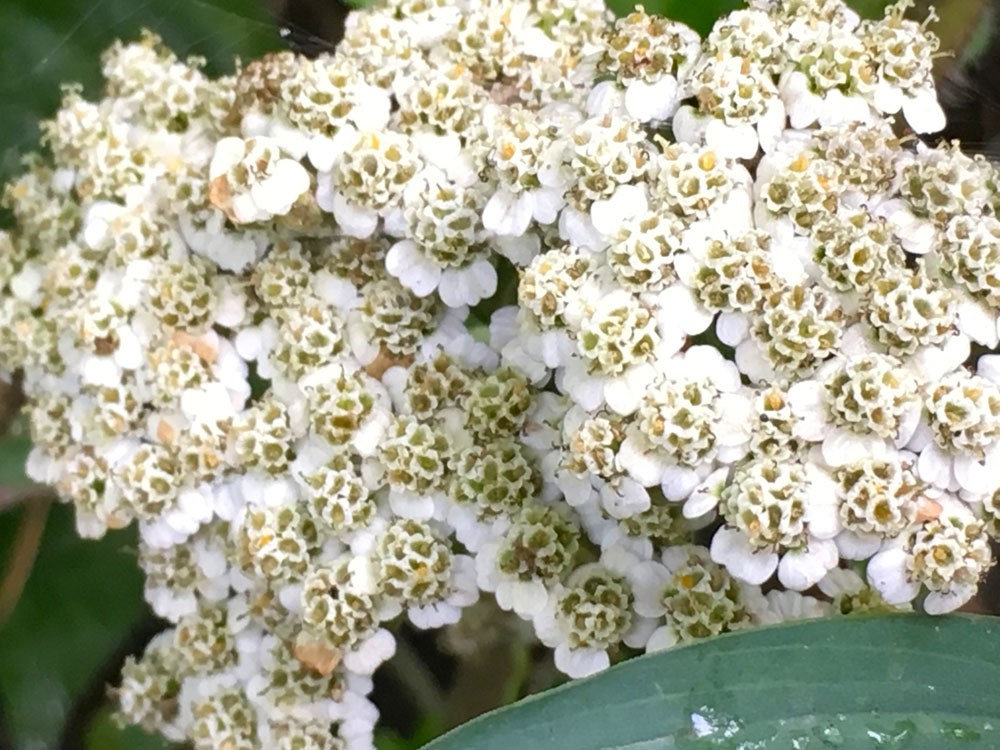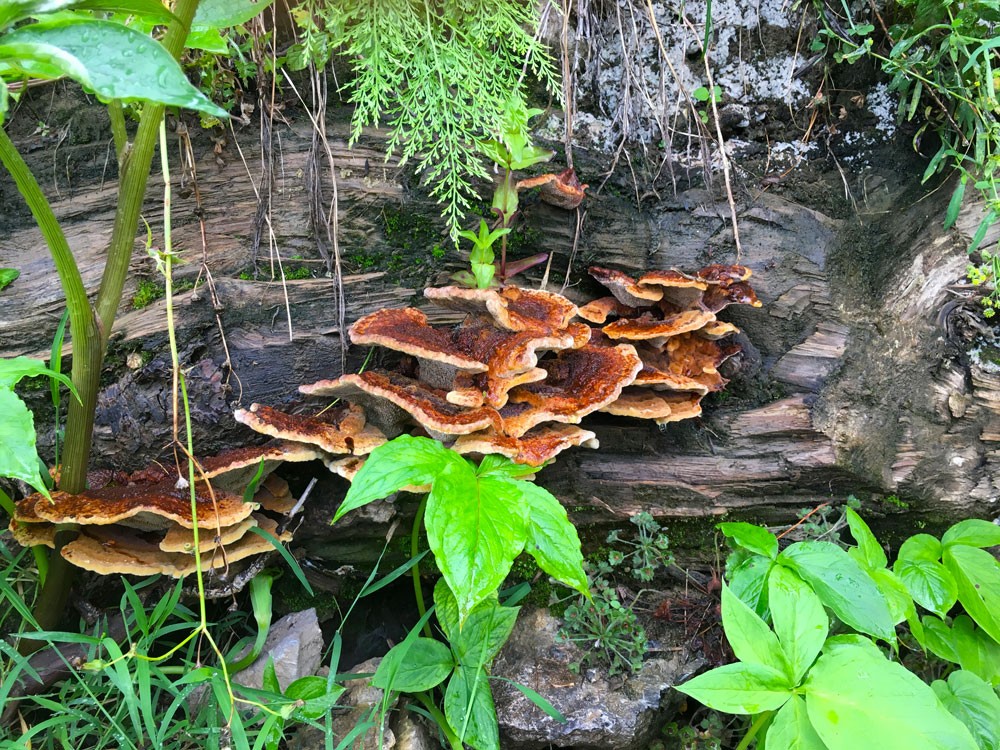 The early part of the trek is easy but it gets steeper as you climb higher. The glorious weather, incredibly diverse and beautiful flora and fauna and the stunning views kept us engaged and excited throughout. Nearing the top, wild flowers exploded in a profusion of colours, forming a beautiful natural rock garden.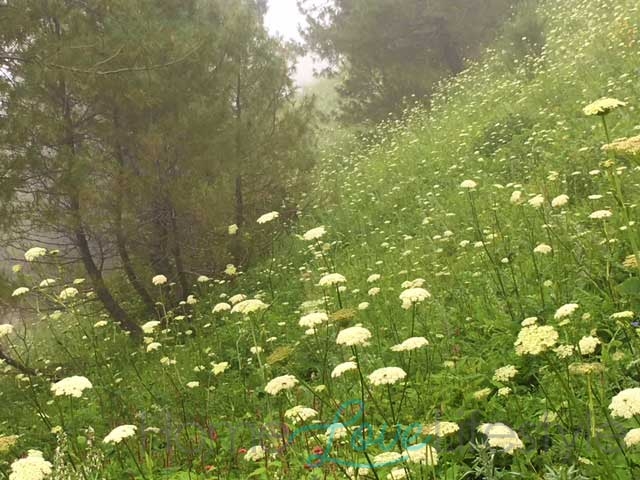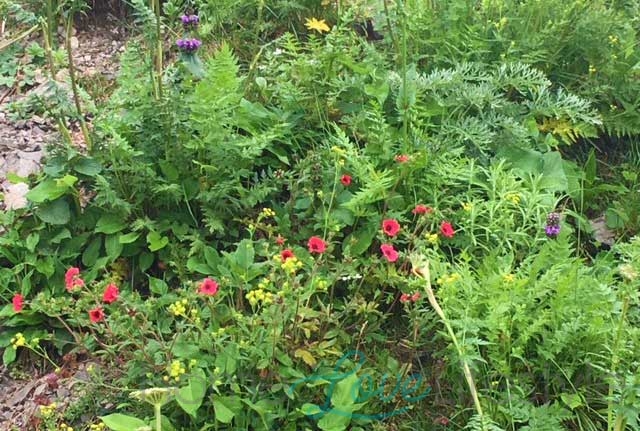 The peak of Miranjani opens into a meadow filled with wildflowers and occupied by cows lazily grazing there. In fact, all along the way one encounters cows at intervals. They lounge casually chewing grass and swishing their tails, balancing on the hillsides. Sometimes they can be right in your path but are quite amiable unless provoked.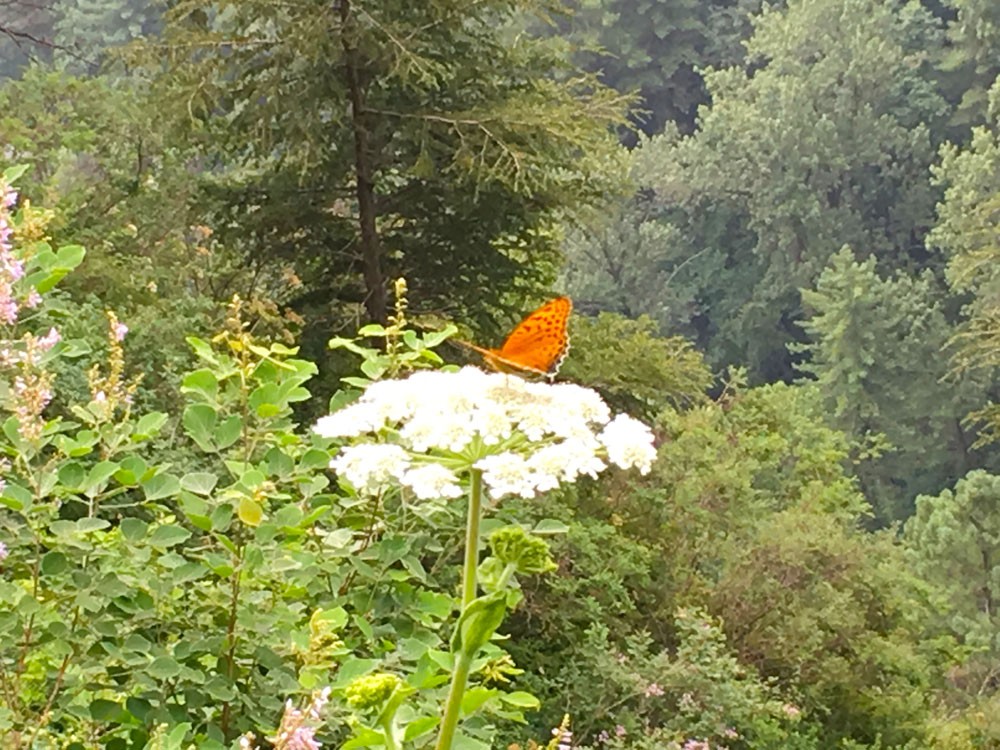 A Trek to Remember
The entire journey there and back takes around 4 hours at least so its best to set off relatively early. For the less adventurous,  or if with small children, one can also take a horse and a guide on this trek. This trail is highly recommended both for the avid trekker as well as for the less athletic. One can take picnic breaks along the scenic route and you do not have to continue right up till the summit.
I would easily rate this as my best experience in Nathiagali. Even getting caught in a downpour and getting completely drenched only added to our spirit of adventure.
Monsoon Madness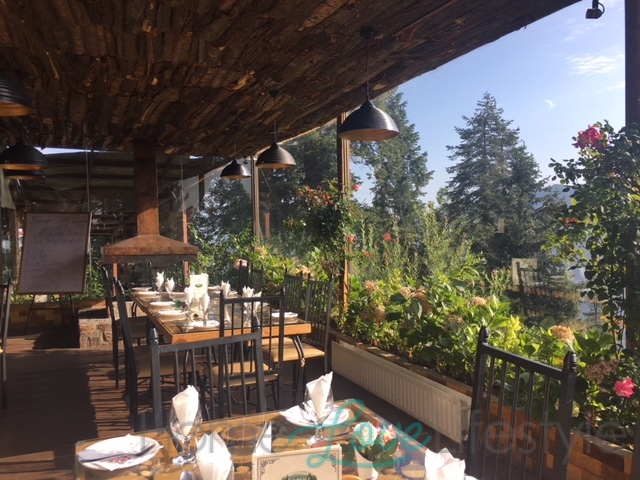 It was monsoon season during our visit, so we were prepared for the heavy downpour which kept us indoors for much of the next day. But we appreciated the restful time. Cosily sipping tea and munching french fries while marvelling at the stunning views of the misty mountains of Nathiagali was enough. Cards and boardgames helped while away the hours untill it stopped raining.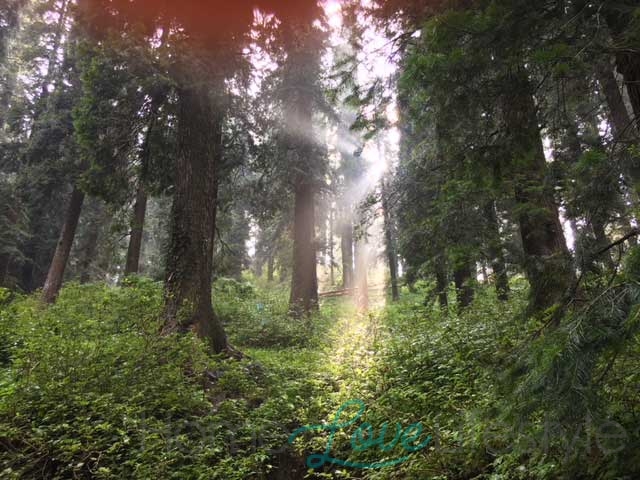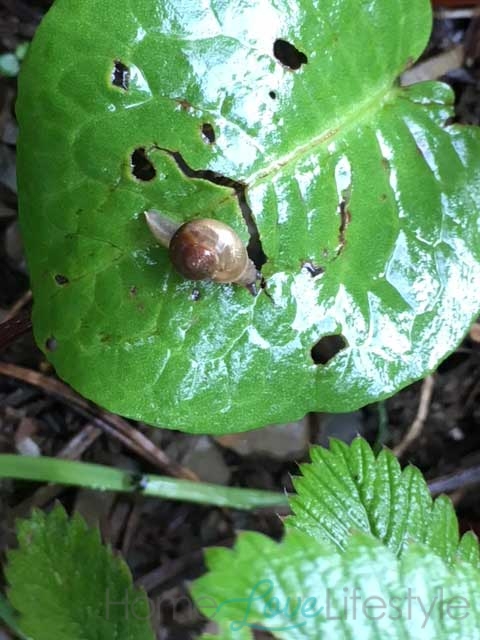 Our family of nature lovers thrilled in seeking the paths less trodden and kept away from the bazaars and entertainment areas. The mountains are truly magical and often on our treks, we would pause to appreciate the stillness of the verdant woods. We also greeted with pleasure the clouds which floated in and out of our rooms and balconies, wispy and mysterious. On our walks, we discovered beautiful, deserted roads and hidden trails which offered up wild berries and golden-shelled snails. We took shelter from the thundering monsoons under majestic pines, keeping surprisingly dry, and lolled around in daisy-filled clearings.
The only real caveat, however, is the litter one finds strewn in some areas, even on the trails. This is despite the fact that trash cans are situated at regular intervals everywhere in Nathigali. Perhaps the local government should start imposing fines until we learn to respect our country and its bounty.