This recipe has an amusing story behind it. When my sister first moved to London, she was obsessed with the Prawn Linguine served at the 5 star Italian restaurants in Knightsbridge. She wanted to replicate the flavor at home, so she decided to experiment with several recipes and mixed and matched them to create this one. It's now a firm family favourite and none of us can ever visit her home, without requesting her signature Prawn Linguine.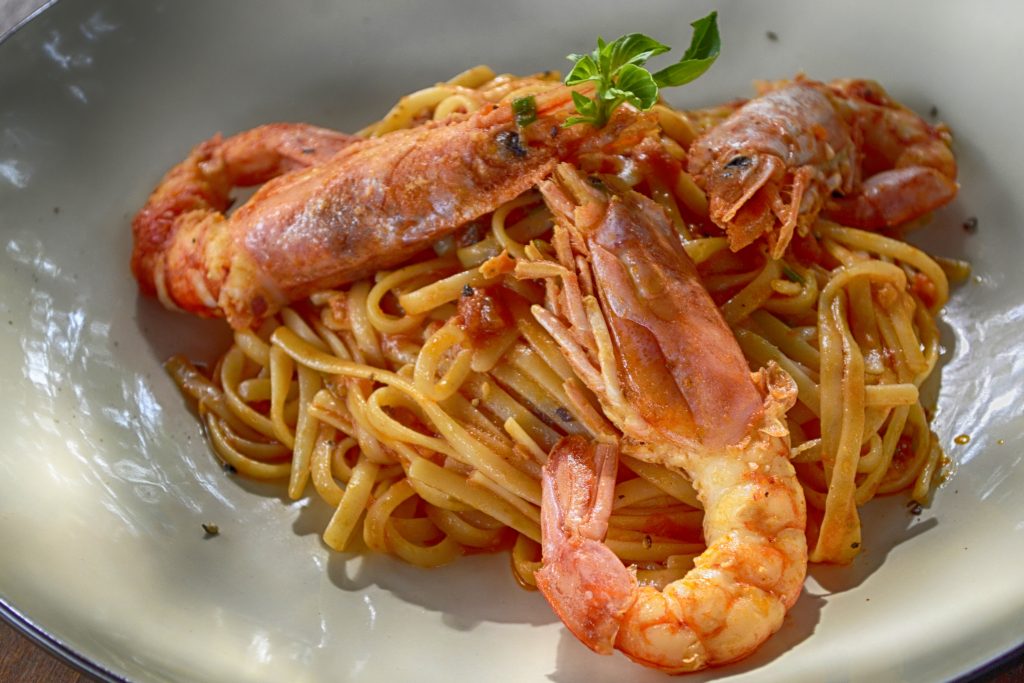 You will need
1 lb Prawns (cleaned & ready for cooking)
1 large Onion (diced)
5 tbsp of Olive Oil
1 lb (Skinless, seedless Tomatoes)
6 Cloves of Garlic (Chopped fine)
1 tsp Salt (or to taste)
1 tsp Black Pepper
¼ tsp Red Chili powder or Chili flakes
½ cup Basil Leaves (or 2 tsp Basil Powder)
8 oz Linguine (boiled separately)
Method:
The most important part is prepping the tomatoes – boil water and pour over tomatoes placed in a deep bowl. After exactly a minute remove the tomatoes from pot of hot water and drop them into a large bowl which is filled with chilled water with ice cubes. Remove one by one and peel the tomato skin off which comes away easily. The tomatoes can now be chopped ready for use in the recipe…to be extra professional you can crush and put through a sieve to remove seeds but if you think life is too short for that, you can skip this step.
For the Sauce – in a pan sauté the chopped onion in 3 tbsp olive oil until golden. Add most of the chopped garlic (save 1 tsp for later) and fry until fragrant. Add the tomatoes, salt, pepper and chill powder or flakes and let simmer for about an hour. Half way though add half the basil leaves or powdered basil to the sauce. Add the rest of the basil leaves when almost done to keep flavour and then add very finely chopped on top while serving. The smell of the fragrant sauce will fill your kitchen as it cooks (how yum).
Meanwhile in a separate frying pan pour 2 tbsp olive oil, 1 tsp chopped garlic and sauté. Add the prawns and Salt & Pepper to taste and sauté some more, until prawns are cooked and lightly browned. Add the prawns to the tomato sauce and serve with linguine (that has been prepared according to package instructions). Just make sure that the pasta is not over cooked and is slightly al dente (not too soft) for the best results.
This delicious pasta dish will soon be a favorite with your family just like it is with ours!