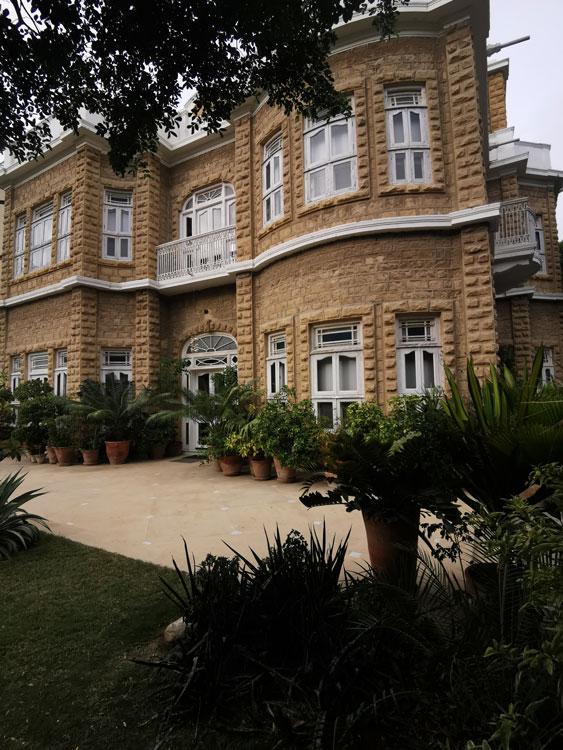 This magnificent historic home, tucked away in a quiet Karachi street, has weathered over a century, morphing into different roles as the city grew and changed around it. Today it has returned to its original calling, serving as the family residence of Shomaila and Zahid  Maker. The couple share the home with their two grown-up sons and three beautiful dogs. Stepping through the gates, the benevolent charm of this grand old home transports visitors into a nostalgic era of gracious living .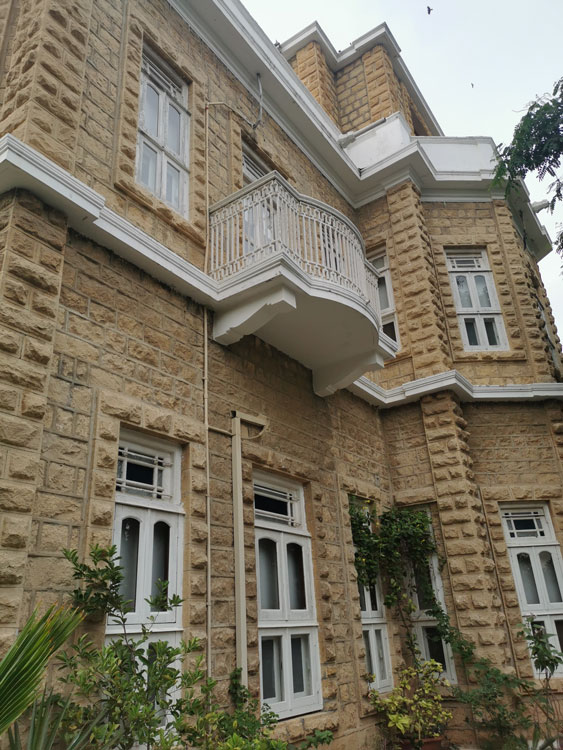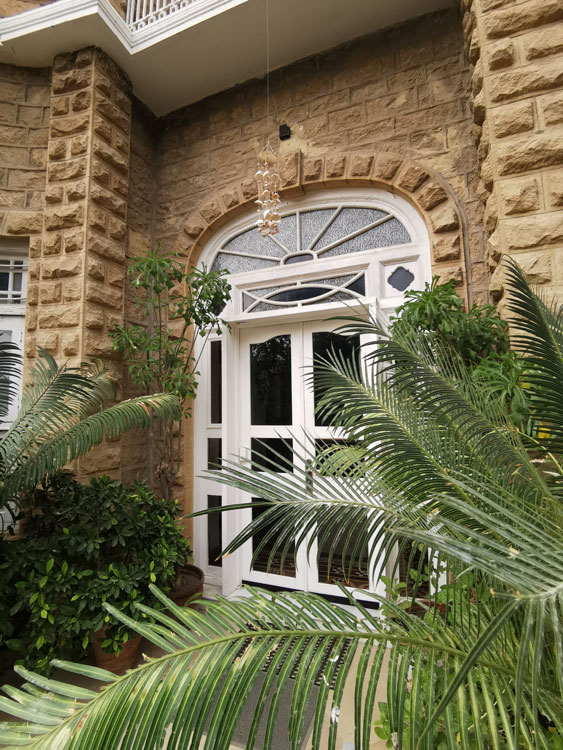 A corporate lawyer by profession, Shomaila made time in her busy schedule to show us around her home and tell us what it means to call this veritable piece of history home.
So how did you find this gorgeous house and decide to make it your home?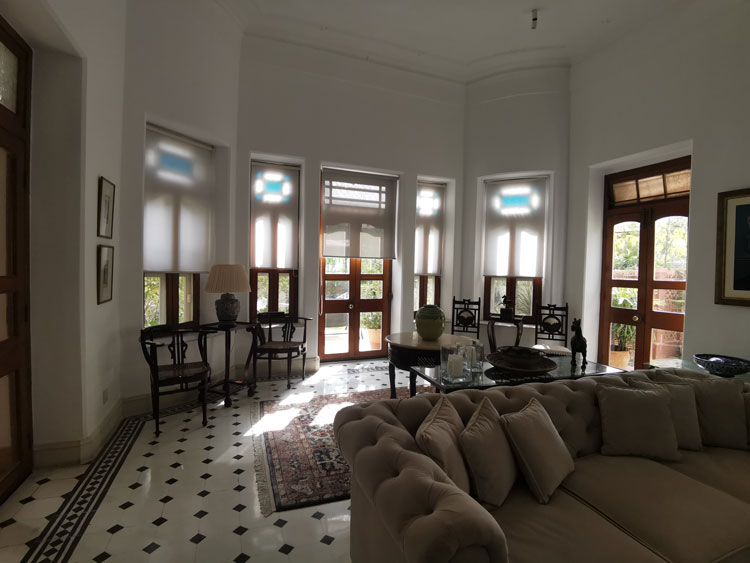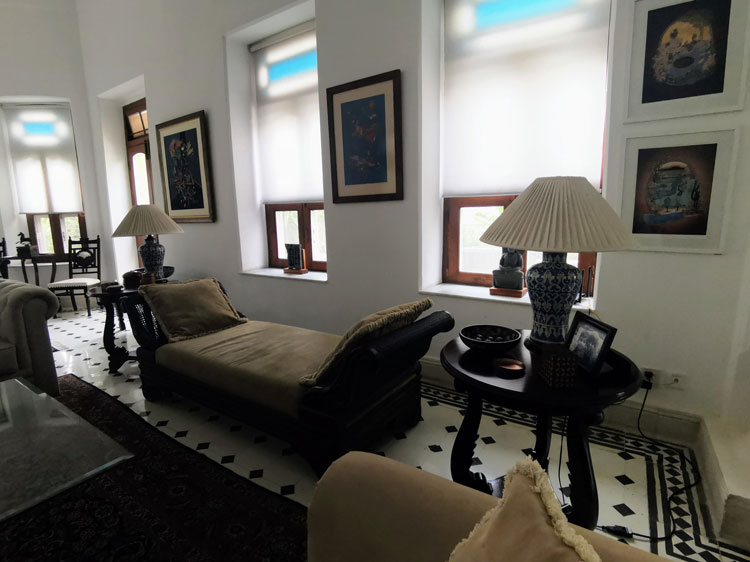 My husband loves old properties and he found this house about 15 years ago and bought it. Then we ran into some litigation issues with the property which dragged on and I lost interest in the whole project. Later we rented out the house to the designer HSY for some time until my husband decided he wanted to finally move in.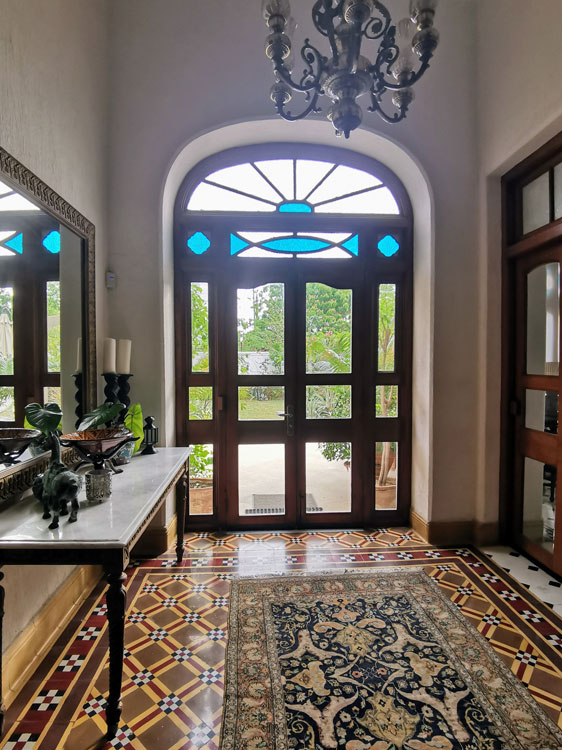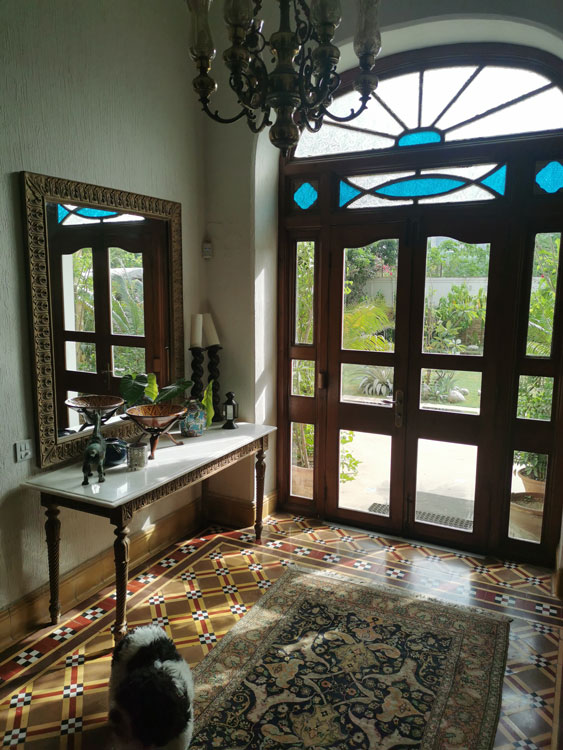 I was abroad at the time doing my Masters and on my return he told me I had six months to fix up the house!
It must have been a very challenging task.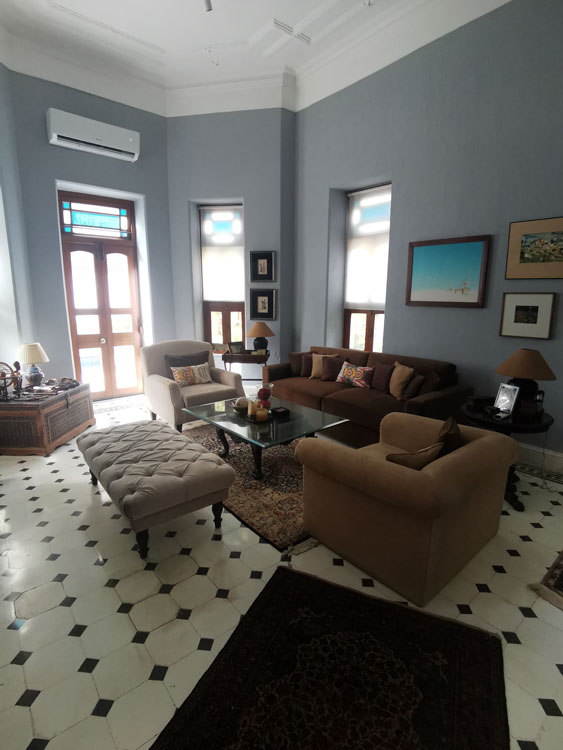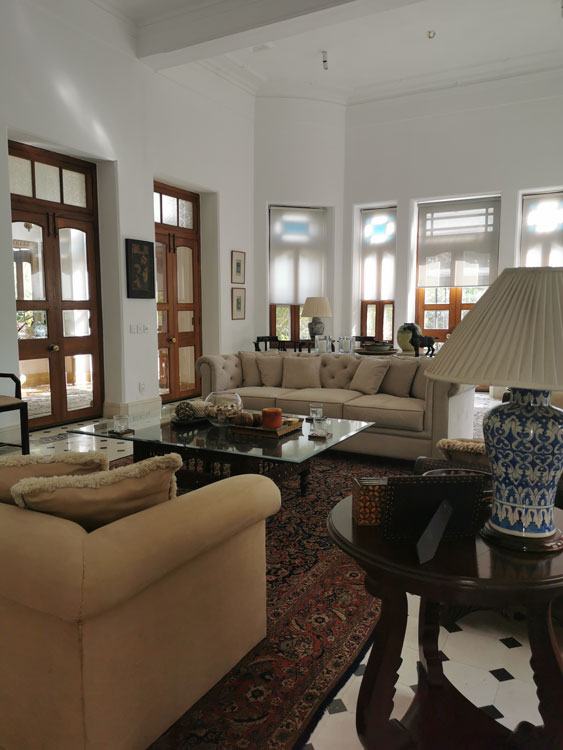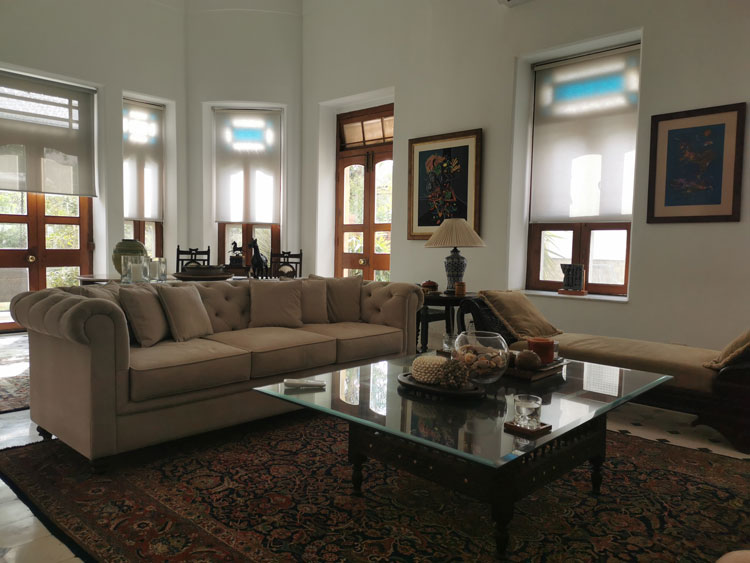 It was. We had an architect on board, Khurram Shoro, who lives in Los Angeles. He gave us a long-distance consultancy but I worked personally with the workmen, spending long hours here, even at night, to get it all done. And there was no light since the electrical fixtures had not been put in.
What was your focus during the restoration?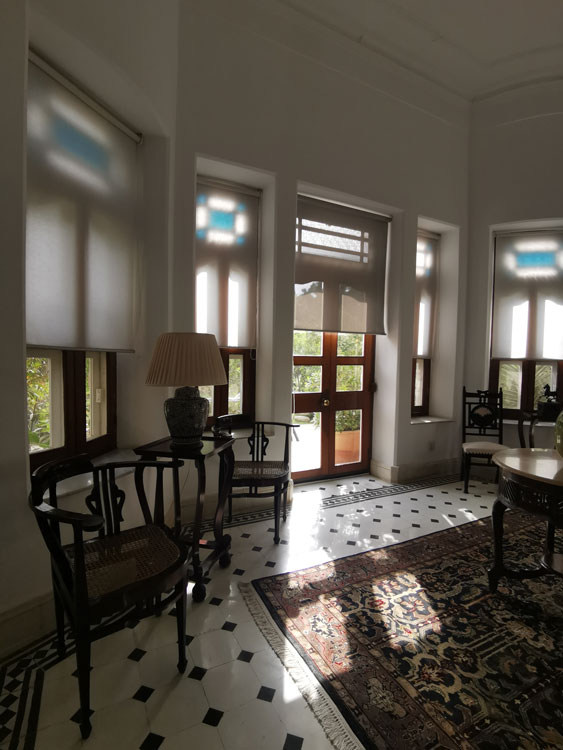 We made minimal changes and tried to keep to the original plan and materials as much as possible. Of course, the plumbing and electrical works all had to be modernised but we did it externally without damaging the house.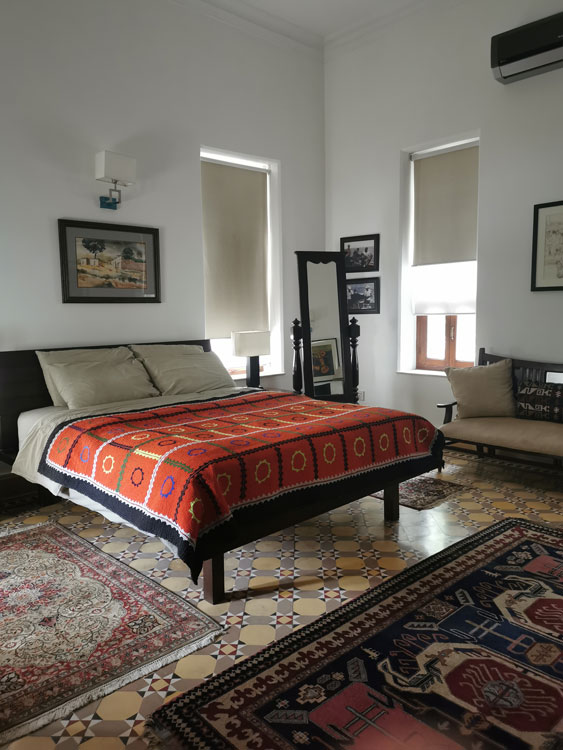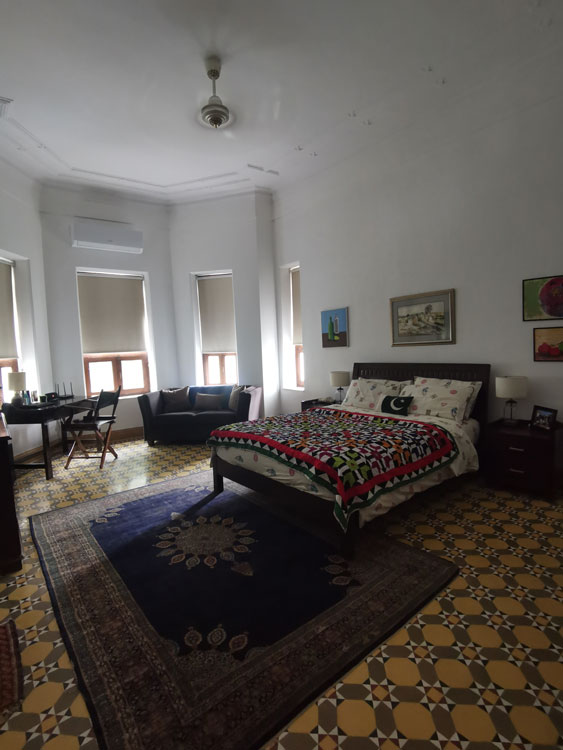 We searched for Gizri stone to match the original construction material, and we actually salvaged some of the original stone from the house and mixed the two so the untrained eye really can't tell the difference.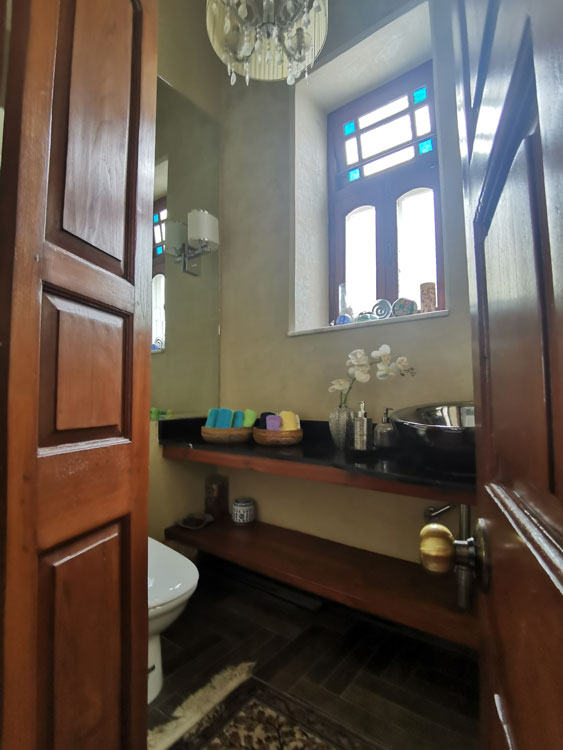 The bathrooms are all new; they were added to the bedrooms which did not have attached bathrooms. Also, the kitchen was built from scratch. I don't believe in a dirty kitchen. We have one industrial style kitchen which the staff and I can both use.
So how long have you lived here now?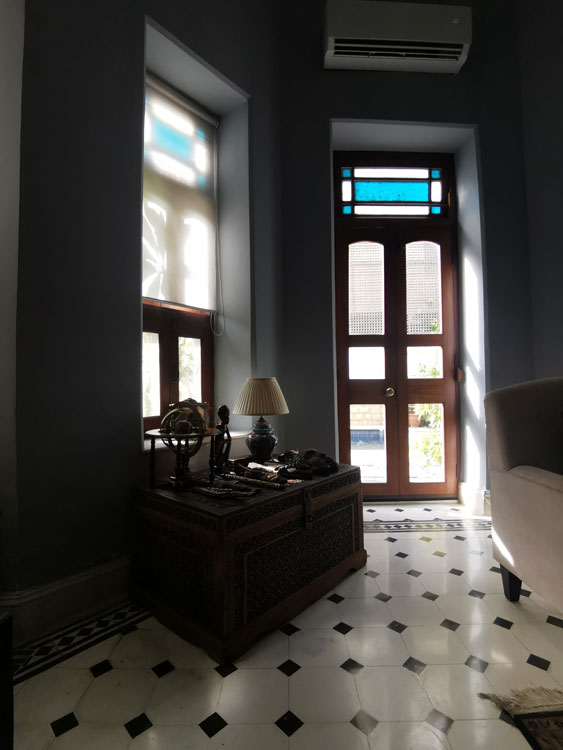 It has been three-and-a-half years and I am still constantly fixing and renovating things. The home needs constant maintenance…. I have the carpenter, plumber, electrician etc on speed dial (laughs)
The swimming pool was added on?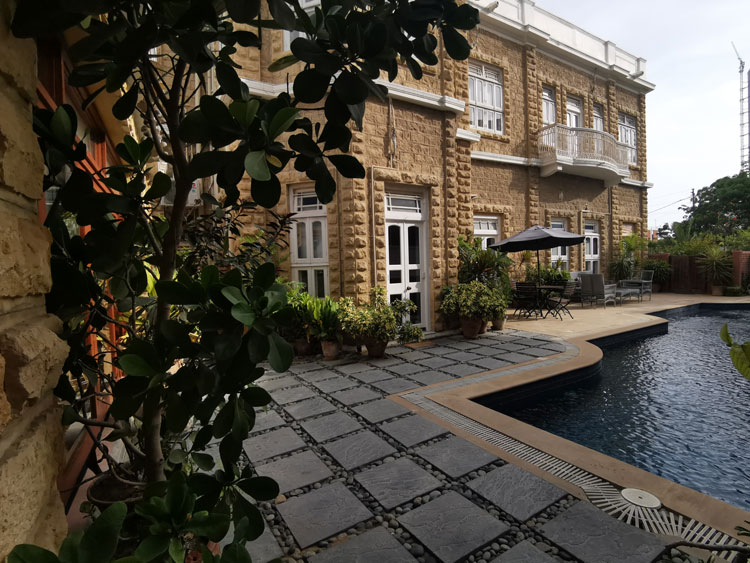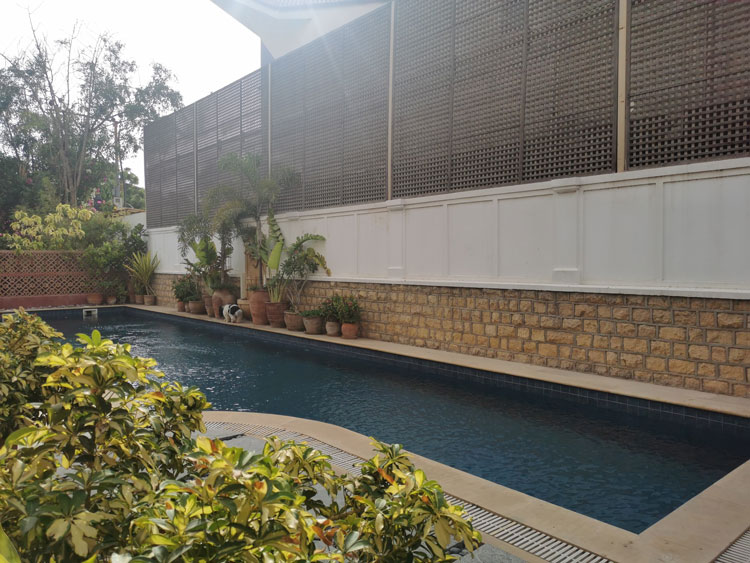 Yes. My husband always wanted a pool and he uses it every day. So this really is his dream home.
The pool area was originally occupied by a badminton court and a very old tree. Unfortunately, the roots of the tree were damaging the home and we had to cut it down.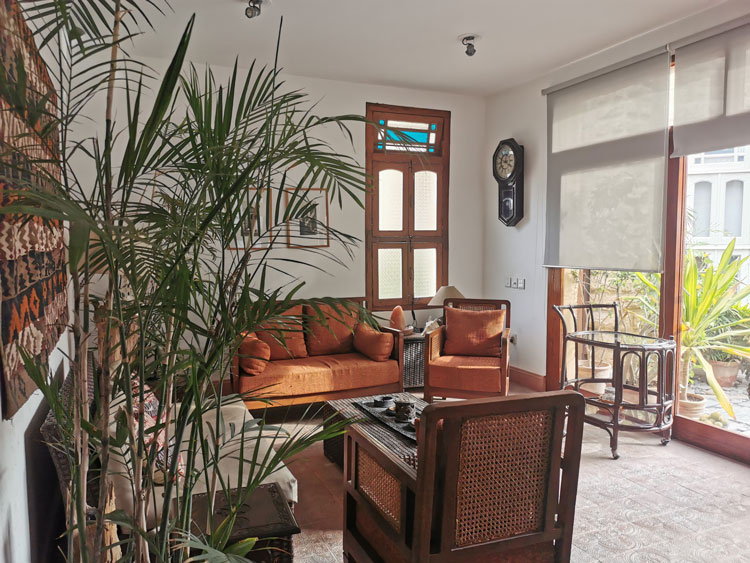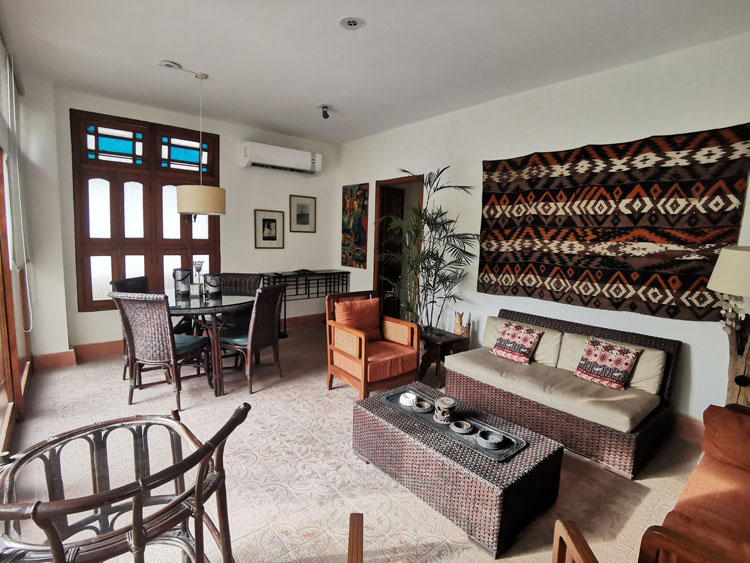 The pool room was also added on but I have used original doors and windows salvaged from the house. I particularly love the little shower area we have added on here. We have used the original stone on the wall in the powder room.
It's a beautiful space. Do you entertain here often?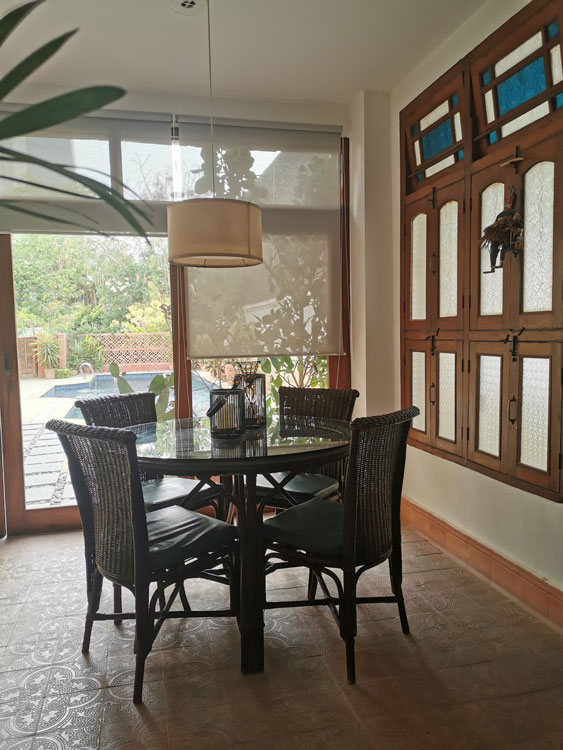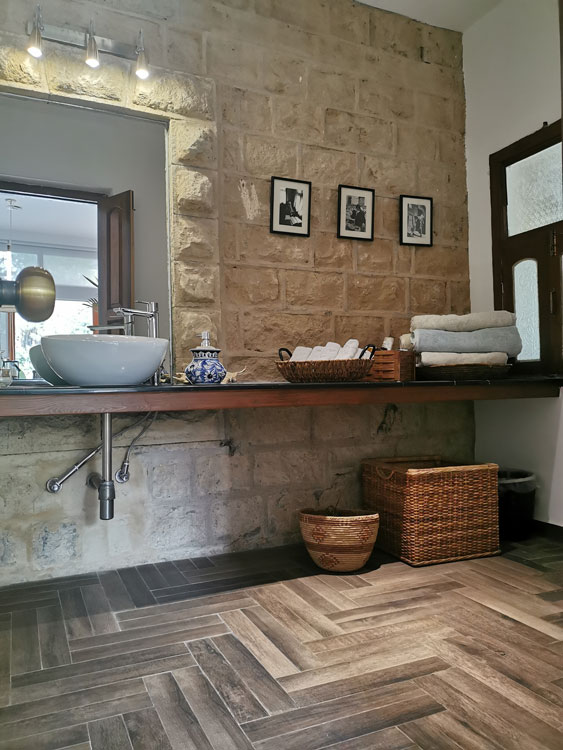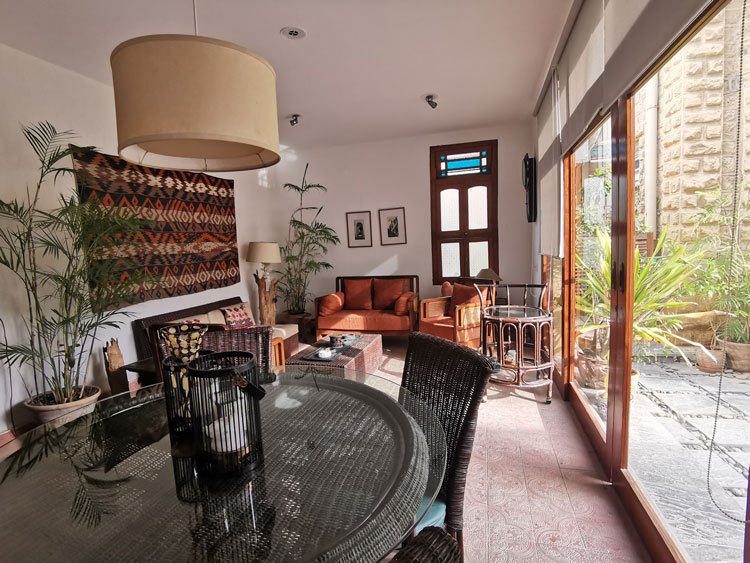 We do but it's mostly casual entertaining. The children have their friends over and everyone jumps into the pool… even the dogs!
Is the flooring in the home original?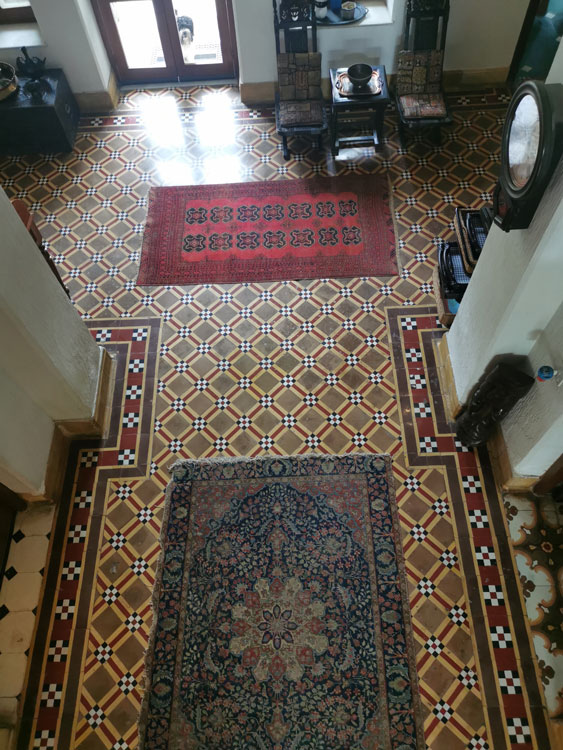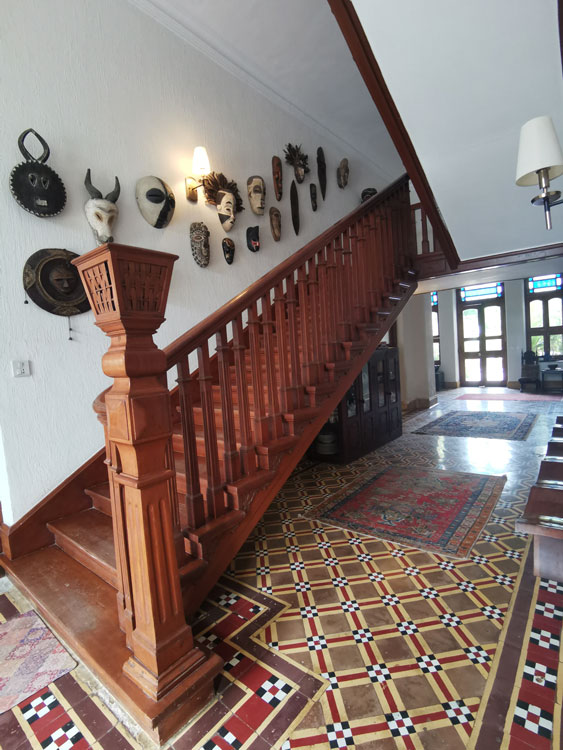 In most areas, it is. We changed the tiles in the drawing room which were very damaged. We replaced them with tiles from Mohammadi Tiles, which are hand-made and sun-dried, to match the original flooring. The staircase and balustrade are all original, but we have given up on polishing them because of the dogs. So we just live with the slightly scuffed look and it's okay.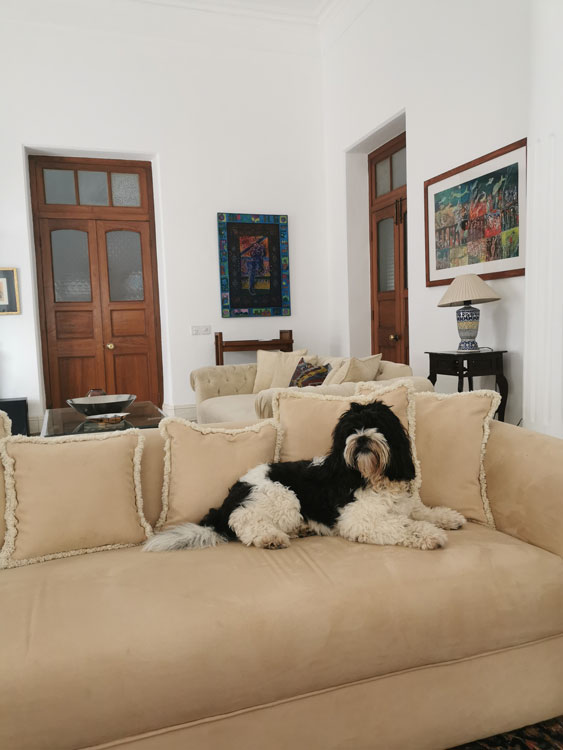 What about the furnishing? Did you buy pieces in keeping with the old world architecture?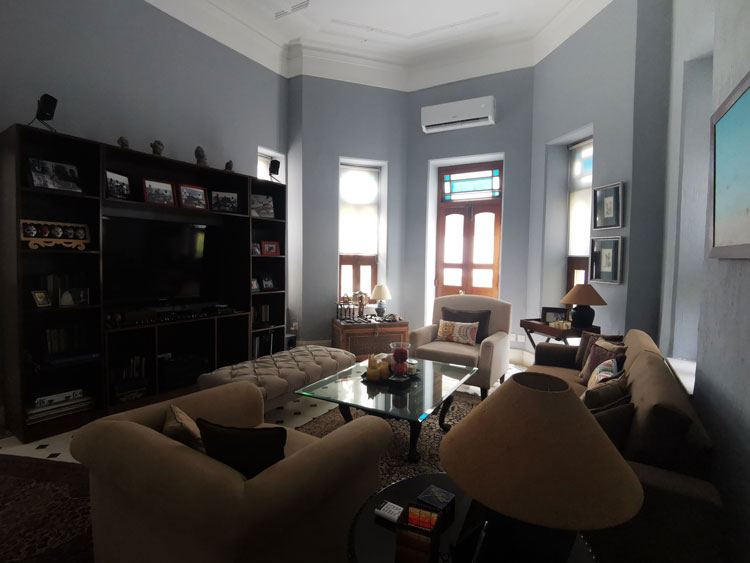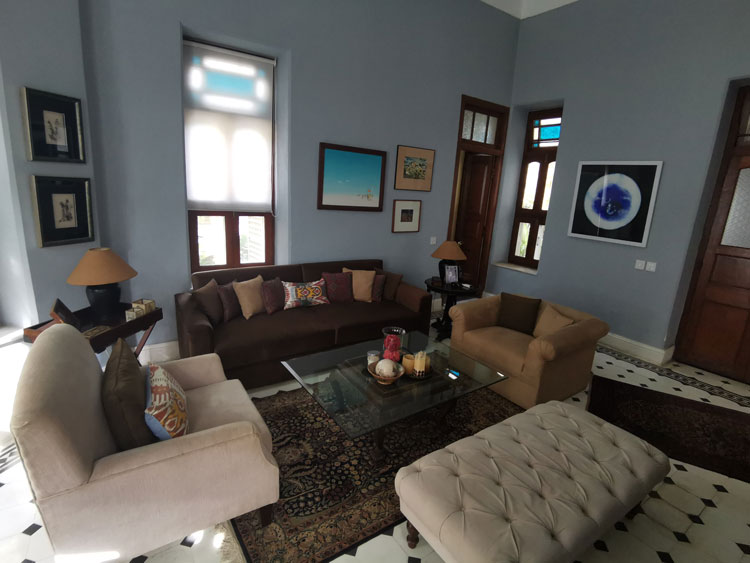 Actually, all the furniture came with us from our previous house. I have barely added anything. One reason was that I wanted the new home to feel familiar and comfortable. And anyway, I think we were always fond of antique furniture and have been collecting pieces ever since we got married.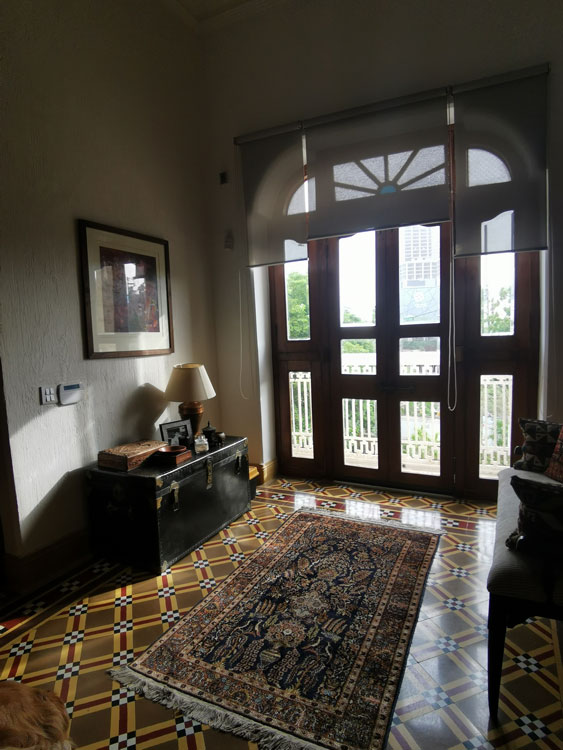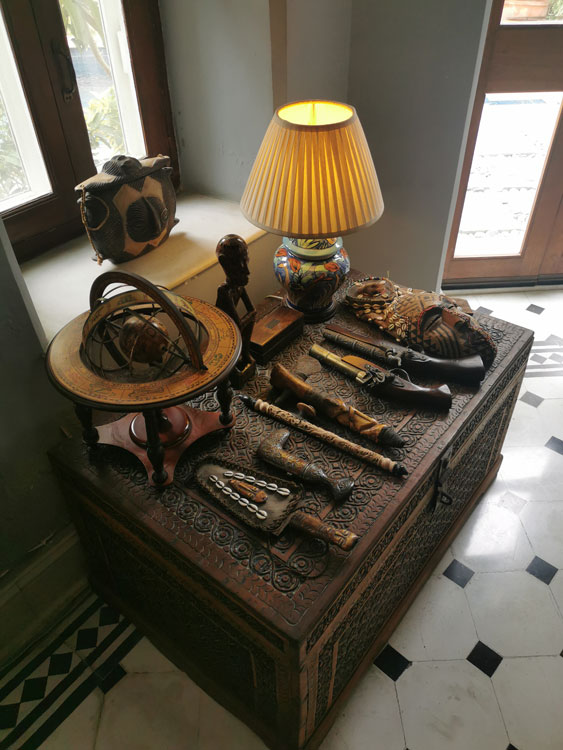 All the paintings and collectibles are also those that we have amassed over the years. We have travelled extensively and we pick up things from wherever we go. There are many pieces from Bali, Vietnam and from all across Africa… We have also always bought art; it doesn't have to be expensive or by a famous artist but whatever we like.
You have some beautiful carpets throughout the home. The piece on the dining room wall is particularly stunning.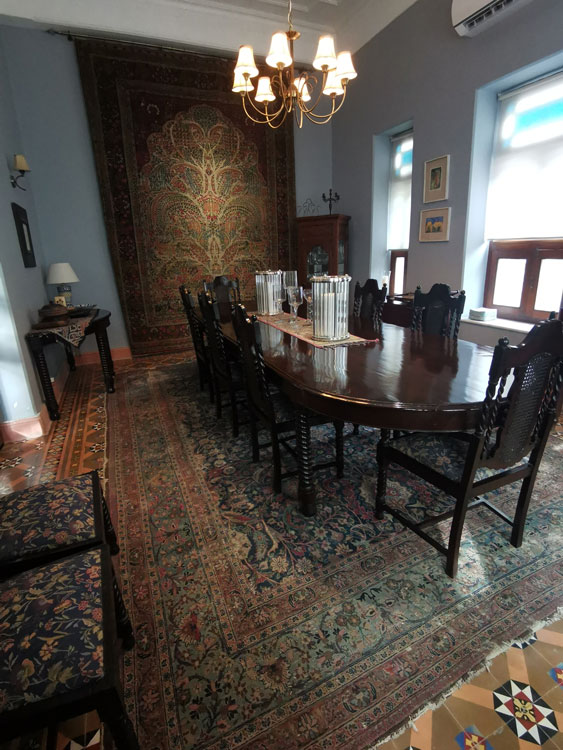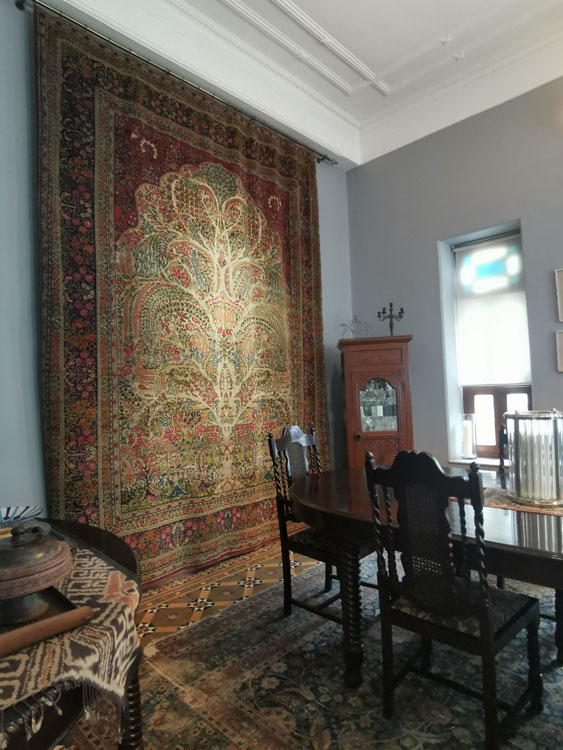 My father was in the carpet business and I have inherited many beautiful pieces from him. This carpet on the dining room wall is Persian, a Tabrez. It has a Tree of Life motif and needed to be displayed like this rather than be placed on the floor.
Tell us a little about the history of this house.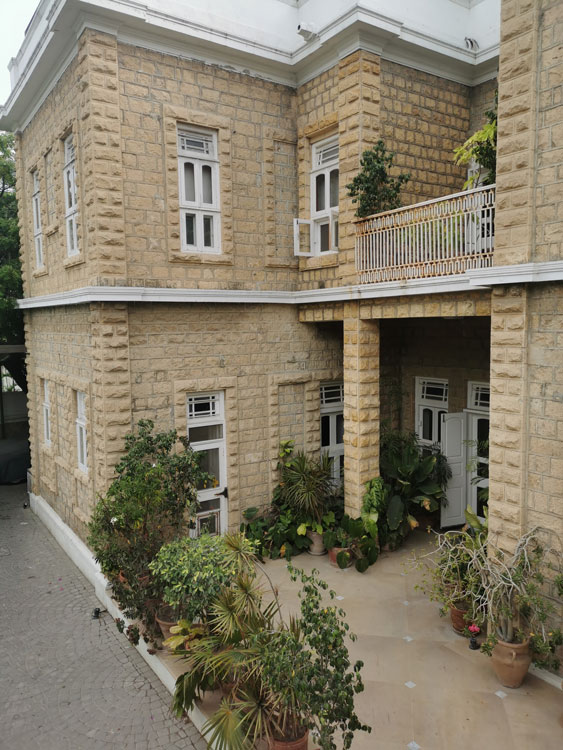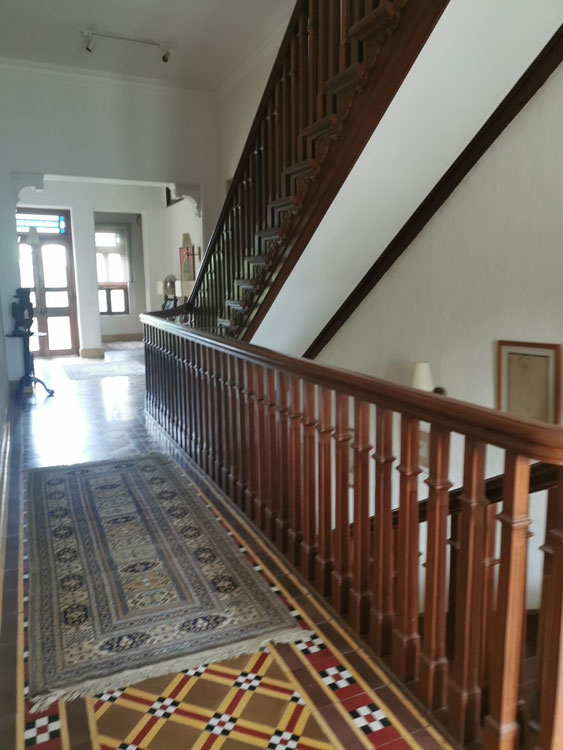 The house was built in the early 1900s and belonged to a Hindu family. At one point, it apparently served as a home for Hindu widows; or so we have been told.  Then it later served as the summer home for another Karachi family (since this area would have been near the sea then).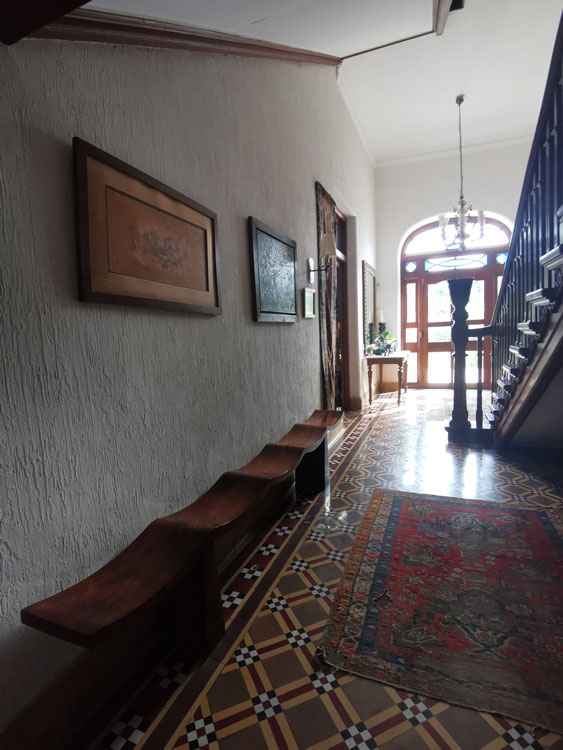 Over the years it has been an office and even a school! They had made a laboratory on the upper floor but they kept the place surprisingly well. The people we bought the house from lived here themselves for many years before selling it.
You have made some extensions as well.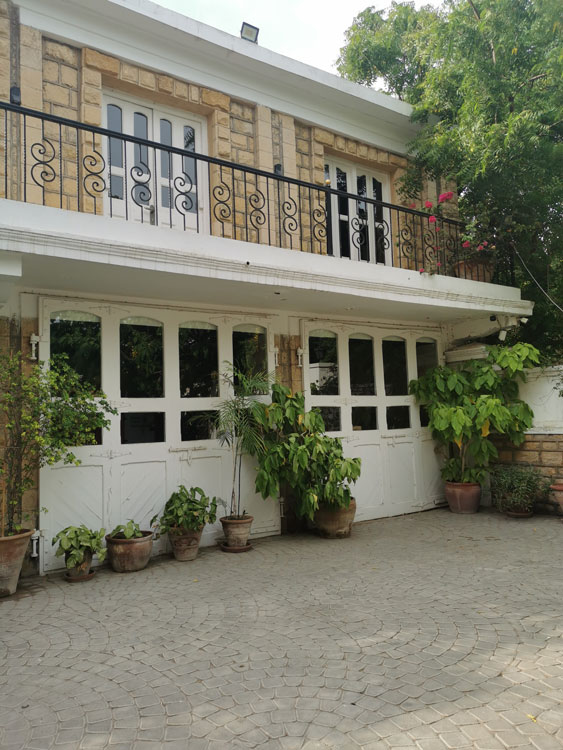 This area outside was a carriage room, I used it as an office during covid. We have extended the space above this area; Its' an independent space which can be used by a young couple if needed.
Your bedroom is spectacular and tell us about the beautiful bed.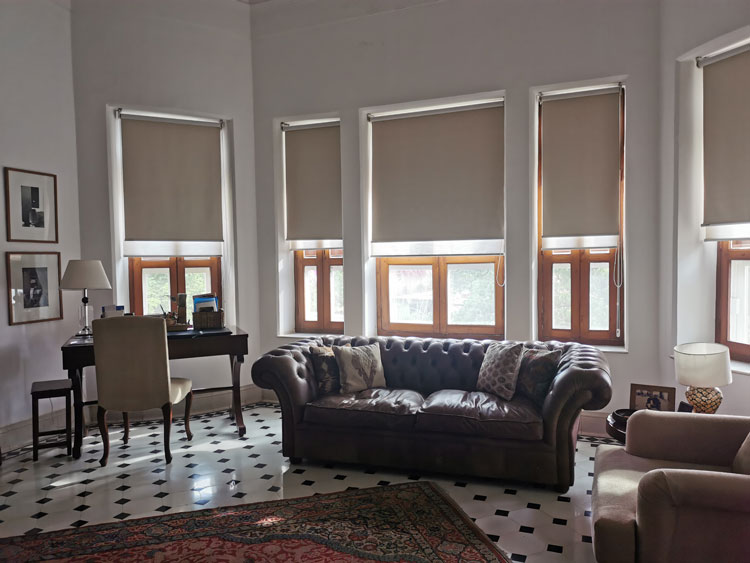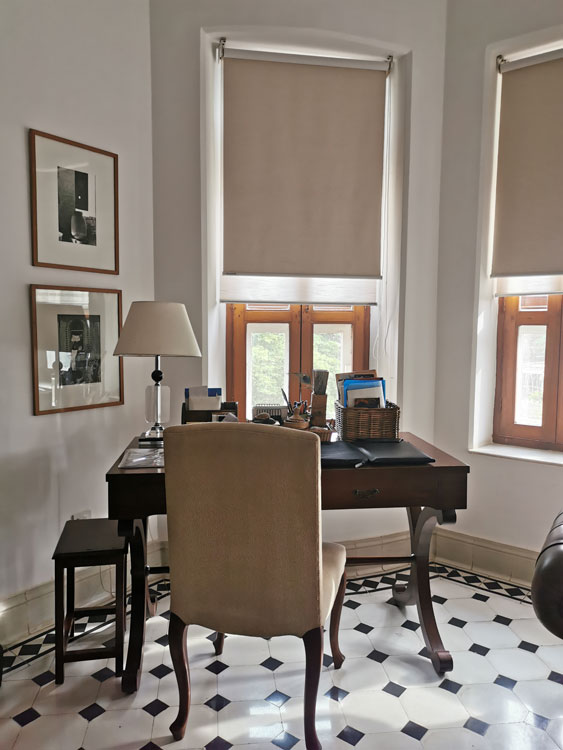 We are fortunate to have an entire suite to ourselves; which the boys often complain about ( laughs).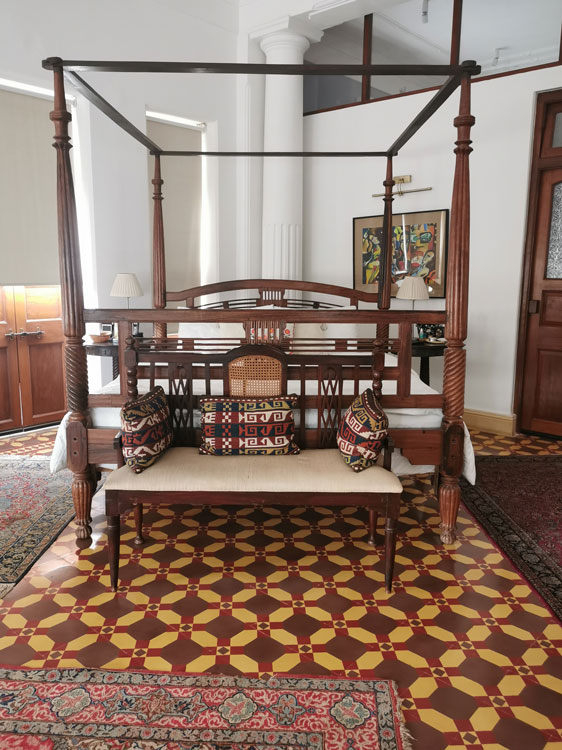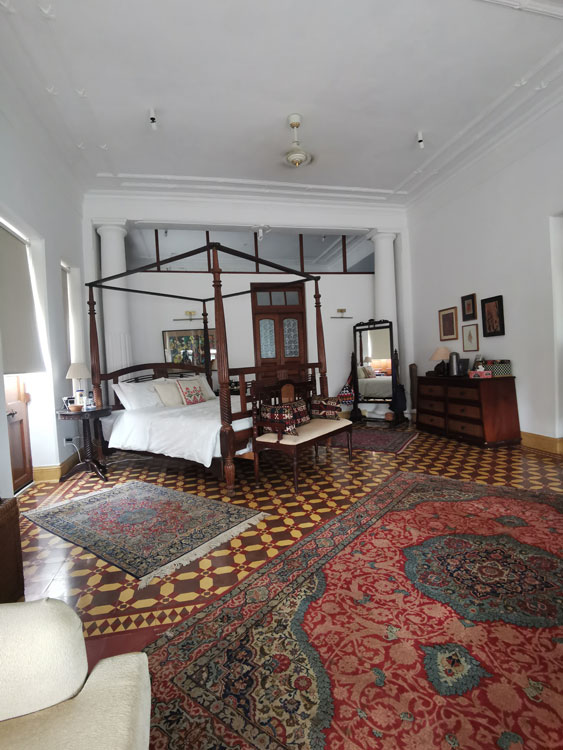 It's a large bedroom with a dressing room or  walk-in closet. The four-poster bed has been with me for about 27 years. When I first got married, we slept on a mattress on the floor for several years because I was looking for a four-poster bed but couldn't find what I wanted. Then I found this but it had to be enlarged to a modern king size, since antique beds don't come in those dimensions. So it was subtly altered and I have used the bed ever since.
The bathroom is also massive. One could spend half a day in here.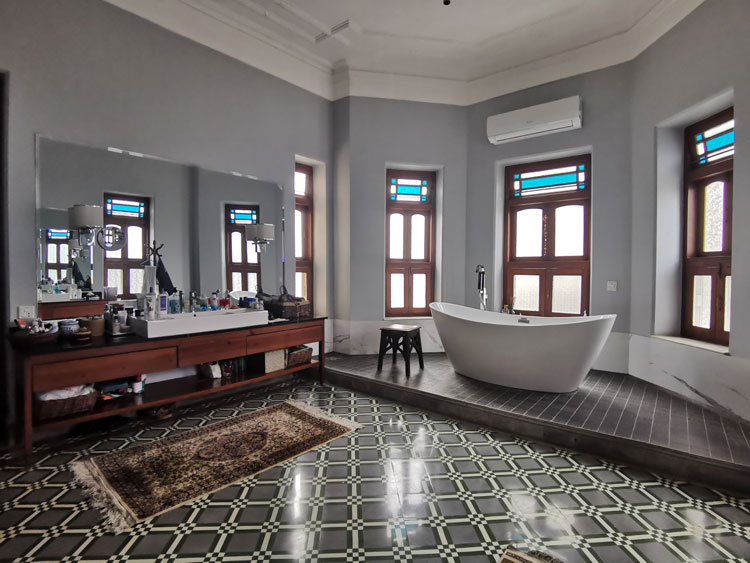 The original bathroom was tiny, literally just the space now occupied by the WC stall. So it was an extensive renovation and it was very hard matching all the original features and details.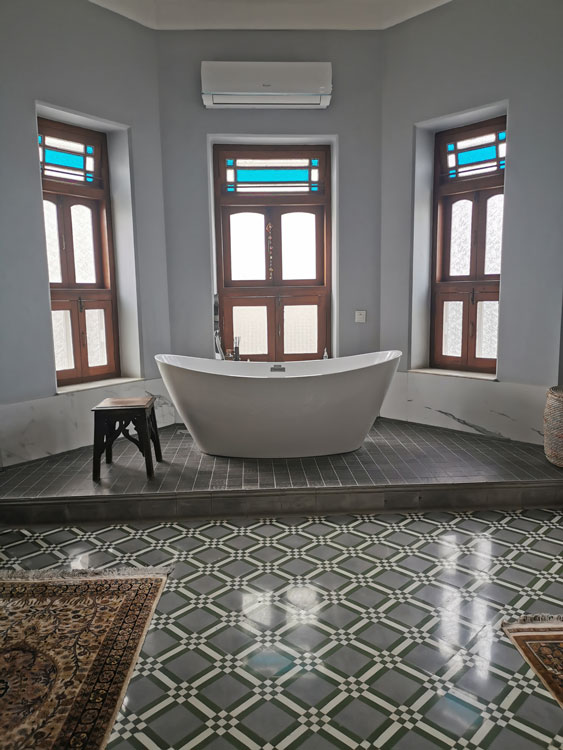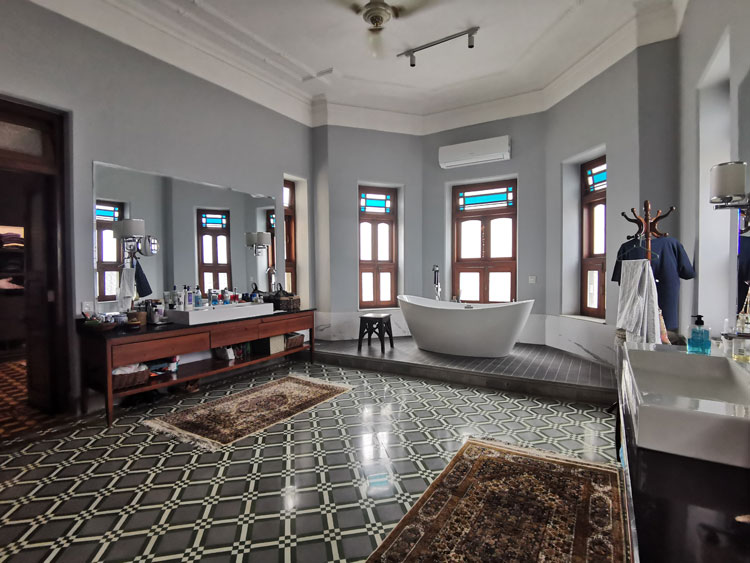 I love spending time here and in the dressing room. I actually unwind and de-stress in the dressing room area; it's my personal space where I can get away from everything.
So three years in, what's it like living in such a historic home?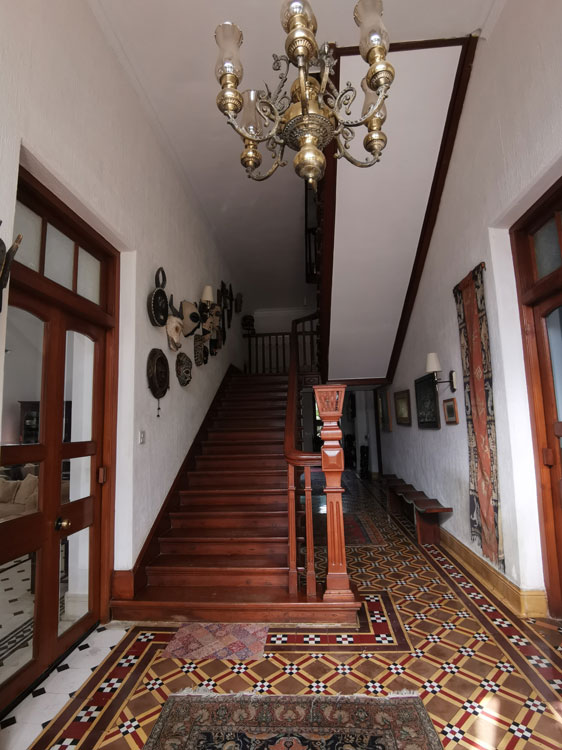 We love living here. For us, it's our home, not a showpiece. Nothing in here is just for display, everything is used. And the home has such good energy.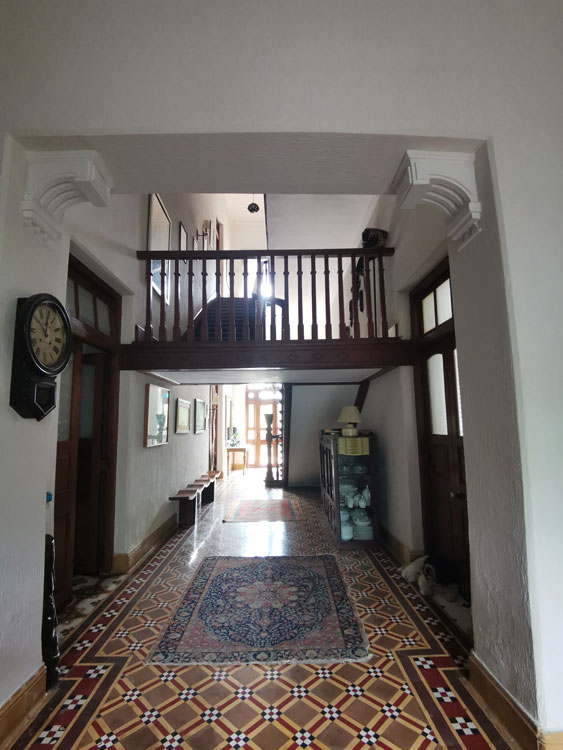 You know, initially I was a little apprehensive about moving into such an old building, what if it's haunted? (laughs). But I spent so many hours here at night with the mazdoors (labourers) without any light and I was never scared. It's a warm, lived-in home.
Photography by Naeema Kapadia