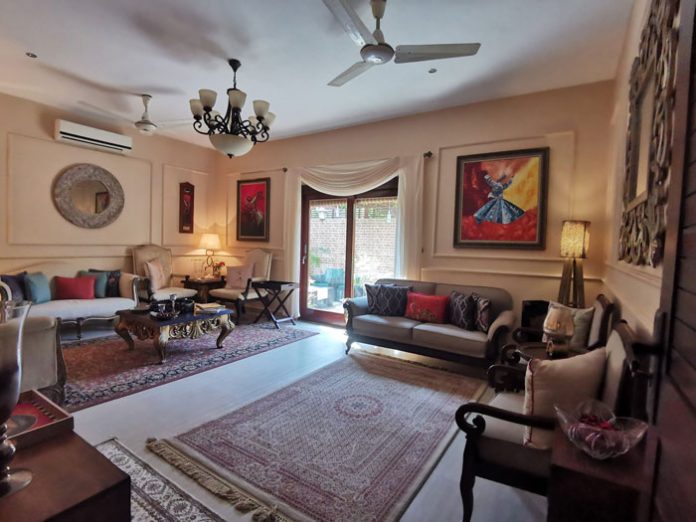 We love hearing from our followers and learning how we have inspired them. Mahwash Amer wrote in to us recently and invited us to visit her home which she has decorated with great care and passion. Mahwash and her husband Amer Lodhi are both busy bankers, and her home is her haven where she spends week ends re-arranging or adding things to her living spaces. Originally from Peshawar, she has lived in Karachi for a long time, with a brief stint in Canada, and then back to Karachi. "We renovated this home when we returned home," she tells us. "We expanded the built-up area and made a separate portion for my mother-in-law." The couple also share their home with their three lovely daughters. We sat in the sun-dappled outdoor patio and chatted with Mahwash about her love for home decor.
You clearly have a passion for home decor?
Absolutely! I find it so relaxing. On the week-ends I roll up my sleeves and get into every corner, cleaning and re-decorating. Ask my house staff, they will tell you that every Saturday, I am found re-arranging furniture in the sitting room (laughs).
The formal sitting room  leads into the patio.
Yes, That's very useful when we entertain. We open up the doors and there is a good flow of space.
Who designed this lovely patio?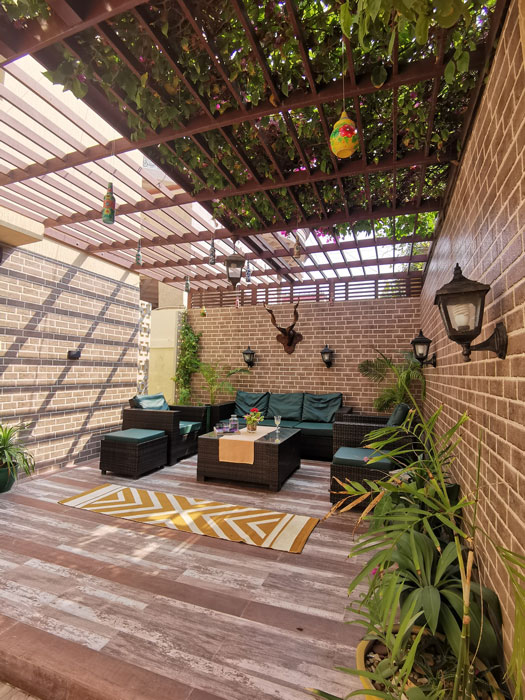 We did this ourselves with our contractor. We designed it with the raised faux wood flooring, breeze-brick partition on the side. And after that so many people we know copied it! (laughs). We love to entertain here and host breakfasts and brunches. As the weather gets cooler, we will do a lot more of that.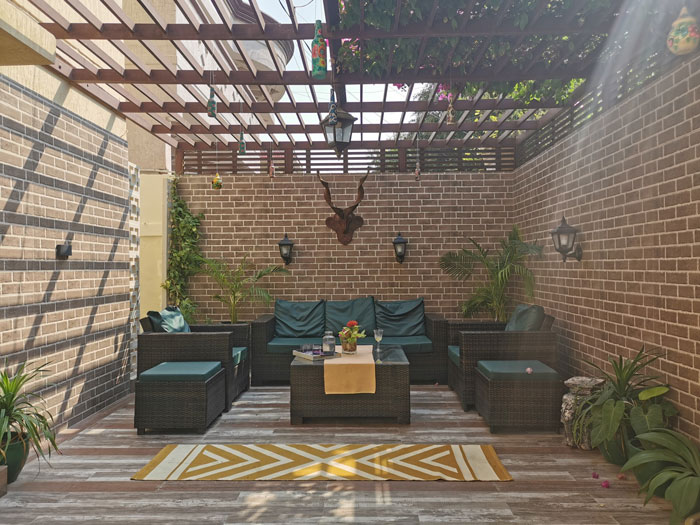 The antlers on the wall belonged to my father. They were gifted to him by someone in Chitral when he was Chief Justice of the Peshawar High Court and these are actually Markhor antlers. So it's quite valuable and also has sentimental attachment.
There is a very vibrant vibe going on.You like colour?
Yes! I do. And I realized this when we lived in Canada. I had taken along whatever I could from Pakistan, wrapping up my favourite Hala pottery in shawls and carrying other favourite items.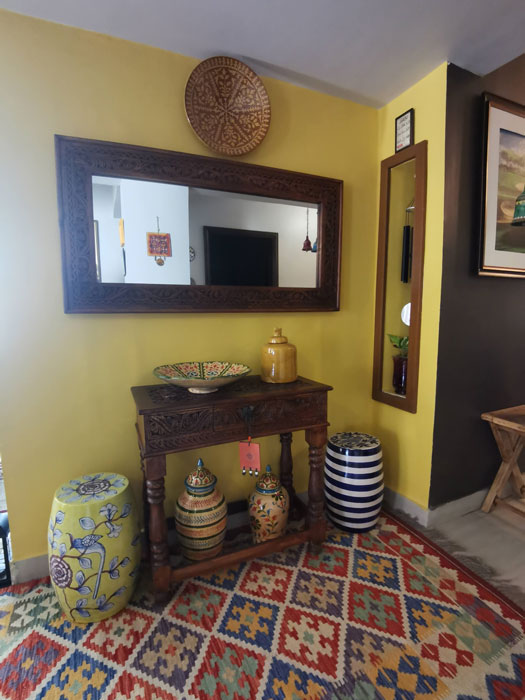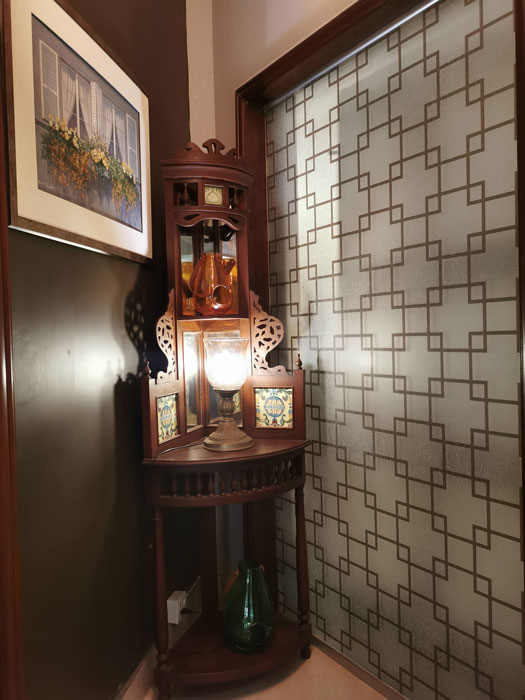 When we were selling our house before returning, our Canadian realtor told us 'Our homes are like a bowl of plain oatmeal. But your homes have so much colour!"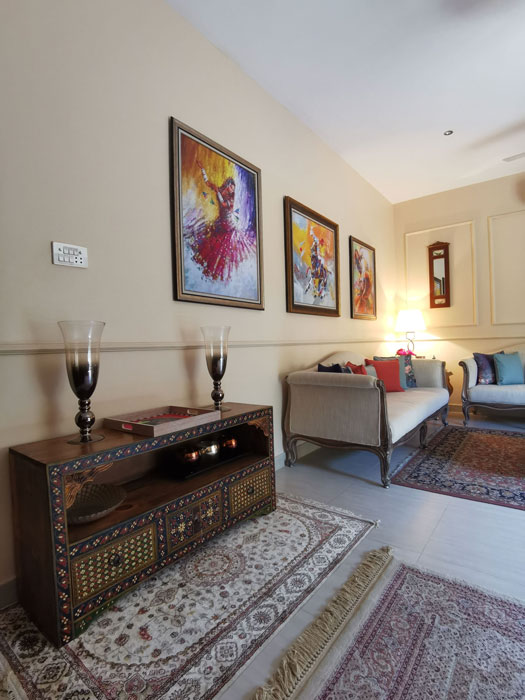 I also love carpets. Most of mine are from Peshawar like this big red one in the lounge.
Which is your favourite spot in the house?
The TV lounge. When I have free time I love to sit here and just spend time with my children. I also love the divan in this room; I always liked divans so I had this made specially.
The dining room has frosted glass windows  which is quite unusual.
Yes. This room was added on to our portion and we had to find a creative way to incorporate it into the house.
You have a very busy work week. Home decor is your way of unwinding?
Oh yes! I recently put together the gallery wall in this room, taking inspiration from your instagram posts. Earlier I would just put up one large painting in one spot.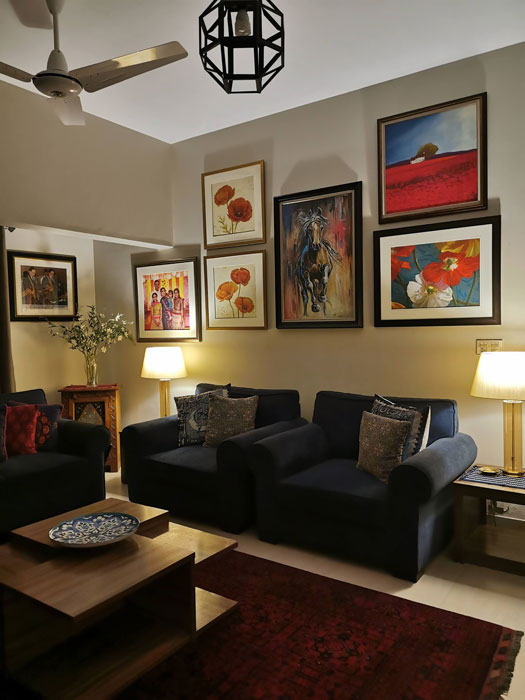 Who chooses the artwork?
My husband does that. He actually used to run an art gallery when he lived in the US before marriage. So I leave the painting selection to him.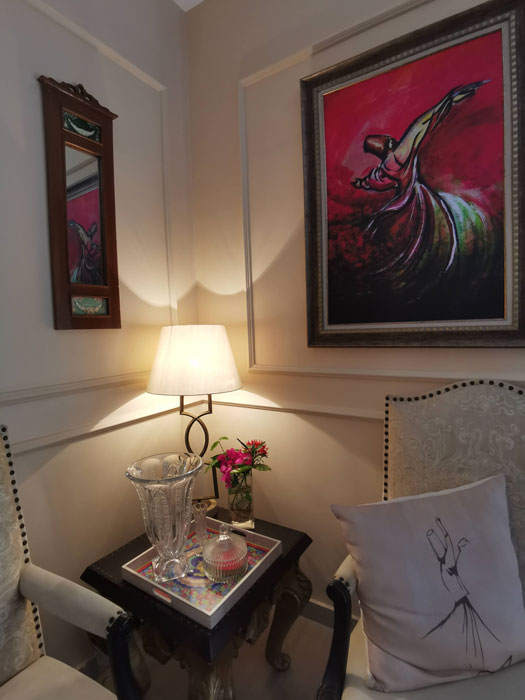 We enjoyed our morning with Mahwash and her lovely family and hope to keep inspiring her!
Photography by Naeema Kapadia