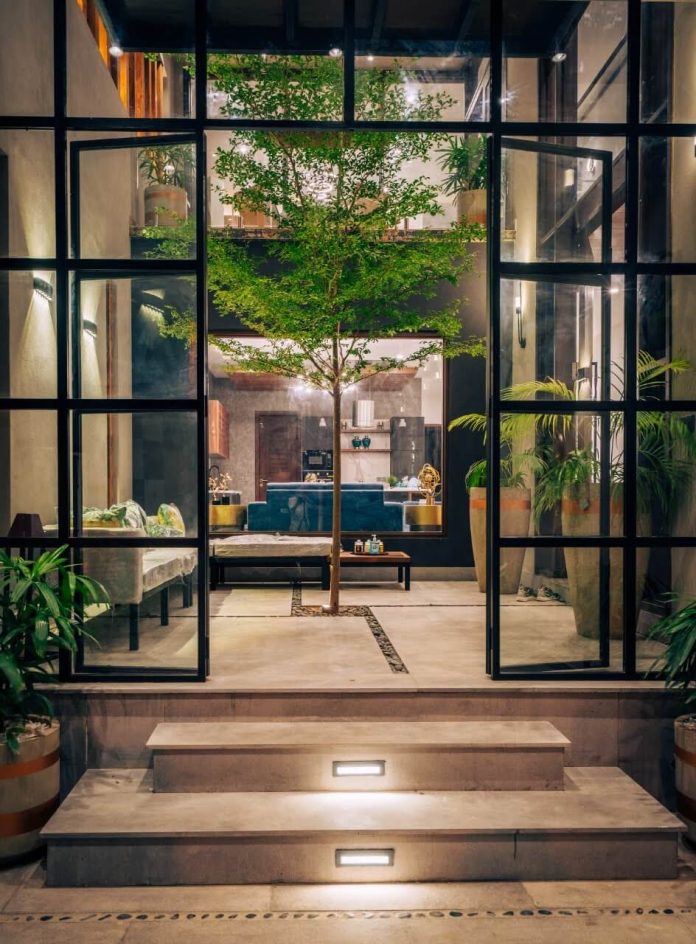 Next Street Construction and Z Mario furniture teamed up recently to host an exciting Open House event in Karachi. Over three days, this unique event showcased a modern, luxury home suitable for a large family with diverse needs.
The scale and attention to detail made it a one-of-a-kind event. The Open House was a reflection of Next Street's ethos of always offering the highest quality. The event drew potential home buyers in large numbers and was also well attended by industry professionals.
Unique Event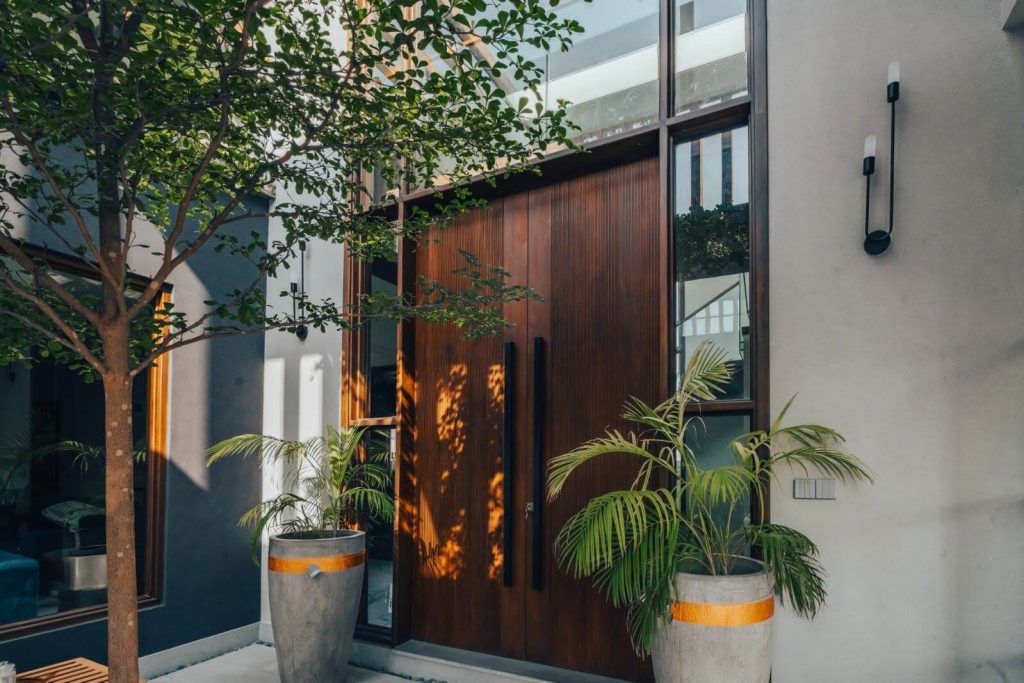 The partners welcomed potential buyers and customers to the newly constructed and immaculately staged NS Villa. The impressive entrance patio set the mood for the house tour conducted by ushers who guided people through the home.
Careful to observe strict Covid 19 protocols, Next Street and Z Mario hosted a steady stream of visitors. These ranged from young families with small children to older couples looking to accommodate joint families. Visitors mingled and enjoyed the refreshments while going through the house and filling out the comment book.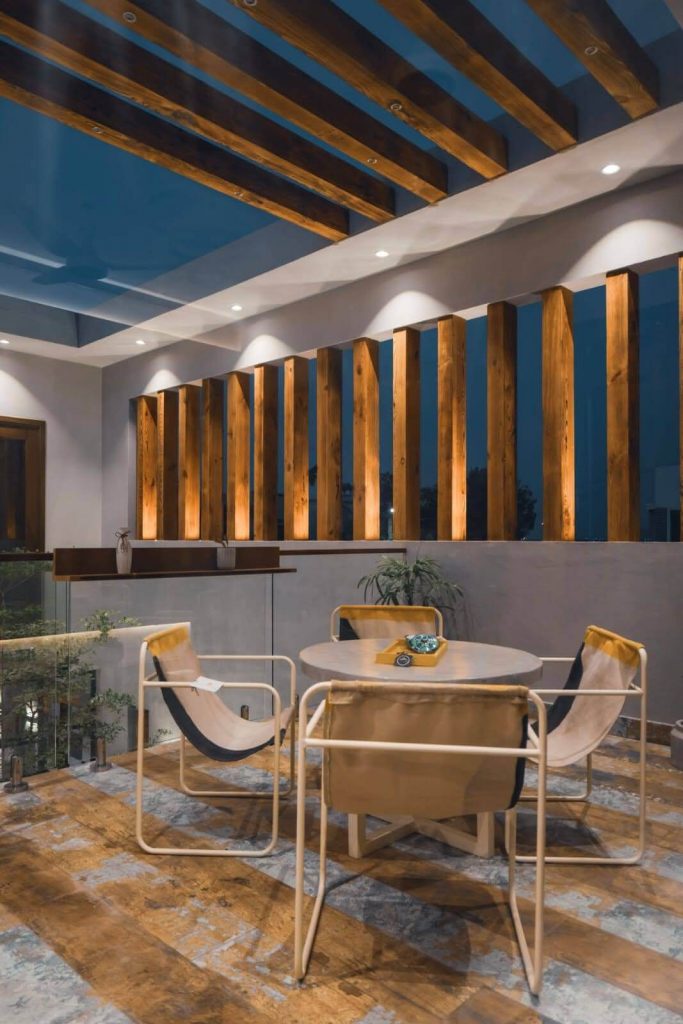 The beautifully constructed and staged NS Villa is a contemporary style home located in Karachi's upscale DHA phase 8. Covering an area of 500 square yards, the architect has optimised space and light in this home. Constructed on three levels, this is a stylish yet practical accommodation. It will meet the needs of any family looking to blend modern lifestyle needs with home life.
"There was a certain gap in the market, home buyers are often misled," says Haseeb Mysorewala of Next Street. "There is a perception that builders cannot give you good quality. But all the visitors have been very impressed with our high-end finishes and overall quality." In fact, the construction quality of NS Villa speaks for itself and has laid this misconception to rest.
Architectural Features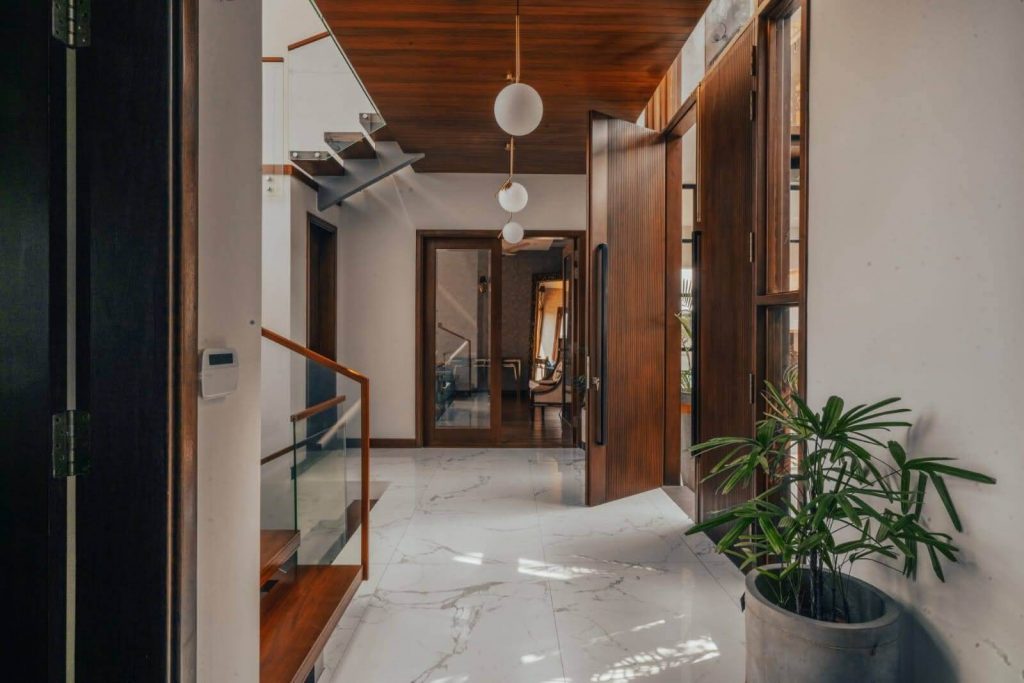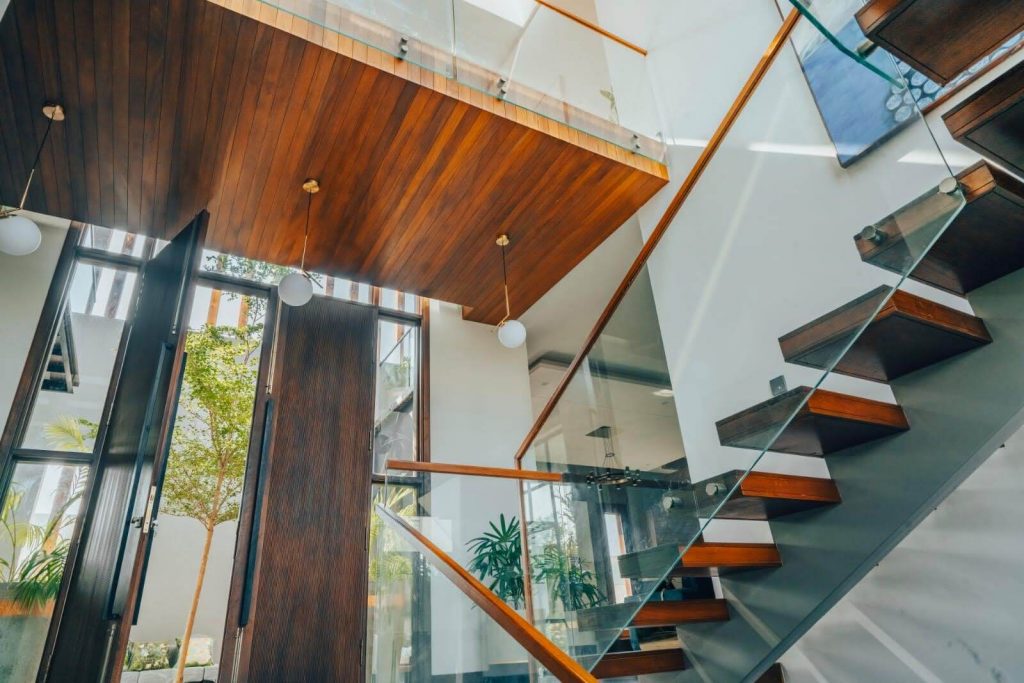 The house has an open, expansive style complemented by the contemporary architecture. Straight lines and large windows are softened by wooden rafters and foliage, most notably the tree in the entrance.
High-end finishes and fittings have been used throughout the house. From imported light fixtures and  Spanish floor tiles to Grohe fittings and Italian kitchen fittings, no compromise has been made on quality.
Patio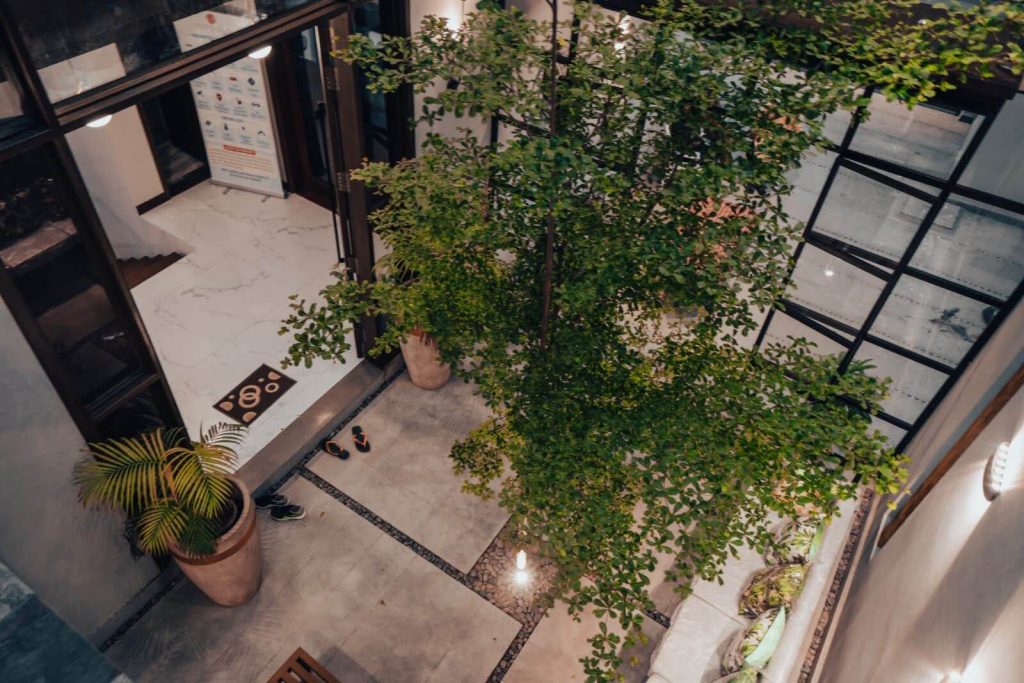 The entrance patio, dominated by a striking tree rising vertically in the middle,  sets the mood for the rest of the home which continues to combine aesthetics with functionality. Balconies and terraces feature on the upper floor as well. Practical yet stylish furniture and accessories make this a welcoming space.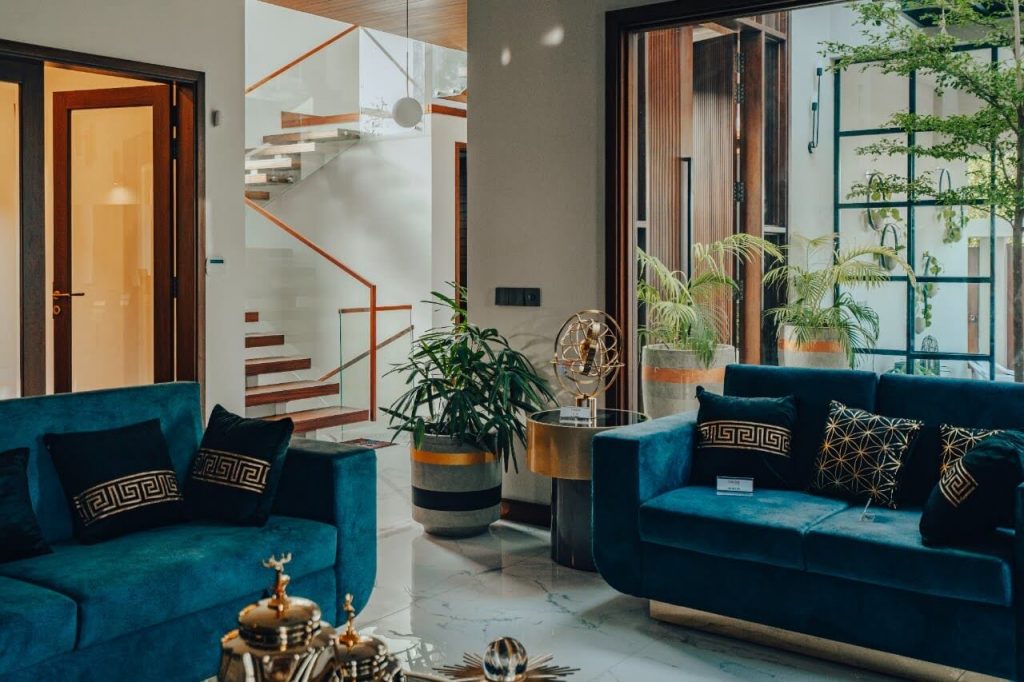 The straight modern lines of the house were enlivened by lush plants by Bina Sohail. The indoor landscaping was done in close consultation with Next Street. Bina Sohail's signature, stylish  planters were placed throughout  the house, on walls and floors.
Kitchen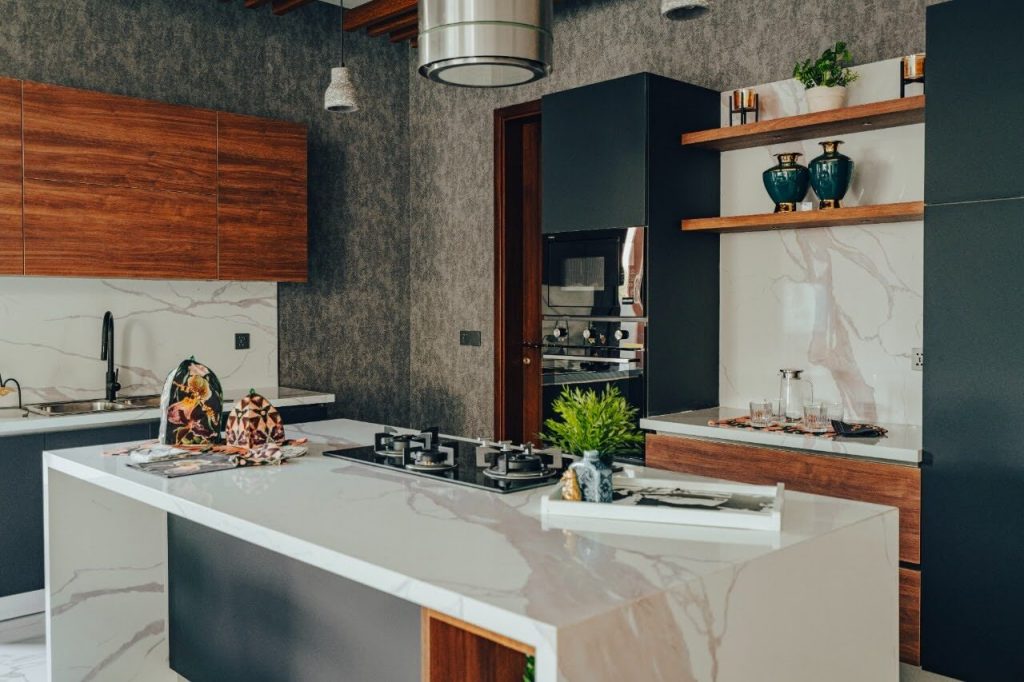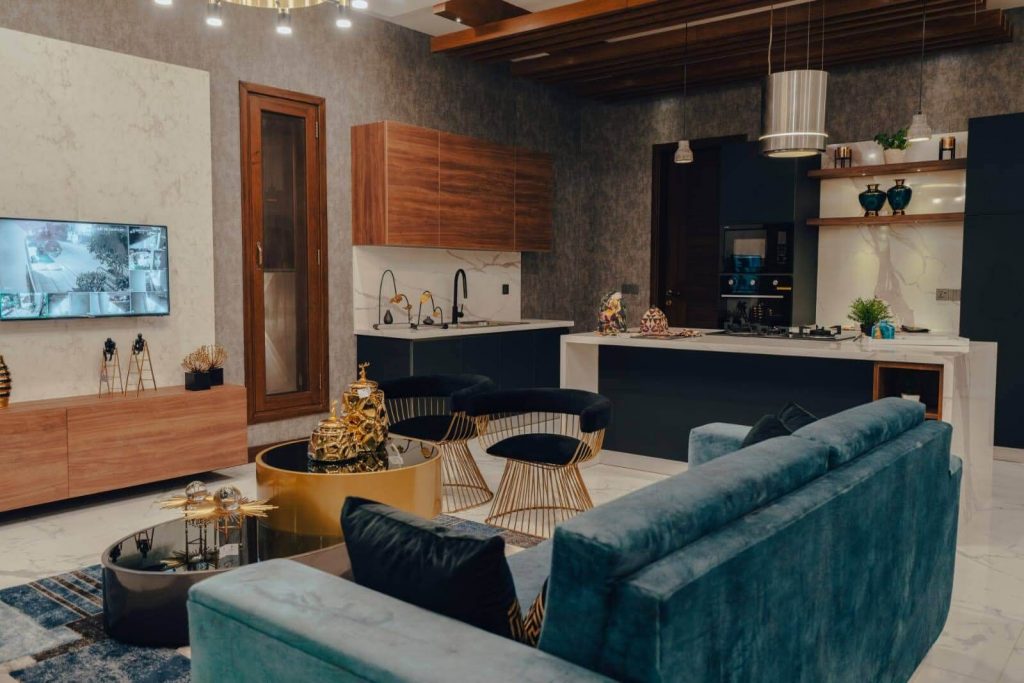 A beautifully appointed open kitchen with high-end modern fittings overlooks a spacious family room. This is perfect for those who love to cook for family and friends and for casual entertaining. But there is also a practical, well-equipped grease kitchen for those who prefer to skip cooking.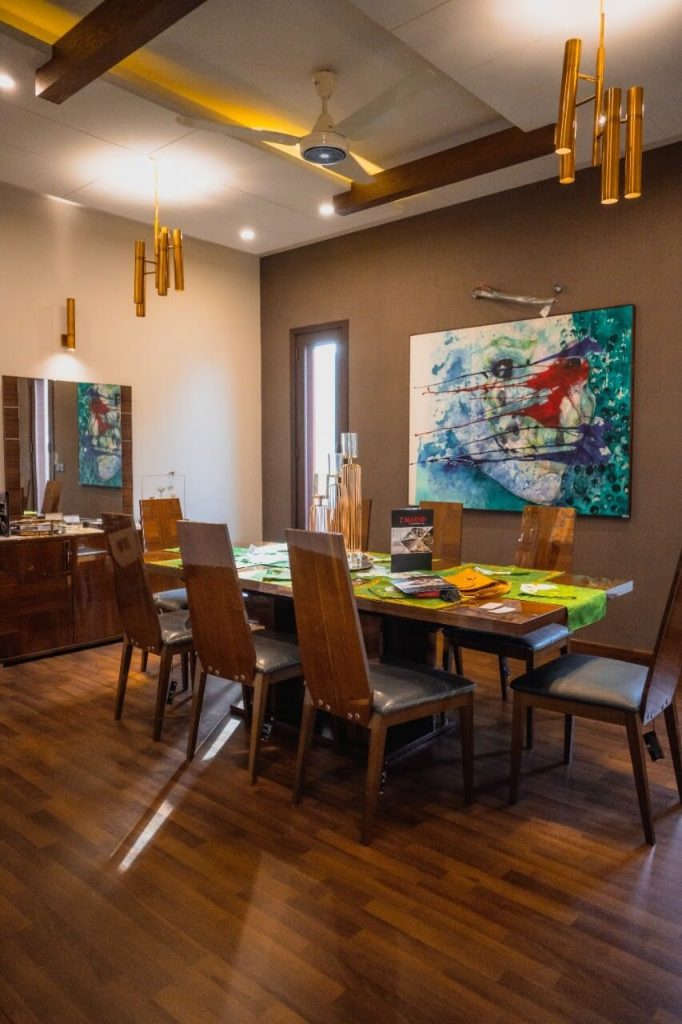 A large dining room and  formal sitting room flank this kitchen/sitting room area. The smartly set dining table was set off by the artistic range of linens from Pomegranate Linen. Pomegranate Linen has made a name for itself with its unique hand-painted collection.
Bedrooms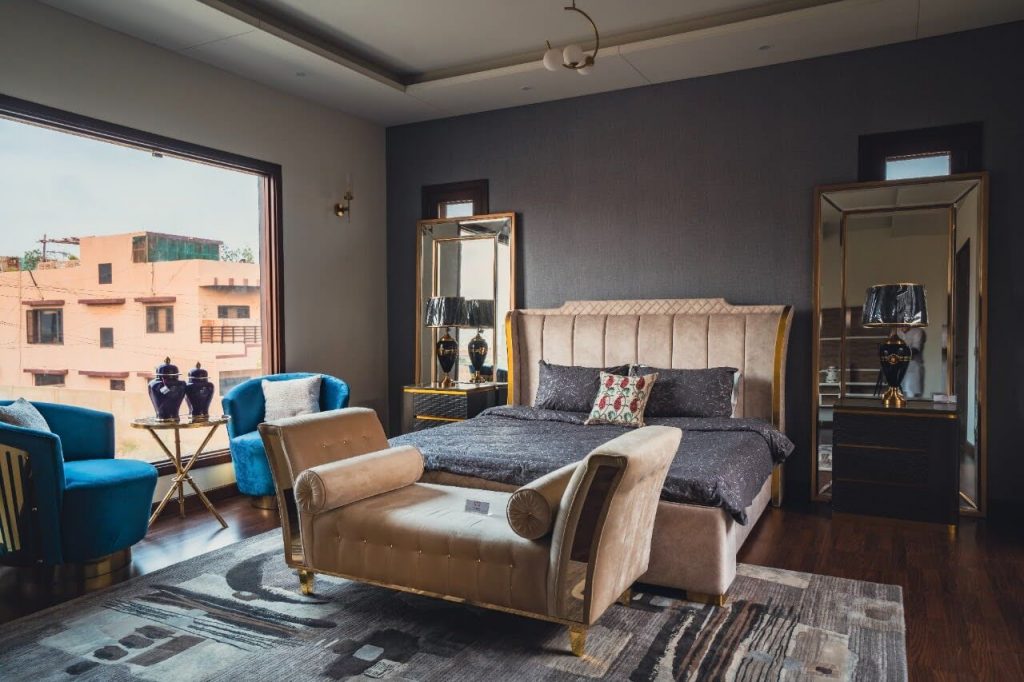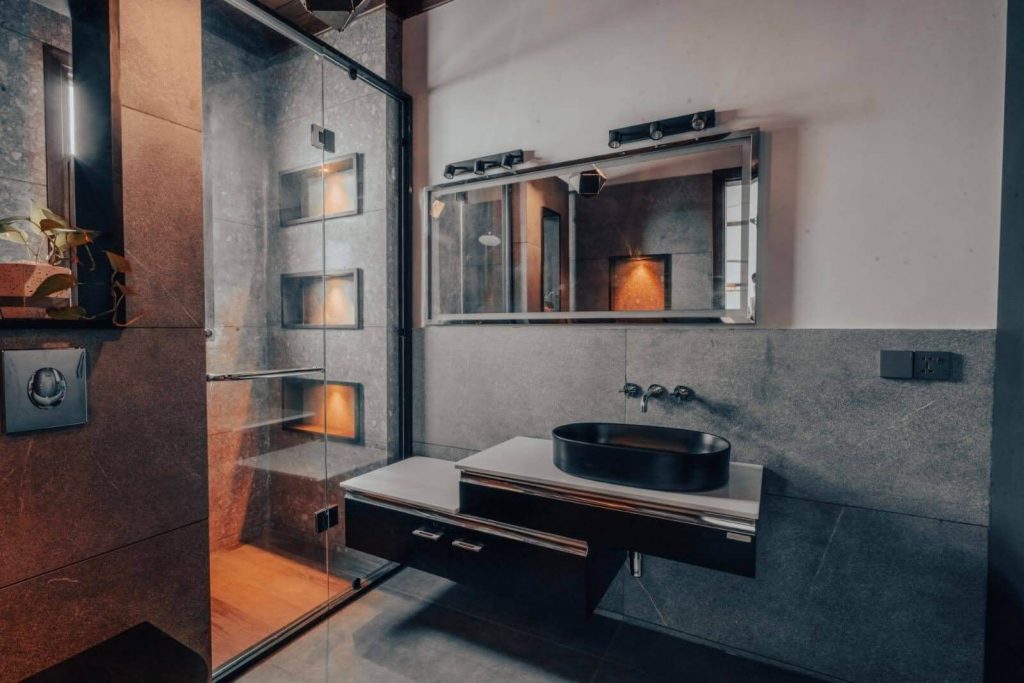 This spacious home features seven bedrooms each with a luxuriously fitted attached bathroom. The master bedroom opens into a small balcony overlooking the entrance patio.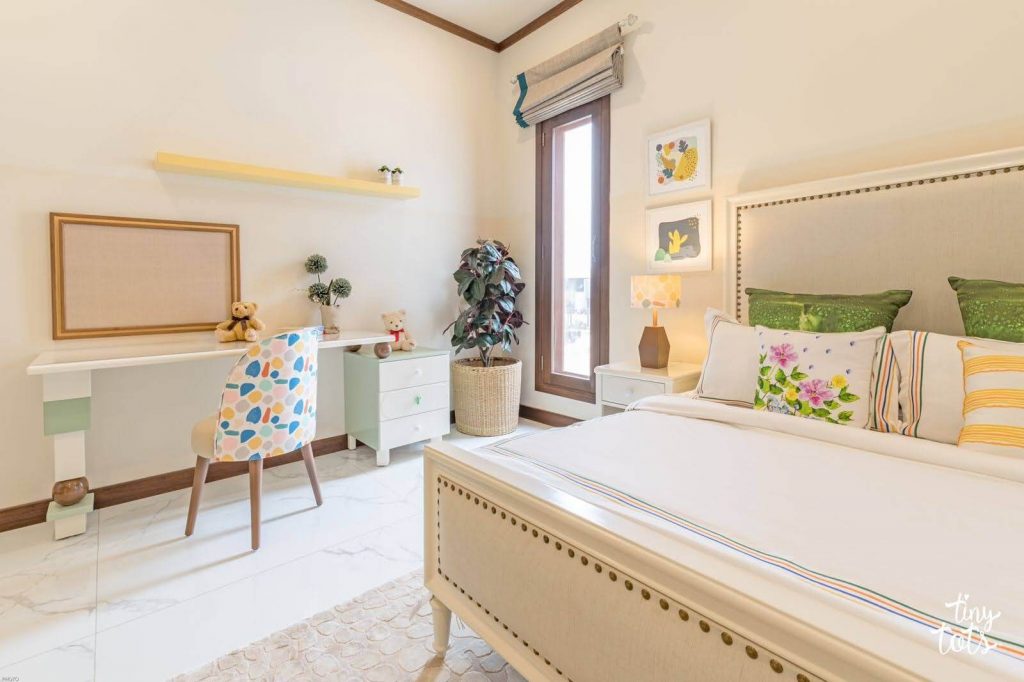 Another room was set up as a children's room with cheerful prints and bright solids courtesy Tiny Tots. The brand is known for bringing fun and creativity to children's spaces. It offers customized solutions to homeowners.
Home Office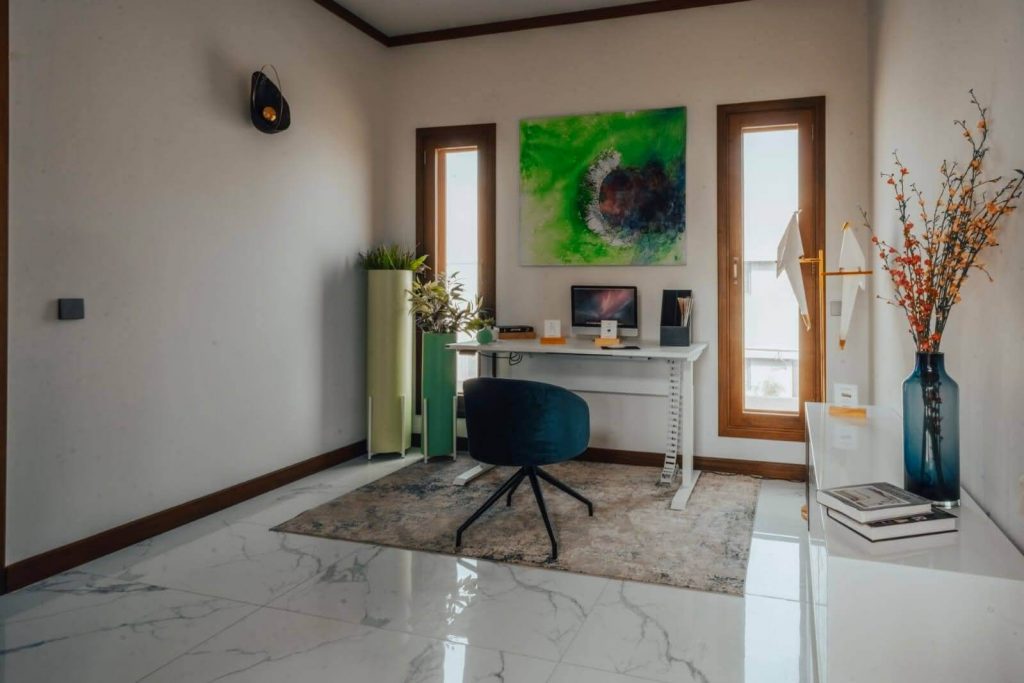 With more and more of us working from home, a home office has become a need of almost every professional person. NS Villa includes a bright and modern office space styled by Dimensions Office. Stylish yet functional furniture set off by smart accessories made this the perfect work-from-home solution. Dimensions Office is one of the leading names in office furniture, recognized for quality and design.
Basement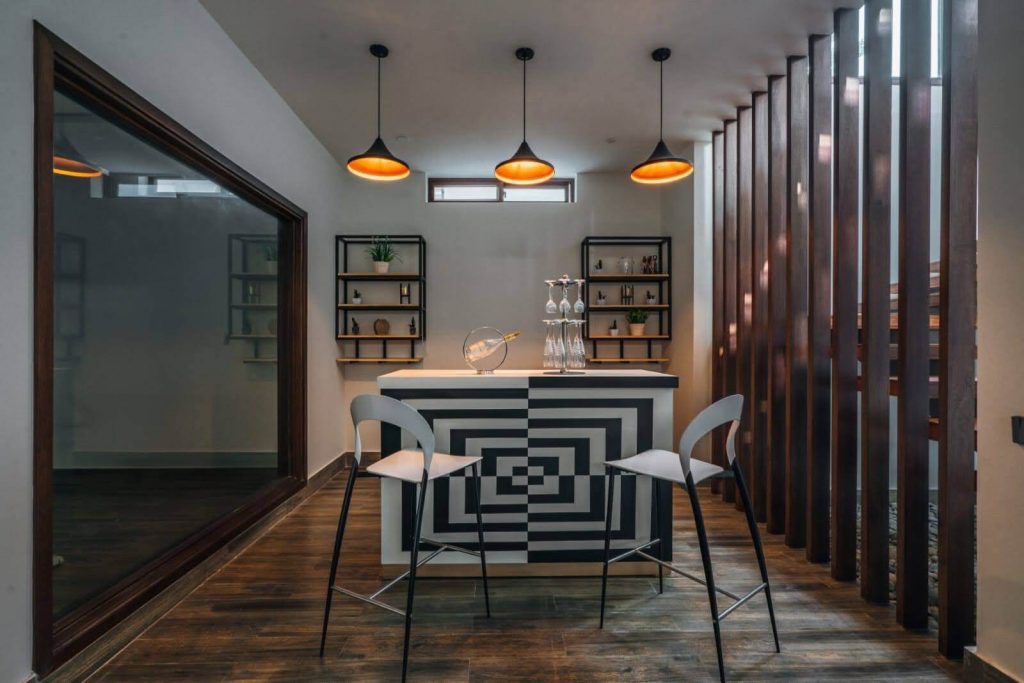 The large basement not only has ample space for entertaining or setting up a home theatre, but it also houses a home gym.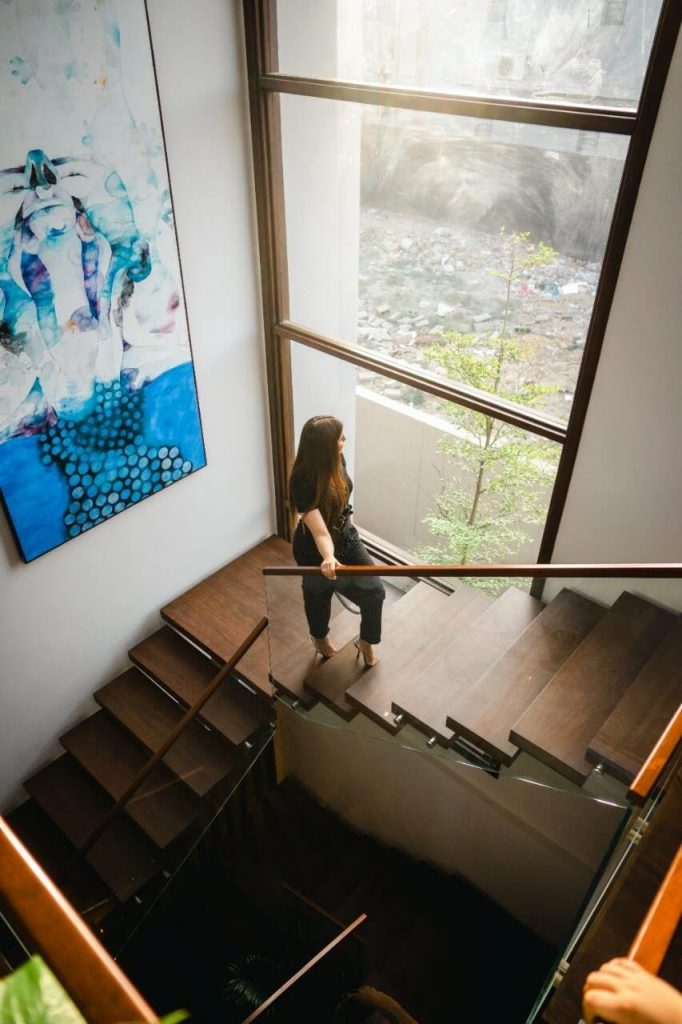 Striking artwork by Sarah Bakhtiar complemented the modern feel of the home and added drama. Her large, abstract canvases contributed the final design element.
The three-day event drew an enthusiastic response from visitors. The patio and terraces were particularly popular features of the home. The event generated great interest amongst all those interested in construction and design.
Next Street Construction has an impressive portfolio of residential as well as commercial and office projects to its credit. Over the last 12 years, the company has built  a reputation for using modern materials and the latest technologies in construction. It  has been leading the way in new constructions as well as renovations.
To learn more visit https://nextstreet.com.pk
Or visit their Instagram page https://www.instagram.com/nexstreet/?hl=en
Photos courtesy Next Street Construction