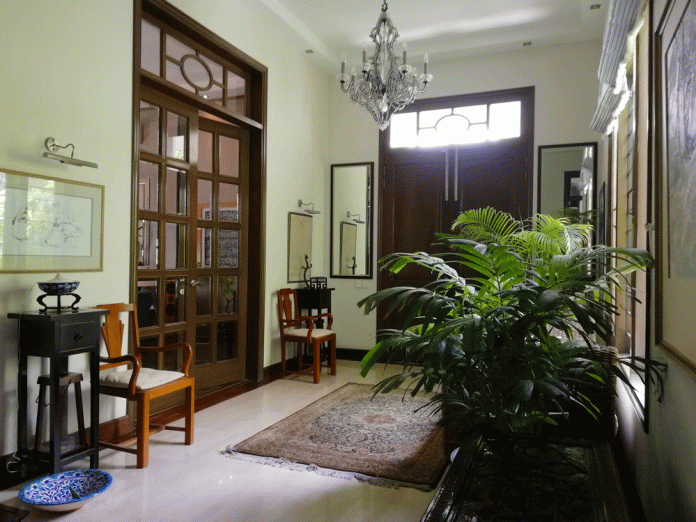 The tall sweeping lines of this beautiful Karachi home, give it an open, tropical feel. Unusually high ceilings and tall doors lend grace and add an expansive old world feel: sort of colonial revival but with a modern edge. Meanwhile, a tasteful and lovingly curated assortment of paintings, rugs and other collectibles add warmth and character to this Tropical Colonial Home.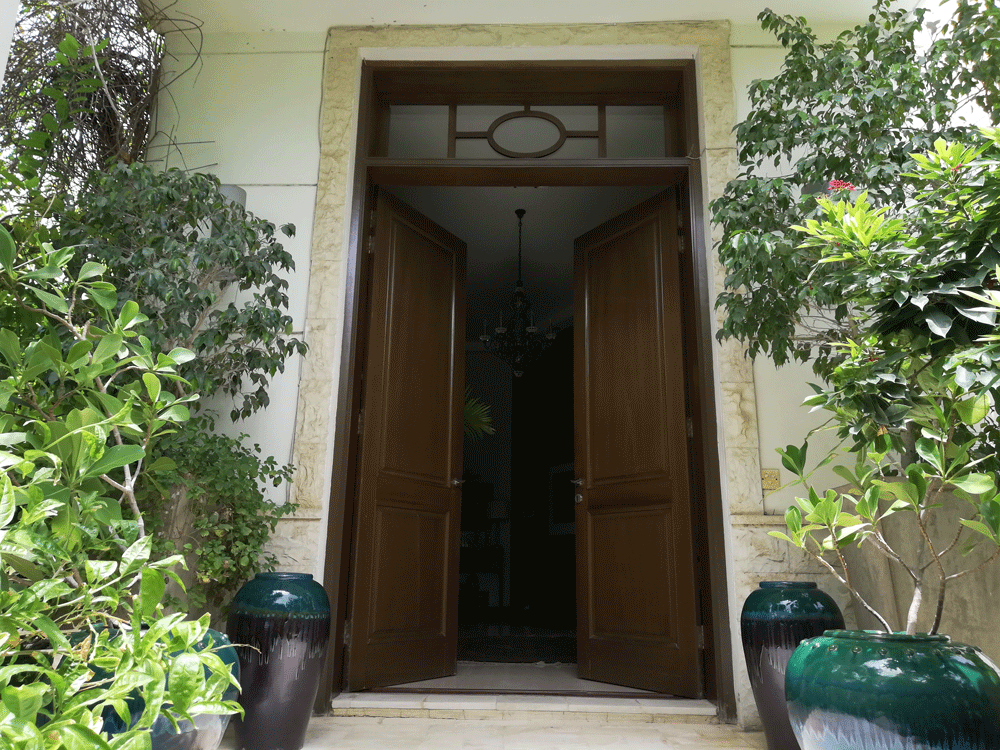 Lush Gardens
The lush outdoors of this home add to the tropical vibe while the tall doors leading to the outside further emphasise the colonial revival feel.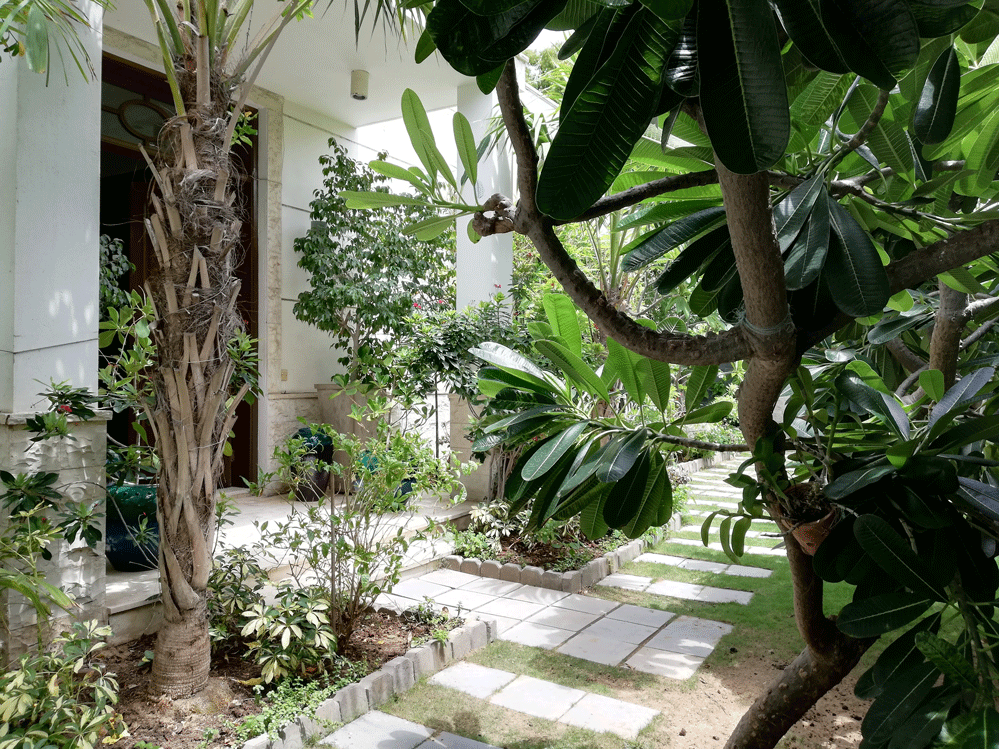 High Ceilings
When building the house, the homeowner had a very distinct idea of what she wanted. " I had taken inspiration from my maternal grandmother's house in Lahore. It was an old house with very high ceilings which I insisted upon," she explains.  "The  walls were also lined with roshandans, even though in my memory they always had pigeons nesting in them."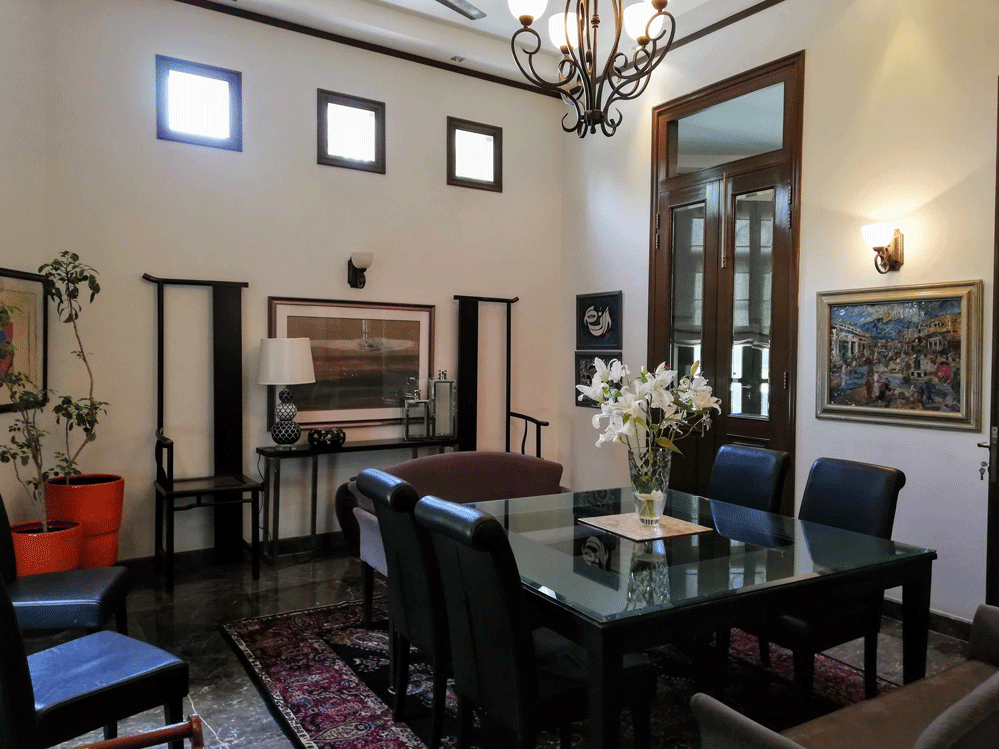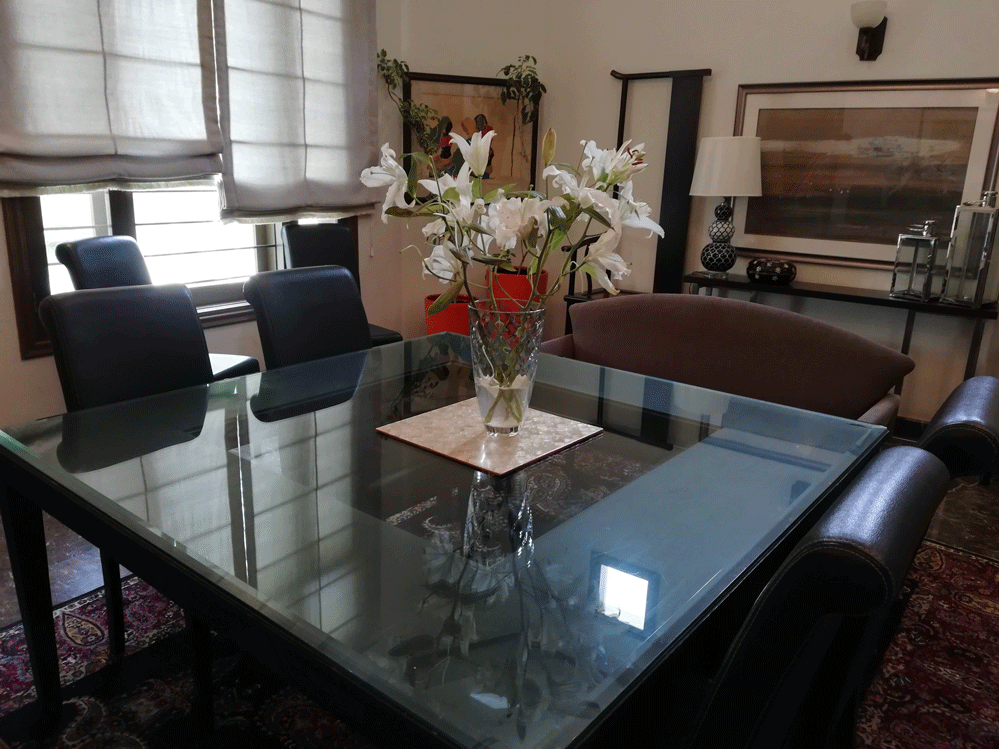 Tall Doors
"However we added roshandans of sorts as well. The modern twist I have added is that my doors, although of old design, are very tall. The doors in the old houses were never this tall. In fact, I remember taller members of my family stooping to enter rooms."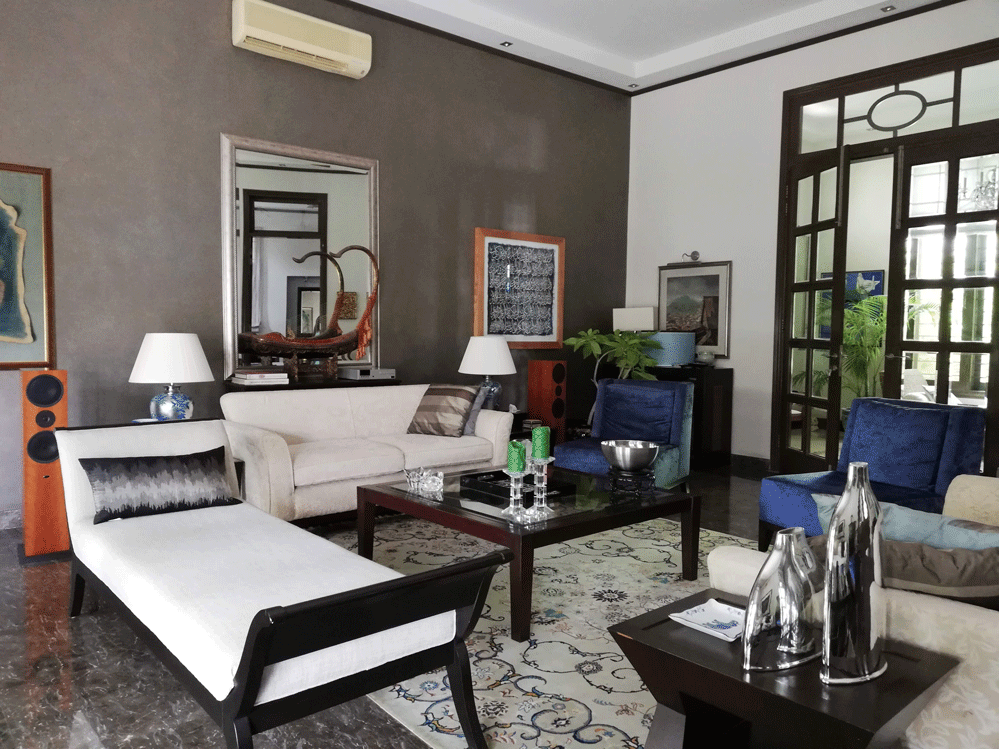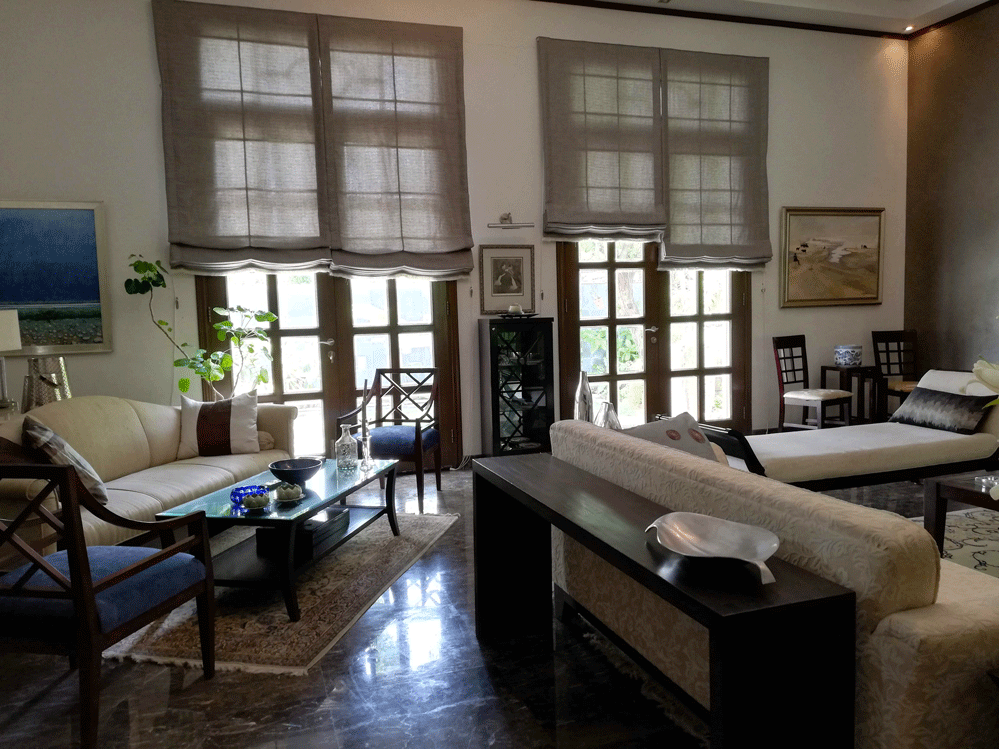 The tall, wooden latticed doors in the formal sitting room open into the garden. "Both my husband and myself were big on the idea of letting the outdoors inside as well. So we have this flow of space into the outside from several points in the house."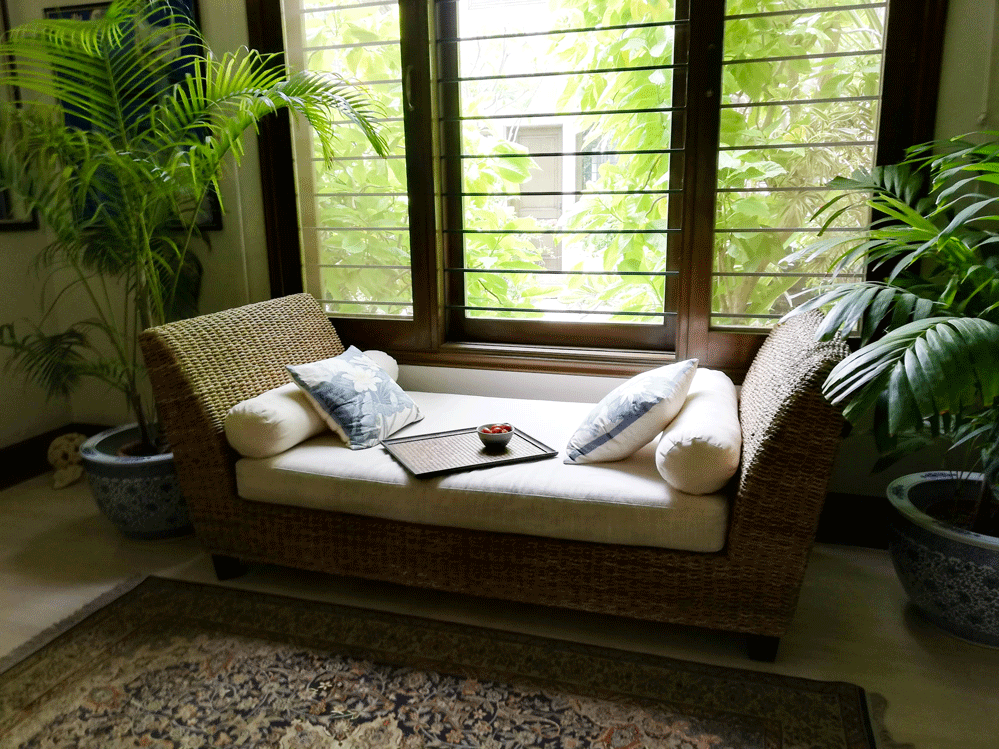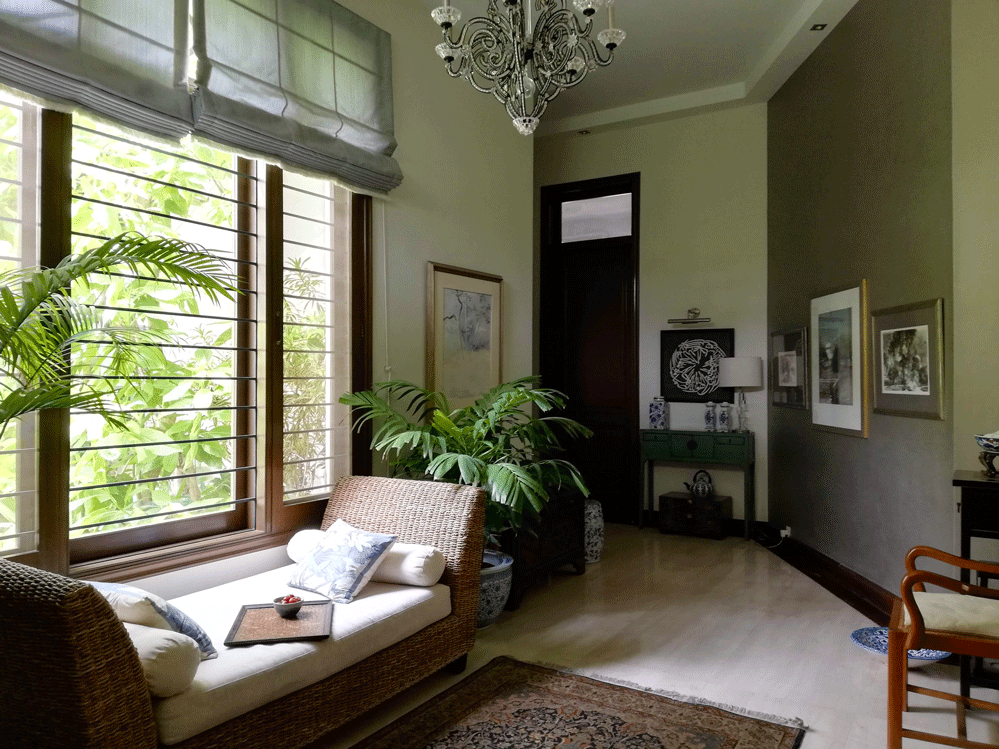 "We had more than one architect working on this house and we made many mistakes. But eventually it was finished by Komal Shahid, a landscape artist who designed the outdoors as well. "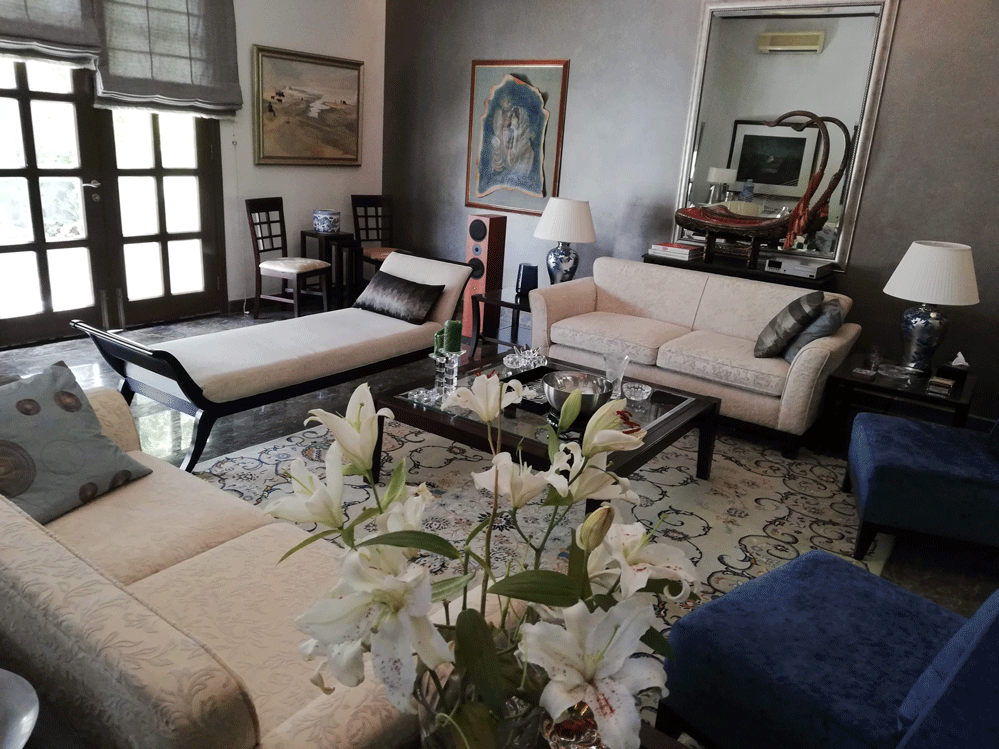 "My husband and I had spent some time in Burma and we are very fond of Thailand.  So as far as the garden was concerned, we both wanted that intense, slightly wild tropical look. And that's what we got."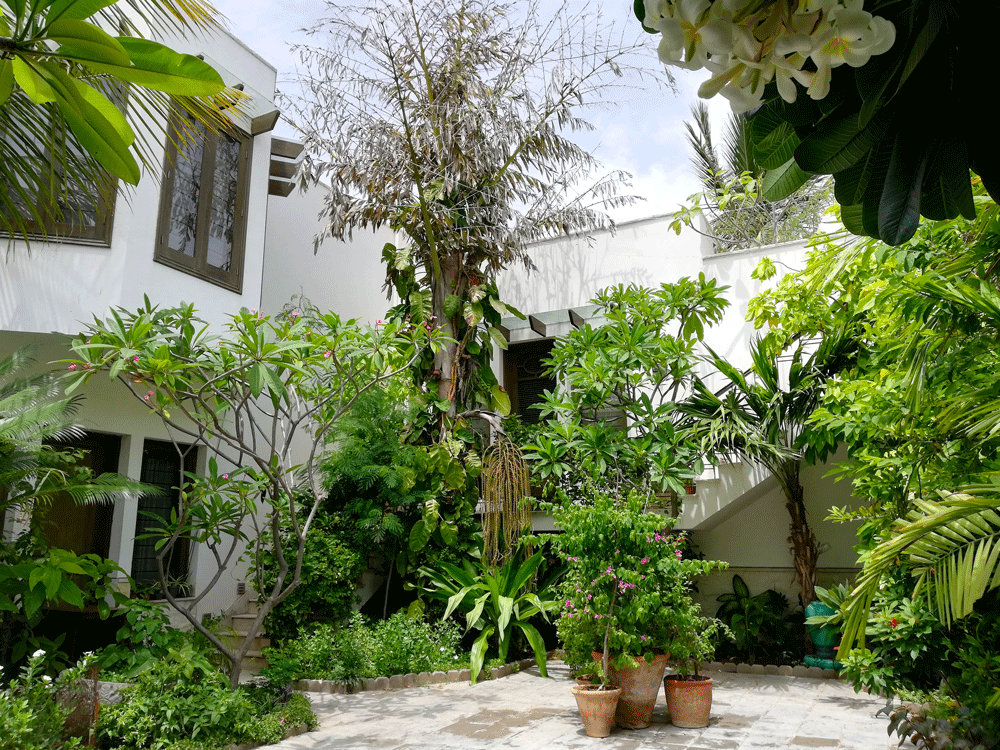 "This champa tree was planted right in the middle of our pathway and was a bit of a risky move, People said we were crazy but it looks beautiful."

Art Collection
"My husband and I are both very fond of art. And even in the early days of our married life, when we didn't have much money, whenever we had a little saved up we would go buy a painting. We also got lucky breaks. We bought this Anna Molka painting of a Swat bazaar from the artist herself. She told us to pay whatever we could for it."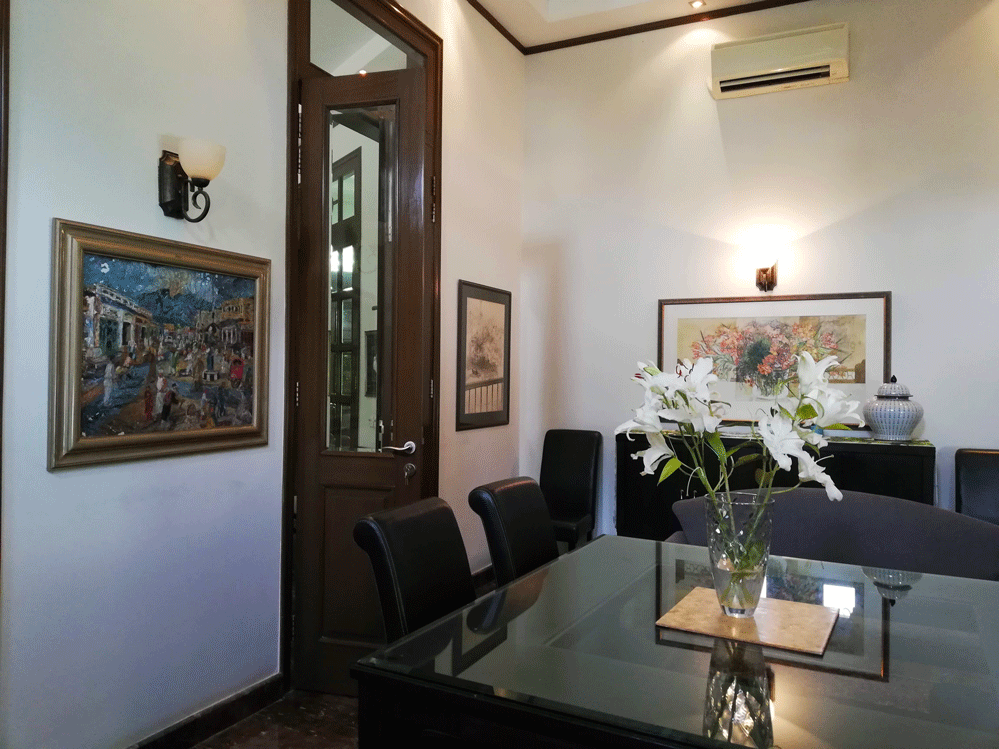 "Then we picked up these Chughtai etchings for a ridiculously low price. And some Sadequains from a gentleman who was moving away and he gave us a good deal as well."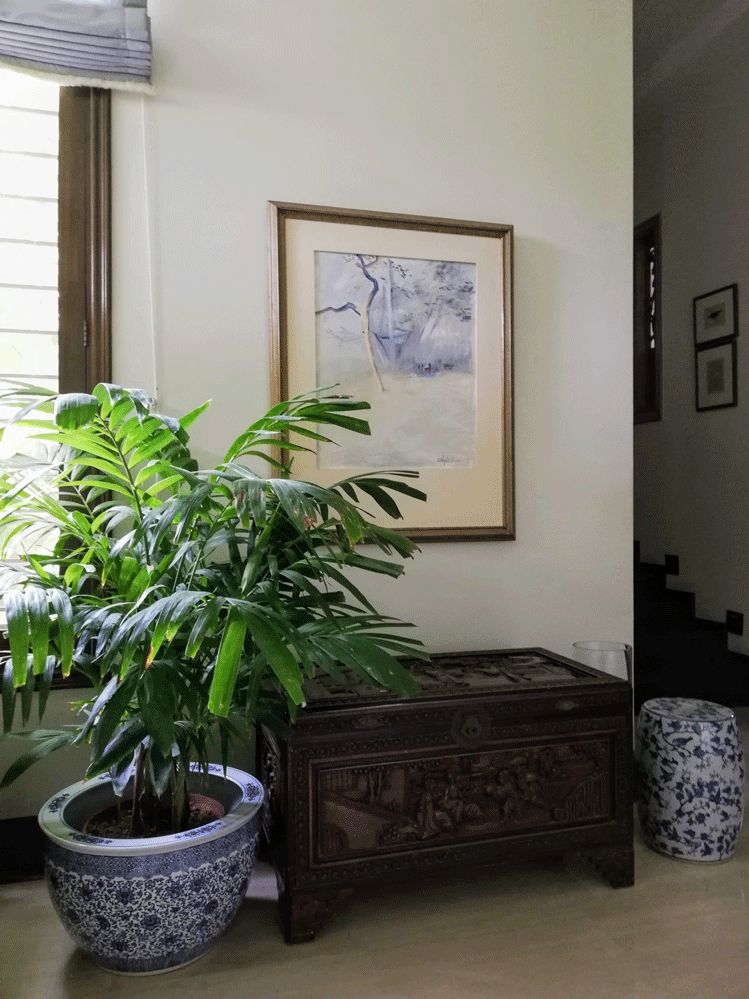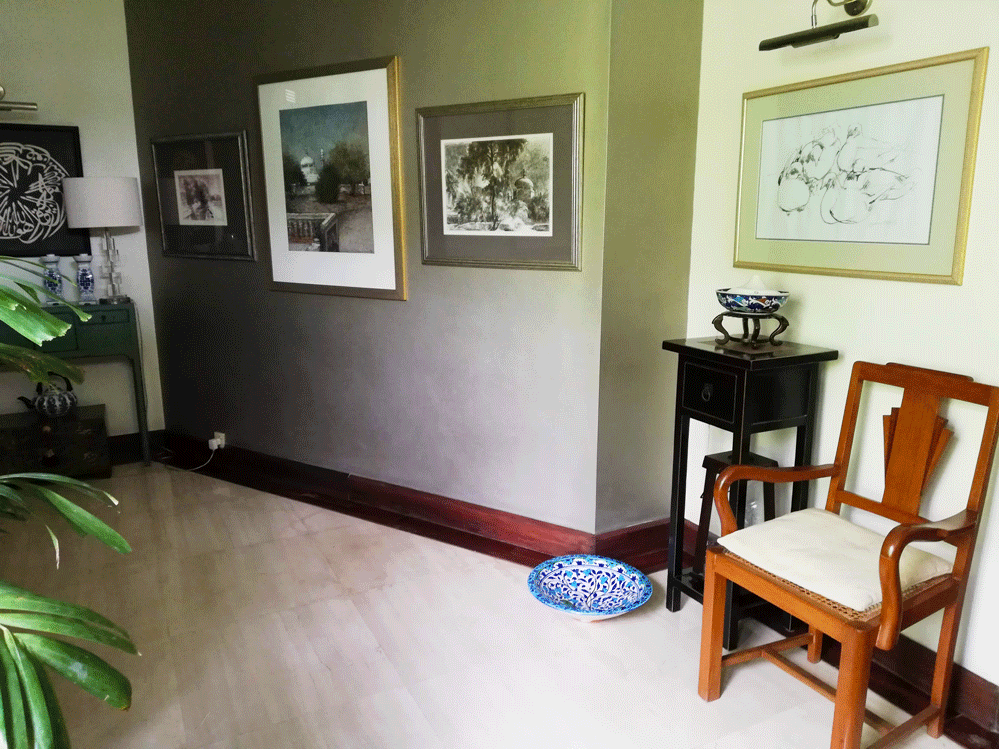 "In the days when we were doing up our home,  imported goods were pouring into Karachi and we got amazing pieces at great prices. Most of my pieces were locally bought. "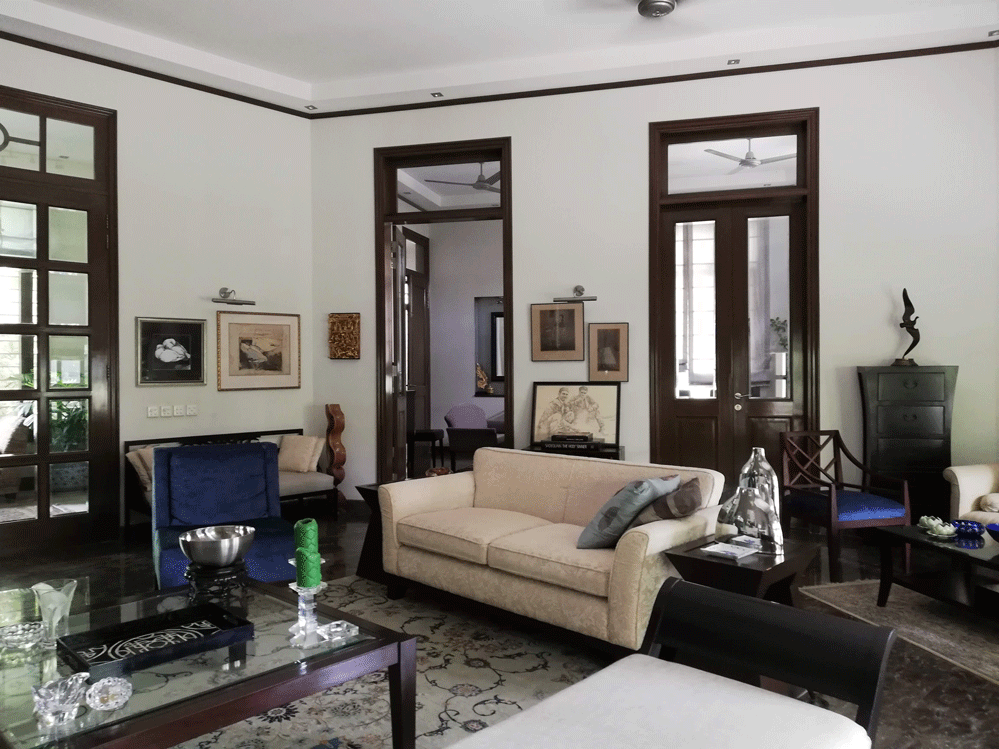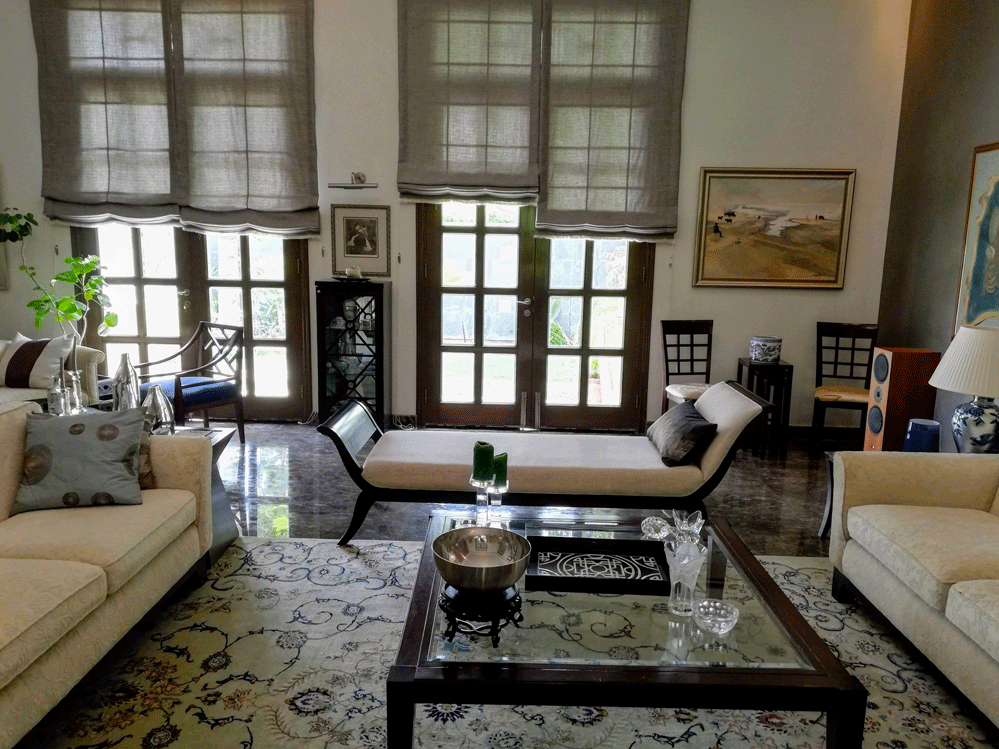 "I picked up this rug which was lying cast away in a corner of the shop. It was dusty and had been repaired many times and the shopkeeper was surprised I wanted it.  So again, I paid very little for it."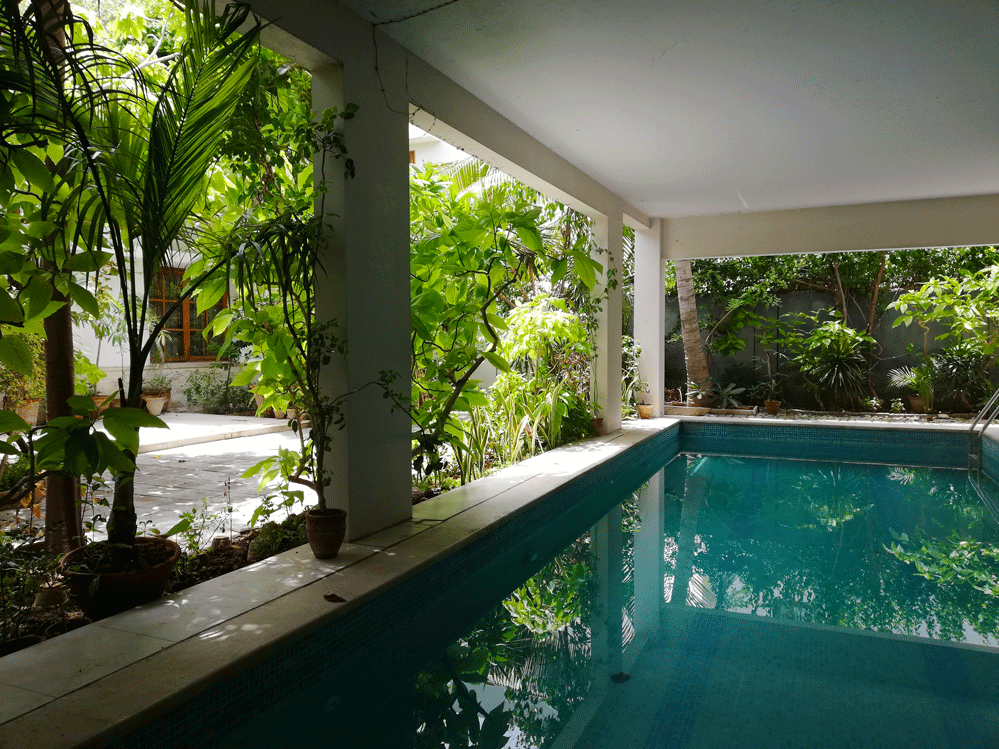 "The house is not actually that large but it feels very large because of the tall lines. "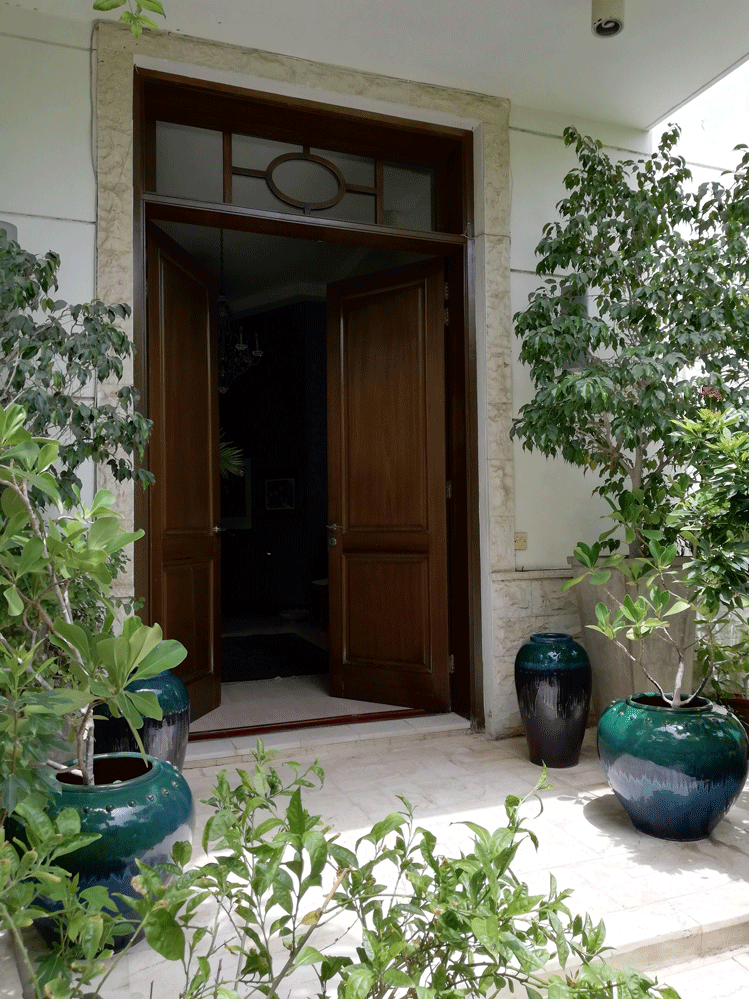 A gracious and elegant family abode with warm and positive vibes, the HomeLoveLifestyle team thoroughly enjoyed its visit to this Tropical Colonial Home.
Photography by Naeema Kapadia