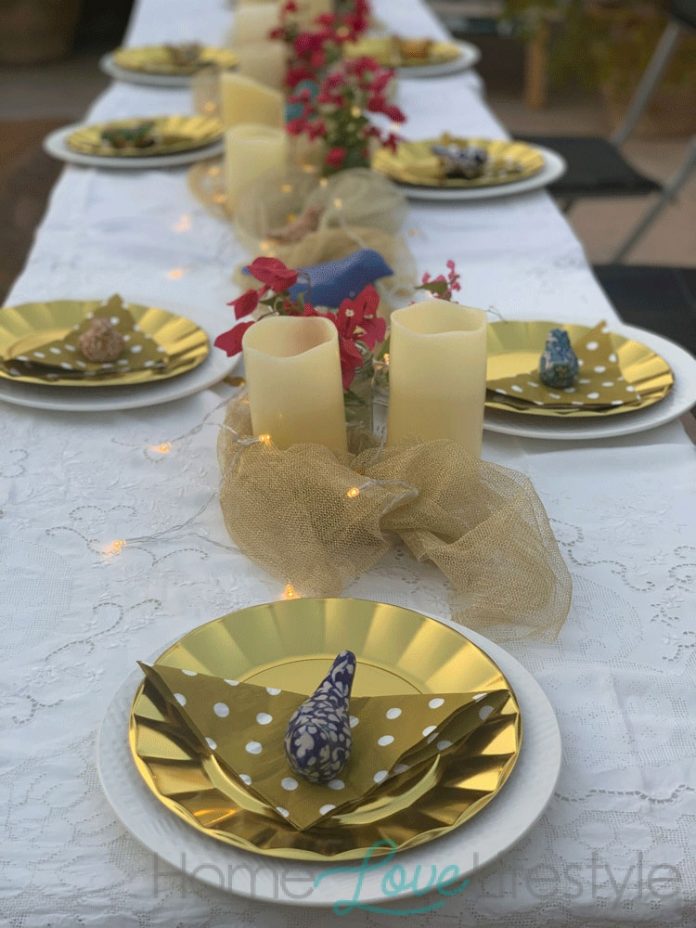 Table settings can say so much! Whether it's a special occasion or a casual lunch with a few friends, or even a well-cooked family meal, an aesthetically  pleasing table adds so much to the occasion.
An effective table setting doesn't have to be formal or expensive. It just requires little creativity and planning. Build up a collection of candles, napkins and other basics. Then use whatever you can find around the house. Recycle old bottles and even jam jars.
Special Birthday
This 80th birthday party had a restricted guest list and was held outdoors thanks to the ongoing pandemic. But party decorations and a beautiful table setting helped make it a truly memorable occasion.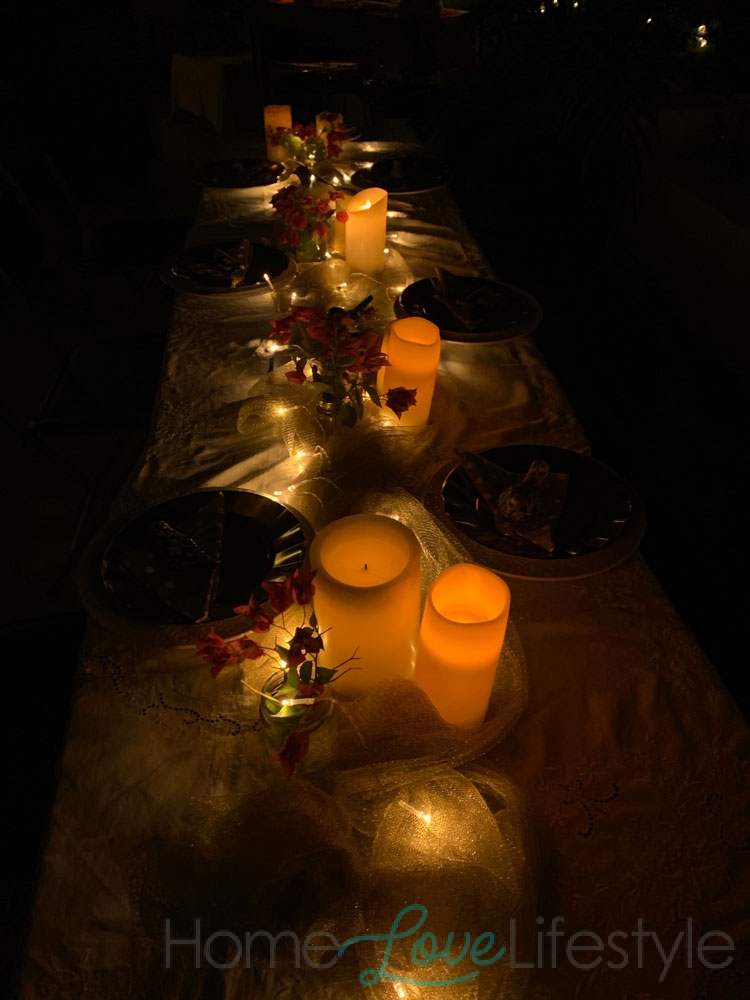 Old jam jars were recycled to hold flowers, the seasonal, local bougainvillea. Inexpensive paper plates and napkins were used but the golden colour added some glitz. In keeping with the white and gold gold theme, a shimmery gold cloth was bunched across the long table. Fairy lights were added. As a last minute touch, the lovely ceramic birds were used to weigh down the paper napkins and add a lovely whimsical touch as well.
Casual Lunch with Besties
Catching up with our girlfriends  is always a joy. So why not set a nice table even it's only 4 people? To cater to a vegetarian friend, the host whipped up some south east Asian stir fries and curries and hadn't really planned ahead for a table setting. Some beautiful bamboo stems and a few flowers were put into an old copper kettle to serve as a centrepiece. Painted ceramic tiles worked as effective decorations as well as plates to place hot dishes on. And a simple periwinkle flower was laid on each napkin.
Weekend family lunch
In our increasingly busy lives, sit down meals with the whole family are becoming less often. So why not dress up the table a little to make family meals more special.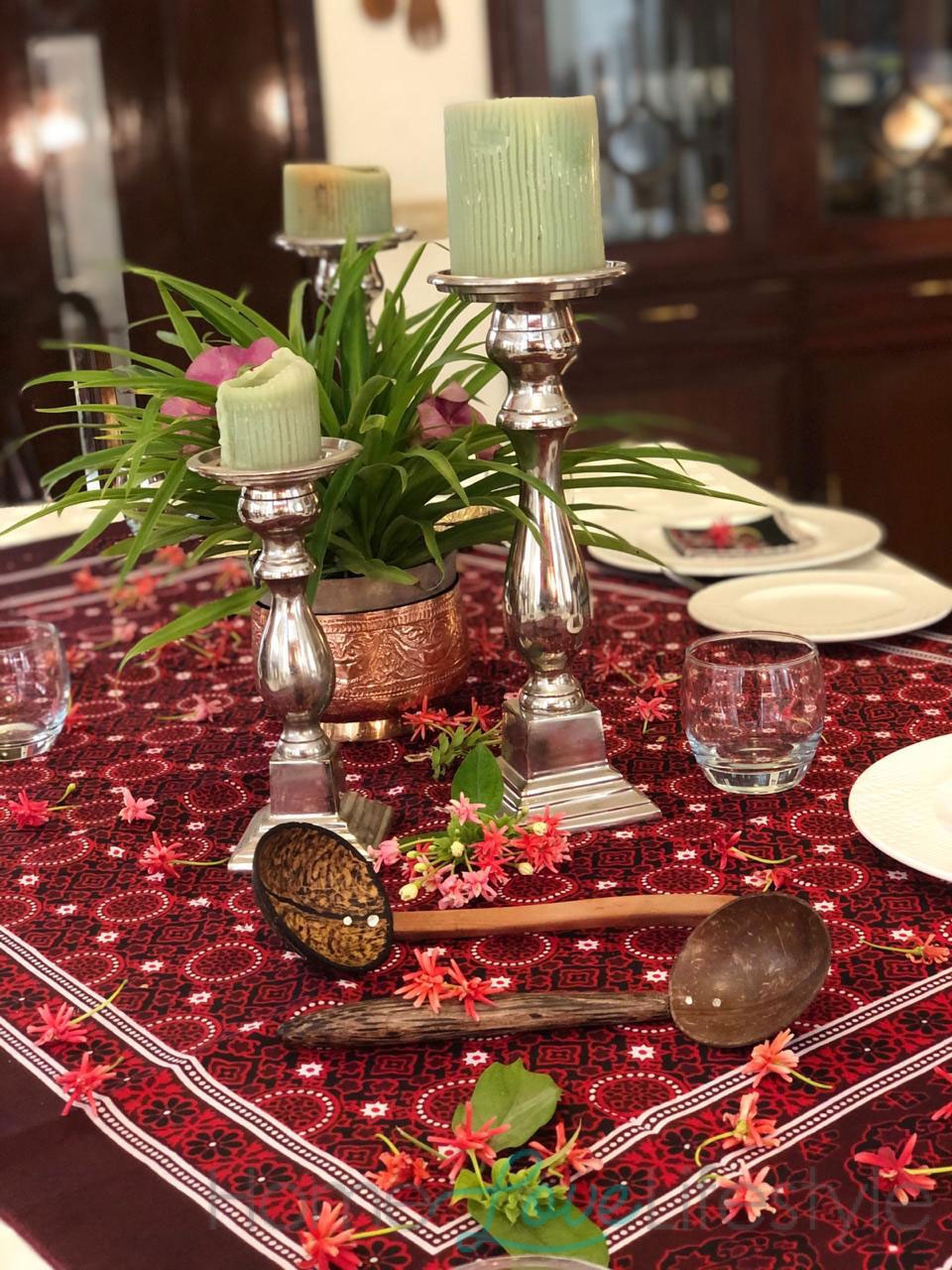 Again, use whatever you have around the house. A quintessential Sindhi ajrak chadar makes a dramatic foil for rustic wooden spoons and a beautiful copper bowl. Use those candles you bought and stashed away in the drawers. A scattering of pretty flowers from the garden adds the final touch.
 Holiday Celebration
The holidays are the perfect time to set up a festive table.
The artfully folded napkins add such  creative touch to this table.
This more formal setting makes effective use of Christmas colours and a beautiful floral centrepiece for maximum effect.
Have fun, be creative and make every occasion special with some inspired table settings!