New Beginnings are exciting! A new relationship, setting up a new home…these are the most memorable and momentous milestones in our lives.
Newly-weds Asad and Sana recently moved into their own apartment which they fixed up and furnished on their own. It is the perfect example of how a few carefully chosen pieces can transform even a small space to epitomize style and comfort.  Furniture has been kept to a minimum while plants and accessories are used to add warmth and character.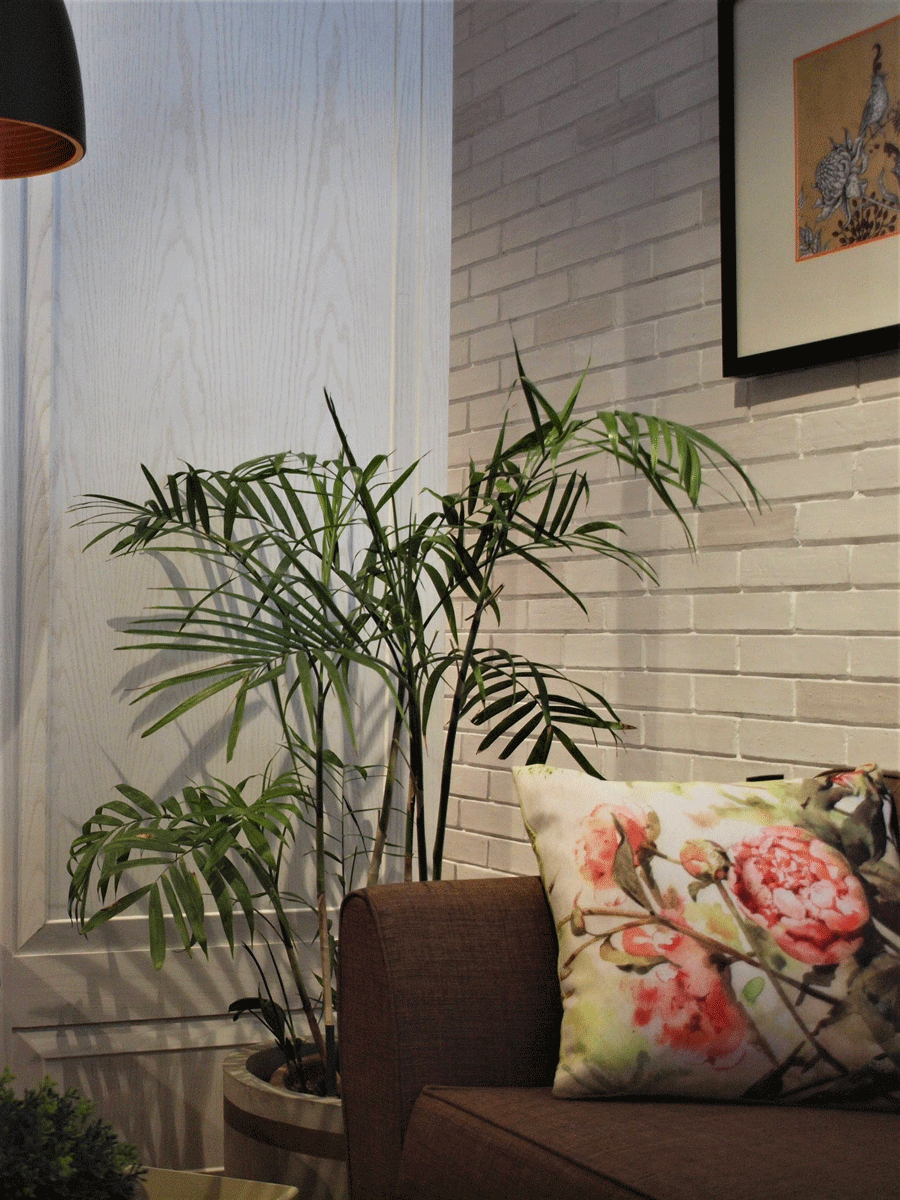 The couple graciously invited Team HomeLoveLifestyle into their home and spoke to us about the experience of building a new life and what home means to them.
So you got married recently?
Yes. Although we have known each other for a while! (laughs)
How exciting has it been setting up your own place?
Super exciting. And we are very fortunate that we both have very supportive families who encouraged us to get our own place. So we found this apartment which I absolutely love.  And we started furnishing it. It needed a few improvements. We had the parquet flooring put in and the walls painted.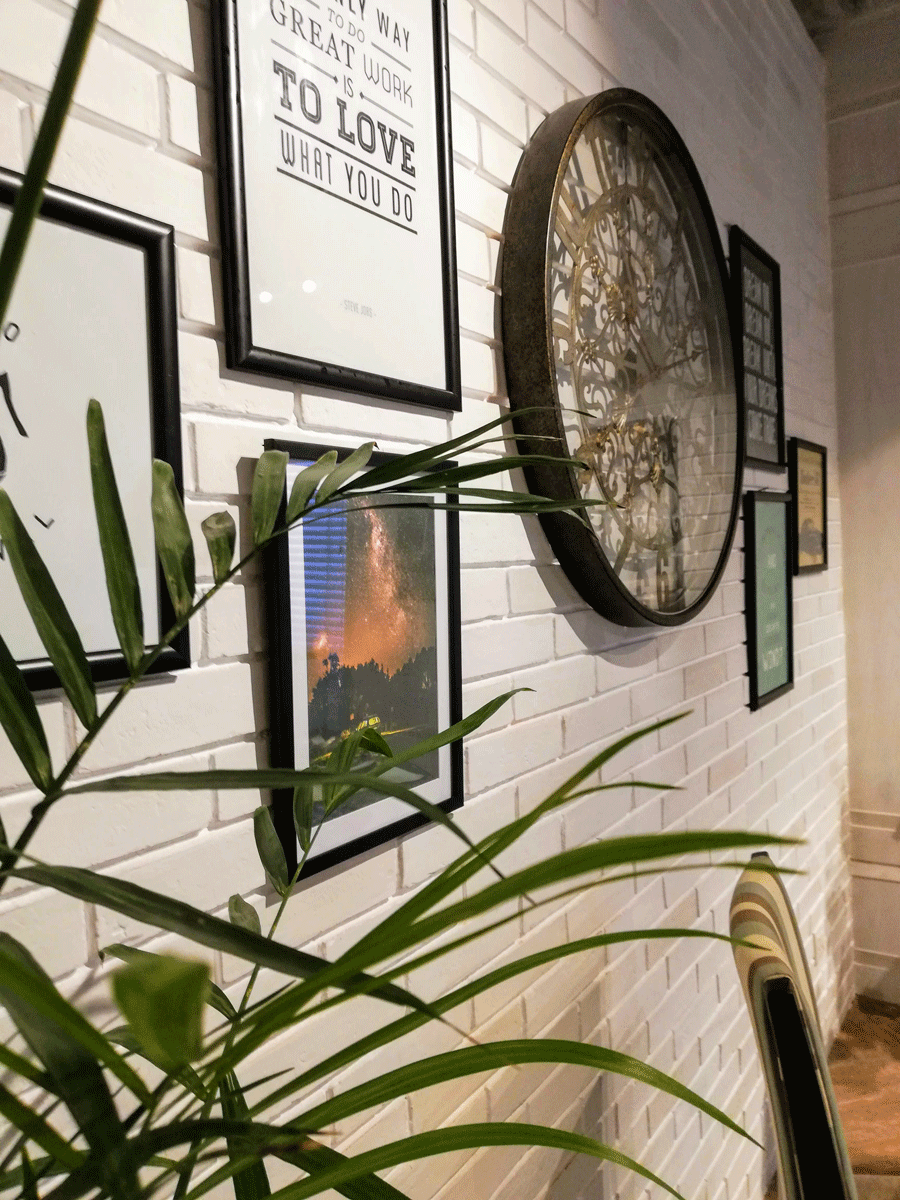 A feature I love is the painted brick walls. It adds a wonderful design element. It was in only one room but I wanted it continued throughout.
How long did it take you to do up the apartment?
Due to some personal reasons we had to furnish the whole apartment in a very short time.  In fact, it was all extremely stressful until we visited Interwood.  They literally had everything we needed in one showroom, from furniture to accessories…even rugs.
And I'm sure you also had a budget to stick to?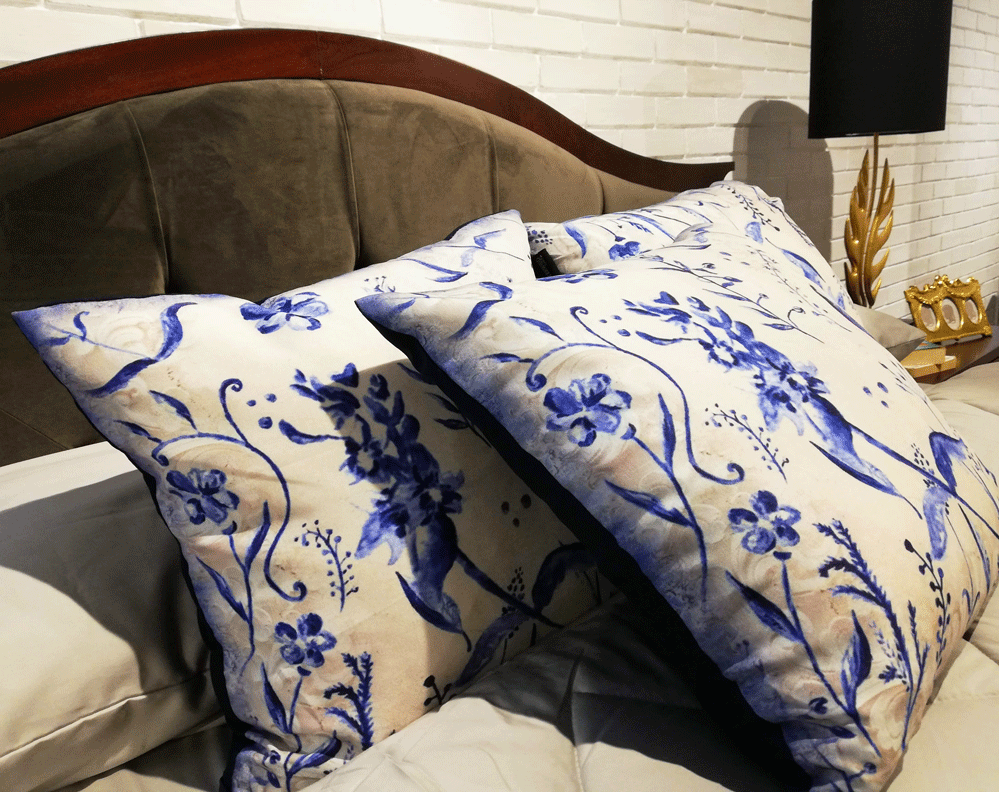 For sure! We are both working but we are just starting out. Again, Interwood is great because they have super deals for new couples. The Apni Marzi ka Package is exactly what it sounds like. We got to choose all the things that we wanted and nothing we didn't and my parents were thrilled with the discounts.  We managed to save up to 22% which is an amazing deal!
They even have credit schemes which allow you to pay off the amount owed over time. You know how expensive weddings are these days (laughs), one really needs all the help one can get.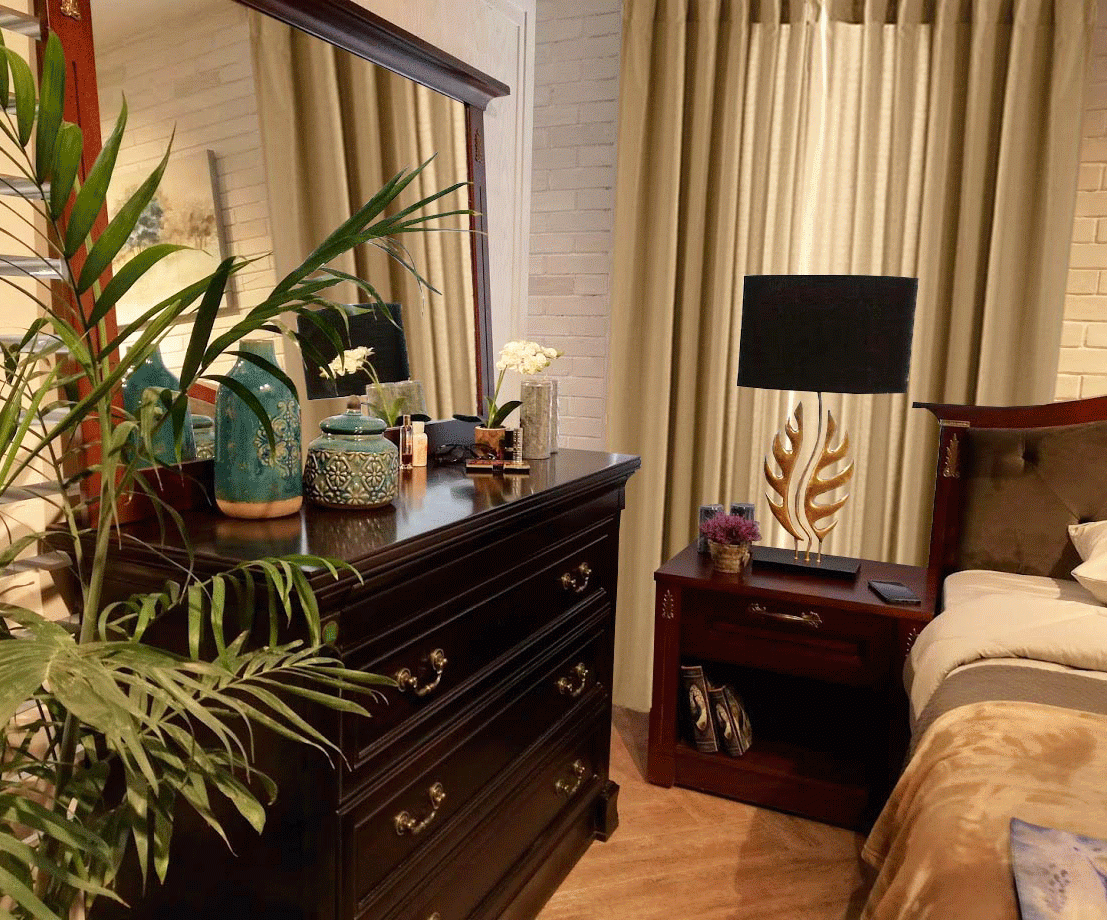 Who gets to call the shots as far as décor is concerned?
It's pretty equal. We both wanted a modern space but with cosy elements in it. Nothing too stark, but not too fussy either.  Both of us have fairly demanding jobs, and we wanted our home to be a sanctuary where we can curl up and relax.
The lounge certainly blends comfort with style. Do you spend most time there?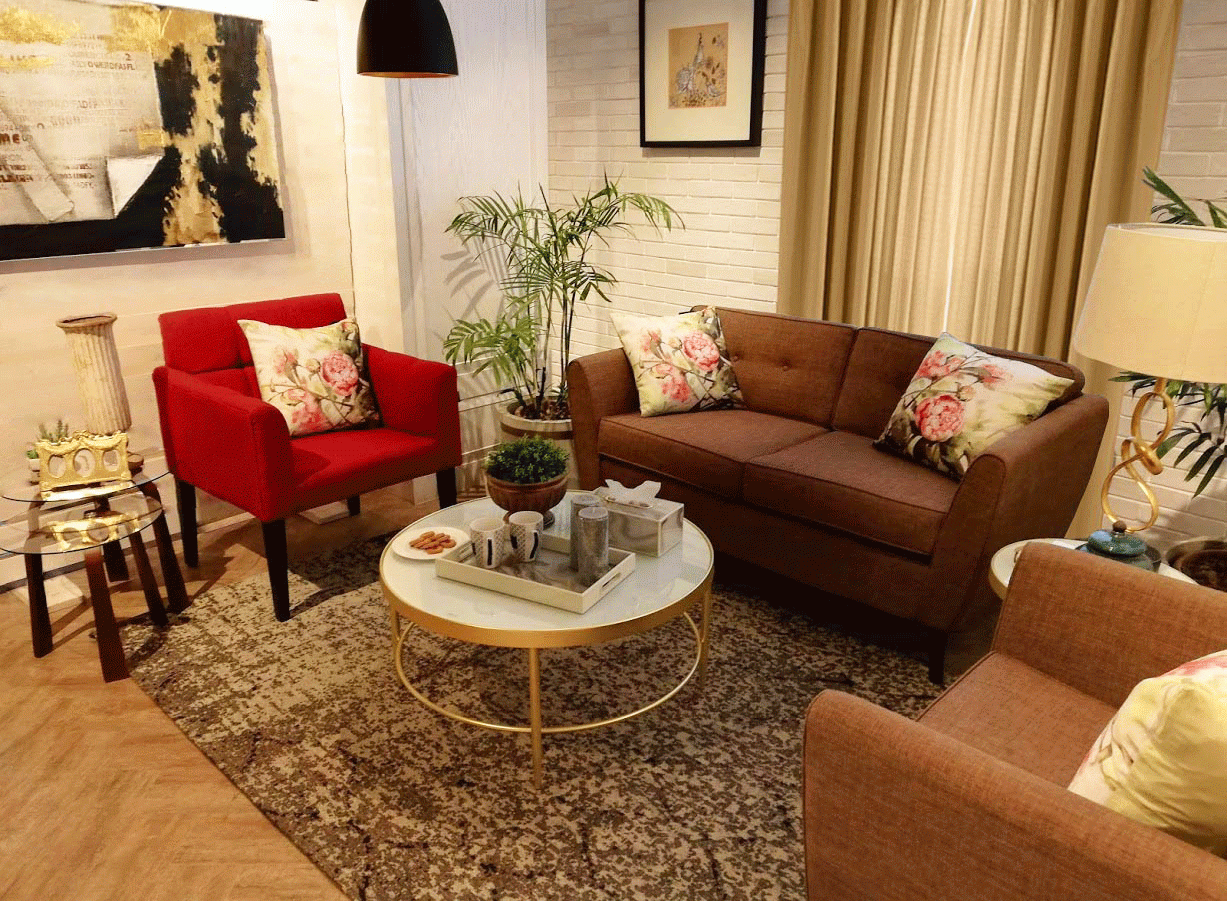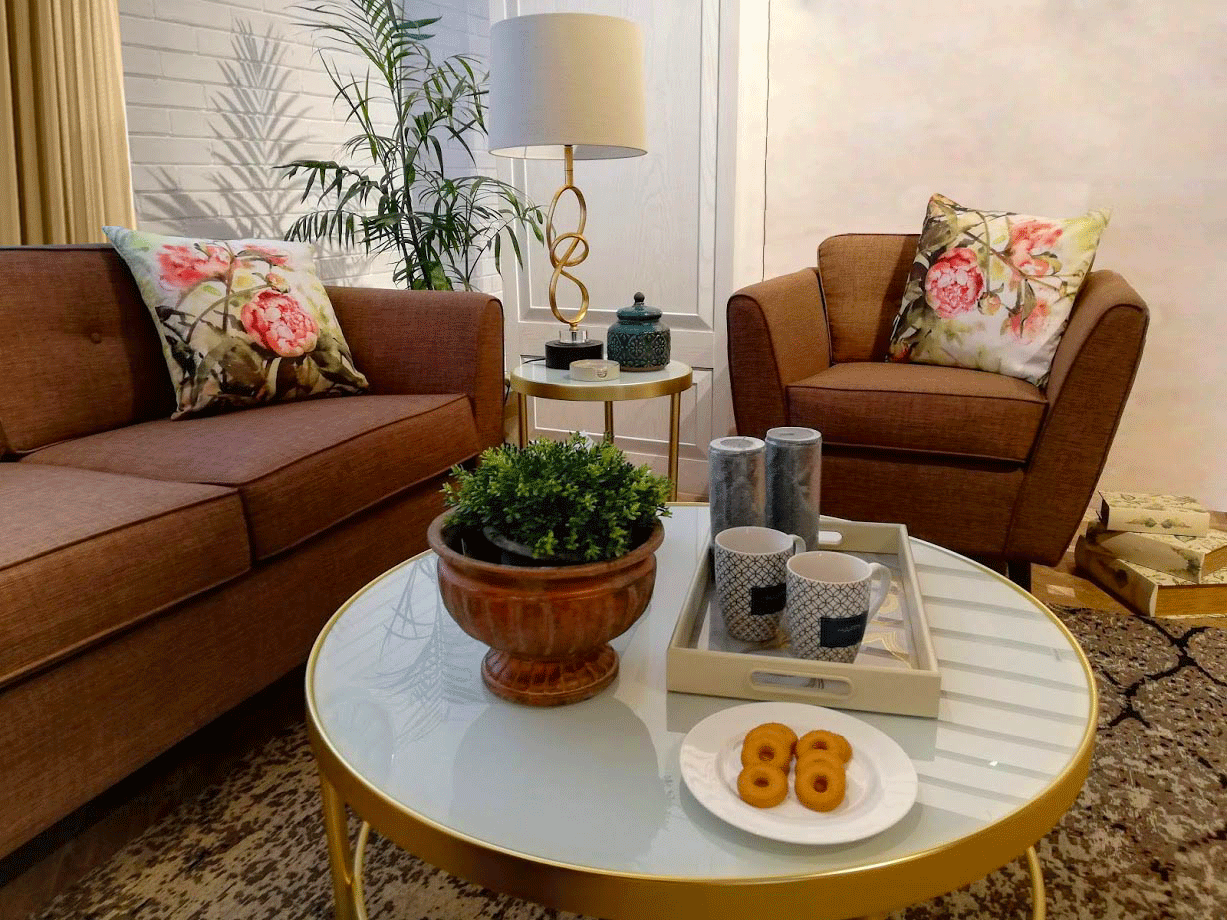 Yes. Asad just wants everything to be comfortable while I am particular about how things look. But our tastes are similar and we can come to happy agreement.
We like to sit here and have tea and read. Neither of us are big TV watchers. We will watch films on our laptops once in a while so we did not invest in a TV at present.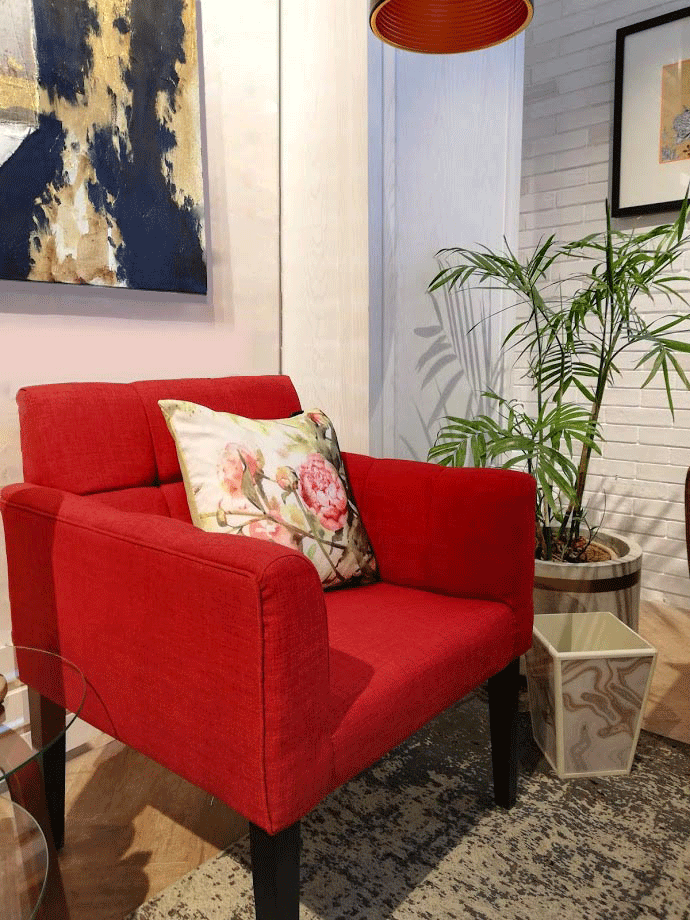 I particularly love the red chair as it adds a pop of colour and the white & gold coffee table. They are both stylish yet so functional. We added the cushions and other small tables from Interwood as well. The Apni Marzi ka Package includes a 5% free voucher for accessories from their range.. .So that was super useful. It was so easy to just pick everything from one place.
The bedroom is more classically styled.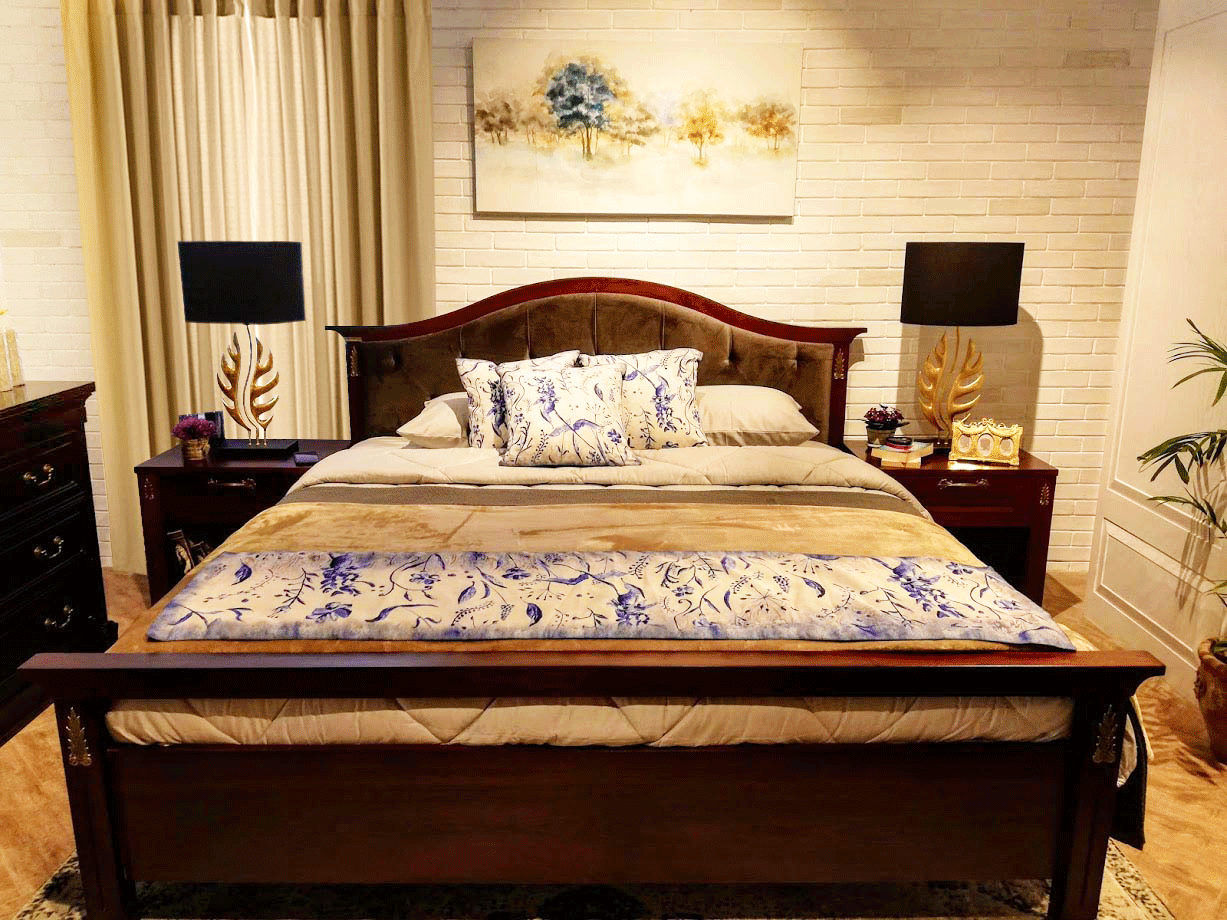 Yes. The bedroom furniture was gifted to us by my parents and I went with their choice.  They wanted to give us something that was more traditional but still fitted into our apartment, design wise.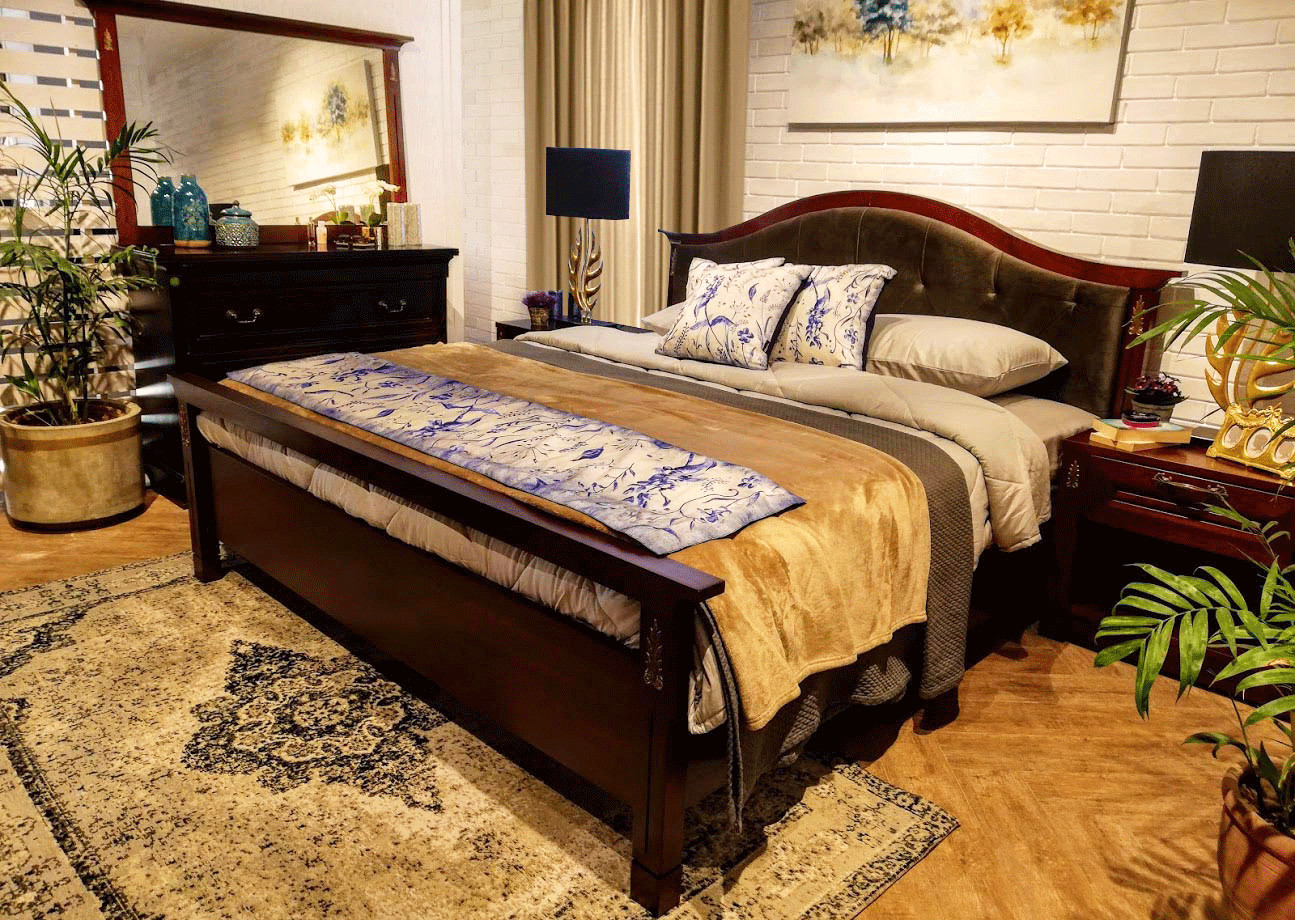 The bed is super comfy and I love the rug. And Interwood let us build their purchases into the same package. The more you buy, the bigger the discount so it worked out really well.
The dining room is very smart. Do you have friends over for meals?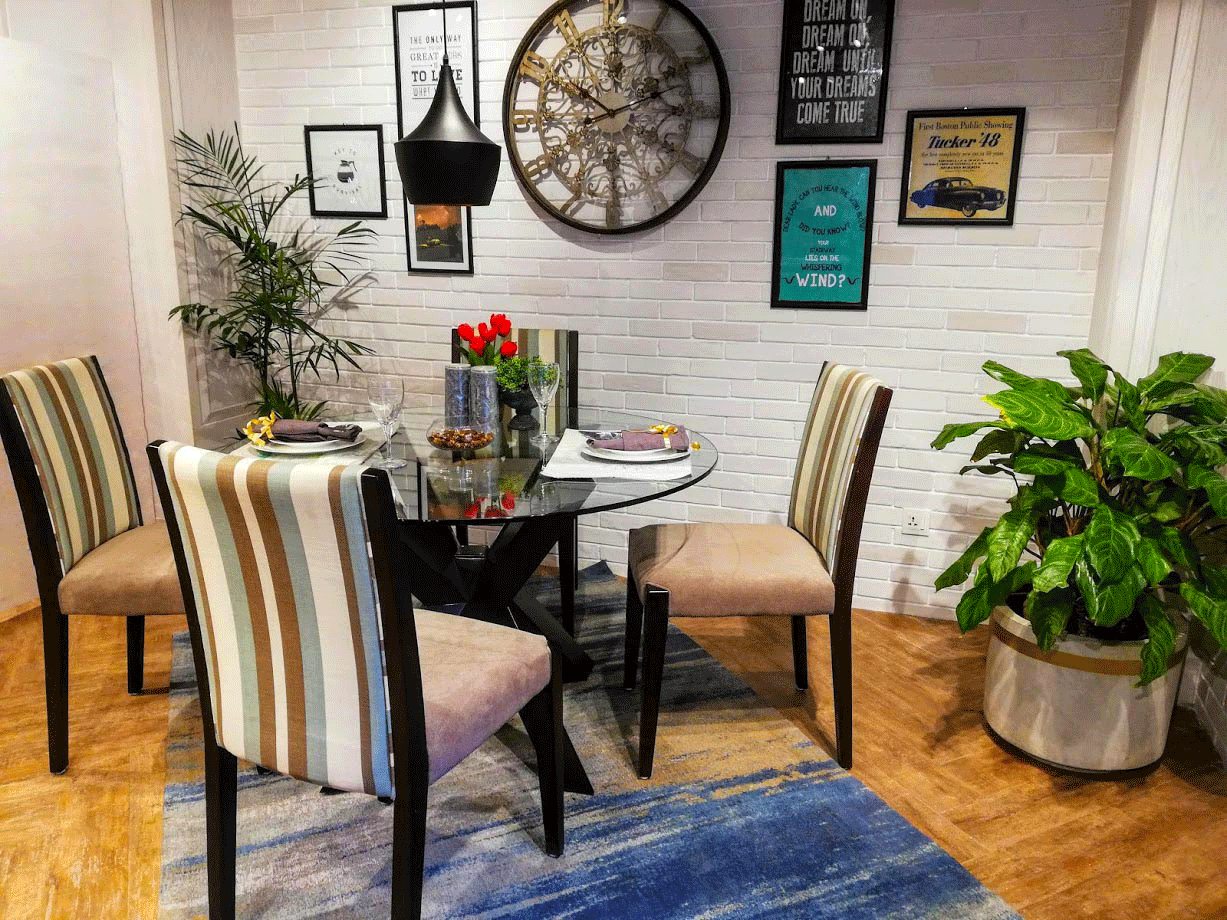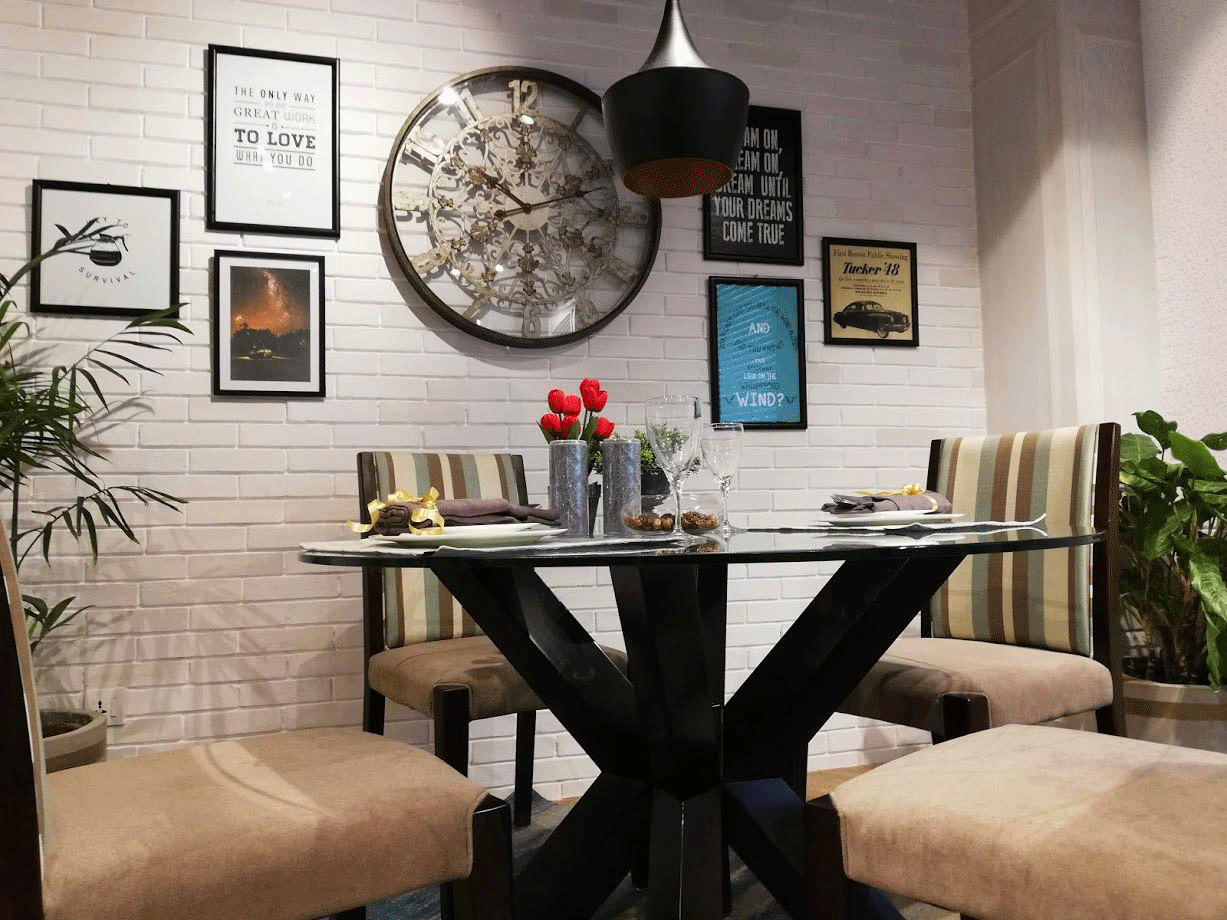 Yes. The dining table and chairs were actually a gift from Asad's parents but we chose the color and design!  Their purchases were also added on to the same Interwood Apni Marzi ka Package.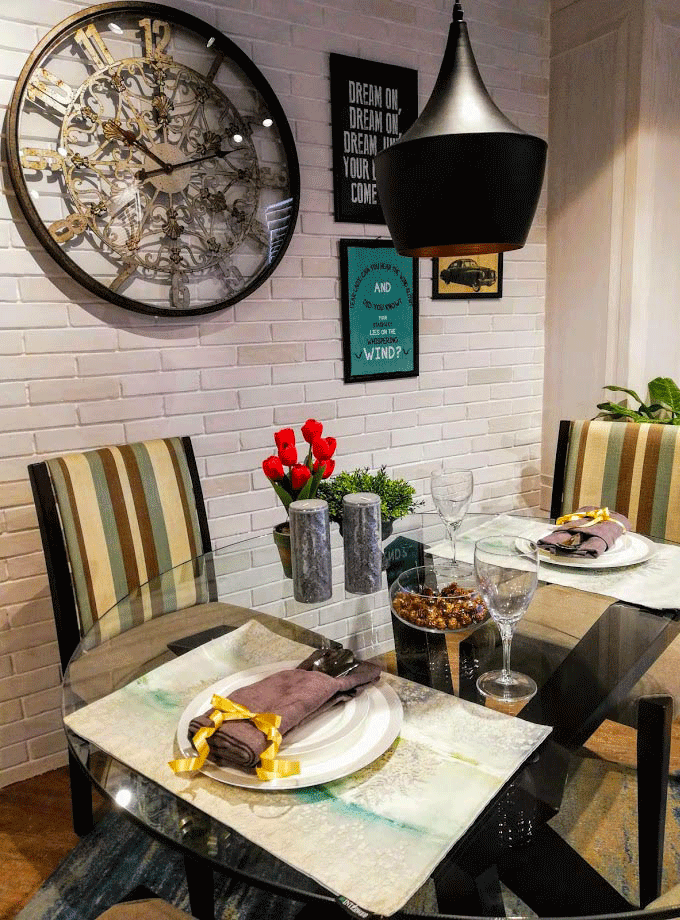 We love to have people over and have a common group of friends who drop by for casual get togethers.  We pull up chairs when needed.
You have made very good use of a small space. Did you get help?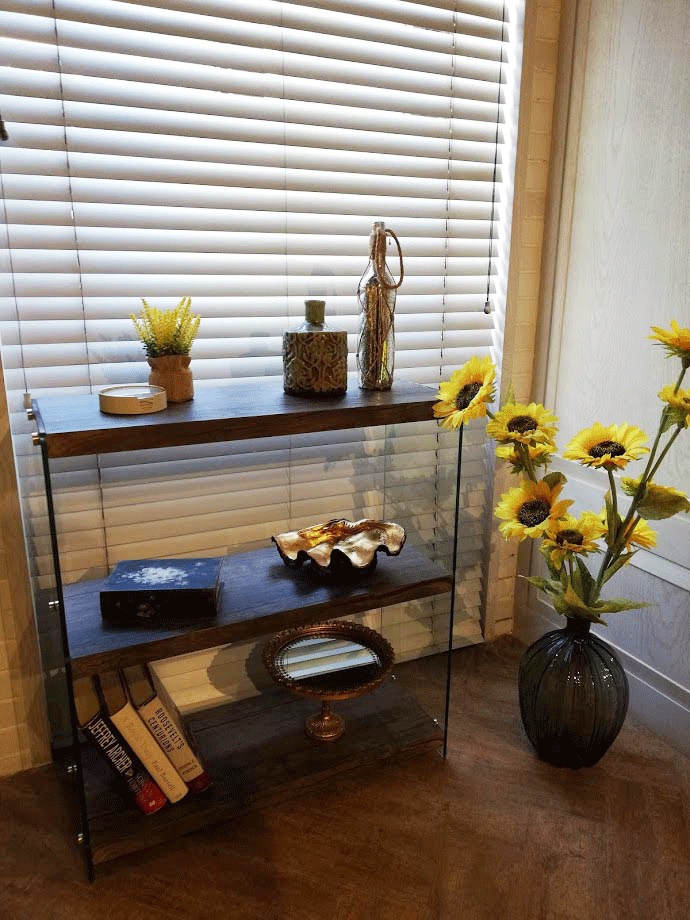 It is all self designed. But I must say that having everything in one showroom really helped us visualize the space and make quick decisions.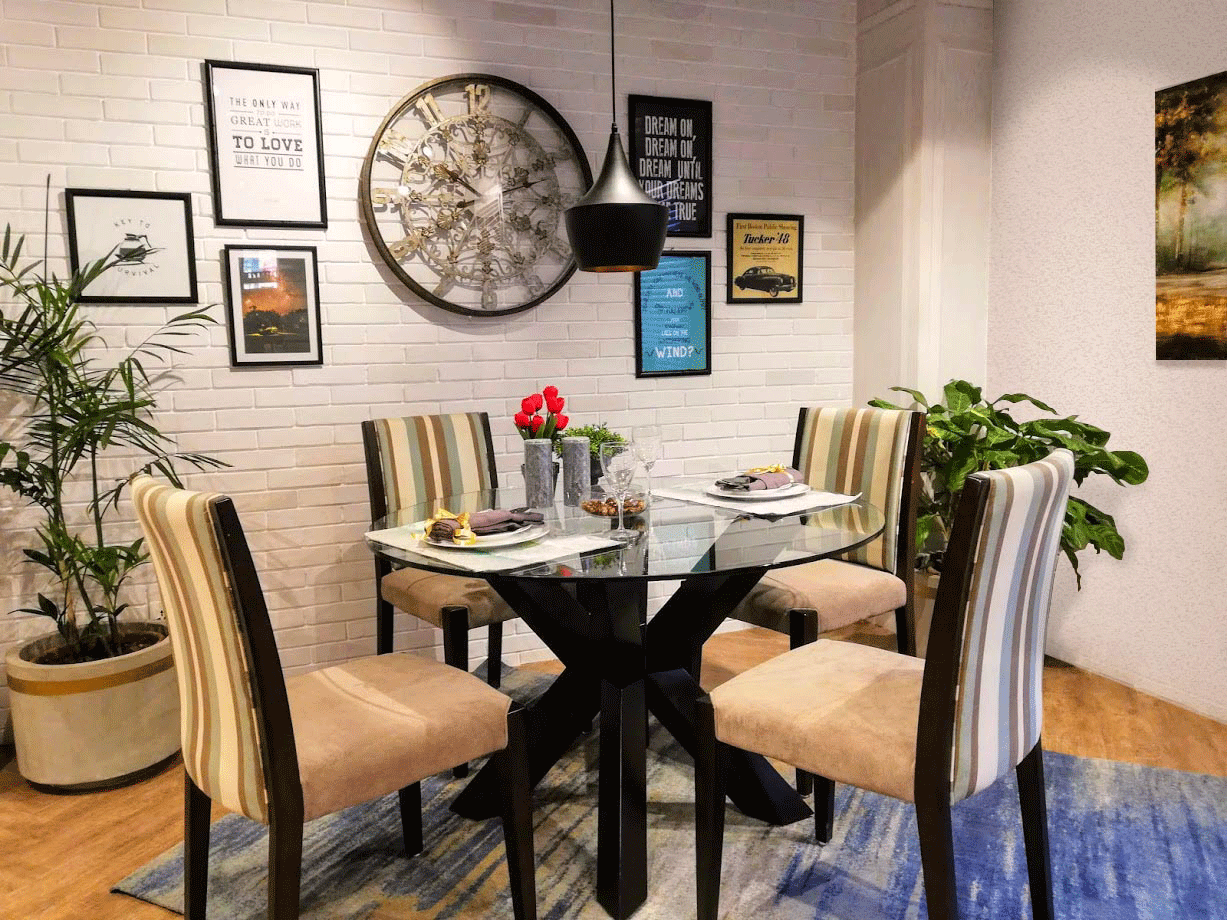 People think big shops are expensive, but when you consider how much the sofay-wala and carpenter charge these days…it actually works out much less.
Click here to learn more about Interwood Apni Marzi ka Package
Photography by Naeema Kapadia