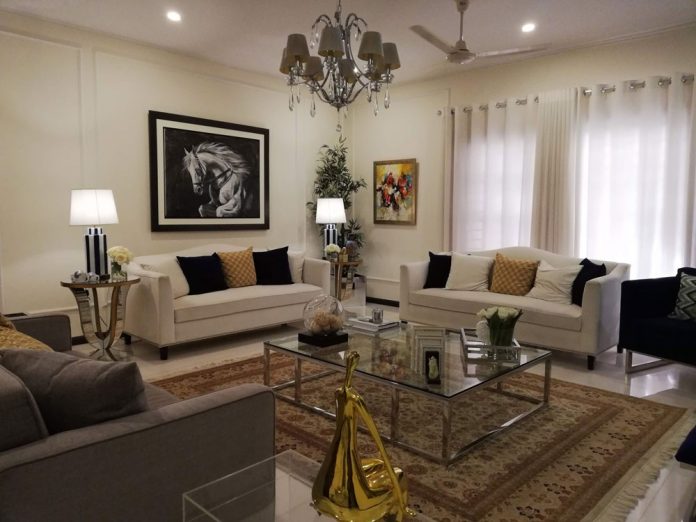 Home Renovation can be a daunting task. So when this homeowner was faced with the challenge of fixing up an old house in Karachi, she was a little intimidated at first. Then she realised that Envicrete was the simple solution.
What followed was a complete transformation to the point where the home is no longer recognizable as the original edifice.
The lady of the house showed us around her lovely living space and shared the journey from turning an uninspiring house into their cherished home.
This home has been extensively renovated ?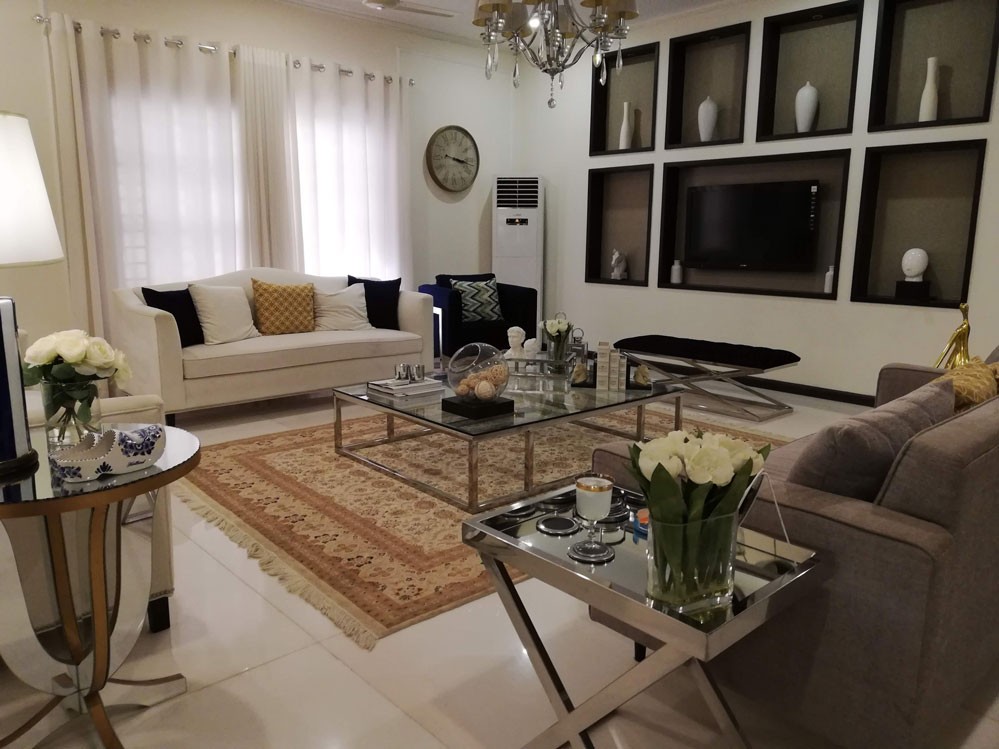 Yes. That's right. This was an old house, almost ten years old. And when I first saw it, I point blank refused to live here. But my husband persuaded me. He said I could I could change whatever I wanted to, do as I pleased.  Since the location was good, we went ahead and bought it.
It must have been quite a daunting project? How long did it take?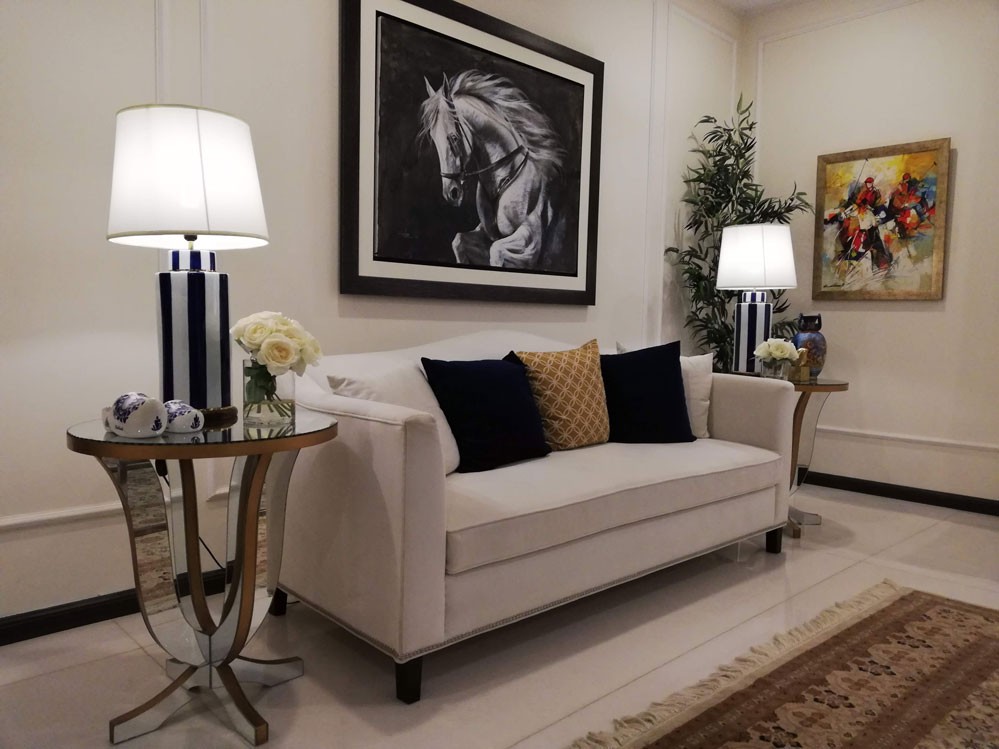 It tooks eight months, during which time I barely stepped out of the house. We lived in one room with my kids and the rest of the house was done one room at a time.
Did you have any professional help?
No. It was all designed and overseen by myself and my daughter, who has studied interior design and has done some  projects.
So it was a complete makeover?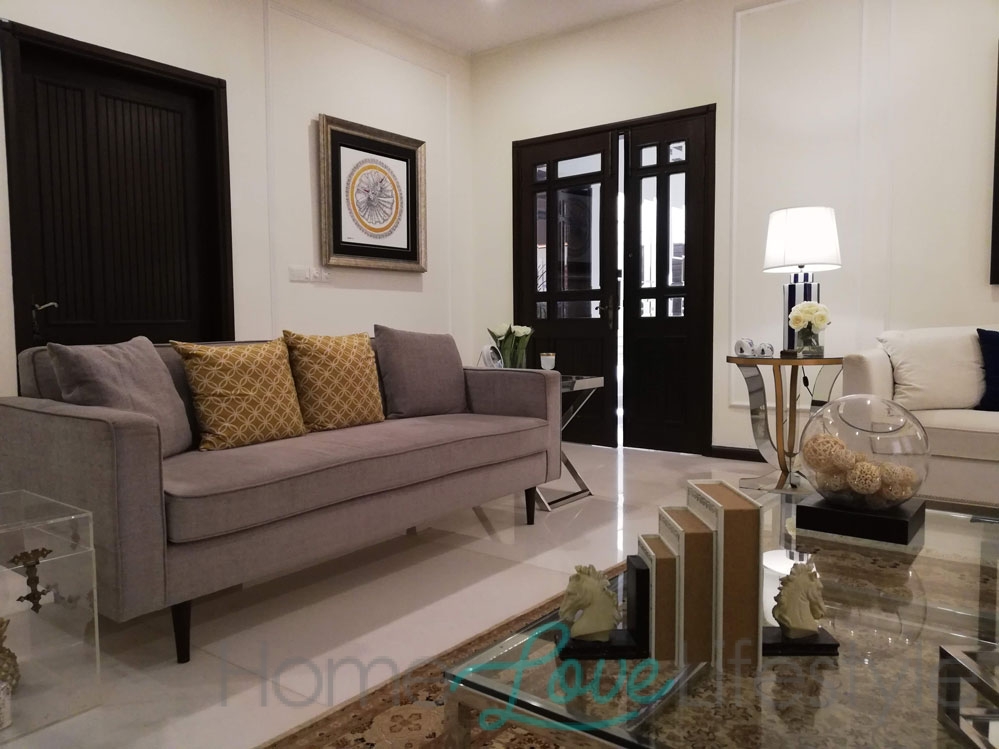 Completely, the inside as well as the façade. In fact, the original owner visited after we had re-done it and he was in shock. He could hardly recognize the house.
While I was doing the home renovation, someone told me about Envicrete. So I visited the showroom in Karachi and saw all their interior finishing products, such as mouldings, trimmings, panellings which I really liked. Especially the mouldings.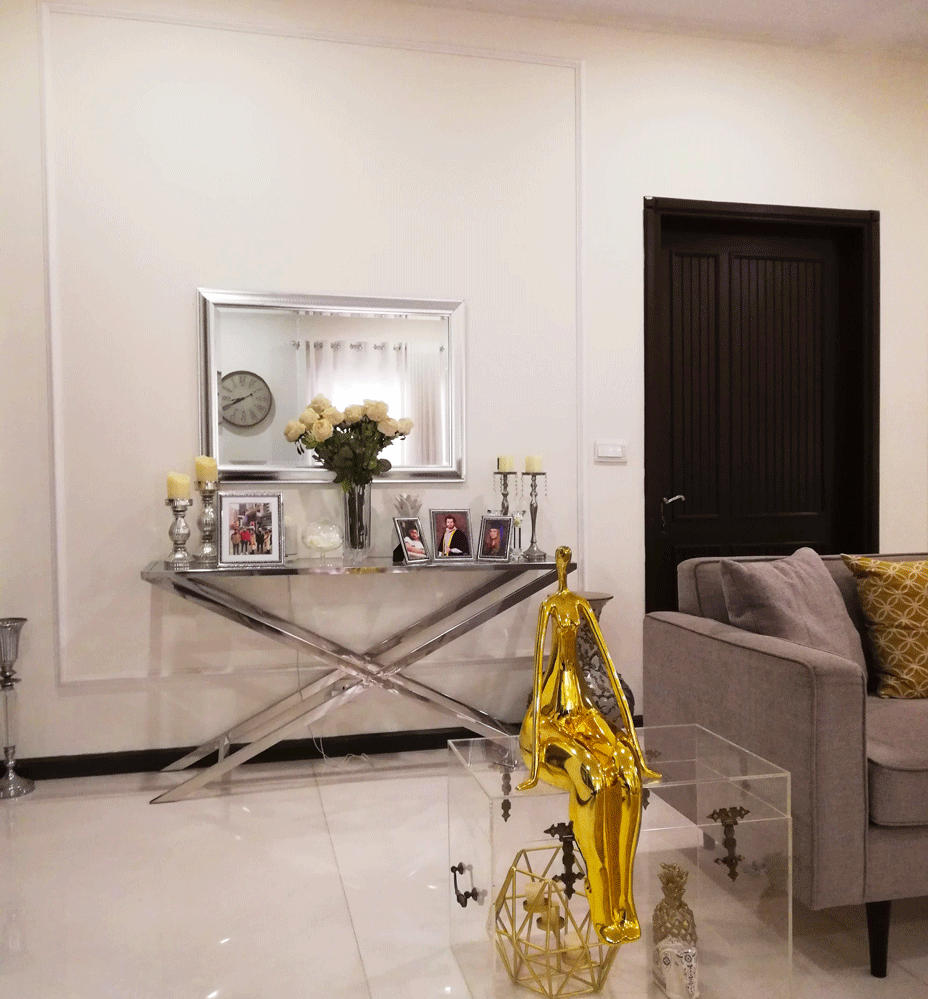 You can get a carpenter to make these mouldings or get them made in gypsum. But they will not have the finesse and precision of what Envicrete has to offer. And it's a hassle-free and clean experience. The mouldings are pre-made and ready to be installed.
You decided how to use the mouldings youself?
Yes. Envicrete has a design service but we already had so many strong opinions in our family, it would have been too much. (laughs)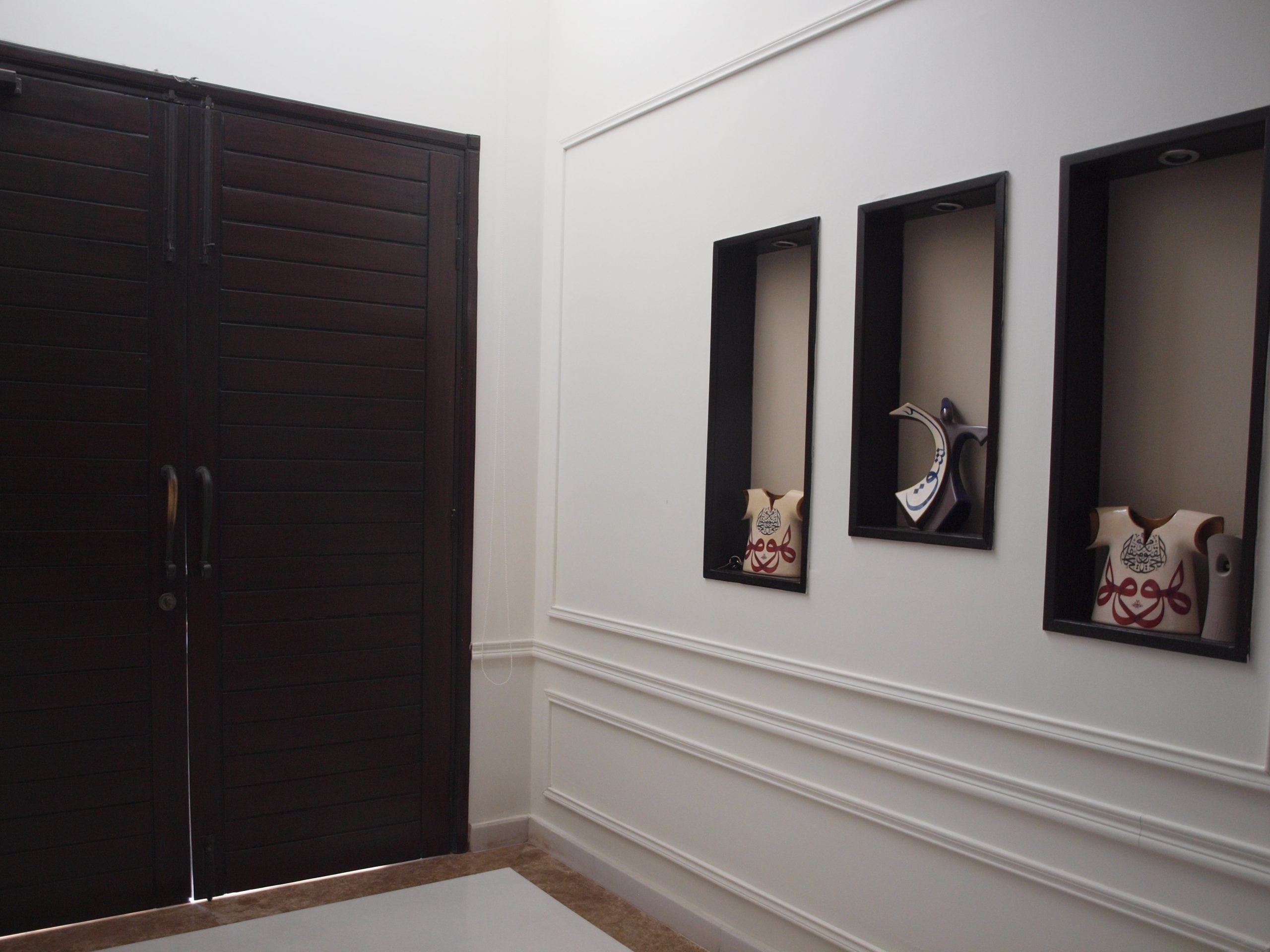 How would you describe your design sense?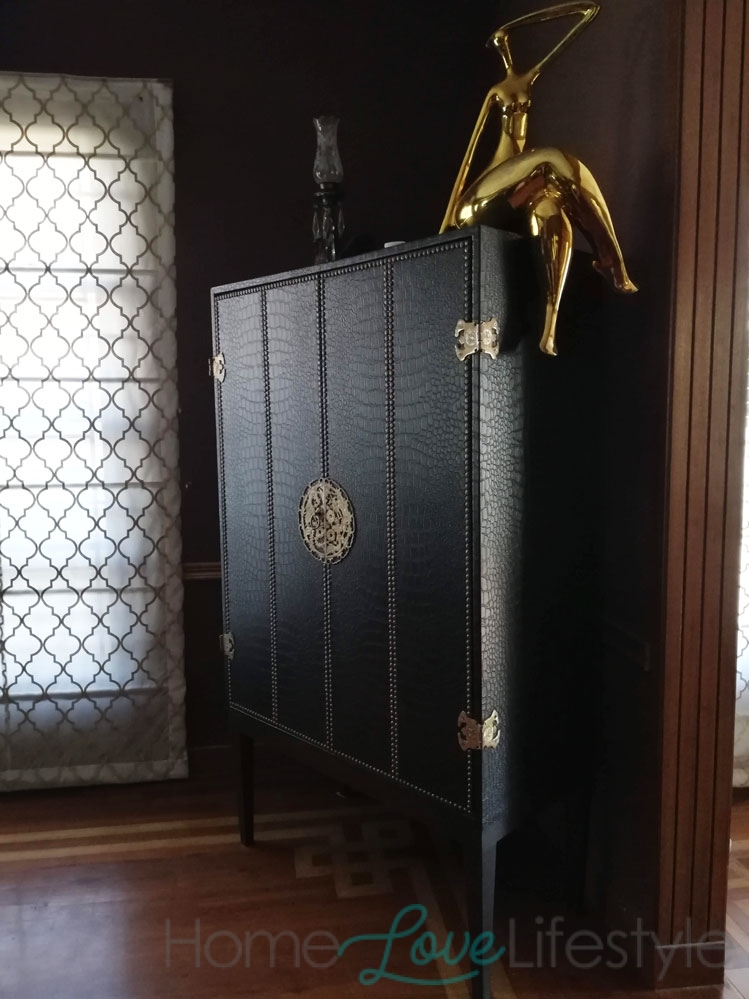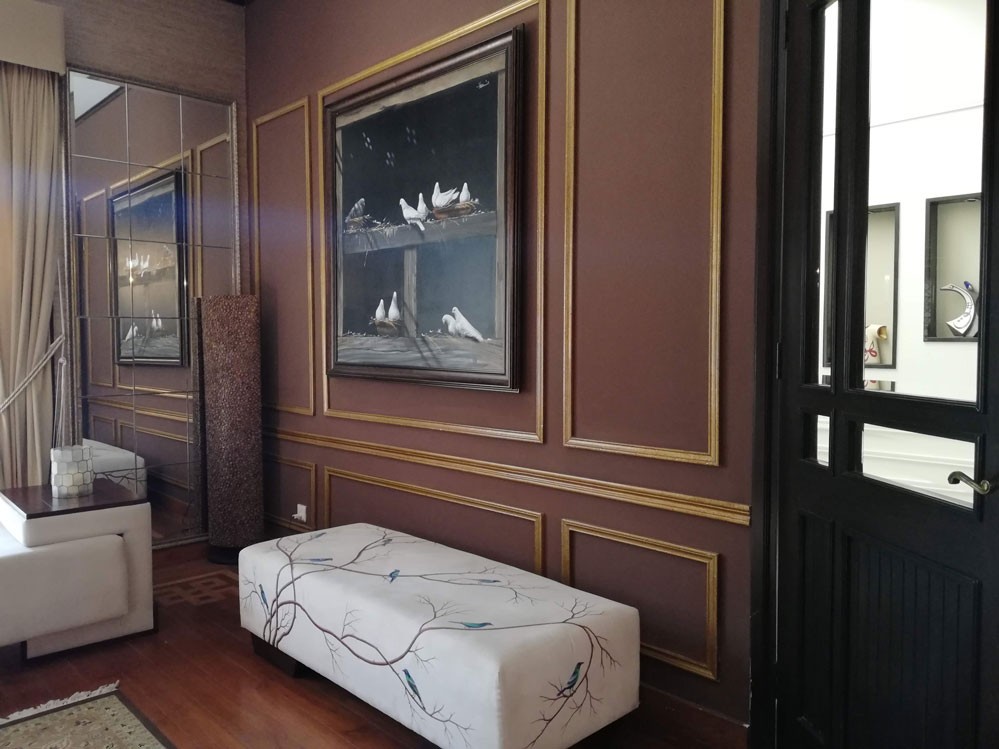 It's a combination of modern and classic.  The downstairs is more formal and classic. The upstairs, which is our main living area, is more modern and casual.
Actually each area has a different theme.
You seem to have a preference for neutrals.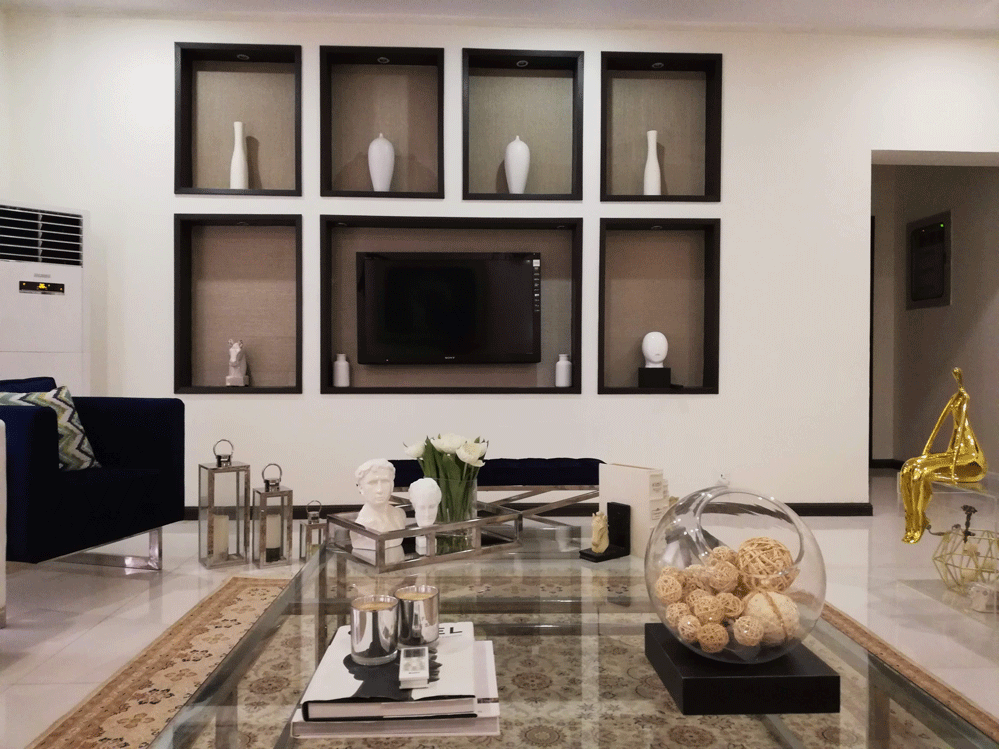 Oh yes!  I love pastels. If I had my way the whole house would be white, but that's not practical in our climate.
Our formal lounge has a neutral palette and the mouldings and other design elements give it character.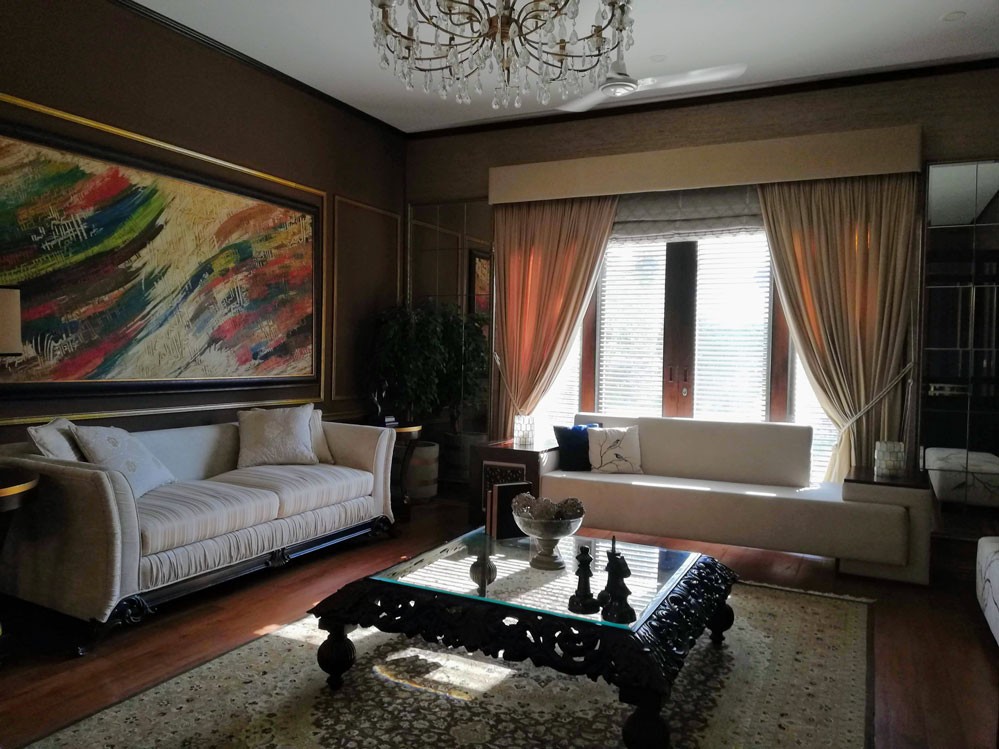 The more formal sitting rooms used to have beige walls but my daughter recently decided that we should paint the walls dark brown.  It accentuates the gold mouldings.
What is your favourite design feature in the house?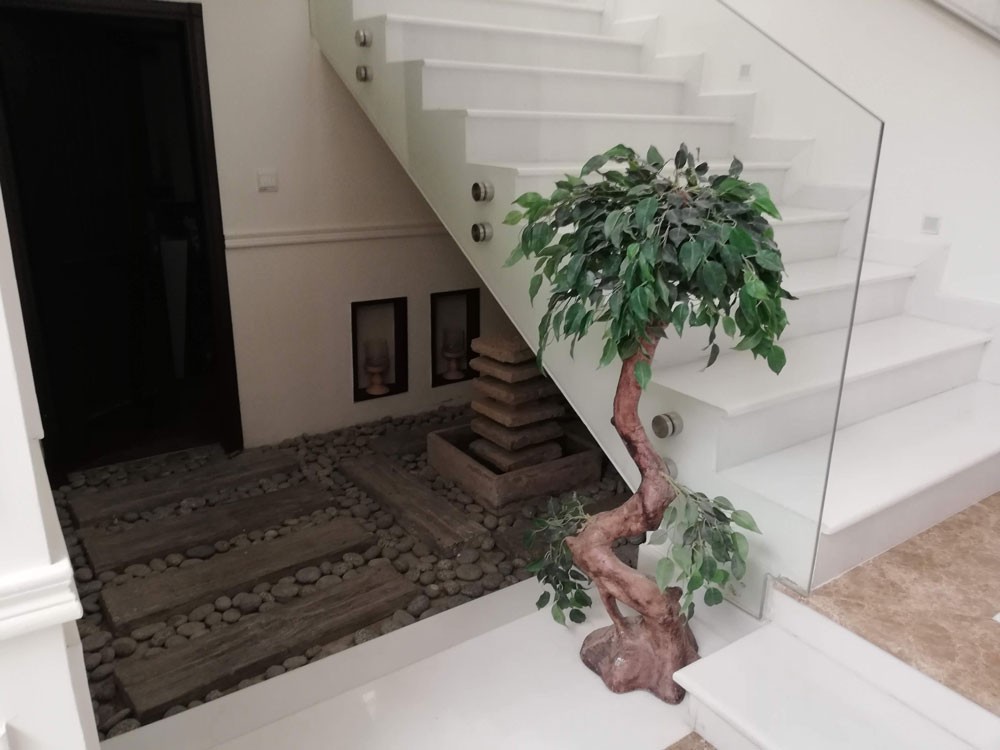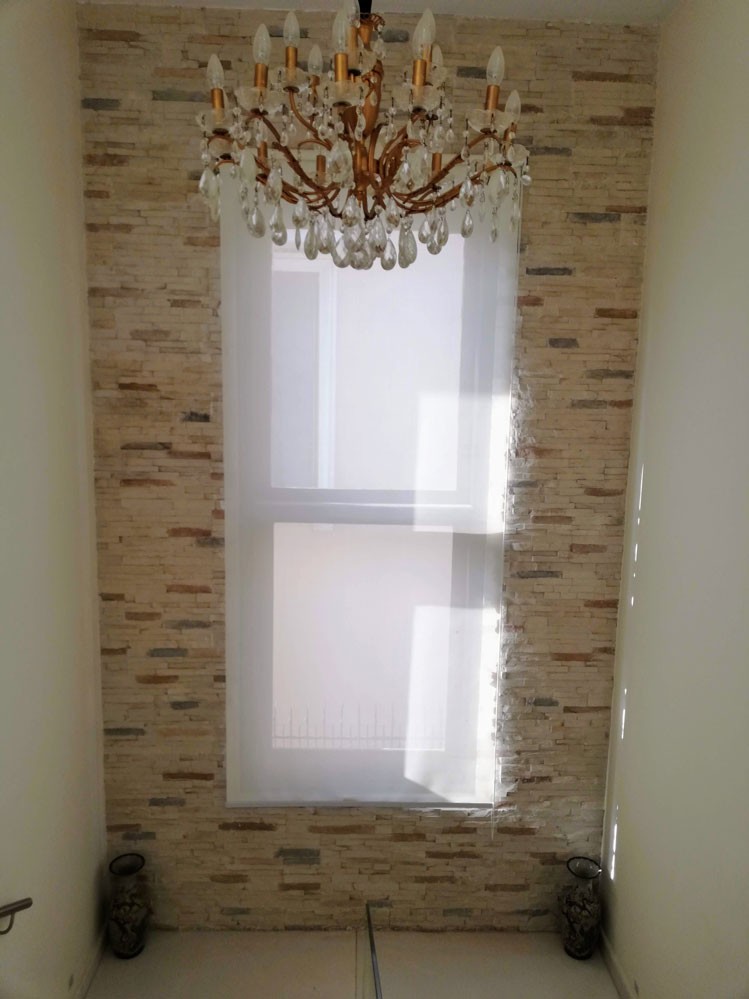 That  would be the staircase in the hallway. It has a transparent, acrylic balustrade which gives the stairs an almost free-floating effect. And the landing wall, covered with stone cladding by Envicrete, is also very striking.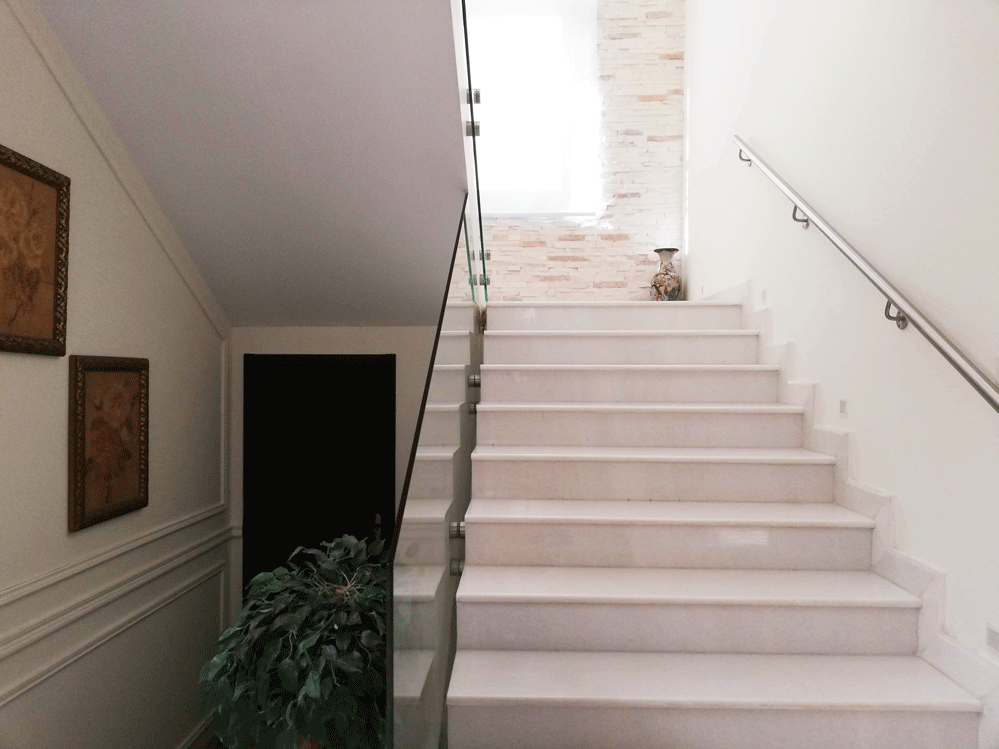 Originally, this staircase was built with stainless steel railings and one of the elements that made me  reject the house.
One can see a creative use of mirrors in the home.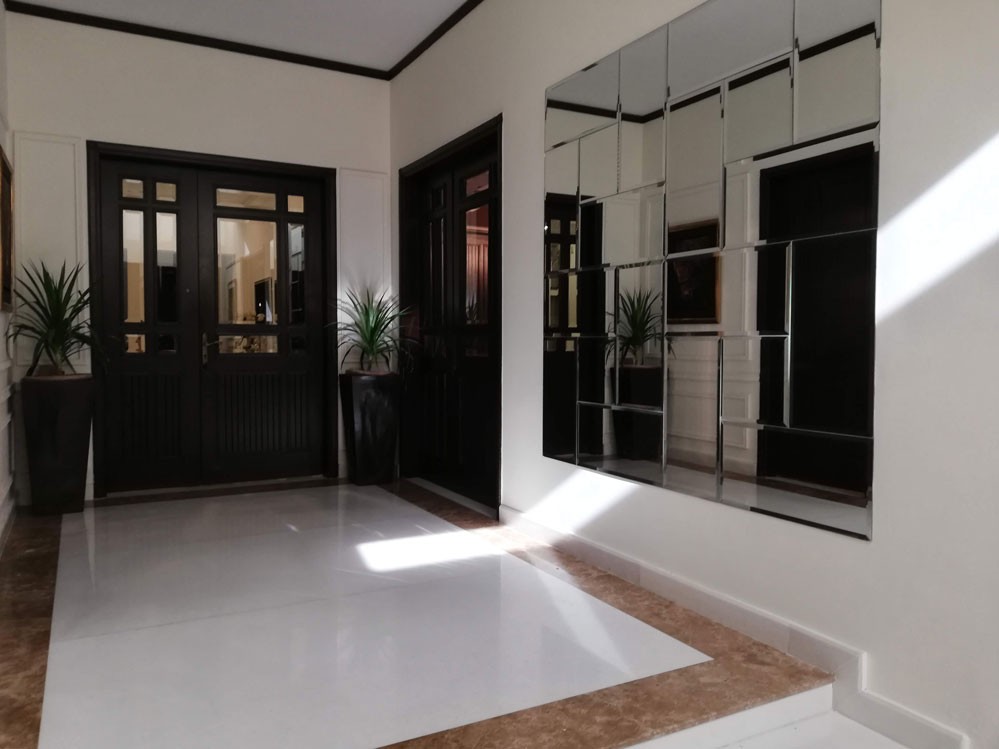 Yes, it adds an illusion of light and space. This mirror in the hallway was designed by me. I had every square measured and divided to be cut exactly in a precise pattern.
The outside of the home was also re-designed?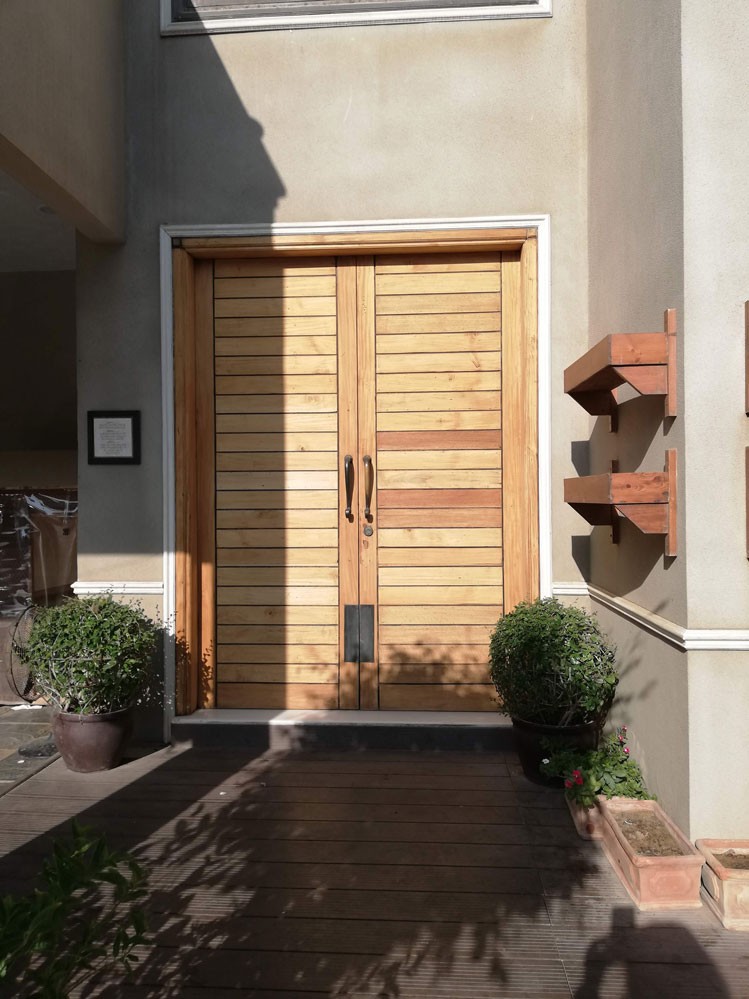 Yes, we added the faux wood from Envicrete to create a small deck in the front garden. Also the stone pavers outside the boundary wall in the front of the house are from Envicrete.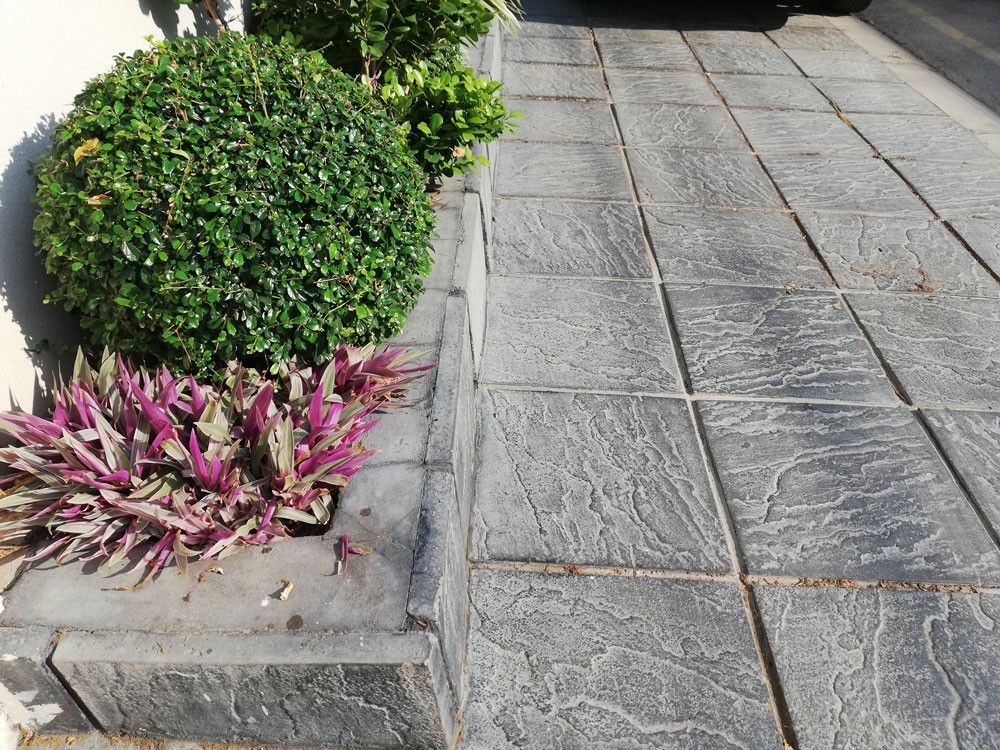 So how was the overall experience of turning this house into a home?
I actually quite enjoyed it. Choosing things and creating a space exactly as I wanted it was very rewarding.
Thank you to the home owners for sharing this transformative home renovation project by Envicrete Karachi. 
To learn more about Envicrete Products and Services Click Here
UAN: 021-111-456-567
Photography by Naeema Kapadia