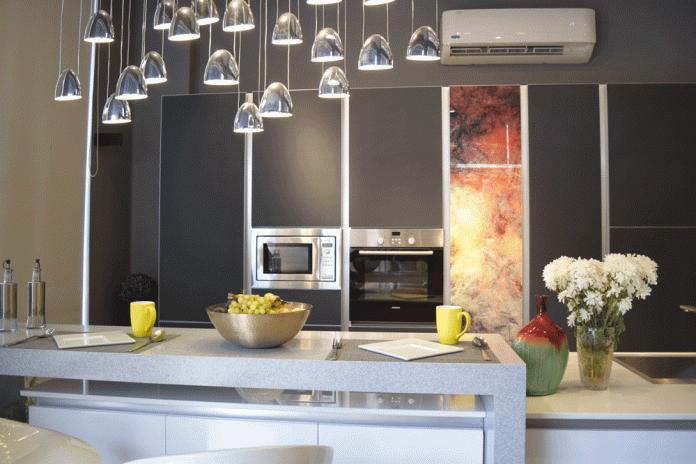 HomeLoveLifestyle loves these modern kitchen trends by Prestige. Kitchens are the heart of a home, especially if one considers the importance of meal times in our culture. Even for those who do not cook themselves, the concept of a clean kitchen has now caught on for the occasional cook or for entertaining.
These three ergonomically designed, contemporary spaces by Prestige Kitchens are efficient and functional. They all seamlessly combine style with utility and convenience to suit different lifestyles. We spoke to the homeowners about why they chose these contemporary Prestige Kitchens. 
Modern, Streamlined Kitchen
This kitchen is in the home of a busy couple, both working professionals, who do not have much time to cook. But Zahid and Sameera like to whip up stylish dishes on occasion to entertain their friends.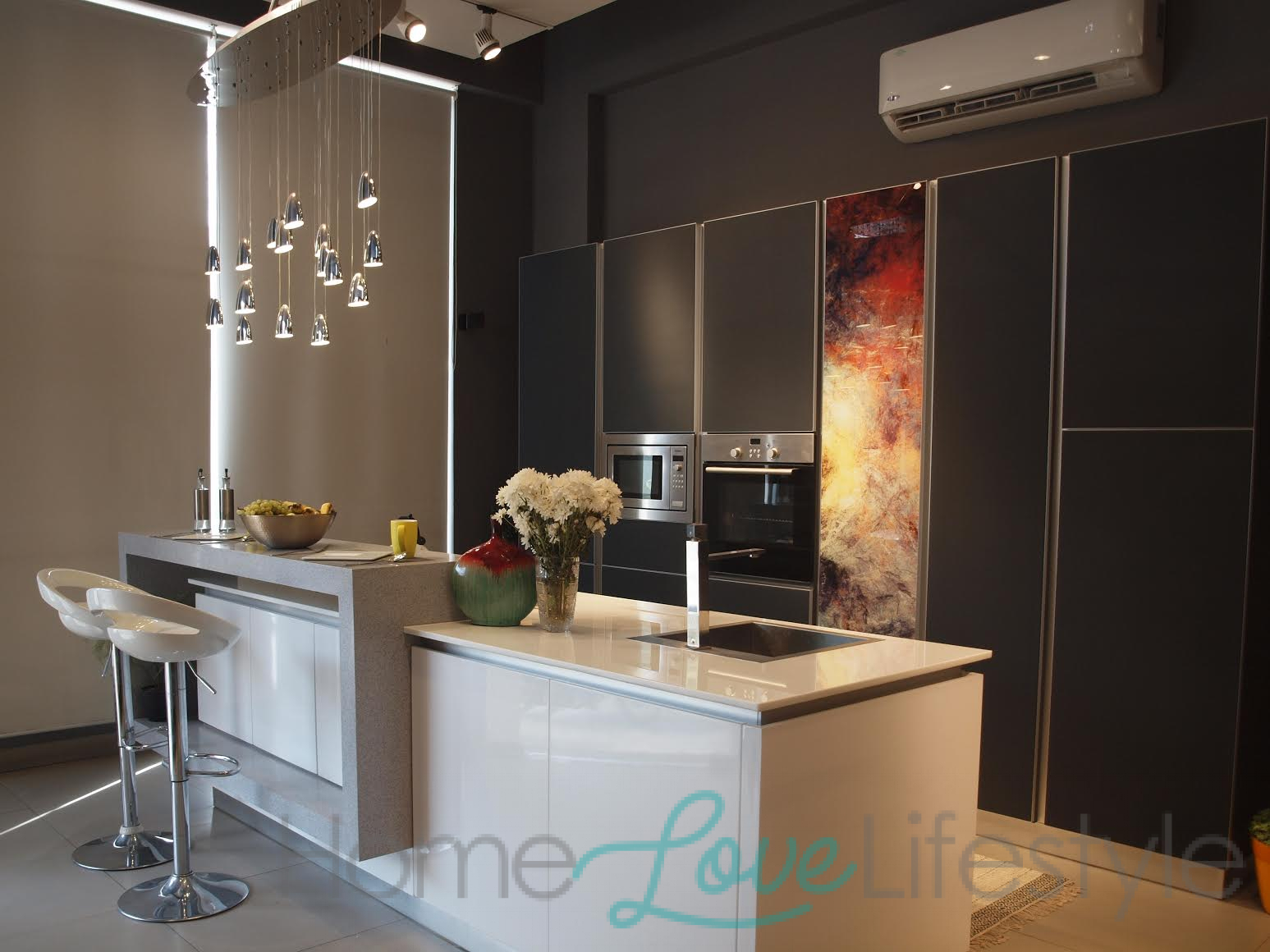 If modern and minimalist is your vibe then this is the kitchen for you. The matte-grey glass finish and granite top set the sleek, modern tone for this smart kitchen. The breakfast bar counter invites you to stop and take a break here while the abstract decorative panel adds a truly stylish and distinctive edge. 
Why did you choose this design?
Well, I have always preferred a modern, minimalist look. I had this image in my head of a sleek, beautiful kitchen, where I could cook or eat with small groups of friends. And Prestige Kitchens had the very thing. Mostly, our entertaining is pretty casual so I wanted a kitchen area which could be incorporated into our living space.
And everyone loves our kitchen. We get loads of compliments on it.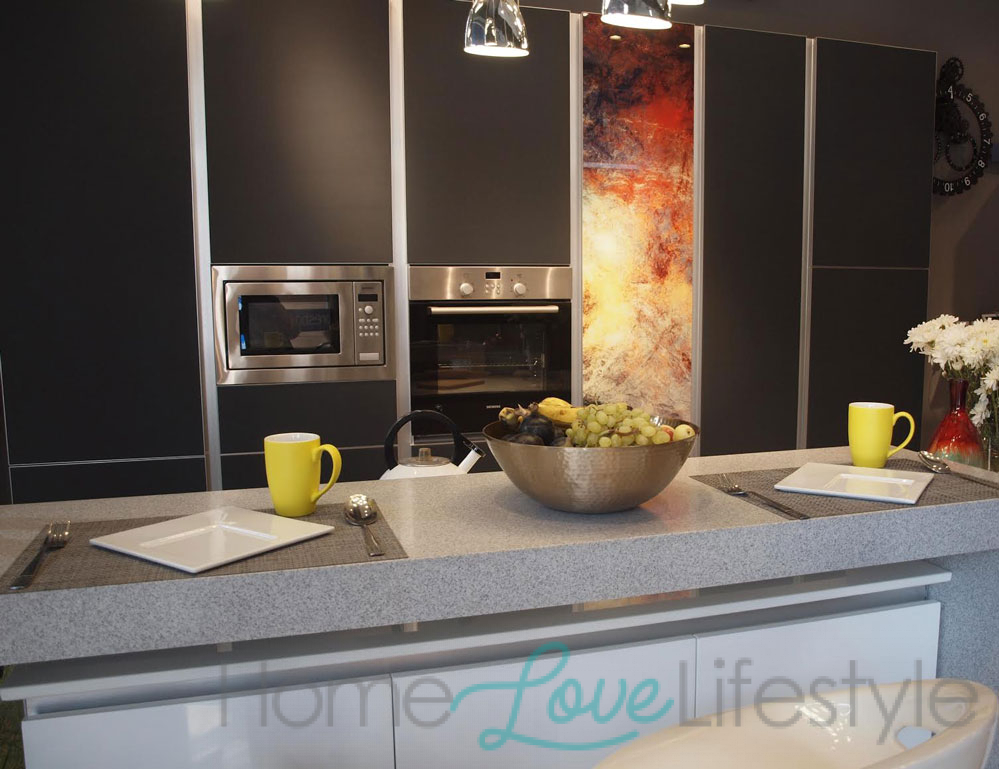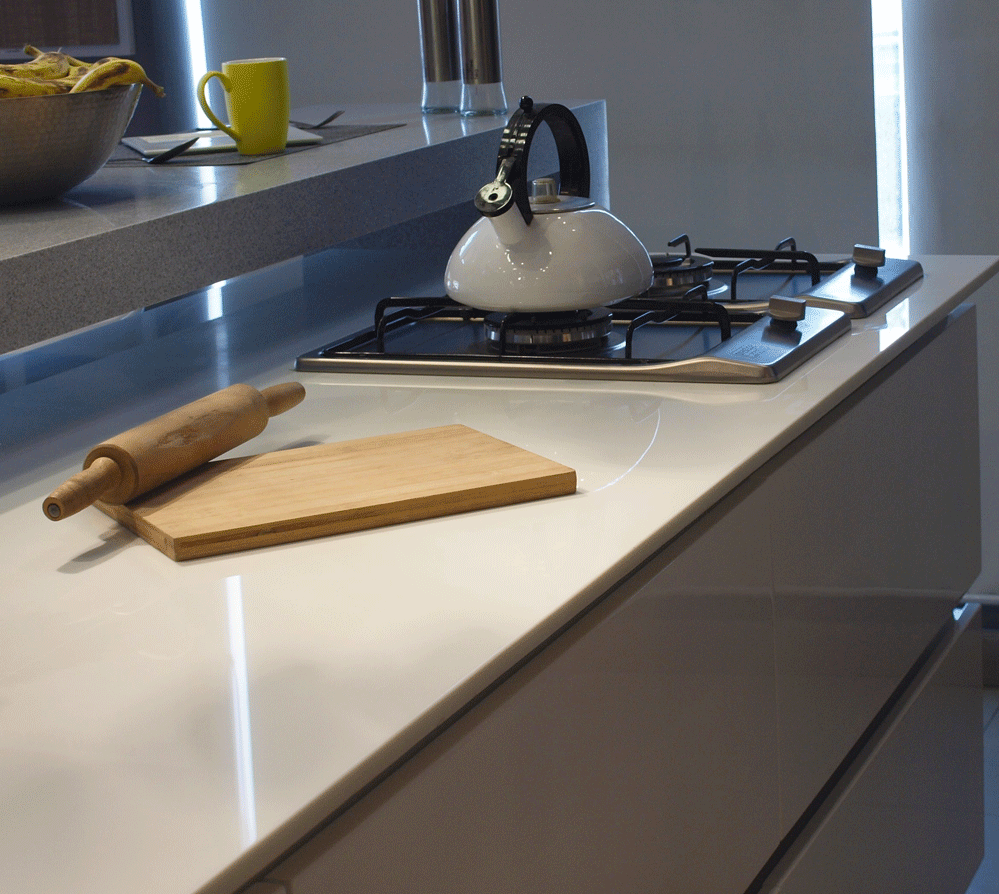 It is beautiful. But is it user friendly as well?
Oh yes! Absolutely. There is tons of storage and everything is very durable and easy to clean. And the breakfast counter is super useful to catch a quick meal. Or even to just sit here with my coffee while working. So we use this space quite a bit,  even when not cooking in it.
Cosy & Contemporary
Modern can still be cosy. If you plan your kitchen well, a smaller space doesn't mean compromising on style. Modern and efficient, this kitchen is the domain of Mahnoor, a young stay at home mother who always has her hands full. An easy-to-use, aesthetically pleasing kitchen is an essential part of her life. Clean lines combined with earthy finishes make for an understated style that's family friendly too.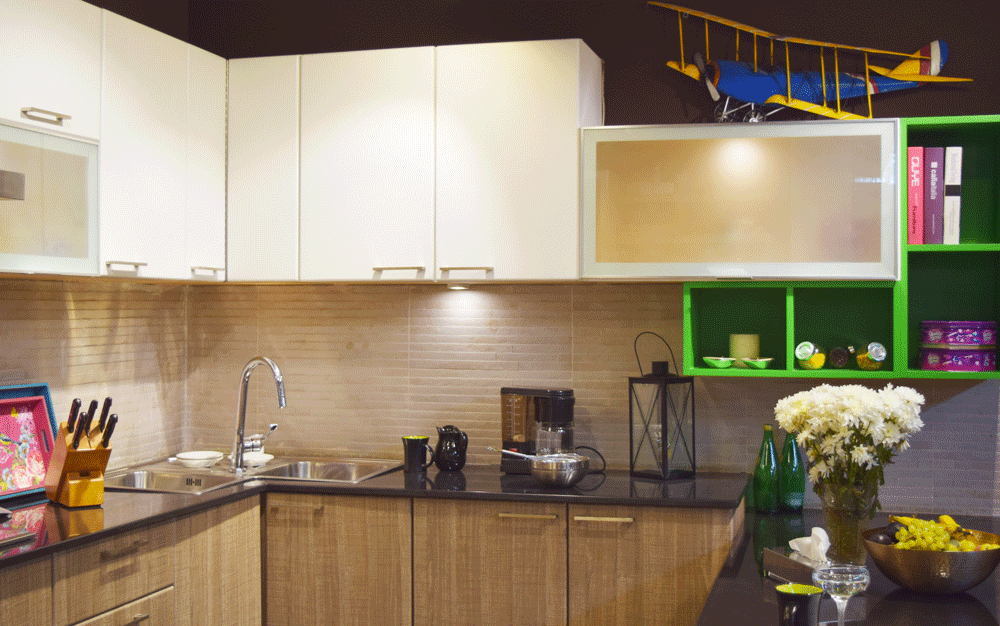 This kitchen has a very bright, cheerful vibe?
Yes. I spend a fair amount of time at home because I have a small child so I really need to surround myself with good vibes. The brightly coloured open shelves stand out and create a fun element.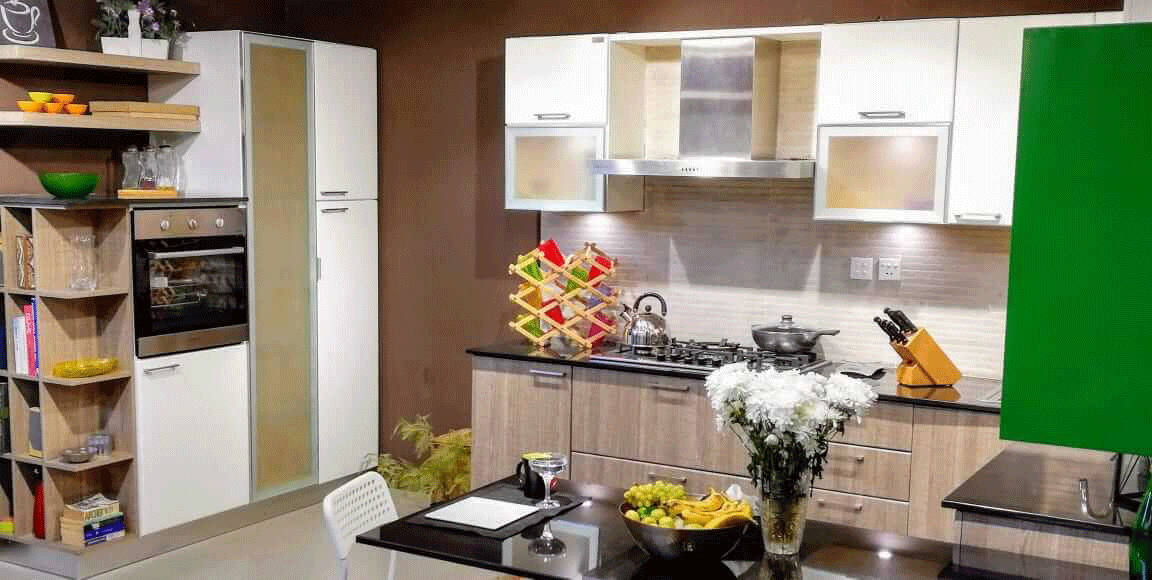 Do you cook yourself?
I do have help in the kitchen but I also cook for my daughter and sometimes for my husband, when we want something different.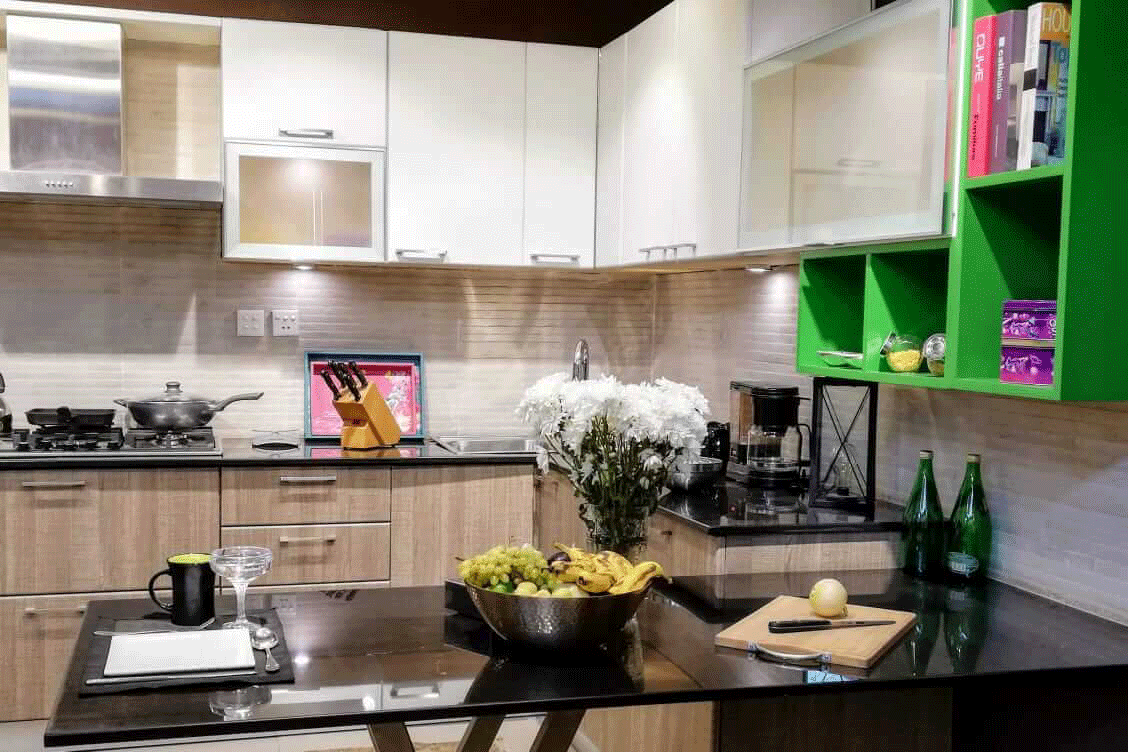 What made you choose this particular design?
We wanted to maximise use of the space and these cabinets by Prestige are designed to increase storage by almost one-third. That really makes a huge difference in a small space!
Trendy and Homey
This kitchen is in the home of a self-confessed foodie who loves to cook and feed his loved ones. It's all about the warmth and cosiness of family for Humayun. The faux wood and brick finishes in this kitchen create the homey vibe the home owner was looking for.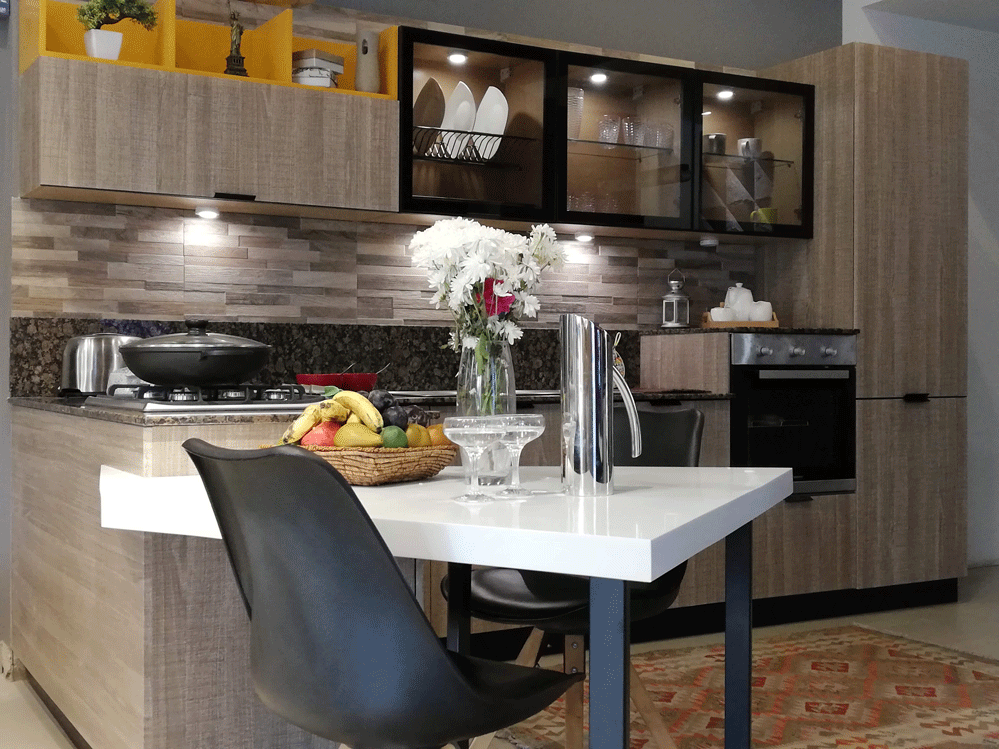 You love to cook. So obviously the kitchen is a very important space for you.
Oh yes! I wanted a practical no-fuss space in which I can cook without being scared of spoiling something. The design had to be clean and efficient. Having said that, I did want it to look good as well!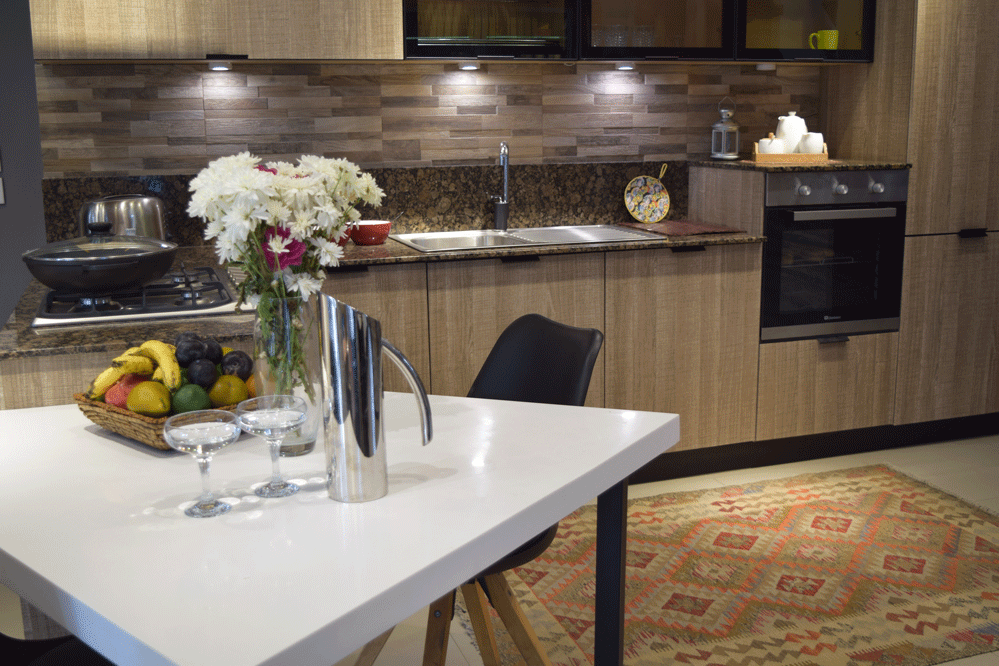 How does this design fit into your lifestyle?
I love to cook for family and friends. I want to involve them in the preparations too. My kids help me whip up fun meals and any spills can be easily cleaned.
Do you entertain here too?
We have an open house. People drop by for brunch or dinner. Friends love hanging out in my kitchen…they think the glass cabinets are super cool. It's a warm, welcoming space.
Team Homelovelifestyle was excited to see modern kitchen trends, innovative  designs and quality finishes by Prestige Kitchens.
(To see more, go to www.prestigekitchens.com.pk)
Or call