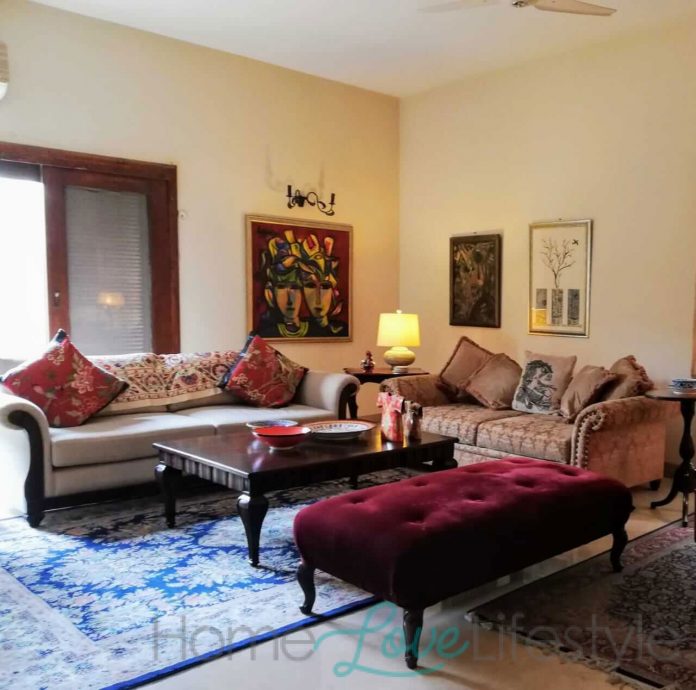 Yasmin Zaman is known for her tasteful and exquisite bridal and formal wear. One of the most sought after designers on the local fashion circuit, Yasmin welcomed us into her lovely home which was full of warmth and character. Filled with art, heirlooms and collectibles, this is a family home that reflects the histories and personalities of its owners as shaped  by the aesthetic sensibility of the designer herself.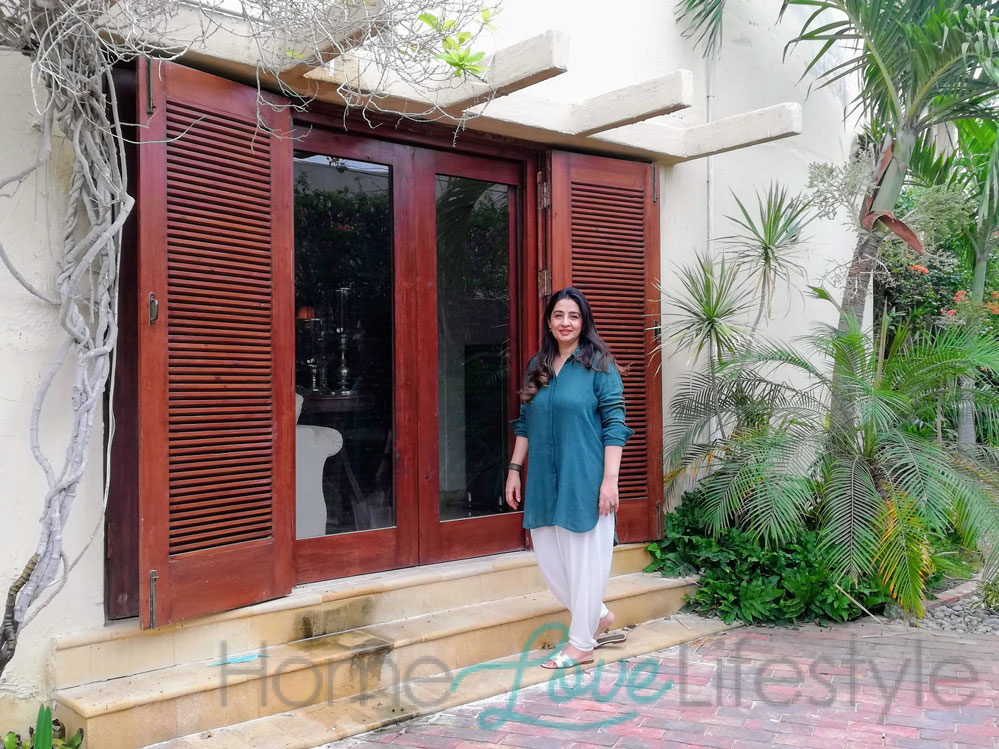 Did you buy this house or build it?
The house was built from scratch.  The late Faisal Butt was the architect who designed the house but I was fully involved in every aspect of the construction.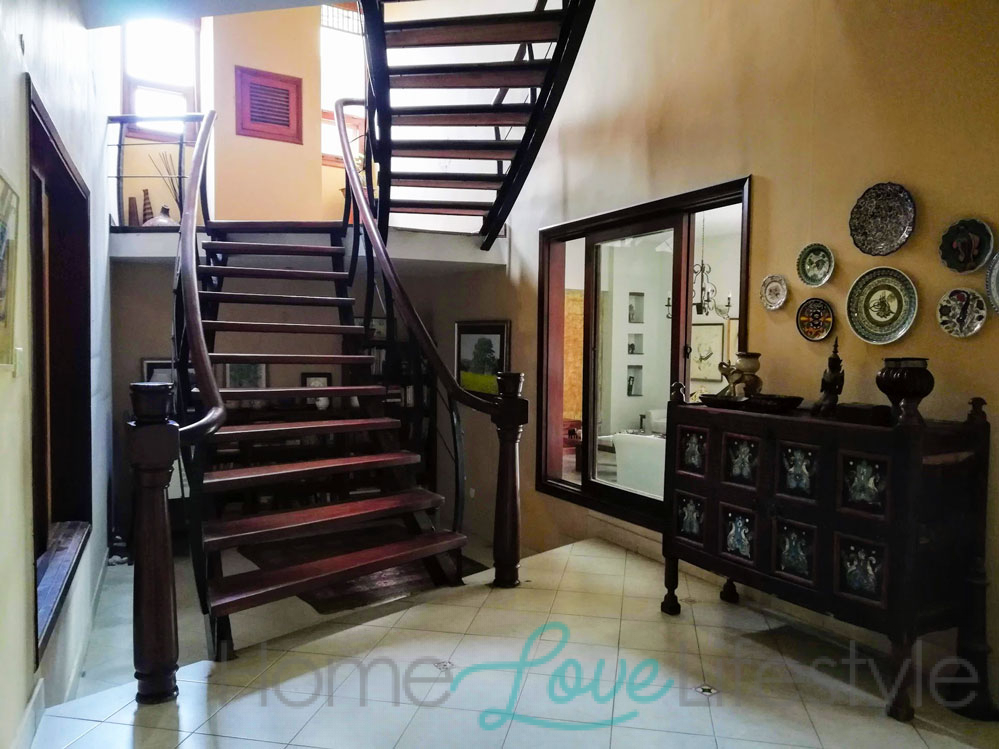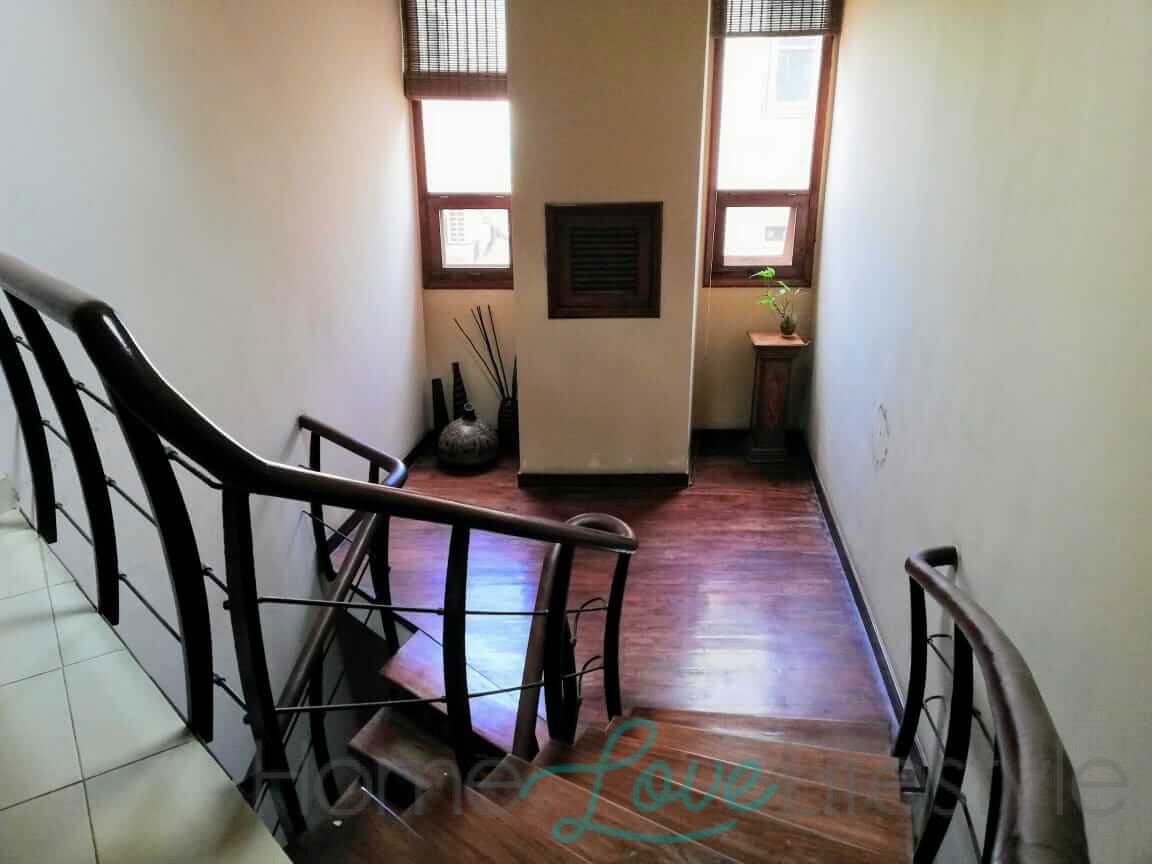 One thing you will notice about the house is that there are no straight lines. Even the corridors, the stairs, everything has a curve, which is something my husband and the architect wanted to incorporate.
The interiors are done completely by myself.
Well you are a designer so you obviously have a finely honed aesthetic and sense of design.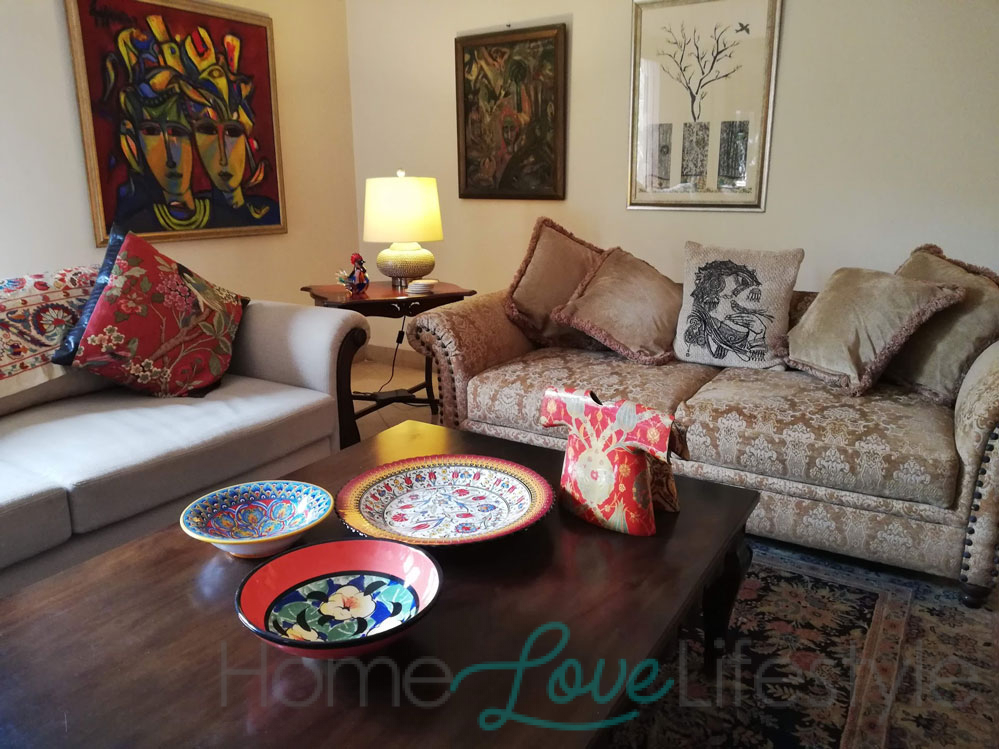 I hope so. (laughs) I have a bachelors in Fine Art and also a  degree in textile design. I have also taken many courses in ceramics which I love. So you will see a lot of pottery around my home.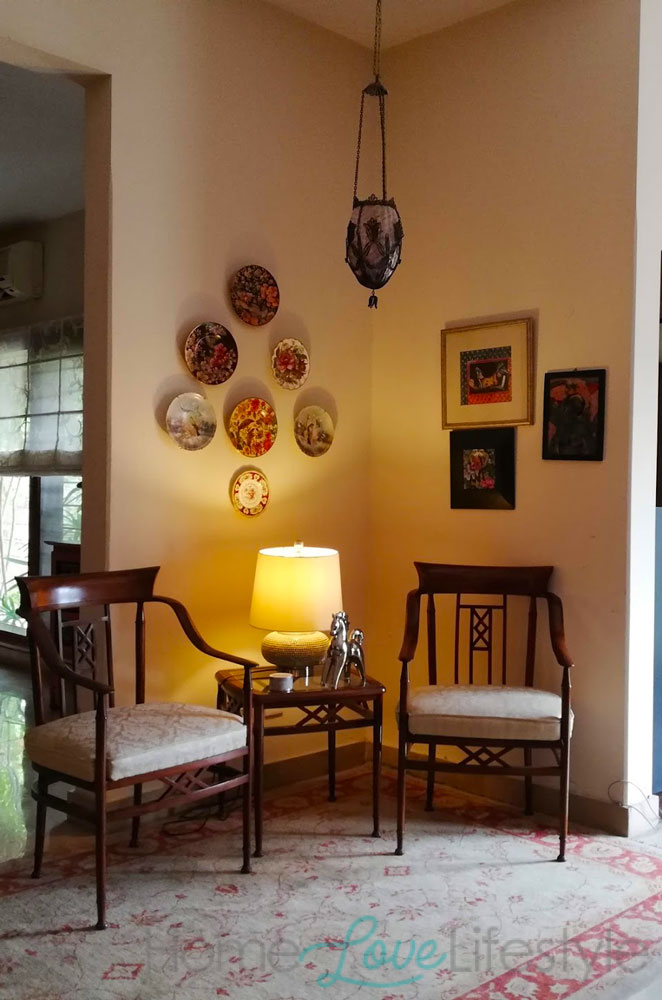 We lived in New Zealand for a while and I took pottery classes there. Ceramics is my passion. The process is so therapeutic, it dispels all negative thoughts.
I also like to paint, sculpt and I taught art to small children at the Karachi Grammar School for 15 years.
So you were obviously a creative person. But when did you turn to  designing clothing?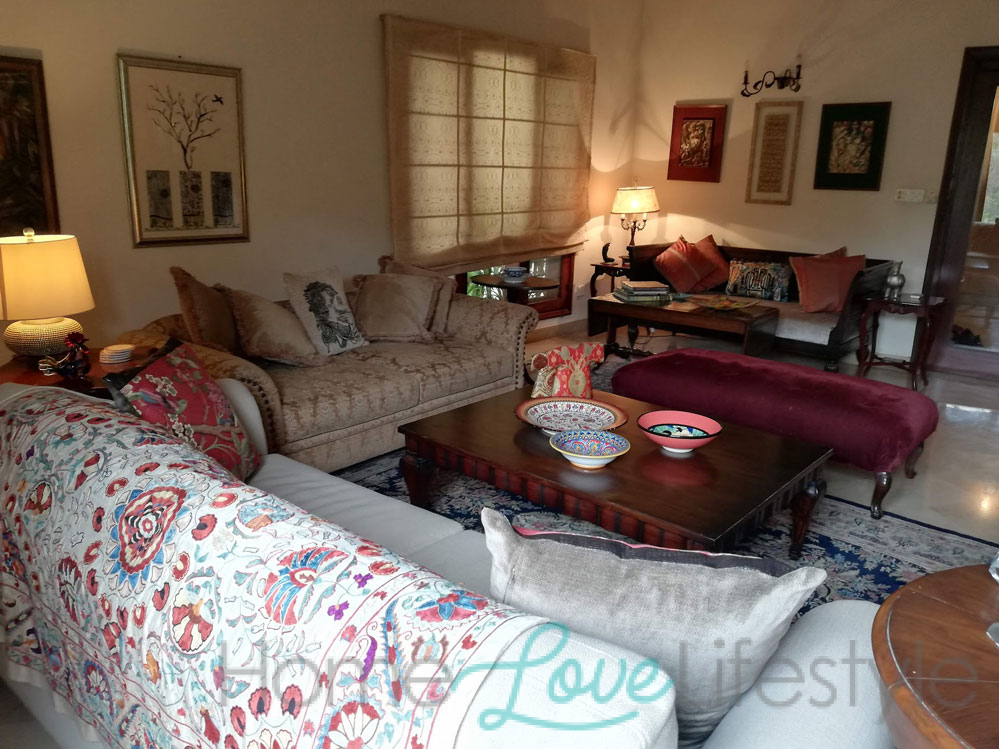 Designing women's clothes started off just for fun. I had a few exhibitions and they did really well. Then I got my big break when I was approached by HUM TV in 2013 to participate in their Bridal Couture Week.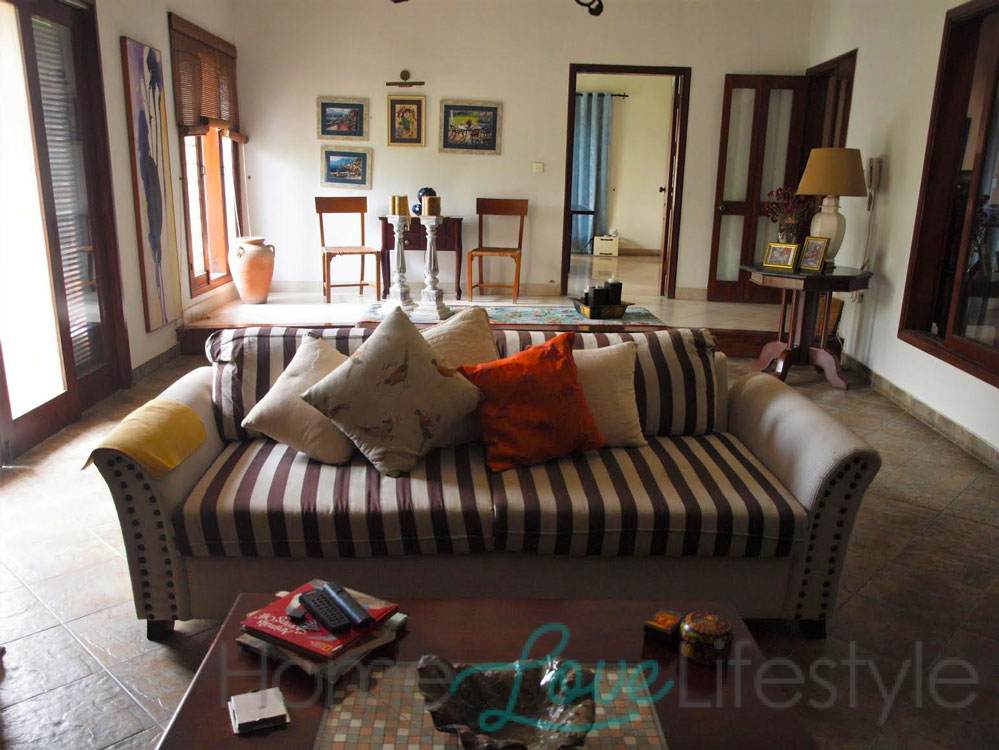 It was a bit scary. I worked very hard for that show because I knew it would make or break me. I love embroidery and I chose the theme of sozani, needlework from Kashmir and Central Asia which the bride embroiders for the groom. At the time I had only one karigar who could embroider by hand and, in fact, I did a lot of the embroidery myself.  And I really enjoyed the whole creative side of that experience. That show got very good reviews and I was very encouraged.
I had to learn a lot. I had entered the field quite late and others were very established. But other shows followed and things just took off from there.
So are you always changing things around the home?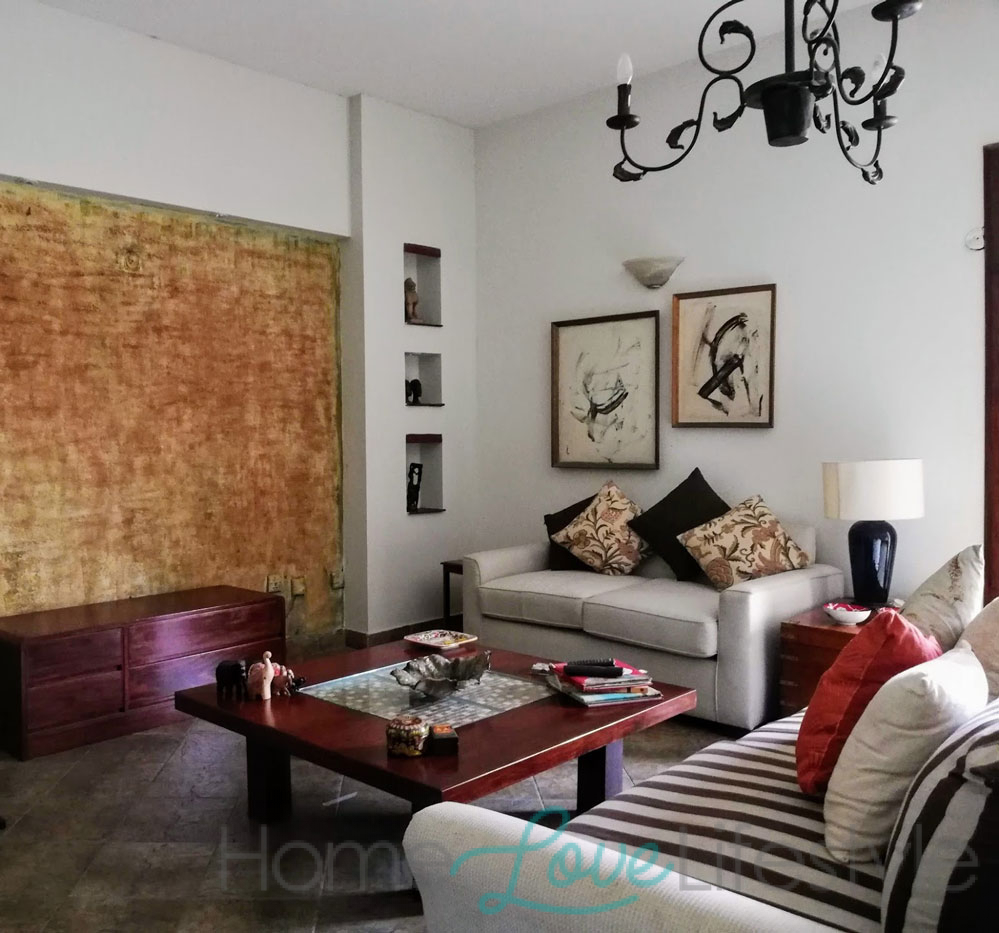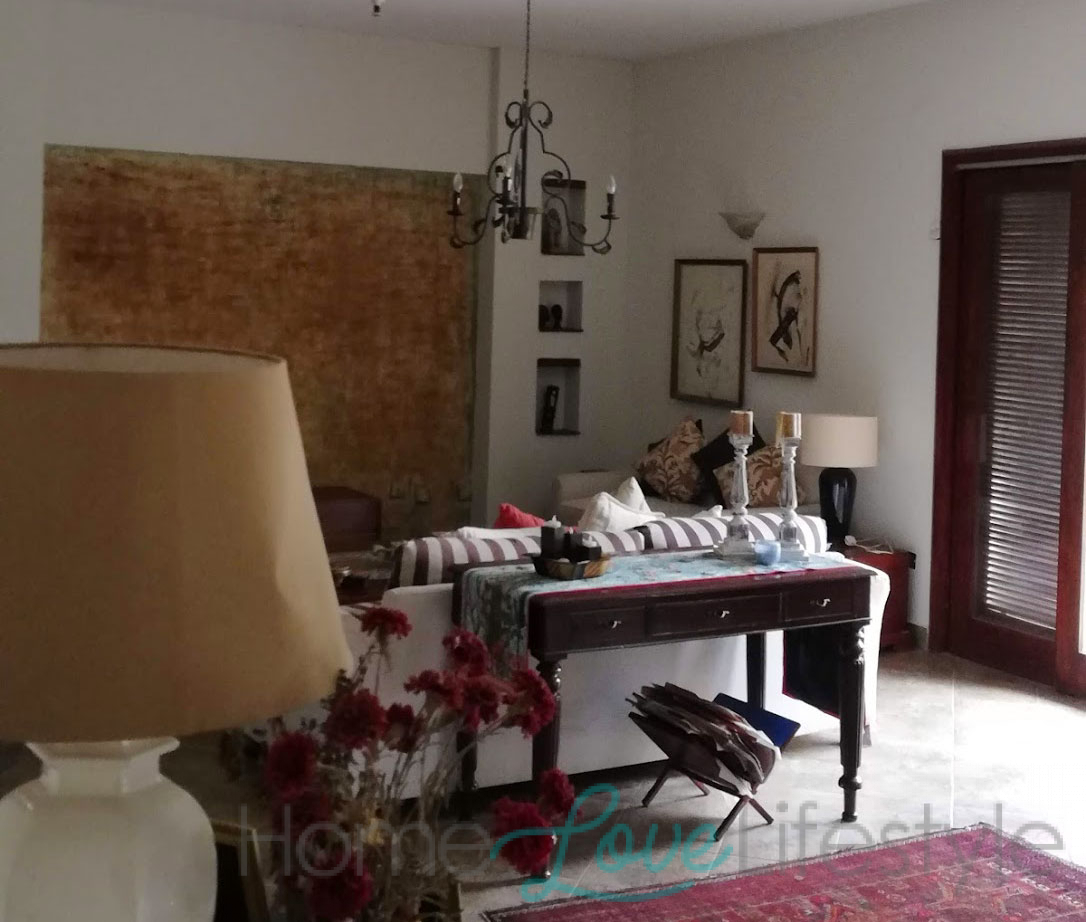 To some extent. I like painted walls and I like to change colours and textures often. A lot of my photo shoots for work are done here so I change the wall colours according to the background I need.
I have also painted the walls of my powder room myself.
The pieces in your home have a lot of character. How did you collect them?
They have been picked up over the years. Many have been inherited. I also love to scour junk shops. Then I always used to pick  up something wherever I travelled to.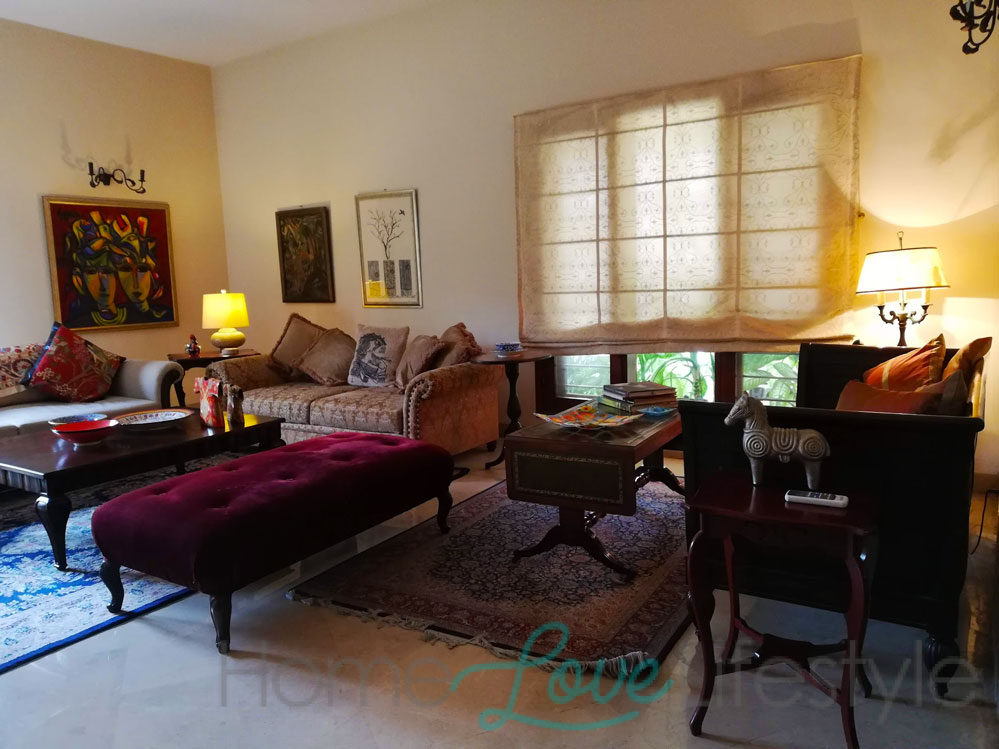 The furniture is an assortment of old and new pieces and some designed by me. This French colonial style table is an antique bought by an aunt from the French embassy. Then this wooden, inlaid, display cabinet was actually an old cupboard used for clothing.
There are many paintings in the home. Who has chosen those?
When  buying art, I don't go for names. If I like a piece I will buy it, like this calligraphy from Lahore or another painting done by a friend's wife. Then we have several paintings by Wahab Jaffar.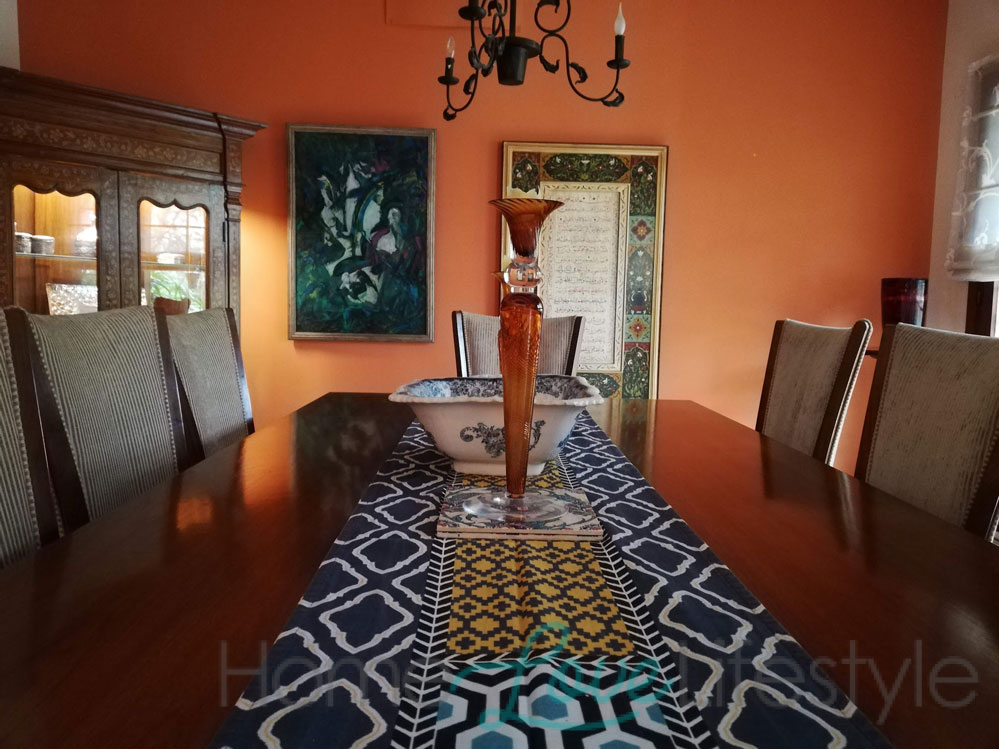 However, we have inherited many paintings done by my husband's grandfather who was Salimuzzaman Siddiqui.
That is a very eminent name. He was a real renaissance man; scientist, painter, poet …
Yes. We have many of his paintings and several of the frames were hand-made by his German wife, my husband's grandmother. So I have not changed those frames at all. I have repaired and restored them myself.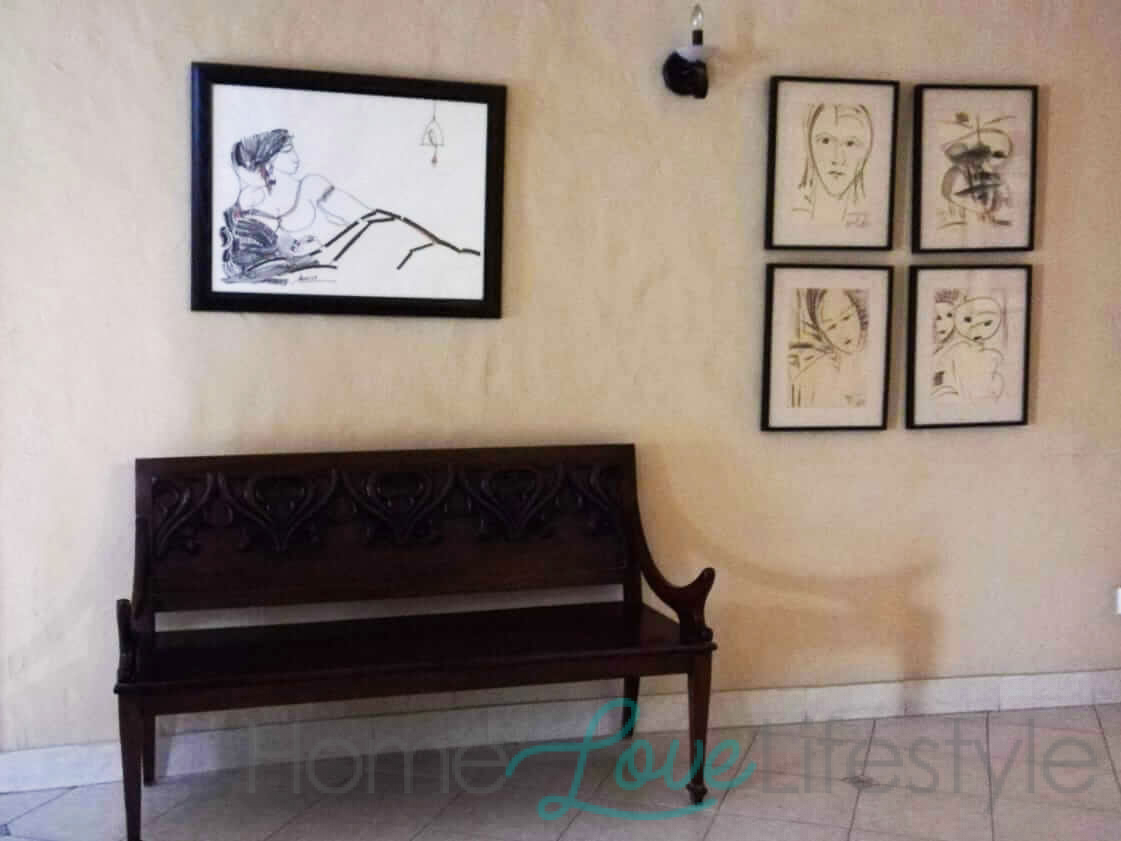 How would you describe your interior design aesthetic?
I do like colours, I don't like bland things. I had these colourful inlay floor tiles painted while the house was being built. Maybe there is a Spanish influence, a little rustic…
Do you have a favourite piece?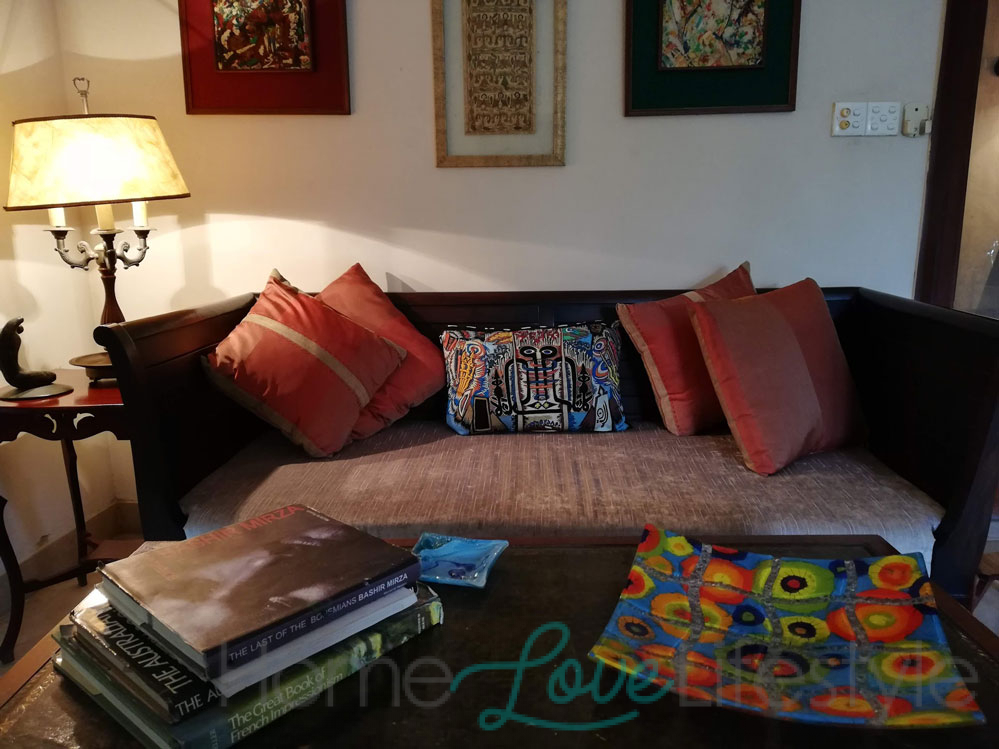 It would be very hard to pick out just one because every piece has an attachment, a story behind it.  At times I have saved up my salary to buy something I really wanted, like this carpet. Or there is this plate I bought from a glass factory in Istanbul.
You also have a beautiful garden at the back of the house.
My husband wanted a garden  at the  back because it's more private and I had it landscaped.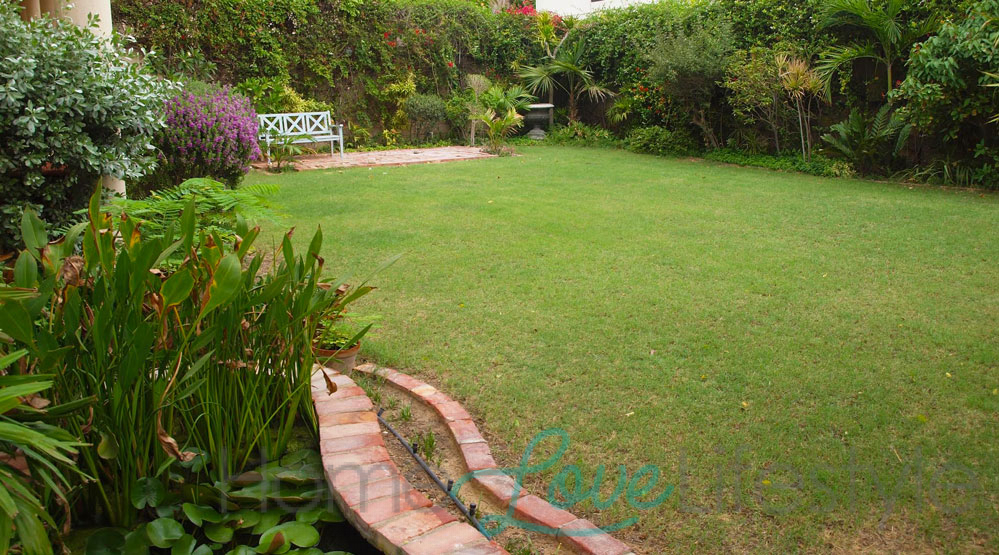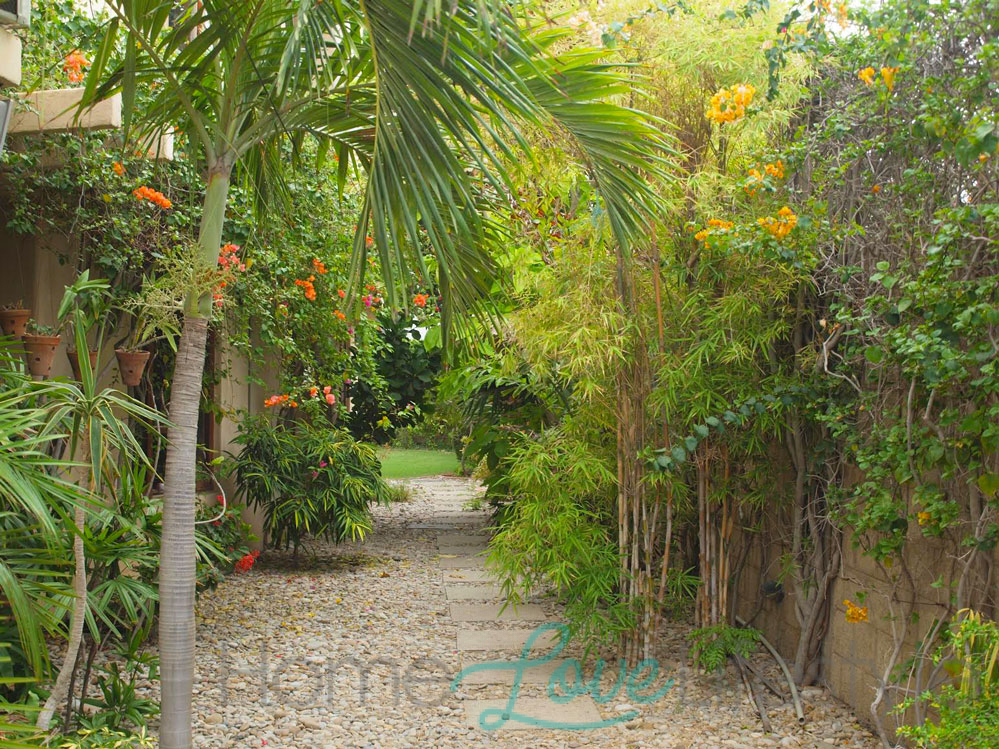 But we tend to use the front courtyard more since it leads into our sitting room and that's where we entertain. At night, we pull out benches and chairs and put on the fairy lights so there is a great flow of indoor, outdoor space.
Team HomeLoveLifestyle loved visiting the Yasmin Zaman home and meeting with the designer herself.
Photography by Naeema Kapadia