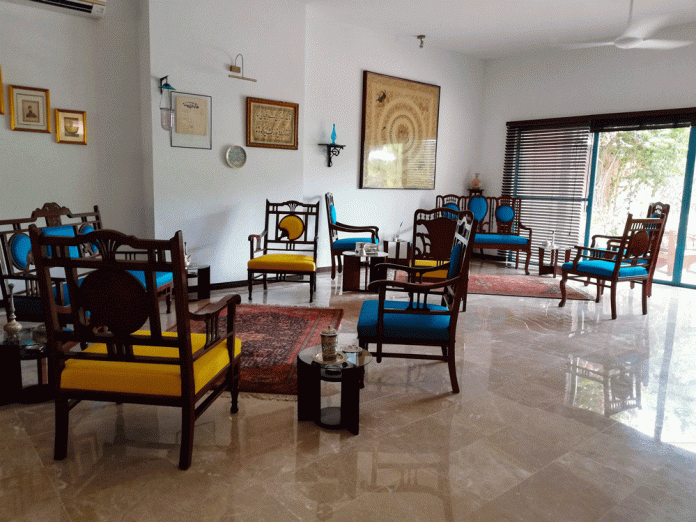 Photography by Naeema Kapadia 
A flow of space, courtyard living and an old world charm define this Karachi home. The residence of Rumina Kermani and her husband Fareed Masroor Hosain has a distinct ethnic, traditional vibe but with some modern interludes. A history buff and avid collector of antiques, Rumina has filled her home with fascinating accessories and collectibles which bring a unique aesthetic to the home.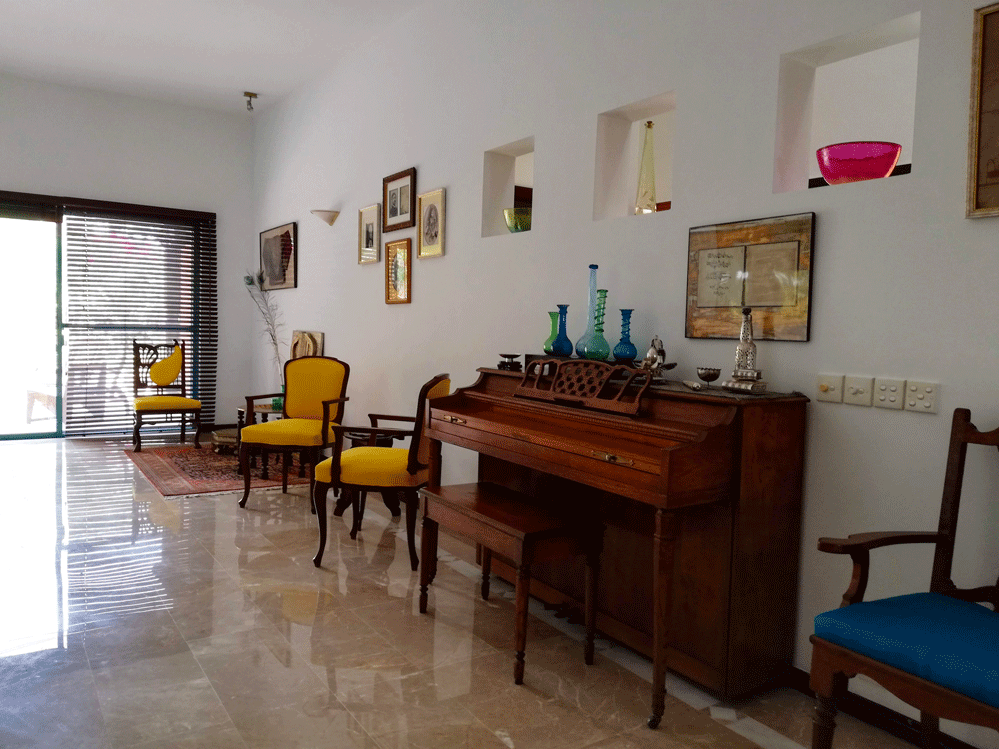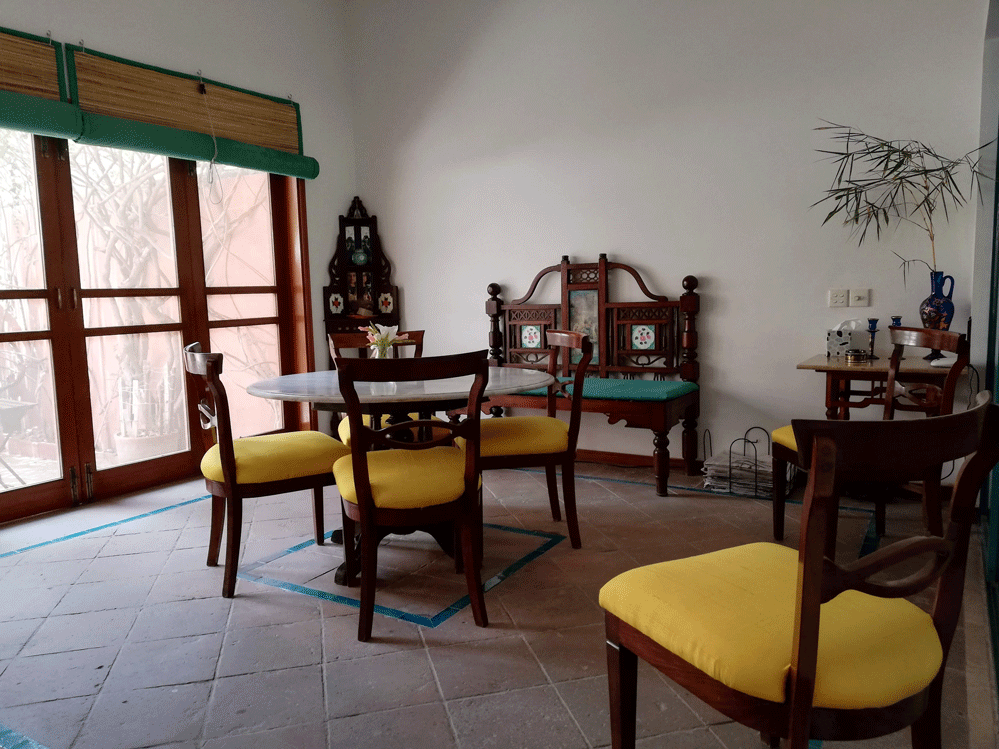 You have renovated this house?
Yes. This house belonged to my in laws. After they passed away, we were still living here and we felt and we needed more space for  my three children who were growing up. So we gutted the whole place, all the walls were broken down, even the staircase was moved. It has been extensively re-modelled.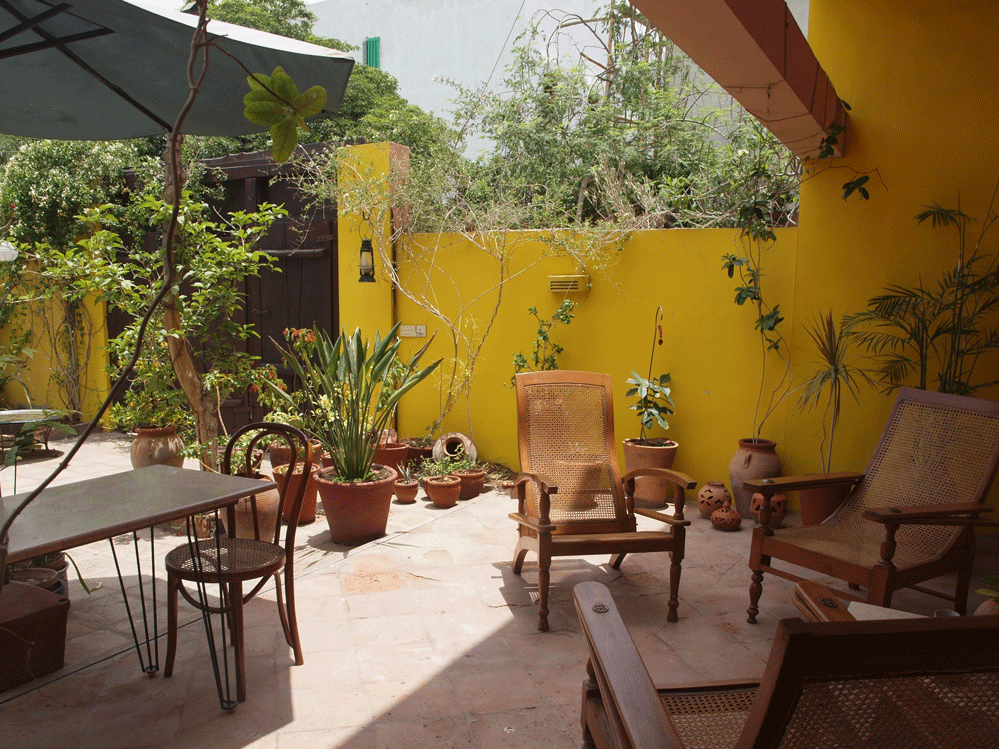 The design is a bit unusual with a courtyard at both ends and a long flow of space in between.
The architect who did the renovation is a close friend and he understood our needs and my tastes very well. I always look for light and space and the open areas at both ends keep the house really light and cool.
Do you use the courtyards a lot?
Oh yes! After about 5 or 6 in the evening you will find us outdoors. We spend the entire evening outside. In fact, breakfast and dinner is always taken outdoors, breakfast in the front courtyard and dinner at the back.
We also use the barbecue pit at the back almost every weekend.
The front courtyard is beautifully landscaped and full of plants.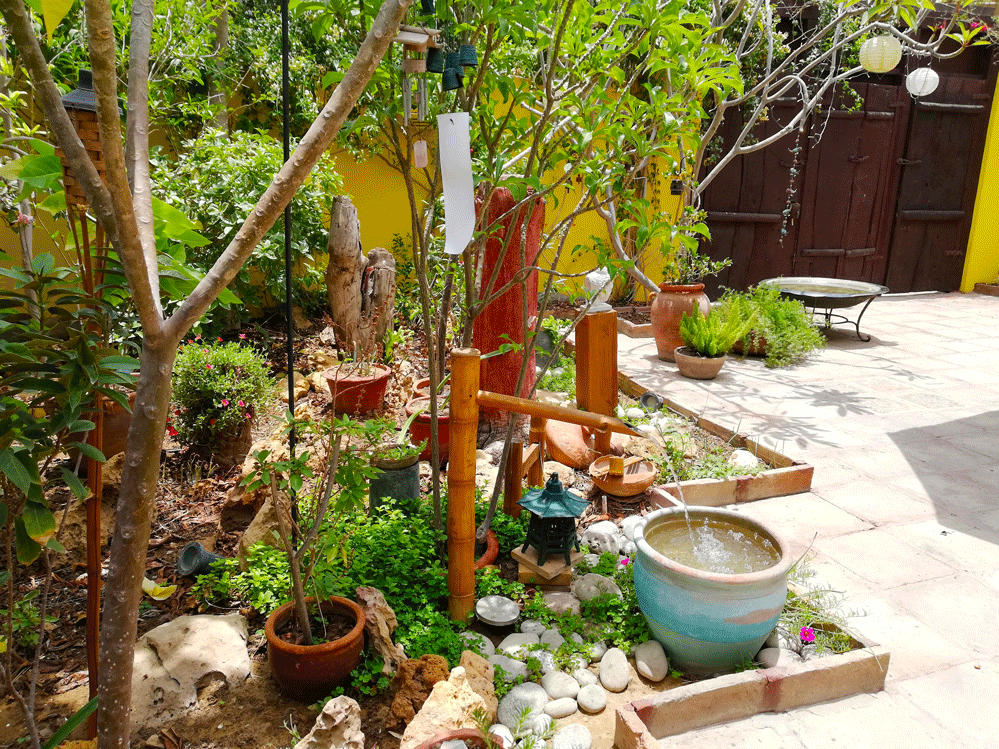 Yes. We did away with the grass because there is no water in Karachi. I have always been into gardening because of my father who was a very keen gardener. So it comes naturally to me. I designed this desert garden myself. All the plants are native to our region or those which have acclimatized. All we need to beautify this city is to plant lots of trees, amaltas, gulmohar and neem to clean the air.
Tell us about the beautiful carved doors.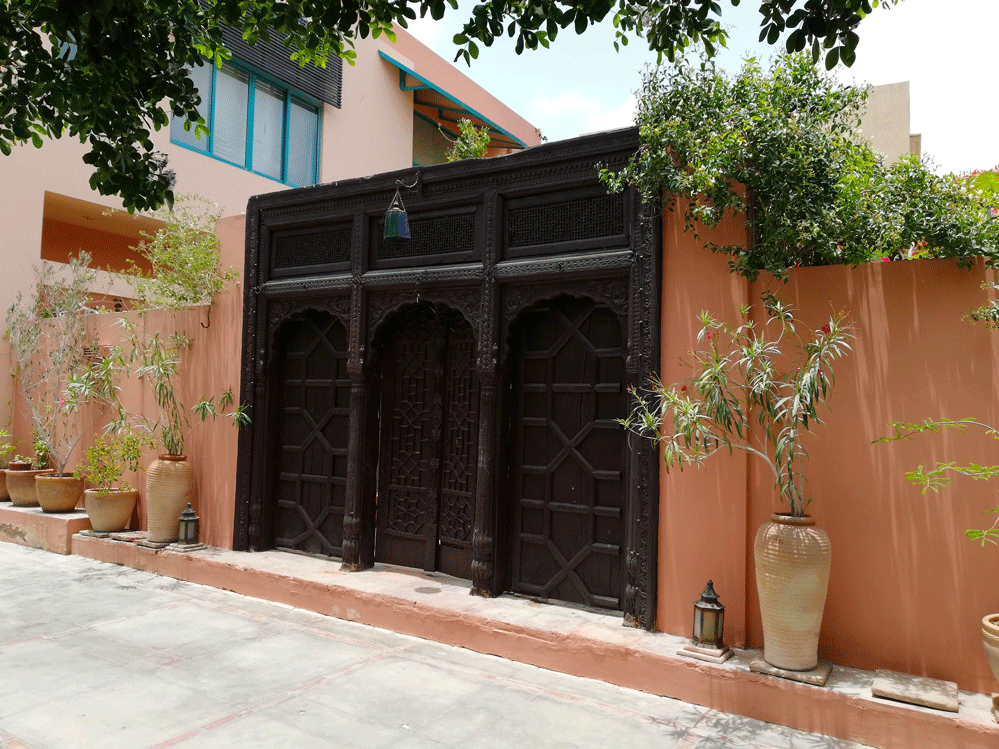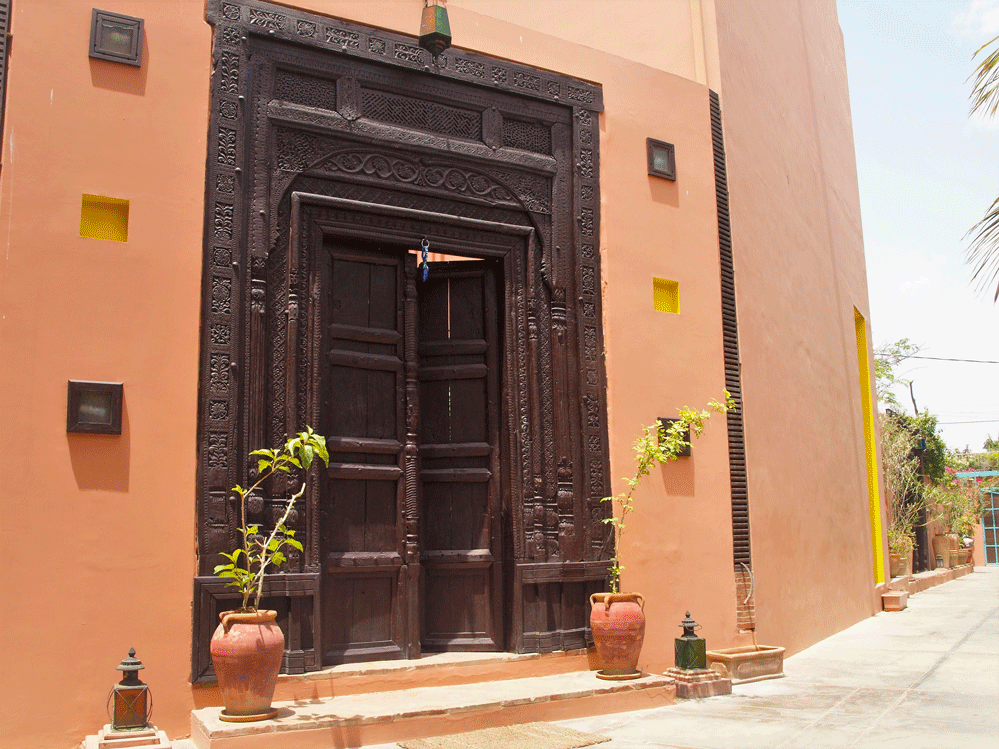 While the house was being built we were in Islamabad, driving on the outskirts of the city, and we saw these door being sold on the roadside. This kind of thing happens only in Pakistan. We paid for the doors and the man had them delivered to our home in Karachi, all completely on trust.
What is your design inspiration?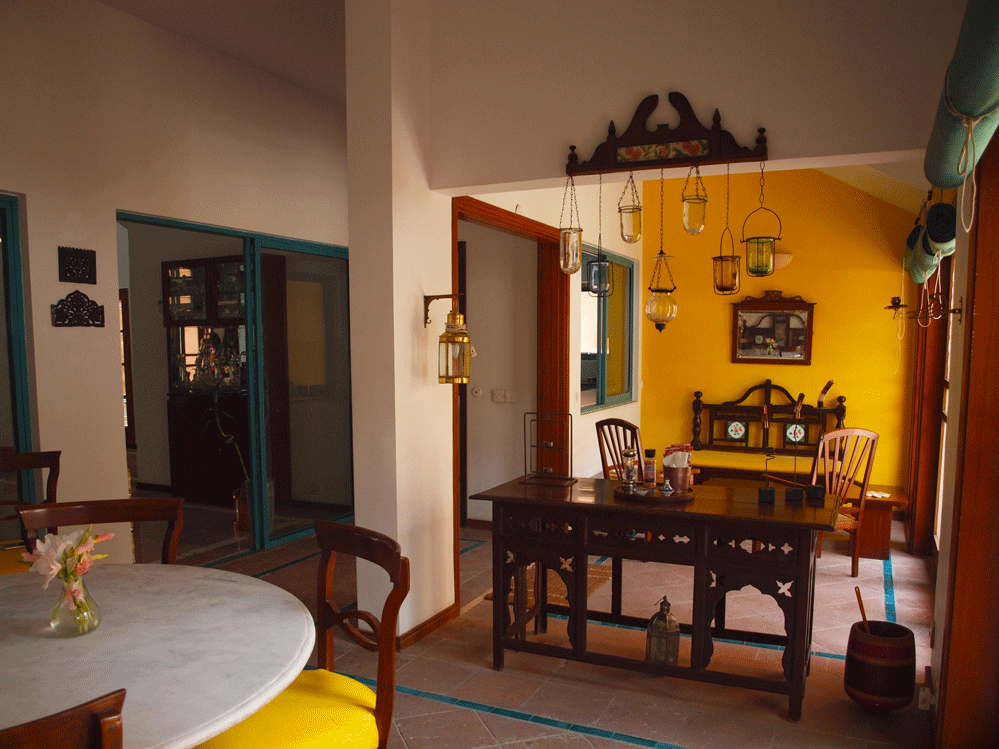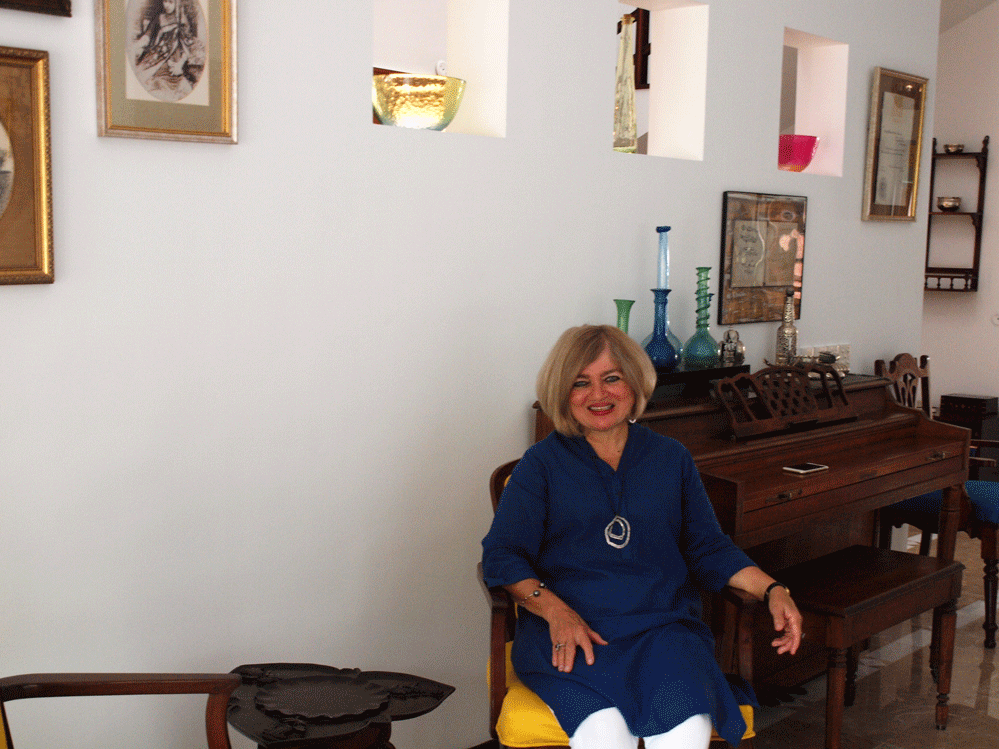 I am very traditional and very eastern in my tastes. Western antiques don't appeal to me. I prefer a desi or even colonial aesthetic. I used to love scouring old markets in Karachi for antiques, kharadar, sarafa bazaar…All my furniture and pieces are picked up from junk shops or inherited. Everything was in a bad shape and has been lovingly restored.
Besides, copper and silver I love glass objects as well. I also love colour as you can tell by the bright yellow and turquoise upholstery.
What is your favourite object in the home?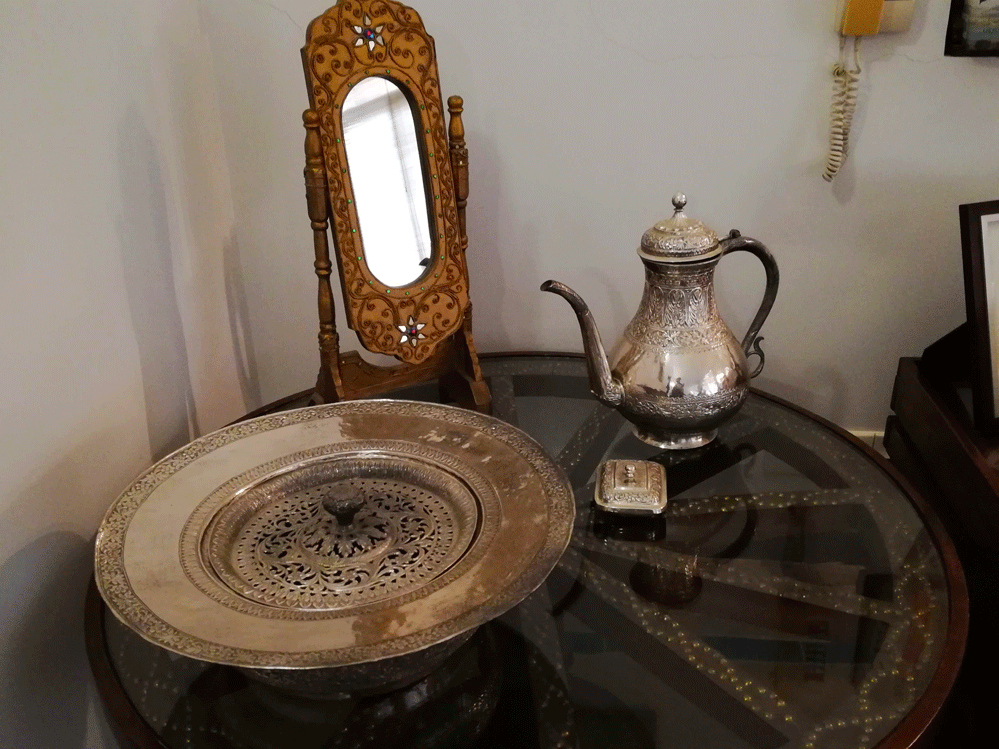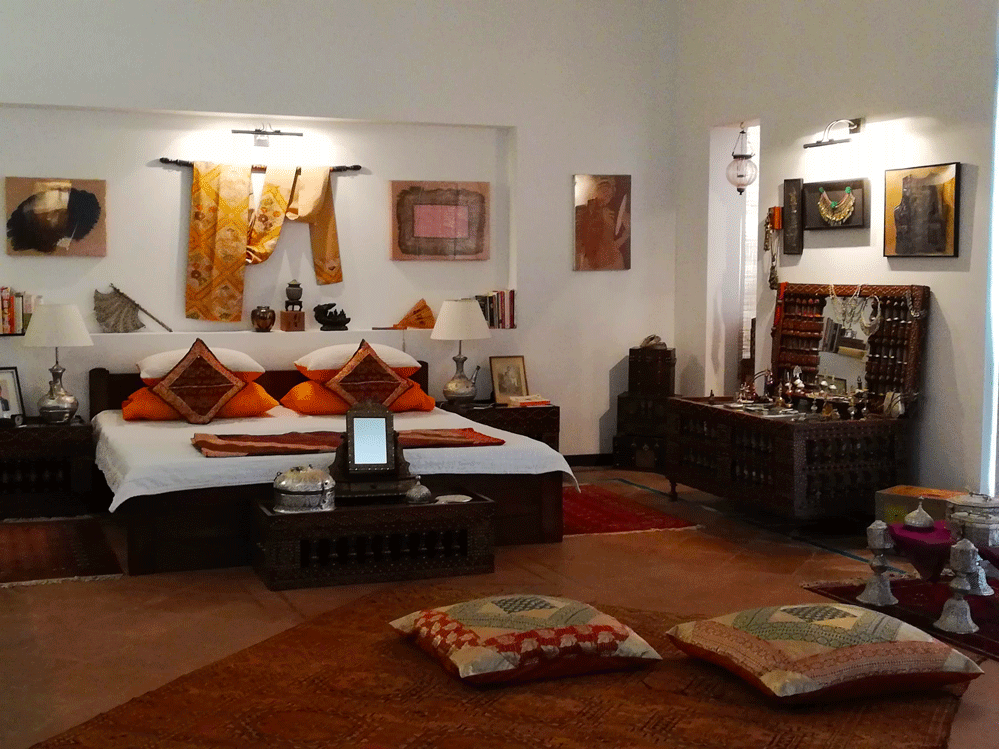 My favourites would be some antique silver pieces inherited from my maternal grandmother. There is a silver pitcher, washbasin and soap dish for washing up. There is also my paternal grandmother's pandaan.
This large embroidered piece is also very striking.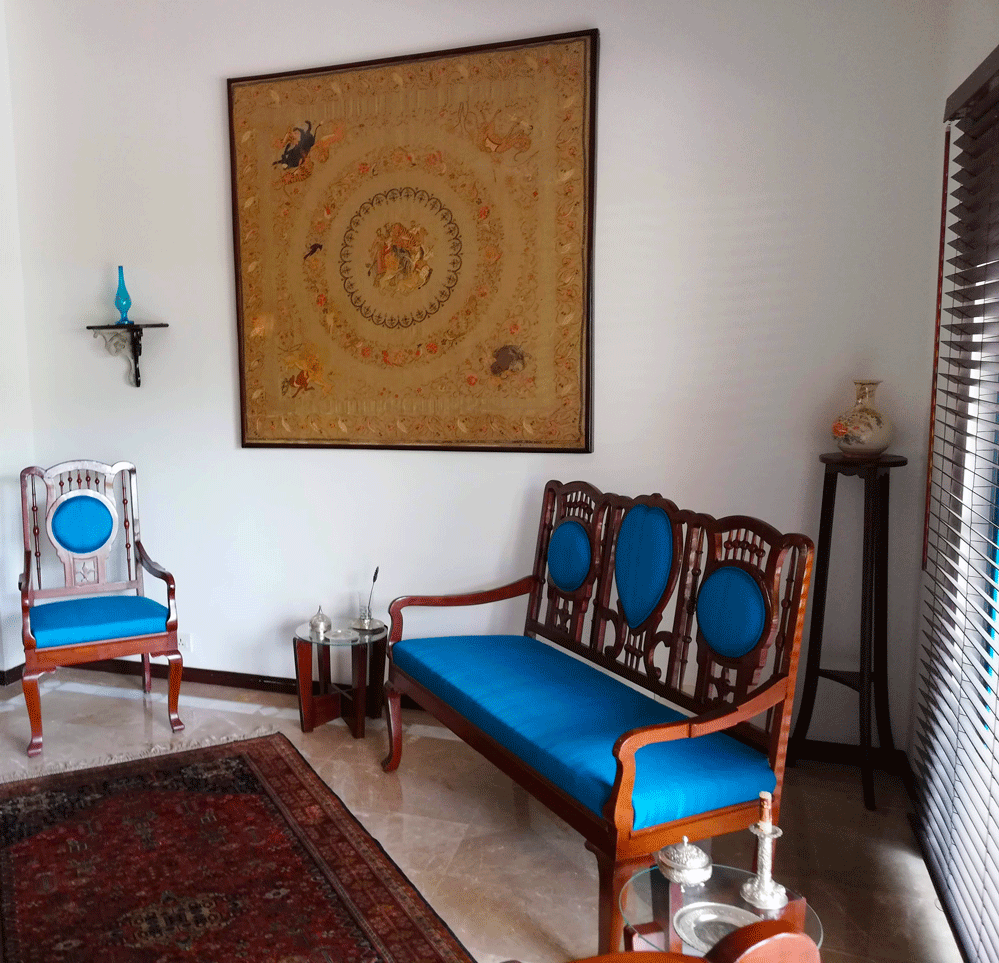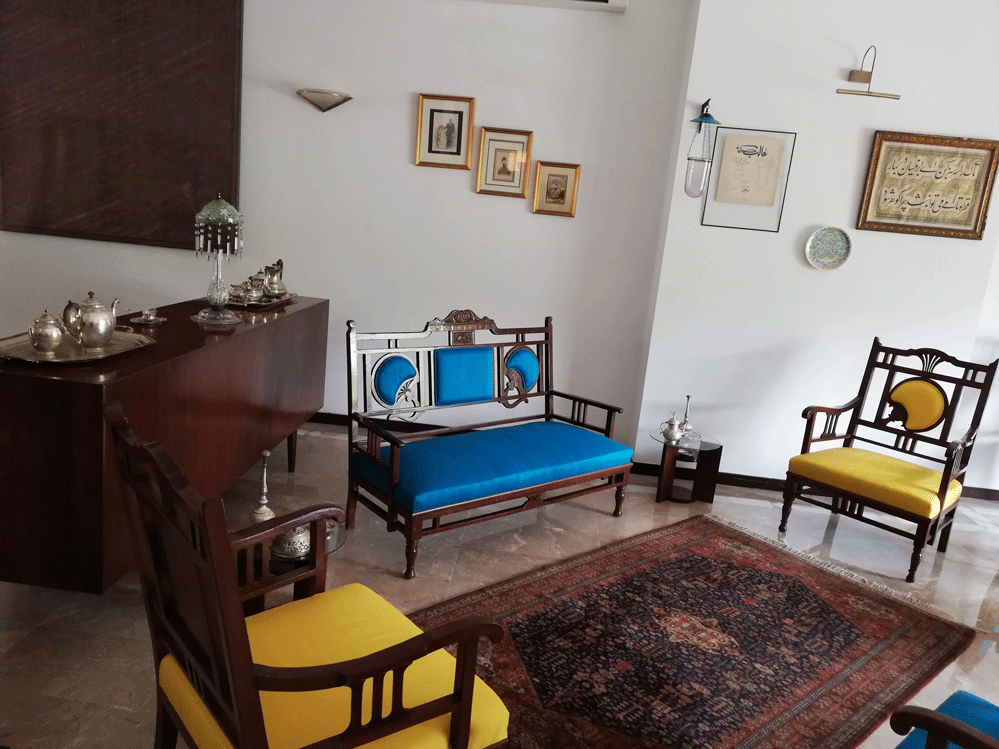 That is inherited from my mother-in-law. It is a piece of embroidery depicting a hunting scene and was purchased in Hyderabad way back in the 1920's. It is about 150 years old.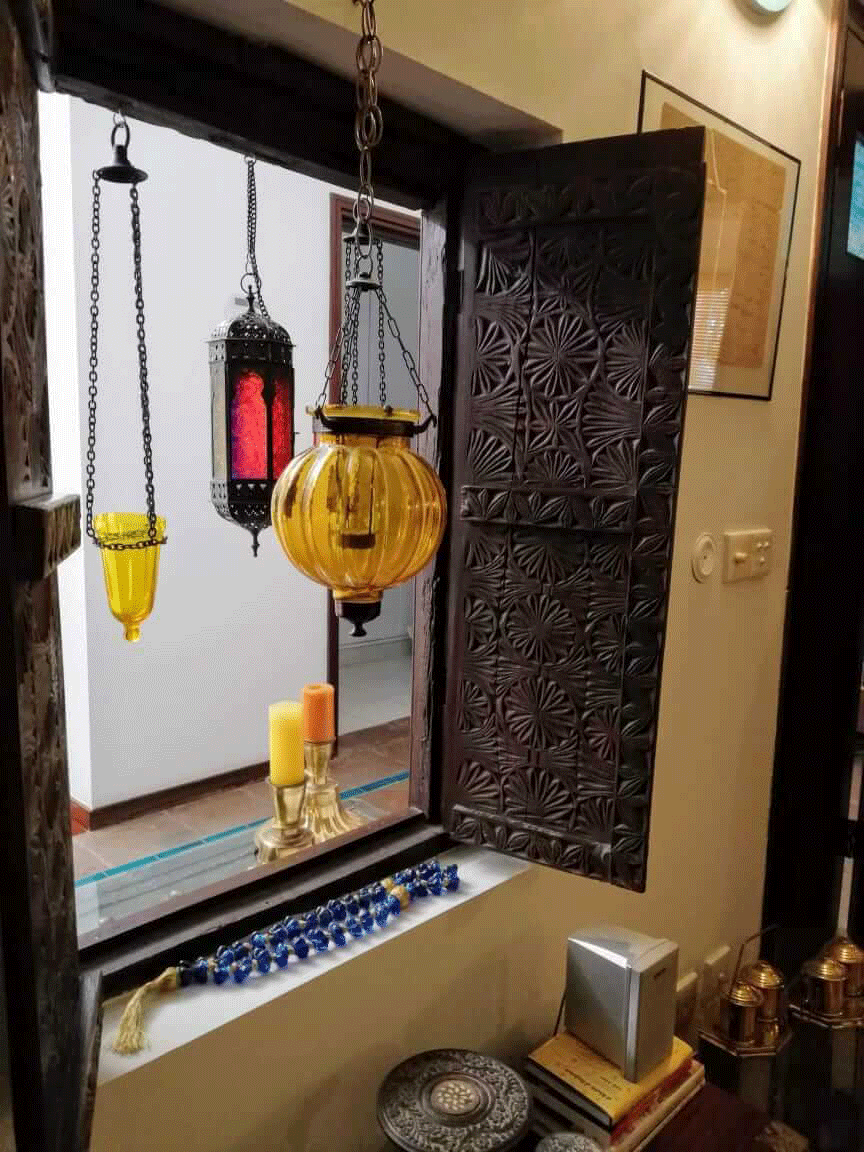 I don't have a lot of paintings, but I tend to display old fabric or other interesting pieces which everyone has lying around.
Which is more important? Comfort or aesthetics?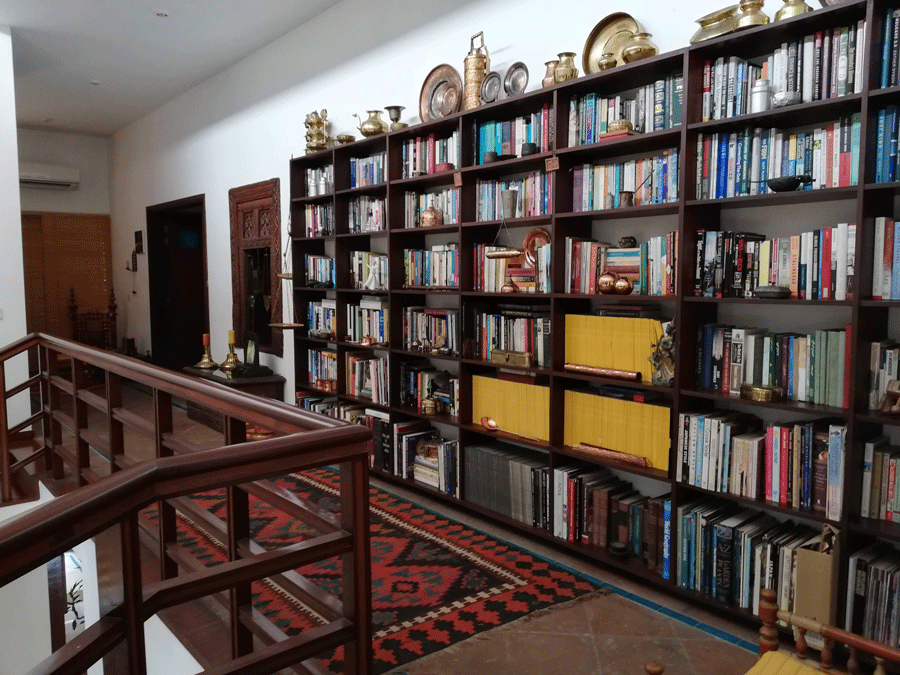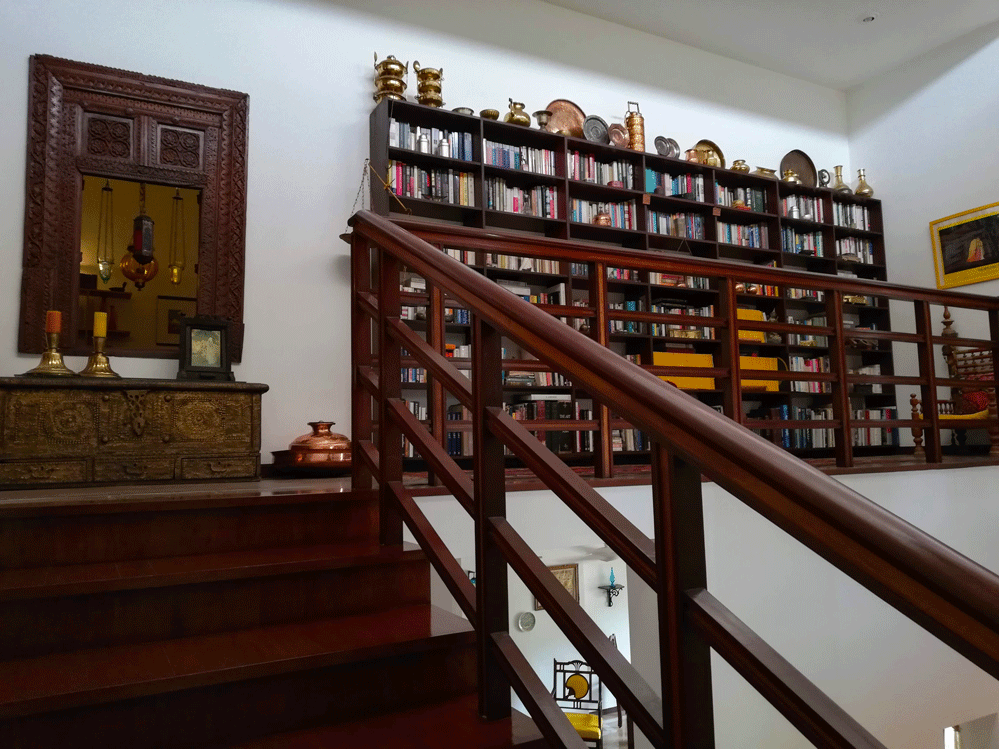 Both. The downstairs area is more formal and not meant for lounging but there are other areas in the house for that. The upstairs sitting area is a relaxed, comfy space.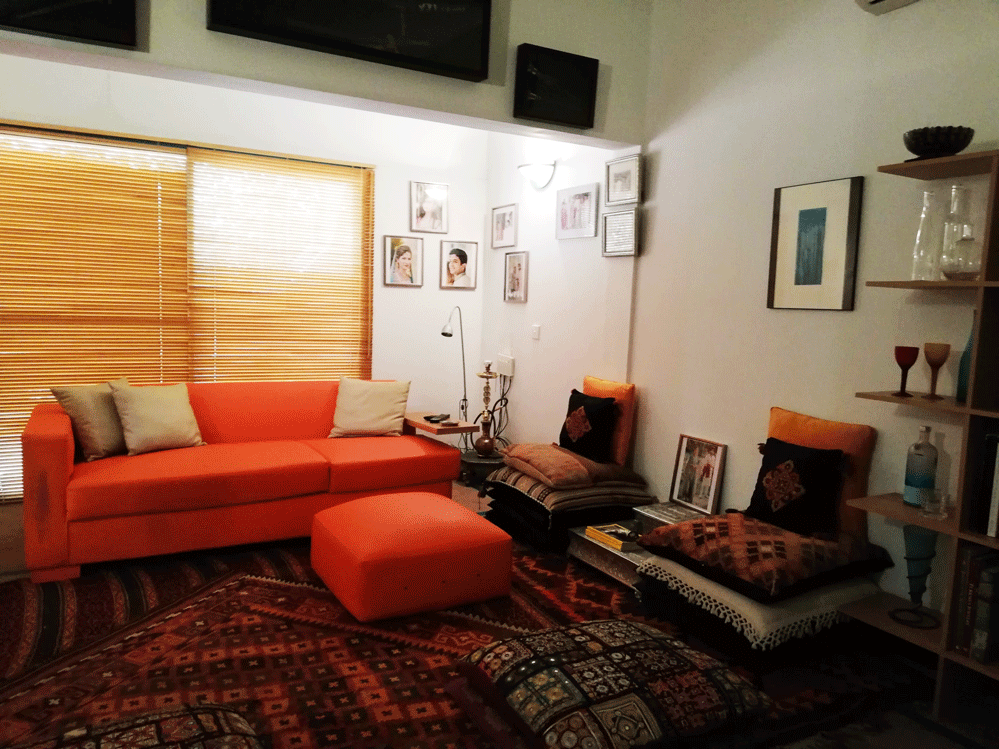 There are antiques everywhere in the house, from swords to jewellery and trunks.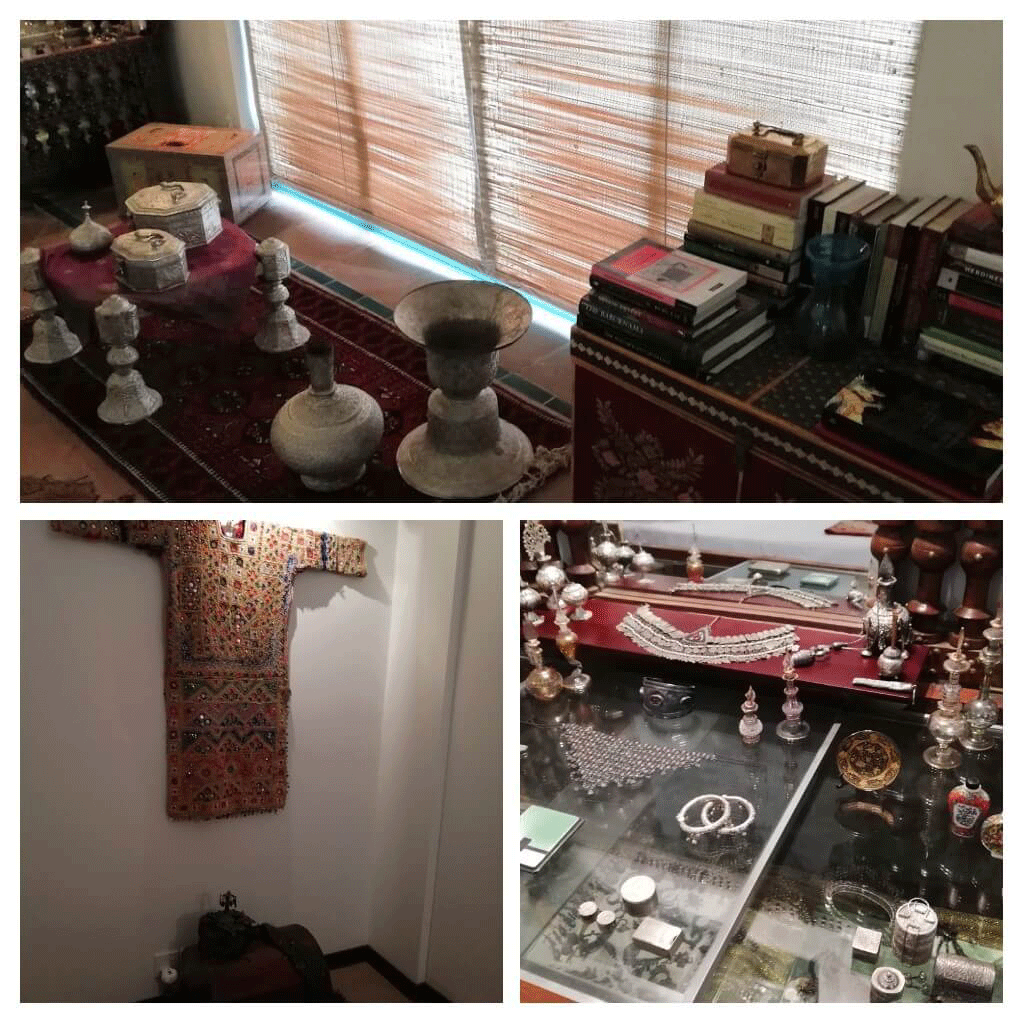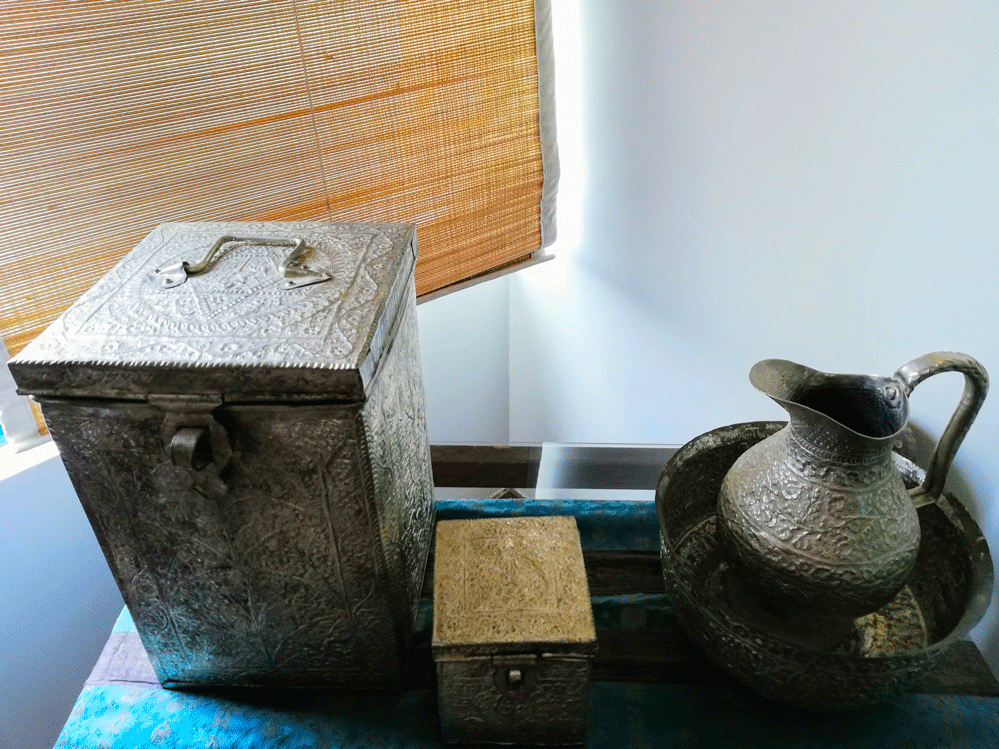 Yes. These objects represent a disappearing way of life and we learn so much from them. For example these copper and silver items where in daily use and some even have names engraved on them.
You also write a history blog.
Yes. One is called Why History Matters and I am also working on a family history.
Rumina blogs at https://whyhistorymatters.home.blog/  and ancestraltales.home.blog