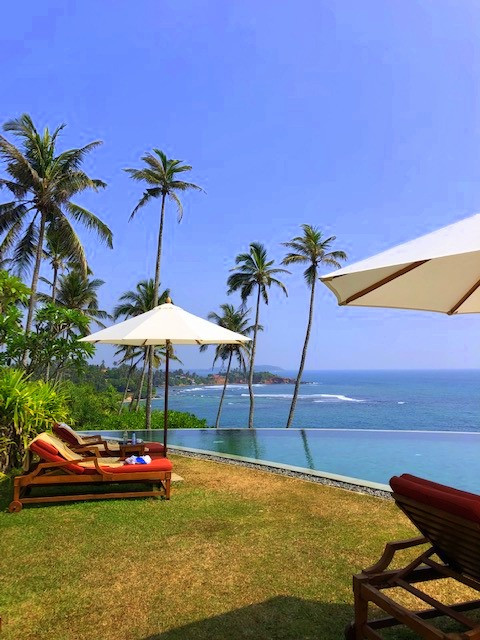 With irrationally exuberant New Year's greetings flowing in from friends and family across the planet, I said hello to 2019 in the Emirates lounge at Dubai airport. The lounge was the meeting place for my partner, fellow voyager and feline specialist, Kat to meet and then fly onwards to Sri Lanka. After cookies, green tea and complimentary upgrades from considerate Emirates staff feeling sorry for us – Bandaranayke International Airport was within sight.
Mirissa
We headed to Mirissa, the southern most tip of the Teardrop Island, famous for its beaches, whale watching and an emerging haven for party animals.
Arriving mid-day, 1st January 2019, we became acutely aware that Mirissa had a collective hangover. Restaurants and bars had their shutters down, shops had signs bemoaning their delayed opening and even the street dogs looked like they had had a rough night.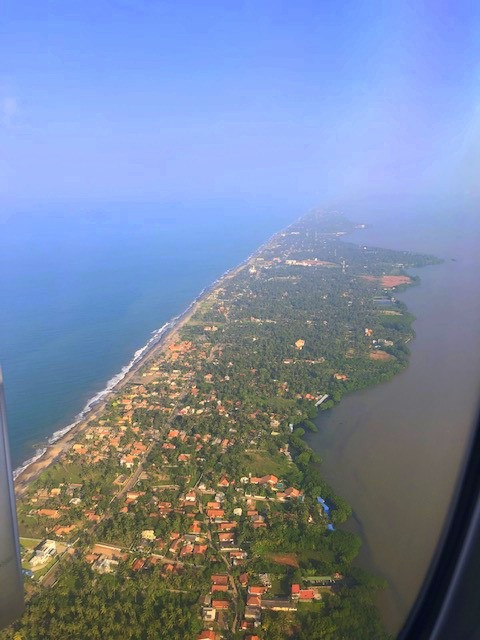 After abortive attempts zipping around in a tuk-tuk, Kat and I managed to find the well-reviewed Dhana Curry Pot which mercifully offered us a vegetarian buffet.  The food oozed flavour: rice with yellow daal, jackfruit, mango and lotus curries. This was top-notch roadside fare and a no-frills veggie heaven.
Travel and lack of sleep warranted healing and we headed to Secret Root for a massage. Nestled amidst serene, magical gardens, Secret Root is a blissful retreat from the usually busy beach. I settled in for an intense massage focused on the body's pressure points. The concentrated force led to partially-muted yelps but the kneading of the muscles did wonders to relieve a great deal of tension.
With stress greatly reduced and the sun having set, we headed to the Big Belly Roti Shop to see about 20-25 mostly Europeans and Australians outside, waiting for the restaurant to open. The Big Belly boys had clearly had a long night as well. The delicious cheese Kottu and egg & cheese roti made the wait worthwhile. Kottu is a Sri Lankan dish made from chopped roti and vegetables, egg and/or meat and spices while Roti is the same dish in an uncut wrap. Both are ubiquitous on the island and a great meal on its own or a snack when sharing.
Mirissa Beach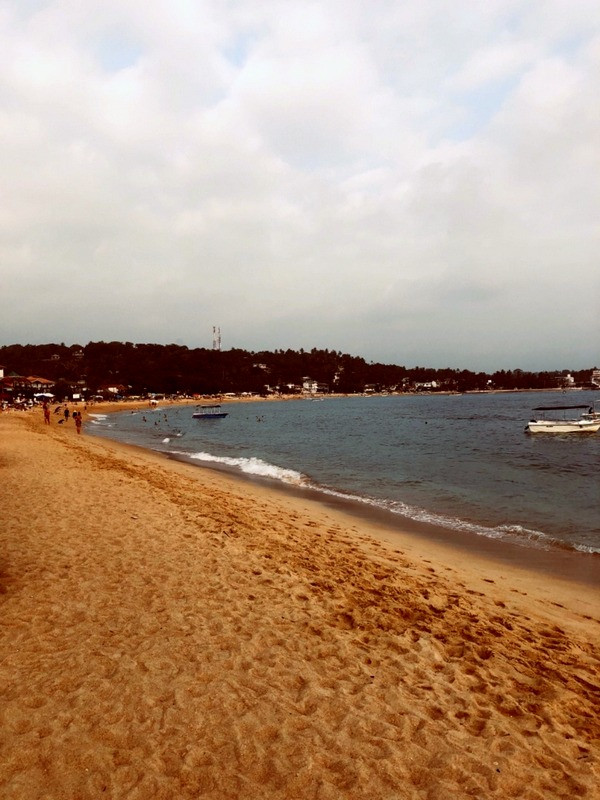 With hotel room rates extortionate during the festive period, I opted for the clean, budget-friendly bed & breakfast, Madison d'Hotes just off Mirissa Beach. Newly built and family run by the ever-helpful Sanda and Mack, this B&B has gathered effusive reviews since its opening, with just cause. The owners represent the best of Sri Lankan hospitality.
Breakfast was a delicious serving of Pol Pani, coconut milk pancakes with a hint of spice served with honey.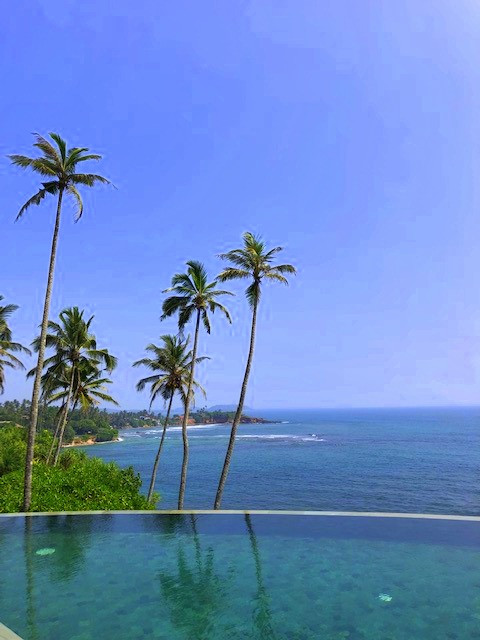 From humble B & B breakfast we tuk-tuk'ed to the giddy, clifftop heights of the region's most expensive hotel: Cape Weligama. With spectacular panoramic views of Weligama Bay and the Indian Ocean, the infinity pool is a feature of this luxuriant hotel owned by the Fernando family, the owners of Dilmah Tea.
Vegetarian Delights
Cosmic Power at Woody Cottage, was our next destination for lunch in the jungle. Here we met the dreadlocked owner Doshan – restaurateur, hotelier, barber, masseuse, meditation guide and reflexologist, Doshan's CV wasn't a quick read.
Surrounded by trees and local jungle residents (peacocks, monkeys and birds) we feasted on the delicious Cosmic Power lunch: daal, mushroom, aubergine, lunu miris (fiery, onion chilli paste), poppadums and pumpkin curries served with pink rice. Absolutely yum!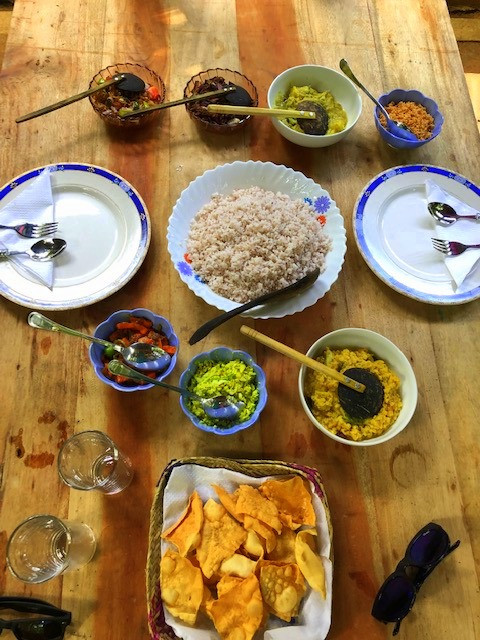 Back at Mirissa beach and keen to organize the following day's scuba diving, we encountered a tattooed beach boy offering us a private motor boat for 4000 LKR (USD $ 20) for a 2-hour diving trip. Given the dangers of the deep sea and the fact that he inspired no confidence, we decided to pass on the generous offer for a chance at a better life.
Massage Boot Camp
The requirement for a daily massage surfaced once again. We managed to find availability at an establishment simply called "Sport Relaxation Massages". Run by Priyantha, a former masseuse in the Sri Lankan army, the place was bare bones basic unlike Secret Garden.
After spending a decade in the service of the military as a physical therapist, Priyantha had set up his own massage business. It's entirely possible that this decision for early retirement coincided with the end of the country's protracted 25-year-old civil war in May 2009. He may have been on the front-lines as the army pushed through the last remaining defences of the rebel Liberation Tigers of Tamil Eelam (the Tamil Tigers). He may have been part of the search for Prabharkaran, its charismatic and elusive leader. It's pure conjecture though but entirely possible.
Priyantha, seemed to be doing well enough for himself and had other bookings for the day. With Kat having disappeared with his assistant, one had to soldier on at the mercy of the former Sri Lankan Army commando. Priyantha showed me no mercy in the gruelling 60 minutes of fierce, anatomical battle. It was like massage boot camp…. It's quite possible that he had been subjected to the same at cadet school.
Pounded and twisted like a pretzel, comfort food was needed. Having read a favourable review of their veggie burger, we headed to the Hangover Café: average burger, delicious, salty fries.
Kogalla Lake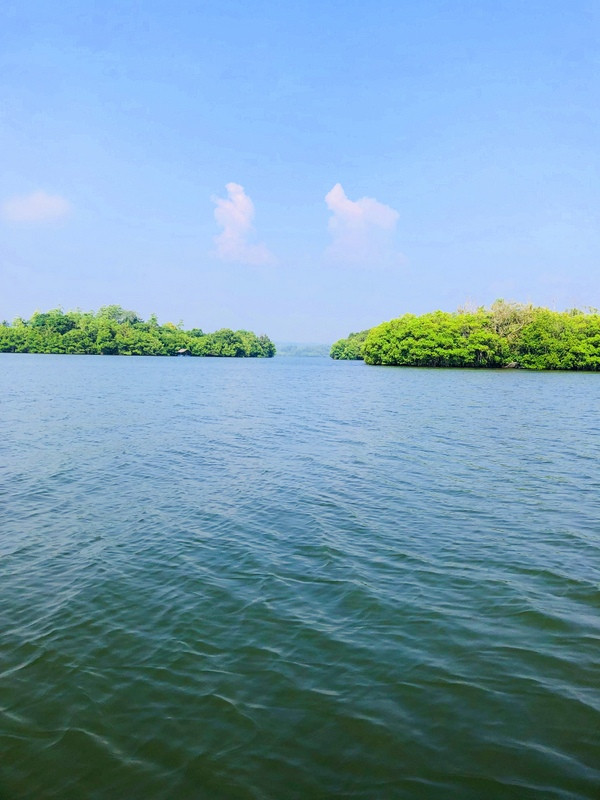 Day 3 began with tasty "egg hoppers", a Sri Lanka breakfast speciality: coconut milk and flour crepe "bowls" with an egg nested in the middle, served with butter and honey.
A 25-minute tuktuk ride from Mirissa lies the tranquil Kogalla Lake which is teeming with life: lush mangroves, birds, fish, monkeys, crocodiles, crabs and oysters. A giant monitor lizard perched on the banks gave us an unimpressed look as we passed him on our motorboat.
Kogalla Lake's current tranquillity belies its eventful past. It served as a busy water runway for seaplanes during WW2 and was the launchpad for a daring mission to rescue wounded British Indian serviceman trapped in Burma in 1944. The monitor's ancestors saw a lot more action than is currently on offer.
To save time and get a bird's eye view of the lush flora and fauna, one can take an air taxi to the lake from Colombo International Airport landing directly on water runways once used by RAF Short Sundeland's. A water safari here is highly recommended.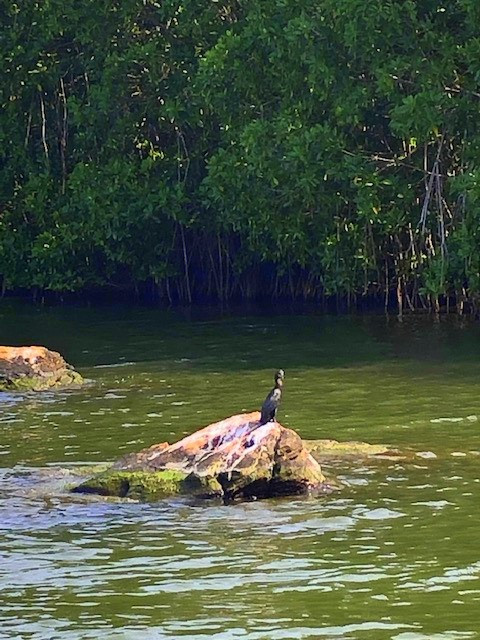 Like most coastal towns in South Sri Lanka, Unawatuna has seen rapid development in recent years. Revisiting after 8 years, I found it almost unrecognisable with a plethora of newly built hotels, bars, shops and eateries. Decadent coconut cream laden French toasts at Skinny Tom's Café off Unawatuna beach are a most satisfying indulgence.
Colombo
Back to the busy capital Colombo, ruled successively by the Portuguese, Dutch and then the British we checked in to Cinnamon Red: a clean, well-located & reasonably priced hotel with a handy gym and a rooftop infinity pool.  We discovered the Old Dutch Hospital, built in the 17th century to serve Dutch East India Company employees which now serves as a shopping district. With lively bars, restaurants and music, the Dutch Hospital has a distinct Covent Garden feel to it and is an icon of the city's colonial past.
A 90-minute Kundalini yoga class at the atmospheric Prana Lounge provided a transformative lift before the journey back to our regular lives.  As eloquently captured by the philosopher and author, Alain de Botton, "a dominant impulse on encountering beauty is to wish to hold on to it, to possess it and give it weight in one's life. There is an urge to say, 'I was here, I saw this and it mattered to me."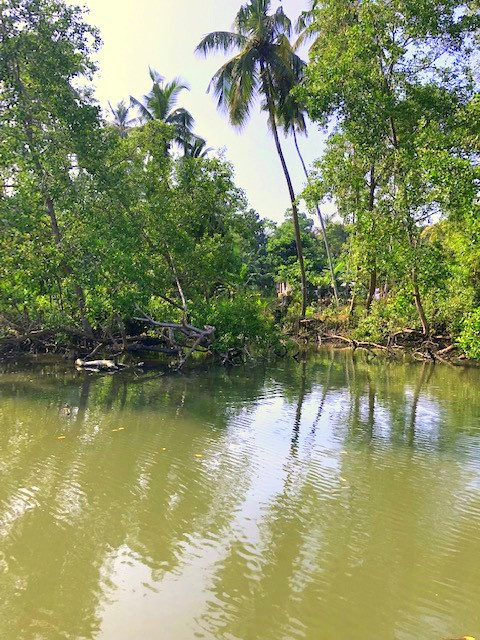 Sri Lanka had left me dazzled by its quiet majesty; its beaches, lakes, mangroves, jungles, hospitality and history had entranced and enriched. Lunu miris its spicy paste made of chilli, onion, salt and lime juice, had in many ways, become the very embodiment of Sri Lanka itself: hot, robust, fiery and exotic while alluringly simple and earthy.
I saw this and it mattered to me.