An architect's home in Karachi, welcomes you in with organic forms and a personalised flair. Nadira Poonawala is a graduate of NCA and has taken a single storey house and transformed it into a home. She shares her journey with Team Homelovelifestyle.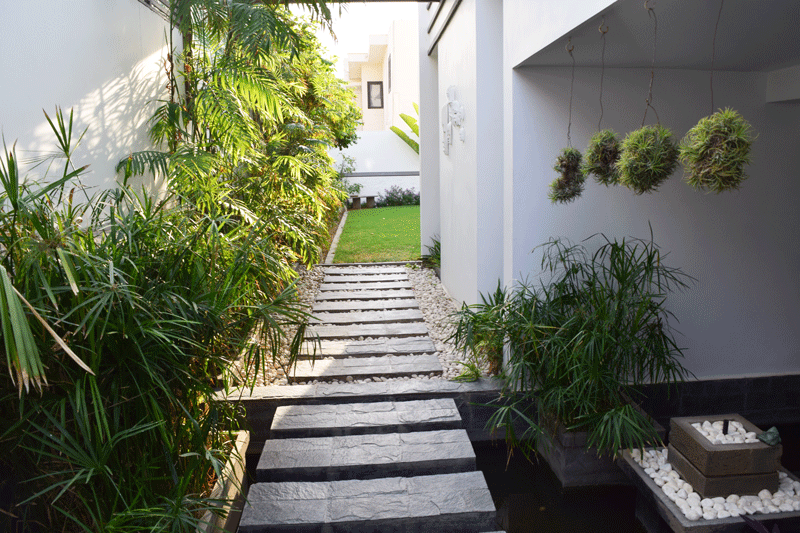 What made you buy this house & turn it into a home?
We bought this house about 11 years ago. It was a simple, single story structure designed by Akeel Bilgrami. We decided to totally gut the insides and transform it and also built a second story for our family.
When we bought it, we had a particular vision of home design in mind.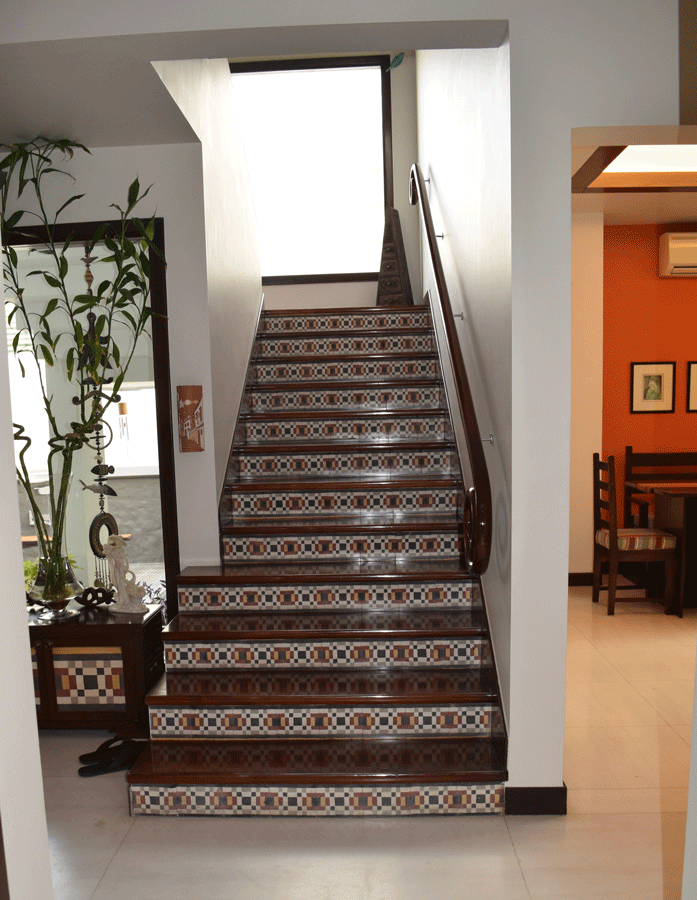 What was the vision that inspired you?
At the time, our kids were much younger and we moved here from an apartment. We wanted space, especially outdoor space for the kids. It was a compact house, so we tried to give it an outdoorsy feel. It's not placed in the centre of the plot and we have kept the car porch on the side and out of the way.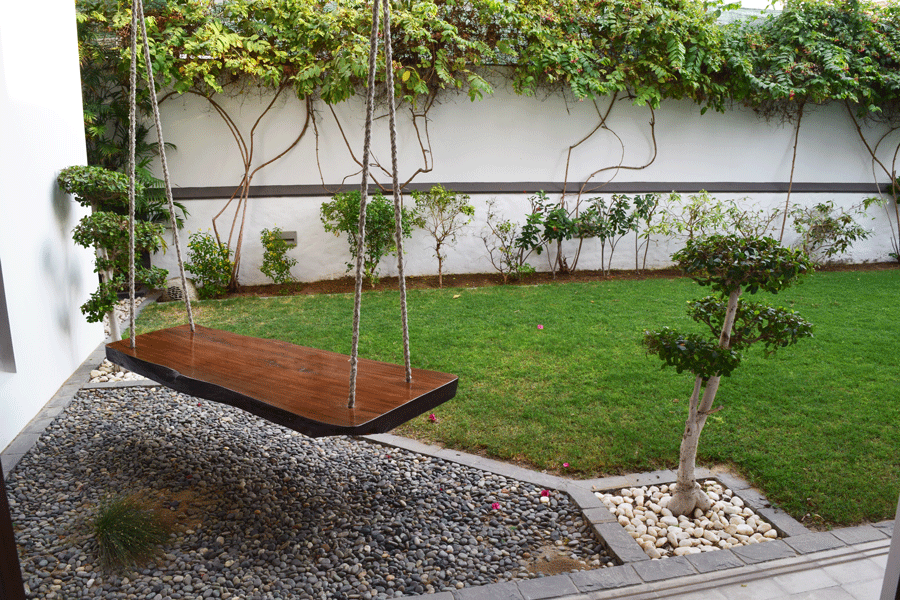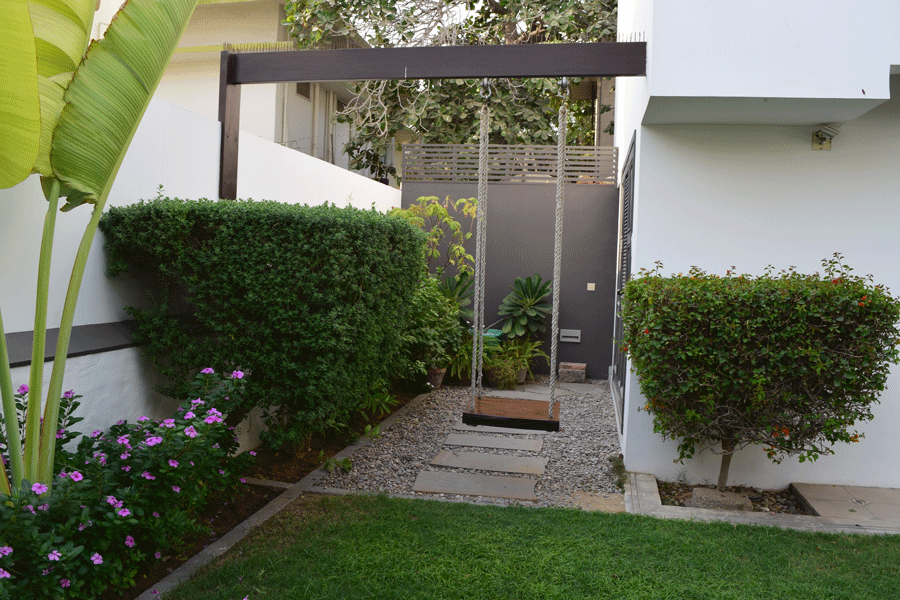 We wanted to retain its simple, straight line. We also wanted minimal maintenance because we travel a lot.
How did you personalize the space to suit your lifestyle?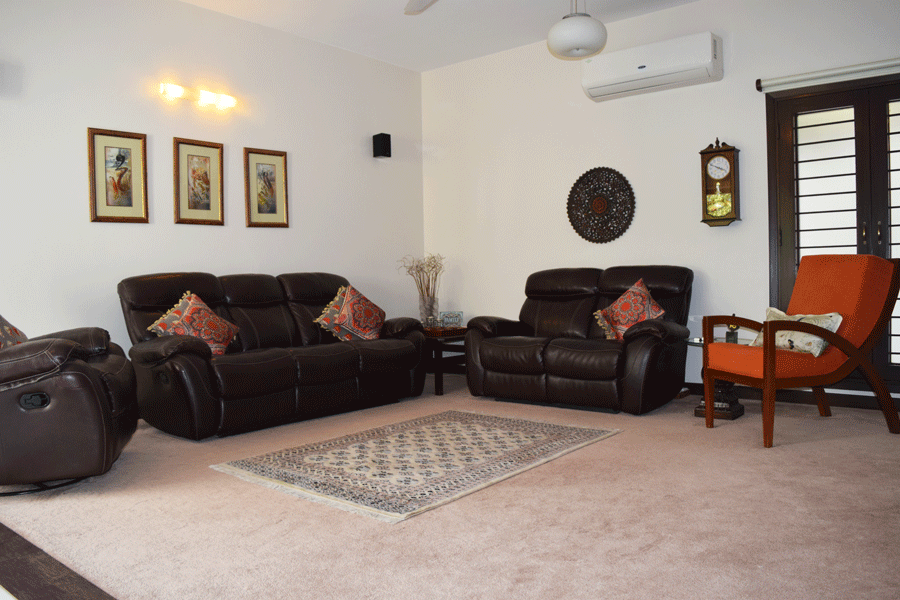 Well on our travels we have collected a lot of art and textiles. My visit to Sri Lanka inspired the leaf imprints in the concrete of the driveway. Leaves, butterflies and birds fascinate me so you'll see them everywhere in the decor.
The drawing room ceiling has a mural of leaves and foliage as well.
Tell us about your wall art that create on commission and for your home?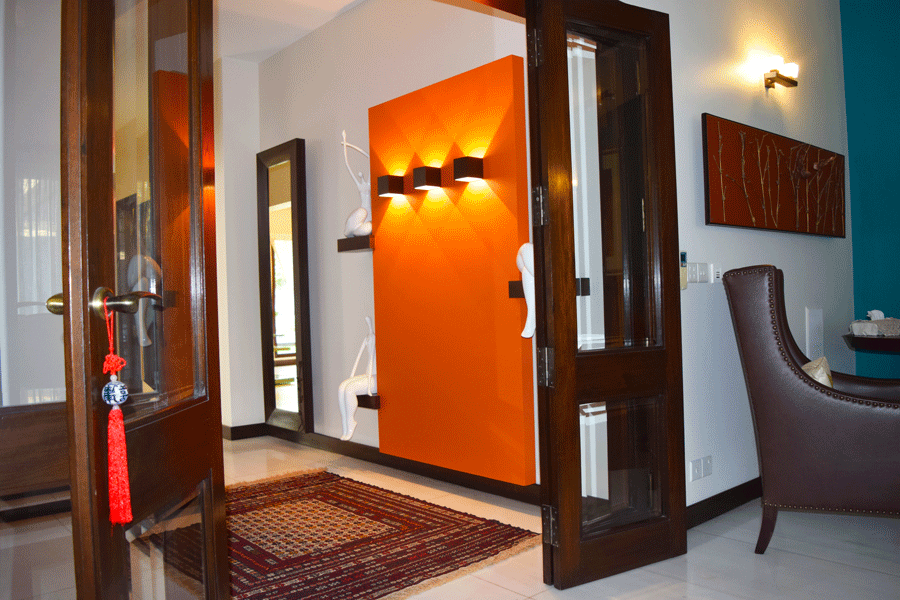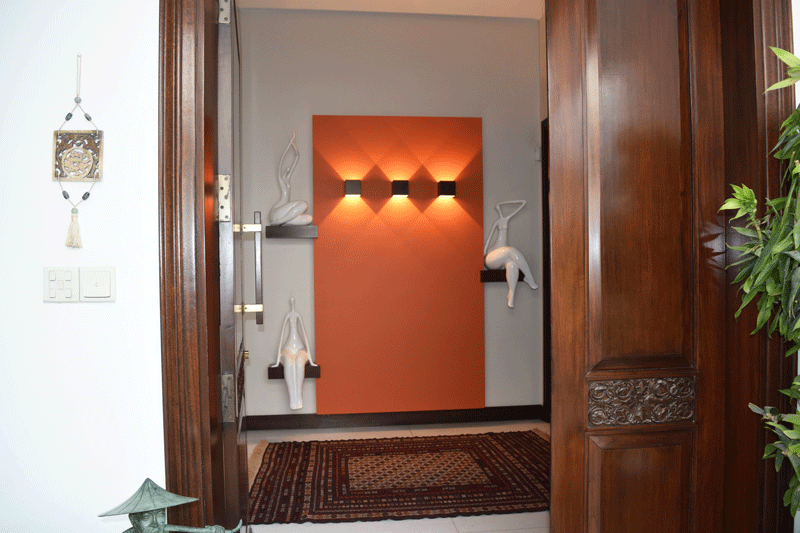 I began this about 3 years ago. I wanted to cover some ugly spaces like the DB cupboards etc. So I made mural panels and covered them with that. I created some pieces and had an exhibition and now take orders as well.
I usually use wood or Lasani panels that are color treated and polished. Larger pieces are usually commissioned for a specific space. I also took part in an exhibition in Mumbai last year and all my pieces were sold out.
What inspires you where your home decoration or art are concerned?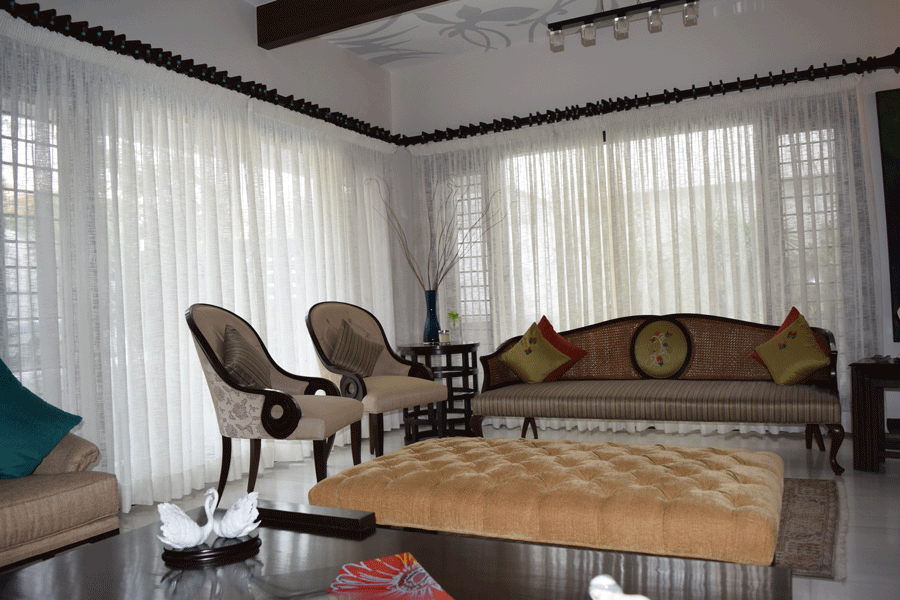 Travel definitely inspires me. The ceiling mural was inspired by light installation in a museum in France. There shadow shapes were projected on the ceiling.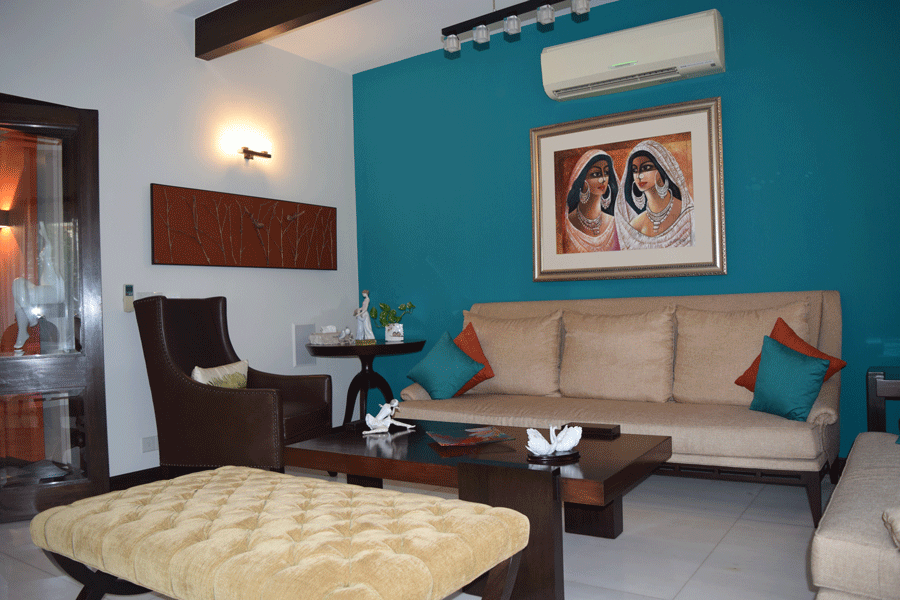 I've also collected art from Bali such as the African inspired figures in the drawing room. Those remind me of a lovely family trip.
And your favorite space in the home?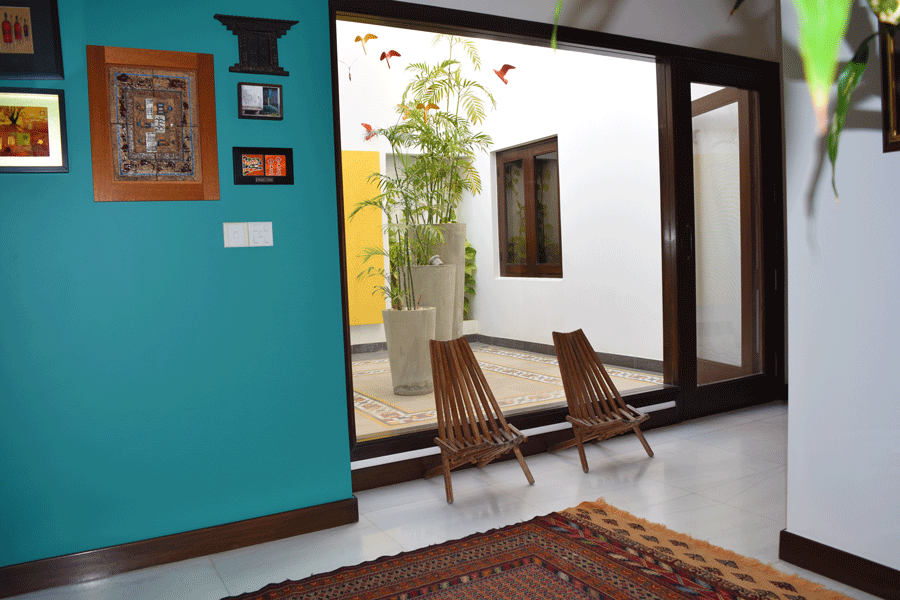 The study upstairs for sure! I used to work their while keeping an eye on the kids. Also it has very restful colors.
You have designed some furniture pieces as well?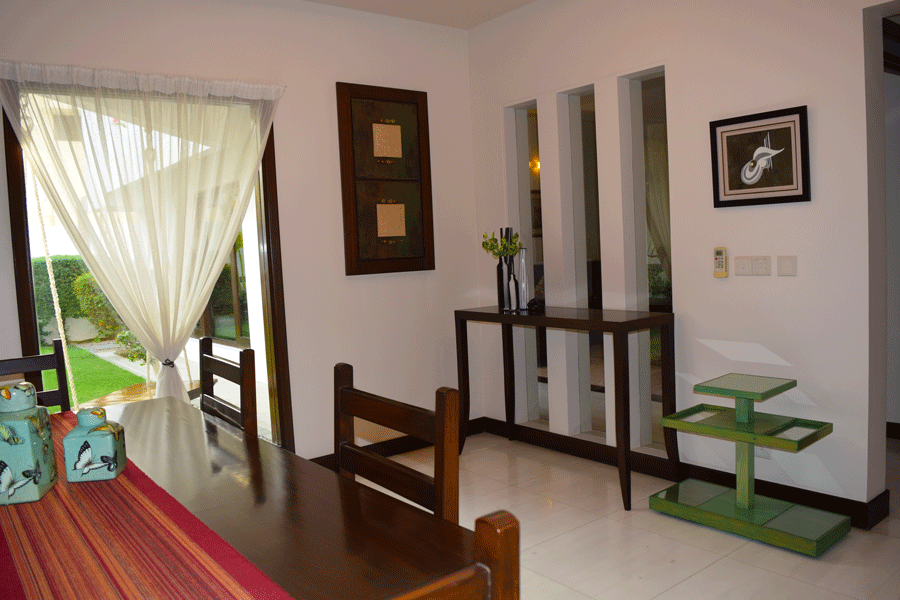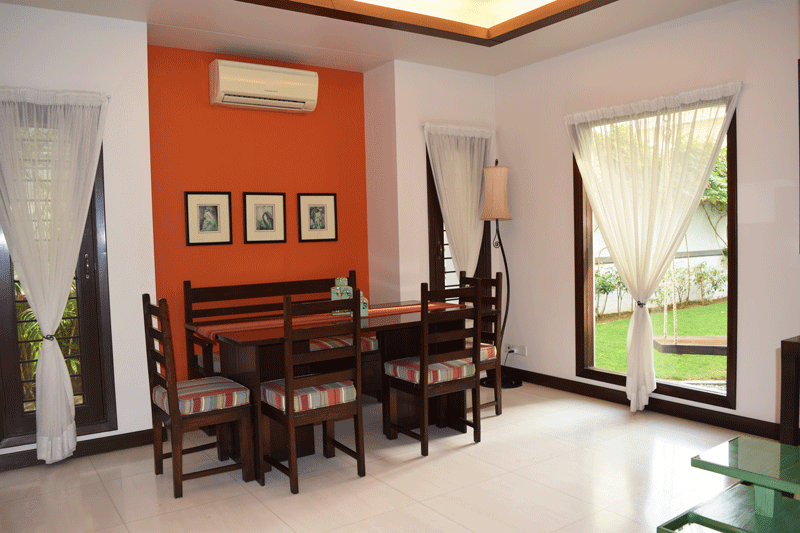 Yes there are a number of pieces that I have designed over the years. The coffee table & side tables in the drawing room are designed by me. As is the folding dining table, this has a flap that can fold it into two to save space. I designed it when we lived in an apartment to save space.
I created these pieces out of necessity because I couldn't find what I was looking for. Furniture design doesn't fascinate me as much as architecture.
Everything in your home has a personalized flair?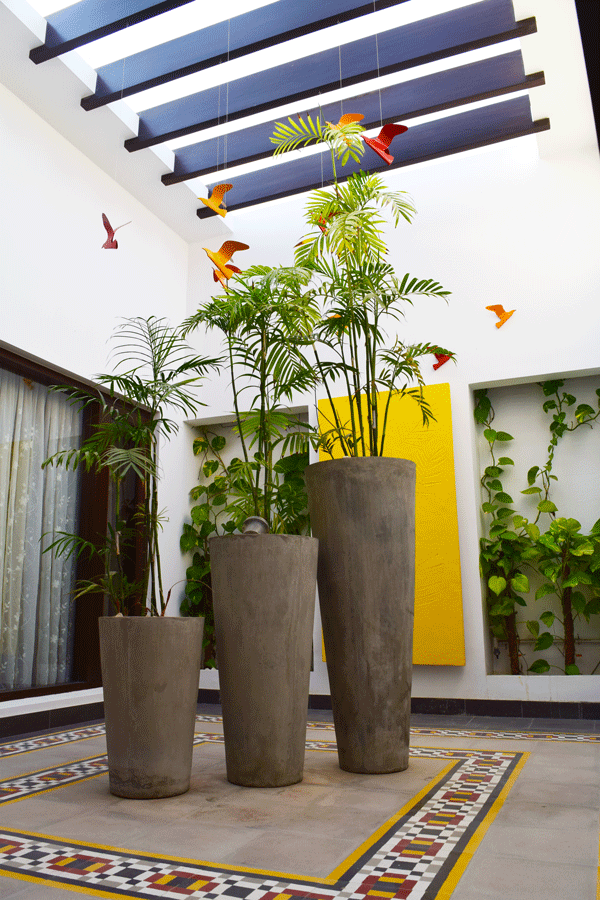 Most of the things have some special meaning for me and my family. I cherish a small sketch of my mother made by Sadequain on a paper napkin.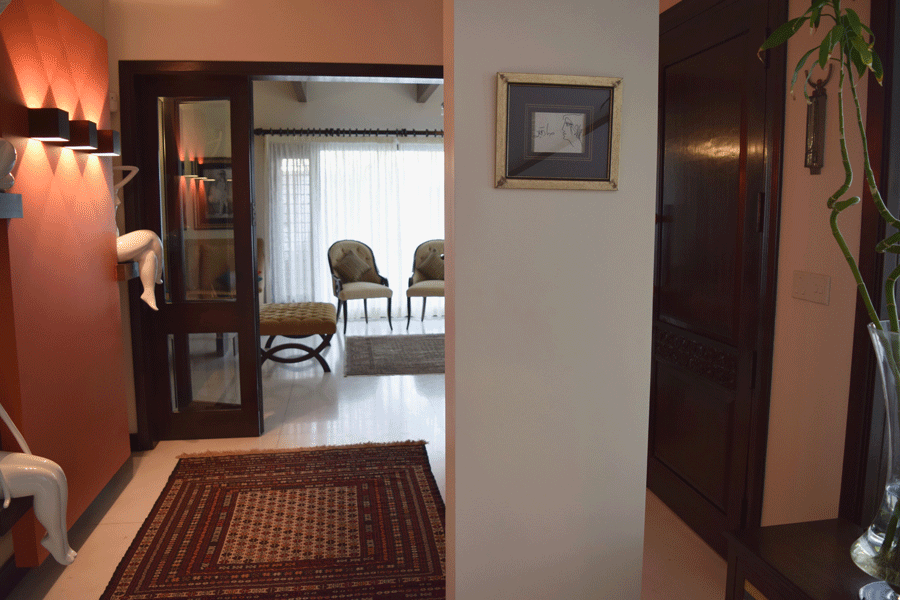 I also have a picture of a sketch of me made by a student of Iqbal Mehdi when I was at NCA. I only got this recently because a friend spotted it at an exhibition in Lahore and sent me a picture. So I took permission from the artist and made a print of it.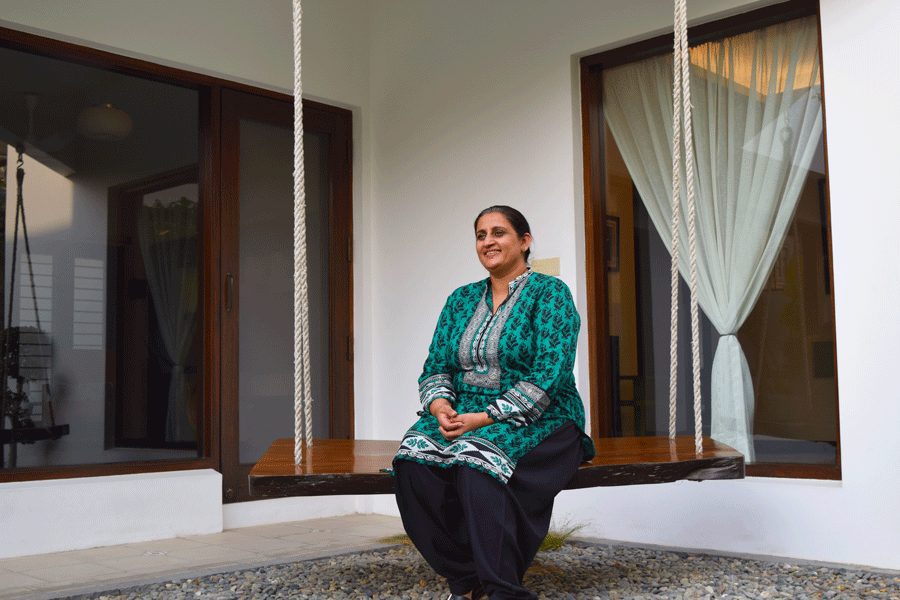 Ever since I was a child, I had a vision of a simple, rustic home and that's what I have created. I have incorporated organic forms, art collected on my travels and wood everywhere.