An Unexpected Trip
Cappadocia: Talk about spontaneous! Completely unplanned, within just a few days after a random conversation with my cousin in Karachi, I was on board a plane from London to Turkey. Landing at Ataturk airport, we caught a domestic flight from Istanbul into Keysari airport.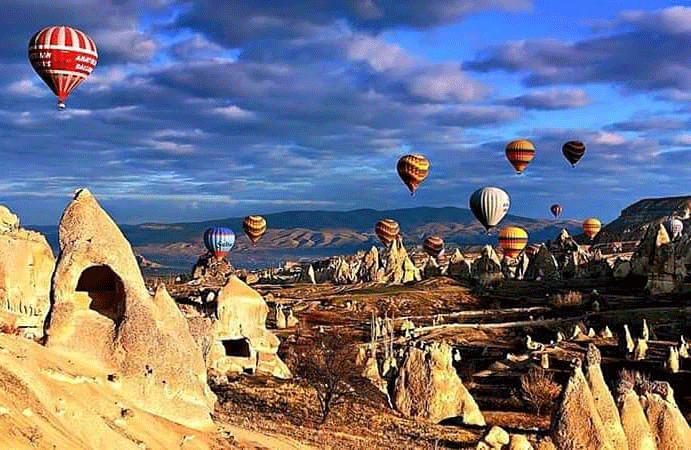 My cousin had mentioned that he was on his way to Turkey. I had never been to Turkey so I found myself asking out loud, "Oh wow! Can I come too?" Of course, he said "yes."
I got off the phone and made some bookings immediately.
Then as soon as my daughter's school term ended, we were on board this sudden trip to Turkey, having no idea what was in store as I hadn't really researched it. We would be joining my cousin on the last stop of his trip in Keysari.
We disembarked at Keysari airport and it was like suddenly being back in the seventies on a domestic flight service in Karachi. People shouting, airport buses plying within the dry, dusty airport and being led from here to there, not knowing where our baggage was. Eventually, we sorted ourselves out and go onto a bus headed to our hotel.
Arriving in Cappadocia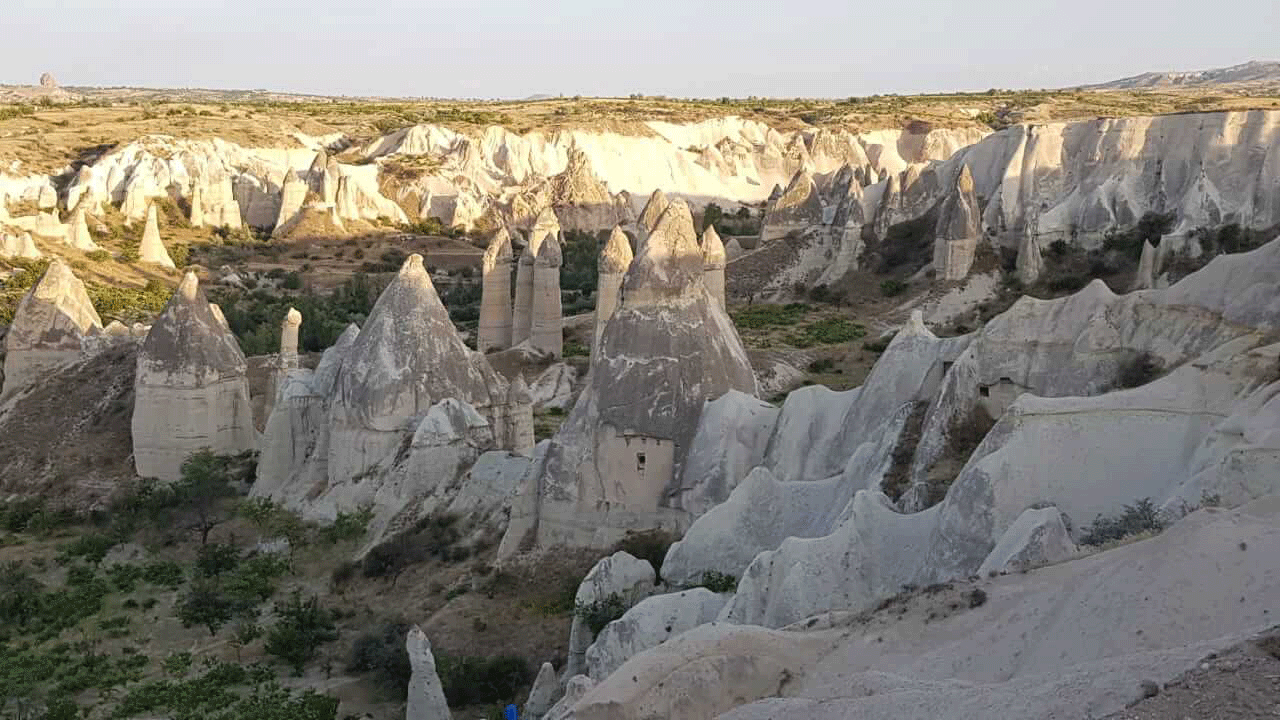 The hotel which I booked off Bookings.com was called the Grand Cave Suites, in Goreme, Cappadocia. It is described on the website as "An old family house transformed into a small hotel with 16 caves rooms in the heart of the fairy chimneys…" Again, I didn't really know what to expect but what we found, quite literally, blew me away. We were living inside caves equipped with modern facilities. We even had a balcony, giving us a lovely view of the town and at night. I felt I was gazing upon an elf town as lights twinkled out from caves and wooden balconies and such.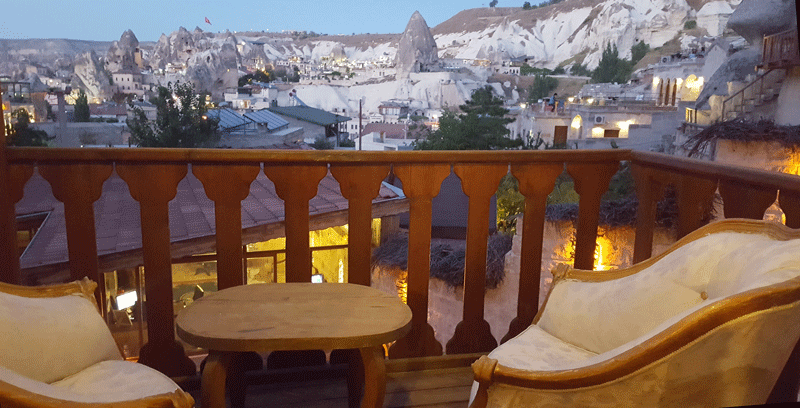 The ancient region of Cappadocia has been populated as far back as the Bronze age and has been ruled by the Hittites, Persians, Roman and Byzantine empires. However, besides its archaeological importance, the area is famous for its unique topography which is a result of volcanic activity in the region.
Balloon Ride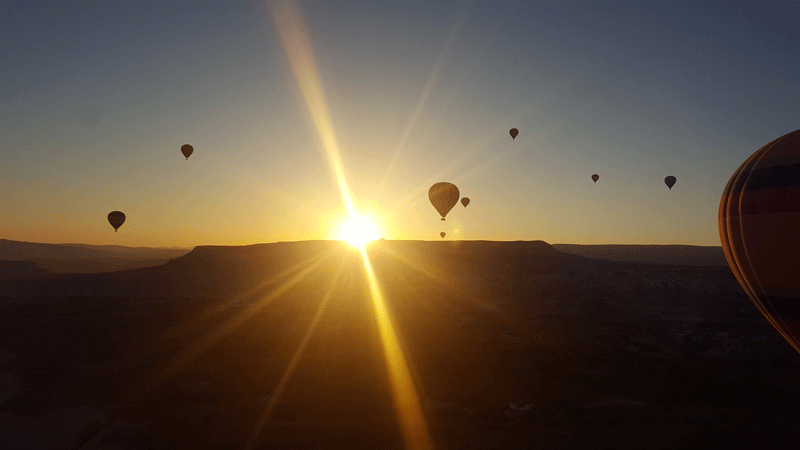 The highlight of our visit was a hot-air balloon ride for which we were to start at 4.30 am so that we could catch the sunrise. The flight itself – words are inadequate to describe the thrill, the calm and the magnitude of awe we experienced. To be soaring over the magical terrain and watching the sun come up, lighting the fantastical rocky pillars and caves below is truly a once in a lifetime experience.
The exhilarating morning breeze, hundreds of colourful balloons rising up into the distance against the backdrop of a magical golden sunrise, the 3D zooming off effect of the landscape of strangely formed rocks or fairy chimneys as they are called, mini-mountains riddled with holes… It was magnificent!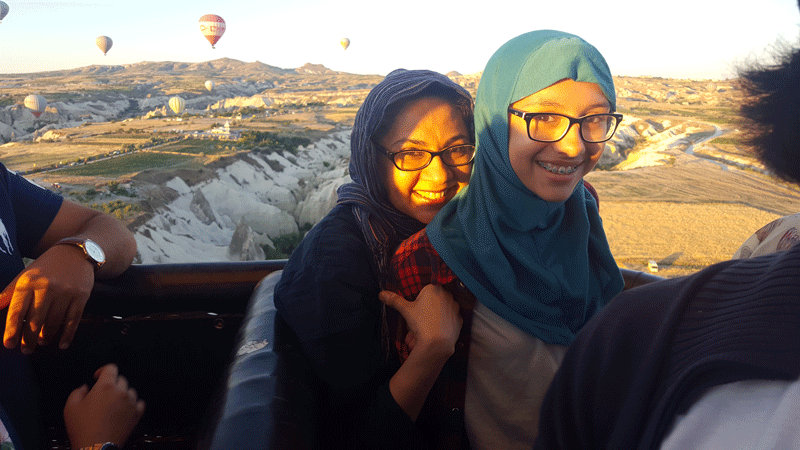 The ride was so smooth and light and our skilful Captain guided the balloon without any jolts. In fact, he landed ever so coolly, bang smack on top of a flat cargo bed at the back of a pickup truck – in one attempt!
Pictures and videos do not do justice to the experience at all. I was left humbled with  nothing but extreme gratitude in my heart to Him who manages all and who blessed me with this unique opportunity.
Underground City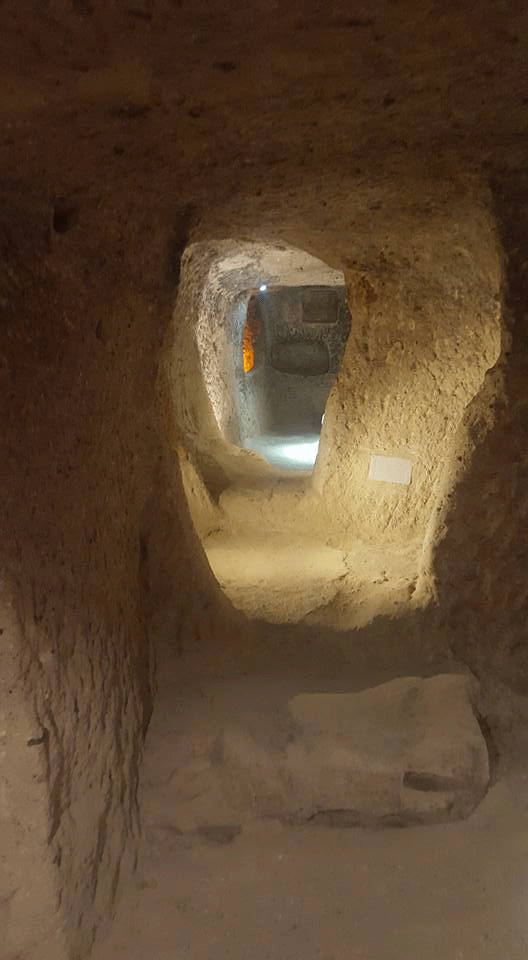 Later that day, we drove up to a point known as the  the Göreme Panorama. Then we explored the famous Derinkuyu Underground City, where we saw how people lived inside these caves for days on end. They caves were equipped with ventilation, toilets, kitchens, burial spots and employed techniques to prevent foul decaying smells.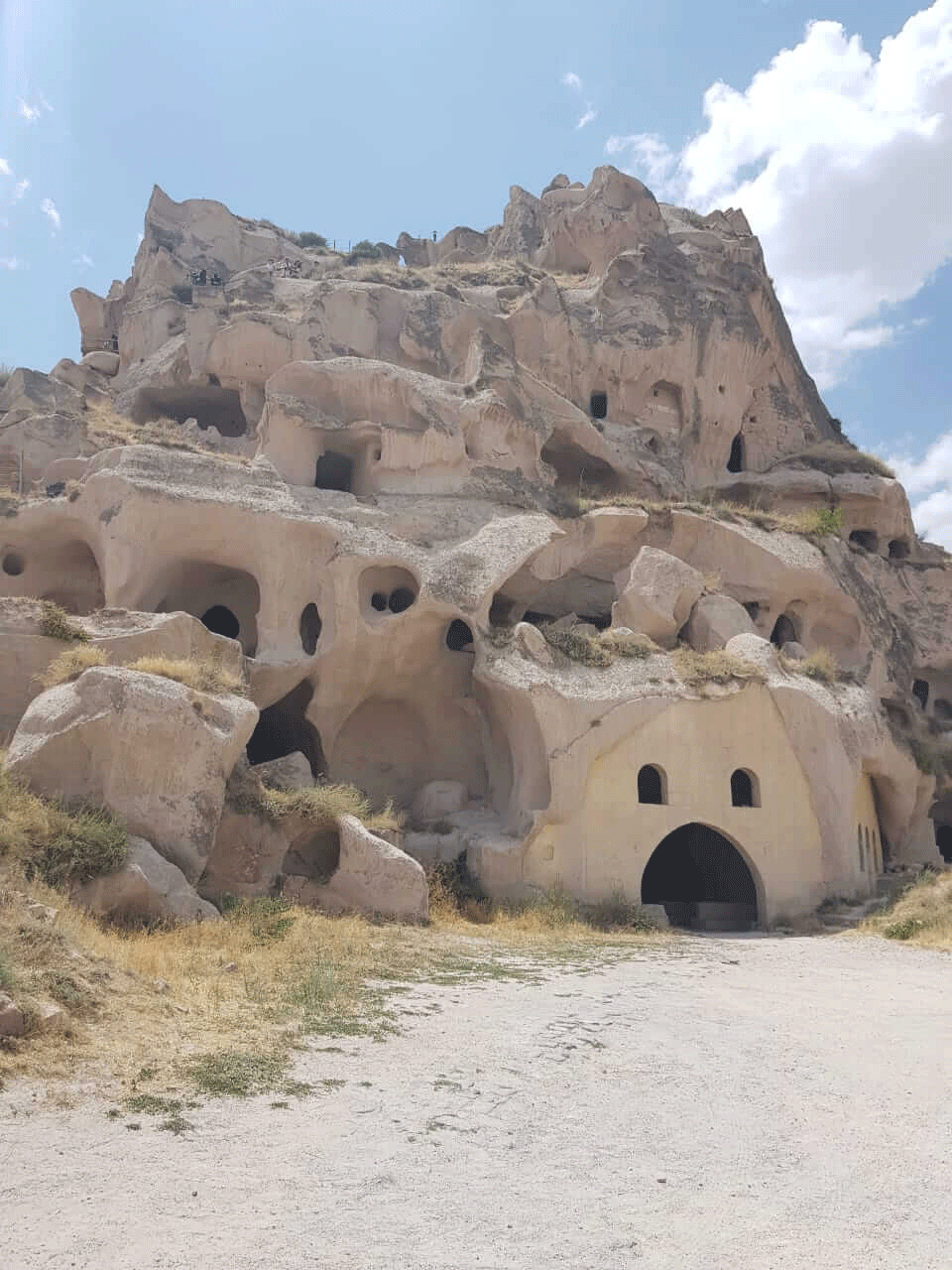 Hiking & Pigeon Valley
Hiking into the Ihlara Valley was also great fun, especially bathing our feet in a lovely cooling rivulet. This was followed by a hearty lunch in a cabin set in the middle of  running water.  We also visited the old Selime Monastry, which is still pervaded by a solemn, divine presence. After which we went to view the famous Pigeon Valley where we  fed a multitude of pigeons.  Lastly, we visited the Onxy and Stone jewellers who  demonstrated how they cut and polish the gems. Of course, it was all very beautiful but beyond my budget.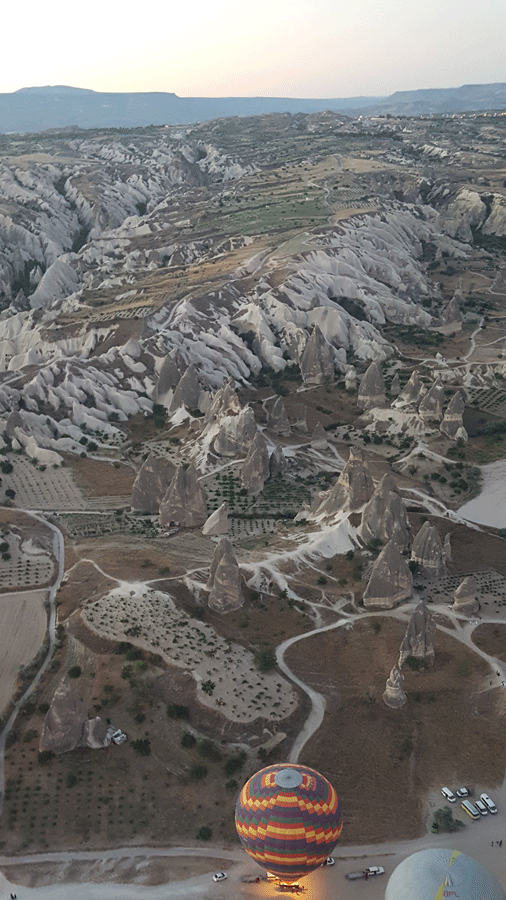 I learnt about how those little holes in the rock formations were made by pigeons, they are basically pigeon holes! These were then adapted by man to form living areas by copying them for shade and shelter.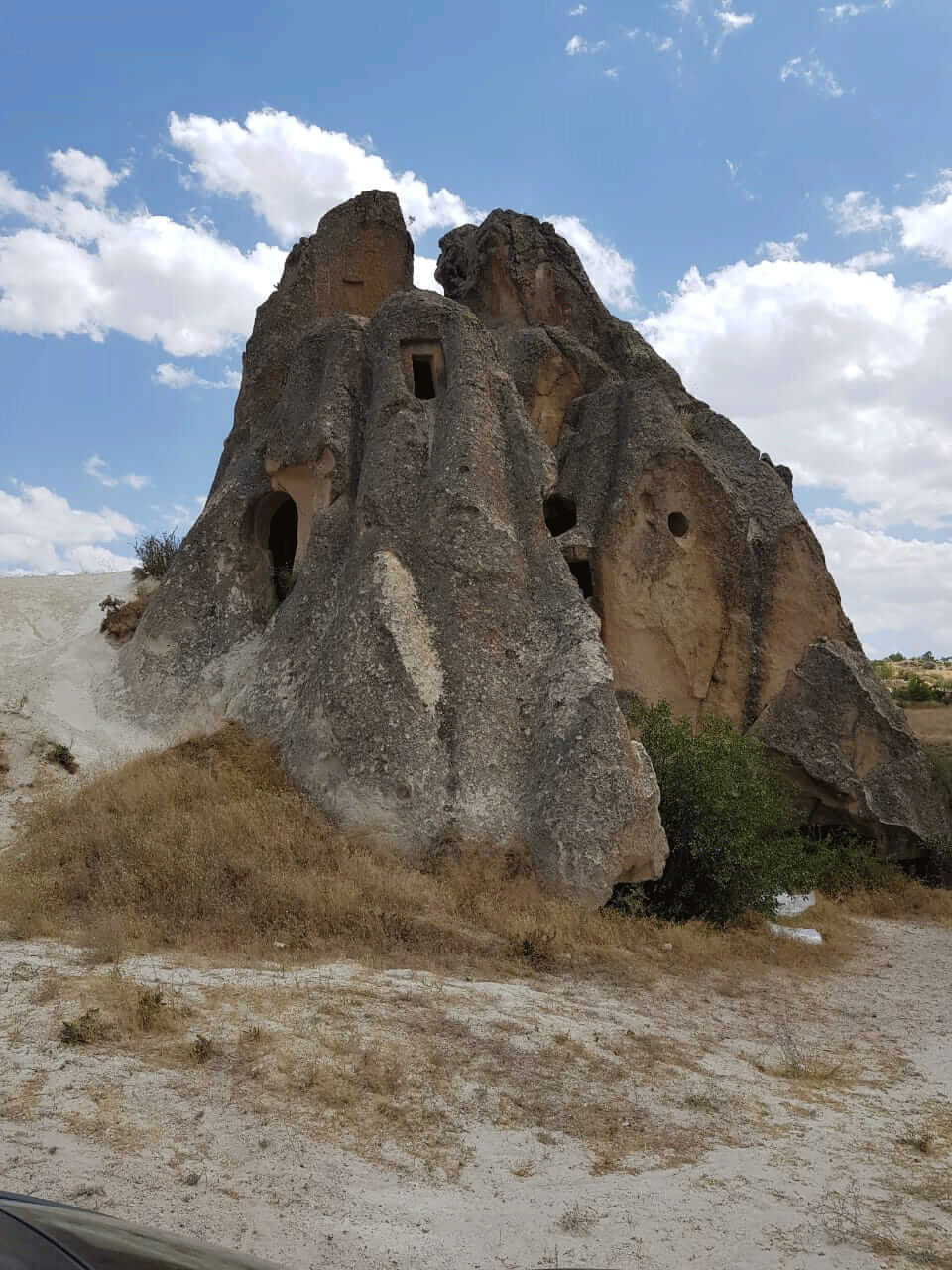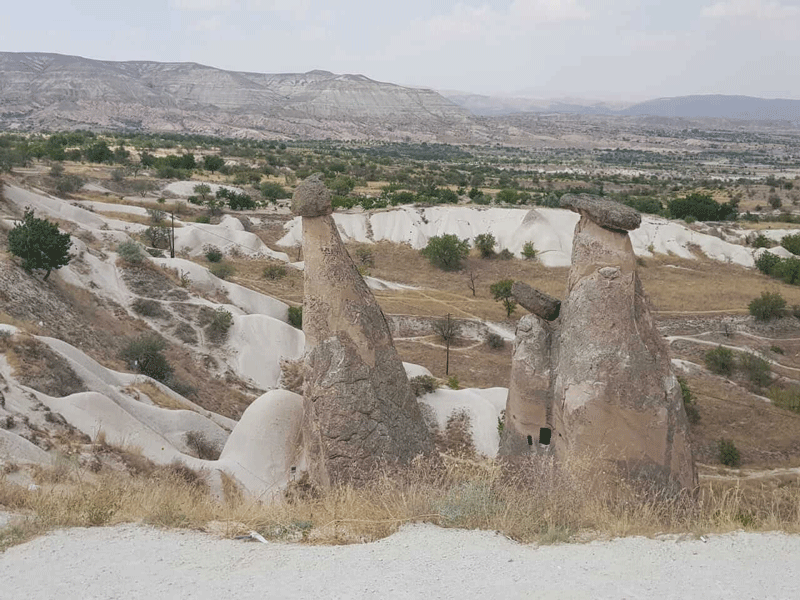 Next day, we walked around the Goreme Copadoccia town and tried their cafes and restaurants and shopped for souvenirs and gifts, (you have to really bargain, Zainab market style!)  picked fresh, juicy and very sweet apricots, plums and mulberries along the streets and lively colourful market square.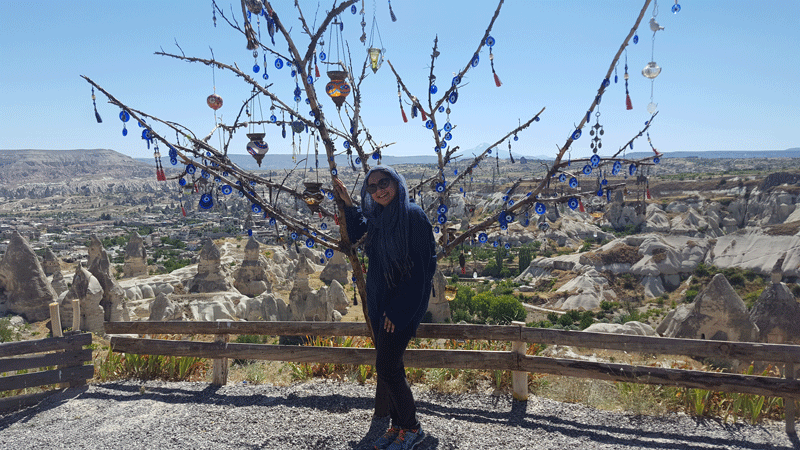 The next day, we flew into Istanbul where we spent another couple of days. We explored the various palaces, mosques, museums and ancient baths. They all had their own unique splendour and fascinating history. Personally for me,  all of it paled in comparison to the more rustic and authentic charm of Capadoccia!
Photographs: Fawzia Z Kara-Isitt, Layla May Kara-Isitt, Sabina Hasnain Kara-Isitt, Grand Cave Hotel website.