My eyes lit up and when my cousin asked if I wanted to go for a Yoga meets Trekking trip in Nepal. Having stayed away from Yoga for nearly 25 years, it didn't take me too long to say a big 'YES' to the trip. Although my cousin backed out, I was soon merrily packing away and on a plane to Kathmandu.
Ready to spend the next 8 days with a group of 28 strangers from different corners of the world, coming together for their love of Yoga and Trekking.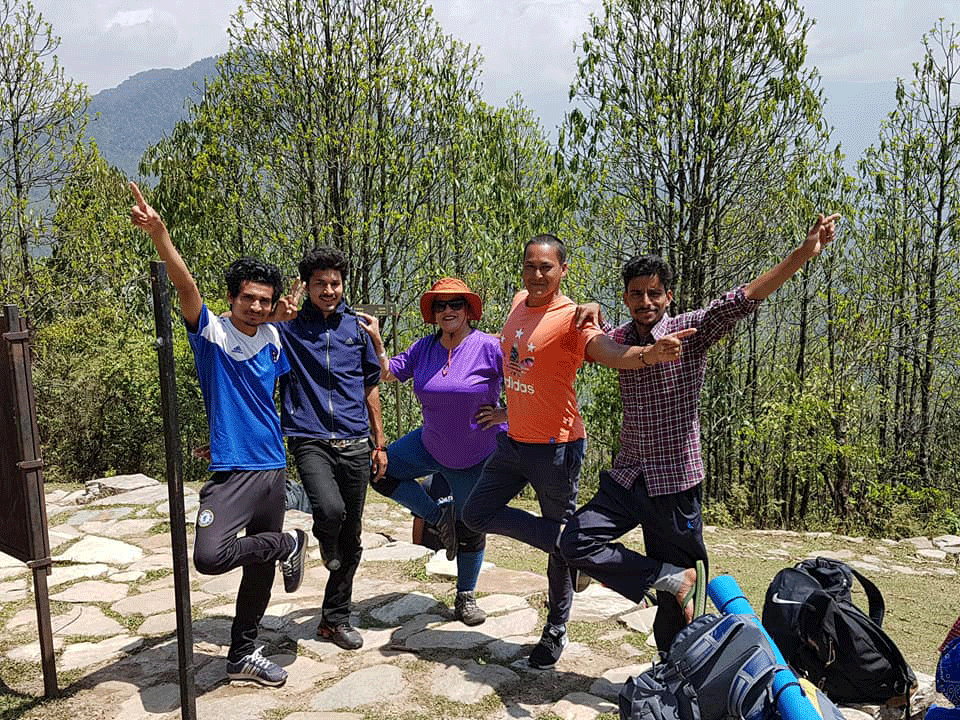 Arrival in Kathmandu
Hailing from the bustling city of Karachi, you think you have seen chaos at its best. However, Kathmandu was just another story. From the airport, which was complete pandemonium to the journey across the unkempt streets to our hotel, I was quite disappointed to say the least.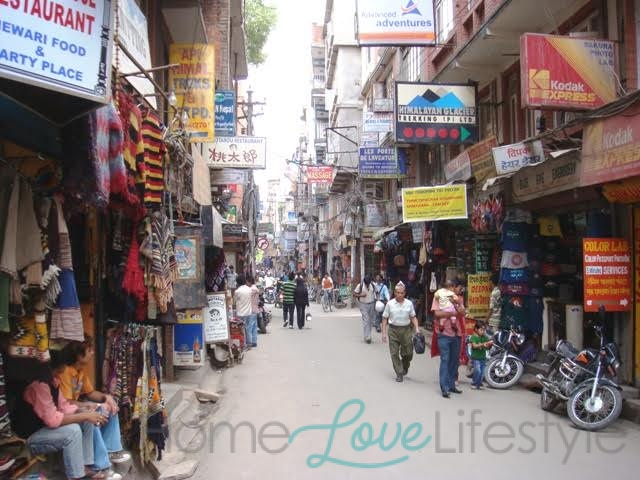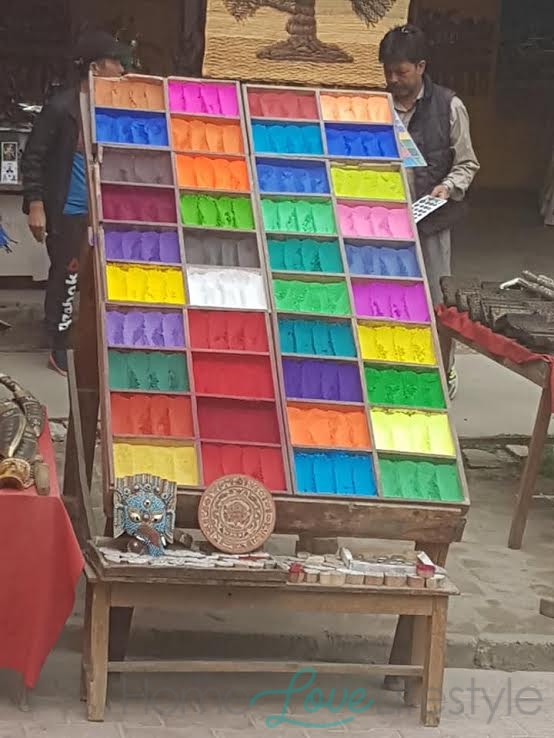 But spirits began to lift again, as I met my co-travellers, a very cross cultural and  welcoming group led by Yashwant Saran, an experienced Yoga guru and the Director of the 136.1 Yoga Studio based in Chennai. Some of us immediately made our way to the famous Thamel Market in the heart of Kathmandu for some last minute shopping.  You will find everything there from fruit and vegetables to some serious mountaineering gear, but the prices are not very negotiable and they do tend to overcharge.
The evening ended with a welcome meal for the group at a traditional Nepalese restaurant where we were treated to a delicious 7 course meal along with a folk performance. And, of course, we joined in the dances to make the evening livelier.
Off to Pokhara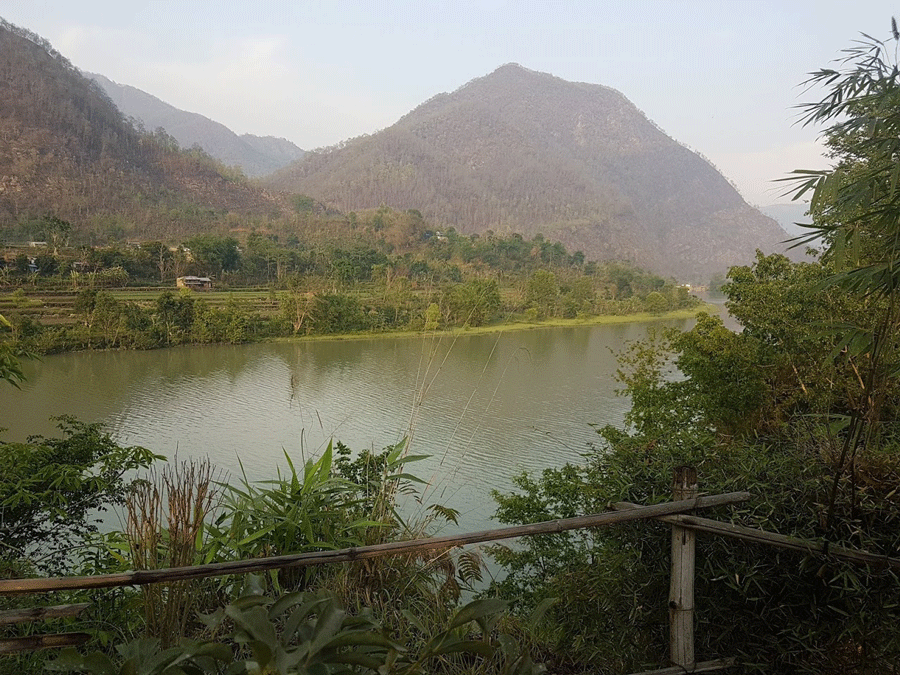 Before we started our journey to Pokhara, our day began at 6 am with a 90 minute yoga and meditation session by Marxim, the founder of Yogashala in Muscat and an expert in Hatha Yoga, and Yash, our meditation guru, in the beautiful gardens of this heritage hotel. Feeling relaxed and suitably stretched out, we were soon all aboard our bus to Pokhara
Located 200 km west of Kathmandu, Pokhara is Nepal's favourite tourist destination and the starting point for most trekkers who are venturing out to the Annapurna Ranges in the Himalayas.  If you are short on time, it is highly recommended to fly directly to Pokhara when arriving in Nepal. After 3.5 hours of driving, we stopped for white water rafting at the Trisuli River, which runs along most of the way to Pokhara. The scenery of the river Trisuli includes small gorges and a glimpse of the cable car leading to the famous Hindu Temple Manakamana.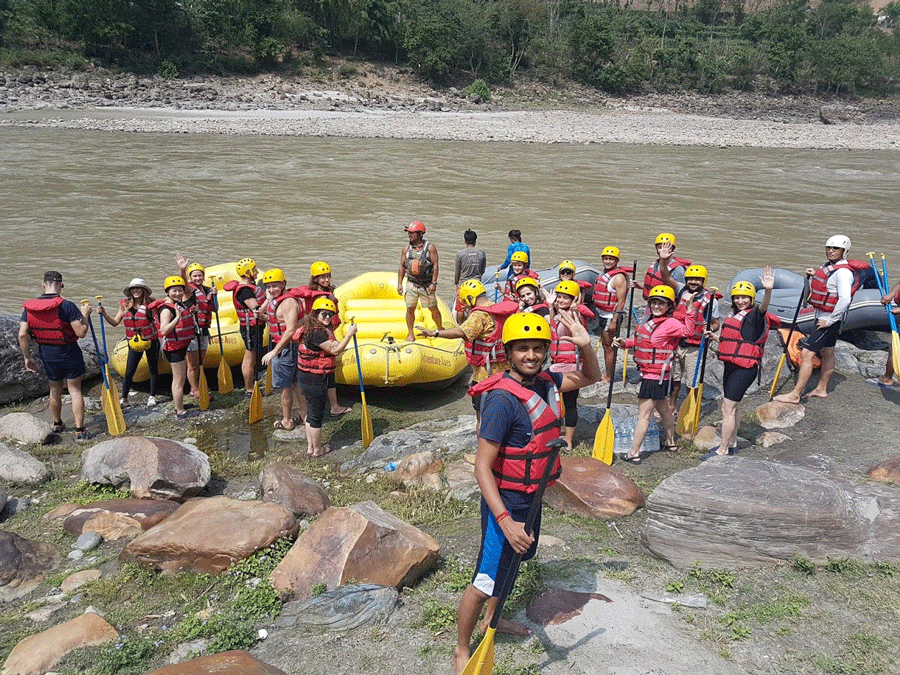 After an 8 hour journey to the hotel in Pokhara, and a well deserved dinner, we enjoyed an hour long meditation session. Then it was off to bed, except for some of us naughty ones who hit the high street to experience the night life of Pokhara which is quite happening.
Trekking to the Australian Camp (in the Annapurna Range)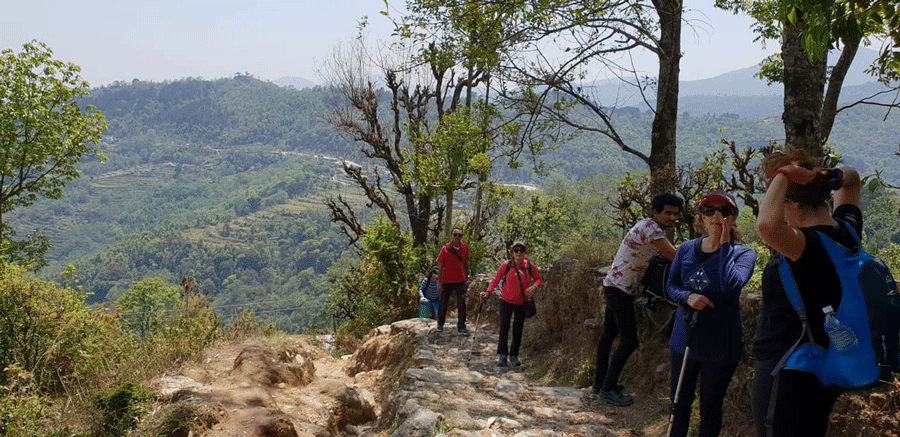 The next morning started with a session on Ashtanga Yoga, a highly intense and athletic form of yoga to prepare us for the intense trekking into the Annupurna range. After breakfast, we drove for 45 minutes to the starting point of our trek, called Kande.
Here we began a pleasant trek to the Australian Camp situated at 1900m, to get an upclose view of the Annapurna range of mountains. The trek, although not too long (2.5 hours max) can be quite challenging for those with weak knees, as the trail is primarily formed of steep steps throughout. The reward is the breathtaking views of mountains such as Annapurna South (7219m), Hiunchuli (6441m), and Machhapuchhre (6993m) also known as Fish Tail Peak. The last is considered sacred to the Nepalese people and therefore no one is allowed to venture to this peak.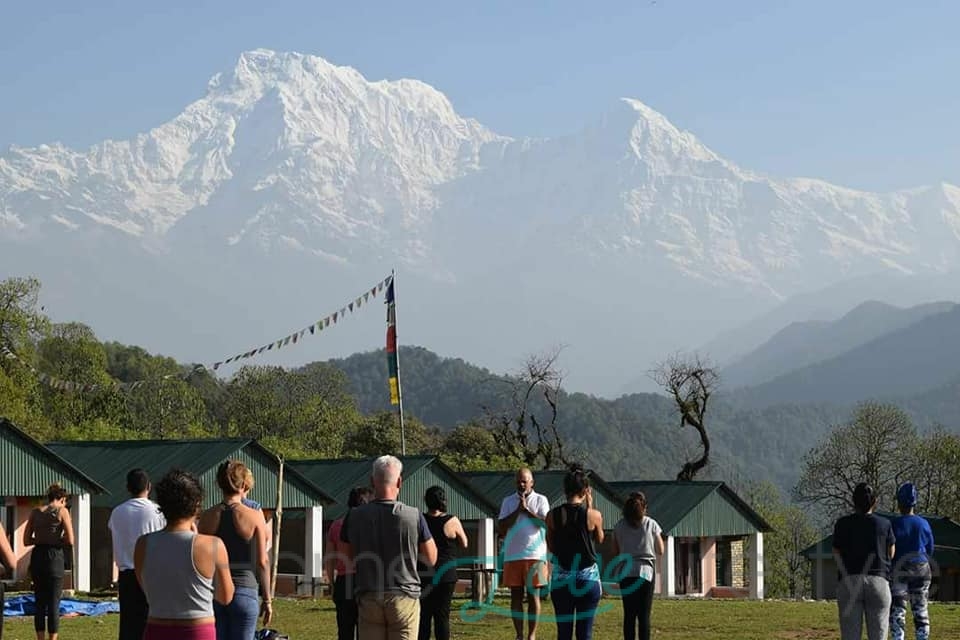 As the sun began to set, we began a practice known as Japa Yoga. As the name suggests, it combines yoga with japa, the meditative mantra repetition. It is believed that practicing Japa yoga removes the impurities of the mind, destroys sins and ultimately results in samadhi, or communion with God, when practiced regularly.
Yoga in Dhampus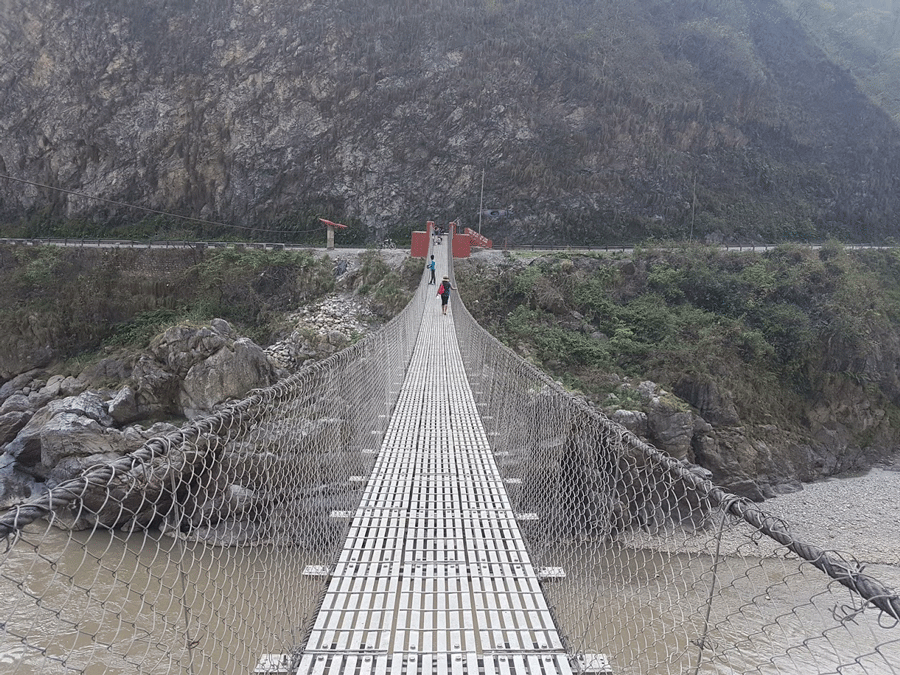 After an invigorating yoga session in the wee hours of the morning, based on variations of Surya Namaskar (salutations to the sun), we began our downward journey into Dhampus, a small village at 1650m. During this journey we got to know our porters well, and discovered that they were mostly college students who did this work just to make some extra money. I thoroughly enjoyed this part as we got a chance to know the locals and even spontaneously put our luggage down to start dancing to the beats of bollywood music playing on one our porter's phone.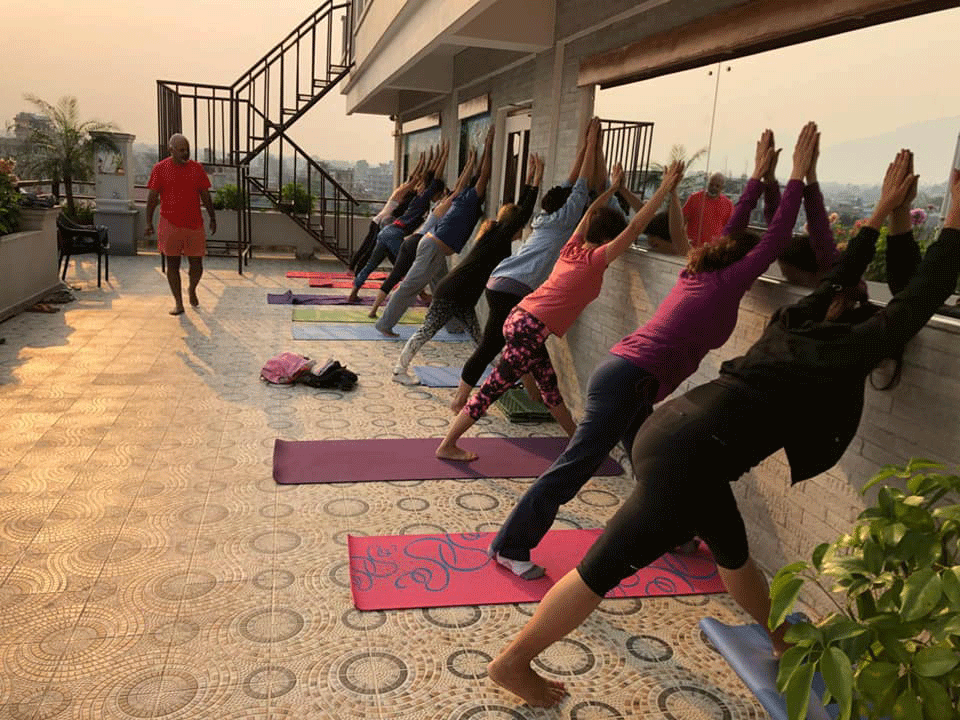 In Dhampus, we had an afternoon session of Yoga Nidra meditation, and an evening session of Hatha Yoga that started and ended with reflective prayer with Shantanu, also a yoga teacher with Yash. Although this session was originally intended to be outdoors, the heavens finally opened and we were restricted to the covered terrace of our lodge. The night ended with a fun-filled party and lots of zumba, followed by an embarrassing session of truth or dare to celebrate the birthday of Carlo, our Italian friend.
The Singing Bowls Meditation in Pokhara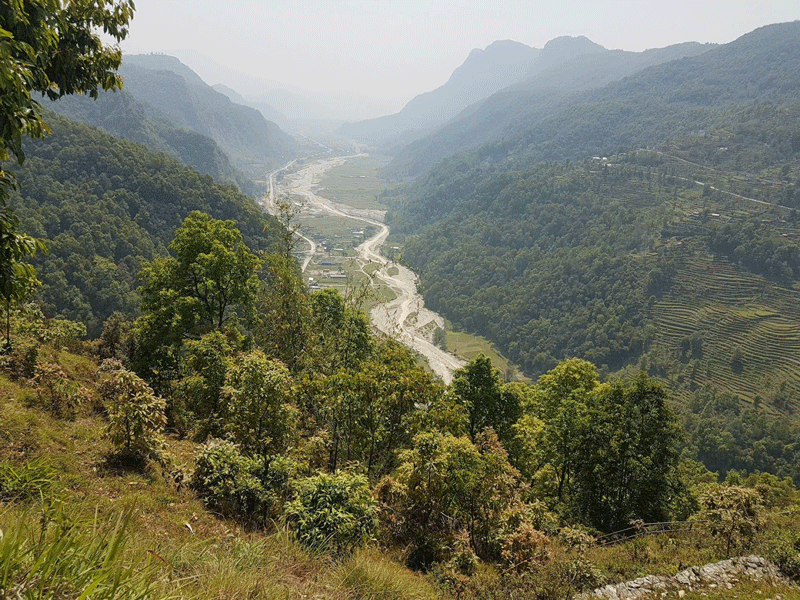 Another early morning yoga practice and then down to our starting point Kande. The trek was once again a challenge due to steep steps, which become harder when you are coming down, but along the way we passed many villages & meadows and got to see what the rural Nepalese life had to offer. Once back in Pokhara, we stopped at the trendy Riverside Café, on the high street, which was a treat to the taste buds after many days of consuming traditional food only.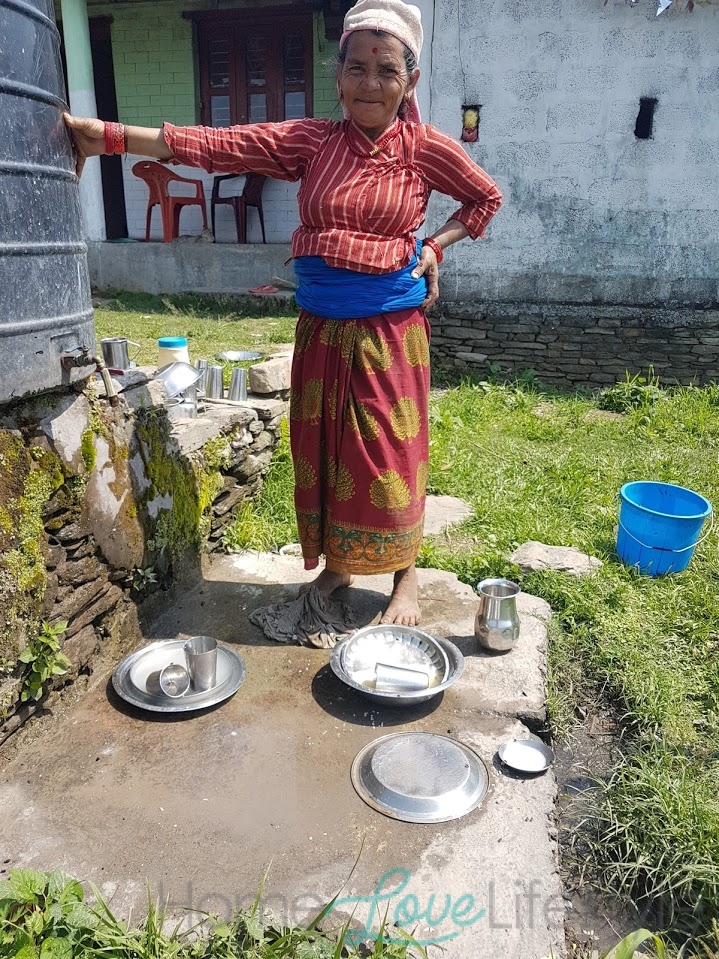 That evening we headed into the Pokhara town centre. The highlight of that evening was while sitting at an open bar alongside the Pokhara Lake, a local Nepalese boy band playing English music from the 70s & 80s suddenly broke into a rendition of 'Aap Jaisa Koi' by our very own Nazia Hassan. Naturally, we got up to start dancing to the tunes of Pakistan's favourite pop singer.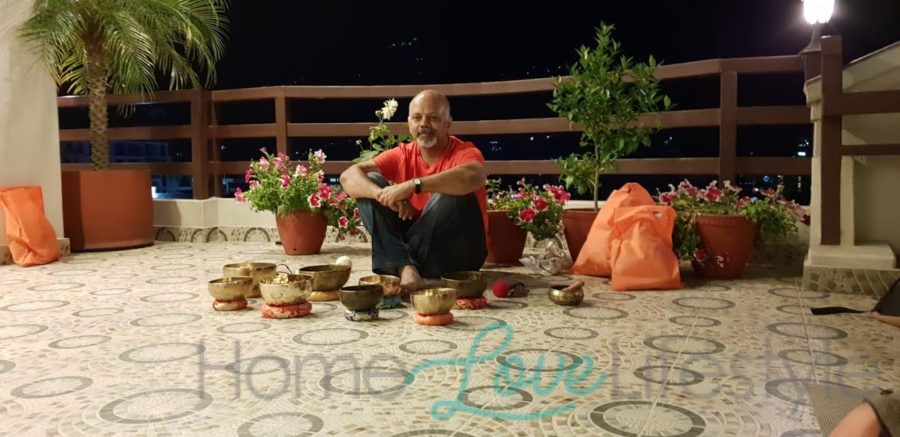 The night ended with the 'Singing Bowl Meditation', something I have never experienced before. Singing bowls produce sounds that invoke a deep state of relaxation which naturally assist one in entering into meditation, the ultimate goal being enlightenment. A quintessential aid to meditation, these bowls can be found in private Buddhist altars, temples and meditation halls throughout the world.
Back to Kathmandu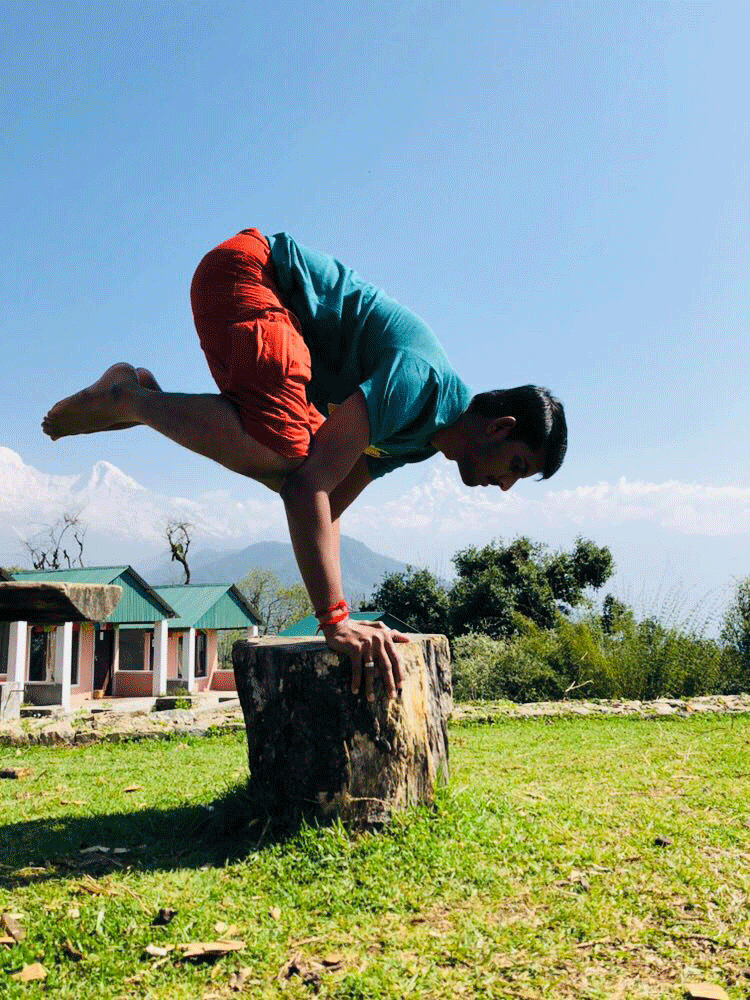 The next day, we drove back to Kathmandu stopping along at the River Spring Restaurant, which is a must see, overlooking the Trisuli River. Once again a long journey and when back to Kathmandu – our tired bodies rejected the calls for an evening Yoga practice.  Instead we all went to a lovely French Bar as it was our last night together.
To sum it all up, it was by far one of the most spiritually enhancing trips combining Yoga and trekking. But even more, what I took away from this trip were amazing memories of some of the most beautiful people I have ever met. As I write this article nearly two months later, I can still feel the energy that each one of them brought to the trip with their diverse personalities and experiences. So although I didn't think much of Nepal as a destination, it was one of my best travelling experiences thus far.