Nadia Jamil, the multi-talented actress, educationist, foodie and devoted mom, is still settling into her new home in the UK. However she was kind enough to share pictures of her new place, and answer some questions for the Homelovelifestyle team. Unsurprisingly it's as quirky, colourful and charming as Nadia Jamil herself.
Q: What is your favorite area in the home & why?
I love every area in my home but the kitchen is my favourite. I've always wanted a clean kitchen I am independently in control of and here it is! It's small, everything is within arms length reach, so organized and since it's an open plan, the drawing room terrace view comes in from one side and the afternoon sun streams in from the other.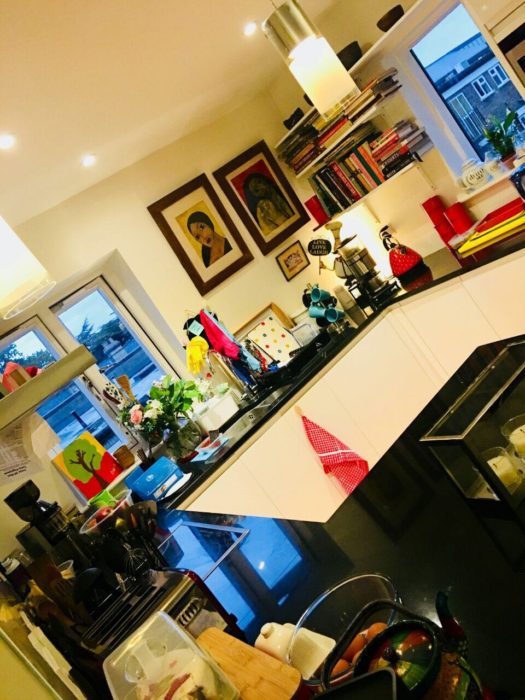 It's always full of music and I keep it clean and full of fresh flowers. Cleaning it after a cooking session is like taking care of a baby or messy child. Needs to be done with love, and a positive attitude. Lol!
I'm a firm believer in the transference of energy, so keeping a positive and respectful attitude towards the food we eat and how I cook it and clear it is important for me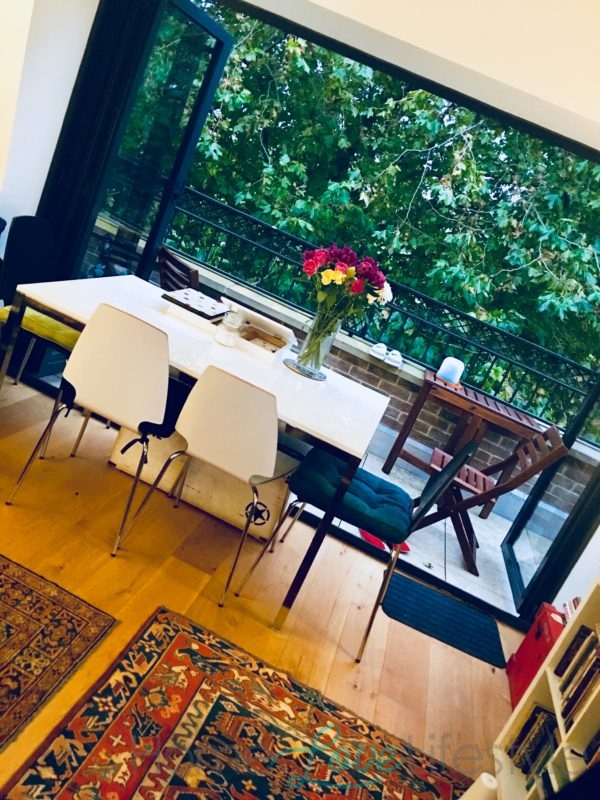 Q: Who designed this space?
The apartment building is quite a unique & lovely space.  The interior space was done by a lady called Eve Waldron. It's a new building designed to look like it's always been there. I love the period authenticity and grace, elegance of the building.
The interior designing of the space was all me. The paintings, furniture, lay out of where everything is. I just wanted a warm happy space in which the windows welcoming in the trees and park were the main feature. It's what made me fall for the place and I wanted the focus of the room to remain the amazing view.
Q: Does it reflect your design sense & personality?
Oh yes…splashes of colour! A blend of modern and traditional, amazing works of art, books everywhere and stuffed toys. It was very important the space be child friendly, where a child can have a really good time. Even though it's tiny 🙂
I love that there is a sense of culture and tradition because of the building itself and the art work and carpets but the modern clean lines of Ikea furniture don't let the space look overwhelmed or stuffy.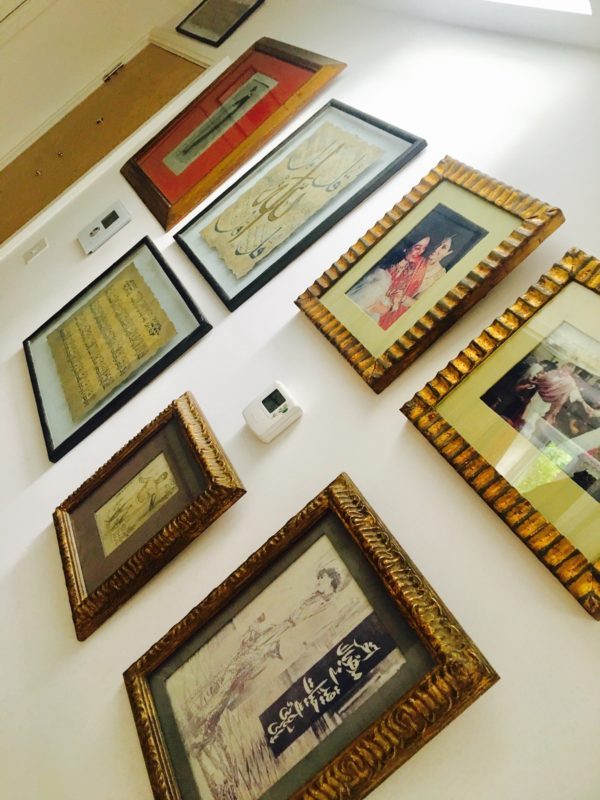 Q: Any favorite pieces here. Any stories associated with them?
The art work. Each one has a story. The stuffed toys, my blue dresser, I love everything. The dining table was bought after seeing so many. Initially I wanted a wood one but realized we need to keep things modern and light so when we found this one it was perfect. Light chrome metal and white standing on a solid oak wood floor.
My Maula Jutt box and truck art box that my Tai gave me are really my favourite, my Lahore at home. I also love the Madam Nurjehan prints one given to me by her daughter Nazia and the other by Samar Ataullah.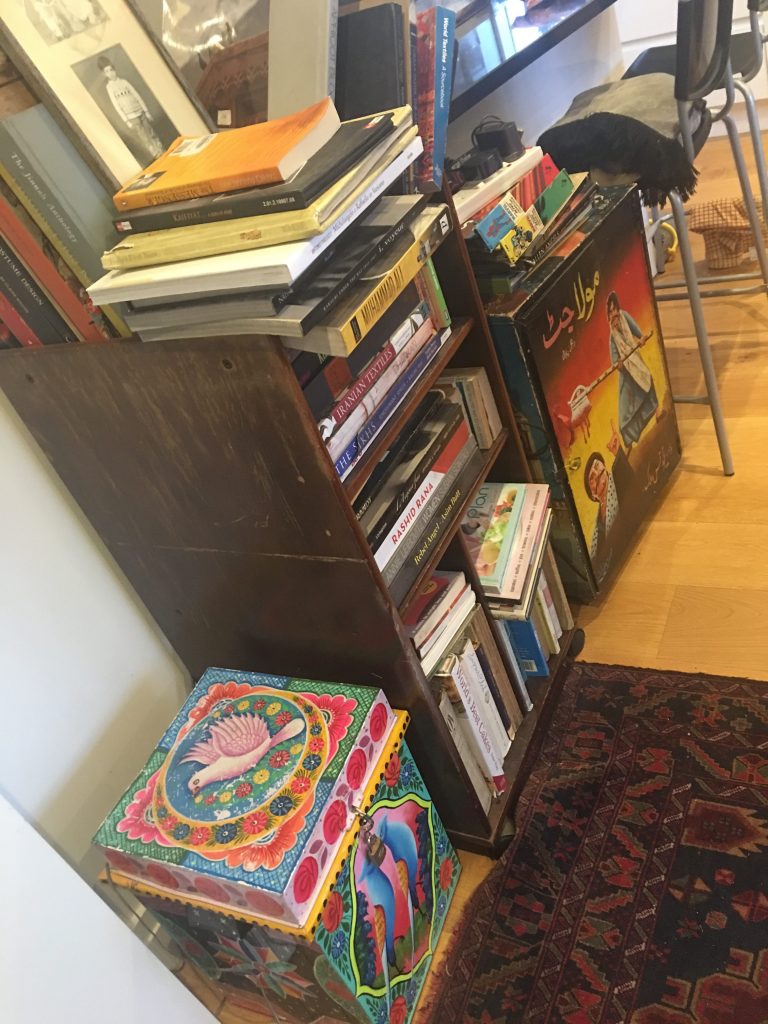 But nowadays my fav piece is this rack I bought for a pound from a charity shop. I was planning to have one made to accommodate extra books or look around for one but one day I went to pick up eggs and milk and there in the Salvation Army stood a solid oak shelving unit on wheels for one pound!! I thought it was a mistake and had to double check with the lady at the counter. Wheeled it proudly all the way down Mill Road making such a racket and still can't get over what a find it is 🙂 One pound!
Q: You have children. Can they use this space?
They OWN the space. It's always been important the children have a sense of ownership of the house, even when I was in Pakistan. Every room is child friendly and used by them. Here it was even more important because I knew they would be so home sick. So yes. It's cosy, comfy and very child friendly! They can draw, read, cook, paint, build Lego, watch tv and enjoy the terrace. It's tiny so no playing football allowed indoors!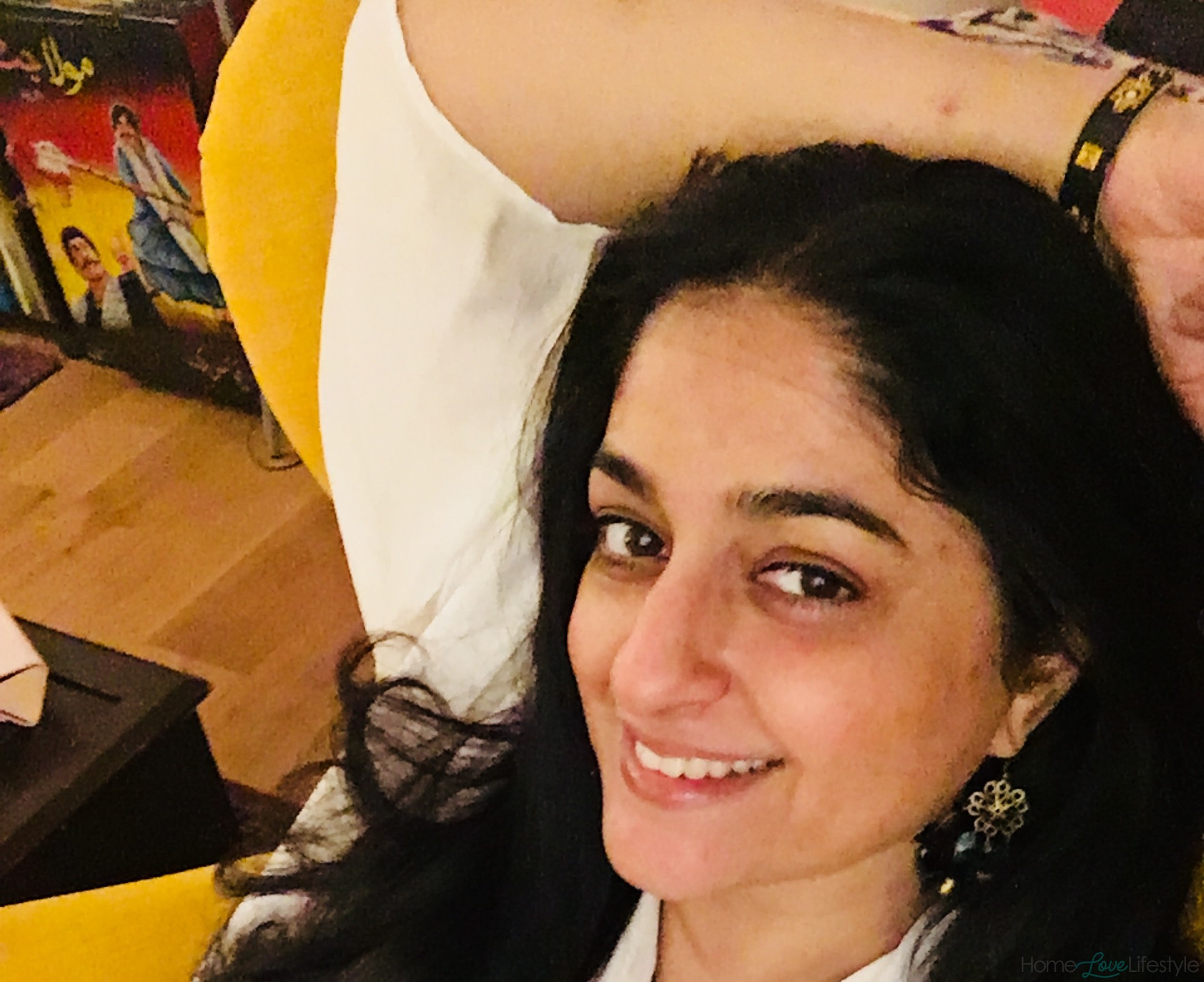 Q: Do you like to entertain here? 
I do 🙂 I'm very very selective about the energy I allow in my home so it's only people I adore and  admire and always casual and cosy.
My best friend and I spend hours working and chatting here and because it's so central I love friends passing by stop over for a quick coffee and snack. But it's also amazing to have it all to myself when the kids are at school. To write and read and cook and dance around in. Just me and the trees looking in from every window 🙂
The only thing missing is a pet. But that will be when we move to a larger space. This one sadly doesn't allow pets. So I'm doggie less for the first time ever but thank God for the trees!
We loved this little peek into the home of one of our favourite Pakistani celebrities!