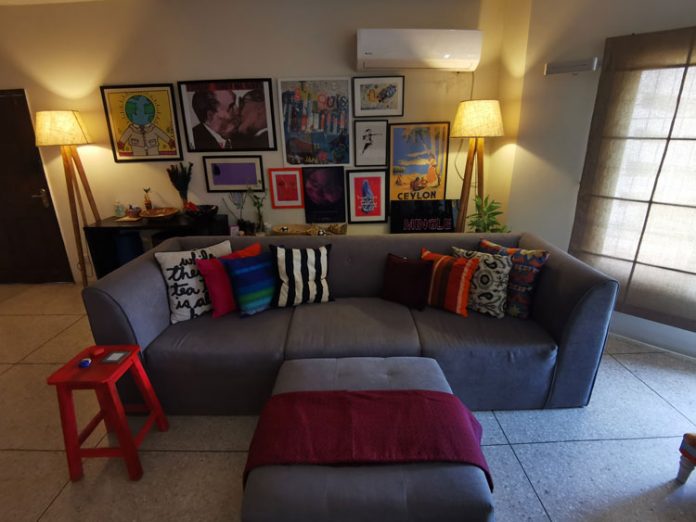 The colourful, bohemian aesthetic in this Karachi apartment reflects the bold, bright personality of the home owner. Andleeb Rana shares the home with her young son Nyle. She moved into this rental space recently, starting afresh as a single parent and setting up a cosy space for herself and her son.
Andleeb has worn many hats over the years, from journalism to consultancy and  entrepreneurship. She ushered us into her home and her warm, candid demeanour soon had us chatting away like old friends.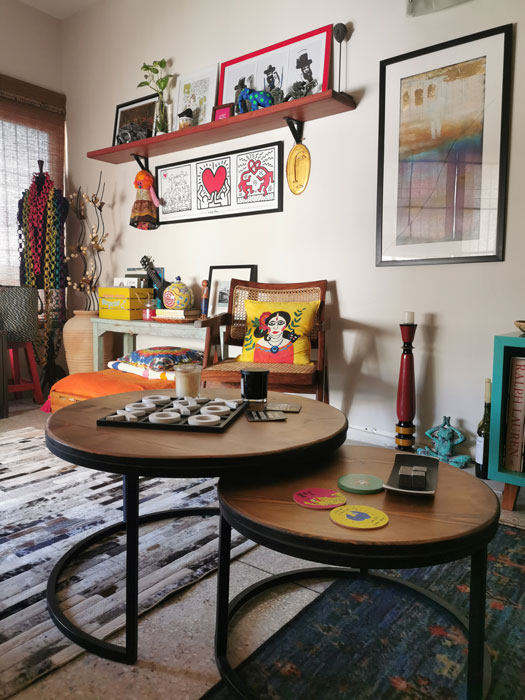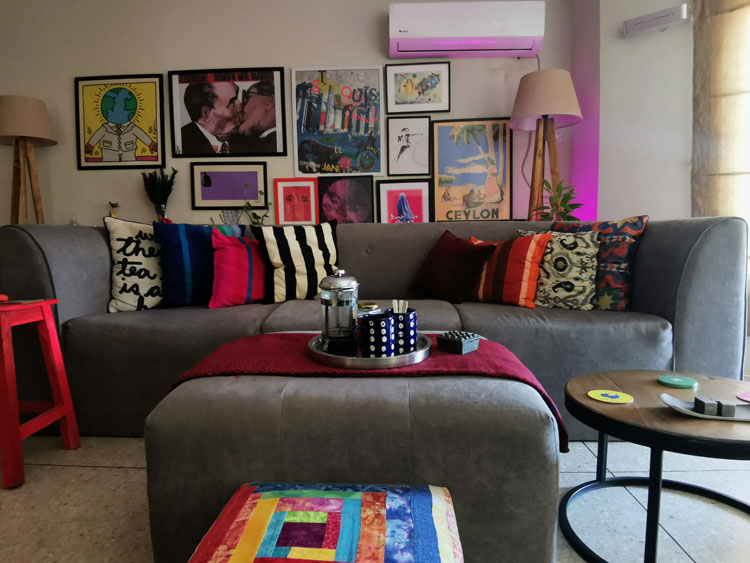 You have a very cheerful, quirky vibe going on here.
Everything you see here was put together over the last few years. All these objects and accessories are mementoes, they all have a history. The dining table was one of the first pieces of furniture that I acquired. I was going to move out and my friend asked me 'what do you need first?' And I said 'a table'. So this was made in her garden. The chairs are the Irani hotel chairs. The neon sign is from my last networking event…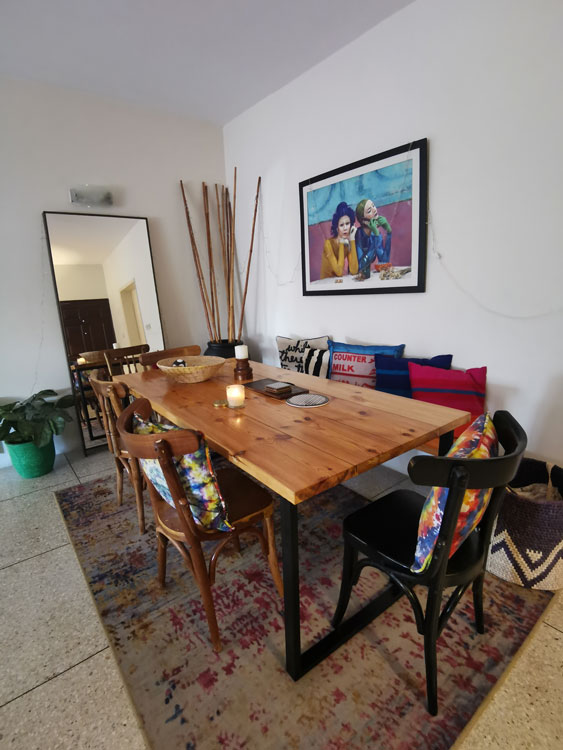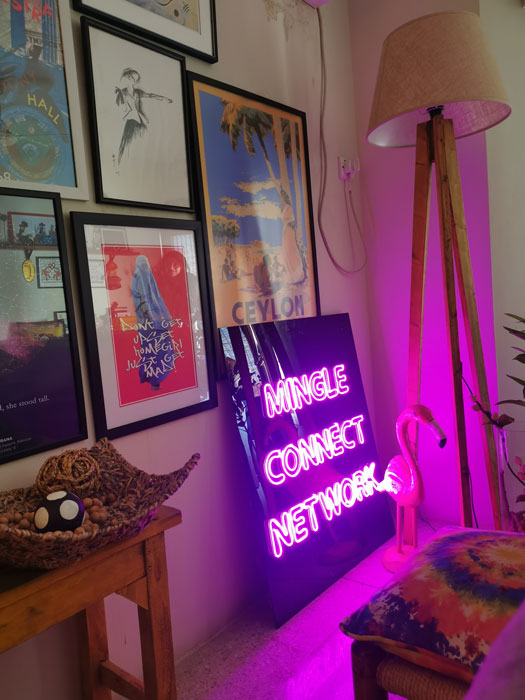 How would you describe your current aesthetic?
As one evolves, you realise the need for less and the damage one is doing to the environment. So I'm really into natural elements. You will find a lot of wood, jute and other organic textures, artisan based stuff…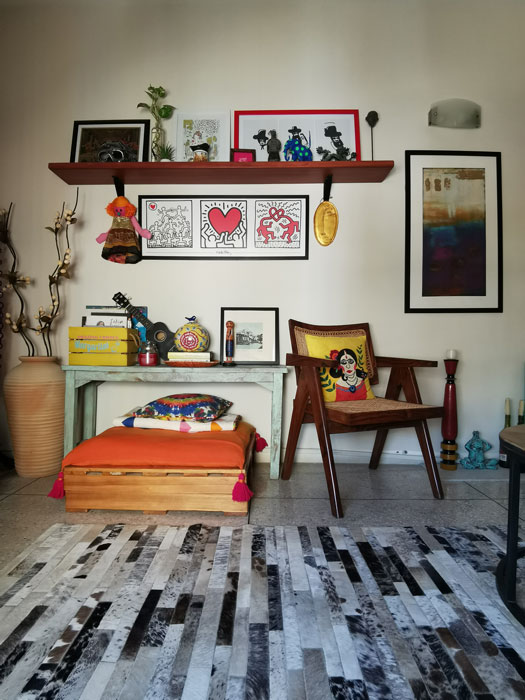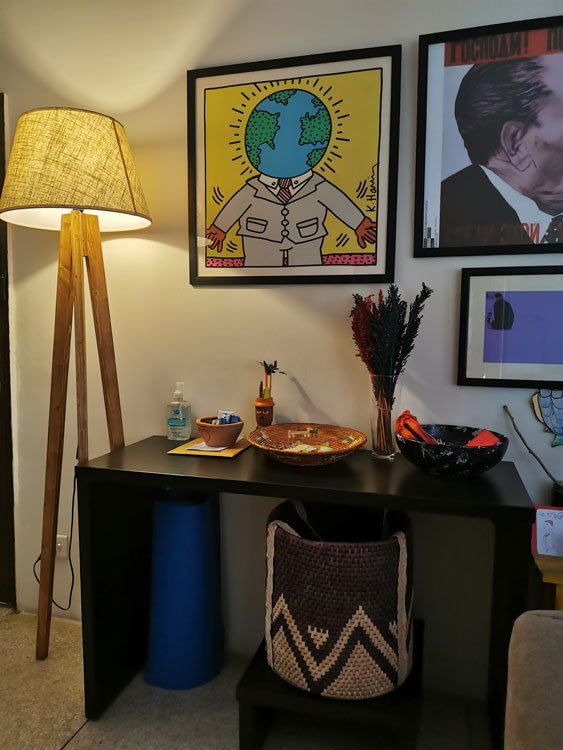 Do you miss your old things?
Moving out meant moving on and starting a new journey. You know it really shocked me how many personal things I had, a lot acquired from much before I got married. One feels ashamed! After covid, so much abundance makes one feel guilty. I just want to de-clutter and I am proud I have been doing that a lot. However, as a fashion journalist, I used to go to India to cover  fashion week for 12 years and I saw designers like Sabyasachi being launched; I have the clothes from his first show and many more from friends who were designers. These clothes hold so many beautiful memories, I couldn't get rid of them so they are all stored in suitcases in the servants quarters downstairs.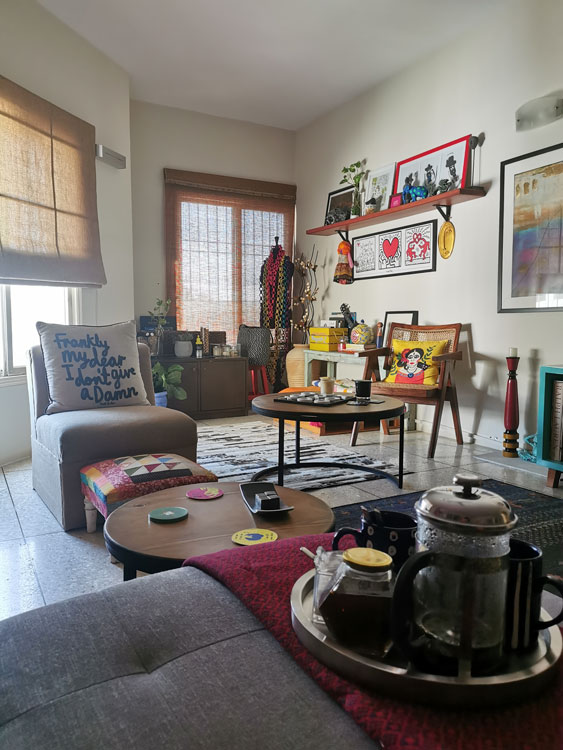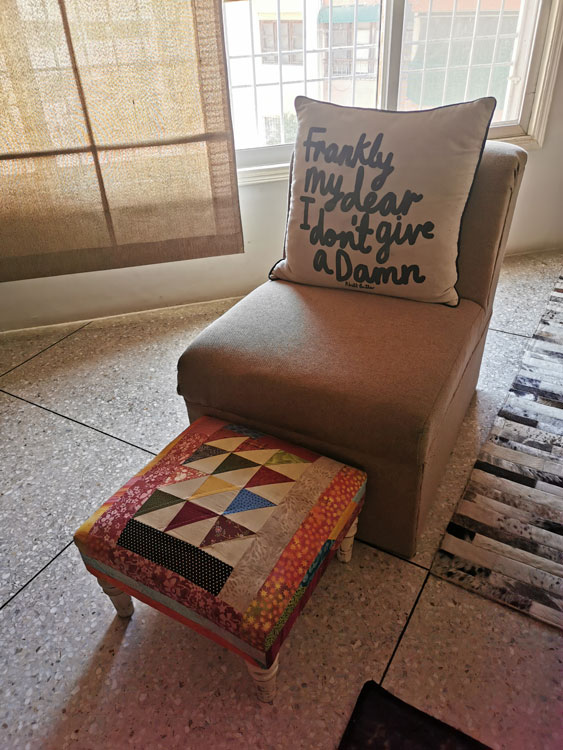 You moved from a big house into an apartment. How was that transition?
It has actually been great. This entire building is a new community for me. We have so many friends here, my son gets so much love, we have been very fortunate. I have healed here.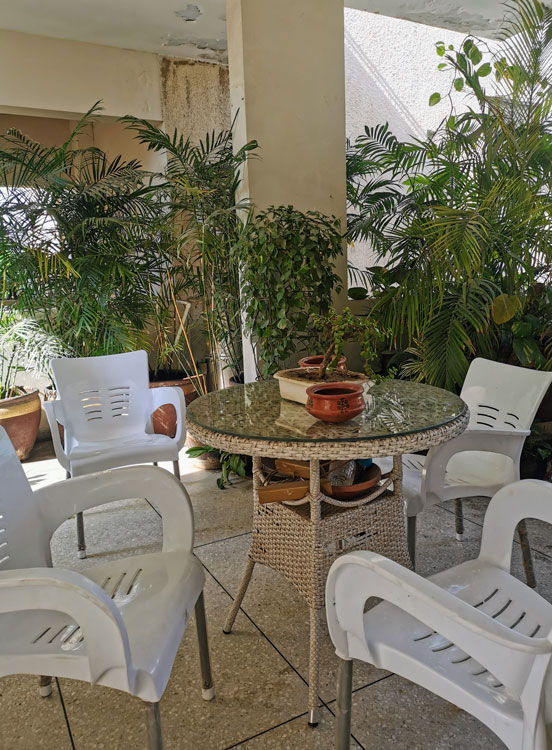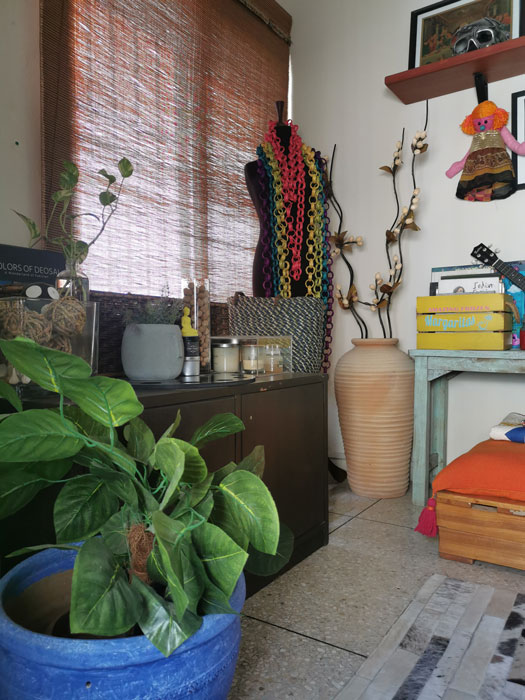 Do you like to have friends over?
I do, but it's all very casual and close. I'm so lucky I have so many friends here and we get together every week. This palette seat can be pulled out and extended to hold more people, I take out my moras and add some more chairs and it becomes a mad little space.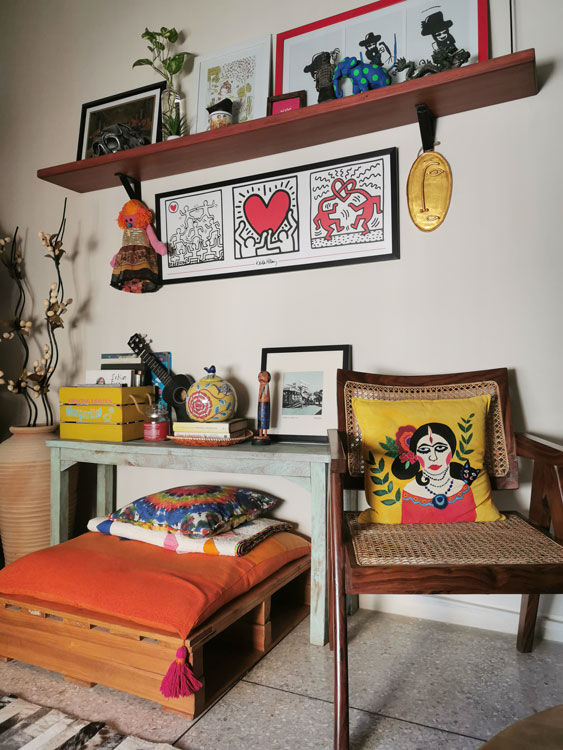 Tell us a little about the very eye catching artwork on your walls.
The poster of Brezhnev and Erich Honecker kissing and the Two Girls are favourites, and actually the only two things I did take with me when I left my previous home. The Two Girls is by a photographer called Aashna in Lahore. It's a reinterpretation of a Picasso painting. It is a photograph which has been painted on to. The artist has added on modern gadgets in this version like earbuds and cellphones.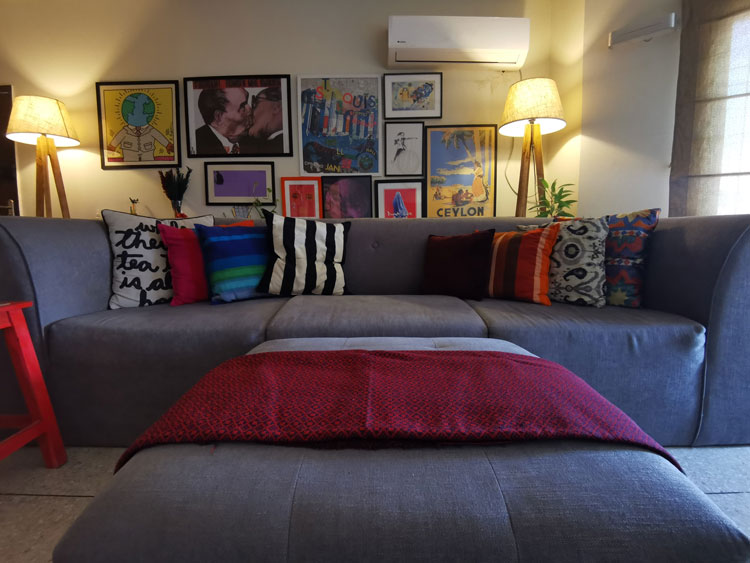 You have had an exciting and varied career.
I'm not a front camera person, but I have done a lot in my career to make a noise. I have been a hard-core fashion journalist working with Pakistan's leading publications, I have launched my own magazine, a clothing line, done digital consultancy to name a few things.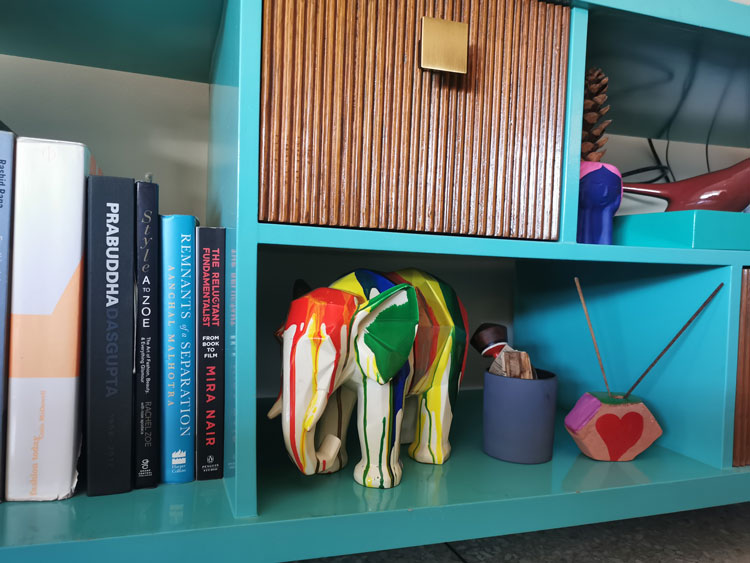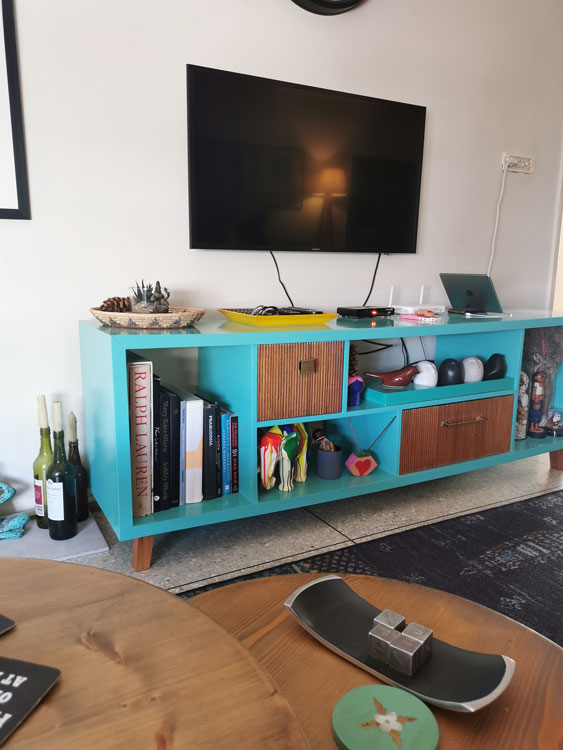 I need to work from home now and after doing all these things, I realised that networking is my core strength,. So right now, I am a PR consultant. I have a venture called the Networking Club and we bring together people who are doing meaningful work and hope they can make useful connections. Then I also have my clothing line, Bulbul.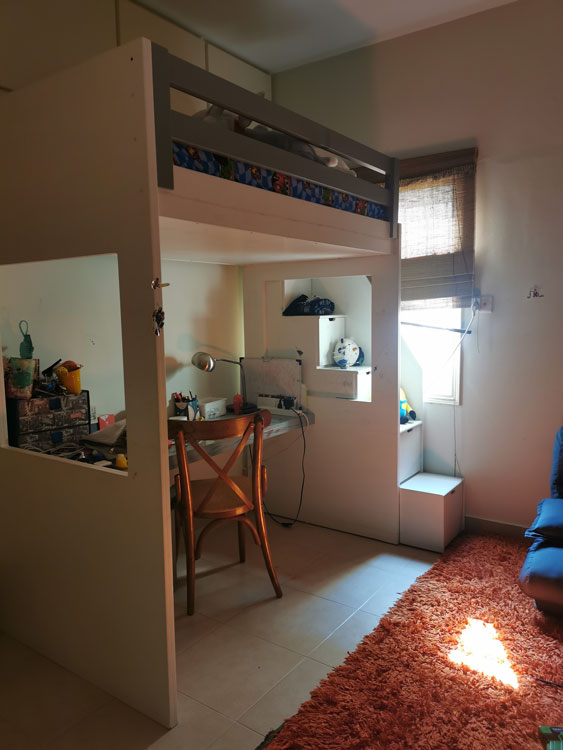 But my biggest achievement is that I have created a loving environment for my son. He thinks that this is his happy space. That means more than anything else.
Photos by Naeema Kapadia