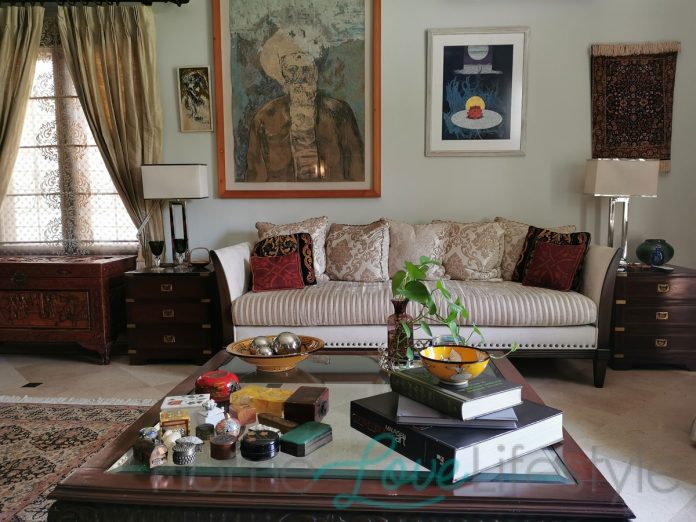 This charming family home has seen two rowdy boys growing up, many warm gatherings, two weddings . It has weathered gracefully over the years, never losing its eclectic vibe and character.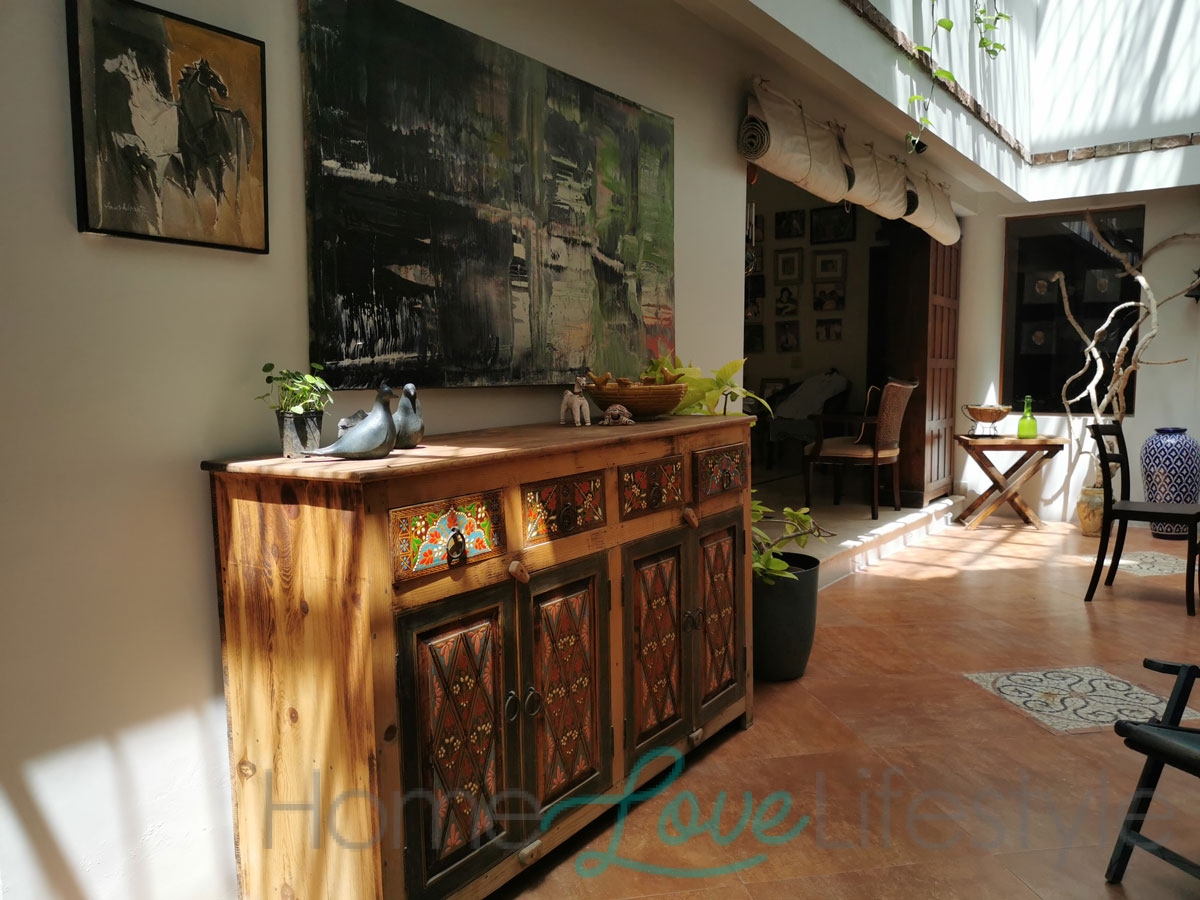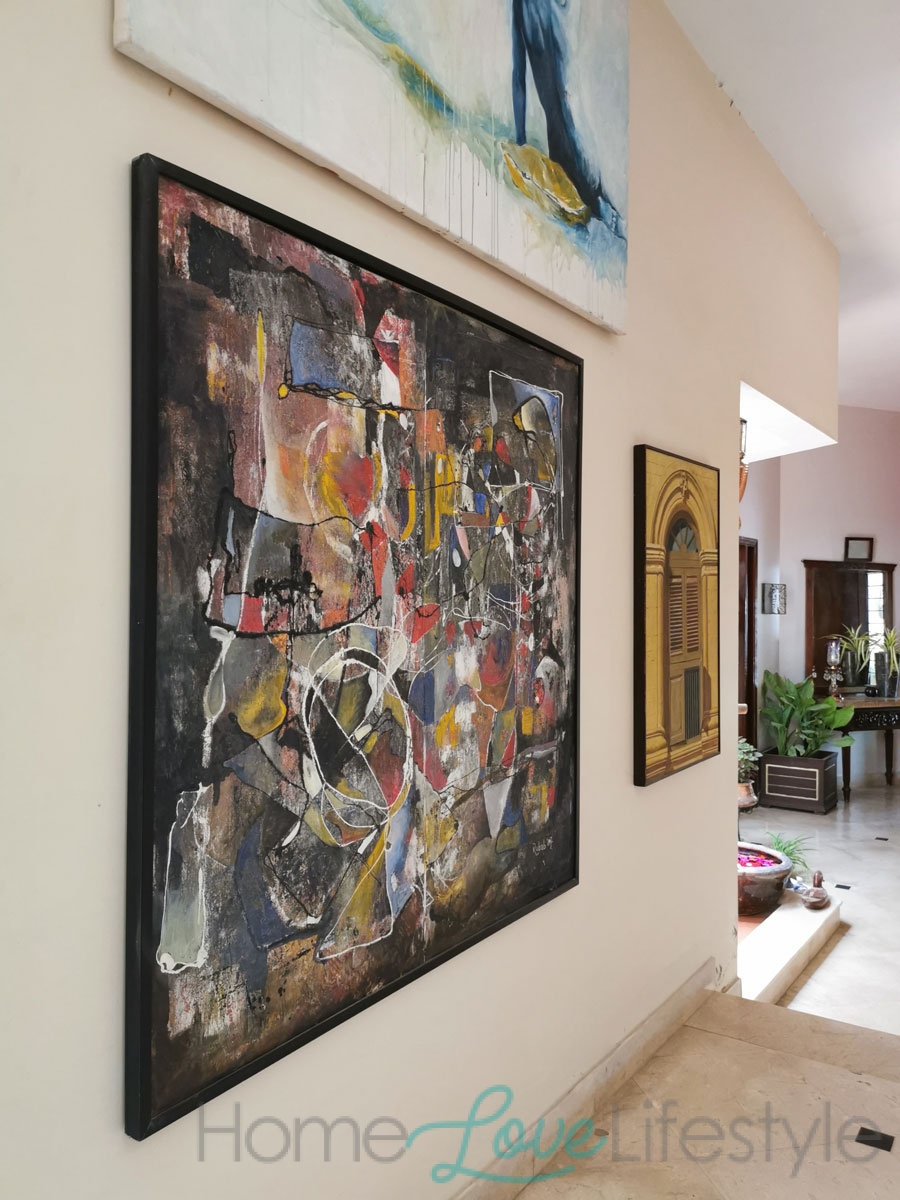 This is largely due to the home owner's passion for beauty and her keen eye for balance and design. She is also a collector of artworks, antiques and, in fact, finds it hard to pass up any collectible that catches her eye. "Whether its on travels or at home, I do find it hard to resist something I like. It's a bit of a problem. (laughs)"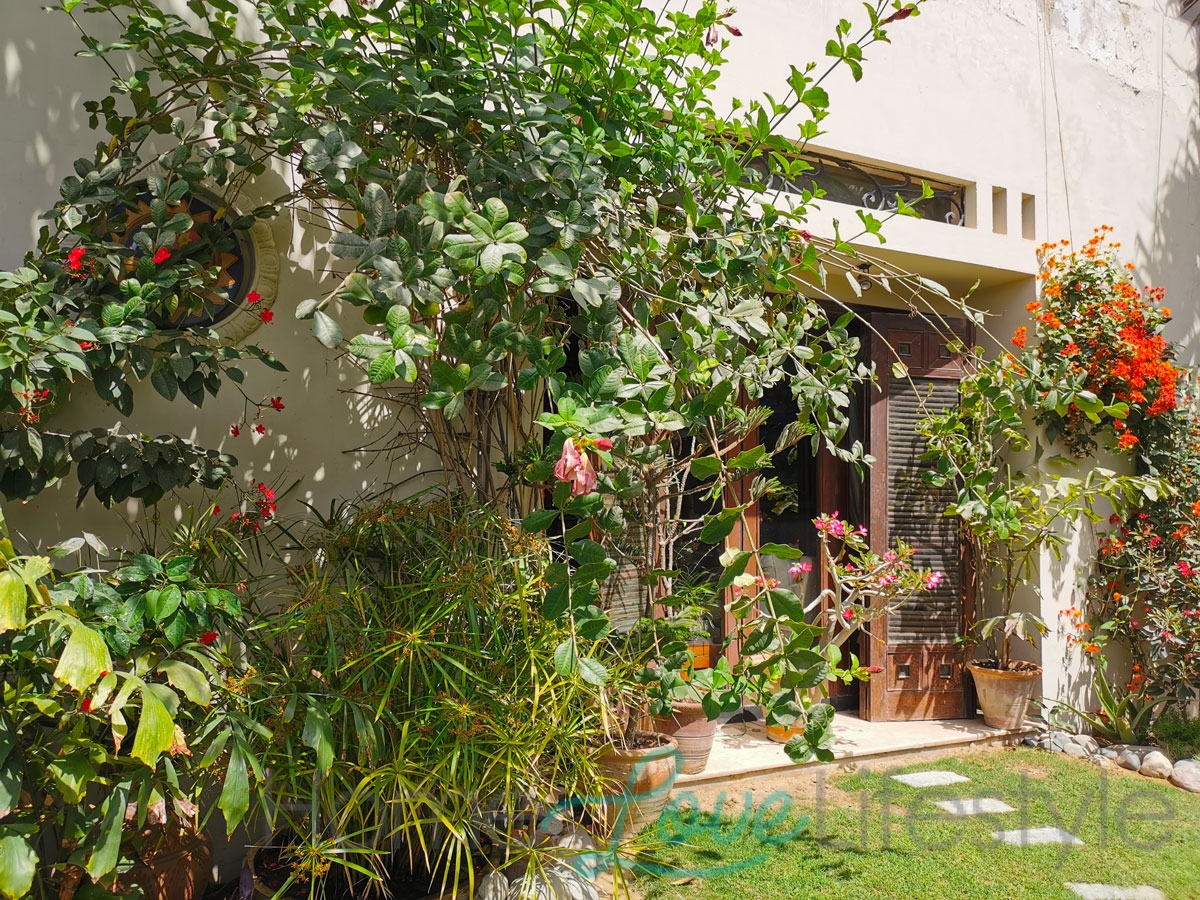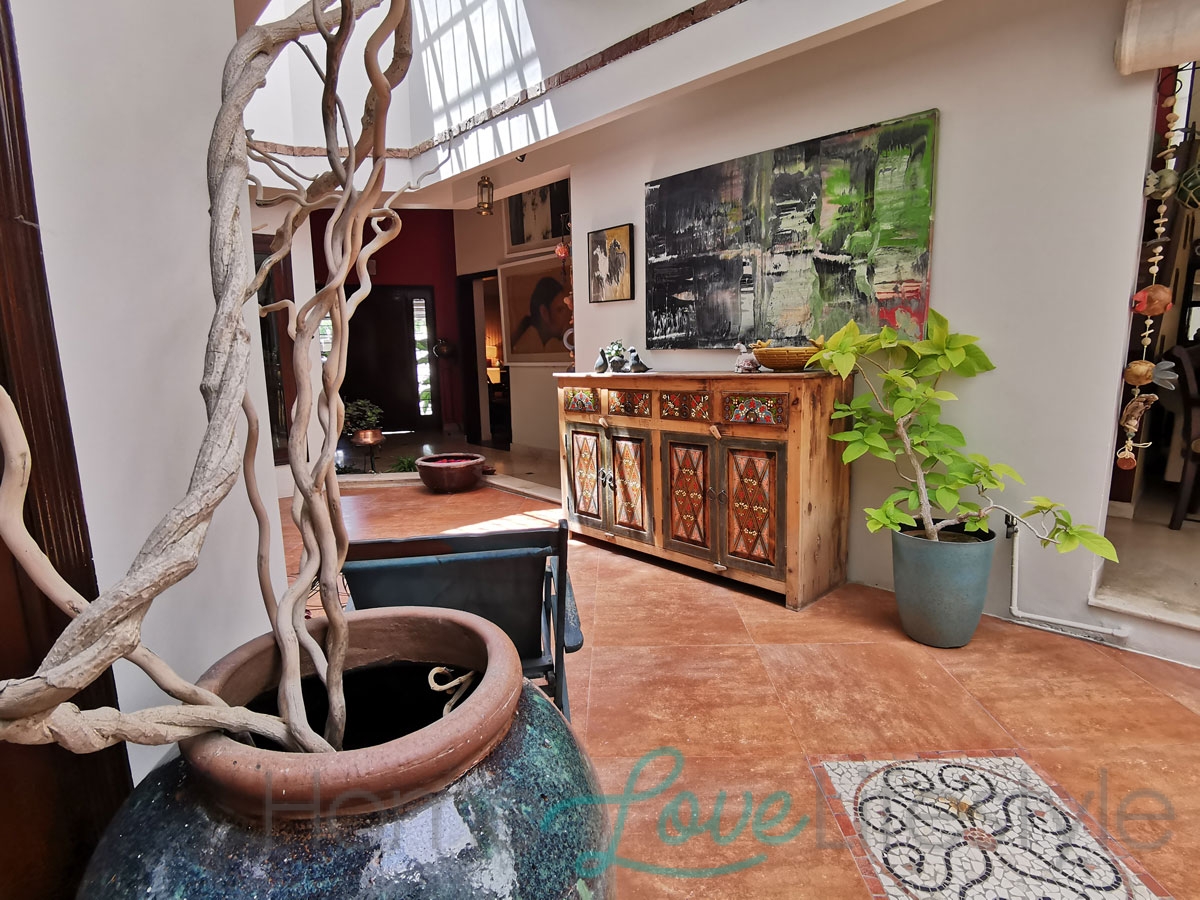 The foyer opens into a lovely courtyard that welcomes visitors and adds space and light to the entrance and casual living area.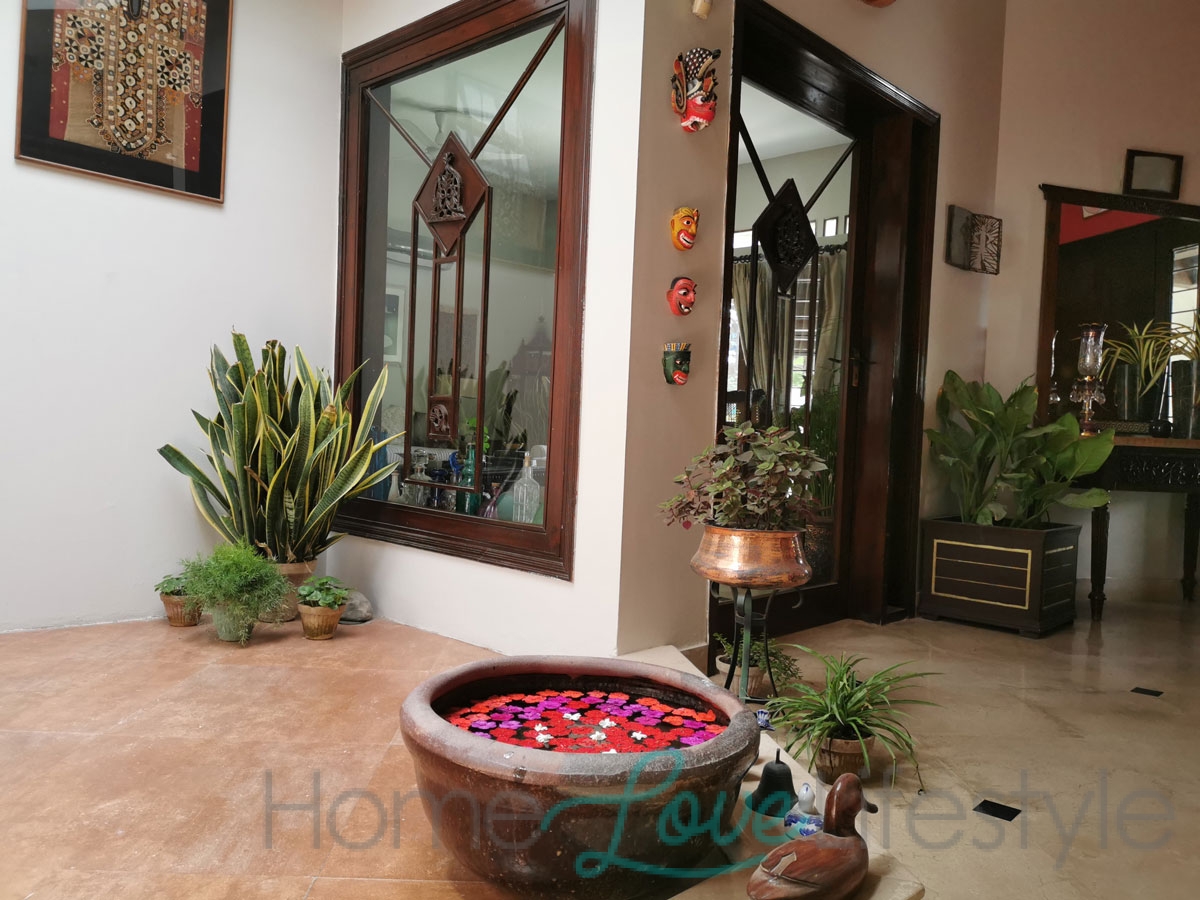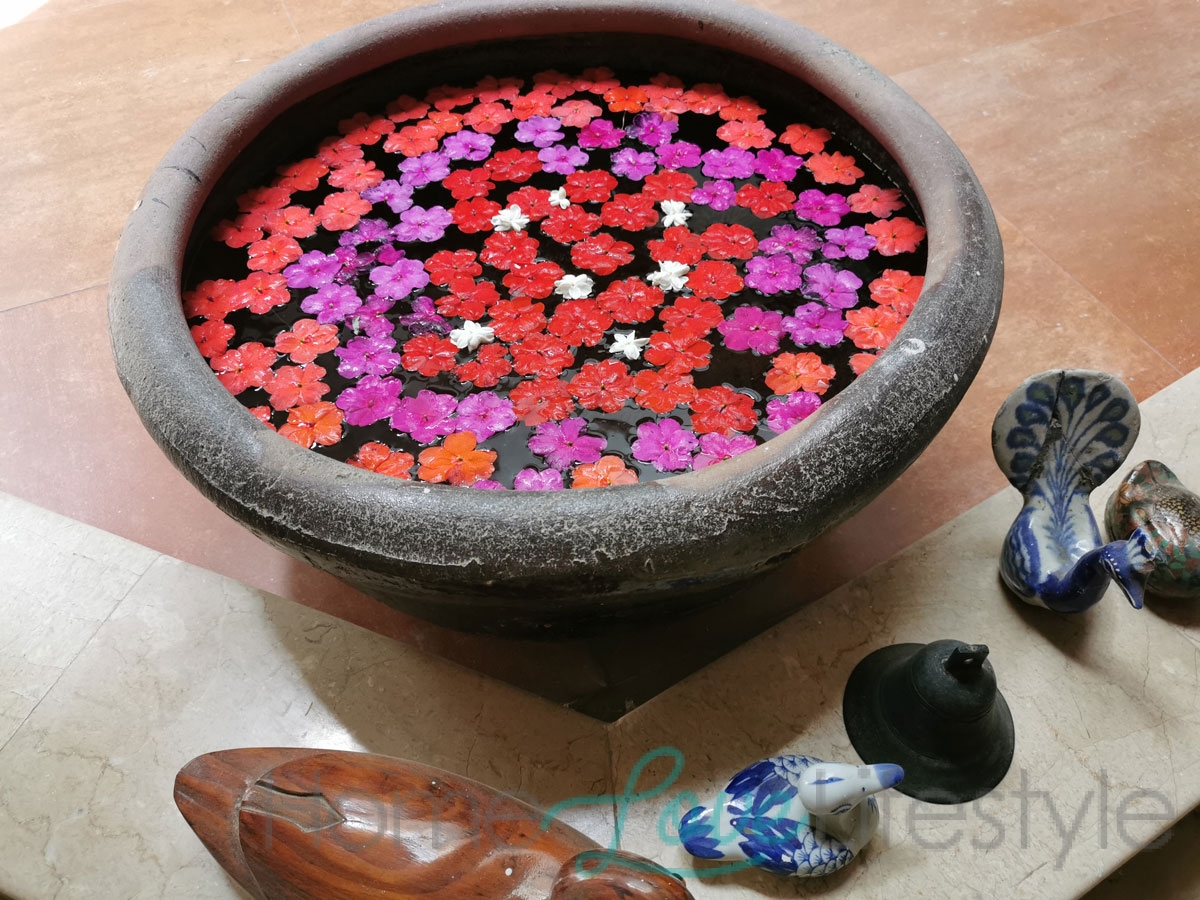 "Even though this is not a very large house, I was adamant that I wanted a courtyard when it was being built," says the home owner. " The courtyard was traditionally such an integral feature of our homes and I love the idea of being indoors yet outdoors. It's a delight to sit in my living room and watch the rain in the courtyard."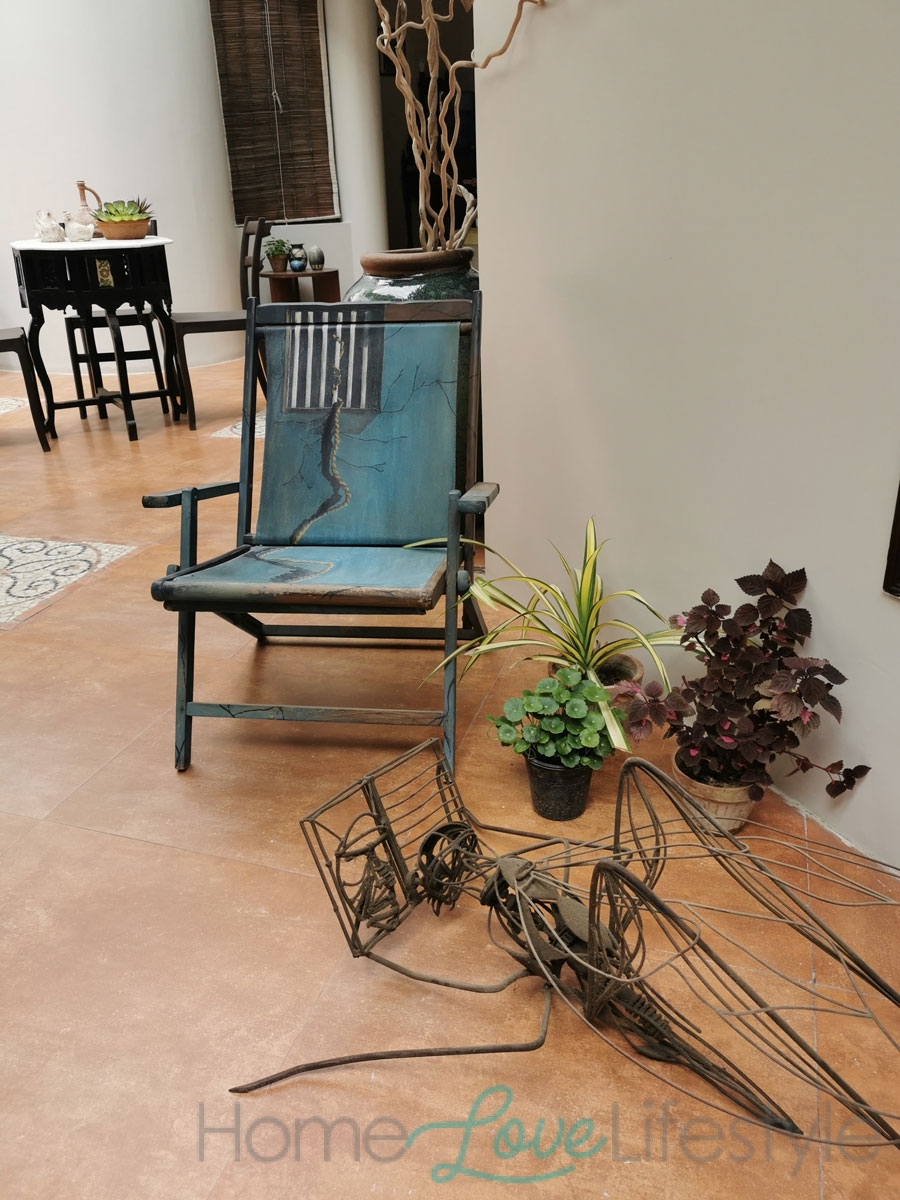 "Also the courtyard is put to full use when we have a large gathering in the home. There is a flow of space from the living room to the courtyard to my formal sitting area."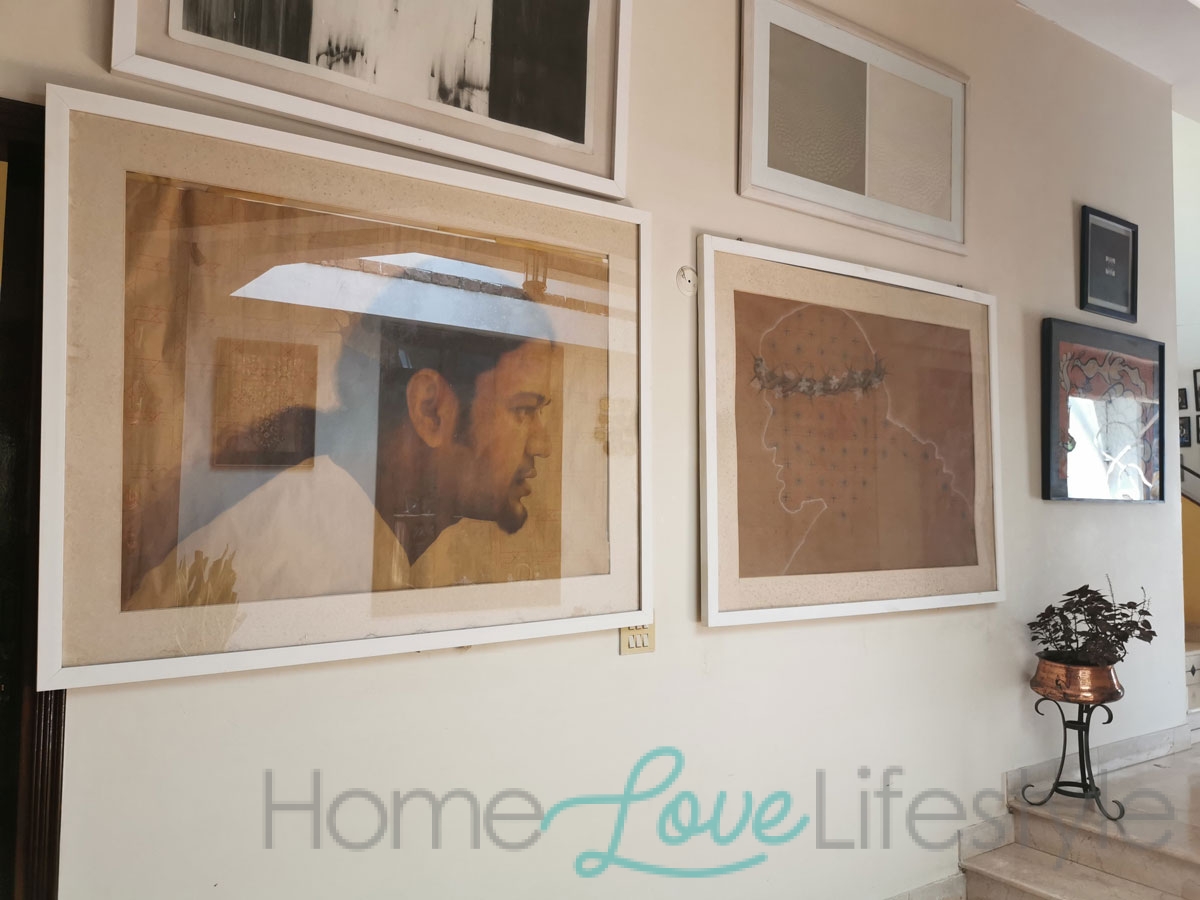 The eclectic collection of paintings is a focal feature of this home. From Pakistani masters to the contemporary crop of talent, the artwork on the walls makes a bold statement."I grew up surrounded by art and talk of art. So I naturally veer towards it and I love the work of our contemporary Pakistani painters."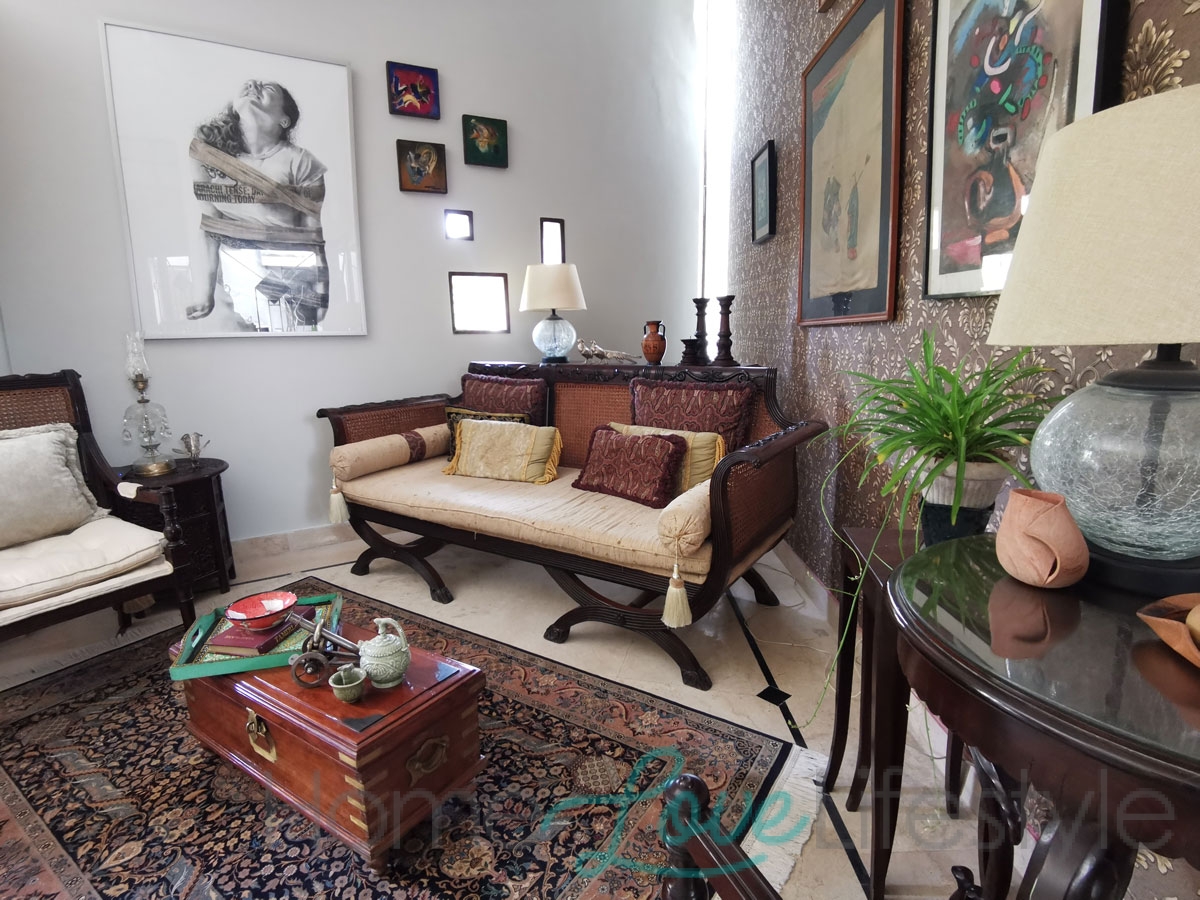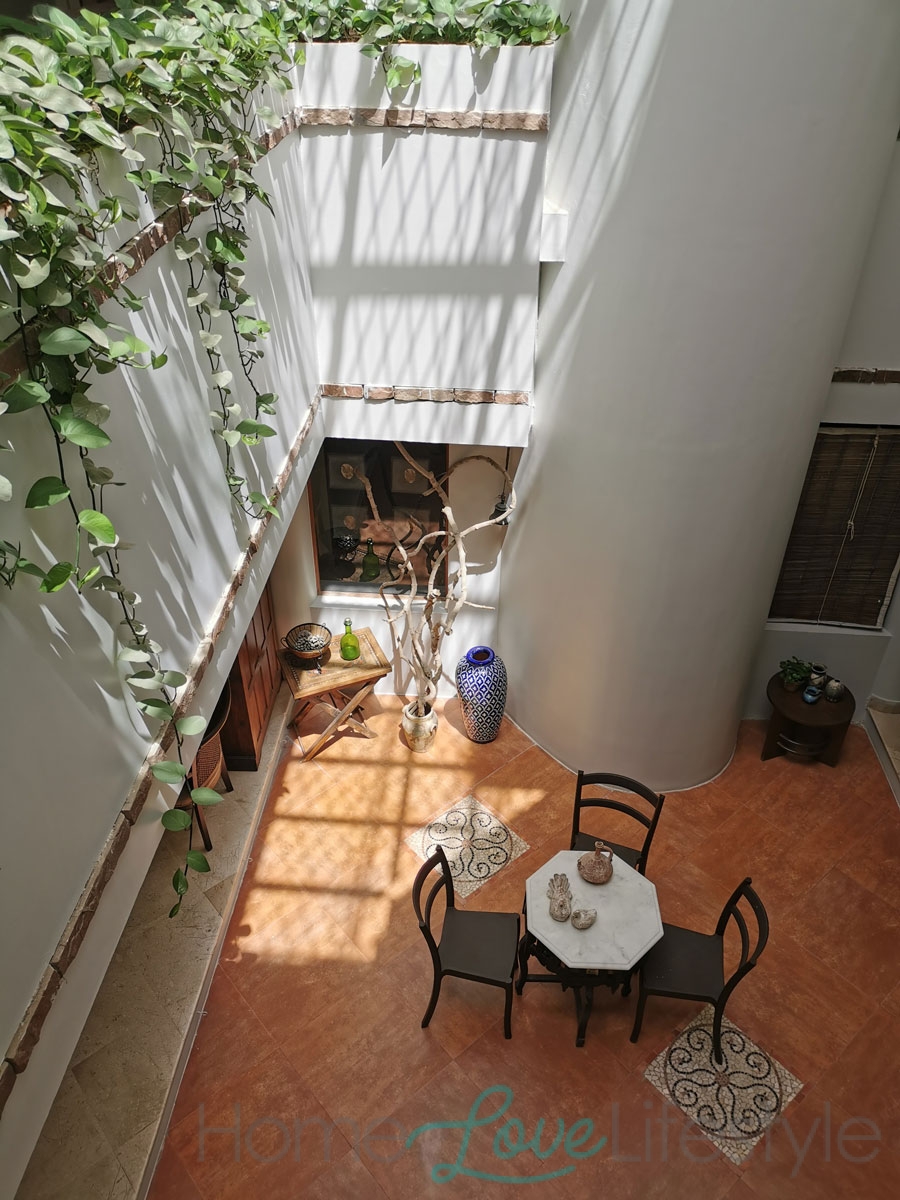 The home owner has an eye for the whimsical and the quirky. Her collection of teapots from all over the world, glass bottles, boxes and antique wall plates scored from junk shops all add character and interest to the home. "They are all pieces I picked up or gifts and each item is special to me."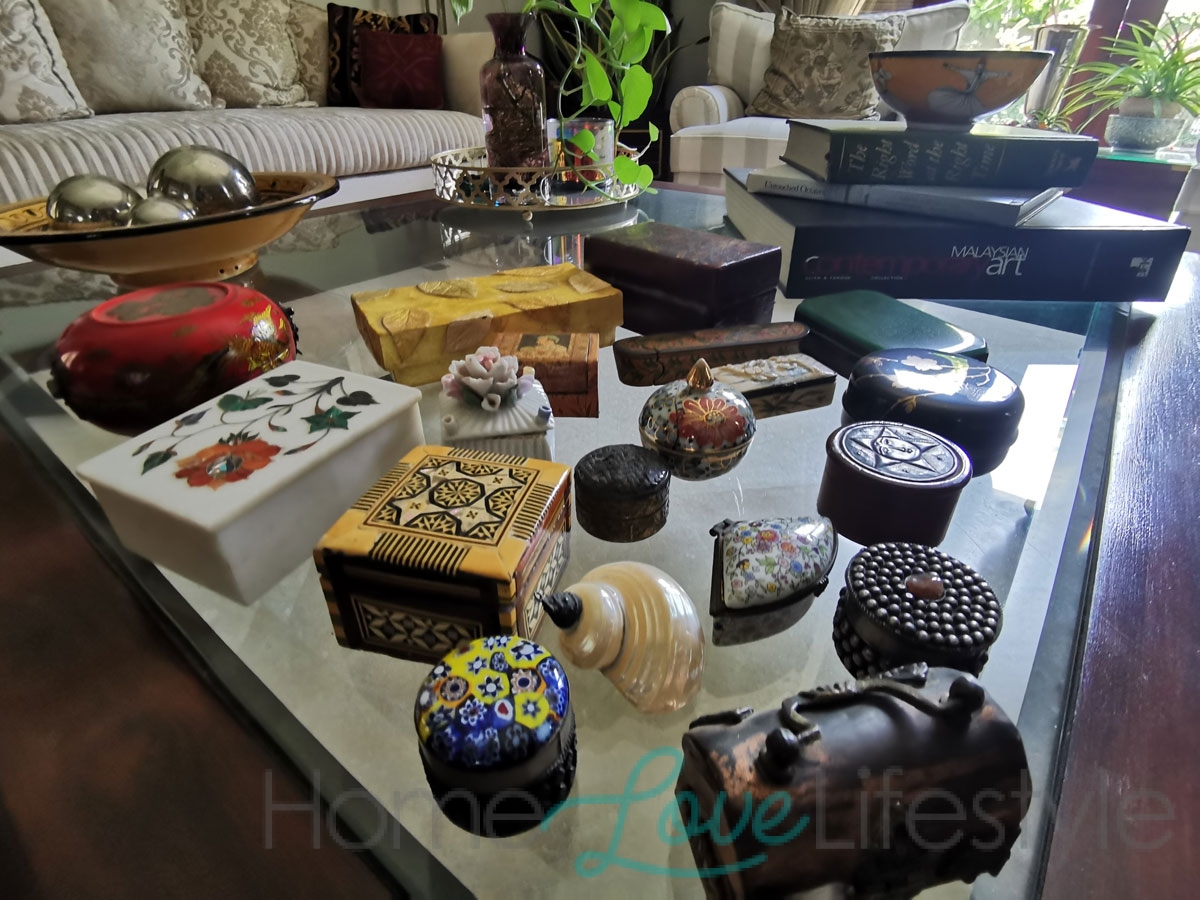 The patterned wallpaper in the formal sitting area provides a dramatic backdrop for the carved wooden furniture and rich upholstery.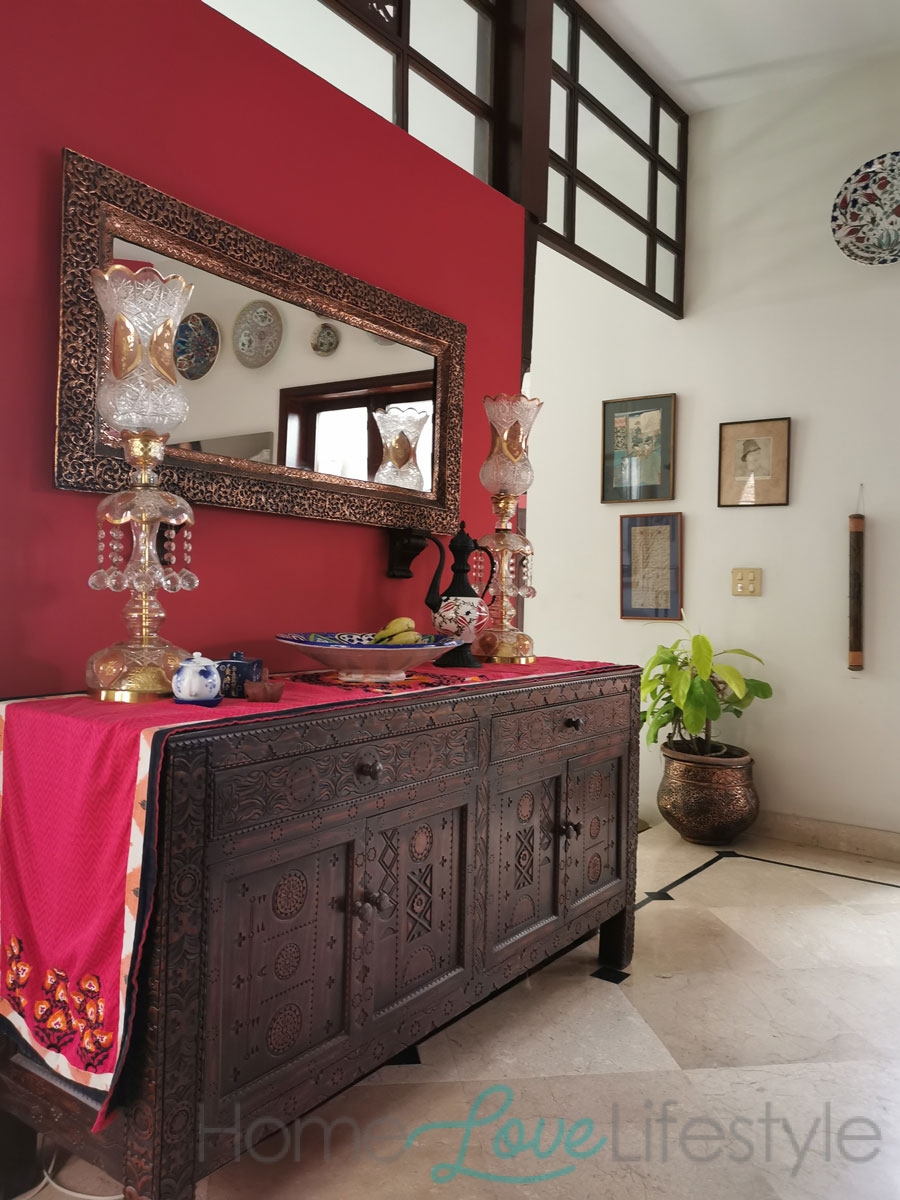 "I love copper and brass so you will find a lot of that in the house. I also love ceramics, but alongside that earthy aesthetic I also love my Irani glass lamps."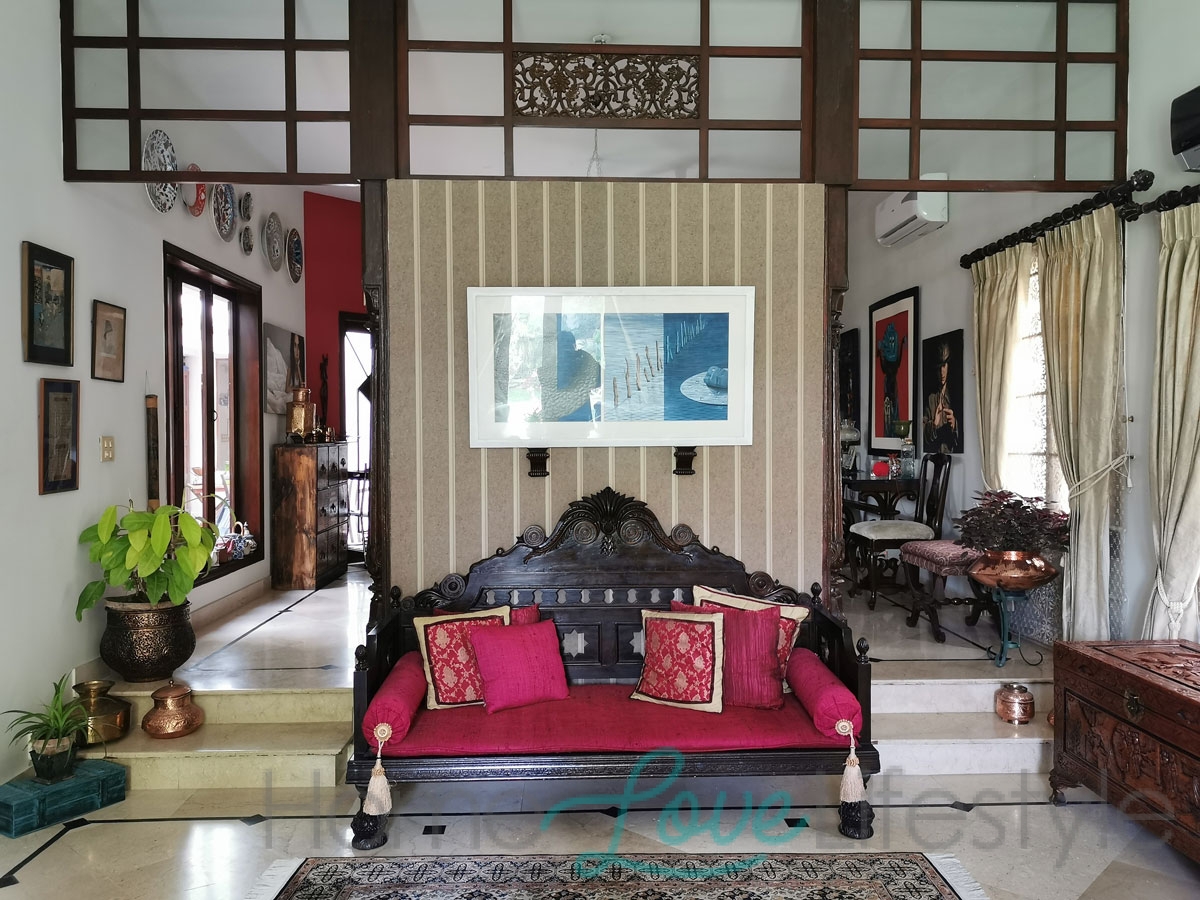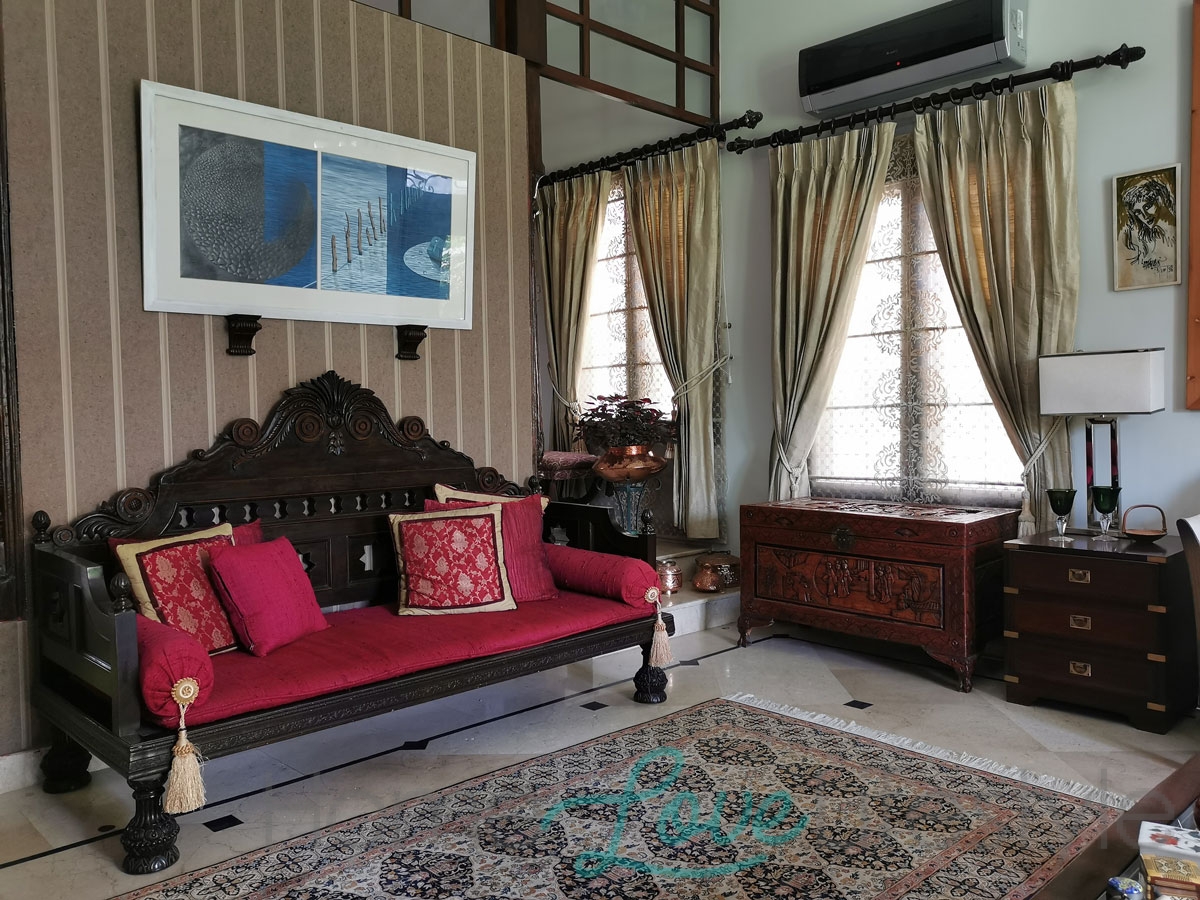 The wooden furniture also complements the carved wooden detailing added to the partition between rooms.  Persian and Pakistani hand-knotted rugs add colour and warmth to the highly-polished marble floors.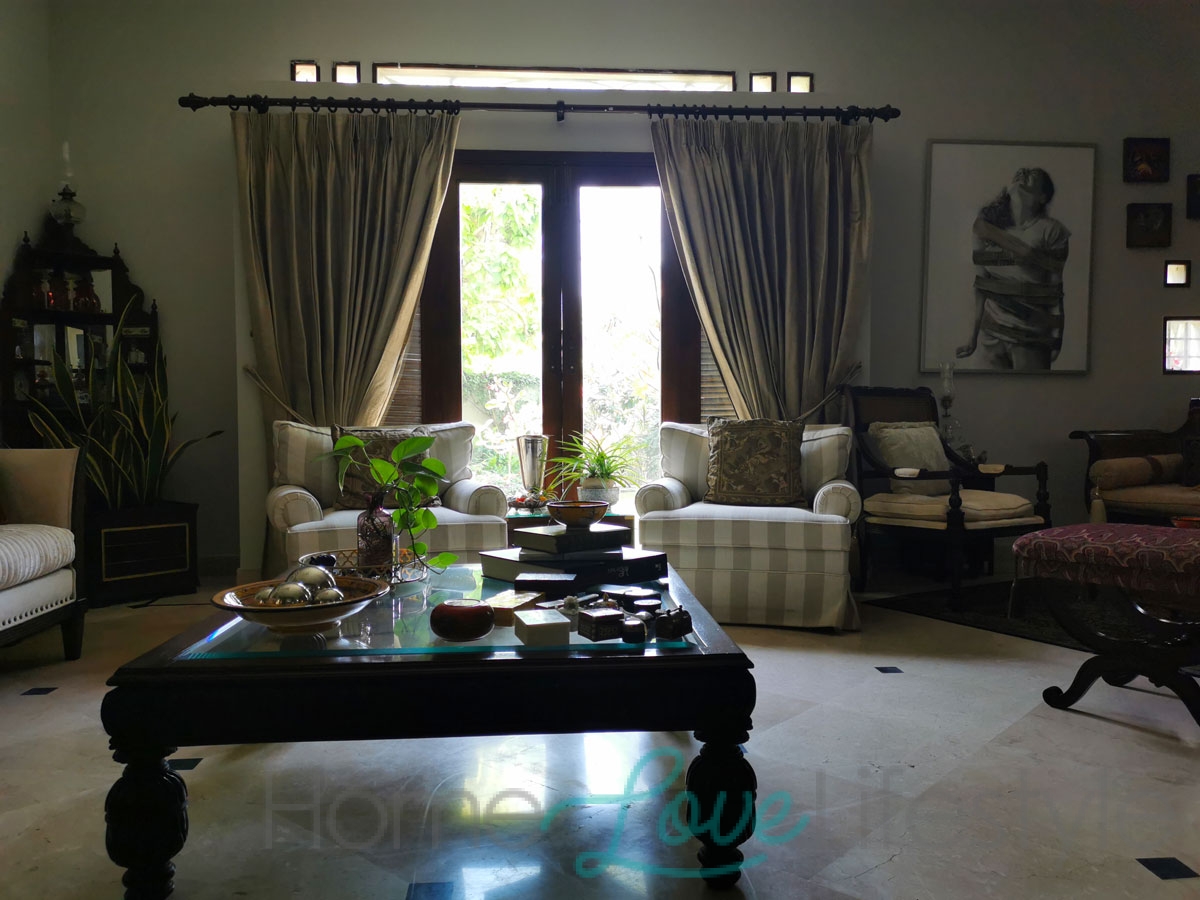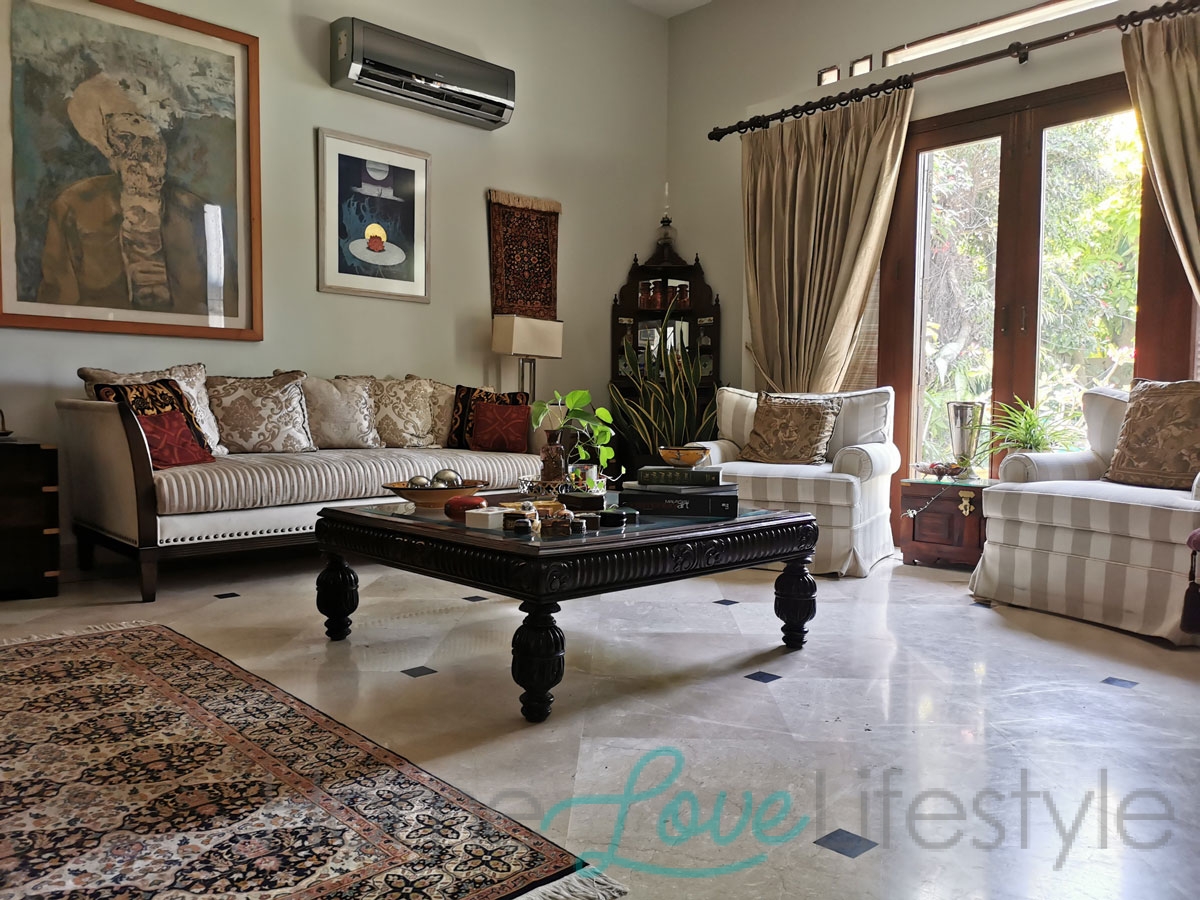 The room opens into the garden area, allowing a flow of space which makes it easy to entertain and host a larger group. In fact, the flow of space from the foyer, through the courtyard and living areas into the garden is a not only aesthetically pleasing but a very practical feature of this home.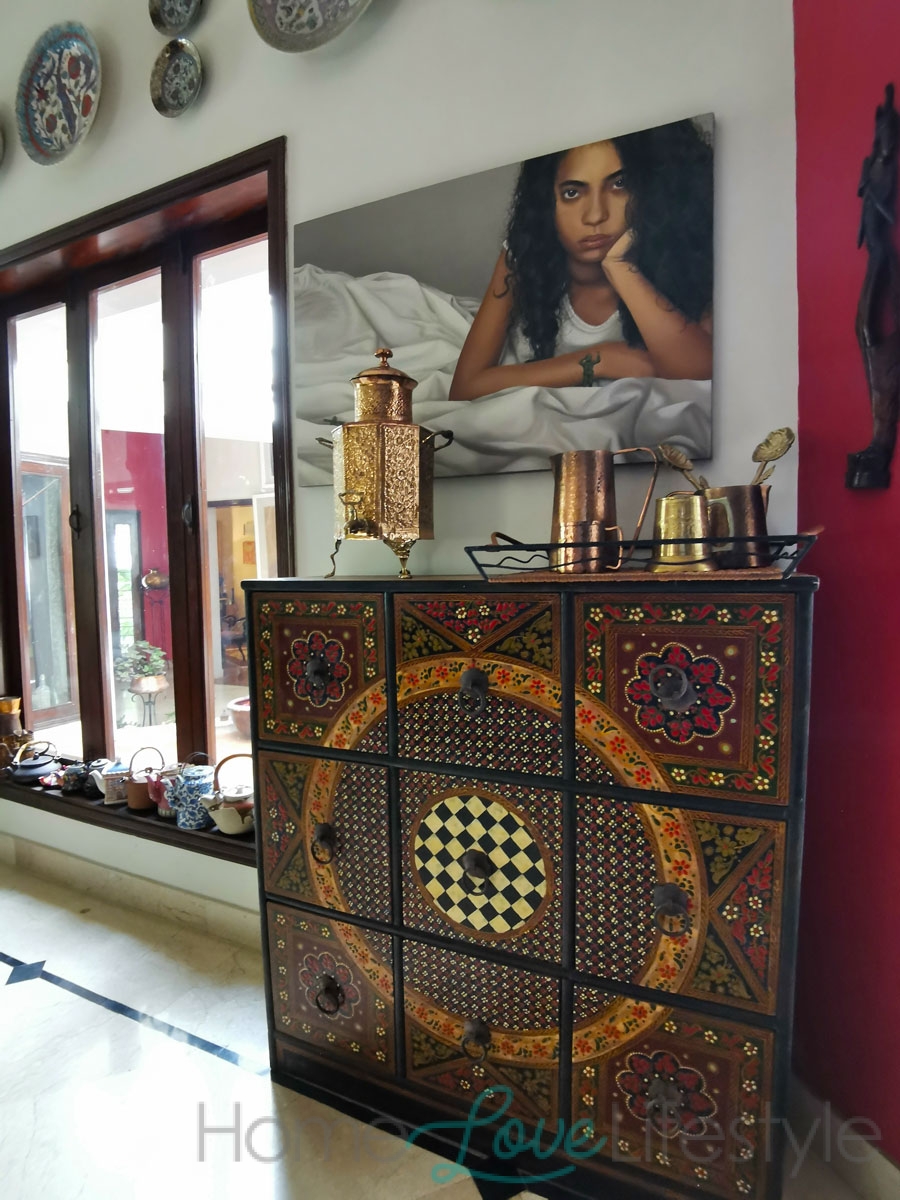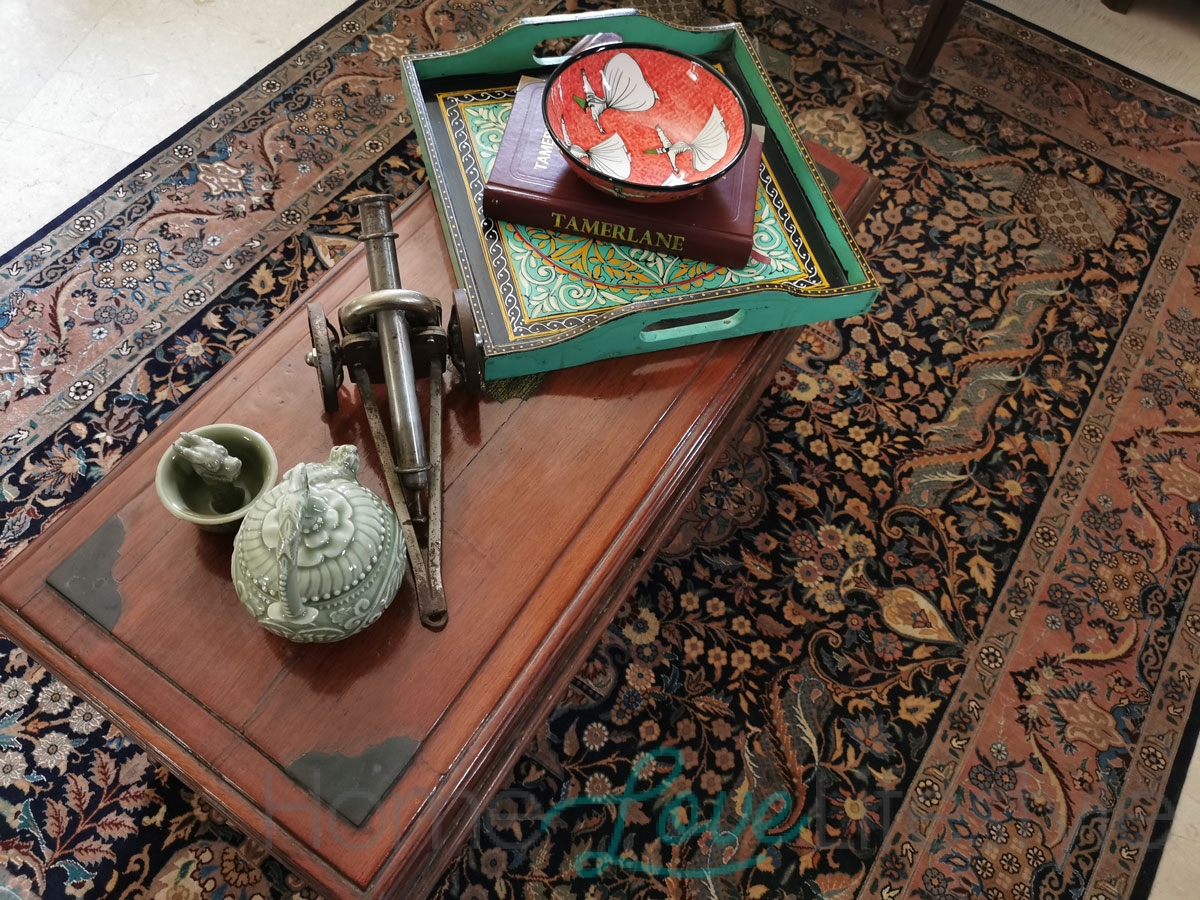 The Dining room is also arrayed with collectibles and a striking carved sideboard topped with a pair of Irani lamps.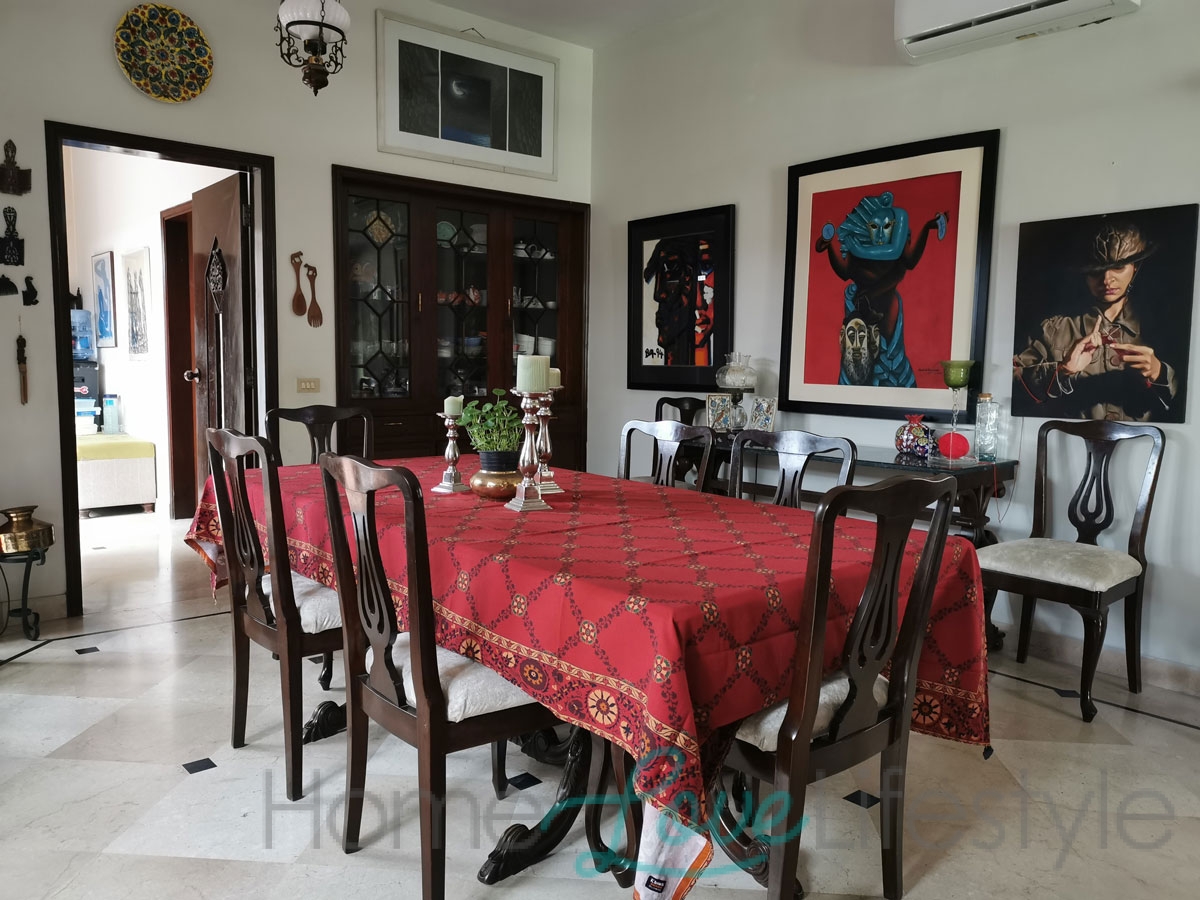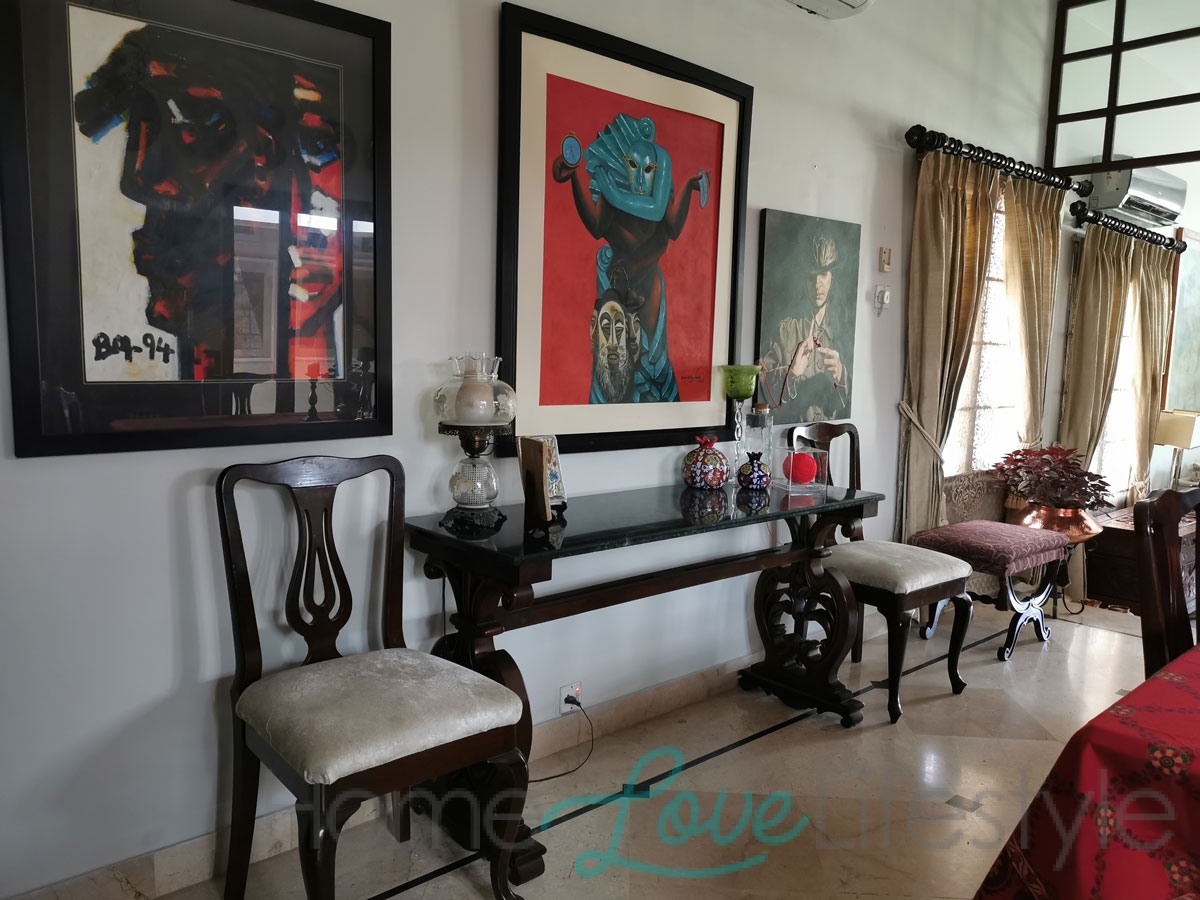 "I recently upgraded my powder room but with minimal fuss. I knew exactly what I wanted and had the sink and cabinet changed."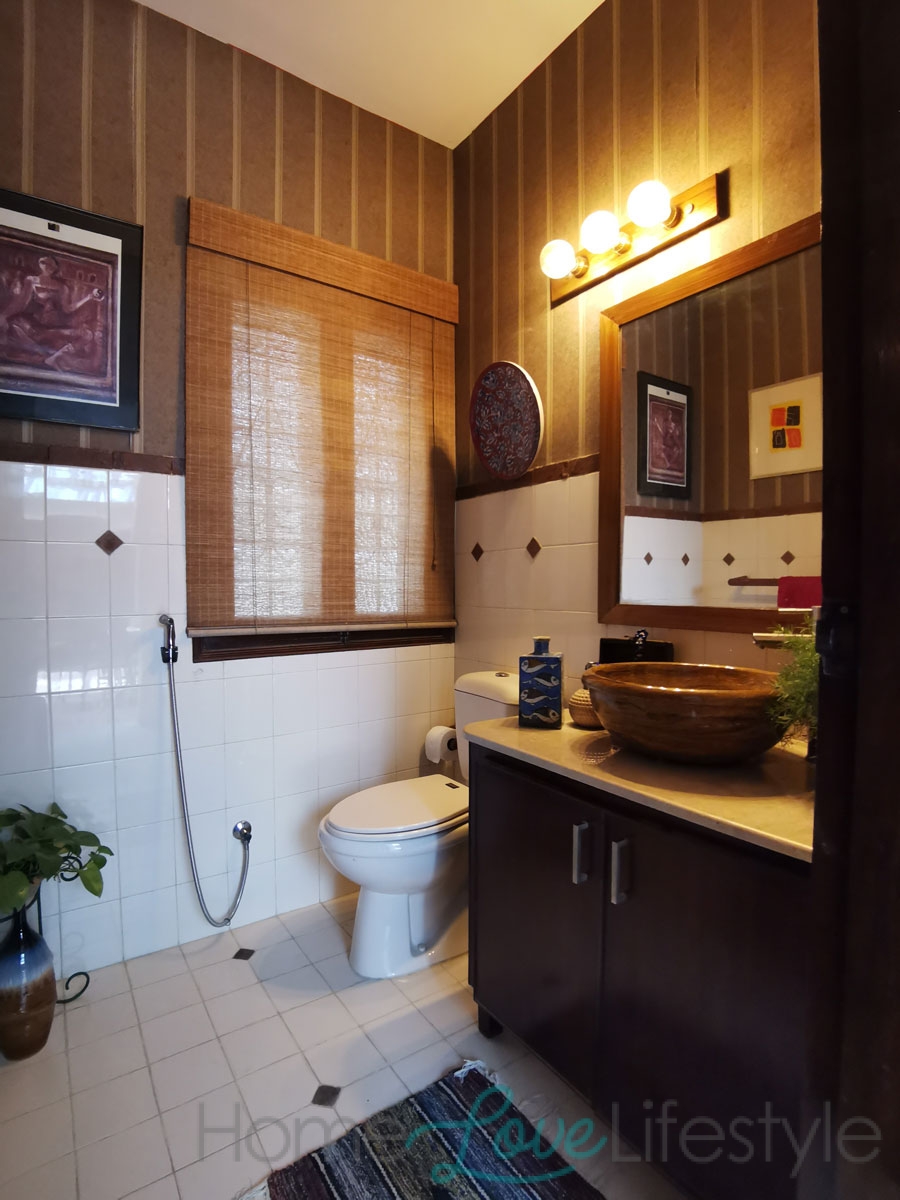 The terrace upstairs is also a much used space, perfect for hosting small groups of family and friends in cooler weather.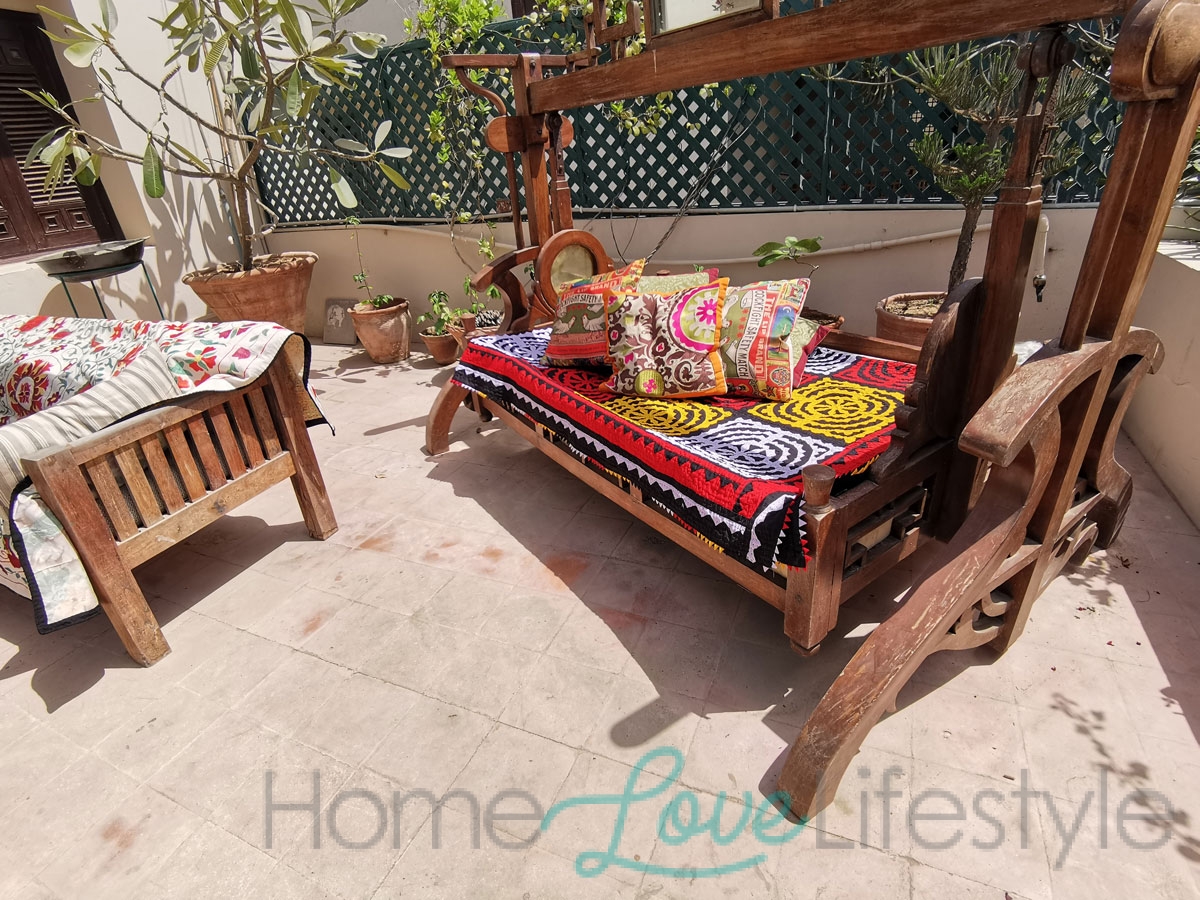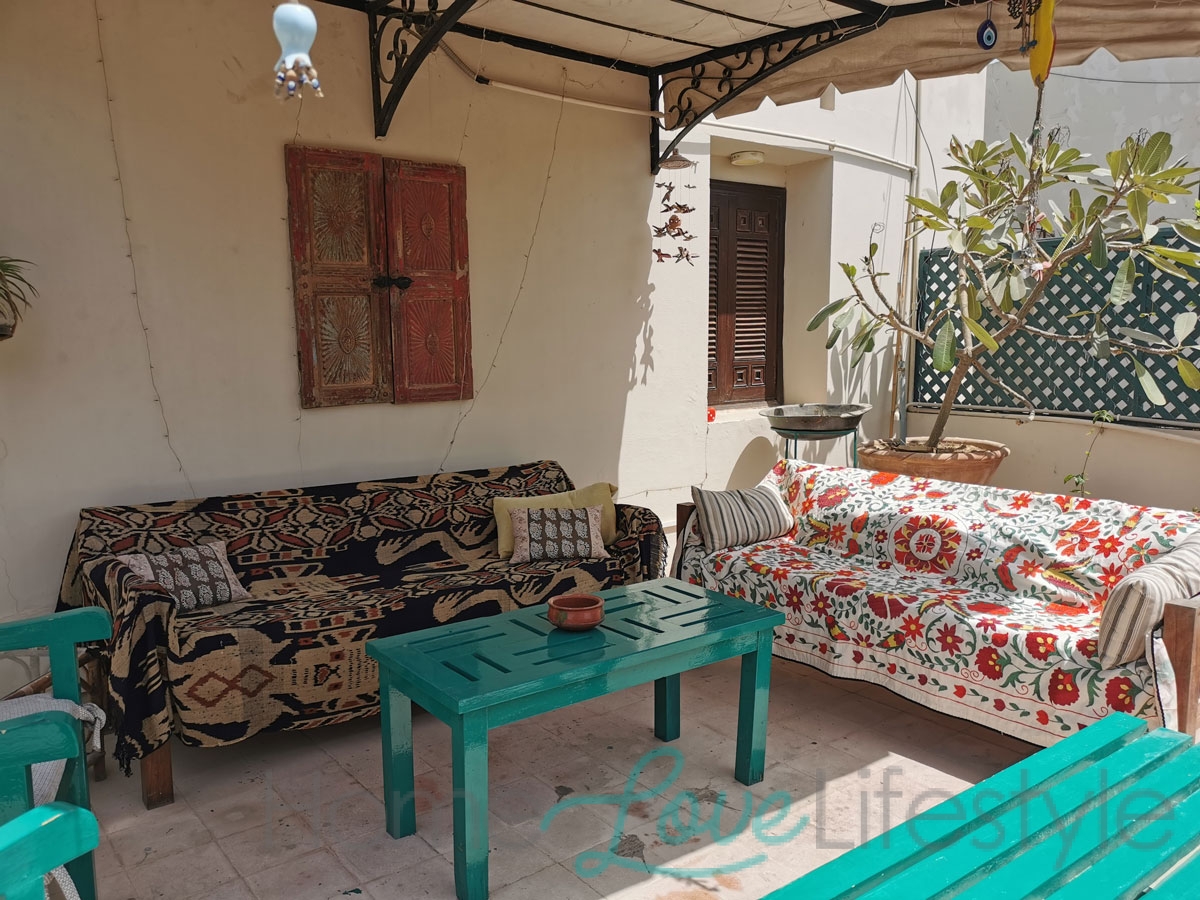 The terrace has a rustic vibe, furnished with a traditional jhoola (swing), Ralli (patchwork) throws and plants. "We use this space a lot and I enjoyed doing it up.  I painted the furniture myself, including the brightly painted wooden fruit crates  which serve as plant holders."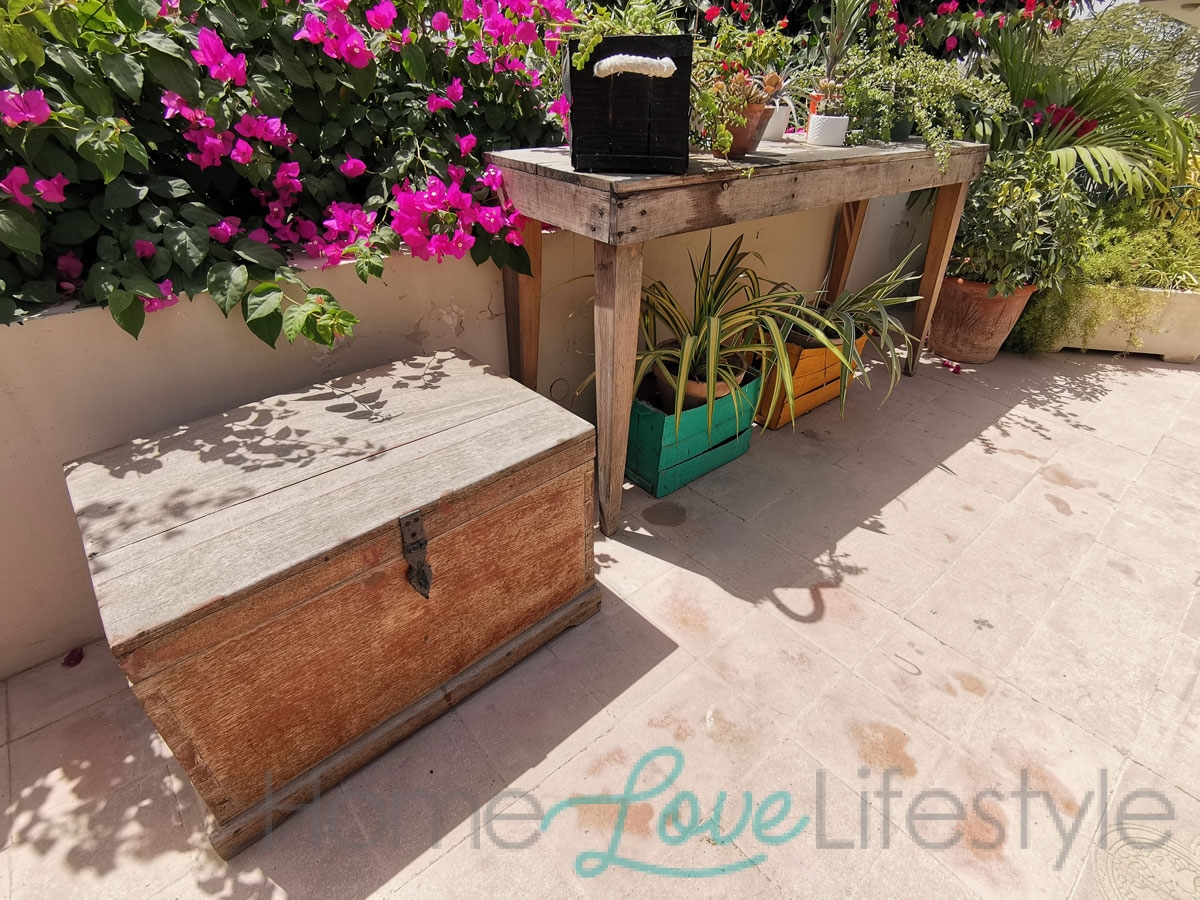 Barring the architectural features and detailing, the home is completely self-designed and this is one home owner who can clearly visualize what she wants.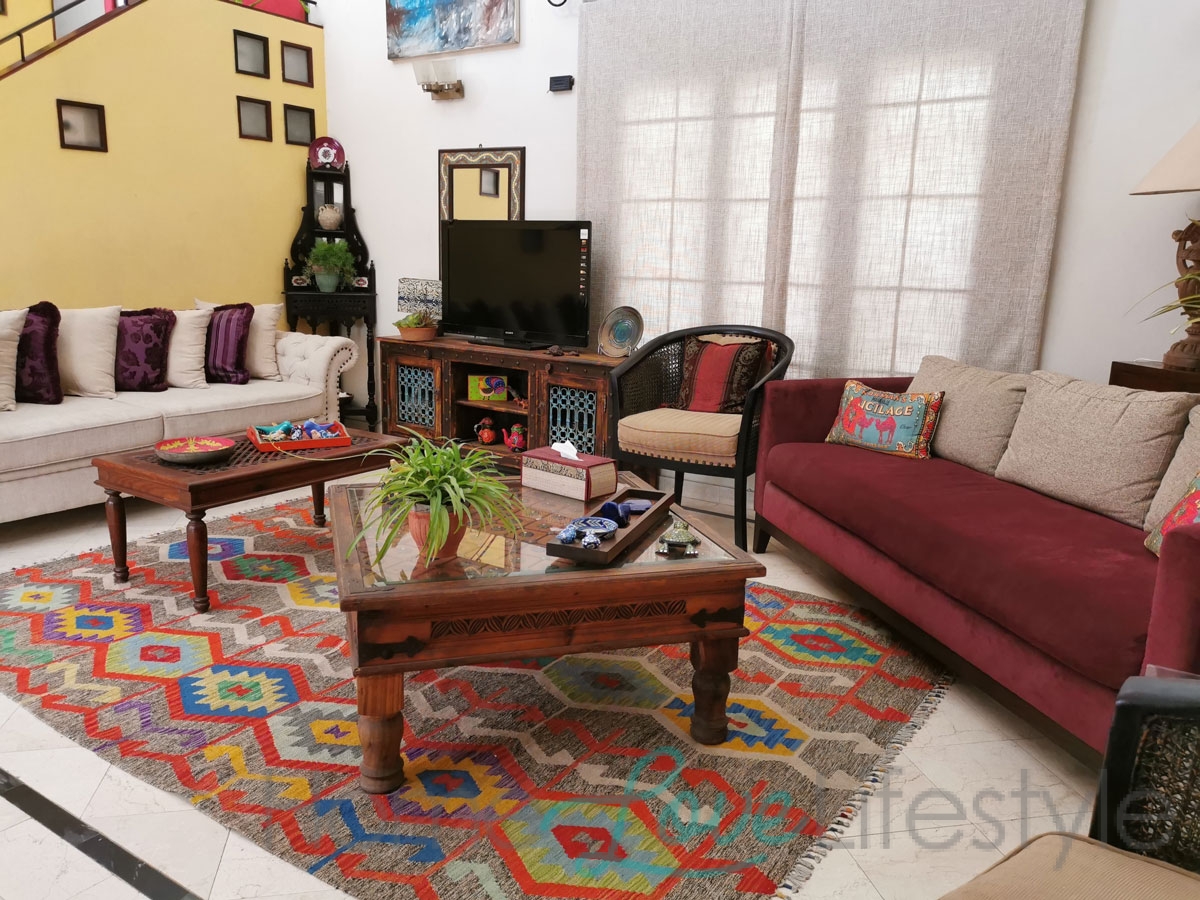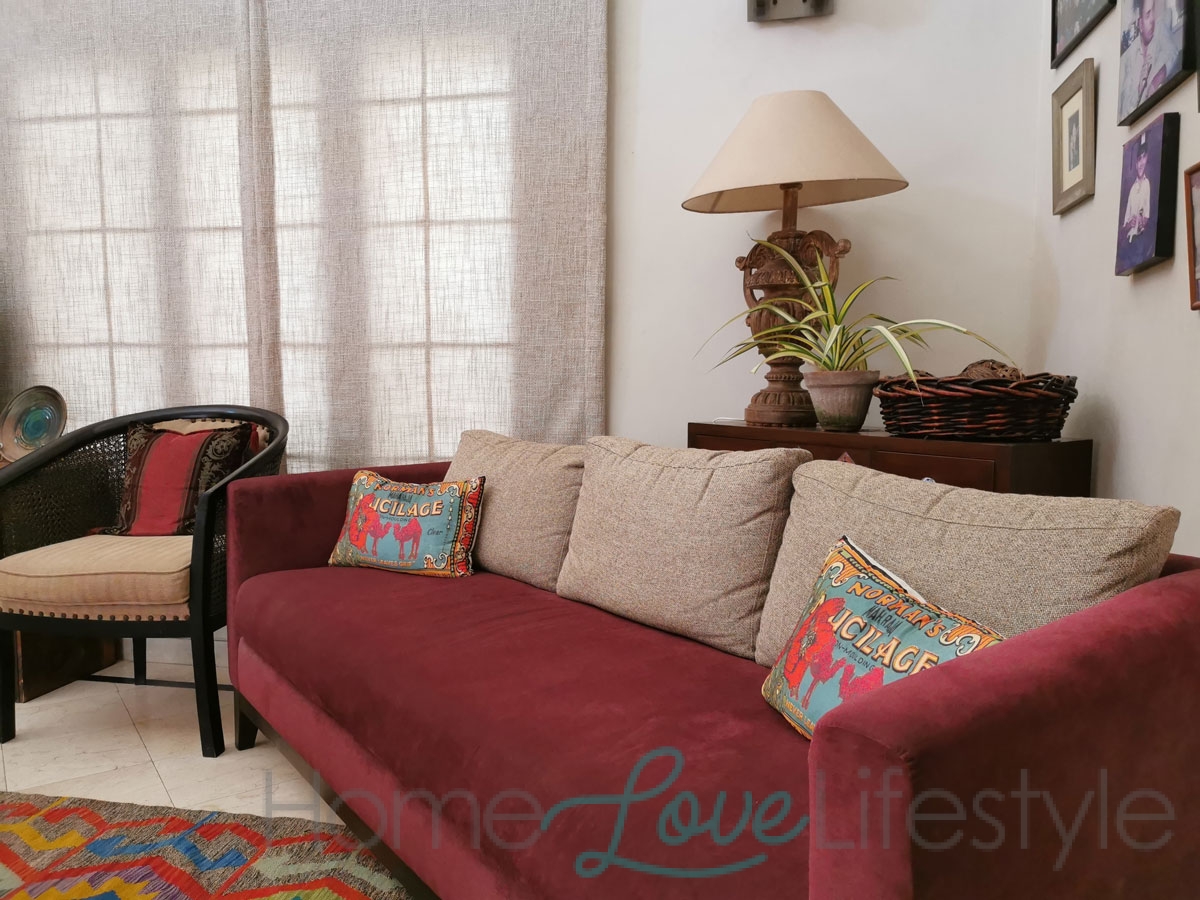 "I'm not afraid to experiment,  even though my family. doesn't always approve." (laughs)  The result is a warm yet elegant and striking residence.
Photography by Naeema Kapadia