Spring break was fast approaching and I was looking for a destination for our family getaway. We had a few criteria which the potential destination had to fulfil. Criteria number one was that it had to be an international location. Nnumber two, our destination had to be less than four hours flight time. And lastly, it could not be a beach town. We quickly came to the realization that our choice was between Canada or Mexico. After researching and chatting with two dear friends whose family hails from the region, we decided to pack our bags for Guadalajara, Mexico.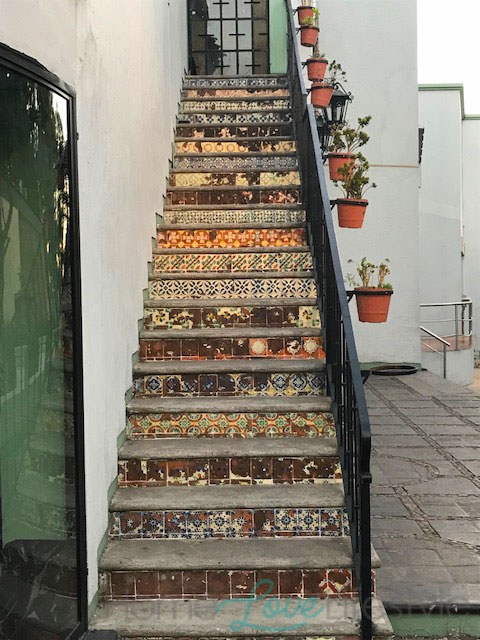 Guadalajara, located in the Western region of Mexico, is the capital and largest city of the Mexican state of Jalisco. It is the second most populous city, after Mexico City. The region's claim to fame is Mariachi music, pottery and Tequila. I once came across Guadalajara being described as a "city-sized village". And that perfectly summarizes the feel of the city; an old-world colonial village co-exisiting with the trappings of a modern city in a 'new' Mexico. The city boasts an abundance of historical buildings, museums and theaters to quench your cultural desires.And for all you food connoisseurs out there, the city and area around it has a plethora of restaurants & coffee houses to satisfy the palate. If so far, Guadalajara seems appealing then read on to find out exactly what one can do here.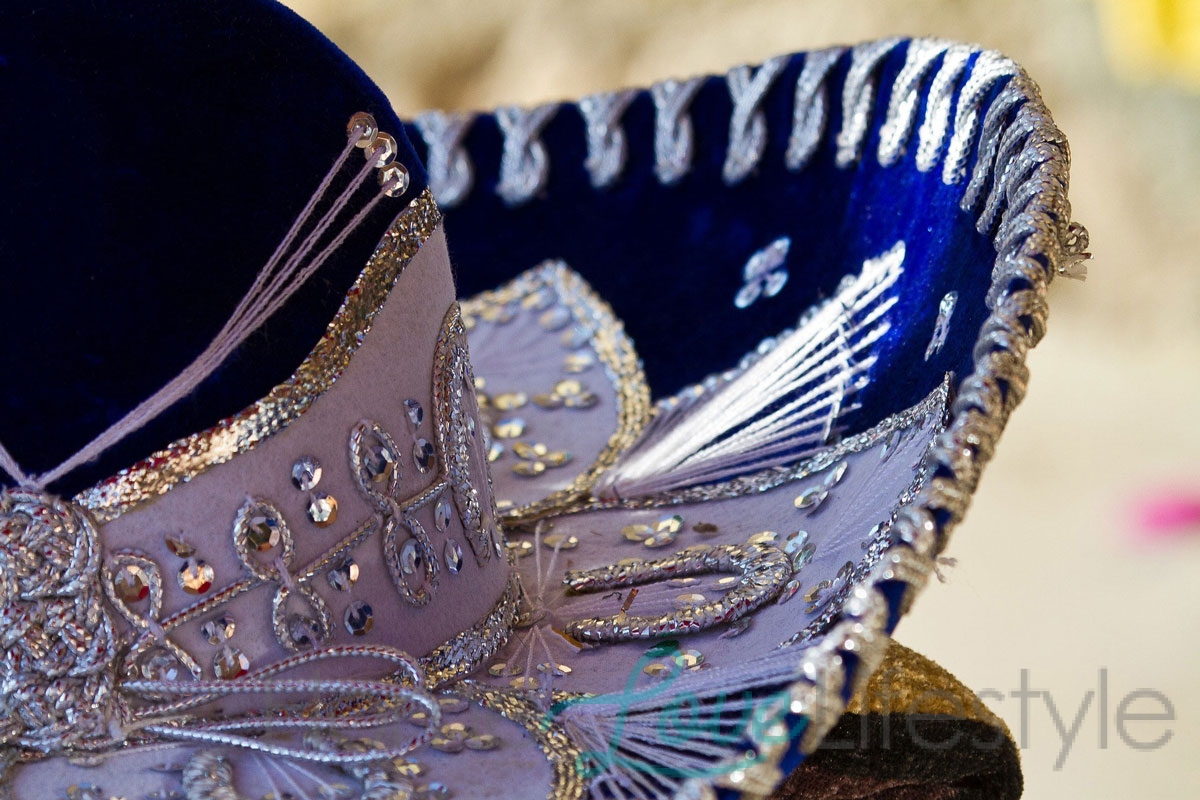 Places to Visit
Travelers can rest assured that Uber and taxi services are both readily available to transport them to Gudalahara's amazing sights. We were lucky enough to get our own personal driver for our trip, thanks to a dear friend. However, our driver didn't speak English and the Spanish we had access to was my son's high school Spanish. We readily learned that tenth grade Spanish can only get one so far and turned to the Google translator app. A lifesaver!
However, nothing beats enjoying the sights and sounds of the city using the original mode of transport…our feet! Guadalajara is easily navigable by walking and with Google maps in hand, you are guaranteed to discover all the city has to offer.
I also have to add that friends have asked if we felt 'safe' in Guadalajara and my answer to that is 'all the time'. Of course, like when visiting any major city, be mindful of the areas and aware of your surroundings.
Teatro Degollado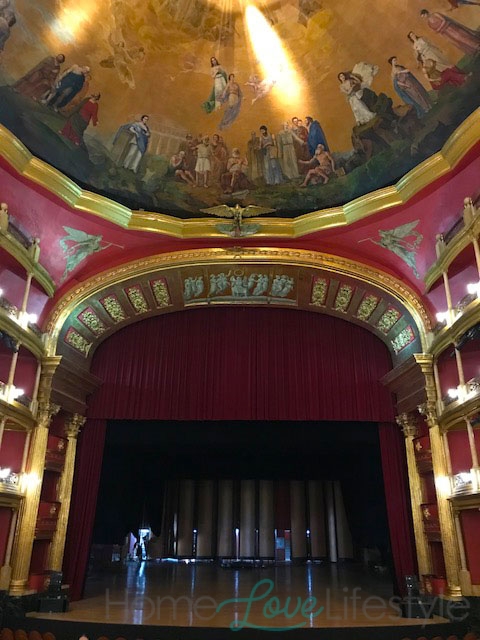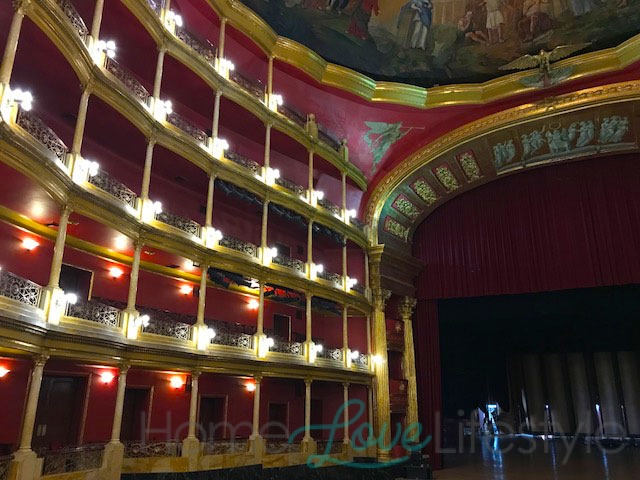 This 19th century theatre with its 16 Corinthian columns is located in the central plaza across from the Cathedral de Guadalajara. Its the perfect venue to watch a cultural Mexican dance or an opera. If a show is not up your alley, don't let that stop you from going in.  Admissions free and you can still admire the elaborate red and gold décor with five tiers of balconies and a frescoed ceiling. The interior of this theater can only be described as magnificent.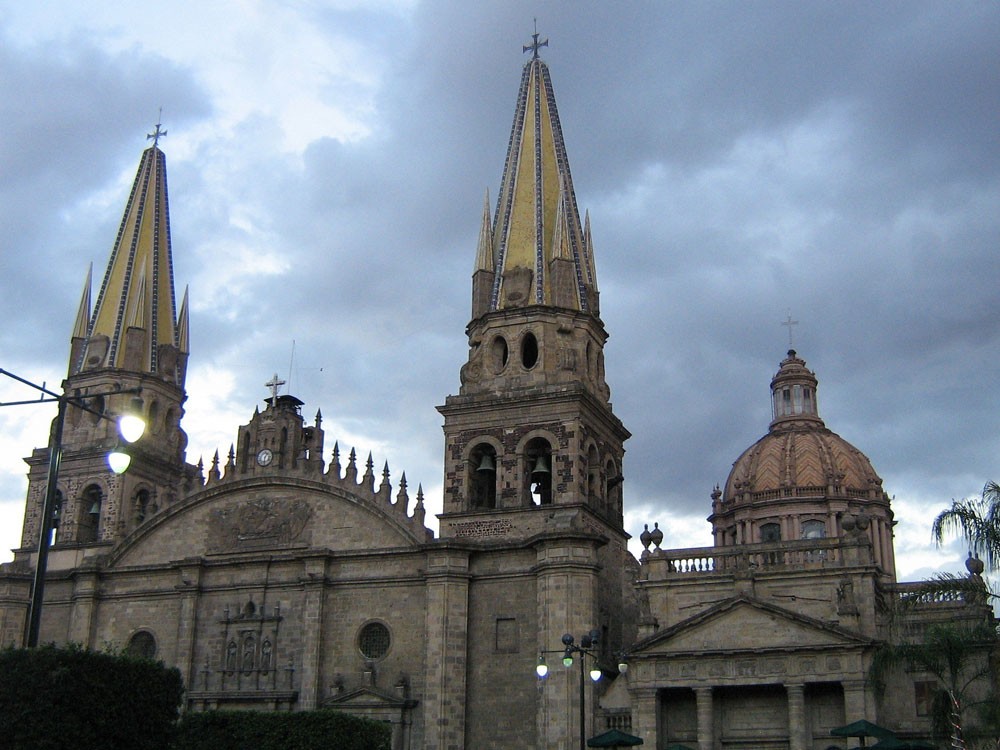 Cathedral de Guadalajara
Similar to many European cities, Guadalajara's cathedral is the central attraction and one that cannot be missed. With its twin neo-Gothic towers and striking yellow and white dome, the cathedral is flanked by four distinct plazas. Each one boasts differing ornate and baroque historical structures. After taking customary family photos near the cathedral, I found myself walking a distance back from the cathedral and seating myself on an iron bench. It was the perfect spot to admire the architecture and workmanship of the 1500's.
Mercado San Juan De Dios
Mexican towns are known for their Market Days where they tend to sell locally grown food items and handicrafts. Much to my preference, these local markets tend to be small and provide a fascinating insight into the area's daily life, culture and traditions. Conversely, if you prefer a maze of shops sprawling over 3 floors then head on over to the indoor market, San Juan De Dios. Once there, good luck getting out! From herbs to paints, anything and everything is up for sale at a price you chose; that is, if you are a talented haggler.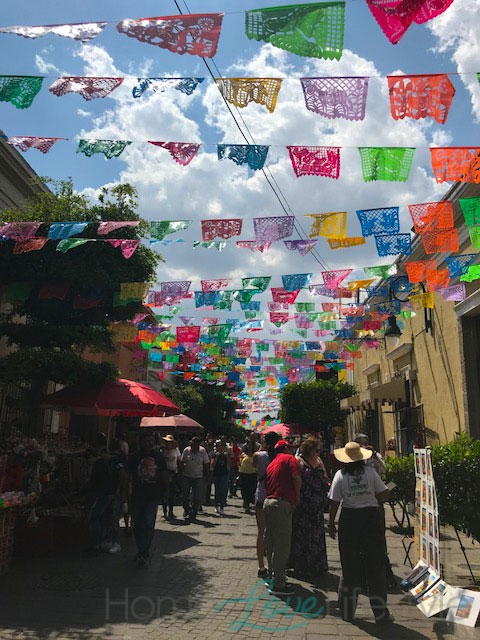 My personal travel philosophy is that in order to embrace the core of any culture, its language and its people, one has to step-away from the touristy sites. The touristy sites, of course, have to be ticked-off the bucket-list so, once that list was complete, our real adventure began. To venture out of Guadalajara, a car is essential. So, with our driver in tow, our exodus to villages on the outskirts of the city began.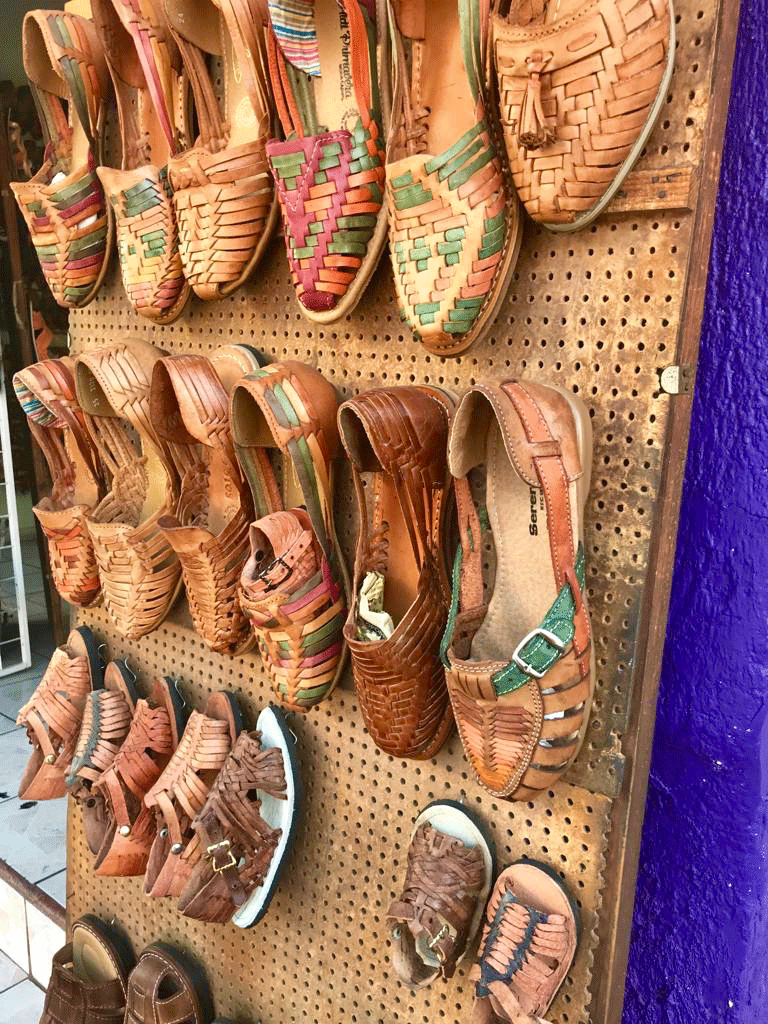 Tonalo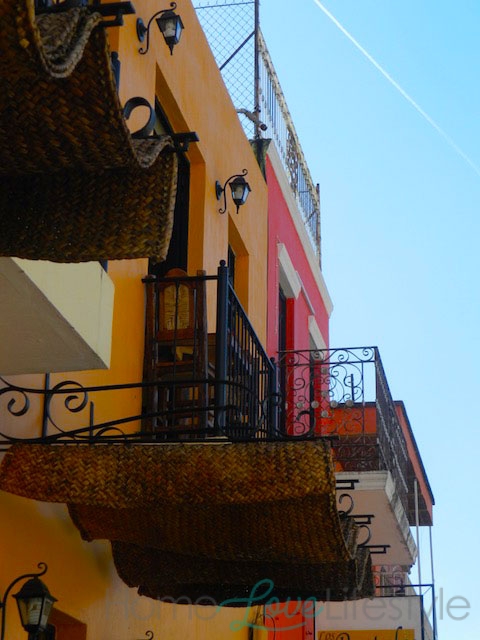 Unknown to many people, the town of Tonalo is the hub of all Mexican handicrafts. If pottery, leather goods, jewelry and artwork take your fancy, then this is the place to shop.(Thursday & Sunday are open-air market days). We learned that wholesalers from across the country descend upon this town to stock up their shops. Most likely with a much heftier price tag.
About a 40-minute drive from Guadalajara, this city is the perfect place for a day trip. The historical center with its cobbled streets, courtyard gardens and striking street art is charming.
Tlaquepaque
Tlaquepaque means 'place above clay land' which is befitting as this city is famous for its unique pottery and blown glass.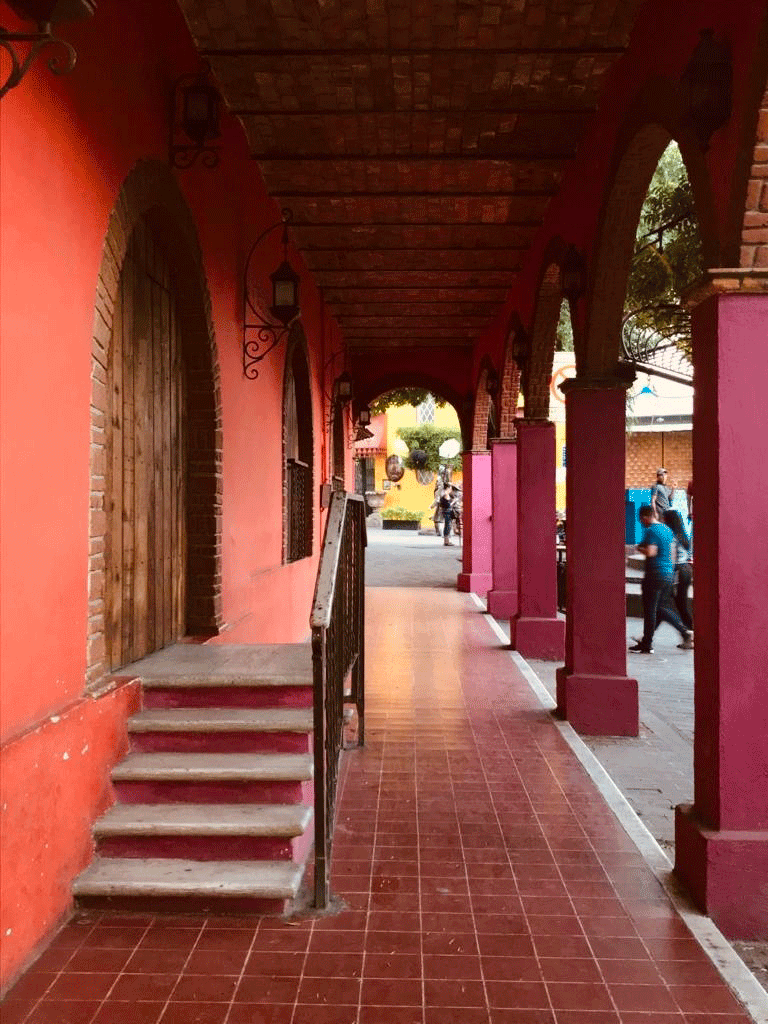 Being an avid home décor shopper and much to the dismay of my teenagers, we stepped into many of the shops. It's not really a fun-filled place for kids. And so to keep our two teens going between shops, we enticed them with ice-cream.
We also encouraged them to appreciate the character-filled surroundings. Seeing the excitement of the local children playing football, local artisans creating masterpieces, community elders chattering and the sight of clothes drying on a washing-line was an all-encompassing experience of a life that was foreign to our kids.
Tequila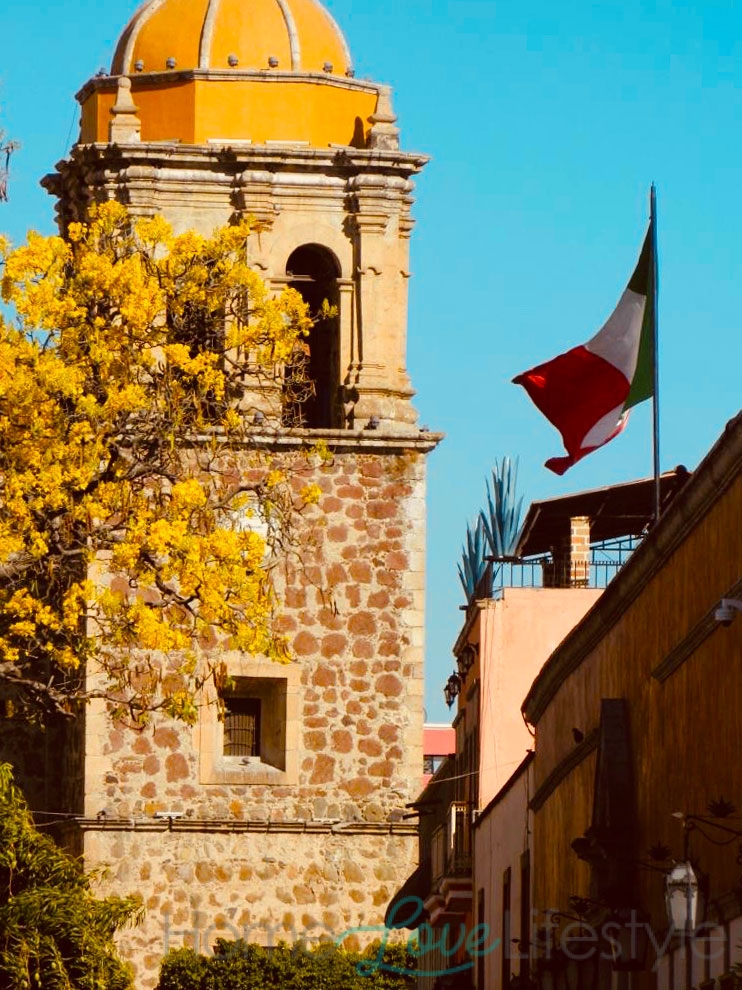 This town was not on our list of places to visit. Our assumed image of Tequila was that it would be run down and filled with distilleries. The latter assumption was spot on but it was far from run down! Located 30 miles from Guadalajara, the road was bordered by a sea of the spiky blue agave and a distinct smell pervaded the air. The smell, which was unpleasant to my senses, was because of the many distilleries in this picturesque town. This small town is a photographer's heaven with its vibrant colored building and cobbled streets.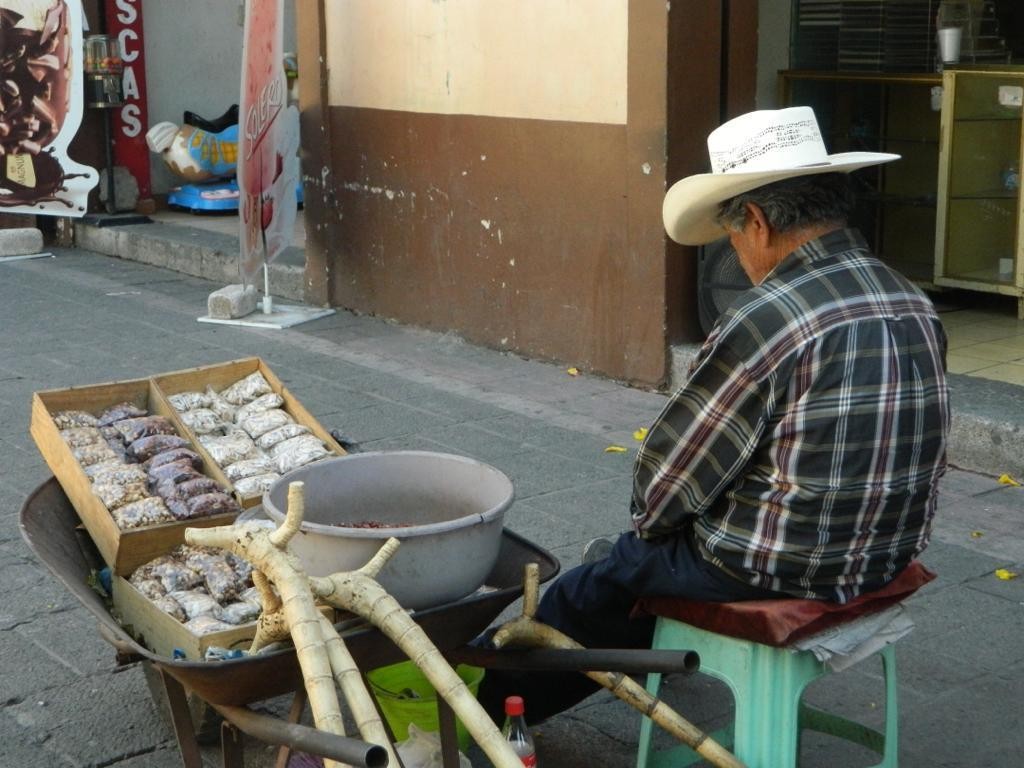 Ajijec (pronounced A-Hee-Hick)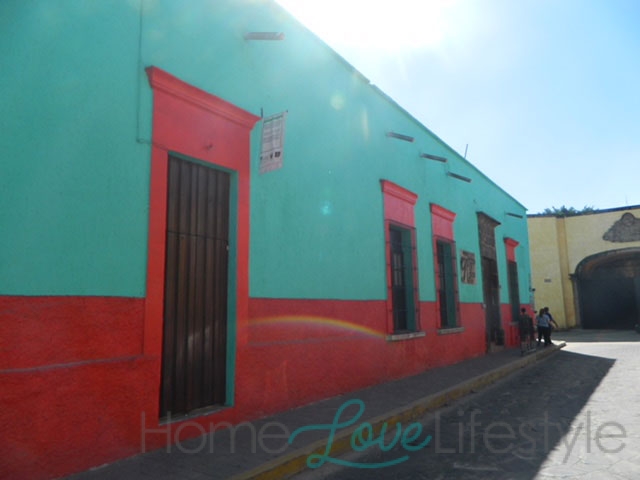 Situated along the largest lake in Mexico, Lake Chapala, this town  is Mexico's expat paradise for US and Canadian citizens. In fact, we were drawn to Ajijec as we wanted to visit our friends who have retired to this beautiful area. In theme with the towns of the state of Jalisco, the cobbled streets of Ajijec are lined with vibrant whimsical murals and quaint shops. Being only 25 miles from Guadalajara, Ajijec is perfect for a relaxing day trip. Stroll through the streets, shop for handicrafts, get a bite to eat or soak up the e=serenity along the lakeside or boardwalk.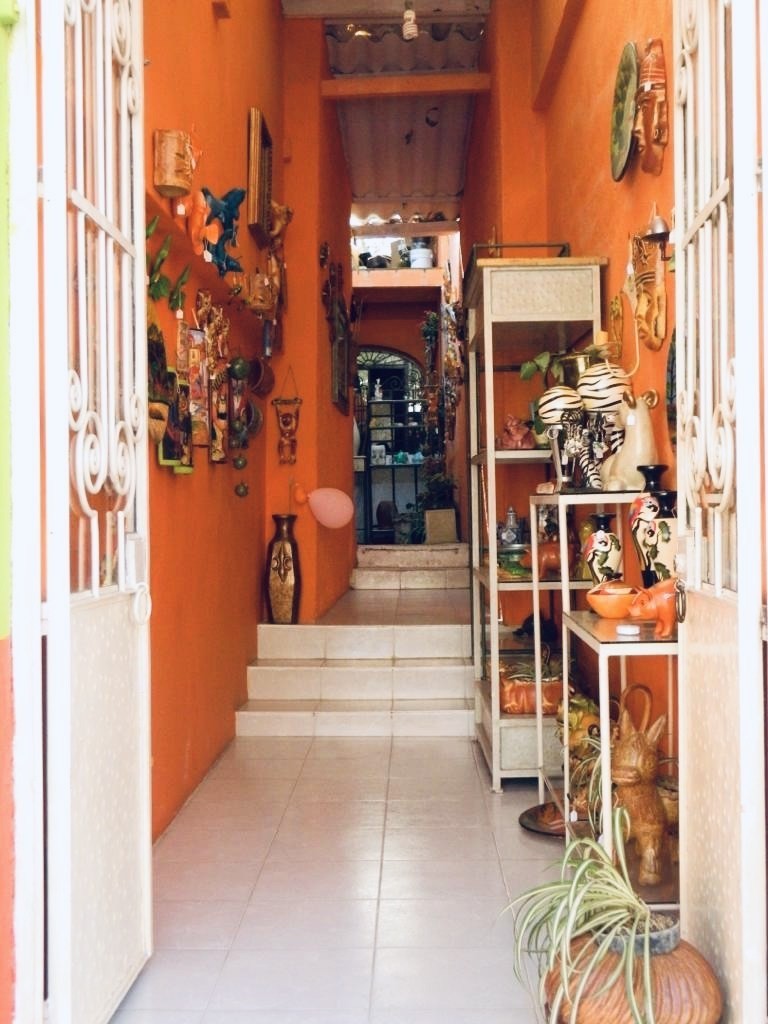 Teuchitlan
Near the town of Teuchitlan (an hour's drive from Guadalajara), is the pre-Hispanic archaeological site of Los Guachimontones. The site dates back 2,000 years and was excavated in the 1970's. Dotted with circular pyramids and a museum, this is a UNESCO World Heritage site. If you would like to get a closer look, then hike-up the somewhat long and steep hill. Don't forget to slather on sunscreen and take along water as there is little shade en route to the pyramids. The mistake is to compare them to the Egyptian pyramids. If you do, like our kids did, you will be surely disappointed!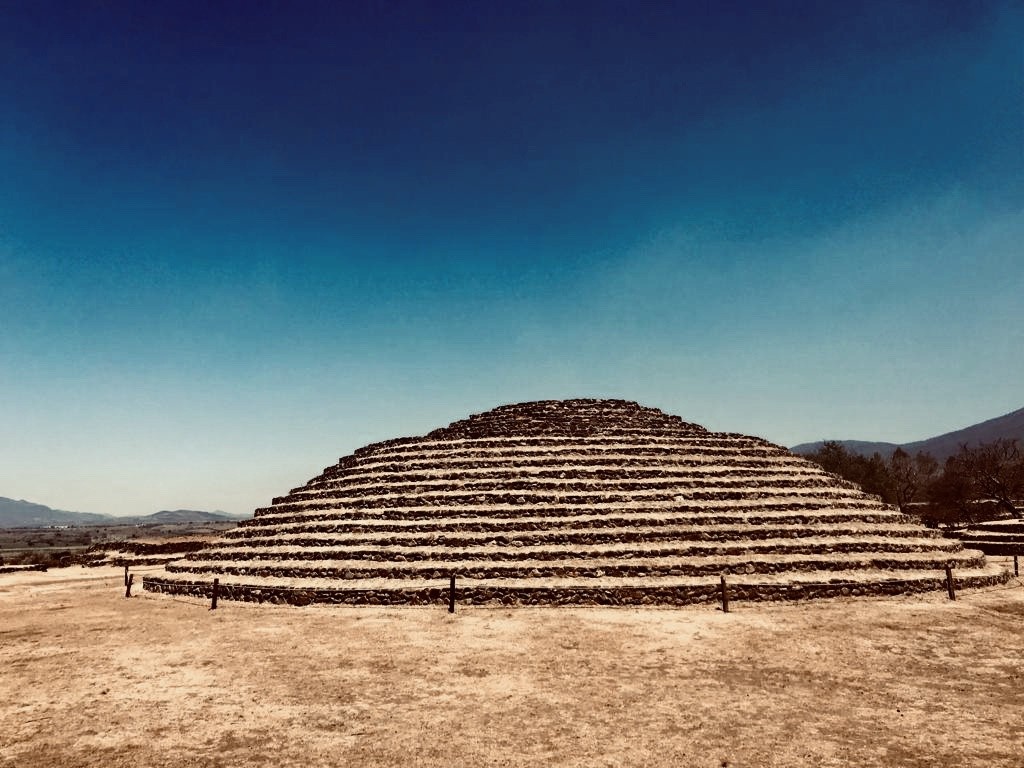 Satisfying Your Palate
The Mexican cuisine experience was unlike what I have been exposed to living in California. Guadalajara is home to unique flavors. Whether fresh seafood, tacos or enchiladas, the essence of the food lies in the delectable and authentic sauces and the chilies. Not forgetting dessert! Jericallas is a cross between a flan and crème brulee and with coffee, your taste buds will be in heaven.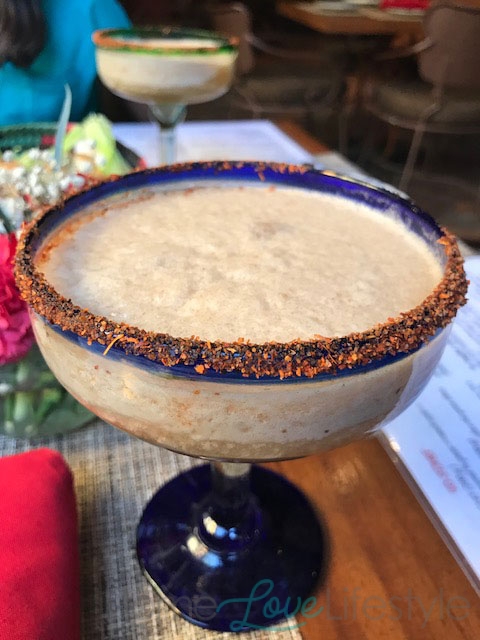 For a refreshing drink, give Tamarindo a try. This is a frothy tamarind based drink and if that doesn't quench your thirst then you can't go wrong with fresh coconut water. Popular street items are empanadas, tacos and chips drizzled with hot sauce to name a few! My favorite was the freshly grilled corn-on the-cob, drizzled with lemon juice and sprinkled with Tajin for an added kick.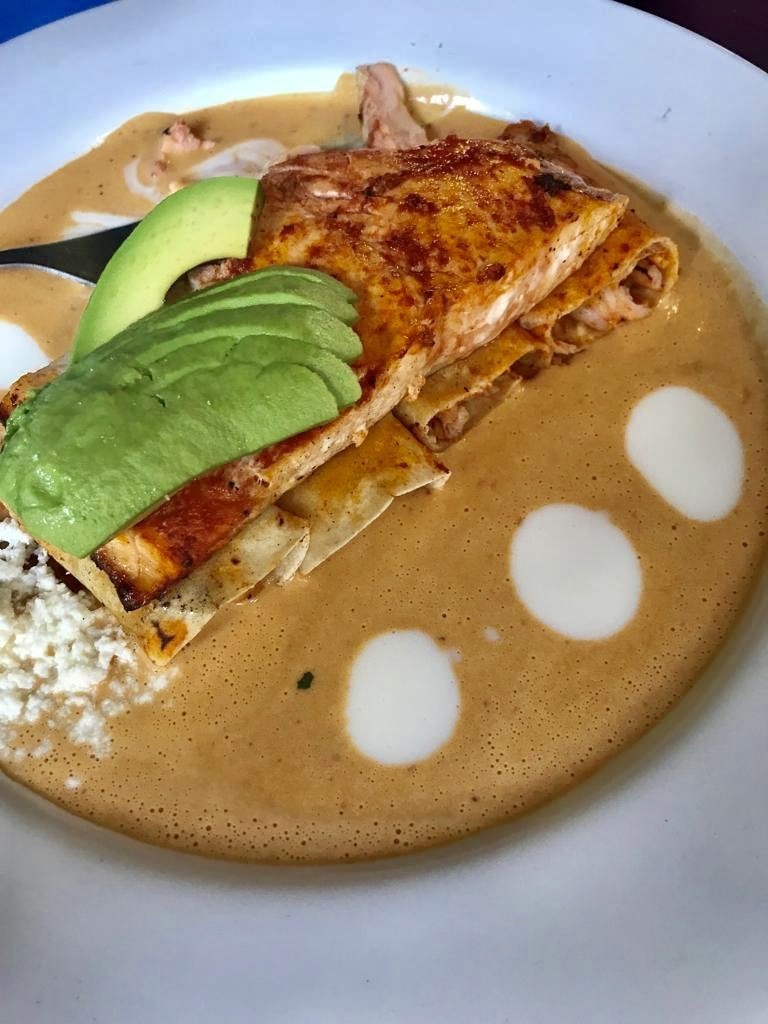 One of the cuisines I didn't expect to find the best of in Guadalajara, was Japanese. But we discovered a hidden gem by the name of 'Juni-Ko. Reservations are a must for this charming restaurant since the maximum number of guests they can accommodate is 15. Located in the upscale shopping district of Zapopan, it is by far the best Japanese restaurant I have dined at to-date, not having been to Japan.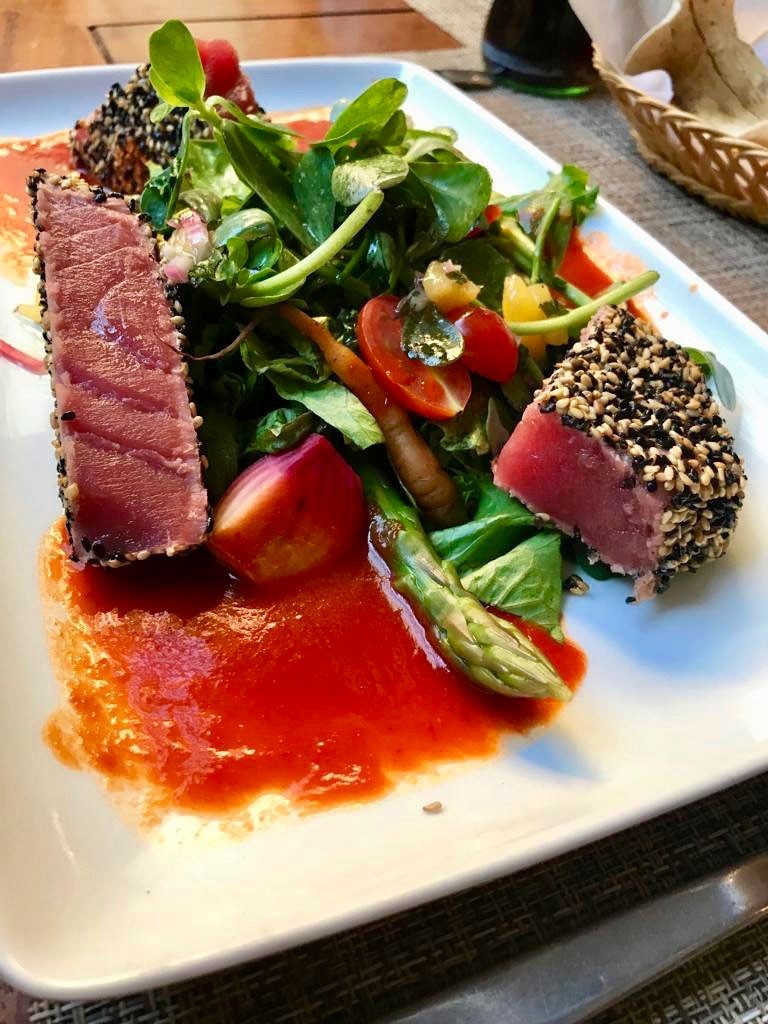 In every town we visited the hustle and bustle of the locals around the character-filled streets was music to my ears. Guadalajara is an underrated, fascinating city with a unique relaxed vibe and  as yet untouched by tourists. If you are looking to soak in some history and culture in a few days, do plan a trip to this "Pearl of the West," Guadalajara.
Special thanks to Erika and Adrianne for giving me insightful information, contact and inspiring me to visit Guadalajara.