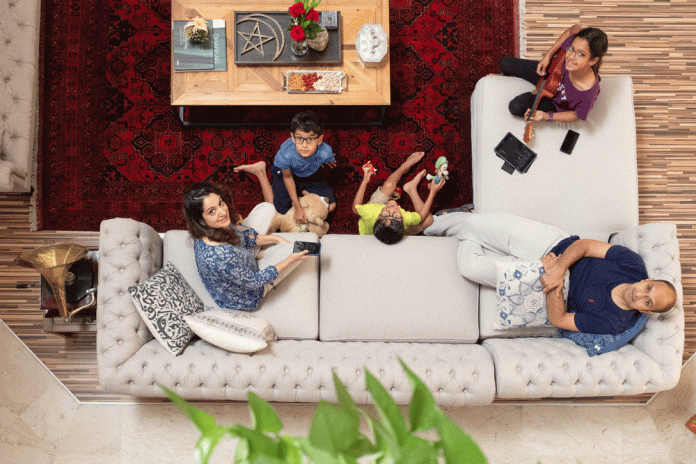 Filled with light and dotted with collectibles and personal mementoes, this cheerful home in Doha (Qatar) is home to a Pakistani couple with three lovely children. Shehrbano Rizvi  gave up a corporate career to raise her family and today multi-tasks as a freelance writer, photographer and story teller. A certified Project Manager Professional (PMP) she runs a blog called "Diary of a PMP Mom" where she shares her daily life struggles along with her love for cooking, interiors and DIY projects.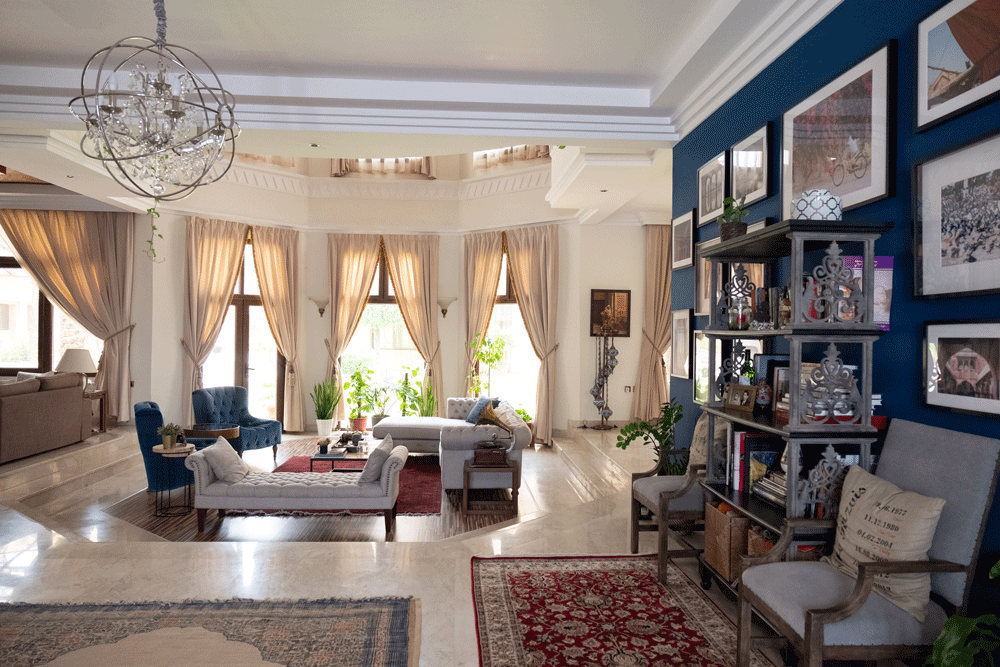 When did you move to Doha?
I grew up in Karachi but moved to Doha in 2004 after I got married. We have been living in this current house for almost three years now.
 Is your home self-styled or did you get professional help?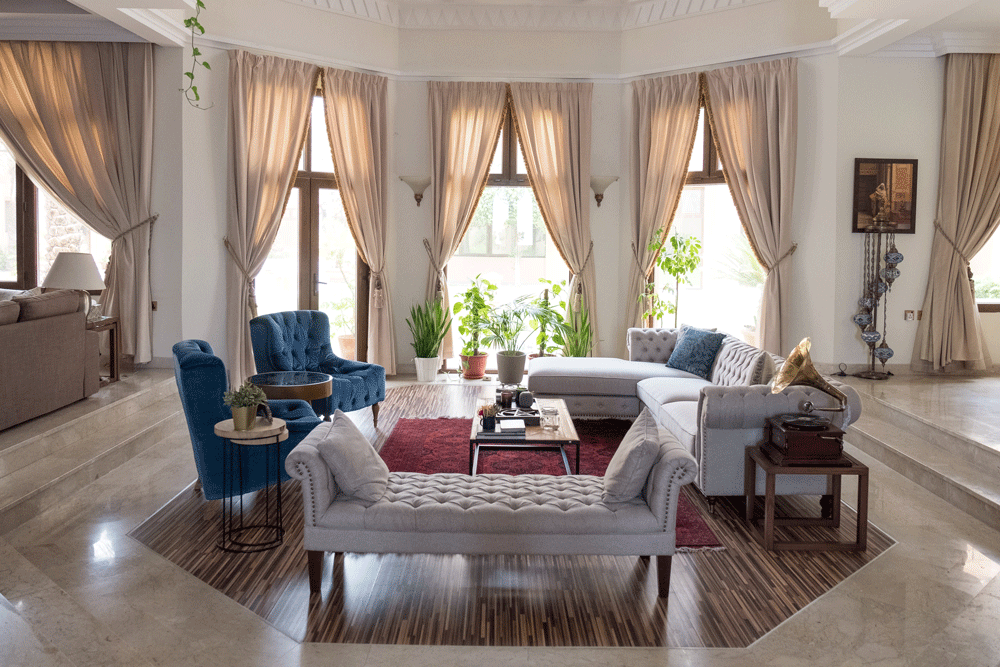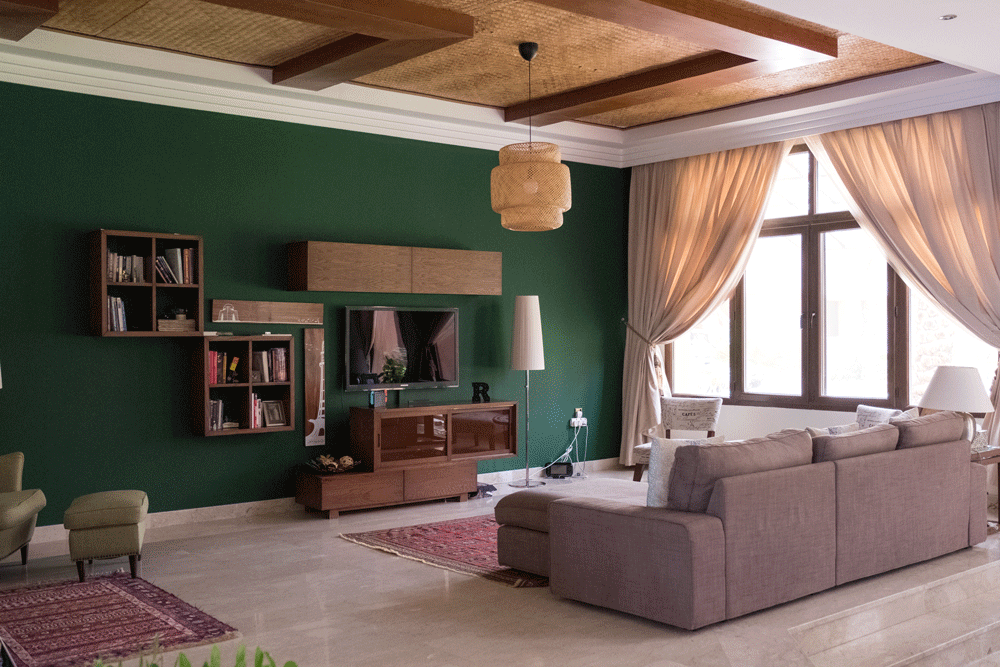 We live in a rental house in Qatar which came semi-furnished. However, the style was completely different from my taste and I re-did the entire home with our own furnishings. I did everything myself with no professional help.
You  have three lovely children. How does your home cater to them?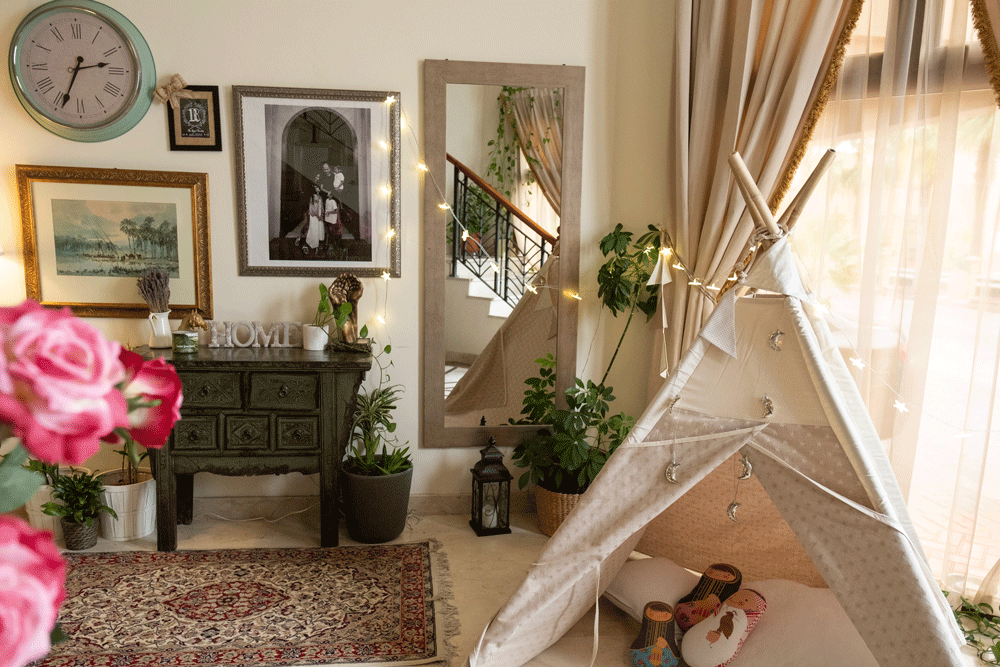 I have a girl and two boys aged 11, 8 and 7 years. Before moving to this house, we had always been in an apartment here in Doha. As a growing family, apartment living had its cons. But one thing that I really liked was that I could easily keep an eye on what was going around the home. So when we decided to move to a bigger place, I fell in love with the open floor plan of this home. I particularly like the indoor Juliet balconies from the rooms looking into the living space. Although it's a big house, I always feel connected and can keep an eye on what's going on.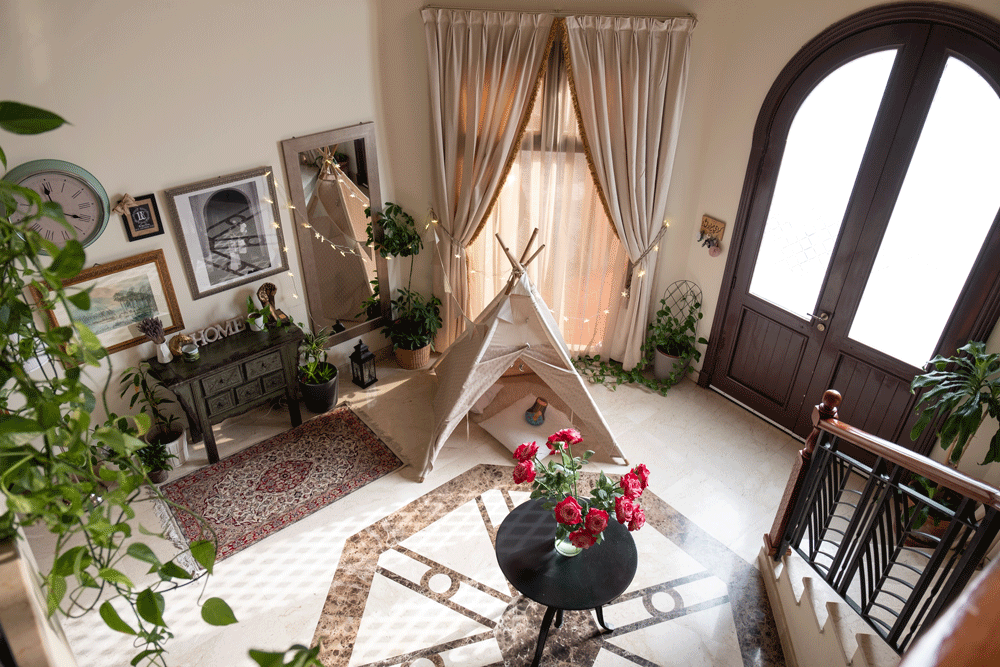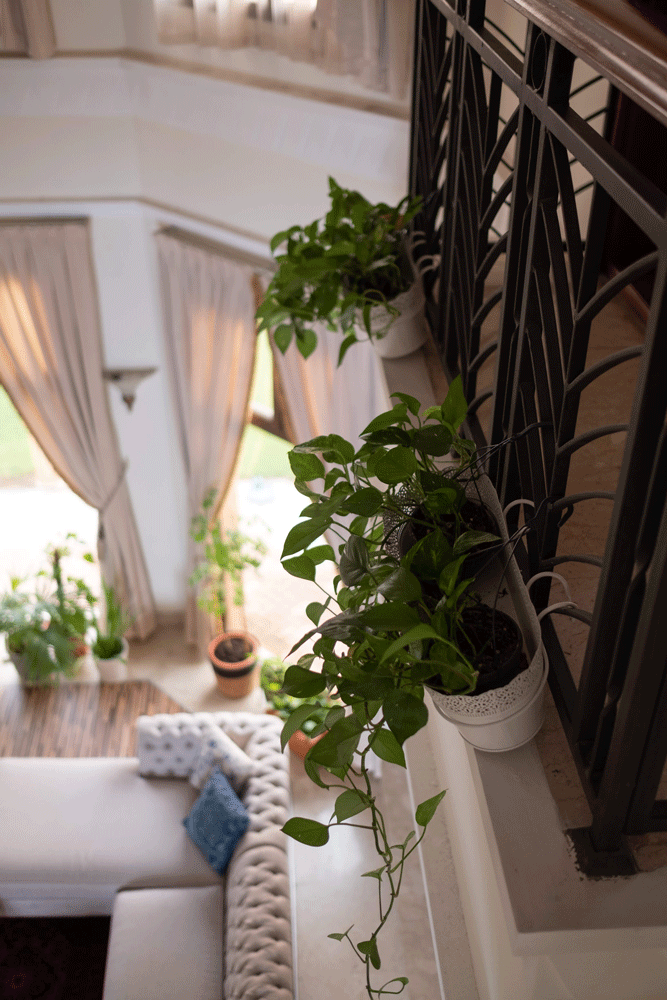 The kids have their rooms (the boys share a room and my daughter has a separate room) upstairs. They also have a little study/play room downstairs where they do their homework and hang out during the day. We also have a garden  where we often sit for our evening tea while the kids play and ride their bikes.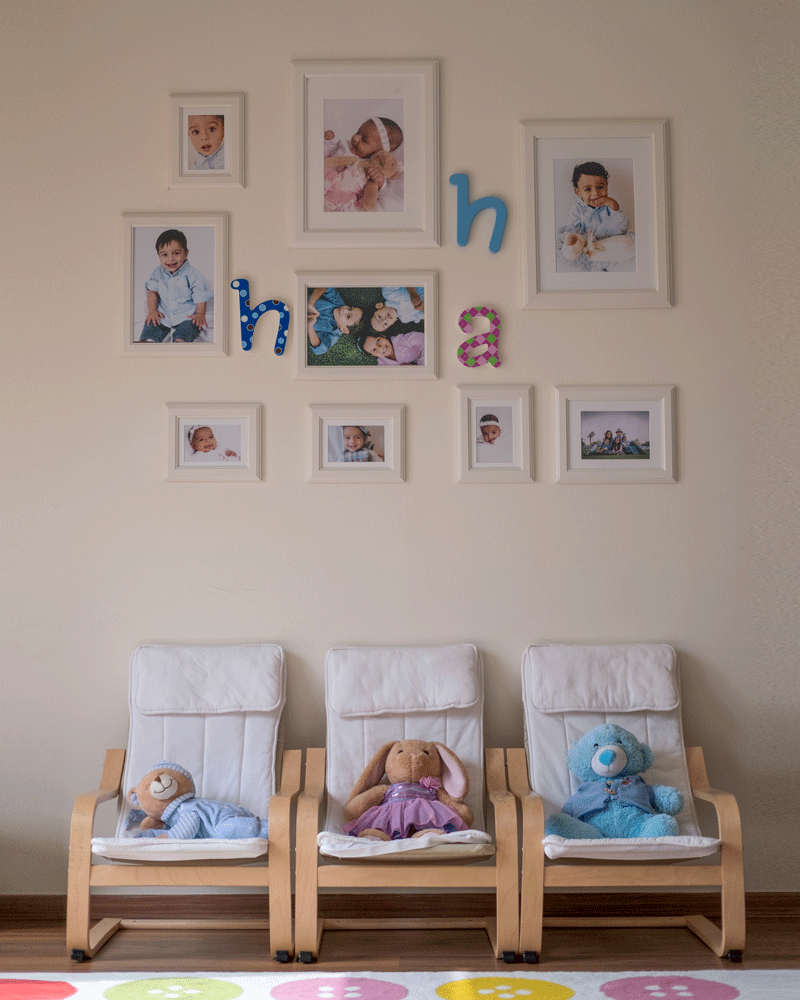 Do you entertain often? How do you use the space then?
I do but I love having small intimate gatherings rather than big parties. I always prefer having as many guests as I can accommodate around my dining table. Then we can have a sit down dinner, with a pretty table setting, a home cooked meal, along with great conversations over endless cups of chai.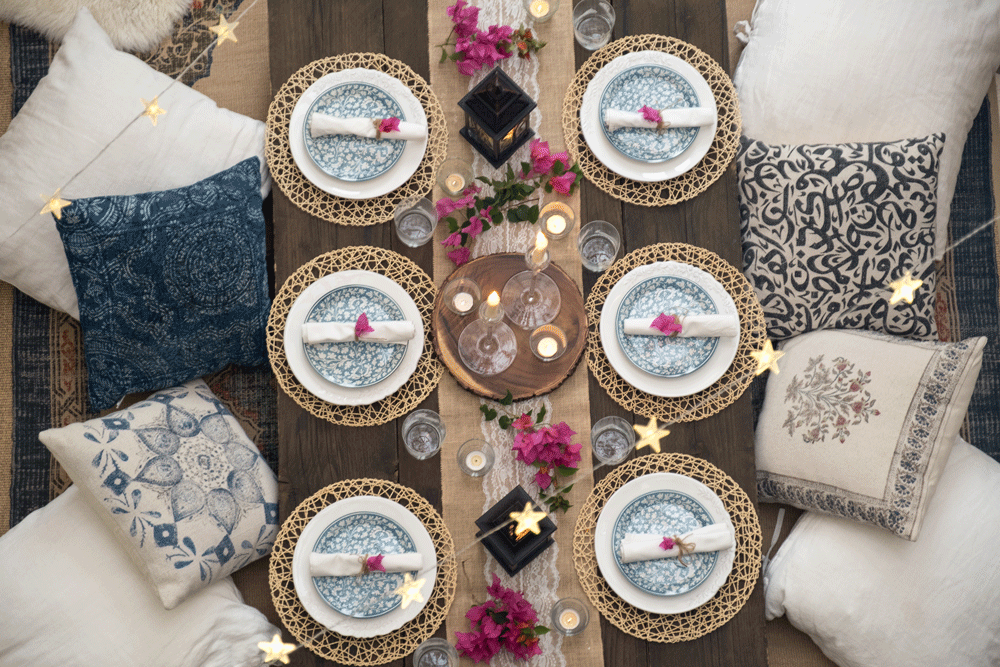 What is your favourite space?
The most exciting part of moving from an apartment to this new home was having the space to create my own working area/office. However, I was a bit unconventional in my choice and went for an open area rather than a closed-door office.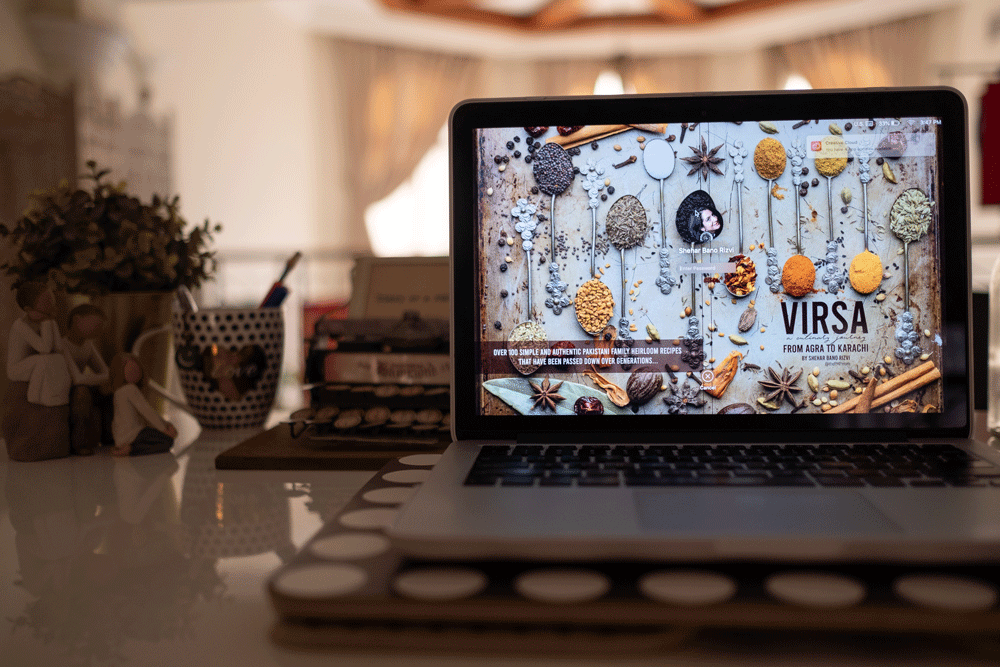 It's basically the space that I had upstairs in the landing area. I love it because it's a big open space right in the heart of our home. I have enough space to keep my photography/studio gear, it gets a lot of natural light and I can keep an eye on everyone!
Are you working on anything special at the moment?
I have recently written a recipe book called Virsa – A Culinary Journey from Agra to Karachi. It is a collection of my ancestral family recipes. It will be published soon. Compiling, recreating, and photographing these recipes, is a labor of love – a dedication to my mother – a fantastic cook!
 Is there a favourite object or piece of furniture? Anything with a story attached?
My home is full of old pieces that I am emotionally attached to. There are many, but these four have to be my most favourite.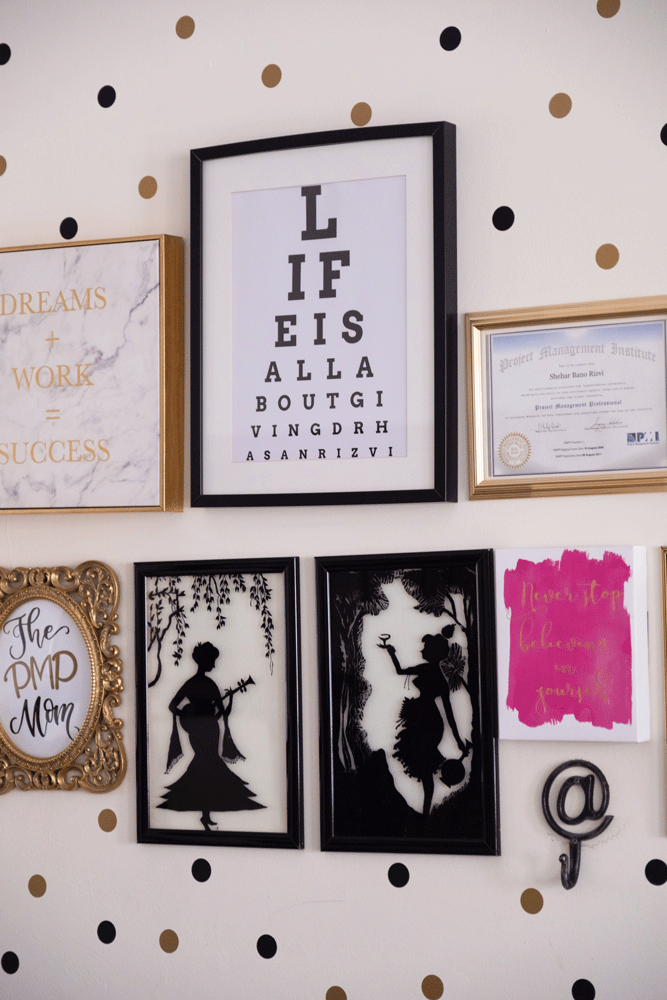 I absolutely love gallery walls and put up a combination of things on the wall – some new, some old. What I love the most about the wall in my office, is that I have a bit of my dad and my mum with me at all times. The eye chart (which reads 'Life is all about giving – Dr Hasan  Rizvi') was a  DIY Project that I made when my dad passed away.
The two silhouettes of women were hand painted on glass by my mum some 50 odd years ago, even before she got married! These are priceless!
I also love the blue accent wall, which has a gallery of my own photographs and has pictures from Pakistan and Qatar – the two places I call home.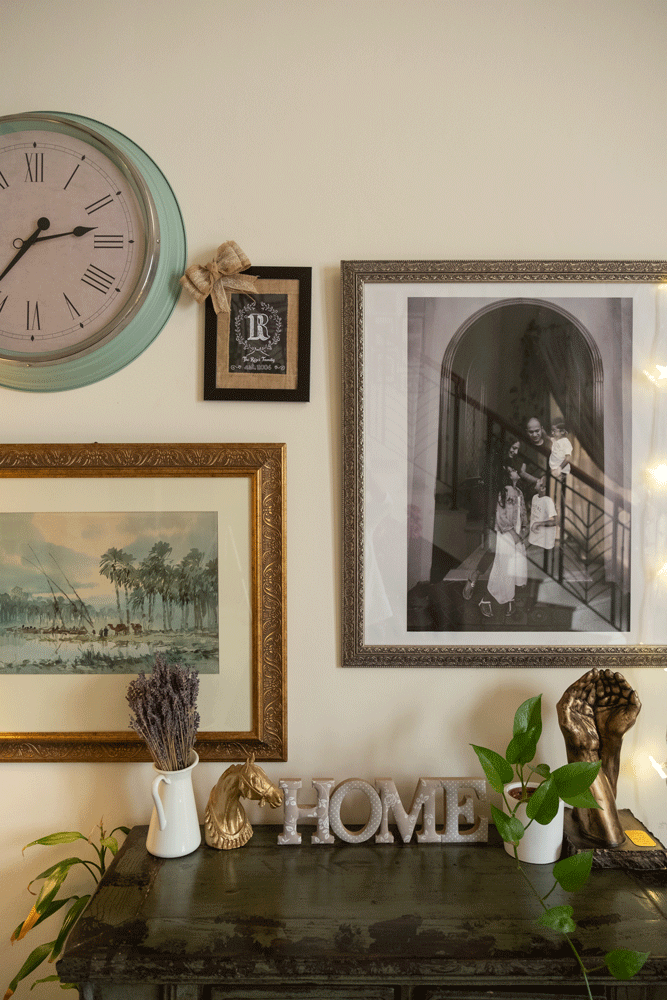 We also have a sculpture of  hands praying together with a few verses engraved on it. It is a special reminder. On our second meeting, my husband took me to a mosque in Karachi and he made us join our hands (one of my hands and one of his) to pray. That was his idea of starting our life together with a joint prayer. I was very perplexed by it of course, but I also found it very sweet and romantic. He later told me that the idea was inspired by the poet Parveen Shakir's verses
Dua to jaane kon si thi
zahen mien nahien
bas itna yaad hai
ke do hathailiyaan mili hoi thein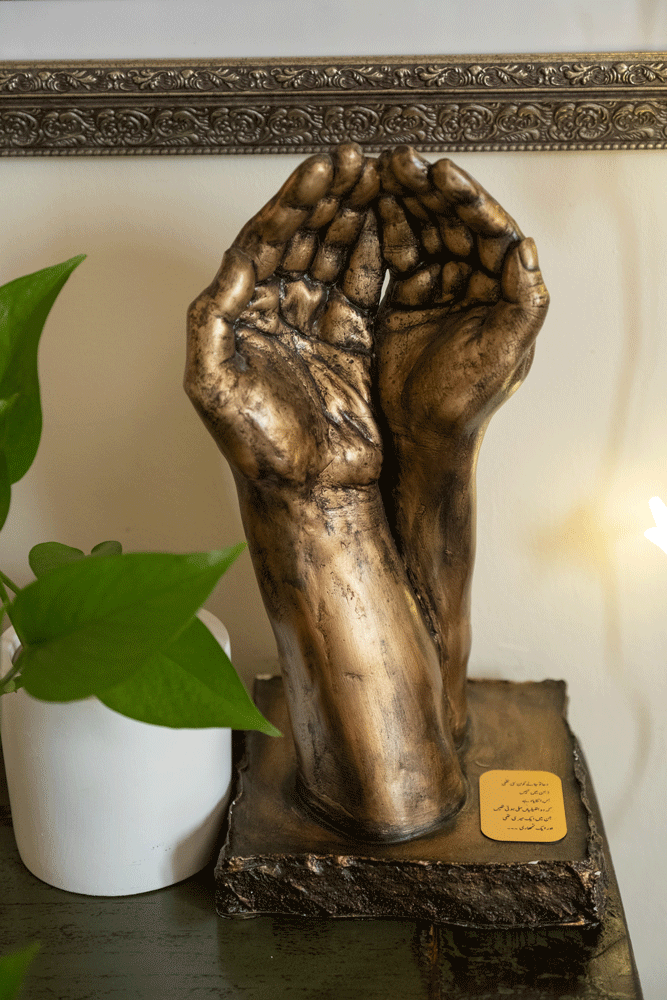 The second time we prayed like this was when we visited Karachi for infertility treatment and decided to go to a shrine in Karachi. As we were about to leave, I suddenly stopped my husband, held his hand and once again we prayed to God in the same manner. A few months later, we found out we were expecting our baby girl.
 What is your design inspiration?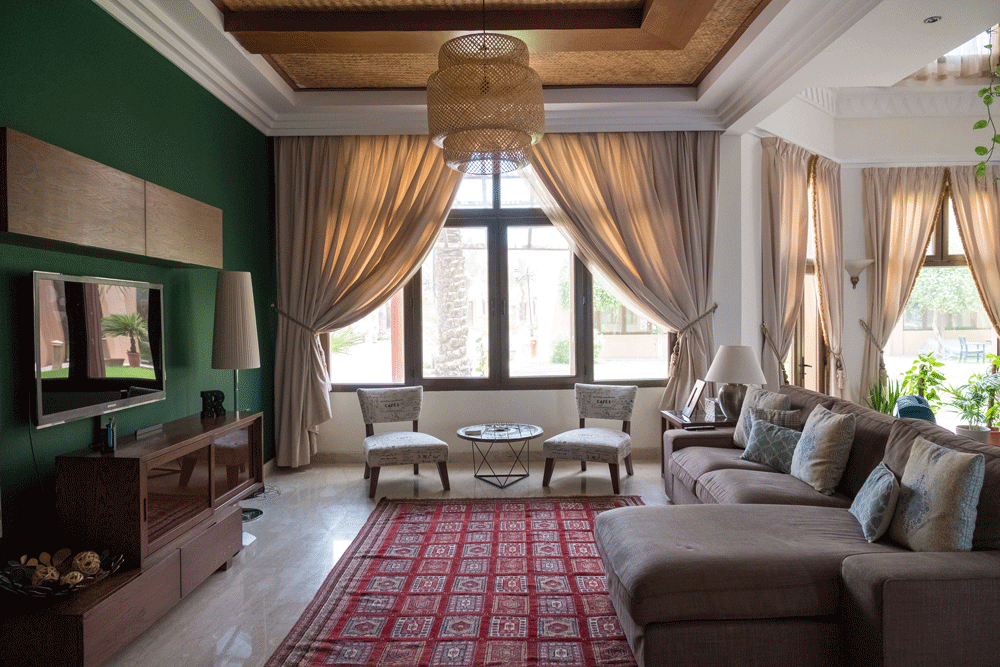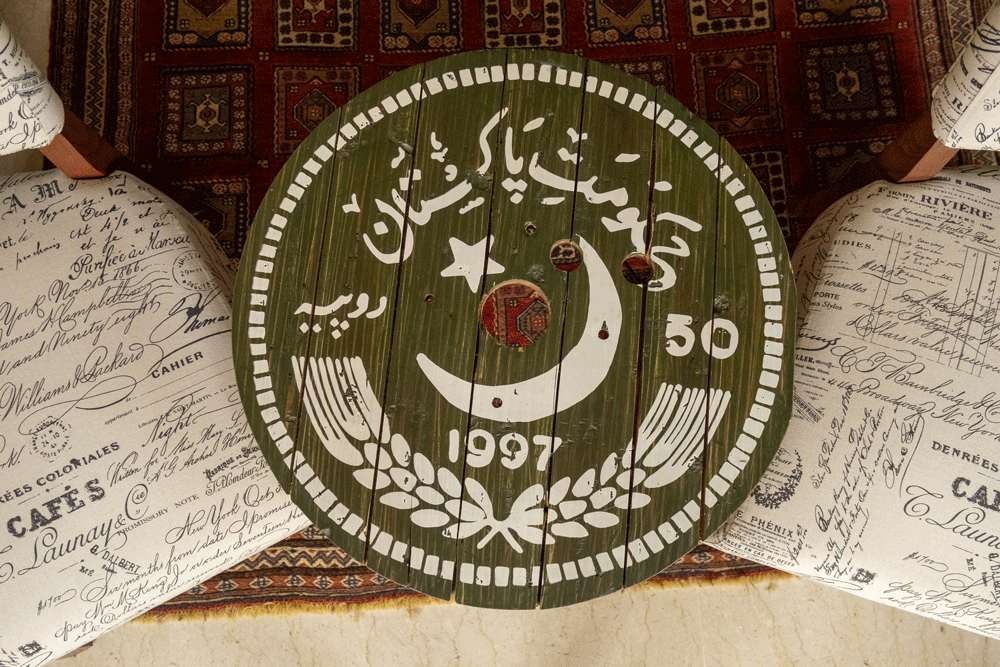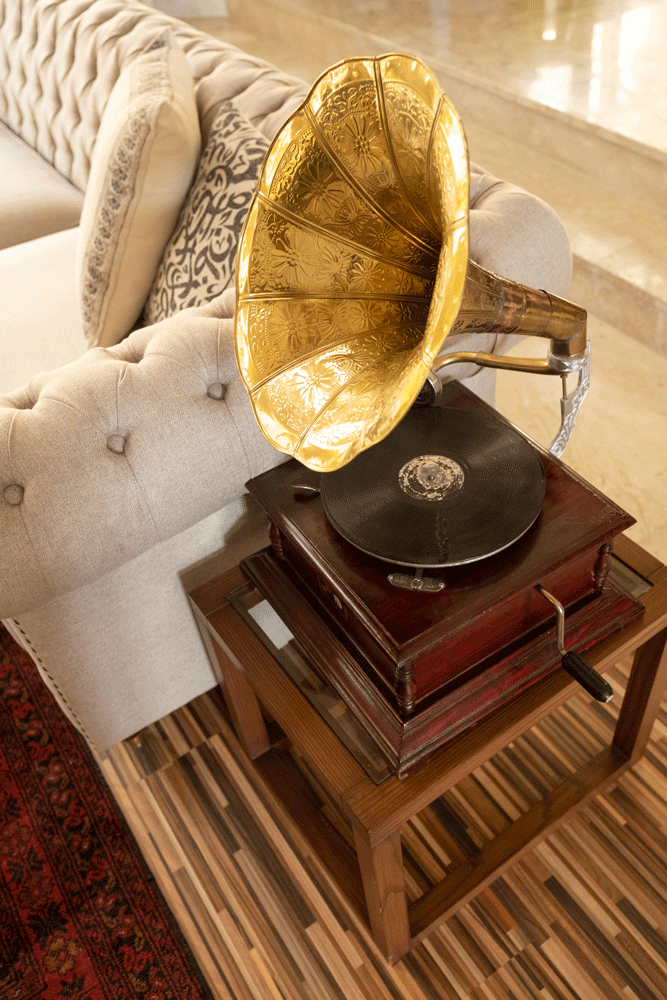 I love browsing through home decor magazines, websites and of course Pinterest for ideas, However, I feel my style is a reflection of who I am, where I come from and where I live now. So I like to incorporate this journey in my home. I think my style is a combination of modern, vintage, and ethnic. I love vintage pieces and include bits of our tradition and culture.
 What is more important to you? Style or comfort?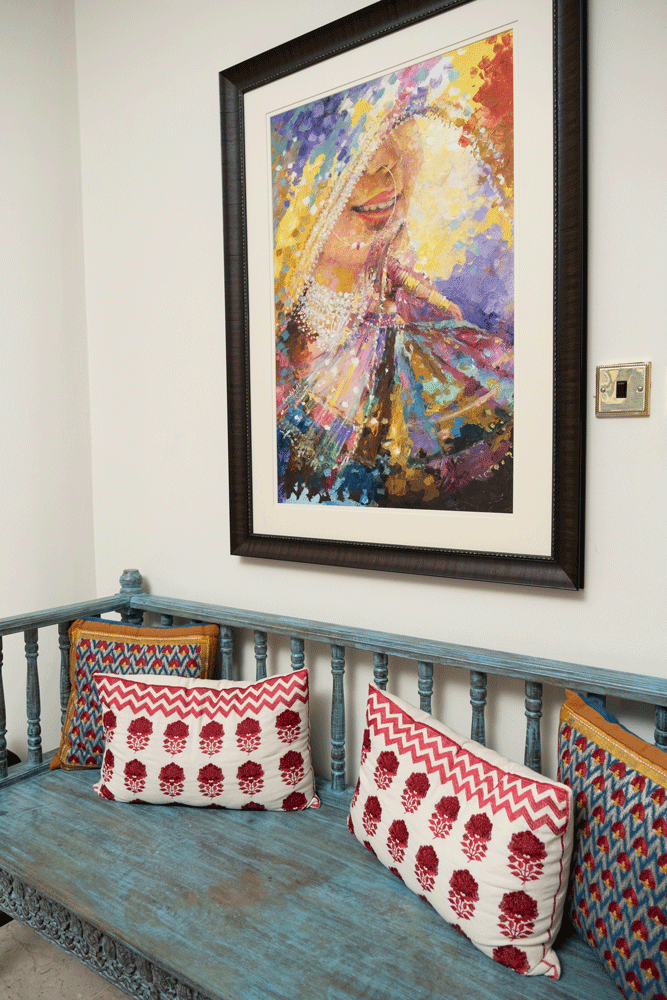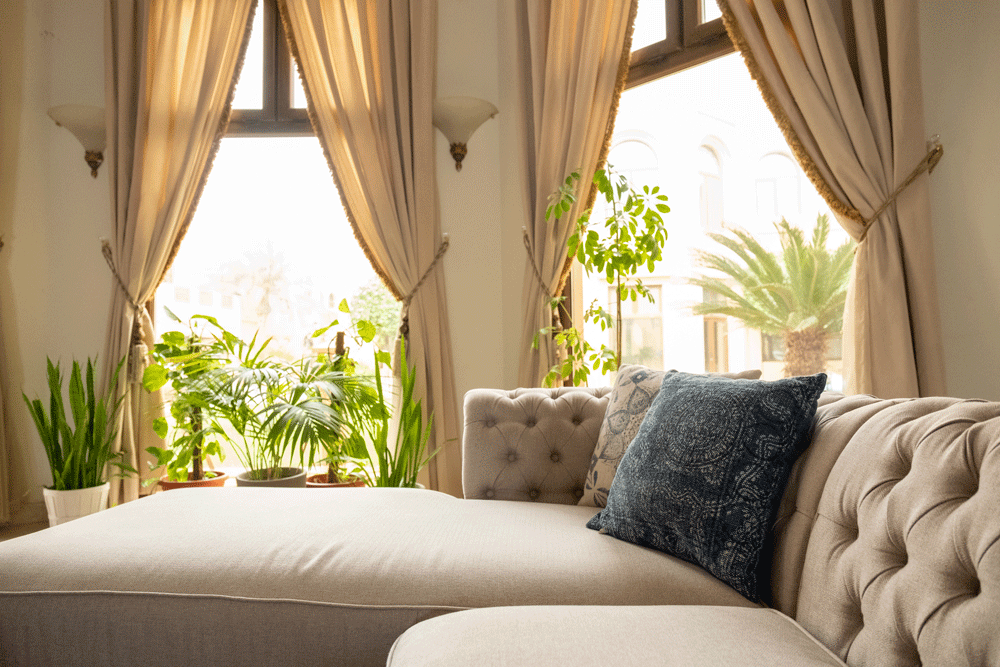 I would say both are equally important – comfort and style have to go hand in hand. An aesthetically pleasing, comfortable space is what works for me.