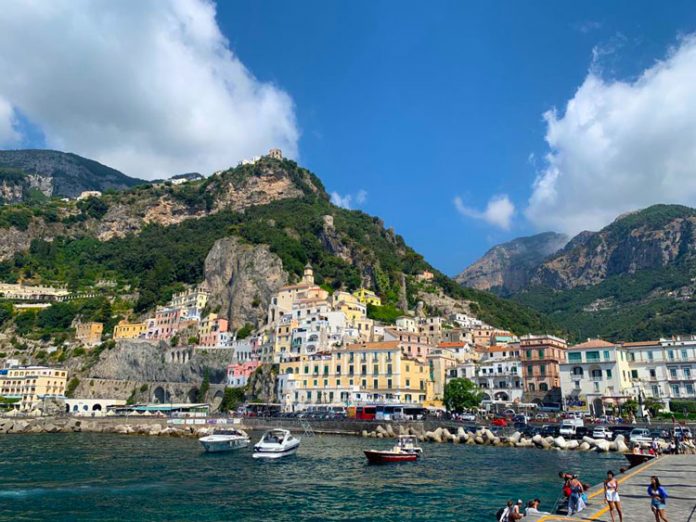 The writer is a Pakistani-Swiss neuro surgeon who grabbed a few days to take an impromptu trip to the Amalfi Coast in Italy. She grew up in Pakistan but is currently based in Zurich. 
So I went to the Amalfi coast… 
I love driving and just taking it all in… Driving, especially along a coastline, has its own special allure… 
I will never forget my long drive along the west USA coastline on the Cabrillo Highway from San francisco to LA back in 2008. It was a cathartic experience for me; a drive full of impressions and sensations, with the wide ocean and beyond to gaze upon.
So which coastline was I destined to navigate next? Turns out, it was the Amalfi coast! 
The story goes that Amalfi was the name of a nymph loved passionately by Hercules, who searched for the most beautiful place on earth to bury her. He came upon this coastline and decided to lay his beloved to rest here.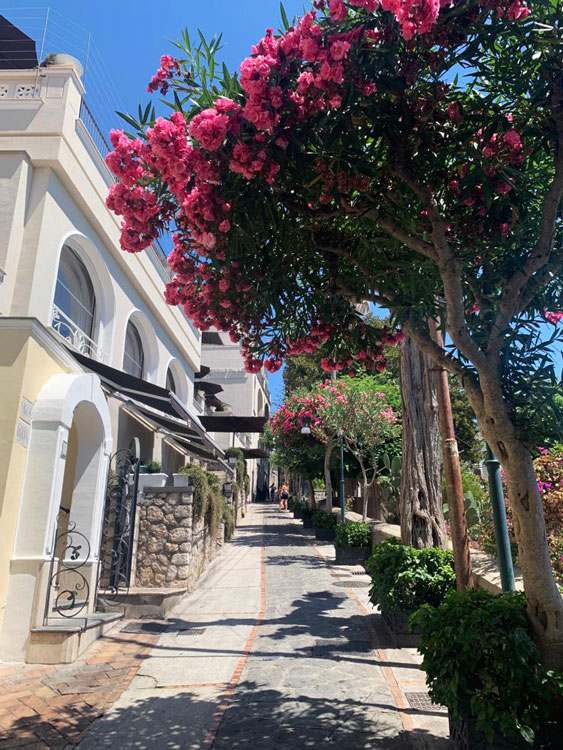 Day 0
Flew Swiss Air from Zurich to Napoli or Naples; I had earlier rented a car for this adventure. 
Reached safely and after some waiting at  the airport and then some more at the car rental, I finally got my hands on the car. Realized very quickly that I was no longer operating on 'Swiss time' or the 'Swiss way' anymore… "viva Italia!" – although the more relaxed pace did help me to immediately get into the holiday mode. 
I drove to the hotel; now driving in Italy is certainly not for the weak hearted. Thankfully, I have driven in Karachi, so that helped. Still, the narrow cobbled roads and lack of rules were a real adventure. I kept veering between feeling anxious and exhilarated; the adrenaline was pumping!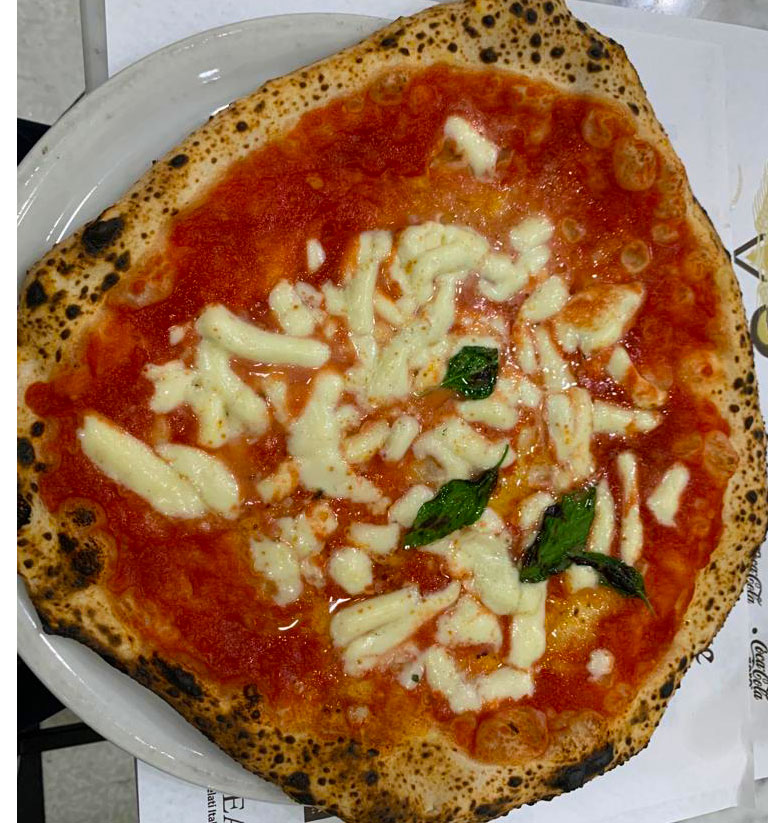 Rested for a few hours and was off for a long walk to, of course, grab a pizza. What else? Pizza is a must in Napoli!  I went to the center of the "citta storica", old town looking for De Matteo's Pizzeria recommended by the hotel. The streets were alive with noise and laughter, filled with mostly young revellers, both locals and tourists.
Day 1
Early next morning I took the ferry to the legendary Isle of Capri, my mind summoning up the iconic image of the rock island island standing in the vivid blue, sun-dappled waters of the Tyrrhenian Sea.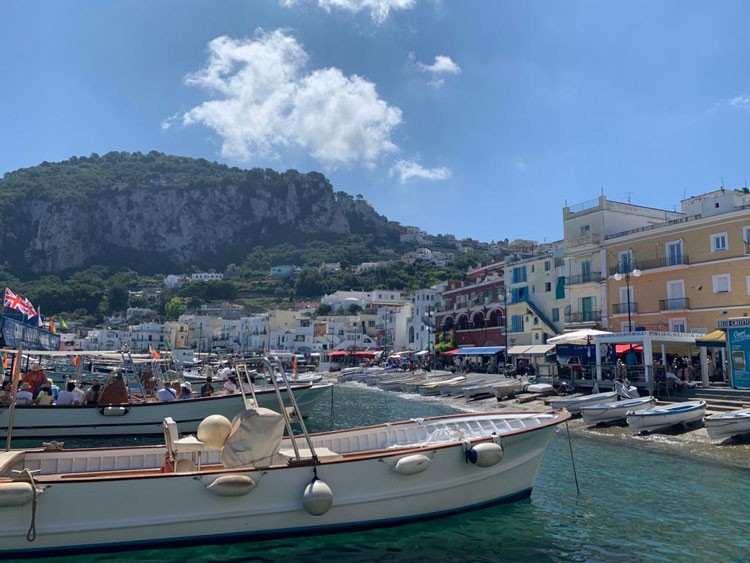 Capri
The ferry ride to Capri takes around 45 minutes. During the ferry ride I googled a bit just to get my bearings and identify a point to start my 'Capri walk'. My search results were Piazza Umberto and Eco Capri. 
So I headed straight to Piazza Umberto, a small square where one can just sit have a drink and watch the world go by. To get to there, I took the funiculare, a cable car ride up to the top of the rocky island of main Capri. Tiny streets, spreading out in all directions from the square, all lead to a sweet exploration of the island.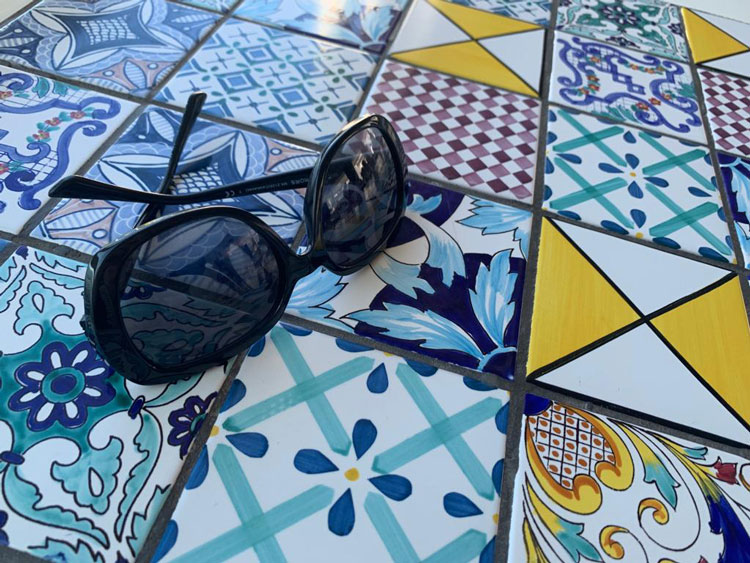 I decided to look for Eco Capri, an Italian and island brand shop selling clothes, jewellery, ceramics of high quality and design. Here I was introduced to the blue lizard of Capri and,  the book, Love Story of the Blue Lizard by Edwin Cerio written in 1944. 
I ended up buying a shawl for my mother and a big blue lizard key chain, a souvenir for myself, and, of course, the Edwin Cerios book. This was followed by lunch at the Villa Verde which served up a simple but delicious ravioli rounded off with Italian coffee.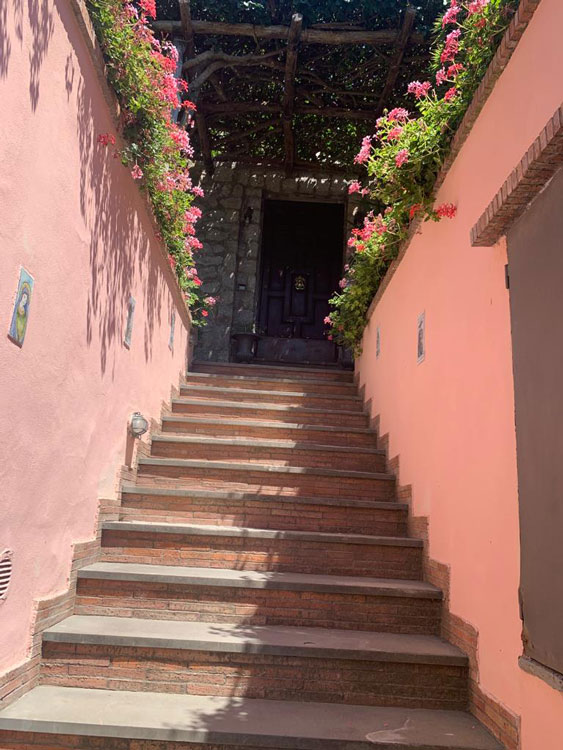 After lunch I set off again, this time escaping the tourists and high end stores, I followed the narrow residential streets up the hill and down several stairs and headed to the Punta Tragara viewpoint. The spot offers the most spectacular views of the Faraglioni rocks of Capri!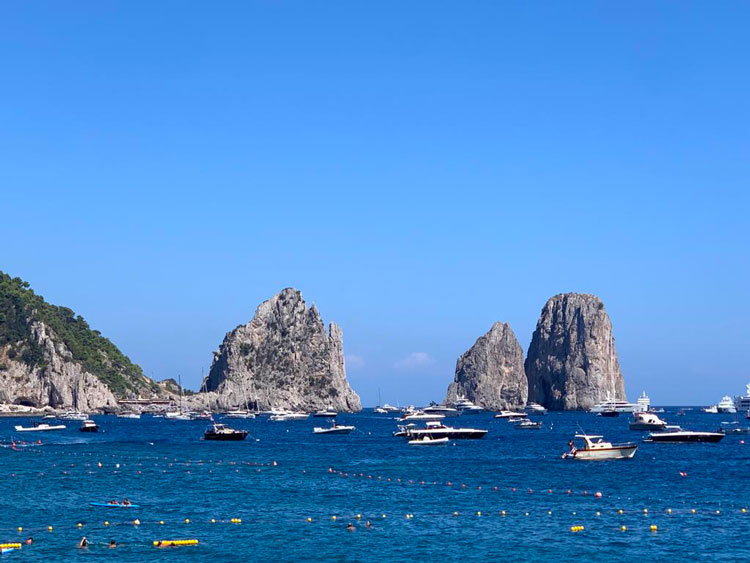 This stunning rock formation is one of its kind and the rocks are rightly known as the jewels of Capri. They are made up of three 80 to 150 meter high rocks jutting out of the ocean; the fourth rock formation, called Monacone, is at some distance from its family and used to be the sunbathing platforms for sea cows. These rocks are also the home of the famous blue lizard mentioned earlier. The blue lizard is specific to Capri and sports blue scales to mimic the  colour of the sea ; a natural camouflage maintained over the years.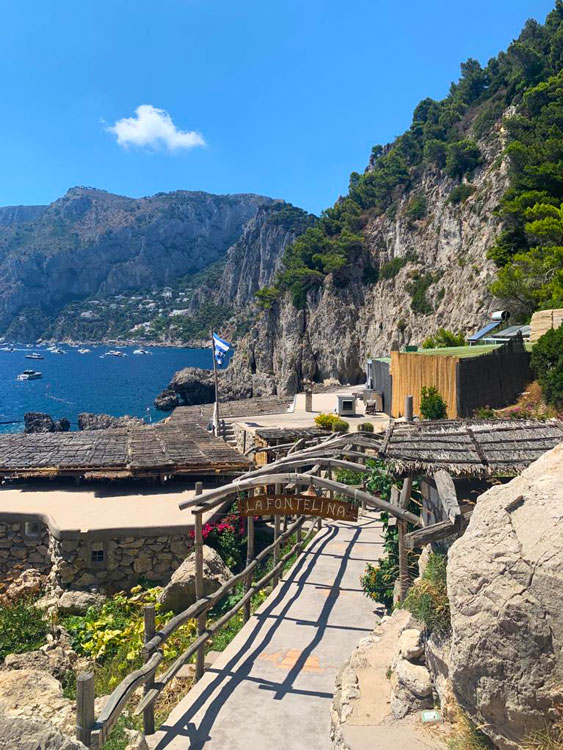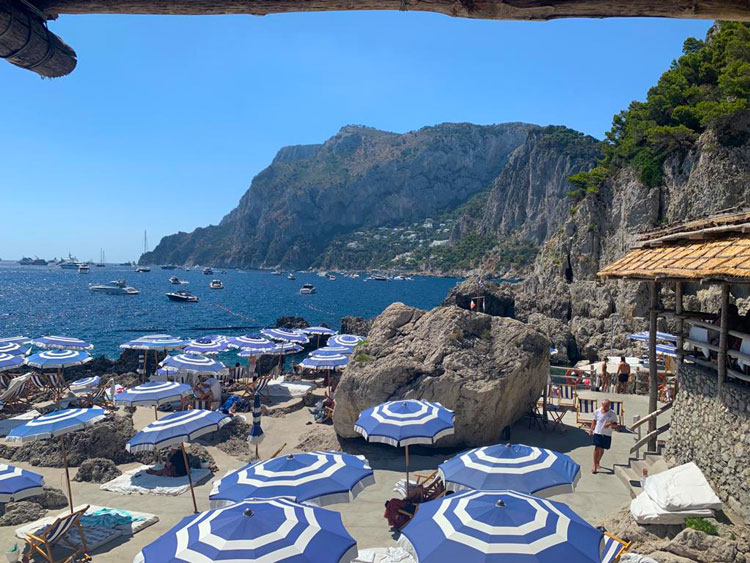 Now instead of heading back to the main square after feasting on this breathtaking view, I let my instincts take me down a stairway leading right up to the edge of the world… well the edge of the island and a rocky beach. There is an  exclusive beach club  here called the La Fontelina. I got lucky and was allowed to have drink there (not possible without a reservation months in advance) and then made my way back to the Marina Picolla on a water taxi. This was just fabulous! No advance planning and yet access to a private beach club and then a water taxi ride! The views of the Faraglioni rock formations were even more fabulous from the water.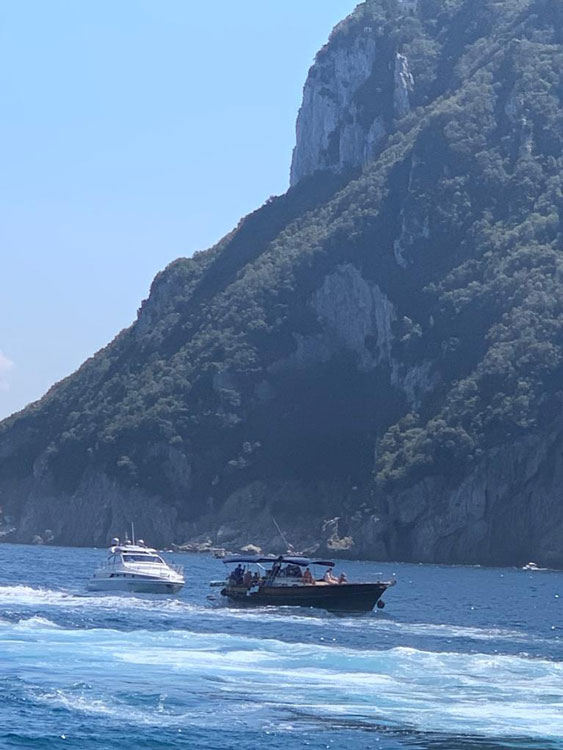 At the Marina I decided to take a taxi (land taxi) to get back to the main square. The taxi driver was on the phone and discussing a pick up time for, wait for this, J Lo? What? He then told me that she had been spending some time on the water off the coast on a private boat and was reaching Capri in the evening. That's the "Hollywood" side of Capri for you! But it's not as if I'll bump into her, I told myself.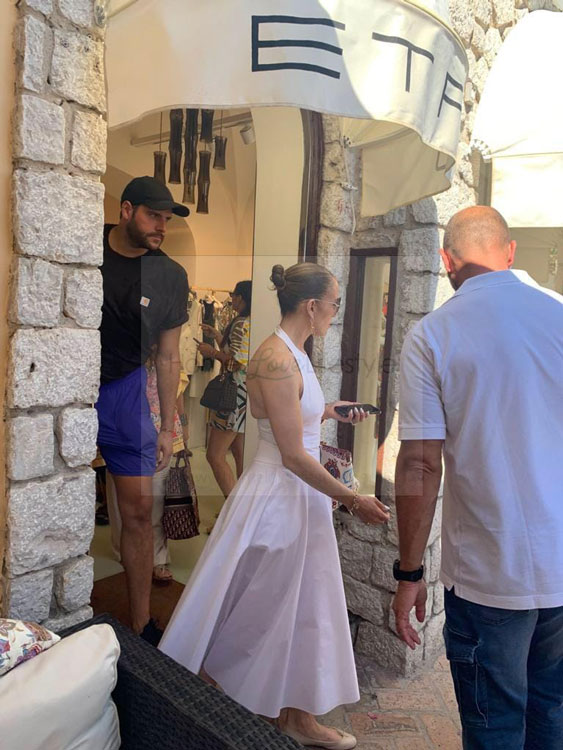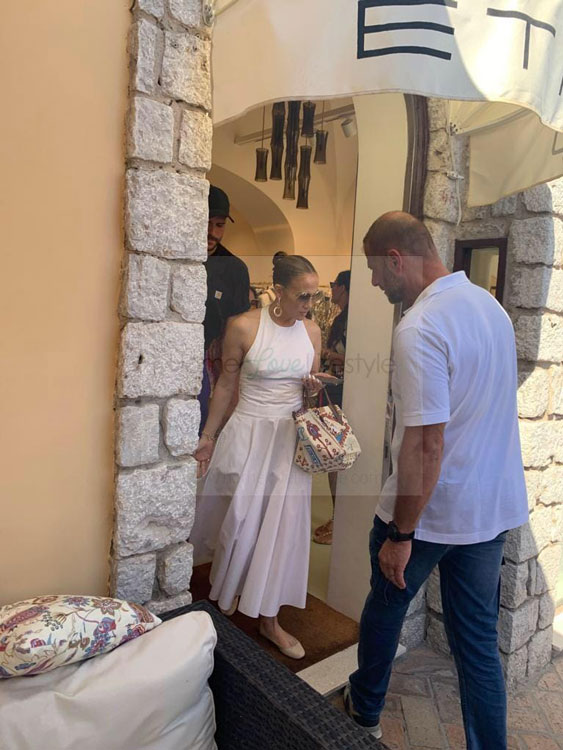 I reached the square and had only one thing on my mind, Gelato! I spotted a small café and sat down to savour my ice cream and recapitulate the events of the day. Suddenly I saw a group of young girls running to the store next door with their iphones all ready to take some shots of something extraordinary. Of course, I had to join them and voila… there was J Lo just a few steps away, right there leaving the store…. 
I was dizzy from excitement, I mean what were the chances of this encounter! I headed back to the main square for a beautiful end to this incredible day… 
Day 2:
Amalfi and Ravello
Well rested… I typed Amalfi into google maps and started driving with the radio playing local Italian hits, nervously wihzzing between different radio stations depending on the digital signal. It was a bit chaotic but strangely calming and of course "Italian". 
Amalfi
Now I had been told by a taxi driver the night before to take the exit "Angri Sud" when heading to Amalfi. Little did I know that I was to drive hairpin curves for over 30 minutes before reaching a town called Tramonti. The dizzying and at times exhausting mountain trail turns were worth it. It took me a while though to appreciate that the hillsides were  covered with lemon orchards. This was lemon country!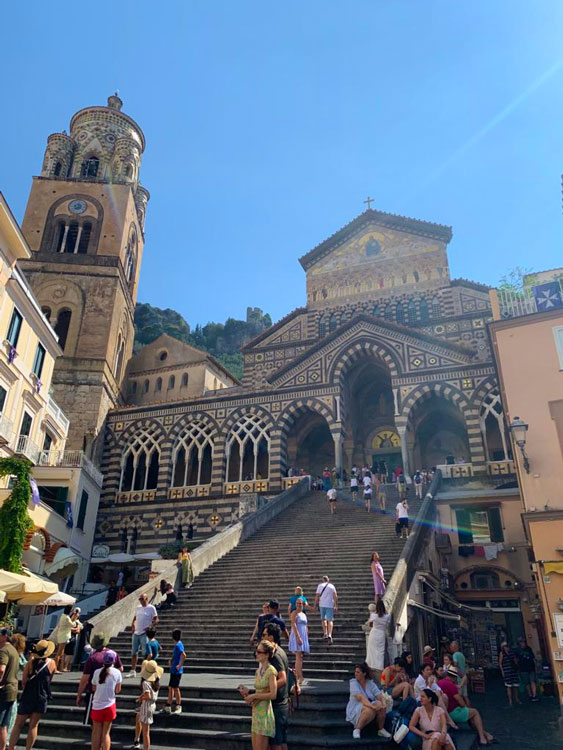 I parked in the village parking and went for an "Amalfi" village walk. Lemons and everything lemon related abounds here, from scents, soaps, sorbets to limoncello. Had an Italian breakfast in the small yet bustling Piazza, Piazza del Duomo or Cathedral square with its medieval 18th century Roman catholic cathedral in one corner and the marble fountain of St. Andrew in the middle of the square. The waters of this Baroque-style fountain are clean, drinkable and inviting to all travellers who rest at the feet of the apostle. Four cherubs and a nymph welcome the weary.
As the tourist traffic grew busier, I decided to move on and discovered a place called Villa Rufulo in Ravello. Walked back to the parking and drove straight to Ravello.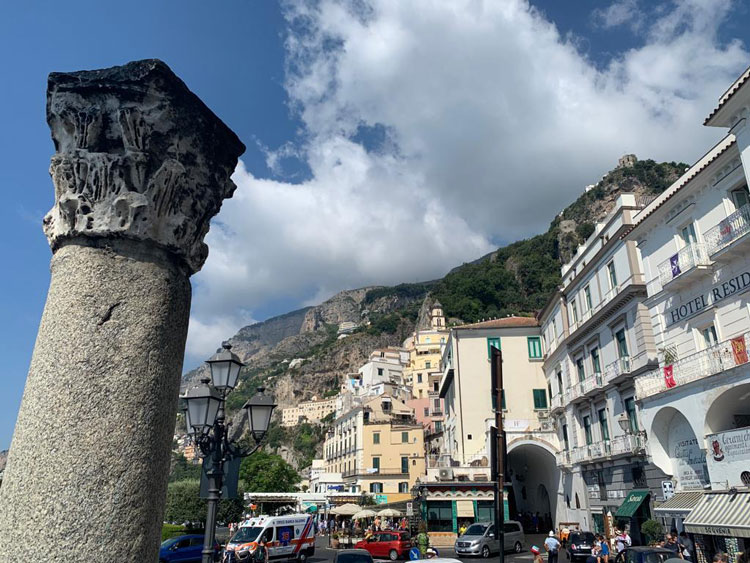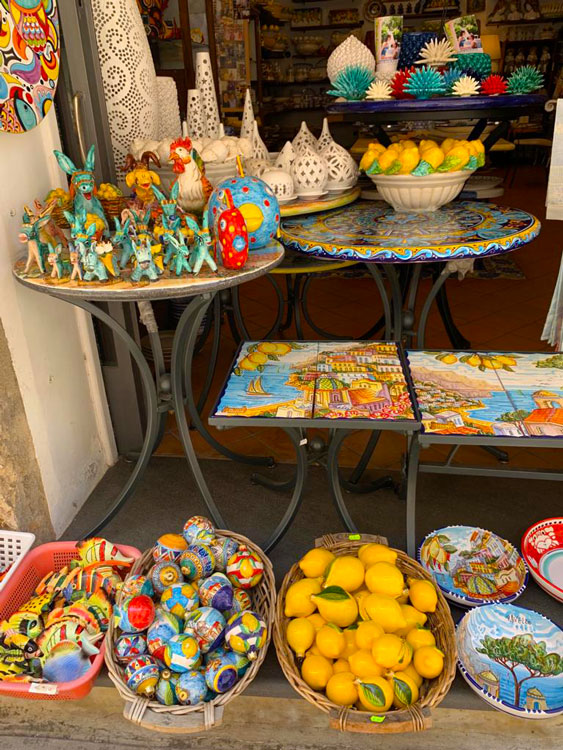 Ravello
Ravello is a gem hidden in the hills, a charming town with a lingering aura of peace and tranquility. The villa Rufulo is one of its main attractions. It is a magnificent villa built in the 13th century by the Rufulo family. A combination of Byzantine and Arab architecture, it  reflected the power of the merchant family in medieval times. It is now a venue for classical and jazz concerts that take place in the magnificent gardens which offer an even more majestic view of the ocean.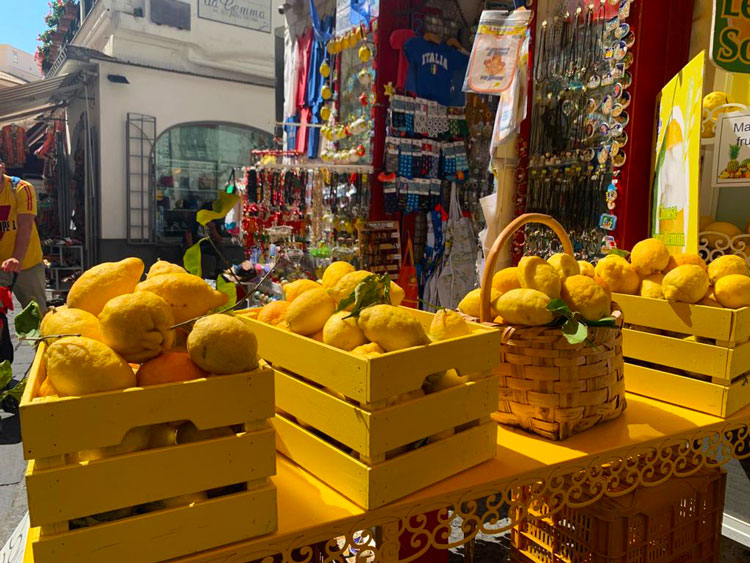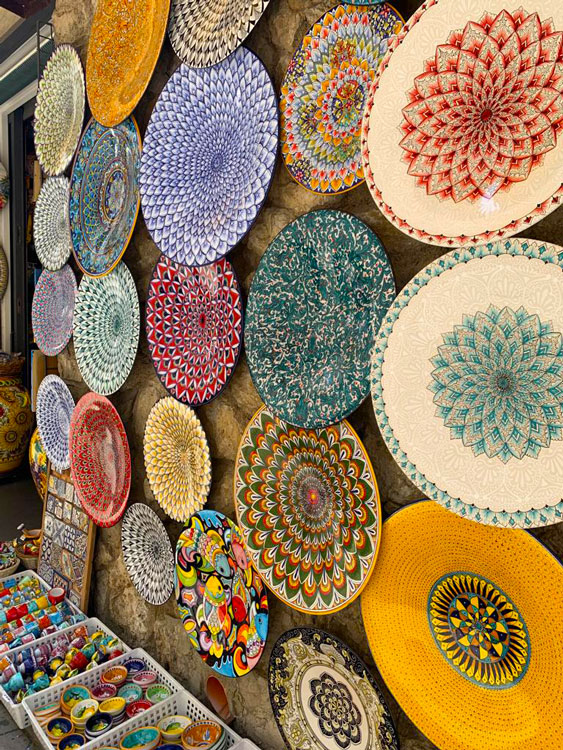 I had a drink in Ravello while just chilling, bought a locally produced citrus perfume (had to take a nostalgic piece of Ravello with me) and a hand-made ceramic plate with "Ravello lemons" painted on it. I couldn't resist the local ware which just oozes the artisan's pride and passion which acts like a warm hug for visitors.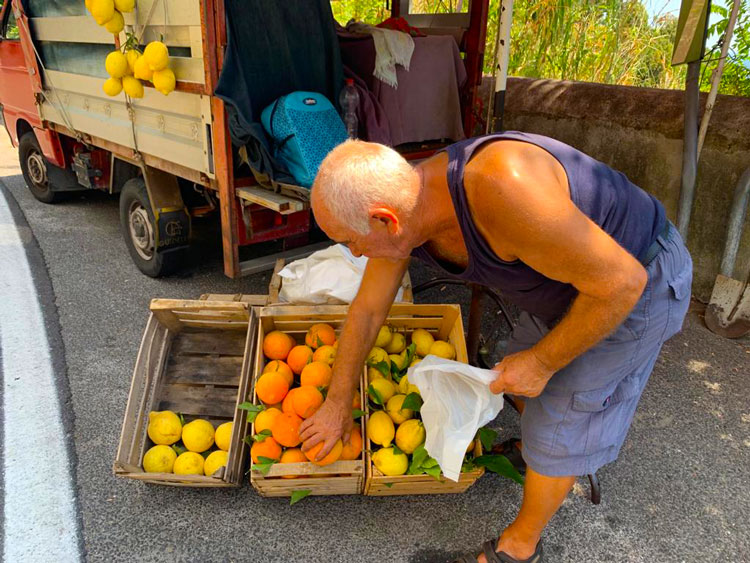 Next, it was on to Salerno. The coastal drive was wild and beautiful with no tourists in sight. I spotted a Baba jee (old man) vending the biggest lemons I had ever seen on the roadside. Bought 2 lemons and an orange and asked if I could take his picture. He was happy to oblige, his wrinkled face wreathed in smiles. I hurried to get back to the car before someone complained about me blocking the road but the old man waved at me to come come back for another picture? Not sure what he meant, I went to him and he pointed to a spot way below the cliff.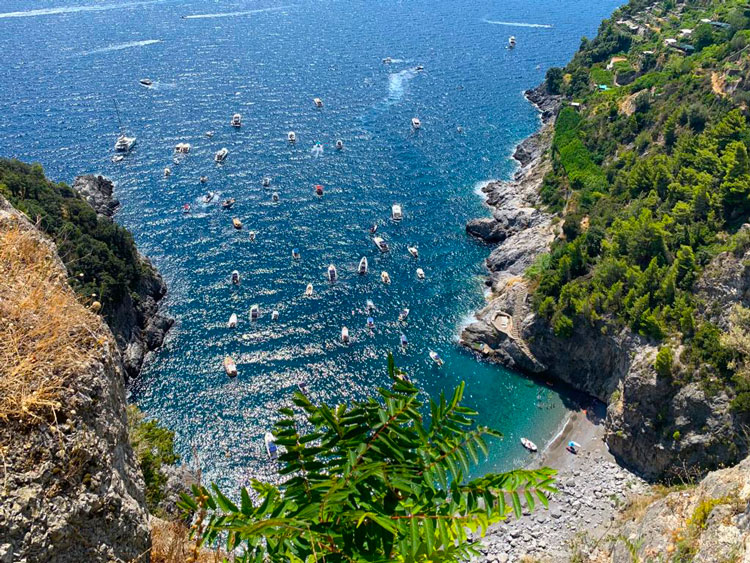 There lay a hidden beach with the blue sea kissing the rocks and just a few umbrellas and local boats. It was a picture that will be forever imprinted in my heart and mind. Thank you Baba jee!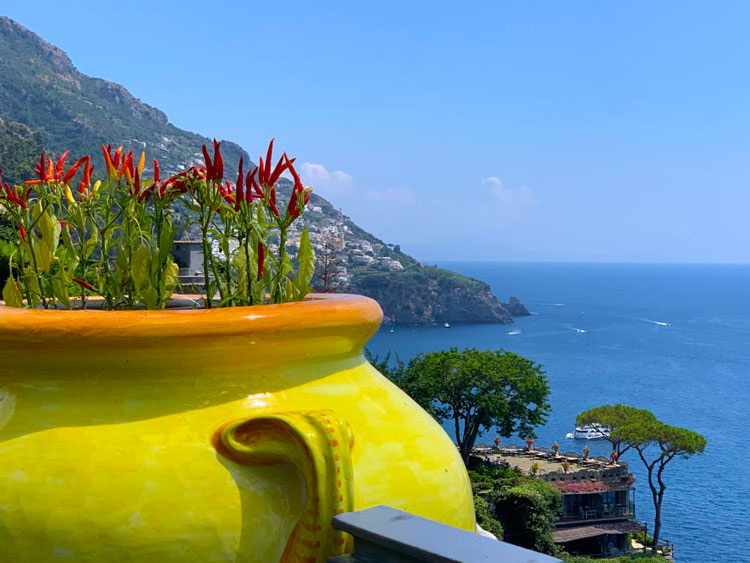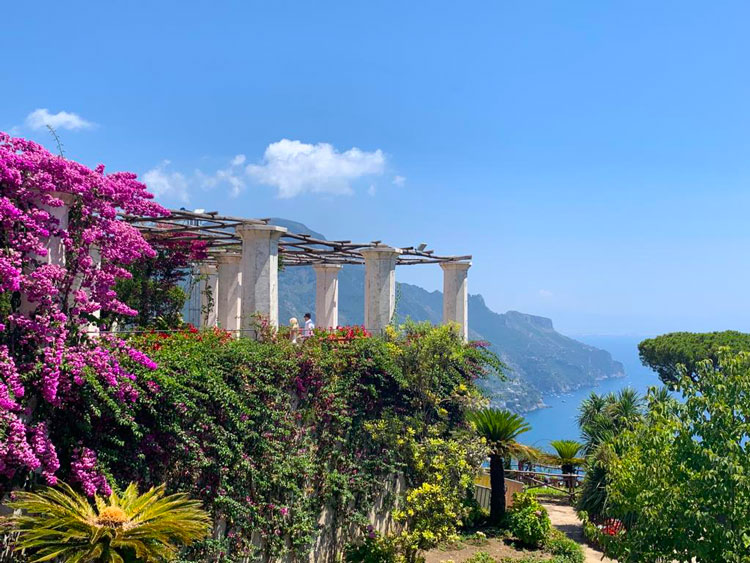 Driving on to Salerno, basically more or less the end point of the known Amalfi coastline, I saw an isolated ridge on top of one of the many cliff rocks with a structure on it. Couldn't quite make out if it was a private home, a restaurant, or a secret hotel hidden from the rest of world and only visible to the craving and curious eye devouring every facet of the coastal beauty.
I decided to check it out. It was a restaurant "The Ristorante Il Faro di Capo D'Orso", in a place called Maiori, resting undisturbed on a cliff top with the most breathtaking views. On a clear day, one can see  right up to Capri. I enjoyed the most memorable lunch there. After my pasta stop and with a huge smile of gratitude, I drove further south to Salerno, another big port city, to finish the Amalfi coast loop before heading back to Naples. 
Day 3:
Sorrento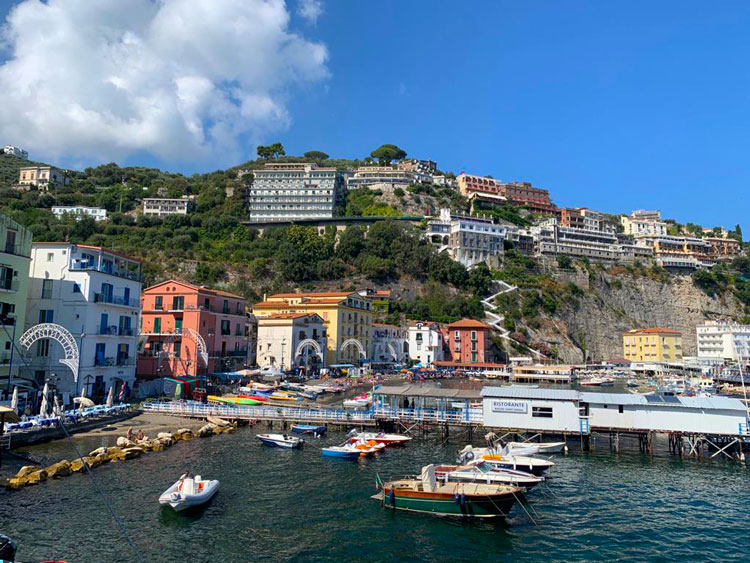 Sorrento is a charming town resting above the gulf of Naples and is known for its sea cliffs with painted houses overlooking the blue waters. It has beautiful views of Capri, the island of Ischia and even Mount Vesuvius. Villa Cumunale is a park and a good place to take in these views and perhaps even have a coffee break. 
The main town is perched up on the cliff where one can drive around in the car. The two small ports, the small i.e Marina Piccola and big port i.e Marina Grande offer unlimited place to sun bathe or just rest under the endless sea of colorful umbrellas.
I parked my car just at the waterfront in a garage, an important tip to remember when driving along the coast, and spent an hour walking around the Marinas. Next on my agenda was Positano where I wanted to spend more time.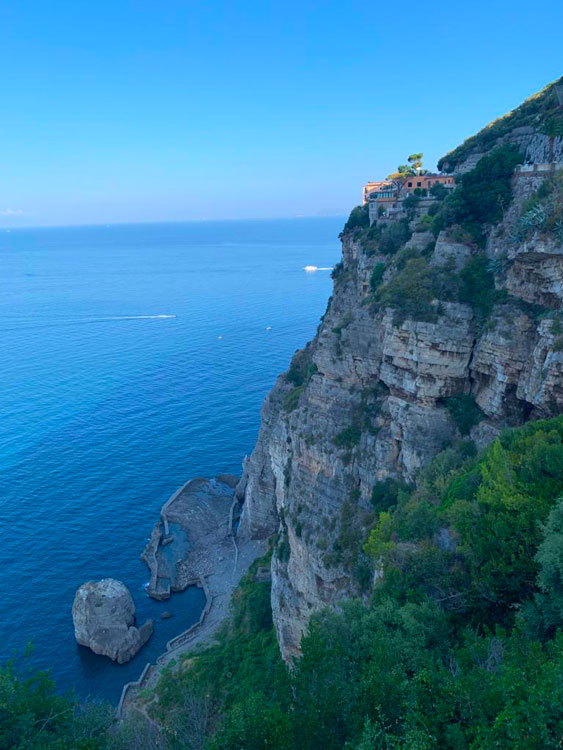 The drive from Sorrento to Positano was sublimely beautiful and took me back to my drive along the Cabrillo highway many moons ago! 
While driving along this breathtaking coastline I suddenly lost the audio signal again so changed to my own song collection. Suddenly, by some divine coincidence, an old favourite,  Billie Holidays "All of Me" came on and I started to smile with a tear in my eye. The universe had been so very kind to me. I was blessed and supremely grateful!  
Positano
My second favorite place after Capri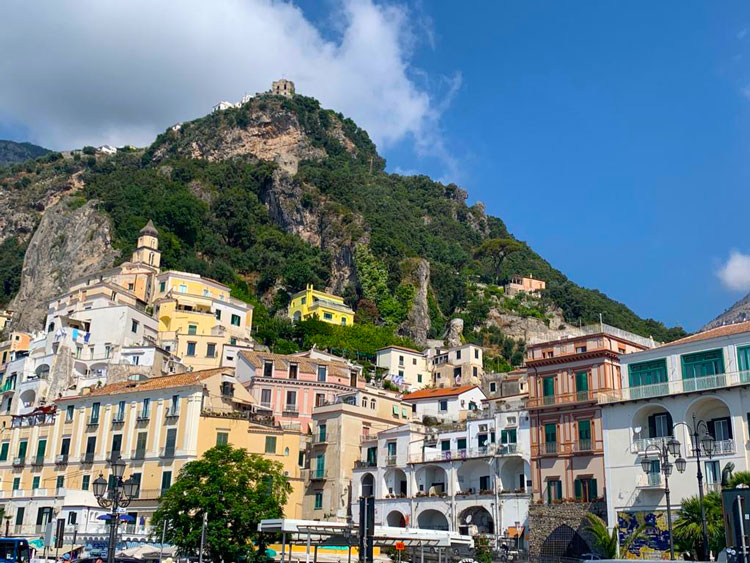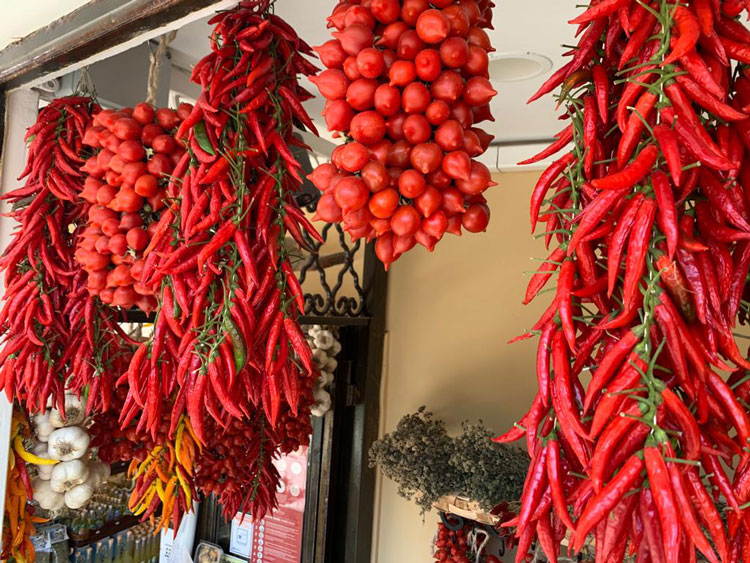 Following the road signs to Positano lead me to a town with one winding street going nearly all the way to the beach. The charm was overwhelming. I finally parked at the last parking garage and started exploring. It was a long walk to the beach but so worth it. I stopped at a courtyard hotel to refresh and rejuvenate; its undisturbed view of the colourful hillside houses, spilling over with luscious bougainvillea transported me to a dreamscape… this is why I came to the Amalfi coast!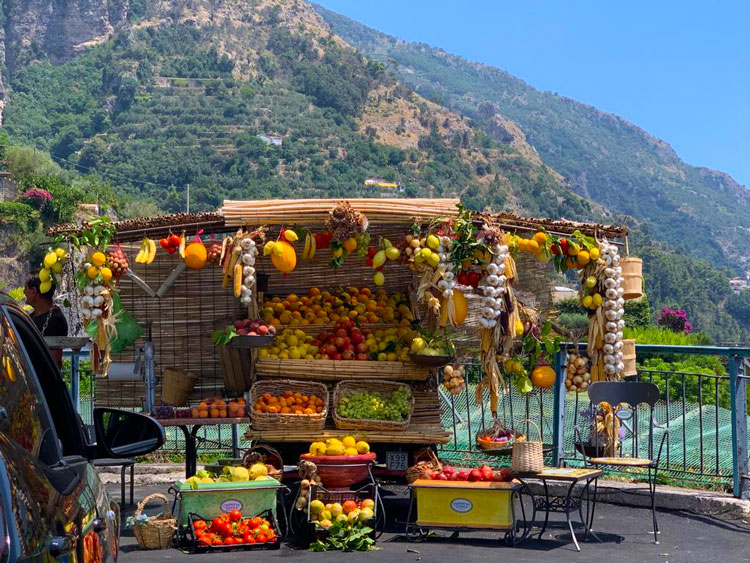 Headed back to Naples, with a quick lunch stop in Nerano. 
Nerano
This is a very small coastal town where everyone is out at the beach. Not a spot was left as it was Sunday, the family outing day. 
Had 'spaghetti alla Nerano', pasta with fried zuchinni and provolone cheese, a staple of the cuisine of the Campania region. 
I had not prepared myself at all for this trip, very unlike me. I usually devour the Lonely Planet sites and the local german travel pocket guide books. But this time, I thought I would just go with the flow. Googling my way to different places, known or unknown, and surrendering to the moment, without any control or expectation, made this an exhilirating and adventurous experience.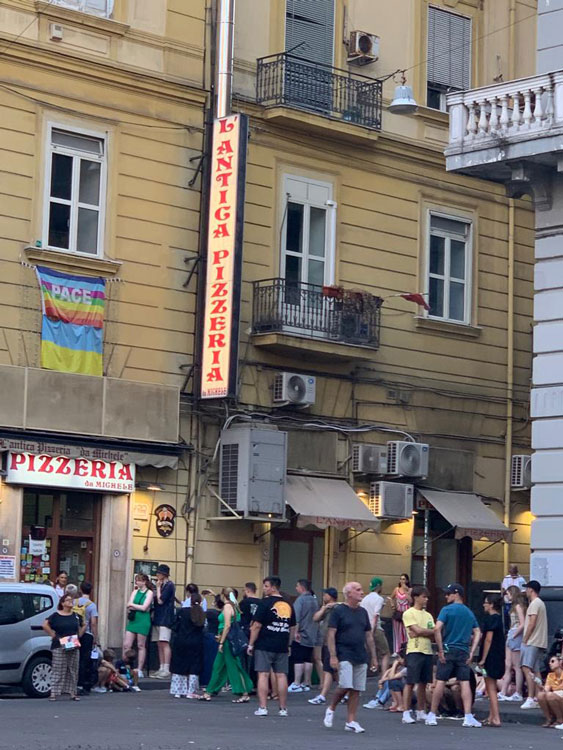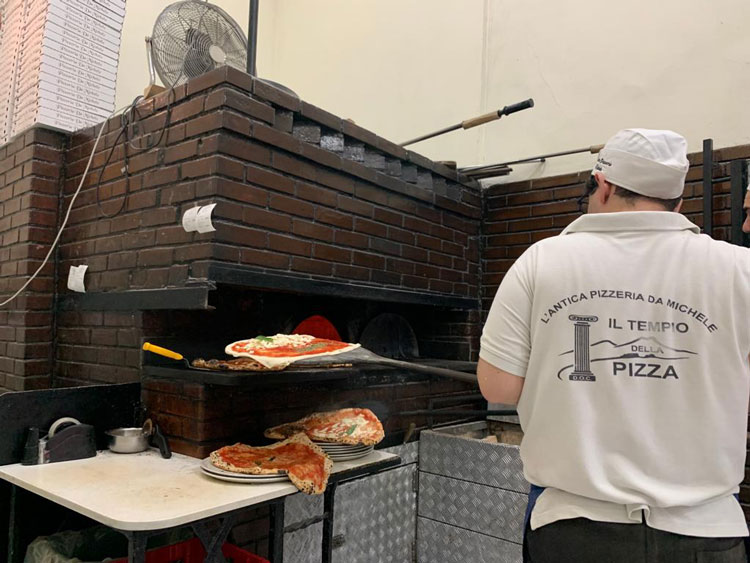 .. And as I look back and write the small details of my Amalfi experience, I realize that never ever will I be able to forget the places and the experiences associated with each stop I made, whether for a few hours or an entire day. 
The jewel waters, the sun, the lemons, the bougainvillea and and so much more will  remain oh so romantically imprinted on my mind. 
I shall return… 
Photos by the author