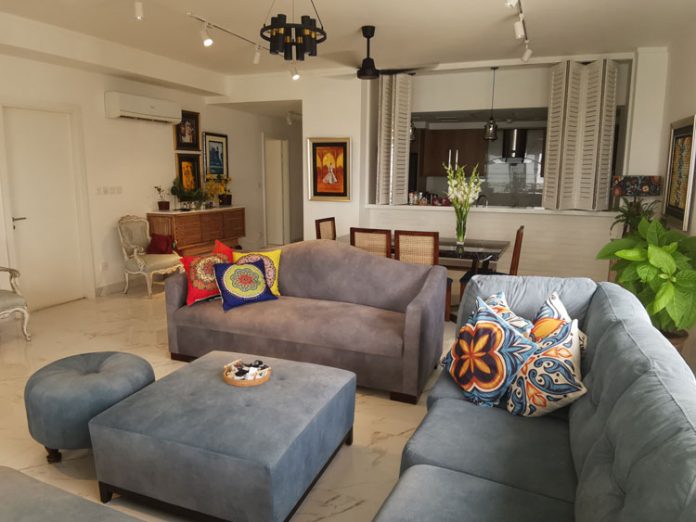 This apartment renovation by Naeema Kapadia and team has transformed this living space, lending it a bright airy feel while increasing functionality as well. The apartment is home to a small family of two, a mother and daughter, who wanted a more open feel for their home and more usable spaces in keeping with their lifestyle and needs.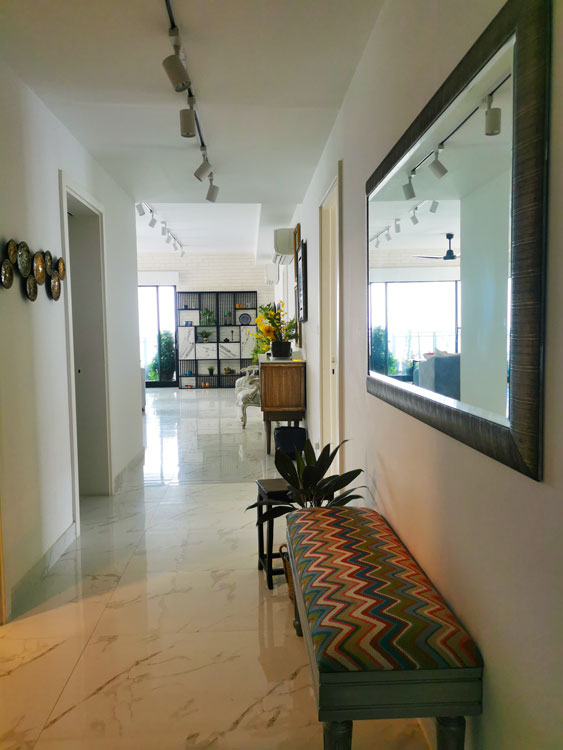 Time for a Change
After living here for almost three years, the family decided to renovate the lounge, kitchen and master bathroom. The family wanted a clutter-free vibe and the team was asked to re-model the space by way of civil works.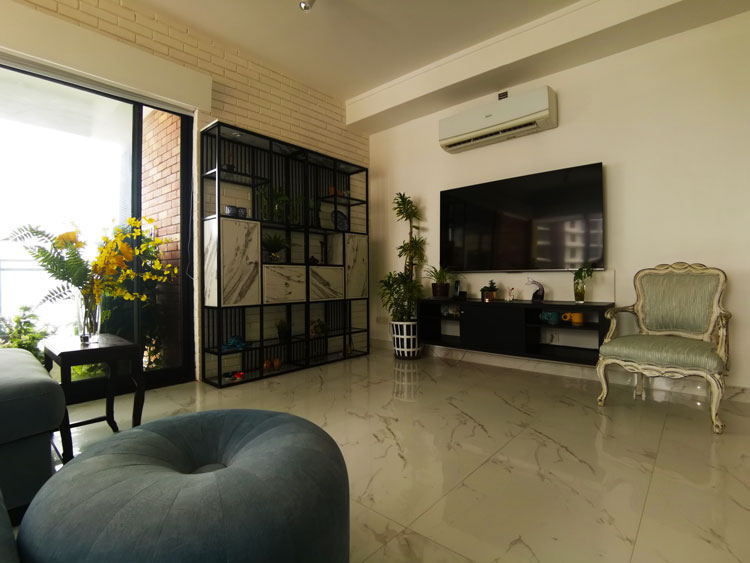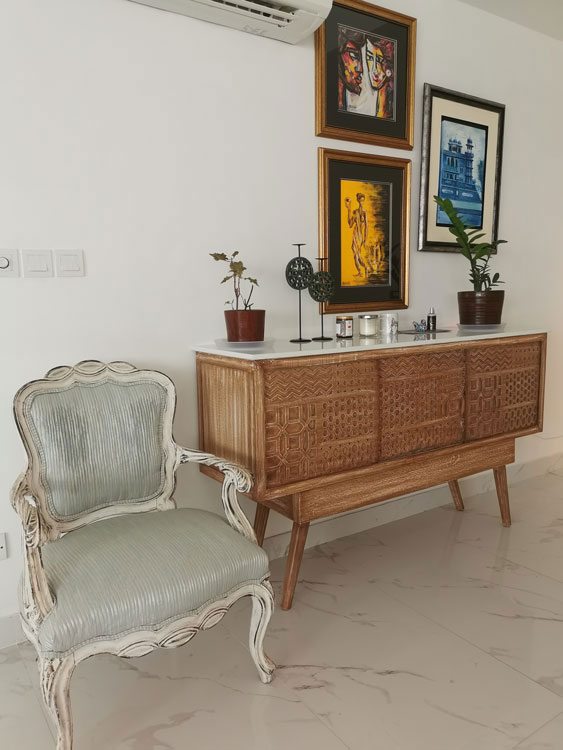 New floor tiles were added throughout the apartment to give it an open and clean look. The walls were painted in a soft white tone. Electrical fixtures were kept simple, mostly spots and track lighting.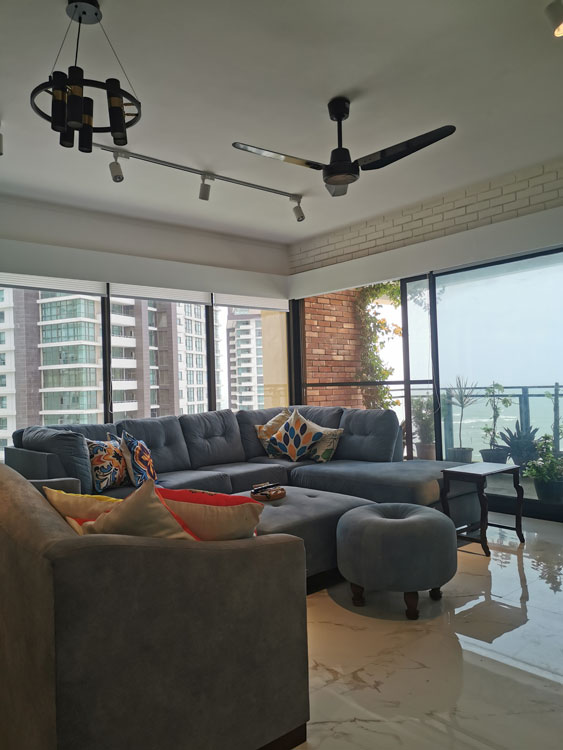 The team also discarded false ceilings from whereever  they could to add height and open up the space.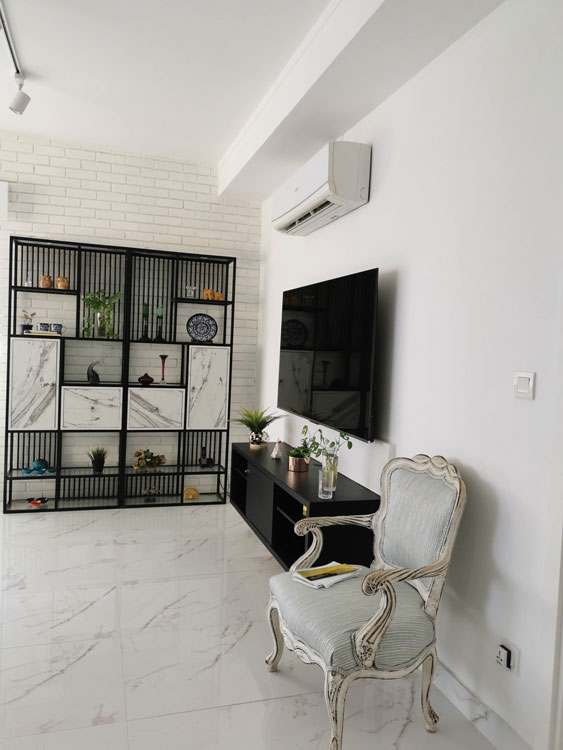 Our favourite signature local bricks were added on one or two walls to give some texture and were also painted white.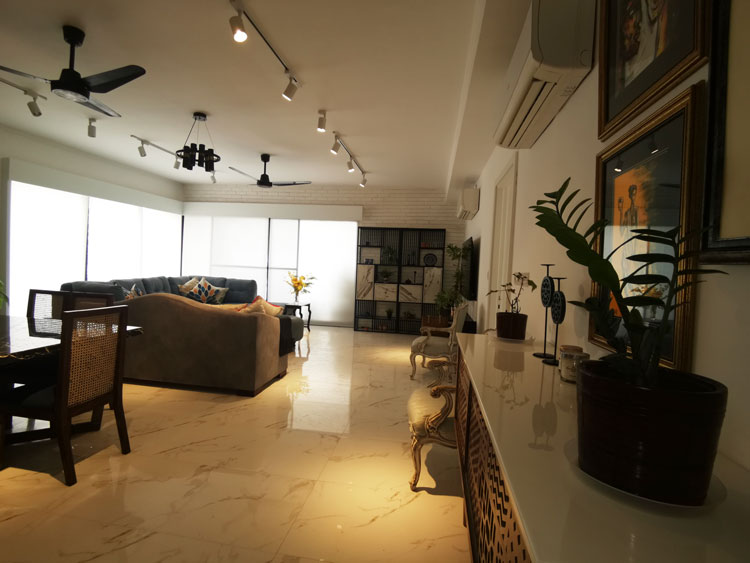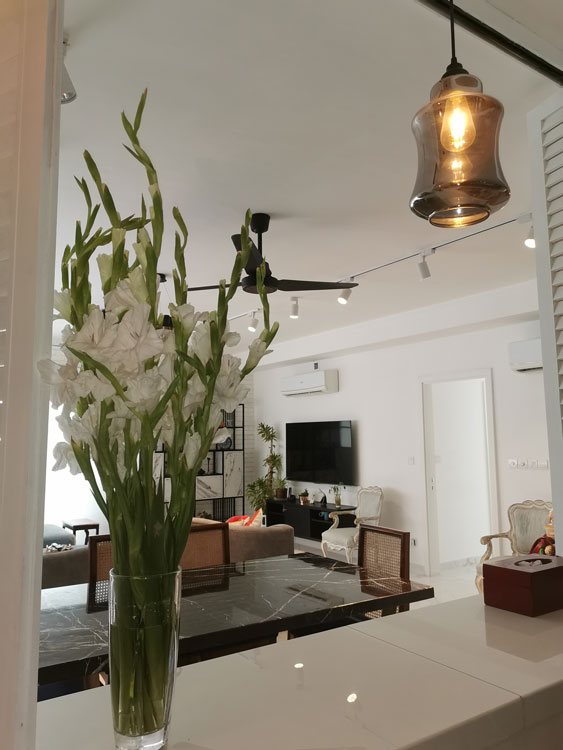 Although this was not really an interior design project, as the new finishes came together, the home furnishings also required attention. All the windows were treated to roller blinds  and one or two were fitted with new curtains.
The home owners believe in up cycling and re-purposing (as does team HomeloveLifestyle) and from the very start they had requested that their existing furniture be re-used wherever possible. So the existing sofas were re-upholstered while an old console, chairs and some other pieces were  re-polished and re-painted to give an instant upgrade.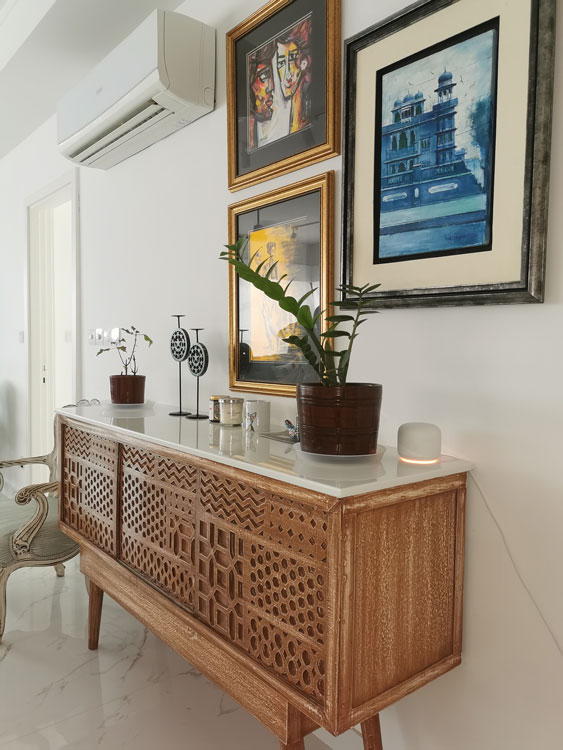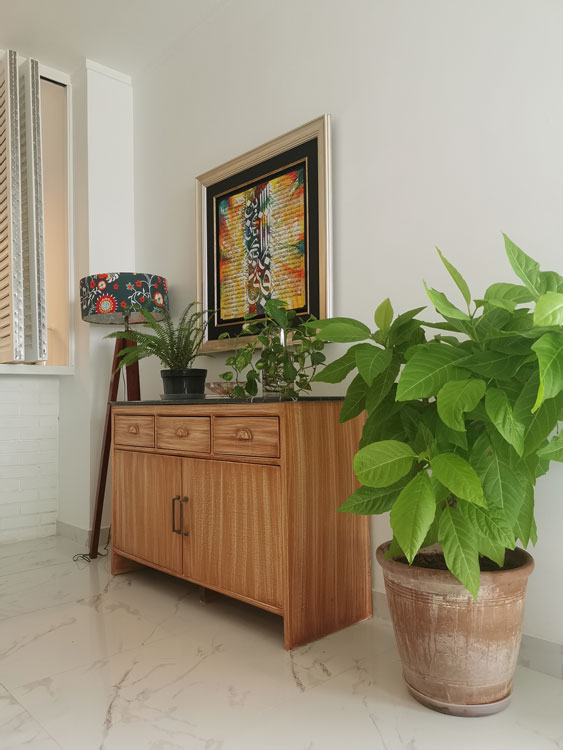 Some new pieces of furniture were also added, A sleek marble-topped dining table was paired with wicker-backed chairs and a dining bench. A smart shelving unit was added to the lounge lending style as well as more storage to the room.
Accessories such as cushions and paintings and, of course, plants add warmth and character. In fact, the interior design is still a work in progress. The home owners intend  to add more paintings and carpets throughout the space but are mindful of the fact that they share the home with two cats.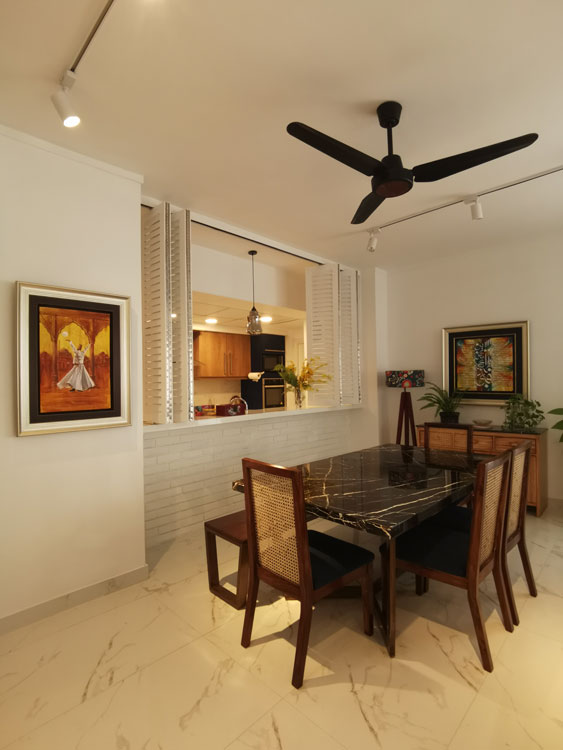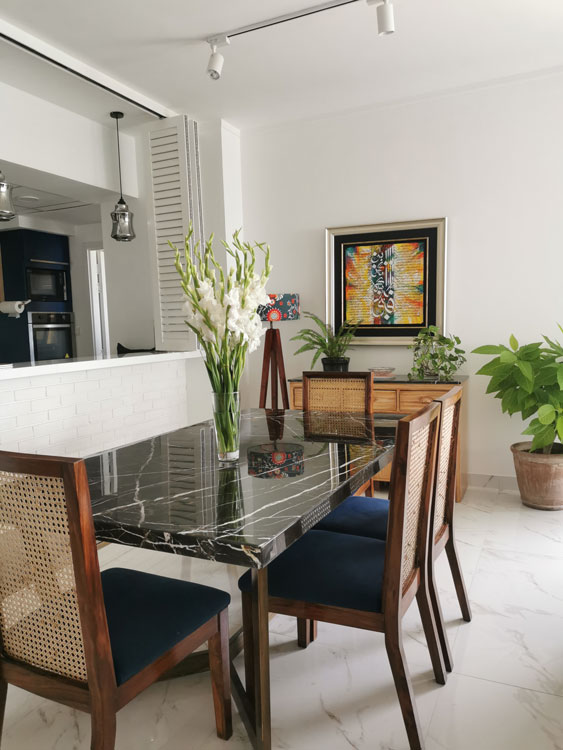 Balcony Upgrade
The balcony overlooking the ocean was also given a terrazzo floor while red bricks were added for more impact. The home owners subsequently filled the balcony with foliage with a beautiful bougainvillea lending a splash of colour.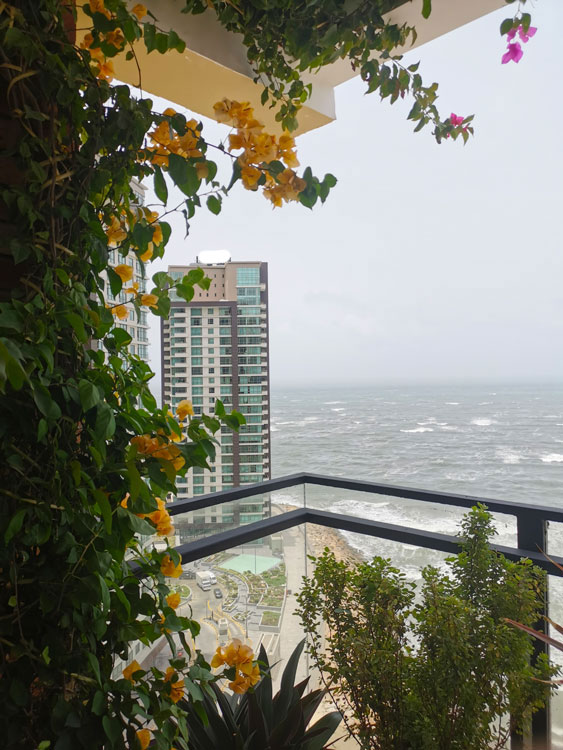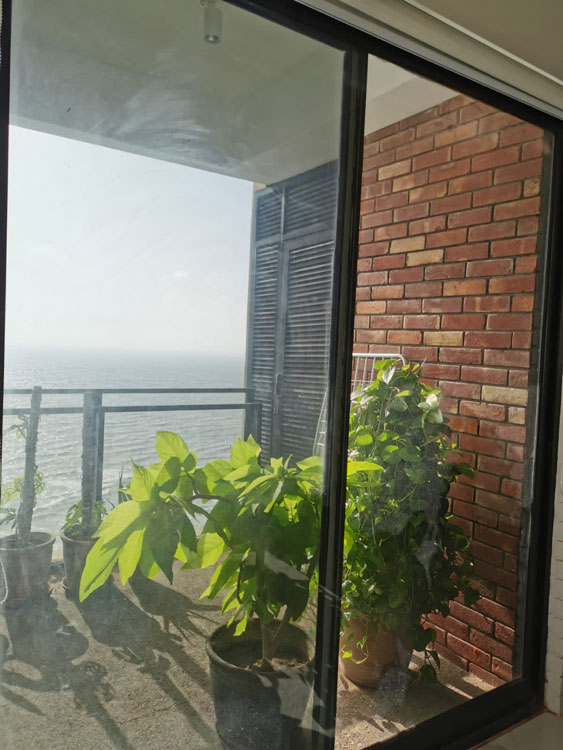 Bathroom Renovation
The master bathroom was also renovated to add storage and make it more comfortable and safe for an older person.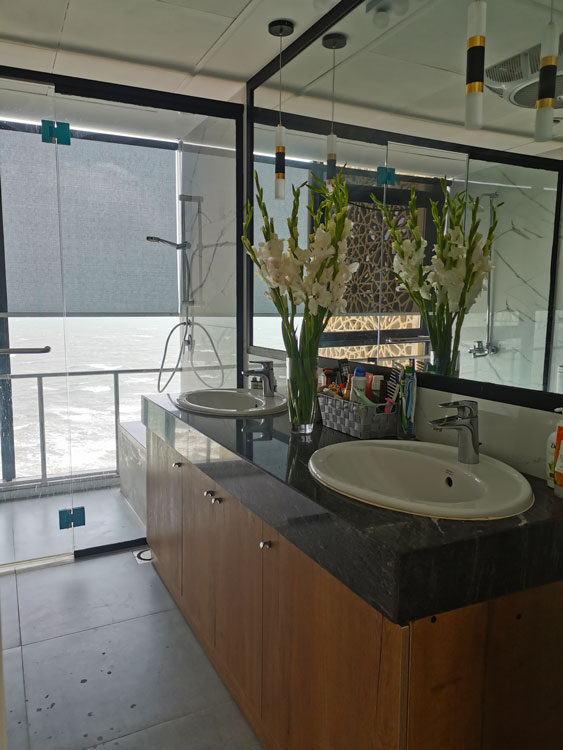 New  tiles were added and the old bath tub was removed to create a comfortable and practical shower stall with a bench and hand rails. A new vanity was added as well as a beautiful wall storage cabinet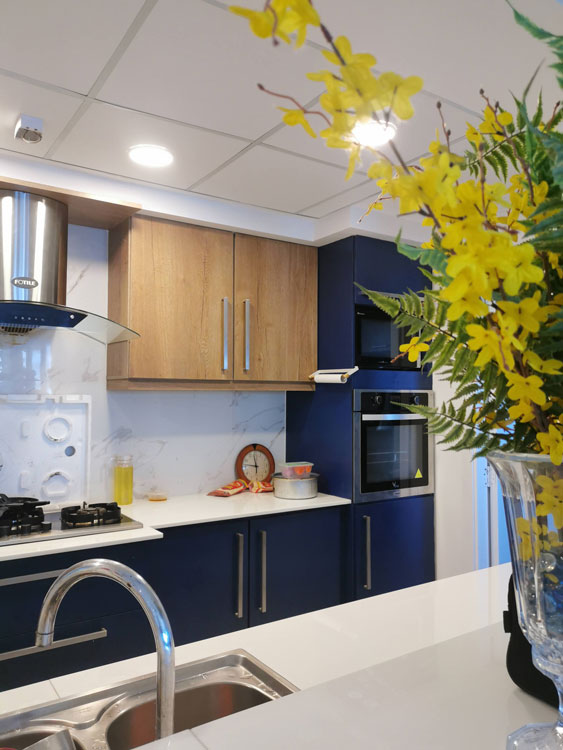 Kitchen Transformation
Since the apartment has an open kitchen, it was necessary to give this area attention.
The existing kitchen was aesthetically uninspiring and not very practical either so
the family wanted an upgrade.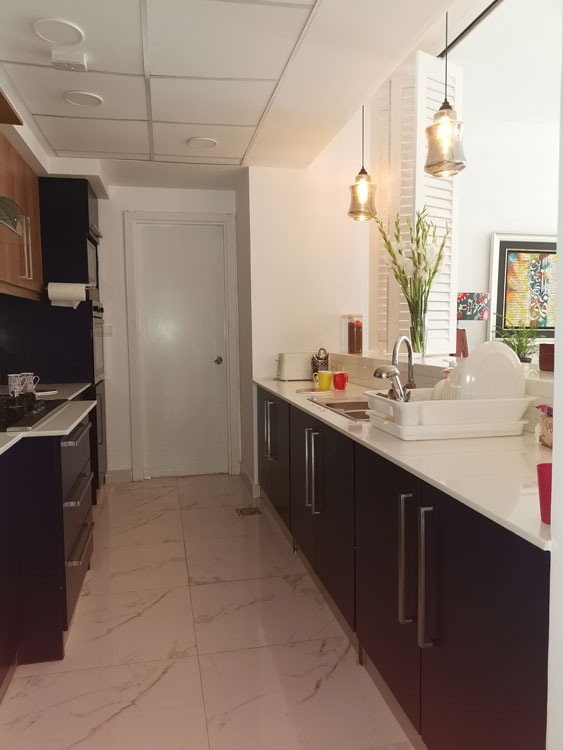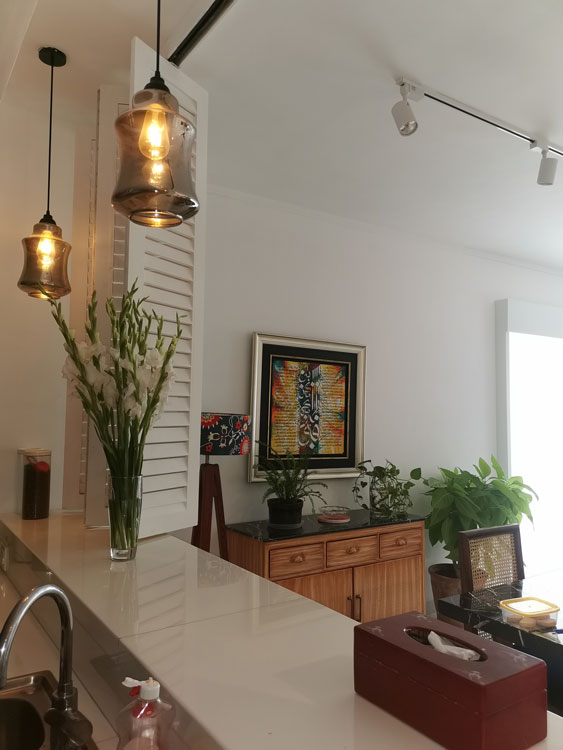 We removed the fixed false ceiling and added pendant lights. The new kitchen is a navy and white contrast with textured wooden veneer panels. It is now a bright, spacious and functional space with smart finishes.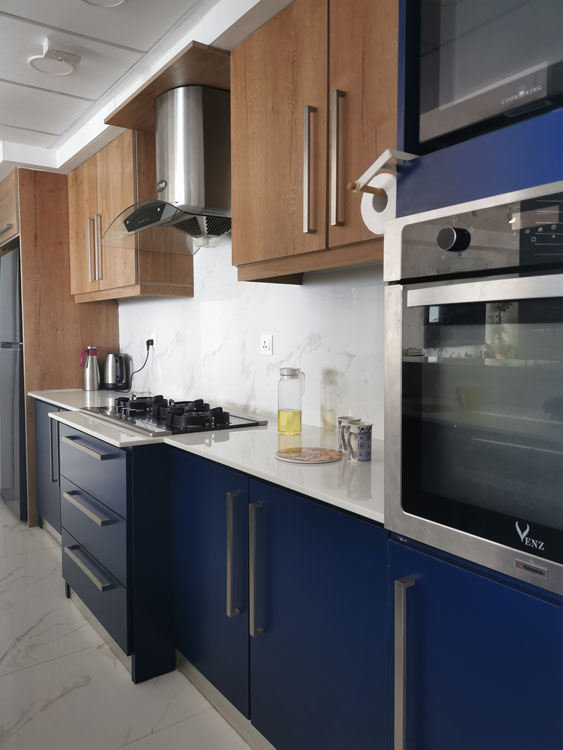 The colour scheme was a special request by the family after toying with many other colour options.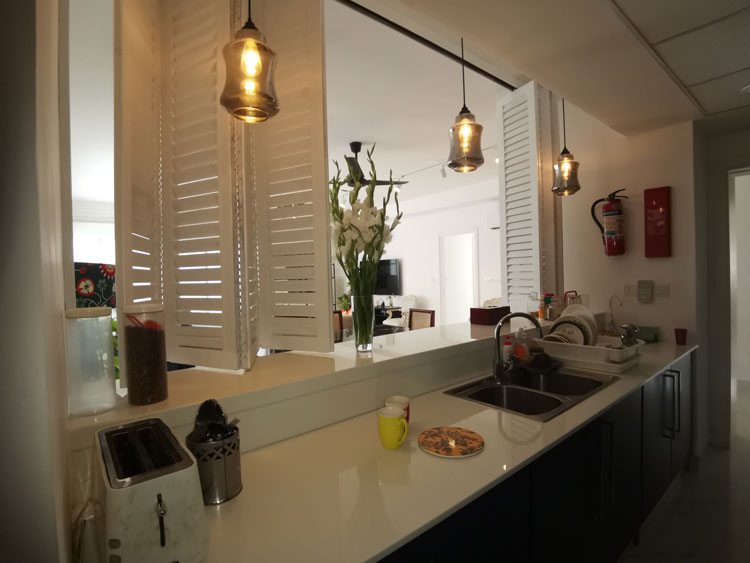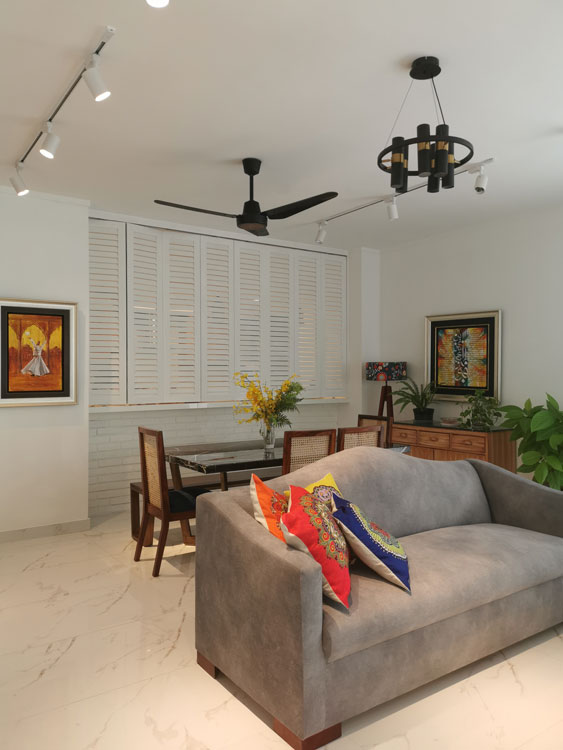 The family also had another request. Since the kitchen looks into the lounge, the privacy of the family was somewhat compromised. We solved this problem by introducing California shutters along the open counter. These are actually piano doors which completely seal off the kitchen when opened but which can be neatly folded away at other times.
In fact, team HomeLoveLifestyle prides itself on creating homes perfectly tailored to the needs of their clients.
Photography by Naeema Kapadia