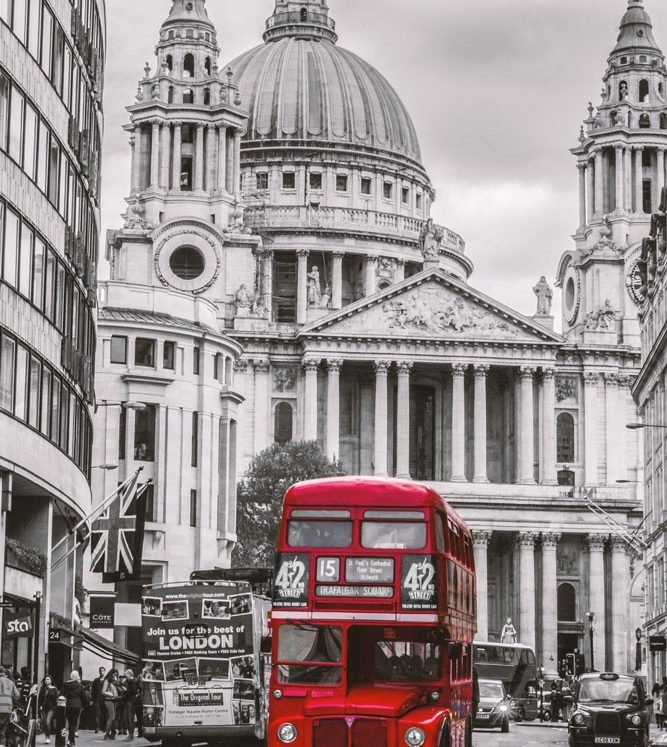 One of the most visited cities in the world, here is an authentic London travel guide. 
Learn where to eat, stay, play and shop from a Brit!
Growing up in England, I fondly remember family and school trips to London. True appreciation of the city only dawned on me as an adult and more so, after moving across the pond, to the US. London is a city brimming with rich history, magnificent architecture, extensive selection of cuisines, cultural diversity and character-filled streets! Over the years, I have enjoyed trips home with my own family and have had the opportunity to relive my childhood trips.  Essentially, it means every time I visit London, I get to discover it, like a tourist.
There is so much more to London, than just the main touristy sites.  Don't get me wrong, Big Ben (currently silenced due to restoration until 2021), the Tower of London, The London Eye, Buckingham Palace, Leicester Square, The National Gallery, Tower Bridge, the British Museum as well as many other landmarks (including Harrods, of course) are all well worth seeing; but for me personally, the true essence of London lies in the back streets.
If you are a first-time visitor, then your best friend, besides me, should be www.visitlondon.com. It covers it all; arming you with a wealth of information to ensure a memorable trip. For those visiting London repeatedly, the website serves as good reference but in addition, do follow 'Secret London' on Instagram. This page is my go-to resource, which gives fabulous insight on the secret spots not-to-miss, across the sprawling city. Below are tips and highlights of my on-going discovery of London:
Getting around

Couldn't be simpler! Travelling by paying cash is expensive, so plan on getting an Oyster Card (children under 11, travel free).  Think of it as a pay-as-you-go travel card which can be used on buses, trams and the underground ("Tube").
Where to stay
I'm lucky enough to stay with my parents on my visits. But the one time my husband and I decided to experience London as tourists do, we stayed at the Hyatt Regency London -The Churchill, at the Marble Arch. Location was perfect and our stay was memorable. The key when deciding where to stay, whether at a hotel, AirBnB or Bed & Breakfast is to choose one that is centrally located. Mayfair, Notting Hill, Marble Arch, Piccadilly or Chelsea to name a few, are all ideal locations.
Places to visit
Once you have seen the main touristy sites or in-between visiting those sites, here are some other spots that are well worth a visit:
Neal's Yard, Covent Garden: An easy to miss colourful courtyard tucked away at the end of an alley.  You will find restaurants and various unique retailers. The place is swarming with people trying to get their perfect instragrammable snap. And I have to admit, I was one of them!
Victoria & Albert Museum, Knightsbridge: Although London is swarming with museums, this has to be one of my favourites. It's not overwhelmingly big (perfect with kids) and has varying exhibitions from textiles to architectural artifacts.  Like all the national museums in London, entrance is free.
Carnaby Street, Soho: I can only describe it as a pedestrian's shopping haven. Located in the heart of London's West End, the 14 streets of Carnaby are flanked by unique boutiques cafes and restaurants.
Sloane Square, Chelsea: an exclusive area with luxurious apartments, upscale restaurants and shopping. I absolutely love the area for it's classical and Edwardian architecture. Hours can pass walking the iconic streets.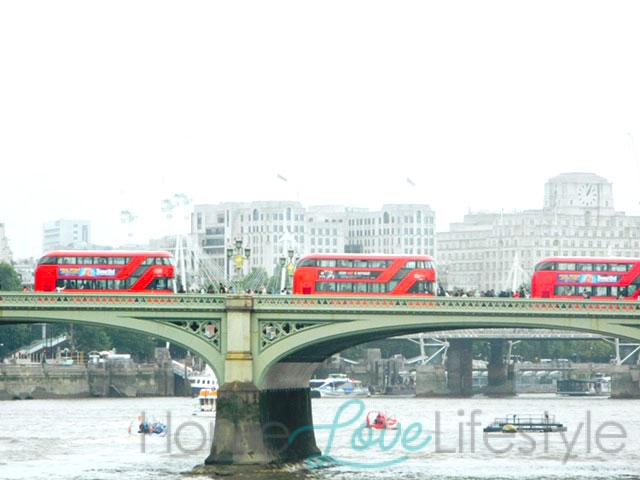 Not forgetting the kids! The London Dungeon, Shrek's Adventure, The London Eye, Sea Life London Aquarium and a boat ride on the Thames are some of the many activities I have enjoyed over the years, with my kids. Even simply riding and navigating the double-decker buses and the Tube is a source of fun!
Places to indulge
Peggy Porchen's (Tea Parlour): This is by far my favourite cafe, not only for the creative pretty treats but also for the beautiful pastel décor inside and outside.  The tea parlour is adorned with gorgeous flowers and hues of pink, pink, pink!  Bakery fans include Madonna, Elton John and my daughter! It's not at all surprising, that this adorably pink café is one of the most photographed venues in London.
Kati-Roll: tucked away behind Oxford Street (perfect place to get a break from shopping and grab lunch), is a small Indian street-style restaurant, serving flat paratha bread stuffed with vegetarian, non-vegetarian and vegan options. I love the ambience; walls plastered with movie posters from Bollywood and a tin roof lend the feel of sitting at a street café in India.
SushiSamba, City: if you love Japanese fusion and rooftop dining (38th floor, Heron Tower), then this is the place to reserve. A memorable dining experience for the eyes and the palate.  You can thoroughly savoured the Japanese-Brazilian-Fusion cusine, while absorbing breathtaking views of the city. Check out their gluten free and vegan options here.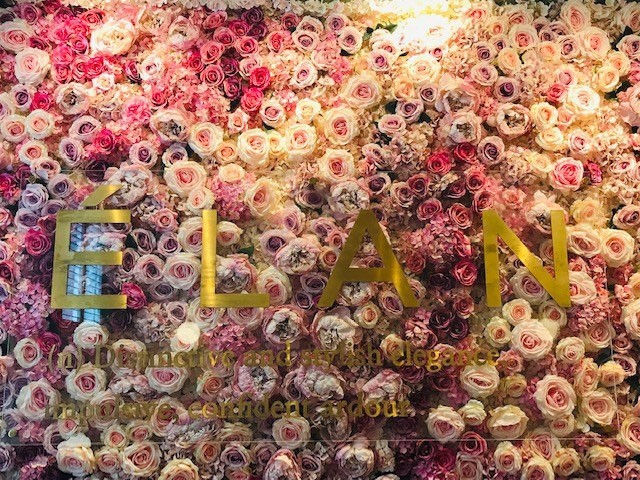 Elan Café: For breakfast, brunch or a coffee break, this place is the perfect stop.  The café is also a foodie photographer's paradise.  Check out  their ruby latte, decorative cakes and my fave, their pistachio croissant, to name a few.
The Berkeley, Prêt-à-Portea Afternoon Tea: you can't leave London without indulging in the quintessential High-Tea. There are so many venues to choose from in London. One of my favourite's is the couture high-tea, served with savoury tea sandwiches and the pièces de résistance, fashion inspired biscuits and cakes. For all you fashionistas out there, this is where catwalk meets edible delicacies. If you feel like eating a Chanel handbag sponge cake or a Manolo Blahnik heel biscuit, this is the place for you. Pinky's up!
Oxford Street: A shopper's paradise! With 300 plus shops spanning varying price ranges, this is the place where you can literally 'shop til' you drop'.  Iconic British department stores such as Marks and Spencers, John Lewis, Selfridges are all located within walking distance.  World-renowned stores, such as Zara, H&M, Niketown, Uniqlo, as well as The Disney Store, are all located in this shopping haven.  The surrounding area is also home to various boutiques, restaurants. The oldest (since 1760) and largest (7 floors) toy store, Hamley's is also situated here. I always set aside at least a day for Oxford Street, which never seems to be enough. The  stores are always crowded and if there's a sale, then hours can be spent just queuing.
Bond Street and Mayfair: haven for shoppers of designer fashion and window shoppers alike. Home to luxury brands such as Jimmy Choo, Louis Vuitton, Chanel, Mulberry, to name a few. I love the art and antique stores dotted around the area.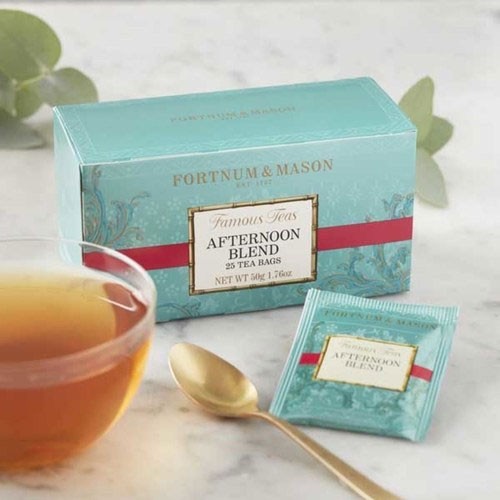 Fortnum & Mason:  if you love tea and fine china, like I do, then this is the place to make your purchases. An iconic luxury store spanning six floors (afternoon tea served on the 4th floor), serving Londoners and visitors since 1707.
In addition, to the extraordinary choice of worldwide teas, they have an amazing selection of jams, marmalades and other delectable groceries. My fave teas are the Afternoon Blend and Earl Grey and their Rose Jam is heavenly! The store has also been given the royal seal of approval as it has the warrant to supply groceries to the Queen herself!  Even Charles Dickens was a fan, "Look where I will….I see Fortnum & Mason".