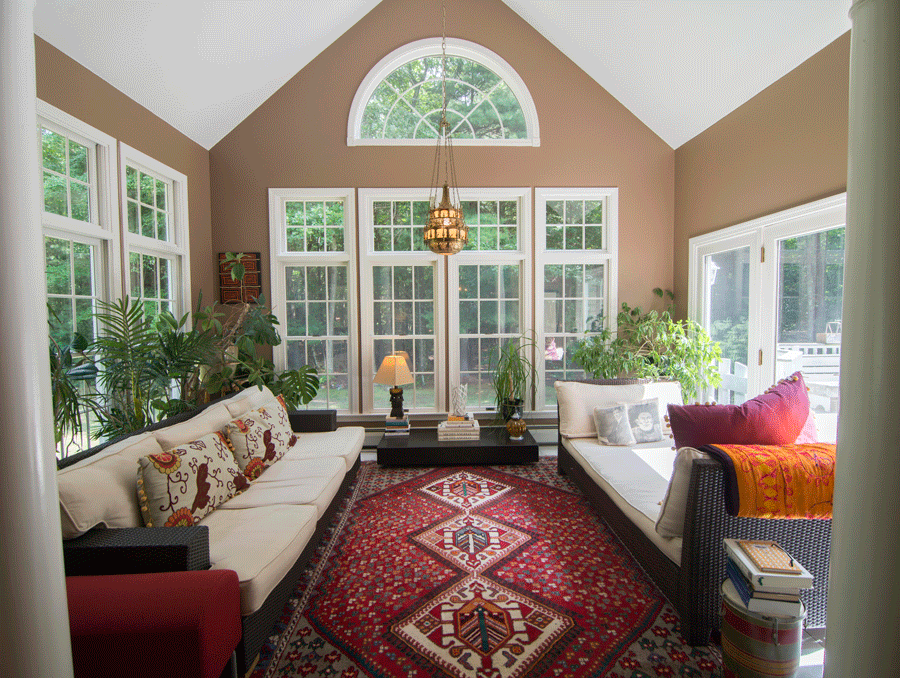 Saira and Ehsun are both Pakistani doctors living in Rhode Island. Besides juggling their professional and personal lives, the couple have also fostered a deep sense of community, engaging meaningfully with the multi-cultural society that they are a part of. Their home, decorated in a soothing neutral palette with slashes of vibrant colour, reflects this warm, inclusive spirit.
Is your home self-styled or did you get help from a designer?
We set up the house ourselves. We had nothing when we started. We have collected things over two decades.
Describe some of your influences and design elements that went into doing up your home.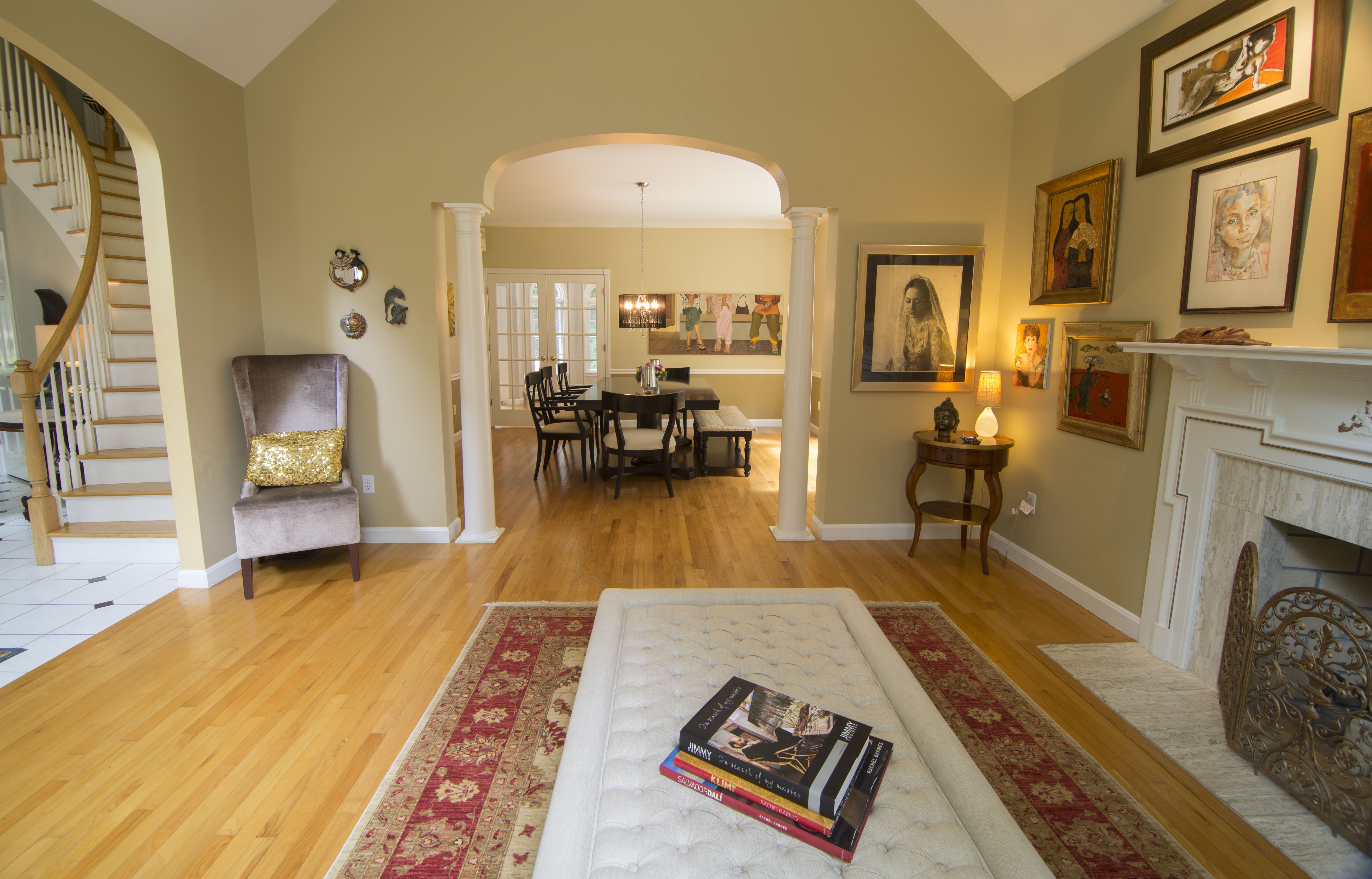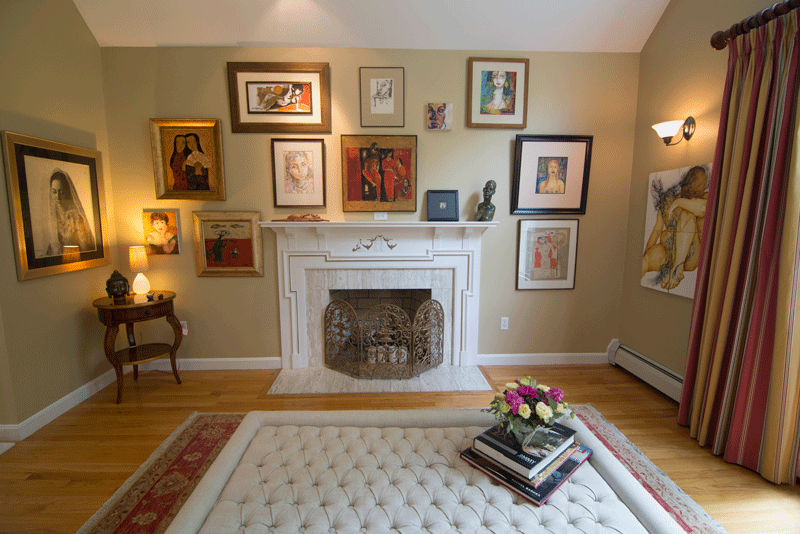 We have a lot of ethnic stuff from all parts of Pakistan. We also have a bunch of stuff from flea markets. When we travel we pick up something authentic that represents that land, be it a table cover from Egypt or a throw from Turkey, Or paintings from Vietnam. It needs to mean something or has to have a story to it. We have one whole wall of original paintings dedicated to the female gender.
Basically, furniture is modern style from either West Elm or Restoration Hardware with clean lines and neutral colors which compliments the rich colors of the carpets and pillows.

What is more important to you? Style or comfort?
Both, but style should not overshadow the comfort of the home.
Do you entertain often? How do you use this space for entertaining?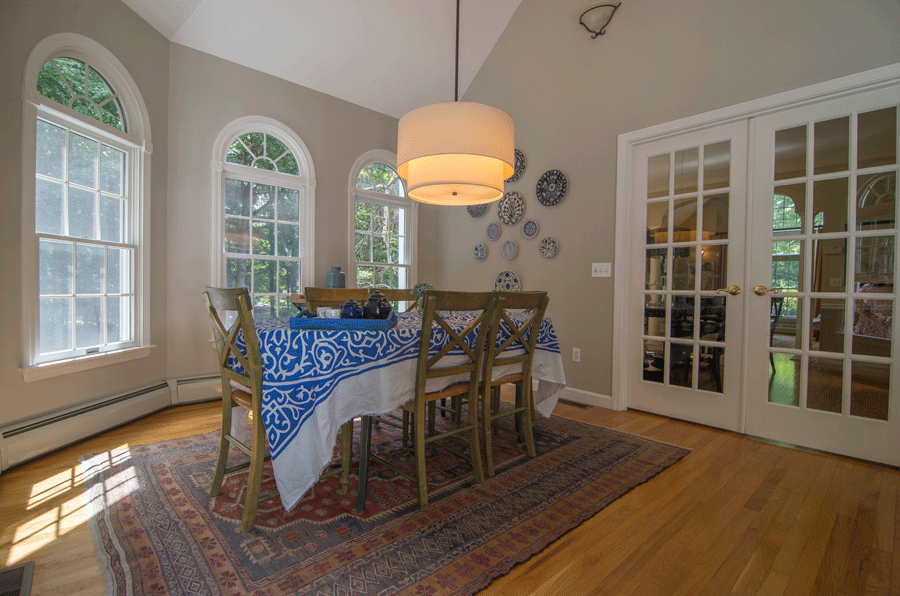 Our home is a safe haven for our family and friends. We have an open door policy. We entertain quite a bit. We like the flow of our home as people can move around the lower level without obstruction and getting clumped up in one area, although they tend to gravitate in our kitchen.
You said that you have an open door policy. You have held inter faith and community gatherings at your home as well. A few words on that.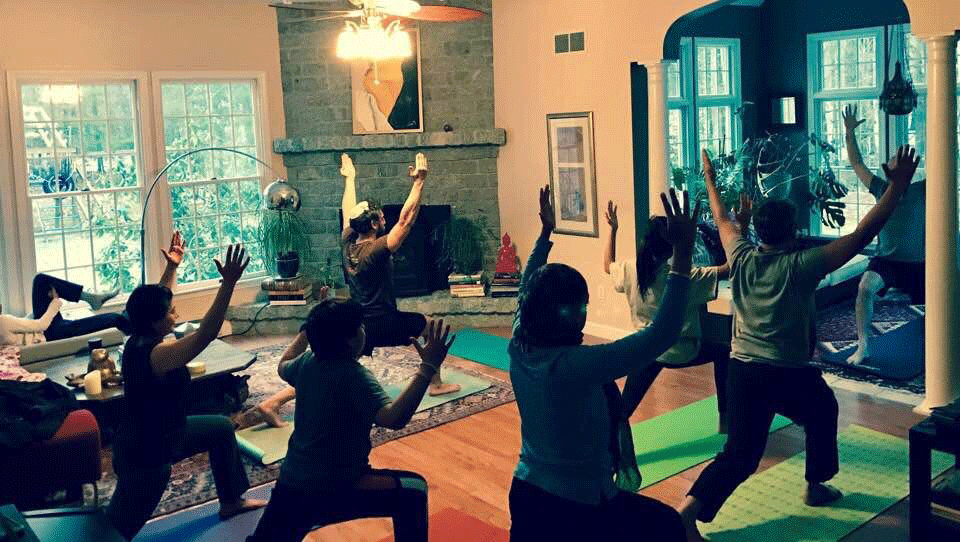 We feel that to build bridges we need to be able to trust each other. We strive to develop such relationships in which we are as informal as possible. We want our neighborhood kids to come over anytime and have food with us and they do. We have a very tight social group who we meet many times a week. We also have become very socially aware and active. We have stopped living off the grid. We have decided that we will not allow anyone to dictate our narrative on our behalf. We also believe that If we cannot stand up for others than they won't stand up for us and thus we are part of many
 You have children. How do they use this space with their friends?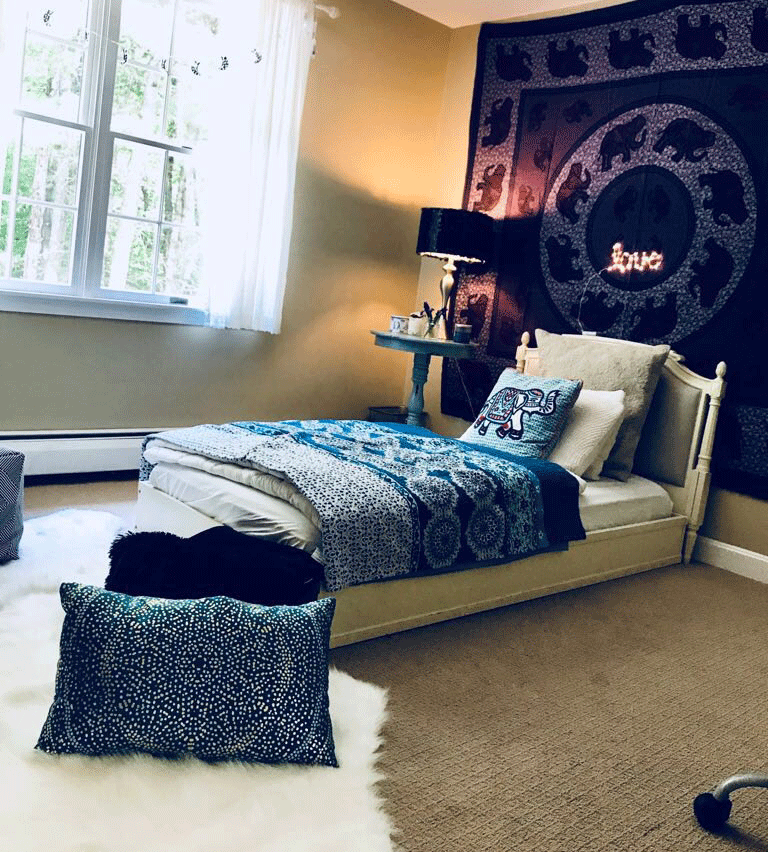 We have 3 children. Everyone has their own space to hang out. My mother and mother-in-law like the sunroom. I love my office space. Saira loves to move from one room to the other depending on the seasons. Our daughter who is 17 tends to use her room, the patio or the basement space and son who is 15 plays outside or hangs out in his room with his friends where he practices and shows his drumming skills. All their friends love our food so, in the end, everyone is in the kitchen.
What would you say is your design inspiration?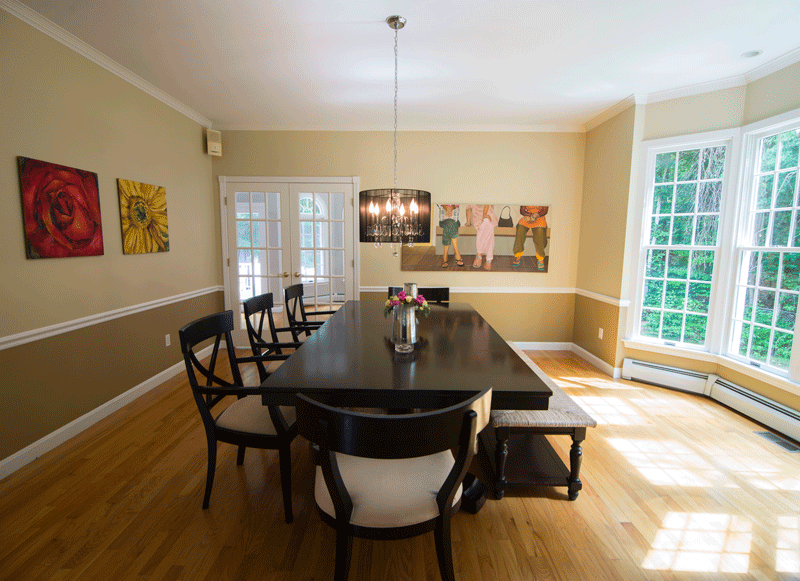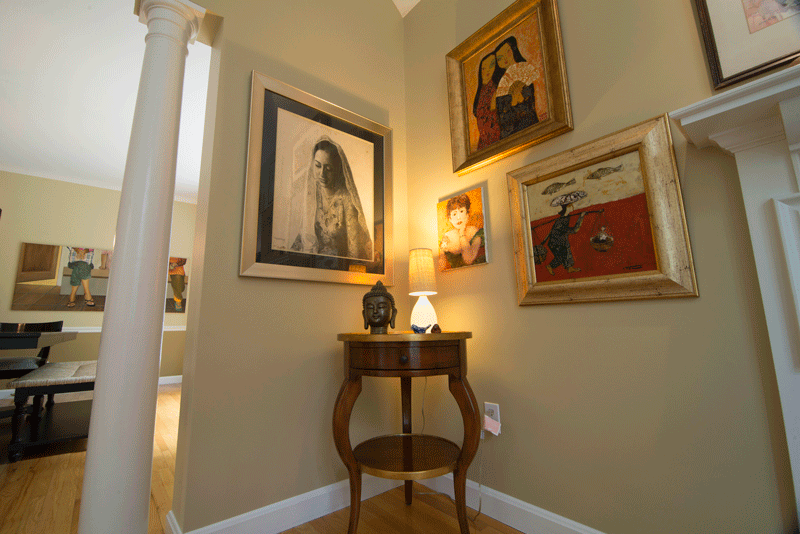 We don't follow the herd. We have our own style. Our house is an extension of our personalities. Whatever catches our eye or moves our hearts, we get it. It could be a cushion cover from Tharparkar, or a granite bust from flea market in Pennsylvania. We love paintings. Most of them are from Pakistan.
Both you and your wife seem to be fitness and yoga buffs. Tell us something about that.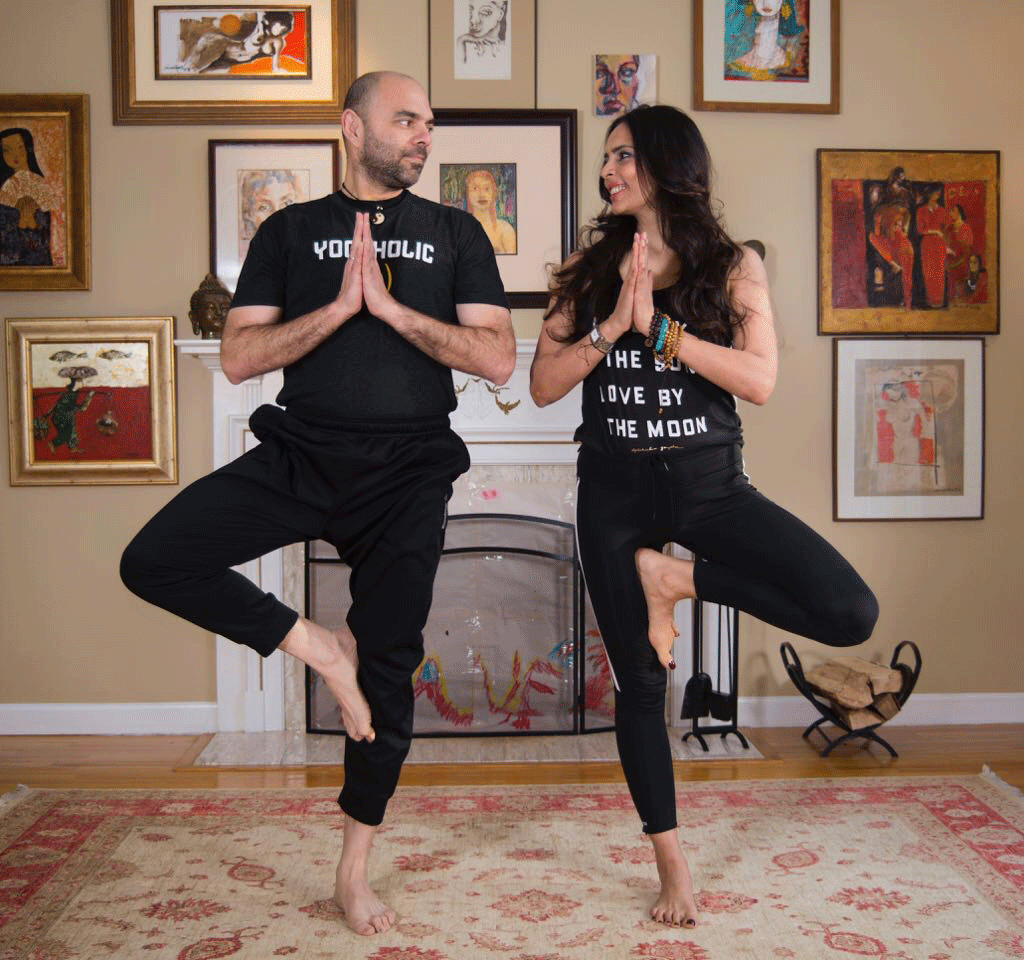 Yes, we like to keep as fit as possible especially as we are getting older. We turned 50 this year and our goal is to be in the best shape of our lives. This means that we really take care of what we eat, how we conduct our lives, how we prioritize our day and how frequently we get to the gym or yoga studio. We have found that the basis of health starts with healthy eating habits. We eat lots of fruits and vegetables. We minimize wheat and dairy products. We have zero processed sugar but use honey and dates. We have no juices or drinks in the house. We also do not have any cookies or candies either. We also do not eat between the meals and drink a lot of ginger tea.
 What is your favorite area of the house?
Most of us tend to gravitate in our informal living room with the fireplace which is next to the sunroom.

Is there a particular piece of furniture or an artifact you are particularly fond of or which has a story behind it?
Most of the furniture we have has some story behind it and thus our home is full of memories. We have collected many pieces, some are less than $10 and other more than thousands, but both have similar emotional value.