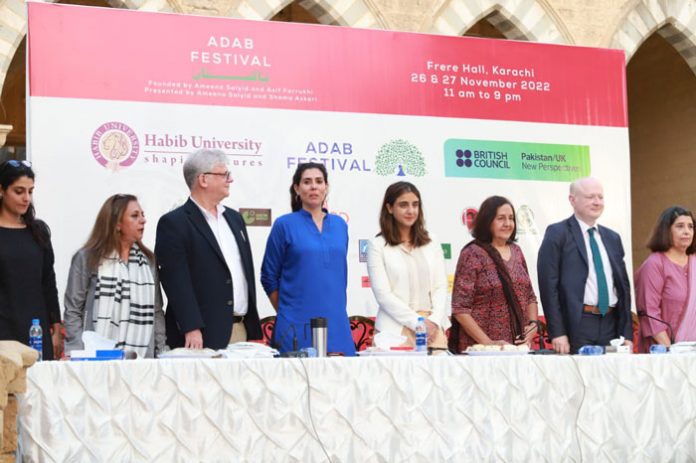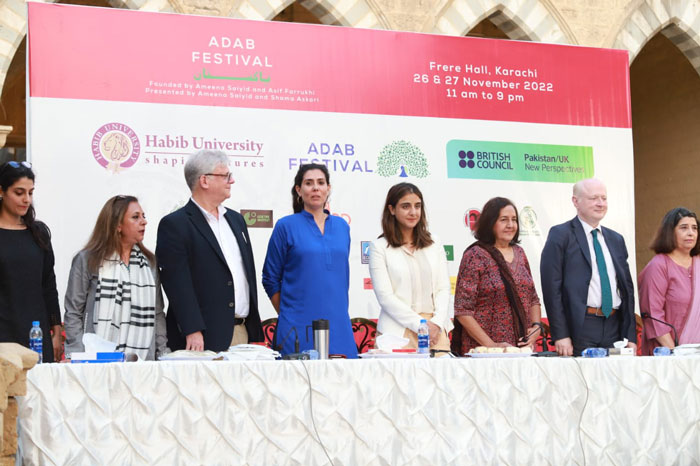 The fourth Adab Festival will be held on 26 and 27 November 2022 from 1130 am to 9 pm at Frere Hall, Karachi. scroll down for the detailed programme. 
Ameena Saiyid, Founder and Director and Shama Askari, Director, Adab Festival, the Deputy Director, British Council Pakistan and Wasif Rizvi, President, Habib University, announced the programme of the  Festival at a press briefing. Ameena Sayyid, thanked Mr Murtaza Wahab, Mr Iqbal Memon, Commissioner, Karachi, British Council, Habib University, Lightstone Publishers, BARD Foundation, Institute of Business Management, Bank of Punjab, General Shipping Agencies Ltd, GETZ Pharma, EDLINKS, Pakistan International Container Terminal, Bilal Sons, Habib Metropolitan Bank, Mr Manzoor of Frere Hall, Starlinks PR and Events, Mr Afzal, Metropolitan Commissioner, DIG SSU Karachi,
Deputy Commissioner, District South, Municipal Commissioner, District South, AdditionalInspector General Police, Karachi Range, Ms Sara Amjad, Assistant Commissioner (Headquarters) Karachi, Mr Junaidullah, DG Parks, Dr Maqsood Ahmed, DIG SSU, and Sister Elizabeth, Principal of St Joseph's Convent School Karachi for their support of Adab Festival.
Ameena Saiyid spoke to the assembled saying, "The theme of the Adab Festival this year is the climate crisis. Adab Festival is a new Silk Route through which our traditions and culture, literature, the arts and their luscious fruits can travel and enter the hearts of people in every part of Pakistan and the world. Through Adab Festival, which is free and open for all, we want everyone in the community to love, experience and enjoy literature. The Adab Festival belongs to Karachi and our community which is why we are having it in an open public space."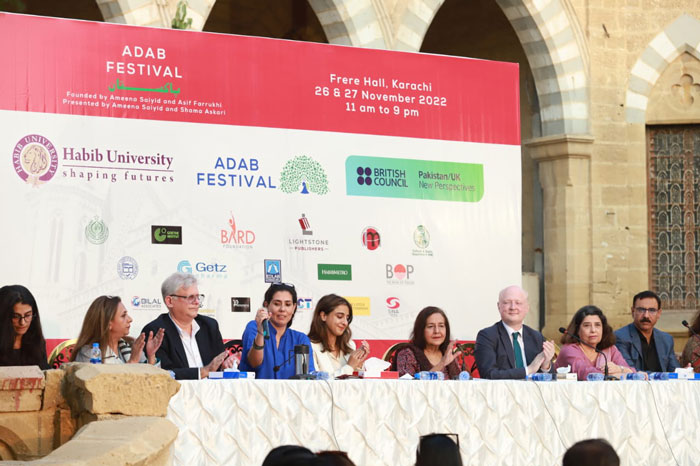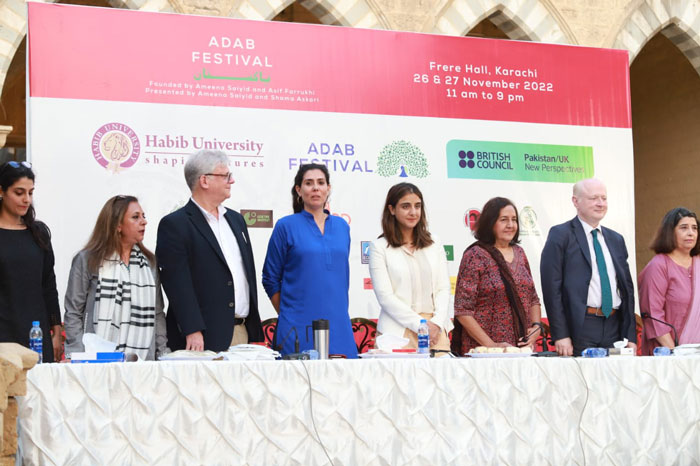 Maarya Rehman, Deputy Director, British Council, said, "We know that Pakistan is at the very cusp of the climate crisis, and its large youth population must be part of the long-termsolution for tackling this global challenge. At the British Council, we have brought underrepresented voices – especially those most a ected by climate change – into the conversation, for example, by ensuring women and marginalised groups can participate in climate research and grant opportunities. "
Wasif Rizvi, President Habib University, said, "Pakistan will soon be unliveable for humans. Extreme weather events – disastrous rains, lethal  oods, devastating droughts and heatwaves – have made such unimaginable catastrophe a lived reality for the people of Pakistan. Change in Pakistan will likely have increasingly terrible impacts on food security and water scarcity. Despite this existential threat."
About 100 speakers and performers will participate at Adab Festival including Zehra Nigah, Sherry Rahman, Sharmeen Obaid-Chinoy, Murtaza Wahab, Tariq Alexander Qaiser, Iftikhar Arif, Kishwar Naheed, Wusatullah Khan, Yasser Latif Hamdani, Zafar Masud, Dr Samina Zahir (UK), Fatema Hasan, Afzal Syed, Tanvir Anjum, Bina Shah, Noor ul Huda Shah, Taimur Rahman of Lal, Zambeel Dramatic Readings, Natalia Gul, Aitzaz Ahsan, Javved Jabbar, Rumana Husain, Shanaz Wazir Ali and Baela Jamil.
'The Lost Lullaby of Mother Nature' art show by Fauzia Minallah curated by Pomme Amina Gohar. Ground- breaking books will be launched such 1946, The Last War of Independence. The Royal Indian Navy Mutiny, a collection of short stories and unpublished photographs from the Second World War by M H Askari and more.
There will be a separate section for children to draw them to reading through storytelling, music, performances, and art. Adab Festival will introduce new, innovative, creative approaches to promoting books, reading, authors, raising awareness of climate change by entertaining and engaging the audience through presentations, dramatic readings, debate, comedy, music, song, art and dance.
ADAB FESTIVAL 
Saturday 26 and Sunday 27 November 2022
PROGRAMME
11.30 am to 12.30 pm: INAUGURATION CEREMONY
11.30 am: National Anthem and the Adab Festival song (written by Sr Elizabeth, Principal). St Joseph's Convent School.
11.35 am: Welcome by Ameena Saiyid and Shama Askari
11.40 am: Speeches Zehra Nigah, Amir Ramzan (Country Director, British Council) Wasif Rizvi (President Habib University), HE Ruediger Lotz (German Consul General), Murtaza Wahab
12.05 pm: Keynote Speech: Tariq Alexander Qaiser
12.15 pm: Keynote Speech: Sherry Rahman (Federal Minister for Climate Change)
12.35 pm: Infaq Foundation/ Adab Festival-Urdu Award for 2022
12.40 pm: Dance Performance by Sheema Kermani
Day-1 (26Nov)
LIGHTSTONE- HALL
HABIB UNIVERSITY- HALL
BRITISH COUNCIL-GARDEN
SADEQAIN GALLERY

(Supported by Goethe Institut)

BARD CHILDREN's PAVILION
 
 
 
ALL EXHIBITS FOR 2 DAYS
 
Saturday 26 November 12.45-1.45 pm

BETWEEN THE EPHEMERAL AND THE ETERNAL

 

PEERZADA SALMAN AND

AMBER PARACHA IN CONVERSATION

ADNAN JAFFAR (Dramatic Reading)

Saturday 26 November 12.45-1.45 pm

A STORY OF SURVIVAL

REPLANTING PAKISTAN'S MANGROVES

·       TARIQ ALEXANDER QAISER

·       TAIMUR MIRZA

·       SHAHAB KARAMAT

·       MAHENAU AGHA

Saturday 26 November 12.45-1.45 pm

USS ADMI KI KAMI

A TRIBUTE TO ASIF FARRUKHI

·       ZEHRA NIGAH

·       NOORUL HUDA SHAH

·       AMEENA SAIYID

·       DR TANVEER ANJUM

·       AFZAL SYED

·       DR FATEMA HASAN

MODERATOR. INAAM NADEEM

Saturday 26 November 12.45-1.45 pm

LAUNCH OF THE ART SHOW BY FAUZIA MINALLAH INSPIRED BY NATURE:

LOST LULLALBY OF MOTHER NATURE.

 

 

·       CURATED BY POMME AMINA GOHAR

(THE ART SHOW WILL CONTINUE FOR TWO DAYS)

FAUZIA MINALLAH  WILL ALSO SPEAK ABOUT HER WORK

·       SCREENINGS OF FILMS BY SHARMEEN OBAID-CHINOY ON THE ECOSYSTEM

(FOR THE ENTIRE DAY)

Saturday 26 November 12.45-1.45 pm

RUMANA HUSSAIN

INTERACTIVE

CHILDREN'S STORIES ON ENVIRONMENT

1.45-2.30

Pm

LUNCH BREAK

LUNCH BREAK
LUNCH BREAK

Saturday 26 November 2.30-3.30 pm

HABIB UNIVERSITY KA JAHAN-E-URDU

 

·       AFZAL AHMED SYED

·       INAAM NADEEM

·       HABIB MAZHAR

·       ALIFYA FAHEEM LOTIA

·       SAMANA BATOOL

·       SYEDA DUA ZEHRA ZAIDI

MODERATOR:

DR TANVEER ANJUM

Saturday 26 November 2.30-3pm

WORKS IN PROGRESS.

A CONVERSATION AMONG NOVELISTS ON HOW MOST NOVELISTS SPEND MOST OF THEIR TIME

HM NAQVI

SAAD SHAFQAT

SYED KASHIF RAZA

Saturday 26 November 3-3.30 pm

URDU PEDAGOGY IN THE TWENTY FIRST CENTURY: ARE THE TEACHERS READY?

 

·       ROMEENA KUREISHY

·       FARID PANJWANI

·       DR GABRIELA NIK LLIEVA (Virtually)

Saturday 26 November 2.30-3.30 pm

THE INDUS SAGA AND THE MAKING OF PAKISTAN

 

DR HUMA BAQAI IN CONVERSATION WITH AITZAZ AHSAN

Saturday 26 November 2.30-3.30 pm

PERFORMANCE BY ST JOSEPH'S CONVENT SCHOOL PUPILS

PERFORMANCE BY THE EDUCATORS DARUS SALAM CAMPUS PUPILS

FACILITATOR

ATIF BADAR

Saturday 26 November 3.35-4.35 pm

BOOK LAUNCH.

TAPESTRY.  STRANDS OF WOMEN'S STRUGGLES WOVEN INTO THE HISTORY OF PAKISTAN by Dr FOUZIA SAEED

Dr FOUZIA SAEED

AND HUMA AMIR SHAH IN CONVERSATION

Saturday 26 November 3.35-4.35 pm

 

 

BOOK LAUNCH

HIROSHIMA AND OTHER STORIES

BY IBN-E-SA'ID (M.H. ASKARI)

Translated from Urdu to English by Shama Askari

·       AMEENA SAIYID

·       ZUBEIDA MUSTAFA

·       SHAMA ASKARI

DRAMATIC READING:

PRESENTATION OF PHOTOGRAPHS FROM WORLD WAR 2

Saturday 26 November 3.35-4.05 pm

 

SAILAB DIARIES

WUSUTULLAH KHAN AND

AKHLAQ AHMED IN CONVERSATION

Saturday 26 November 4.05-4.35 pm

BOOK LAUNCH

FOR FAITH, STATE AND THE SOUL by NADEEM FAROOQ PARACHI

 

NADEEM FAROOQ PARACHA AND GEORGE FULTON IN CONVERSATION

Saturday 26 November 3.35-4.35 pm

STORYTELLING

TASHINA NOOR

Saturday 26 November 4.40-5.10pm

AN ODE TO MOTHERS

BOOK LAUNCH

A LONG WAY FROM HYDERABAD

DIARY OF A YOUNG MUSLIM WOMAN IN THE 1930s BRITAIN

By MOHAMMADI BEGUM

 

SPEAKERS

·       ZEHRA MASROOR

·       ZAINUB MASUD ZAIN

·       ZUBEIDA MUSTAFA

MODERATOR:

SHEEMA KERMANI

Saturday 26 November

5.10–5.40 pm

BOOK LAUNCH

MERA PAIGHAM MOHABBAT HAI by NAFISA ITAAT HUSAIN

·       ARFA SAYEDA ZEHRA

·       AMEENA SAIYID

·       OMAYR SAIYID

·       ZUBEIDA MUSTAFA

·       MODERATOR: SHEEMA KERMANI

Saturday 26 November 4.40-5.40pm

BOOK LAUNCH

1946: THE LAST WAR OF INDEPENDENCE. THE ROYAL INDIAN NAVY MUTINY by PRAMOD KAPOOR

 

SPEAKERS

·       PRAMOD KAPOOR. Virtually from Delhi

·       AITZAZ AHSAN

·       HAMEED HAROON

MODERATOR:

·       DR SYED JAFFER AHMED

Saturday 26 November 4.40-5.40pm

BOOK LAUNCH

THE IMPECCABLE INTEGRITY OF RUBY R by MONI MOHSIN

 

SAFINAH D ELAHI IN CONVERSATION WITH MONI MOHSIN

Saturday 26 November

4.40-5.40pm

STORYTELLING BY DR FATEMA HASAN

Saturday 26 November 5.45-6.15pm

 

CONTAGIOUS CONNECTIVITY

ART AND THE PANDEMIC

 

NAILA MAHMOOD

AND DR SAMINA ZAHIR IN CONVERSATION

Saturday 26 November. 6.15-6.45pm

FROM PAGE TO SCREEN AND

STAGE: A TALK ABOUT HOW NETFLIX AND STREAMING SERVICES ARE CHANGING THE WAY BOOKS ARE CONCEIVED AND WRITTEN

 

·       BINA SHAH

·       CHIRSTIE LAUDER

Saturday 26 November 5.45-6.45 pm

 

REPARATIVE THINKING:

THE COGNITIVE

CHALLENGE OF OUR

TIMES

 

SPEAKERS

·       HAYA FATIMA IQBAL

·       DR NOMAN BAIG

·       DR ANZAR KHALIQ

·       DANIYAL AHMED

MODERATOR:

DR NAUMAN NAQVI

 

Saturday 26 November 5.45-6.45 pm

BOOK LAUNCH

JINNAH: A LIFE by YASSER LATIF HAMDANI

 

·       YASSER LATIF HAMDANI AND

·       DR SYED JAFFER AHMED IN CONVERSATION

Saturday 26 November. 6.50-7.50 pm

SERVING URDU DIGITLY

HOW CAN SOMEONE BE AN URDU TEACHER TO GOOGLE AND TEACH BETTER URDU TO GOOGLE?

HOW WE CAN CONTRIBUTE BY GOOGLE CROWDSOURCE TO GET BETTER URDU TRANSLATION FOR OUR STUDENTS

INTERACTIVE SESSION WITH KASHIF MISIDIA AND TEAM GOOGLE INFLUENCERS

INTRODUCED BY WUSUTULLAH KHAN

MODERATOR: KASHIF MISIDIA

 

 

Saturday 26 November. 7-7.30 pm

 

 

STAND-UP COMEDY

THREE WOMEN, THREE STORIES.

NATALIA GUL & CO

—————
—————————–

GHAZALS AND SUFI SONGS

·       NIRMALA MAGHANI

Sunday 27 November 10-11 am

A CONFLUENCE OF SINDHI AND URDU LITERATURE

 

NOORUL HUDA SHAH

AND ZULFIQAR HALEPOTO

 

Sunday 27 November 11am to 12 noon

URDU MAIN NASRI NAZAM (PROSE POEM IN URDU}

AFZAL AHMED SYED

TANVEER ANJUM

MUSTAFA ARBAB

SYED KASHIF RAZA

MODERATOR. INAAM NADEEM

Sunday 27 November 10- 11.50am

WORKSHOP

CONDUCTED BY

DR SAMINA ZAHIR, FRSA

BUILDING INNOVATION AND CAPACITY IN THE ARTS AND CREATIVE SECTORS

 

Sunday 27 November 10-11 am

WOMEN IN STEM

HABIB UNIVERSITY

 

DR AHMED USMAN

 

Sunday 27 November 11 am to 12 noon

 

MUTASAREEN -E -SAILAB

EIK SILSILA GUFTAGU KA

 

MUTASAREEN KAUN HEIN?

KHAWATEEN?

 GHAREEB KHAWATEEN? BA ASR KHAWATEEN AUR MARD?

KAUN REH GIYA IMDAD SAY?

 

SEEMI KAMAL

ROBINA CHANDIO

AMAR SINDHU

KAUSAR SAEED KHAN

MODERATOR: UZMA NOORANI

 

LIGHTSTONE ROOM
HABIB UNIVERSITY HALL
BRITISH COUNCIL LAWN
 
 
DAY 2

12-12.30pm

12.30-1 pm

 

Sunday 27 November 12-12.30 pm

FEMININE CONSCIOUSNESS IN THE WOMEN POETS OF URDU

BY DR FATEMA HASAN

BOOK LAUNCH

SPEAKERS.

·       AFZAL SYED

·       DR FATEMA HASAN

MODERATOR. AMAR SINDHU

Sunday 27 November.12.30-1 pm

BEYOND THE FIELDS

BY AYSHA BAQIR

BOOK LAUNCH

AMNA R ALI IN CONVERSATION WITH AYSHA BAQIR

Sunday 27 November 12-1pm

PAKISTAN IN THE CHANGING WORLD ORDER

 

SPEAKERS

·       AITZAZ AHSAN

·       ZARAR KHUHRO

·       DR TAIMUR RAHMAN

·       HUSSAIN HAROON

MODERATOR

OMAYR AZIZ SAIYID

Sunday 27 November 12-1 pm

MEDIA, SOCIAL MEDIA AND MENTAL HEALTH. THE GOOD, BAD AND UGLY

SPEAKERS.

·       SAHAR HABIB GHAZI

·       AZHAR ABBAS

·       DR HUMAIR YUSUF

MODERATOR.

DR AYESHA MIAN

Sunday 27 November 12-1 pm

'DEAR DONORS…'

 

EMERGENCY FLOOD RELIEF 2022

PRESENTATION:

PHOTOGRAPS AND LETTERS

HANI BALOCH

ZINDMAN WELFARE ORGANISATION

AND

SAMYA KADRI PARACHA

CHARITY WORKS

Sunday 27 November 12-1 pm

SING ALONG

 

JEREMY VAS

ON GUITAR

ACCOMPANIED BY ATIF BADAR

1pm-2pm
LUNCH BREAK
LUNCH BREAK
LUNCH BREAK
LUNCH BREAK
DAY 2

2-3 pm

pm

Sunday 27 November 2-3 pm

 

 

IS PAKISTAN'S ECONOMY STILL WAITING AT THE CROSSROADS?

 

SPEAKERS

·       SHAMSHAD AKHTAR

·       ISHRAT HUSSAIN

·       EHSAN MALIK

·       MAQSOOD AHMED

MODERATOR:

KHURRAM SCHEHZAD

 

Sunday 27 November 2-3 pm

DIVERSITY OR SIMILARITY?

THE EVOLUTION OF TV DRAMA IN PAKISTAN

 

SULTANA SIDDIQUI

SAIFE HASAN

BEE GUL

AHMED ALI

MODERATOR:

NOORUL HUDA SHAH

 

 

 

Sunday 27 November 2-3 pm

LEARNING FROM KISHWAR NAHEED.

 

INAAM NADEEM AND SYED KASHIF RAZA IN CONVERSATION WITH KISHWAR NAHEED

Sunday 27 November. 2-3 pm

SING ALONG

JEREMY VAS

ON GUITAR

ACCOMPANIED BY ATIF BADAR

DAY 2

3.05-4.05 pm

   Sunday 27 November 3.05-4.05 pm

    

JIN KO HUM NE DEKHA THA

·       ZEHRA NIGAH

·       ARFA SAYEDA ZEHRA

Sunday 27 November. 3.05-4.05 pm

 

 THE LENS OF BALOCHI CINEMA

 

·       IMRAN SAQIB

·       ADIL BIZENJO

·        SHOAIB HASAN

·        ABILA KURD IN CONVERSATION WITH THE PRODUCER

·       MODERATOR: WAHEED NOOR

SNIPPETS FROM THE FILM DODA WILL BE SCREENED

 

Sunday 27 November. 3.05-4.05 pm

DHAL GAYA HIJR KA DIN

 

LETTERS OF FAIZ AHMED FAIZ AND ALYS FAIZ

PRESENTED BY: ZAMBEEL DRAMATIC READINGS

·       ASMA MUNDRAWALA

·       SAIFE HASAN

Sunday 27 November. 3.05-4.05 pm

URBAN FOREST

 

PRESENATTION:

MASOOD LOHAR

Sunday 27 November. 3.05-4.05 pm

THEATRE WORKSHOP BY ATIF BADAR

4.10-

5.10pm

Sunday 27 November 4.10-5.10 pm

 

WHY IS QUALITY EDUCATION A CHALLENGE FOR PAKISTAN?

 

SPEAKERS

·       HASAN KHAN

·       DR FOUZIA KHAN

·       SHANAZ WAZIR ALI

·       BAELA RAZA JAMIL

·       SISTER ELIZABETH NIAMAT CHAUHAN FC

·       DR SHEHZAD JEEVA

MODERATOR: RUMANA HUSAIN

Sunday 27 November 4.10-5.10 pm

 

POLITICAL MEMOIRS: CIPHERS AND SUPPLEMENTS TO HISTORY. A DISCUSSION BETWEEN SENATOR (R) JAVED JABBAR, AUTHOR OF THREE RECENTLY- PUBLISHED POLITICAL MEMOIRS AND DR HUMA BAQAI, ACADEMIC, ANALYST AND

BROADCASTER

 

 

Sunday 27 November 4.10-5.10 pm

THE STORIES WE SHOW

ALIYA IQBAL NAQVI IN CONVERSATION WITH

 SHARMEEN OBAID-CHINOY

 

 

Sunday 27 November 4.10-5.10 pm

TASHINA NOOR

STORYTELLING

Sunday 27 November 5.15-5.45 pm

MASTER MENTORS

ZAFAR MASUD.

INTERLOCUTORS:

·       DR HUMA BAQAI

·       HUMA MAQSOOD (Franklin Covey Pakistan)

Sunday 27 November. 5.45-6.15 pm

OUR LADY OF SOHANBELA by IRSHAD ABDULKADIR

 

    MAHEEN USMANI IN CONVERSATION WITH IRSHAD ABDULKADIR

Sunday 27 November 5.15-6.15 pm

 

KARACHI KA ADAB

 

·       ZAHEDA RAEES RAJI/

·       GHANI PEHWAL Balochi

·       ATTIYA DAWOOD

Sindhi

·       SYED KASHIF RAZA-Urdu

·       TAHA KEHAR-English

MODERATOR: HARRIS KHALIQUE

 

Sunday 27 November 5.15-6.15 pm

 

LITERARY TREASURE

·       WUSATULLAH KHAN IN CONVERSATION WITH

·       IFTIKHAR ARIF

 

 

6.20- 7 pm

Sunday 27 November. 6.20-7 pm

 

CLOSING CEREMONY

SPEAKERS. AMEENA SAIYID AND SHAMA ASKARI

 

KEYNOTE SPEAKERS

·       ARFA SAYEDA ZEHRA

·       ZAFAR MASUD

7- 9 pm
————————–
—————————-
MUSIC

·       TRIBUTE TO NAYYARA NOOR SONGS BY ROSEMARY MUSHTAQ

·       CONCERT BY LAL

—————————–
—————————-